His earliest memories are of cotton thread and the click-clack of the loom, in a family that has seen five generations of weavers. But Napa Kumar, 33, is now a helper in a varnish company. "Weaving is our kula thozhil (hereditary occupation)," he says, standing in a large, rectangular room in his house in Arani town of Tamil Nadu's Tiruvallur district. "Two looms stood right here," says Kumar, pointing to the flat, cement-grey floor. The pit-looms that his father and uncle used have been uprooted and packed away.
Arani, an hour and a half from Chennai by car, once flourished because of its weavers. Today, just 400 looms remain here, down from 1,000 only 15 years ago. Napa Kumar's family was amongst many who quit the craft. "In 2009, we decided it wasn't worth it. Even if we worked 12 hours a day, each earned only 4,000 rupees a month at most." They couldn't repay a loan of 10,000 rupees borrowed at high interest rates. Also he needed money to set up new looms, for weddings and for other expenses in his large joint family. "I offered to pledge my only asset: my tenth-standard pass certificate. But the banks refused. Now they say they'll give us loans and subsidies. What's the point? We have other jobs," he recalls, his voice laced with anger and sadness.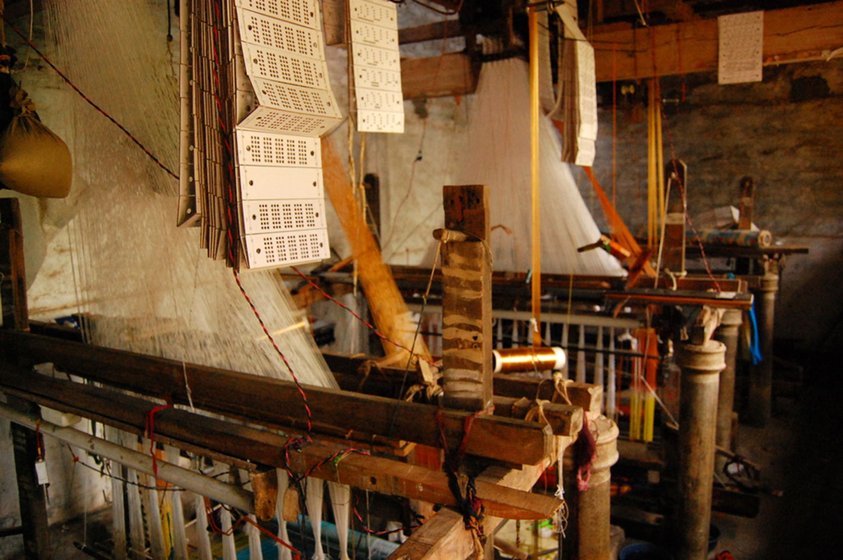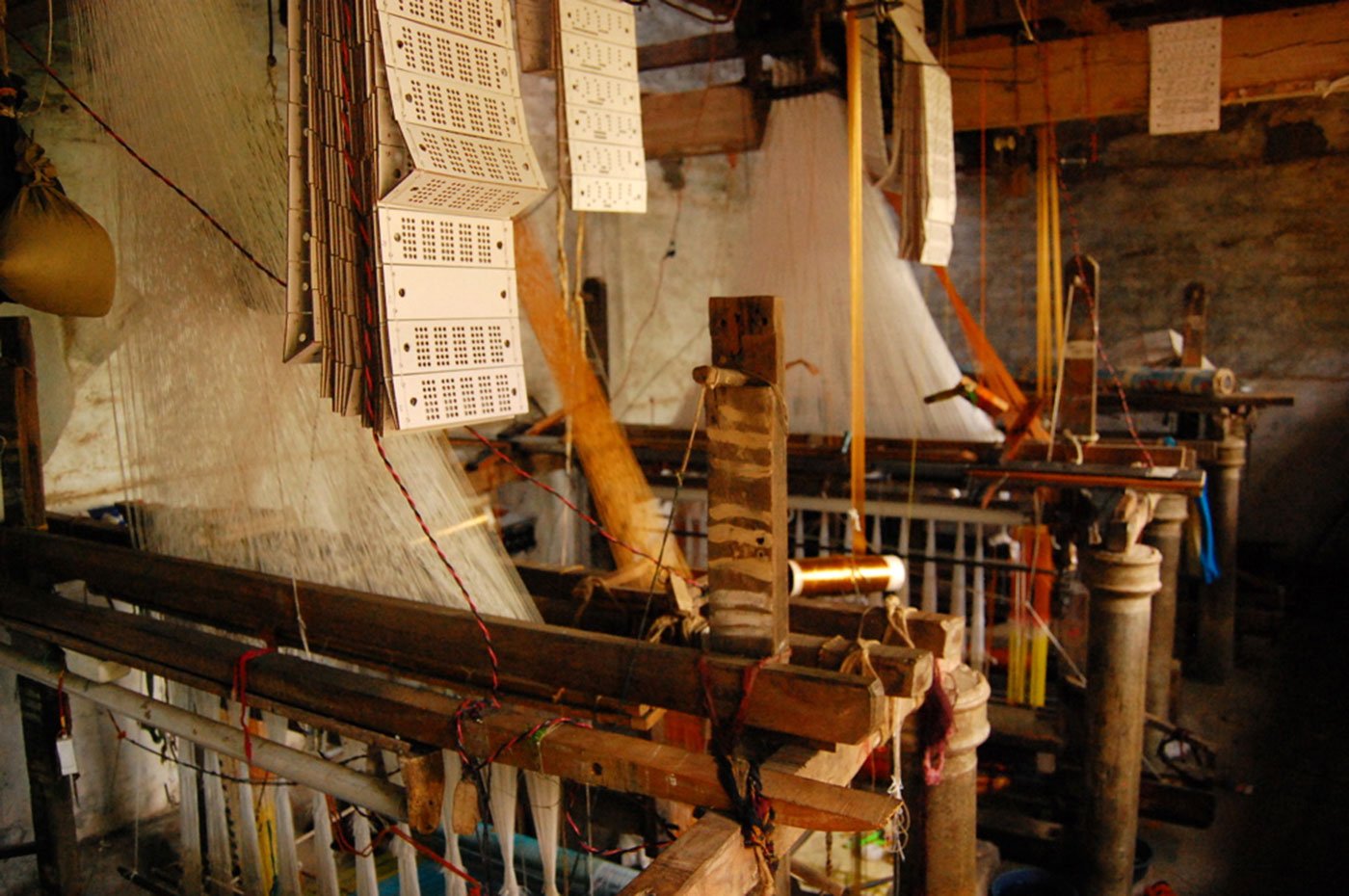 PHOTO • Aparna Karthikeyan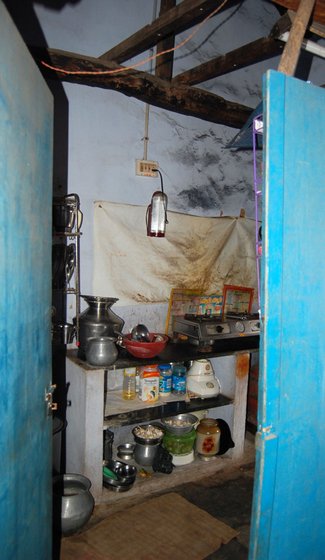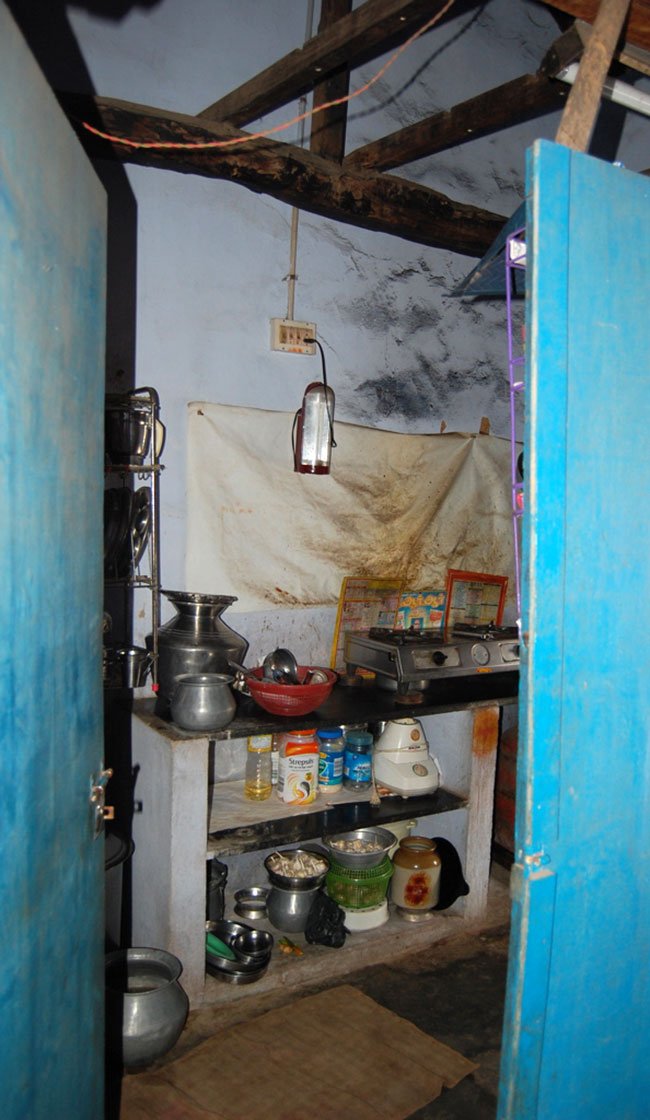 PHOTO • Aparna Karthikeyan
His father works as a security guard and together they earn Rs.14,000 a month. 'My loom was in front of the house. We removed it. And converted that space into a kitchen."
Arani is full of men like Napa Kumar. Just across the road from Kumar's house, V. M. Vinayakam shows me a disused loom on his own terrace. Once a revered implement, it's now rusty and dusty and surrounded by other stuff he does not want but doesn't have the heart to throw away.

Vinayakam was an experienced weaver but his skills had only an aesthetic value. With no academic qualifications and no job opportunities nearby, he continued weaving exquisite silk-cotton sarees. These retailed for a little over Rs.3,000 in the stores of Chennai. At the end of a busy month, though, his earnings were no more than Rs. 4,500. Which means he could not have bought two of his own sarees on the market.
So when industries sprang up in 2011 on the outskirts of Chennai (half an hour by bus from his village), Vinayakam found a job in a cast-iron manufacturing company at Gummidipoondi for Rs. 6,000 a month. "Just enough to make ends meet," he says, looking into my video camera with unsmiling eyes.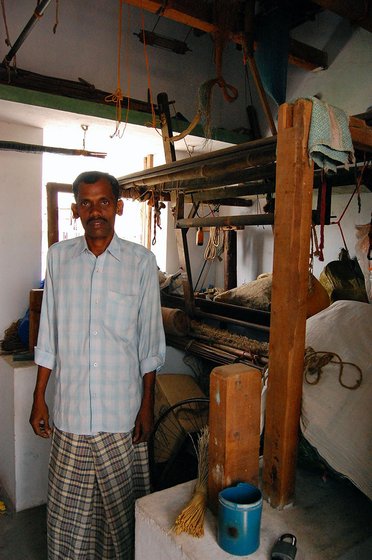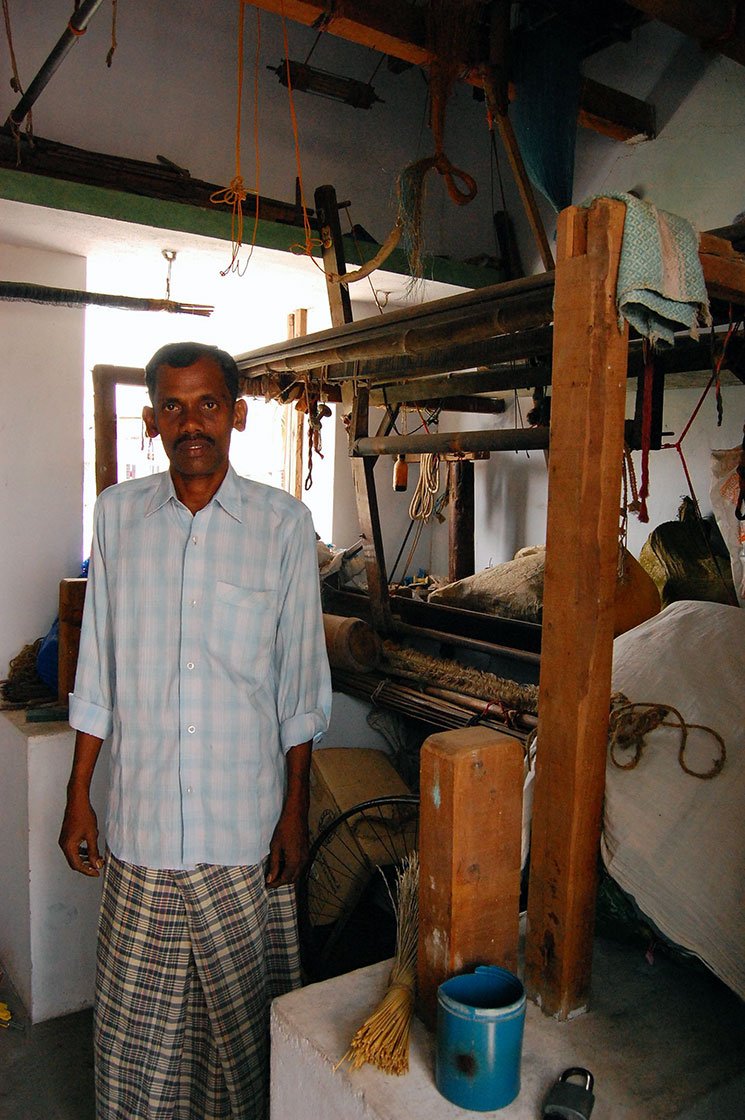 PHOTO • Aparna Karthikeyan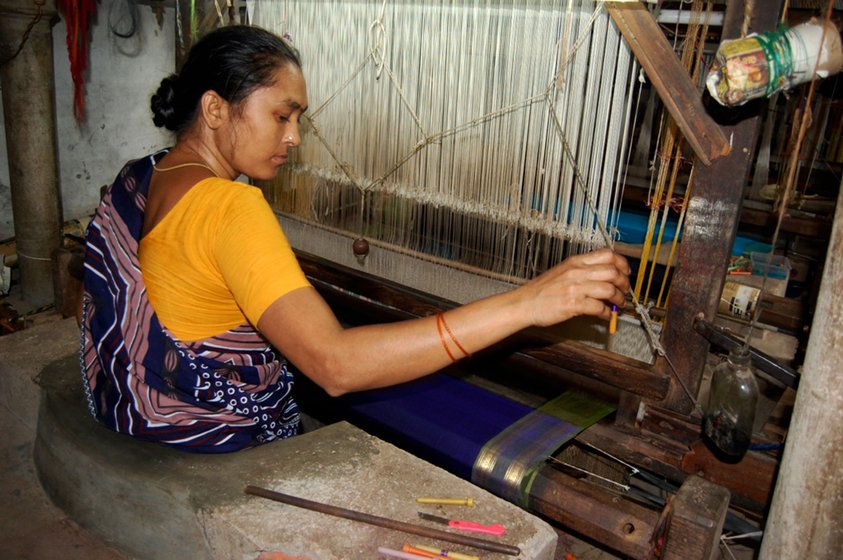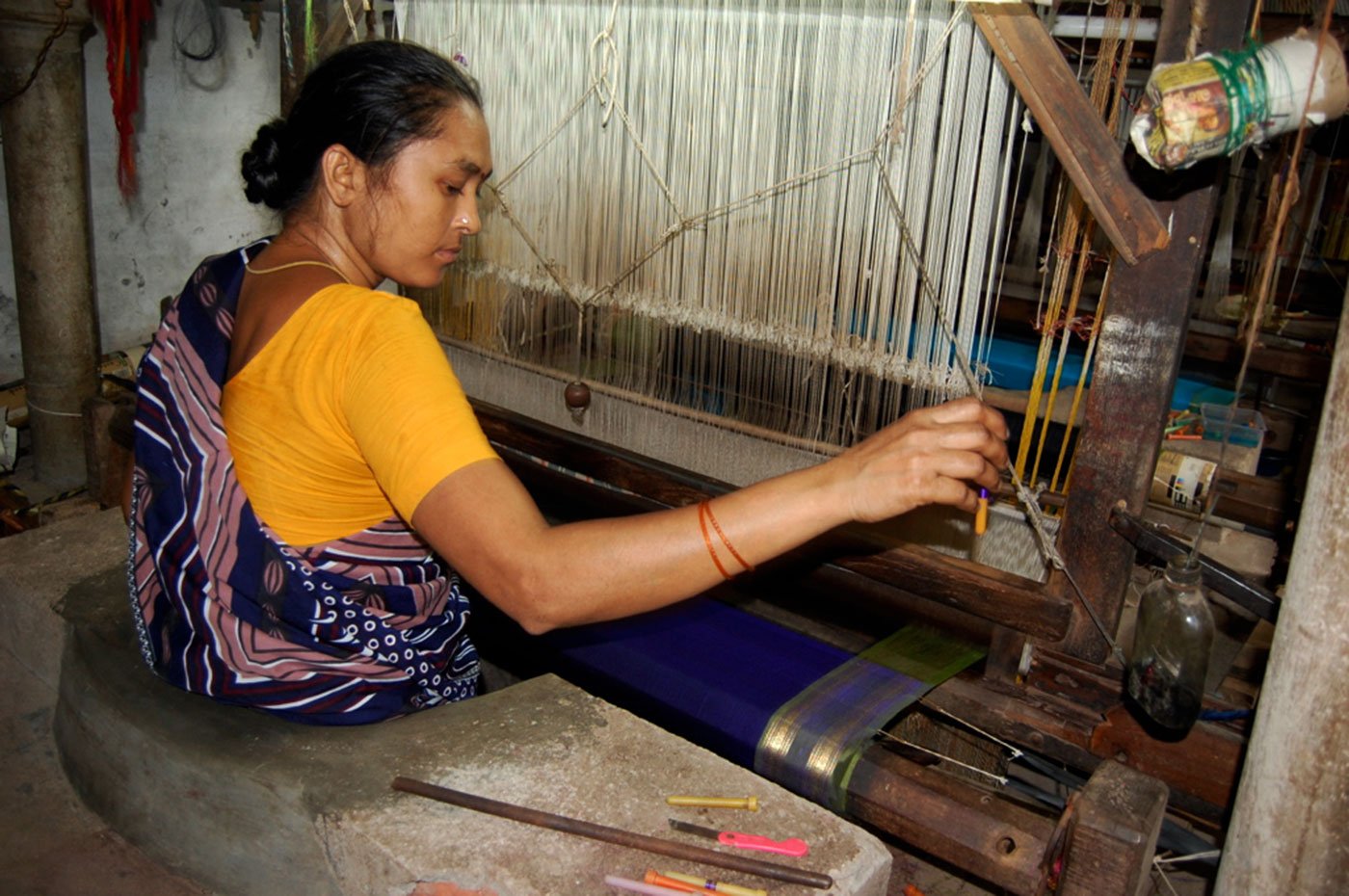 PHOTO • Aparna Karthikeyan
Walking between their houses, under a high, white sun, master weaver P. N. Mohan gives me a quick lesson on the local weaving industry. Arani — where everybody speaks Telugu and the schools teach in that language — was a village of migrant weavers. Until the mid-1980s, cotton thread was dyed in the Arani River and woven into "36-inch yardage" (the width of the fabric). Then came poly-cotton and silk-cotton sarees. Both were instant hits in Chennai. The number of looms grew.

"But not anymore," Mohan says. "The number of weavers has fallen sharply; from 5,000 to less than 500. Of these, around 300 are migrants from Andhra." He recalls when the street where he lives had 50 or 60 looms — now there are just six. One of them is operated by Lakshmi who came to Arani from Chirala in Prakasam district, Andhra Pradesh and is now employed by Mohan. She wears a synthetic saree, and weaves a silk-cotton one. Her house is a single room; her only ornaments a turmeric thread and glass-bangles. But none of that matters: she spends the entire day where no one can see her, cooped up inside a long, narrow room, with three sunken pit looms, one in front of the other.

"Conscientious weavers don't like to waste time," Mohan tells me in his air-conditioned stock room. His father Chockalingam,70, is seated before a stack of account books. After a lifetime spent worrying about warp and weft, he's finally able to rest because Mohan's enterprise and energy made him a successful master-weaver (The master weaver typically does not work the loom. He supplies raw material to the weavers, and then buys their entire stock. He then sells that at a marked-up price to retailers in cities.)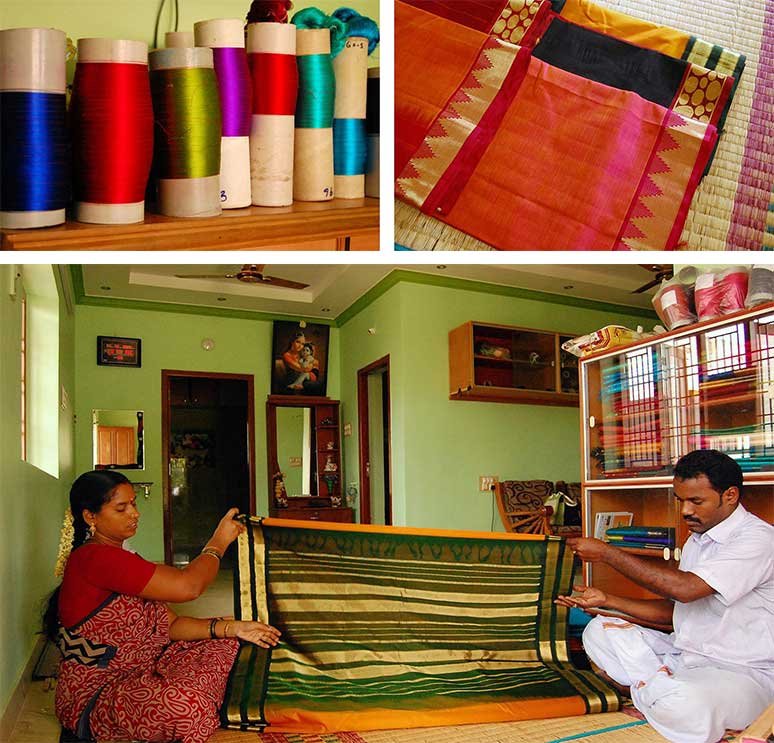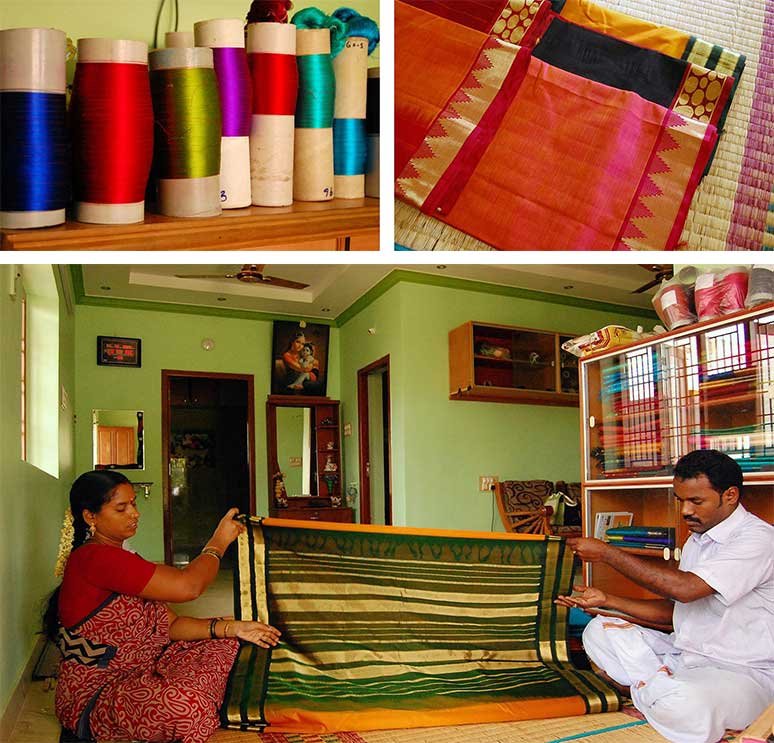 Mohan's new house is a symbol of his success. It is painted in city colours: an elegant grey, trimmed with yellow. It's a little out-of-place on Arani's sandy streets. Not long ago, the family lived as humble and hard a life as their neighbours in their red-tiled houses. "We had two looms in our house. We worked them throughout the day, everyday. There's a saying about this occupation: "only if your wings fly, can the stomach move." That's the life of a weaver, he says. "Always moving his hands in the hope of putting some food into his hollow stomach."
When Chennai grew, swallowing the suburbs into its city limits, the weavers turned there for better work. N. Vasu was among those who opted out. He could finally choose from easier, better-paying jobs. He earns Rs. 5,000 serving food in a college canteen. It may not seem like a big monetary leap, but Vasu says the entire family had to work hard for Rs. 4,000 he made as a weaver. "Besides my income, my wife spins thread and earns Rs.1,500." His two sons also found other employment. One as a computer mechanic and the other as a supplier of water cans. Vasu dismantled his loom and sold parts of it to a scrap dealer.
"Some even burnt them as fire-wood," Napa Kumar tells me, standing under the attic where the wood from his looms is stored. He is sentimental about it, and cannot bear to let go.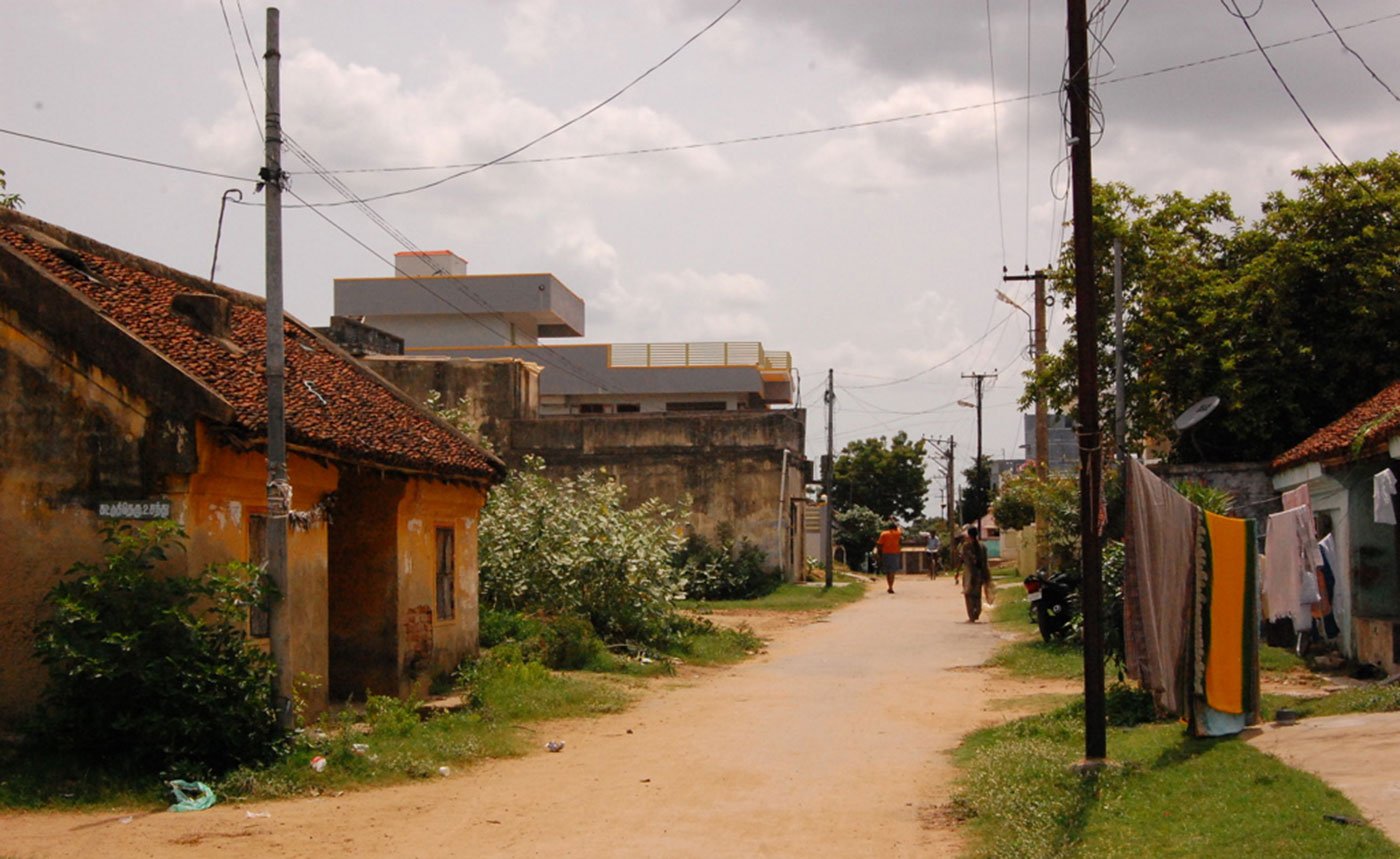 PHOTO • Aparna Karthikeyan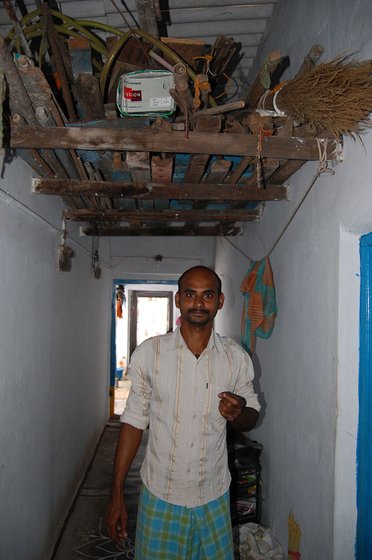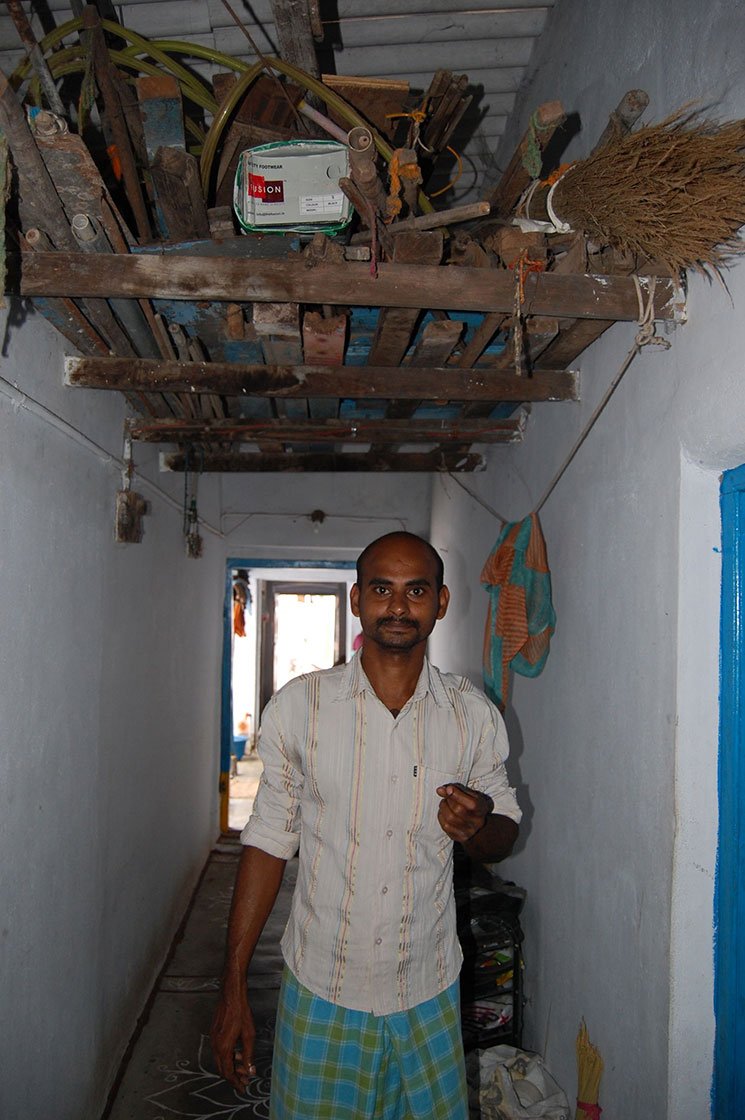 PHOTO • Aparna Karthikeyan
Kumar's job fetches him Rs. 7,000 a month. The varnish company where he works as a helper is in Cholavaram, half an hour away. He works from 9.00 a.m. to 6.30 p.m. His father Napa Gopi holds a job as a security guard earning Rs.7,000 a month for a daily 12-hour shift. The job came with one pre-requisite — he had to dye his hair. "The security in-charge said I looked very old. He insisted I colour my hair black," laughs Gopi, good-humouredly.
There's another important reason why men are abandoning weaving. Almost nobody wants a weaver for a son-in-law. Seventeen years ago, Mohan's brother had a hard time getting married. Now it is Napa Kumar's turn. Because marrying a weaver means signing up for a life of great, often unending hardship.
So the weavers of Arani become servers in canteens and helpers on buses. They aspire to be drivers, watchmen and office assistants. In the process, a craft that was learned and honed over generations is cast aside. There is no beautiful product to show for a day's hard labour, but there's food in the pot, and a little cash in the pocket. And that's how the weavers are rewarded — with jobs that could pay them double what they once earned but which require none of their extraordinary skills.
This article is part of the series 'Vanishing Livelihoods of Rural Tamil Nadu' and is supported under NFI National Media Award 2015.