"Do you think, there will be a place to sit inside the train today?" yells Breshpati Sardar, standing on a crowded platform at Jadavpur railway station in south Kolkata. The women waiting next to her shake their heads in disappointment and laugh at the question.
Breshpati is waiting for the 4:35 p.m. train to Canning. The train rushes into Jadavpur station. The women brace themselves in the crowd, pushing to enter one of the two already-full ladies compartments.
The train has come from Sealdah station in north Kolkata, stopping at Park Circus, Ballygunge Junction and Dhakuria. After Jadavpur, it will halt at Bagha Jatin, New Garia and Garia – all predominantly middle class and affluent areas of South Kolkata. The women waiting at Jadavpur – as well as at the other stations along the route – work as domestic helpers in these south Kolkata localities.
Many of them take the 45-kilometres Sealdah-Canning route, which covers 16 stations, and the 65-kilometres Sealdah-Lakshmikantapur train that halts at 25 stations, or the Sealdah-Namkhana line, which goes even further south.  So some in Kolkata call these Eastern Railways trains the  ' jhi special'. Jhi is a disparaging term in Bengali for female domestic workers.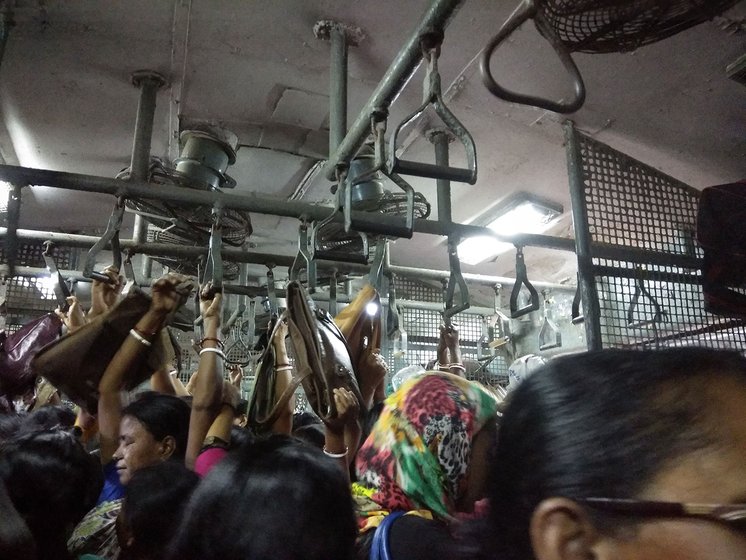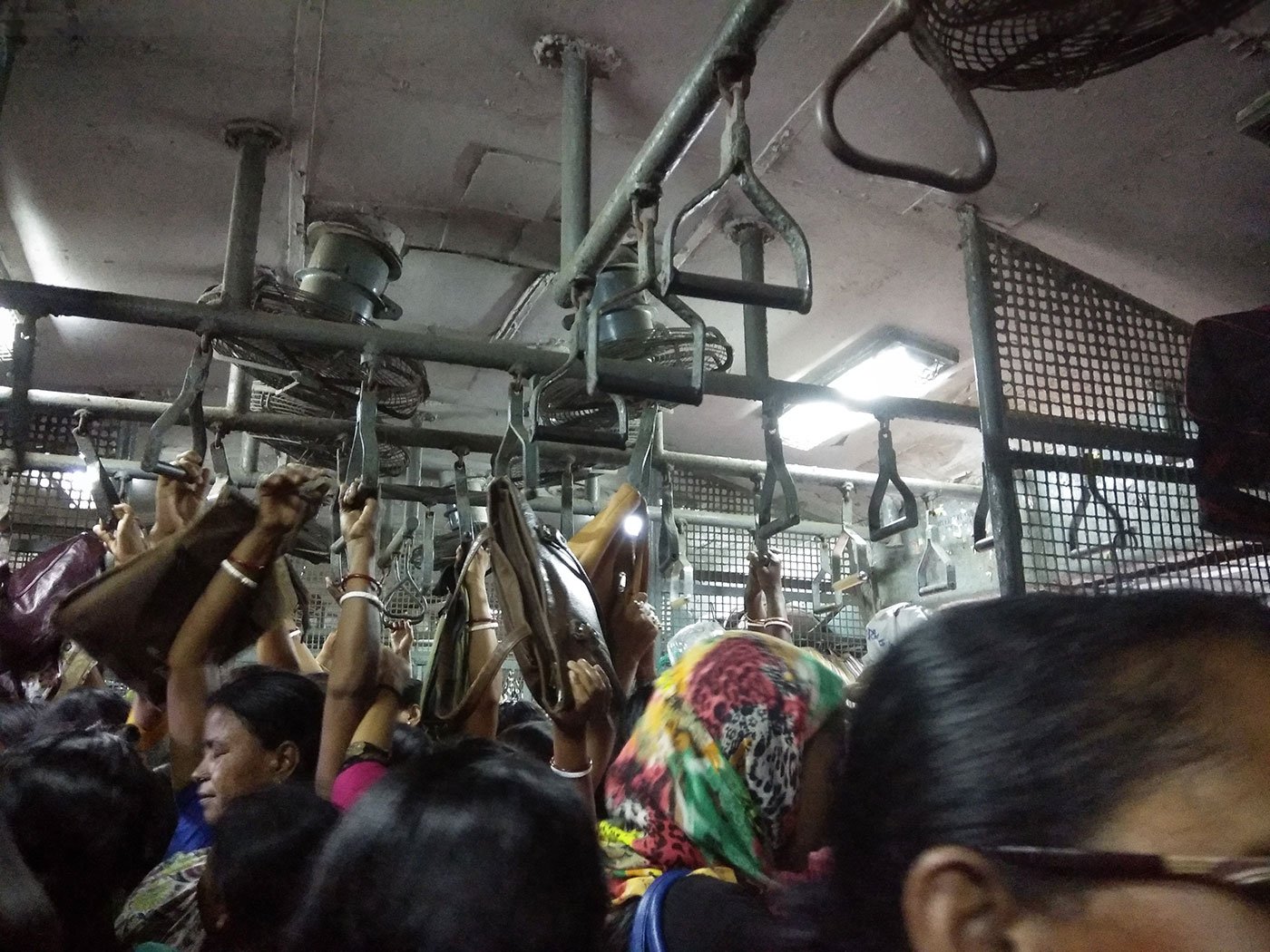 PHOTO • Urvashi Sarkar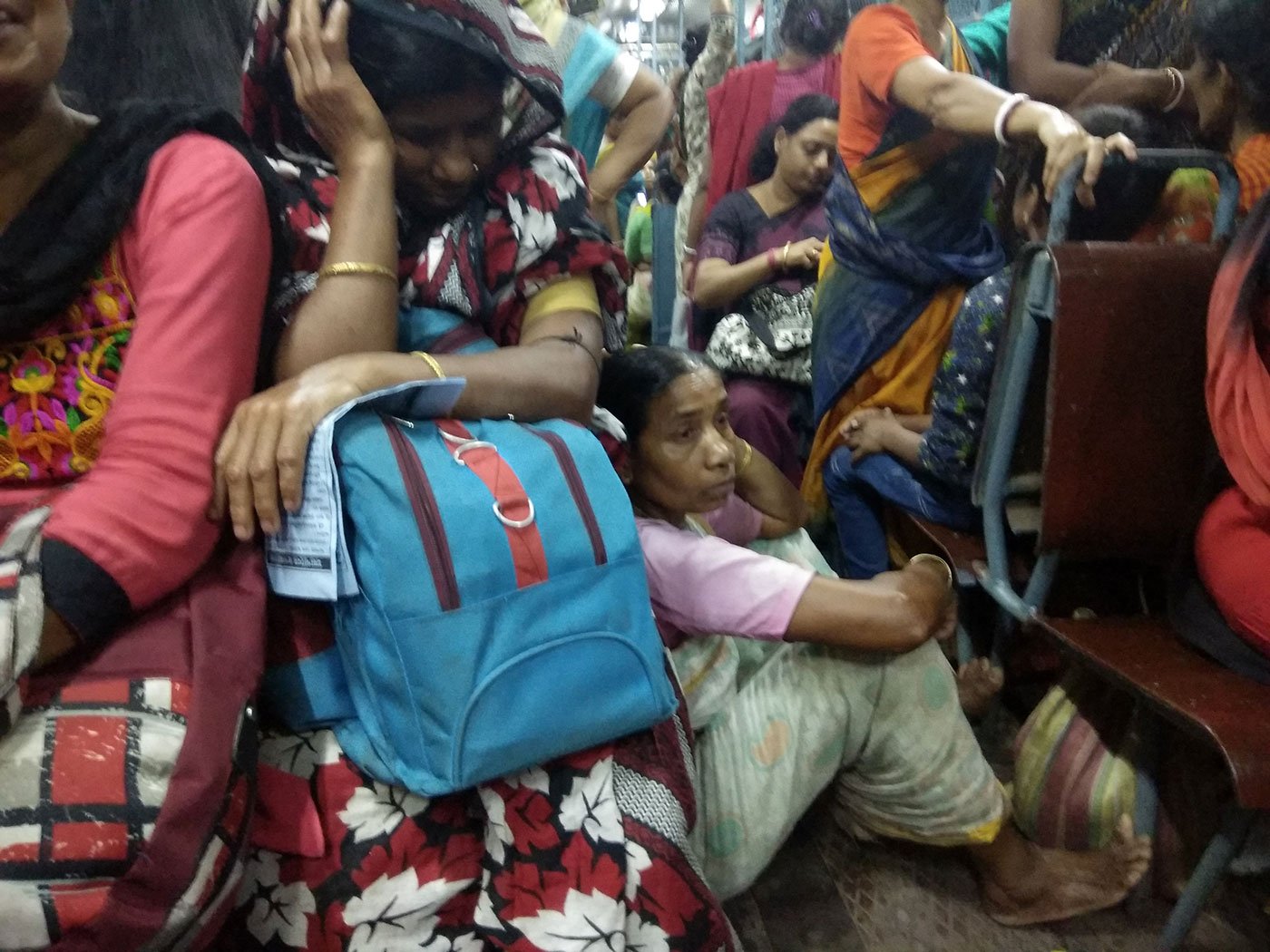 PHOTO • Urvashi Sarkar
That afternoon, on her way back home from work, wearing an orange saree, a red bindi and clutching a white handbag, Breshpati pushes her way into the compartment. Inside, amid the crush of bodies, bags and bangles, she finds a narrow space, just enough to stand. And repeatedly looks at the nearest window seat. When the person sitting there gets up to leave, Breshpati dives in to capture the coveted seat. Another woman, who has been pushed aside, screams at her.
A fight erupts. Breshpati's voice rises and she turns red with anger. Other women quickly intervene. She calms down and settles down on another woman's lap.  The smile returns to her face and she excitedly shows a video of a snake consuming a rabbit to the women near her. "I usually never get into fights. But didn't you see how the woman was behaving?" she says, angrily.
Some 75 minutes later, the train pulls into Canning, around 45 kilometres from Jadavpur, where Breshpati boarded the train. Canning is on the outer edges of the Sundarbans region in South 24 Parganas district. A lack of work options near their homes forces the women to commute to the city every day.
Breshpati's house is a 30-minute walk from the station, near the market. On the way, she tells me, "Earlier I lived with my parents and went to school. But after Class 5, it became difficult for them to make ends meet." Breshpati has three sisters and a brother. She started working in people's houses when she was 11, and has continued ever since. She was married at the age of 14, and is now 28.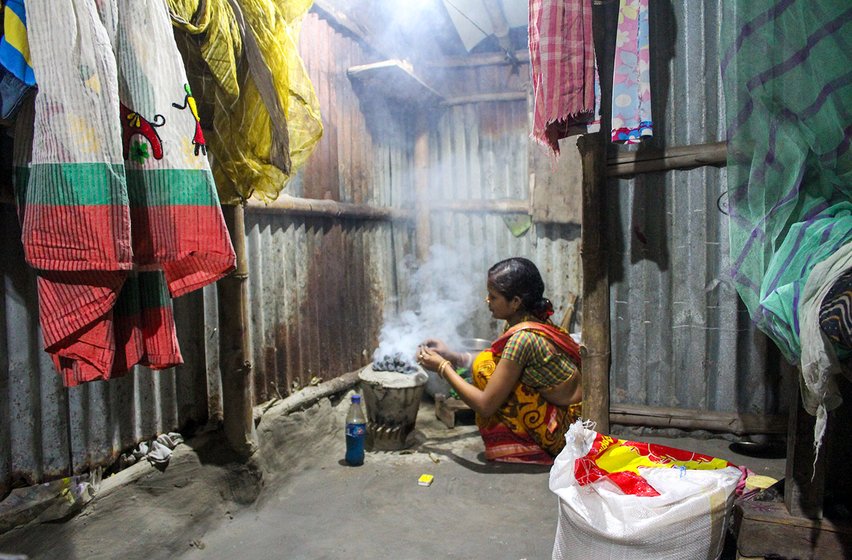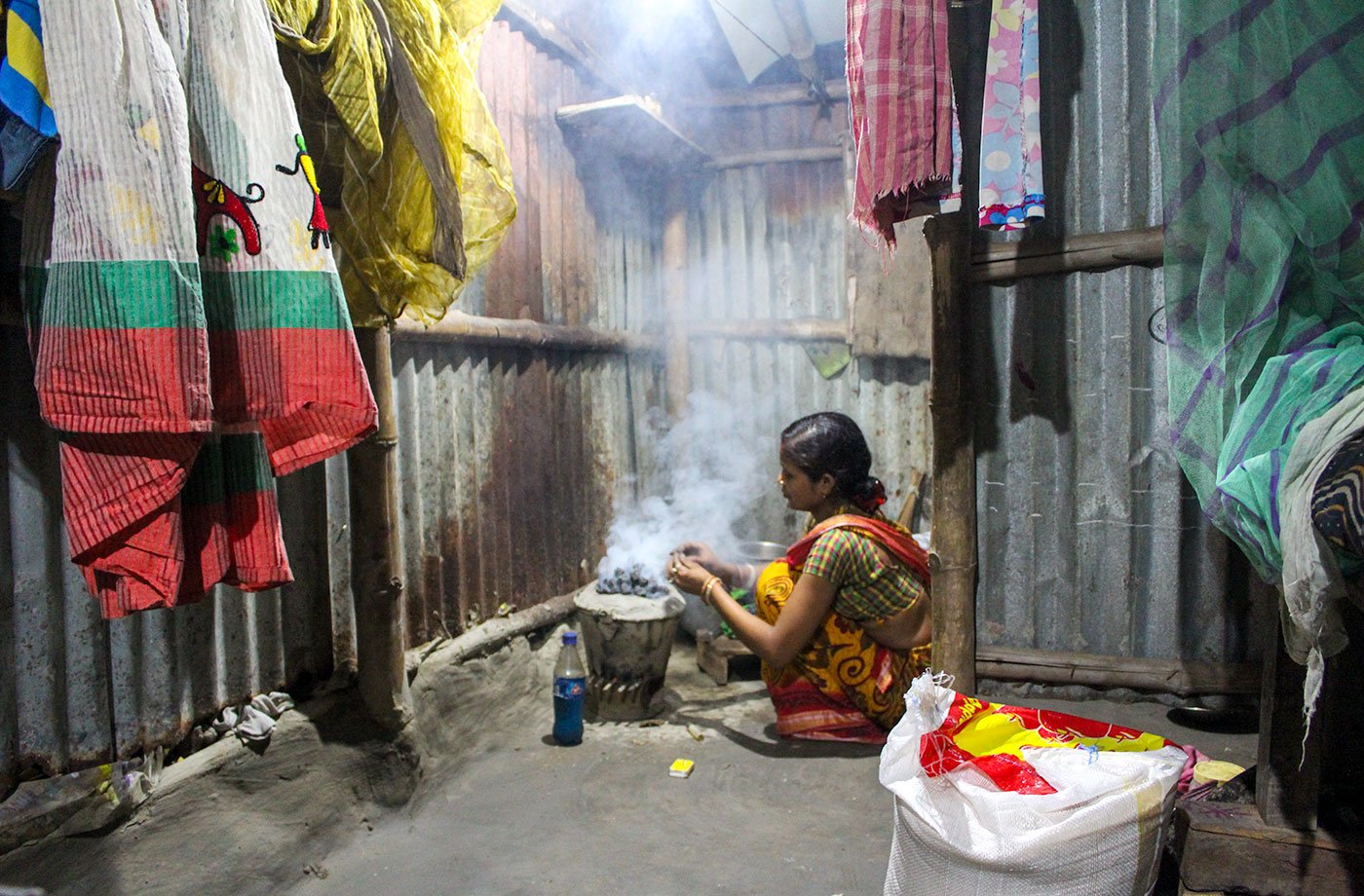 PHOTO • Siddharth Adelkar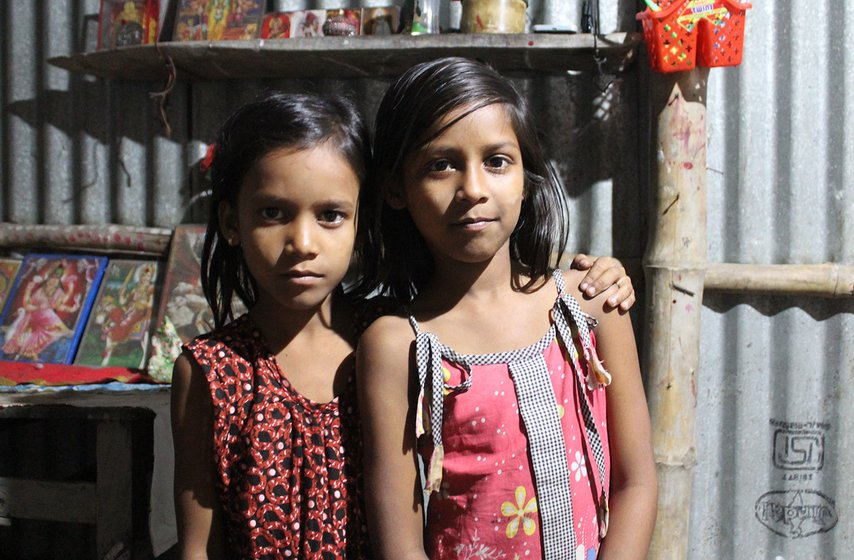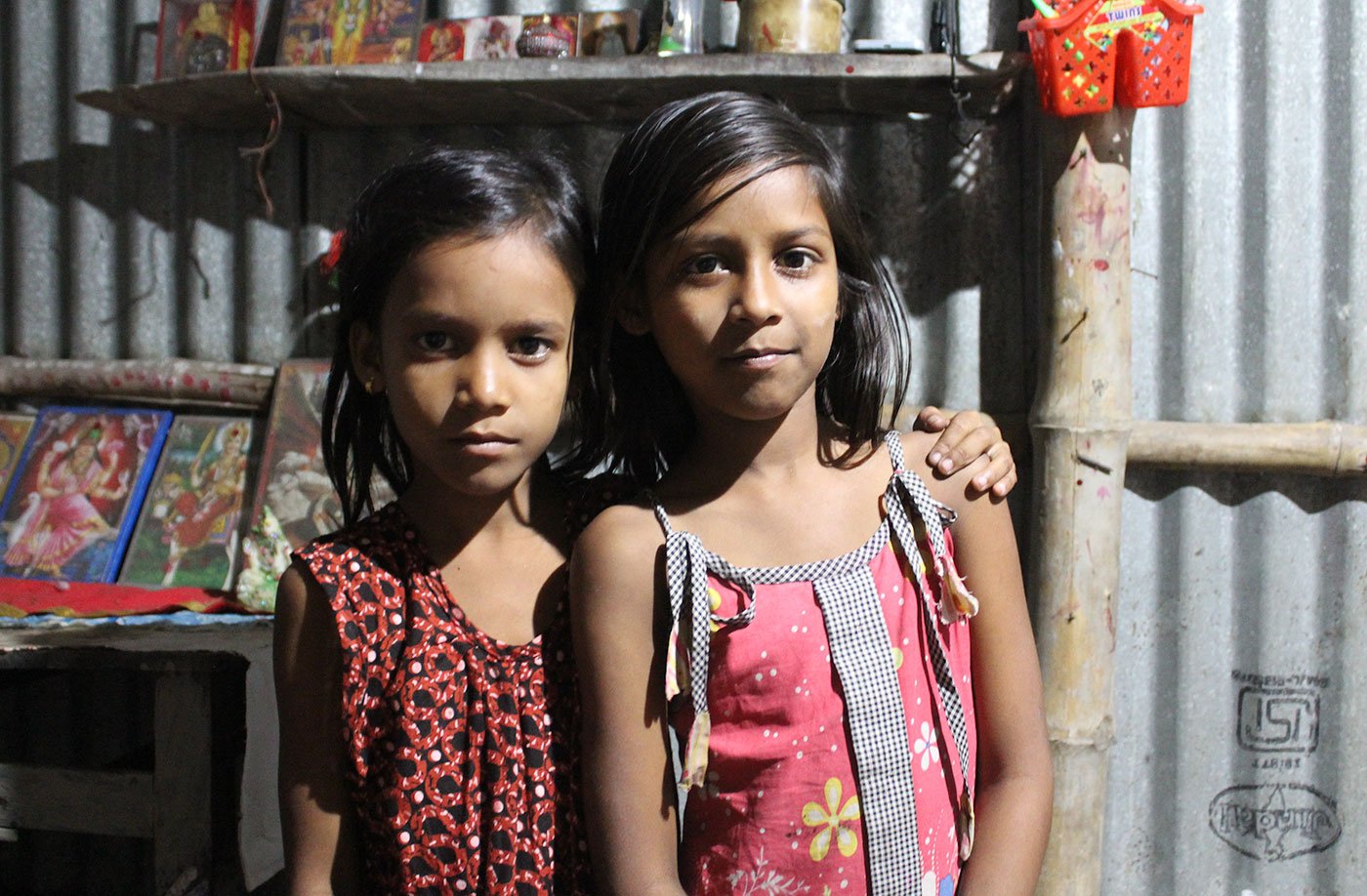 PHOTO • Siddharth Adelkar
Breshpati's daughters, Tanya, 11 and Sanya, 10, are waiting for her when we reach their two-room tin house around 6 p.m. She also has a six-year-old son, Biswajit. The children live with her parents and in-laws. The work schedules of Breshpati and her husband, Sanjib Sardar, leave them with little spare time. Sanijb works in a farsan -making unit and earns Rs. 9,000 a month.
That evening, their daughters are visiting. Breshpati instructs them to buy oil and vegetables, lights up the gobar gas furnace for cooking and fetches water from a nearby tubewell. Sanjib too will be home soon. After feeding the family and herself, and cleaning the utensils, Breshpati will sleep for a few hours and wake up at 3 a.m. to be able to reach Canning station in time for the 4:30 a.m. train to Jadavpur. "It is dark and sometimes cold. But I do not feel scared because many of us from my neighbourhood work at people's homes in Kolkata and travel together. We call out to each other as we pass each other's houses," she says.
Breshpati's day then covers work in six households. "My tasks include cooking, washing clothes and utensils, and cleaning. I get Rs. 8,500 a month in all. I usually get tea and food at my employers' houses and 3-4 holidays a month. But not all employers are good. Once, an employer cut 20 days salary because I did not come to work for a few days. I stopped going there."
Though Breshpati claims to be largely treated well by her employers, domestic workers usually labour in difficult conditions. A lack of decent wages, an absence of defined hours and benefit, abuse and sexual harassment are some of the issues they regularly face, says a 2016 memorandum submitted to the West Bengal government by the Griho Shramik Adhikar Abhiyan, a collective of organisations and unions of domestic workers.
'If the women ask for more wages, they can lose their jobs, since others are willing to work at lesser rates. They are sometimes given stale food...'
The memorandum also lists victimisation by traffickers and placement agencies, forced migration, a lack of welfare measures and of skill development avenues. It notes that domestic workers are recognised under the Unorganised Workers' Social Security Act (2008) and the Sexual Harassment of Women at Workplace (Prevention, Prohibition and Redressal) Act, 2013. But their working conditions were yet to be regulated by the West Bengal government.
The central government has formulated a draft national policy for domestic workers with recommendations on social security and minimum wages. But its implementation has been left to the states.
In June 2018, a domestic workers' organisation, Paschim Banga Griha Paricharika Samity was granted trade union status for the first time in West Bengal.  Soon after, the organisation presented its demands to the state government, including Rs. 54 as the hourly wage, maternal leave, four days paid leave each month and the right to use the toilet at the workplace.
"If the women ask for more wages, they can lose their jobs, since others are willing to work at lesser rates," says Mallika Das, who works with Parichiti, a Kolkata-based non-governmental organisation that works with domestic workers. "There is no creche at the workplace, so they are forced to leave their children with others. They are sometimes given stale food to eat. Some employers do not even allow them use their toilets. The toilets in the railway station are mostly locked, broken or in such a bad condition that the women have to hold themselves until they reach home in the evening."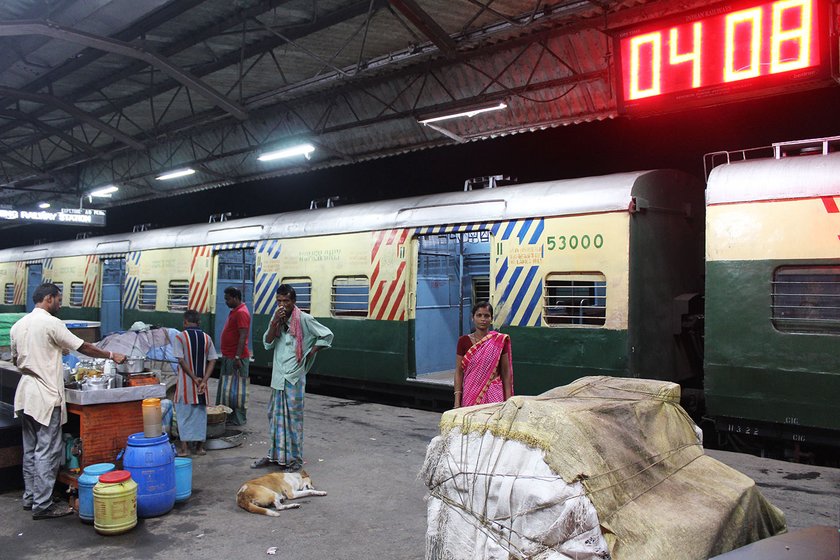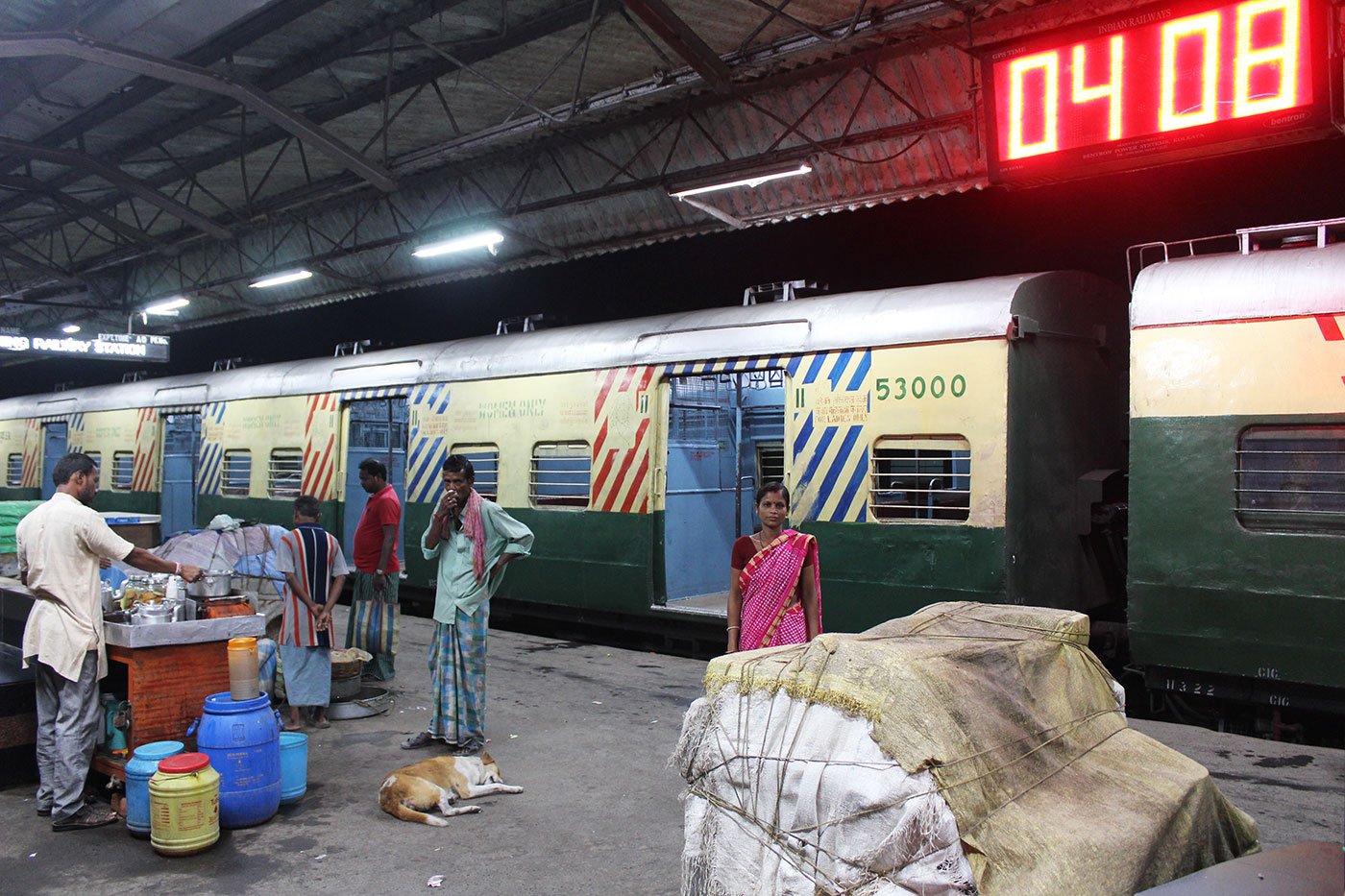 PHOTO • Siddharth Adelkar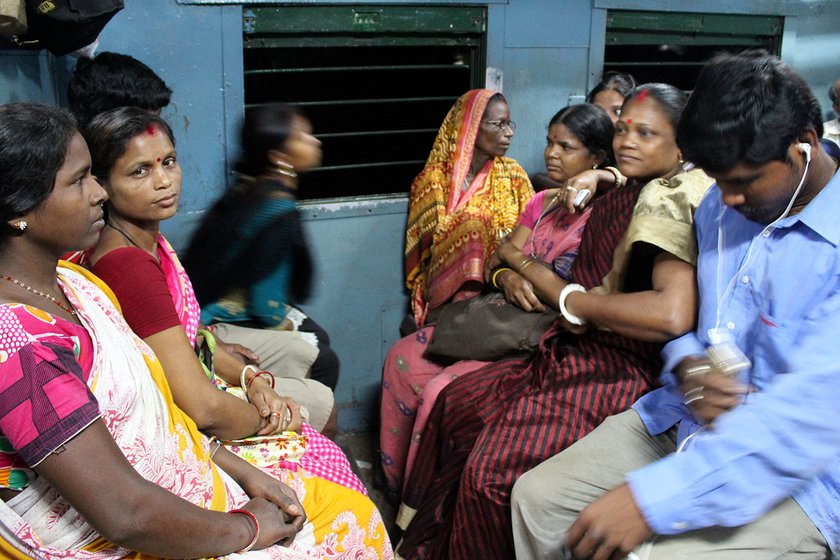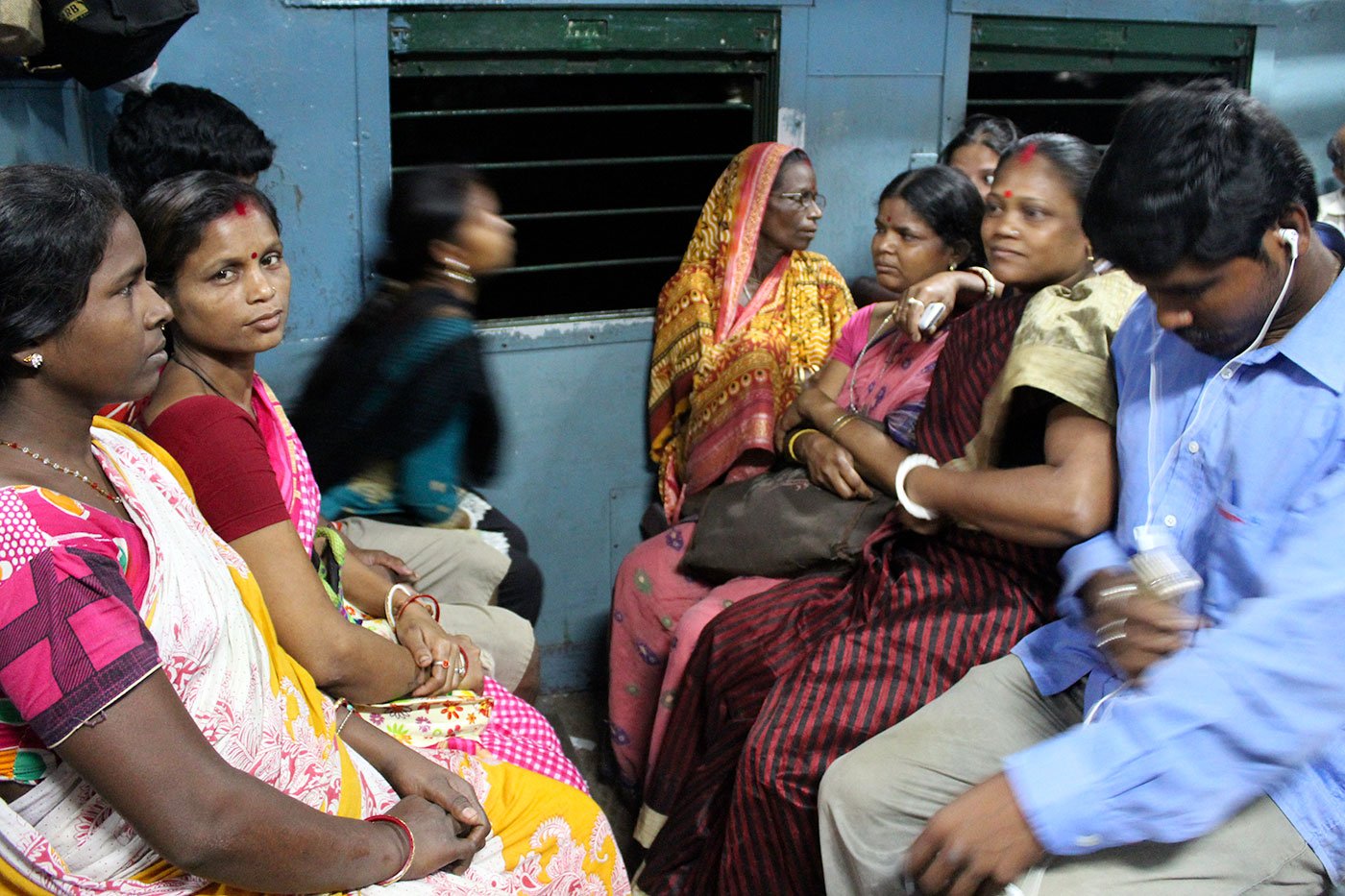 PHOTO • Siddharth Adelkar
Breshpati's employers permit her to use their toilets.  "I knead their chapatis and cut and chop vegetables with my own hands. Why should they object?" Her biggest  discomfort is having to stand all day in the houses she works at and in the train while returning. "My legs and back constantly ache," she admits.
The night passes and Canning station begins to stir around 4 a.m. We see Breshpati on the platform, a cup of tea and biscuits in hand. At that early hour, she appears fresh with her hair tied in a bun, the bindi in place and her face shining. Other women arrive, all going to work, including her friend Basanti Sardar, who works at Jadavpur too. "Come rain or shine, we maids must go and work, else our employers will be angry. They can't do without us!" says Basanti. The women laugh.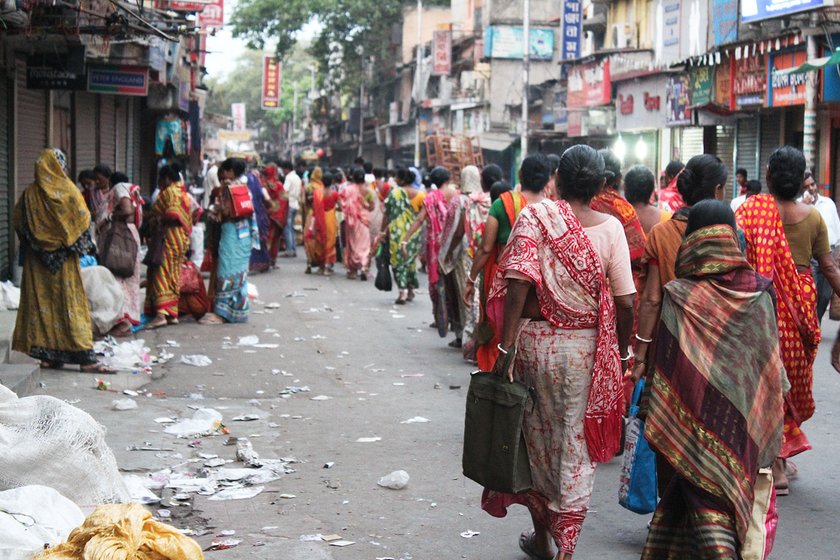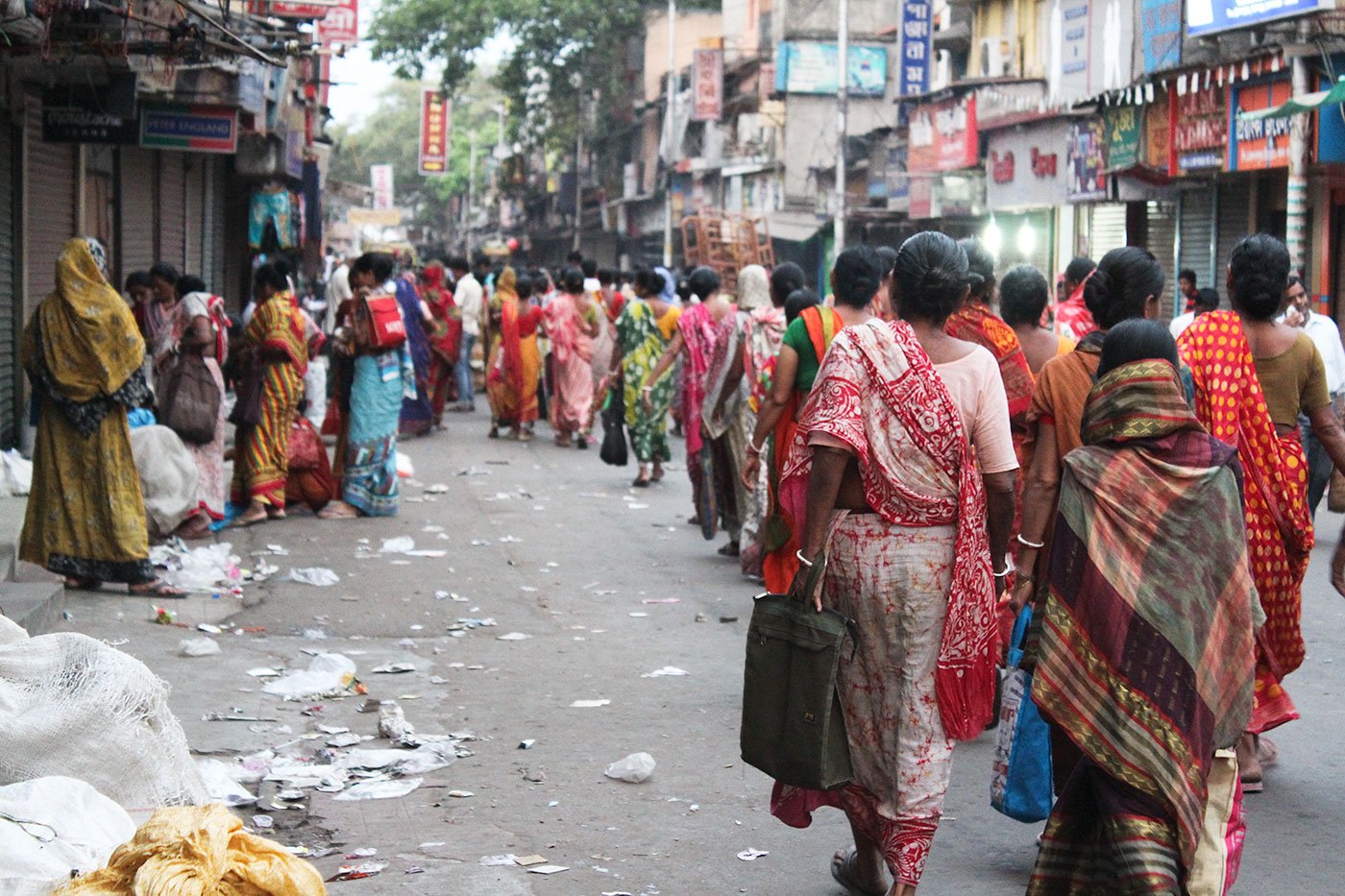 PHOTO • Siddharth Adelkar
"Our lives are tough and we are poor. But these are the moments of laughter that we live for," says Breshpati. At that early hour, the train is empty, but it will rapidly fill as it heads into Kolkata. Breshpati and Basanti sit in the general compartment instead of the ladies compartment. "In the general compartment, men sometimes offer their seats and will not scream at us. When possible, we board this compartment," Basanti says.
The train leaves at 4:30 a.m. and reached Jadavpur after roughly 75 minutes. Breshpati hurries away, walking, to her workplace, amid the crowds of other domestic workers making their way outside the station.
Many workers also travel from Lakshmikantapur town in South 24 Parganas district, to Sealdah. The train journey of over 60 kilometres takes around 85 minutes. Chameli Baidya boards from Mathurapur Road station, the third stop on the line. She works at six households in the Ballygunge neighbourhood in south Kolkata. Ten years ago, she had a different life.
"My husband and I owned a paan-beedi shop," she recalls. "Things were fine for some time, then my husband stopped working and began wasting money. We had to close the shop and I started working at people's houses. When I ran the shop, I was independent. Now, working at people's places, I get scolded if I am late or if I miss even a day's work." Chameli is now unable to even pay her house rent, and she and her husband, along with their three daughters and a son, live in a shanty near the Mathurapur railway line.
Chameli says the train journey is more difficult than working in houses. "I suffer each morning during the journey. Everyone pushes and screams. Sometimes, people even start hitting each other. There is no place to sit. If I had a handful of rice to put in my children's mouths, I would not make this journey. I would stay at home."