Every day at 10 a.m., Renuka Pradhan's one-room home in the Mina Nagar area of north Surat turns into her working space. Bundles of colourful sarees, delivered at her doorstep, are placed near the kitchen sink, the doorway, and even pushed under the khatiya . Pradhan swiftly unpacks a bundle to pick out a bright pink-and-blue polyester saree that she hangs over a water pipe outside her room.
The saree has been brought here from the fabric-manufacturing units located on the neighbouring Ved Road. During the mechanised embroidery process, the machine work leaves behind loose threads at the back end of the polyester fabric. These have to be carefully pulled out before the fabric can be sent back to the ironing and folding department in the textile units. This is where home workers like Pradhan step in.
Using her index finger and thumb, Pradhan pulls the extra threads hanging out of more than 75 sarees in a day. If the saree is made of the relatively more expensive polyester silk, she uses a knife to cut the loose threads. "I spend around five to seven minutes on each saree," she says. "In case I pull too much thread and end up damaging the fabric, I will have to reimburse the entire cost of the saree to the contractor. I have to be very careful."
At the rate of Rs. 2 per saree, Pradhan earns up to Rs. 150 every day. An error is likely to cost her nearly five days of her wages. "By the end of the [eight-hour] day, I can barely feel any sensation in my fingers," she says.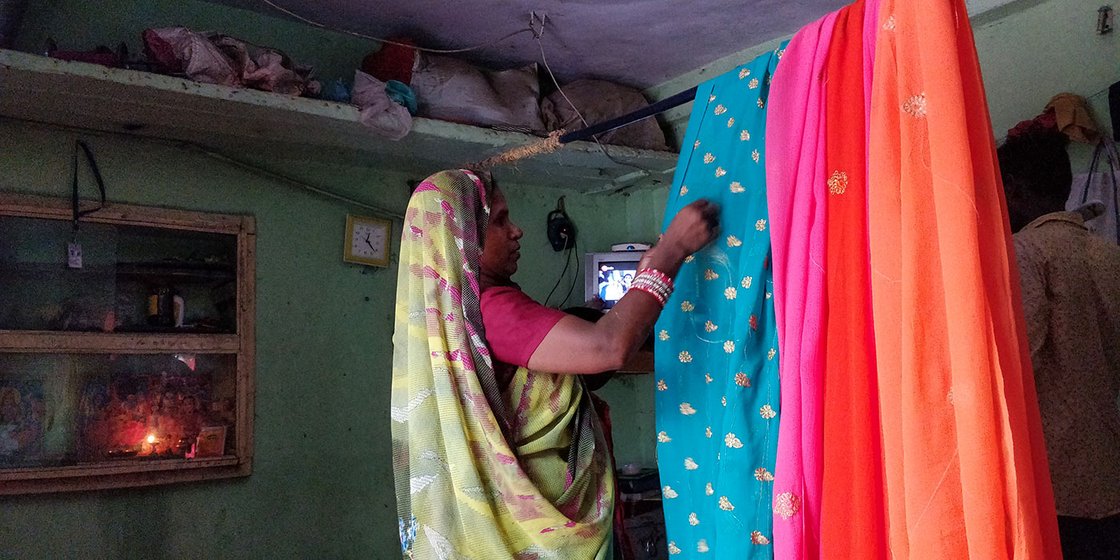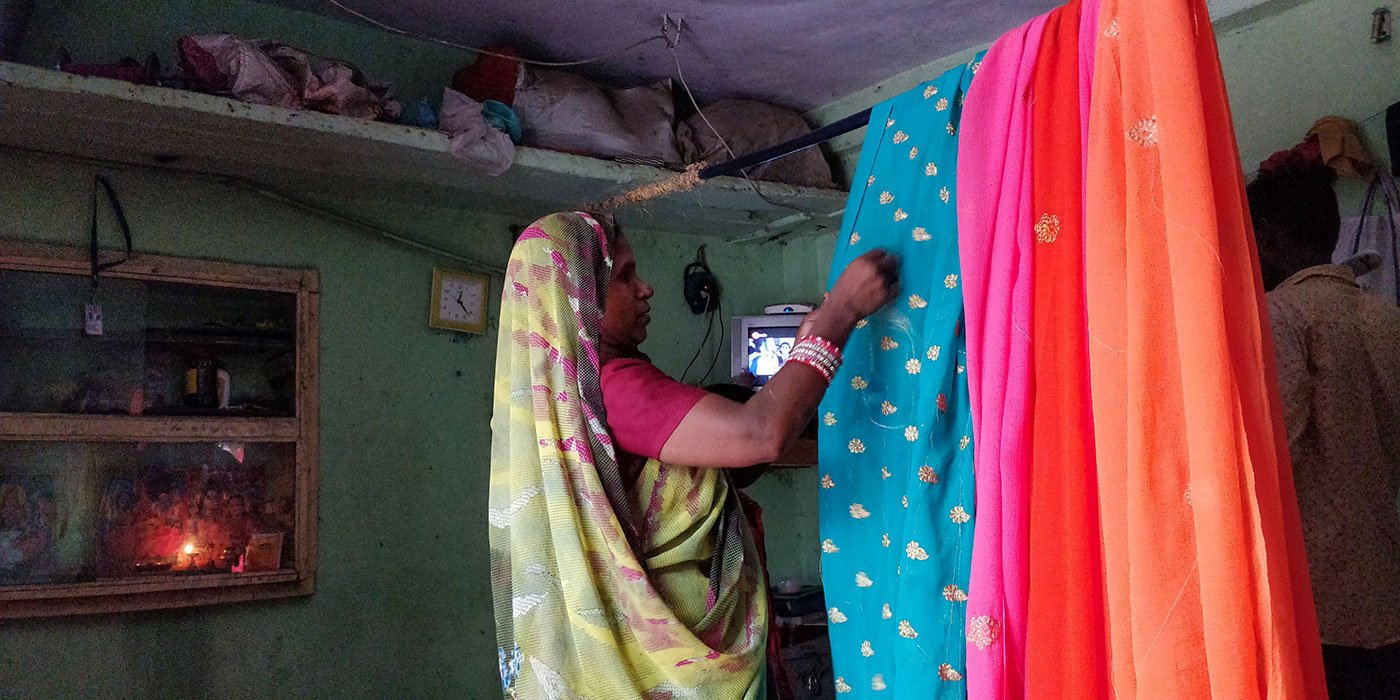 PHOTO • Reetika Revathy Subramanian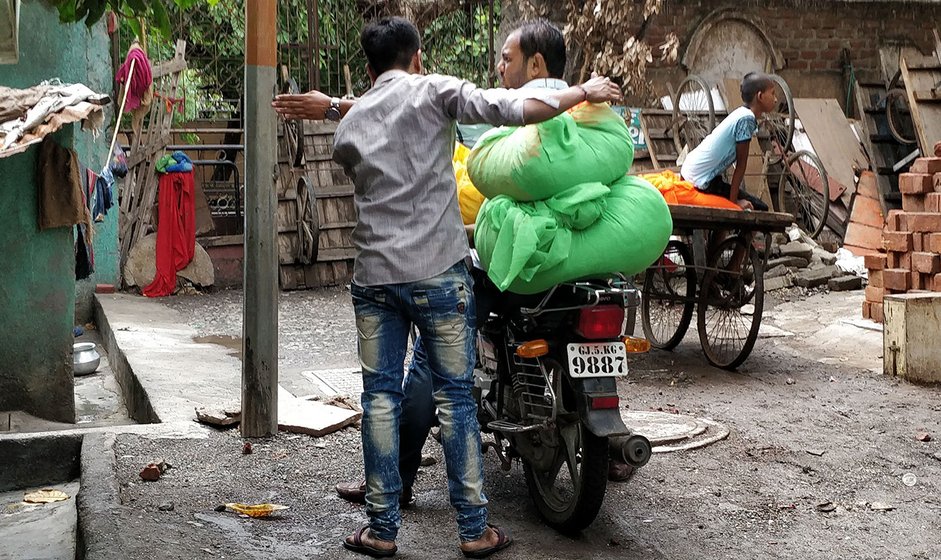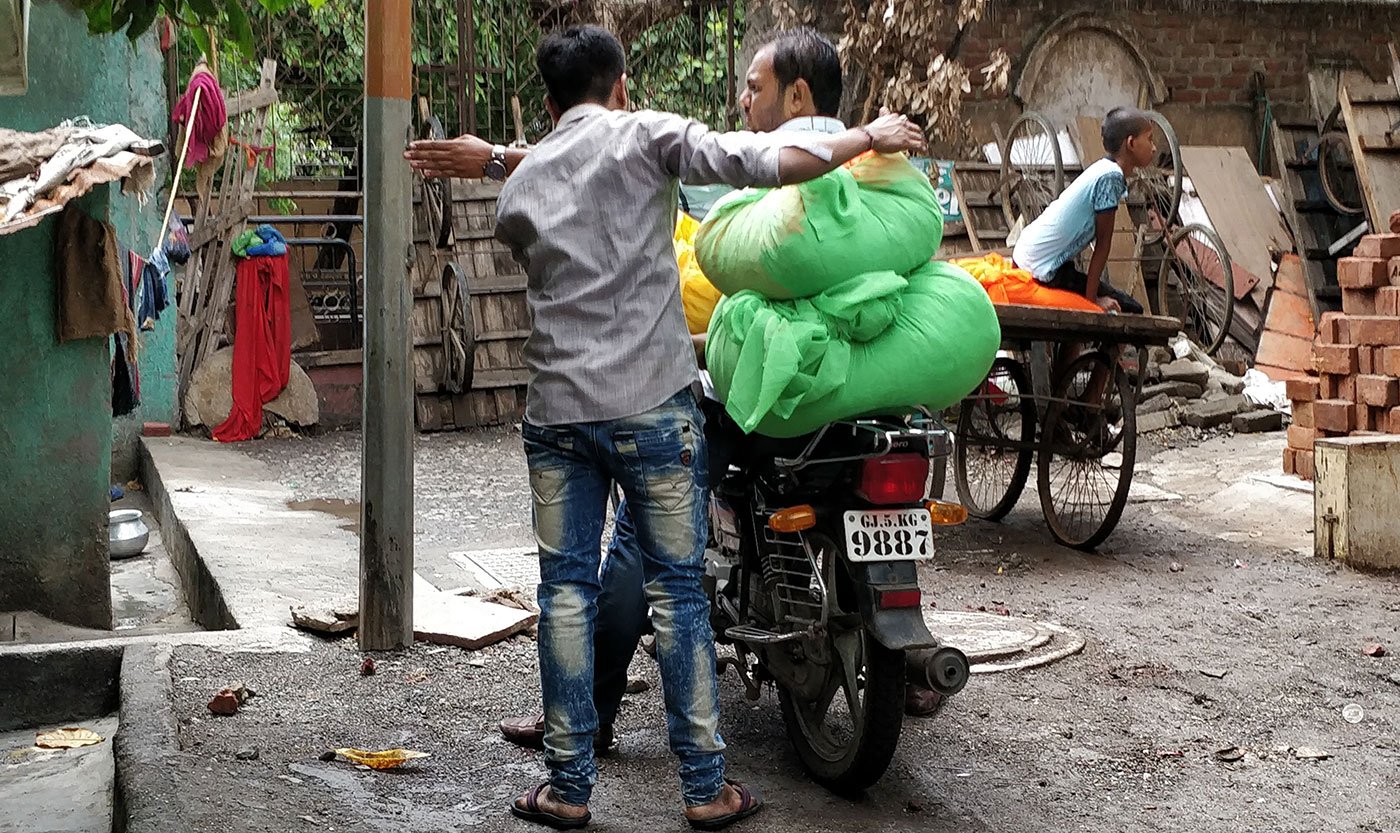 PHOTO • Reetika Revathy Subramanian
As a migrant from Sanabaragam village in Polasara block of Odisha's Ganjam district, Pradhan, 35, has been living with her husband – a powerloom worker – and four children in Surat for the past 17 years. Rough estimates suggest that there are nearly 800,000 Odia migrants in Surat (see Synthetic fabric, authentic despair and Living in the rooms by the looms ). Most of them work  in the powerloom and textile industries of a city often considered the country's textile capital – it has an estimated Rs. 50,000 crore annual industrial turnover, according to a  July 2018 report by the by the Federation of Gujarat Weavers Association  and its subsidiary the Pandesara Weavers Association,
Pradhan is one among the thousands of invisible home workers – most of them are  the wives of the Odia powerloom workers – who live and work from spaces that are located close to or within the industrial corridor in north Surat. Their labour includes dhaaga cutting (cutting extra threads) and sticking diamonds (colourful sequins) on fabric. They are provided with no protective gear to undertake their work and are offered no compensation benefits for any physical discomfort, such as eye strain, cuts and back pain they may arise in the process. They have no wage contracts or social security, and usually lack any bargaining power.
"I have worked for nearly 15 years, but I don't even know the name of the company or its owner. The bundles get delivered every morning, and I get paid in cash for my work every fortnight," says Pradhan.
Only a few metres away from Pradhan's home, Shanti Sahu is also engaged in the same work. She came to Surat from Buduka village of Brahmapur Sadar block in Ganjam district. Sahu, 40, wakes up at 5 a.m. to join her friends from Mina Nagar on the way to the nearby pay-and-use toilet. The next few hours are spent in completing numerous household chores – including collecting water, cooking, washing clothes – and attending to her husband, Arijit Sahu, who has just returned home from his night shift at the powerloom.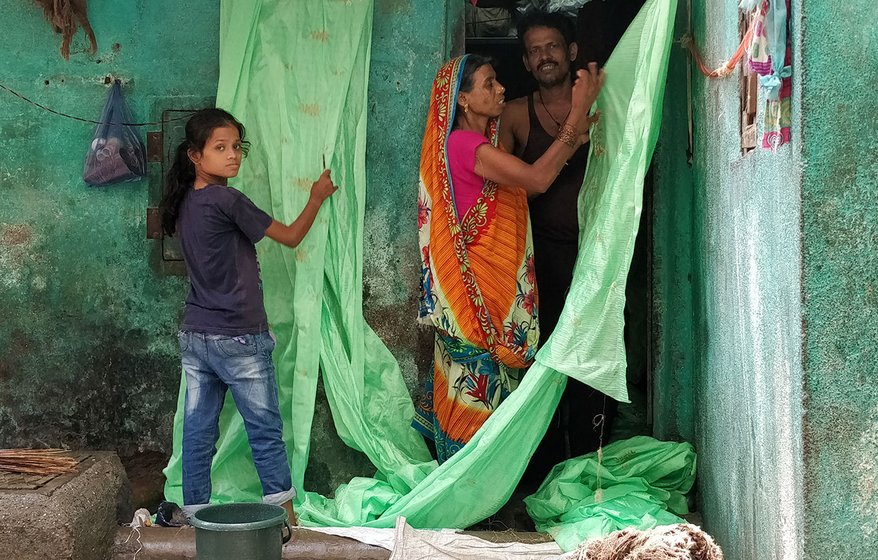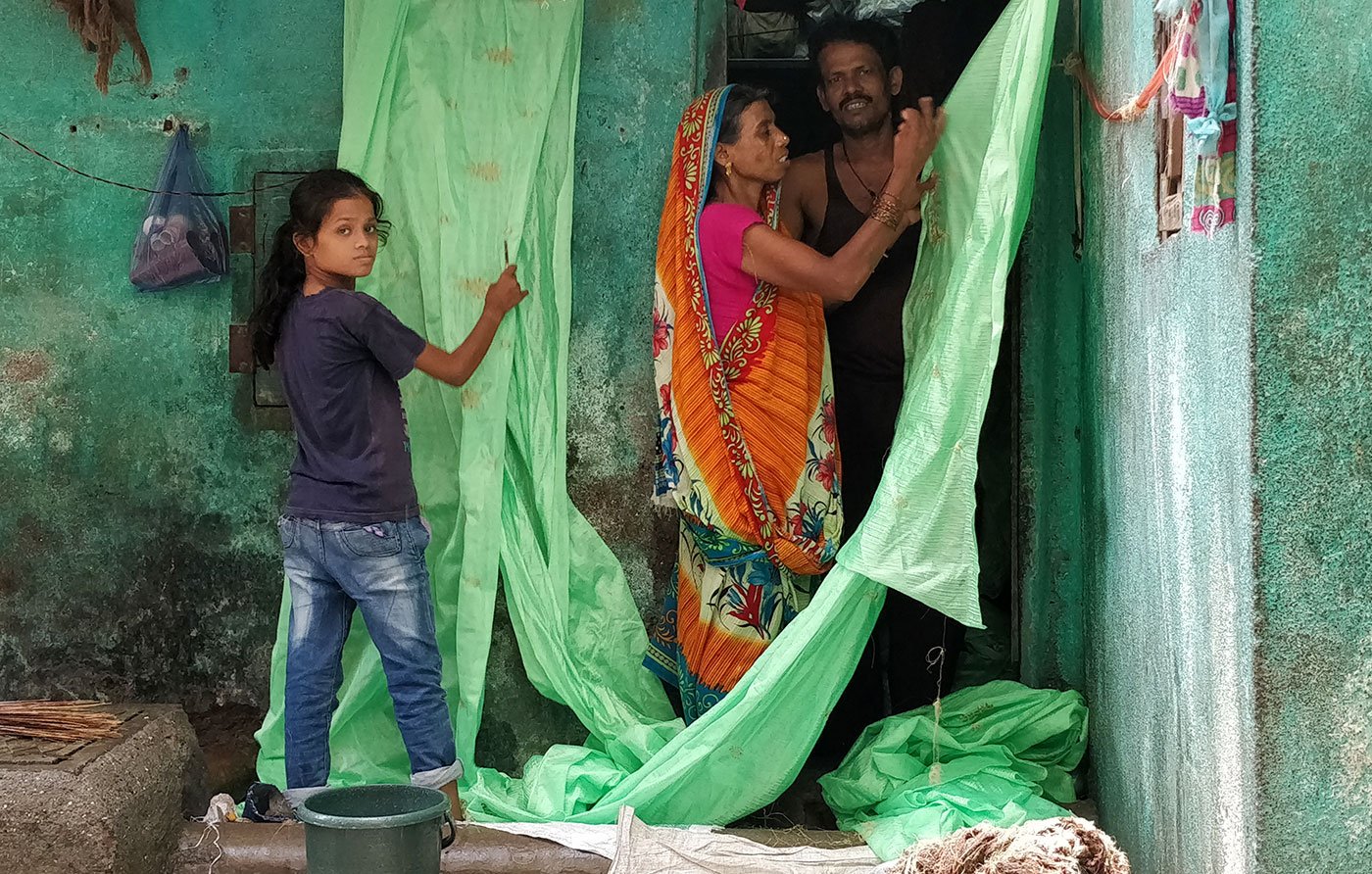 PHOTO • Reetika Revathy Subramanian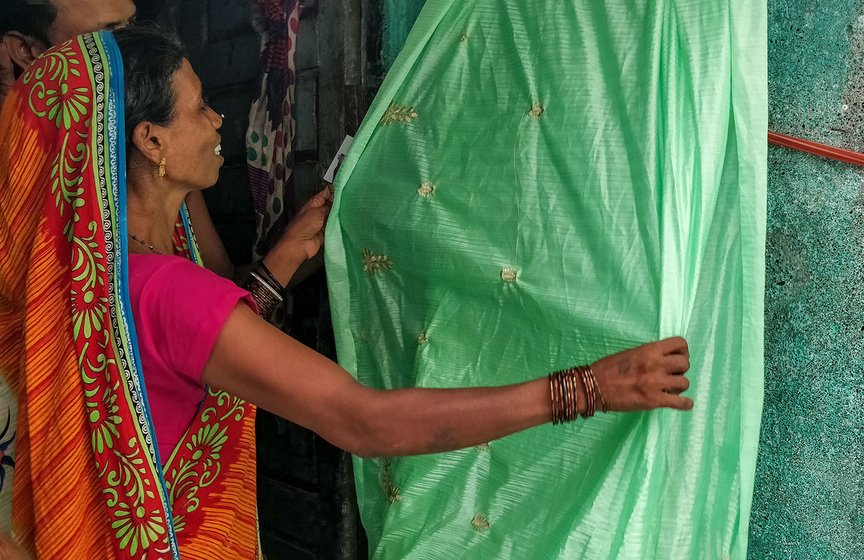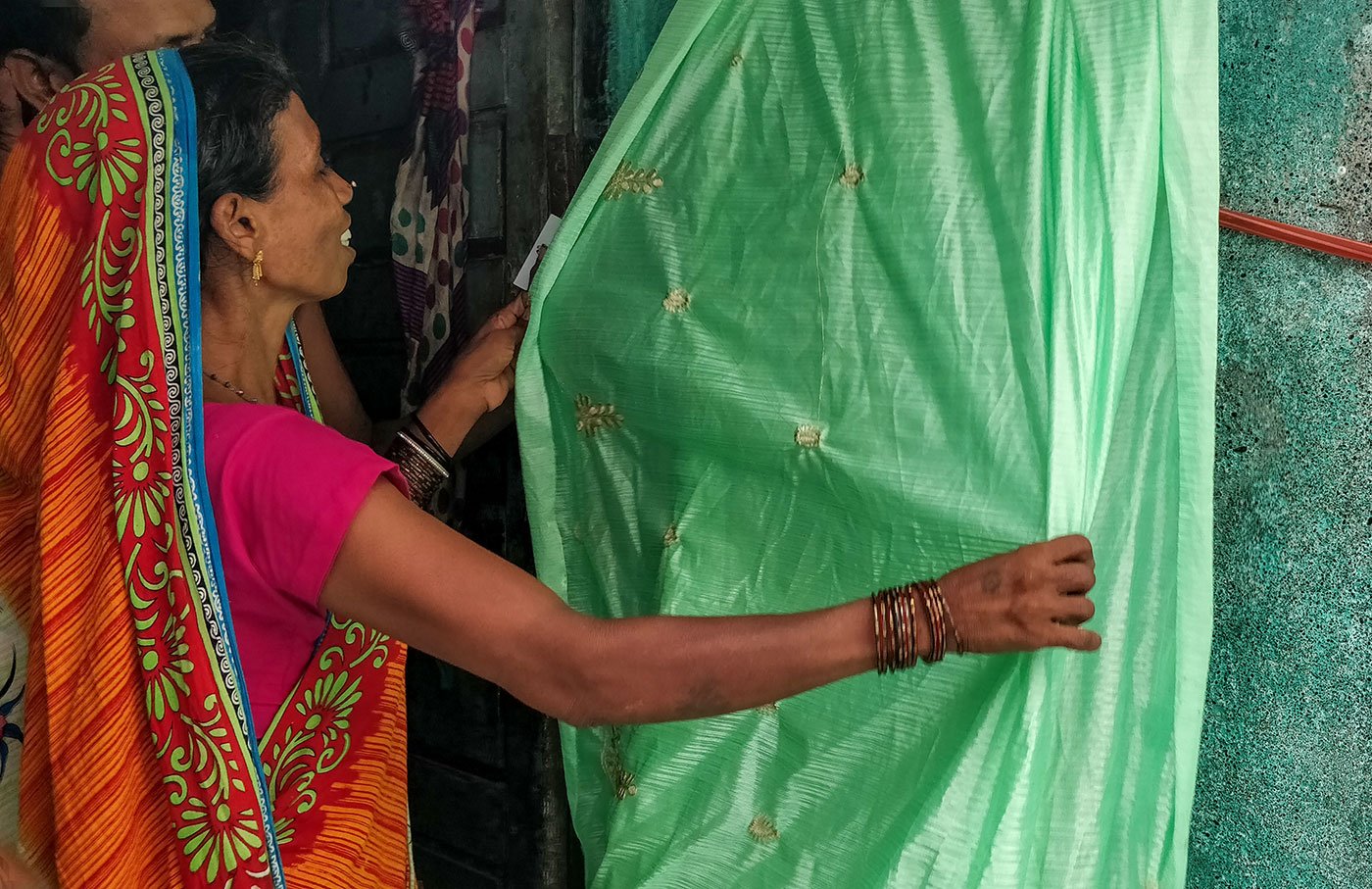 PHOTO • Reetika Revathy Subramanian
Her daughter Asha, meanwhile, begins to undo the bundle comprising the sarees. "We work together as a team," says Sahu, pointing to her 13-year-old. Asha had to drop out of school as her Odia-medium school, run by the Surat Municipal Corporation, taught only till Class 8 and a private-school education was beyond their means. The mother- daughter duo works on the relatively more expensive sarees that have intricate threadwork, earning between Rs. 5 and Rs. 10 per piece. The burden of errors is also consequently heavier. "The ceiling height of our room is low and there is limited light, which makes it difficult for us to work indoors. We pin the sarees at a height outside and remain standing for nearly the entire day. Any stain on the fabric would also be cut from our wages," says Sahu.
Considering their very marginal position in the textile industry and complete invisibility in official records, there are no clear estimates of the number of women engaged in home-based work. "None of them have signed any written contracts, they might not even know the name of the immediate contractor," said Sanjay Patel, programme coordinator, Aajeevika Bureau, Surat, an NGO working with Odia migrant labourers in western India. "In several cases, their work is not even recognised as labour by the women and their families because it is done inside the house. Children are also pulled into the work considering the strict every day piece-rated targets. That is why they don't even negotiate their wages."
According to the provisions of the Gujarat Minimum Wages (April to September 2019; revised every six months to match prevailing inflation rates), unskilled workers employed in 'manufacturing readymade garments or its accessories and tailoring establishments' are entitled to earn around Rs. 315 per day for an eight-hour shift. However, the home-based work done by Pradhan, Sahu and other women from Odisha, is tallied on a piece rate and they typically receive nearly 50 per cent less than the state-stipulated minimum wage rates. Women working in factories here who undertake the same dhaaga cutting work earn an average of Rs. 5,000-7,000 per month, and might even get social security benefits such as overtime pay and workers' insurance, whereas the home-based workers earn not more than Rs. 3,000 in addition to bearing the working costs.
"Even 10 years ago, I was earning only Rs. 2 per saree. Every time I have tried to negotiate with the contractor to increase my wage, he tells me that I am anyway working from my home, and the work requires no real skill. "But what about the light bills and room rentals that I have to pay?" says Geeta Samal Goliya, 32, whose husband Rajesh is a powerloom worker. The family lives in Vishram Nagar, around four kilometres from Mina Nagar.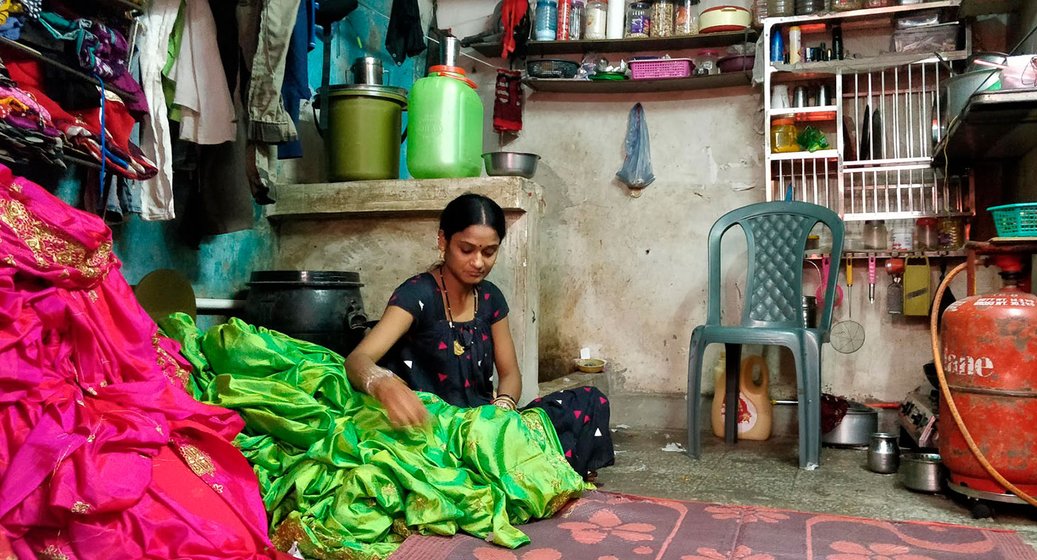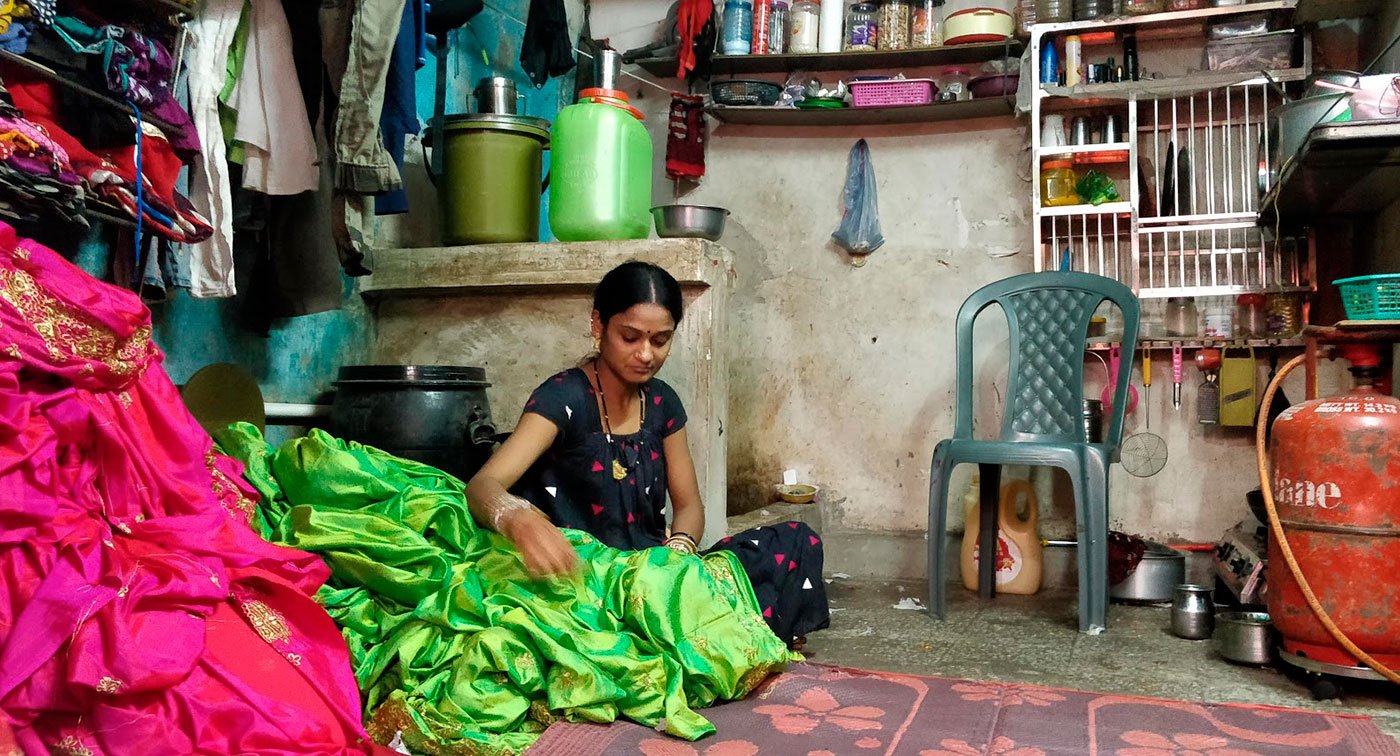 PHOTO • Reetika Revathy Subramanian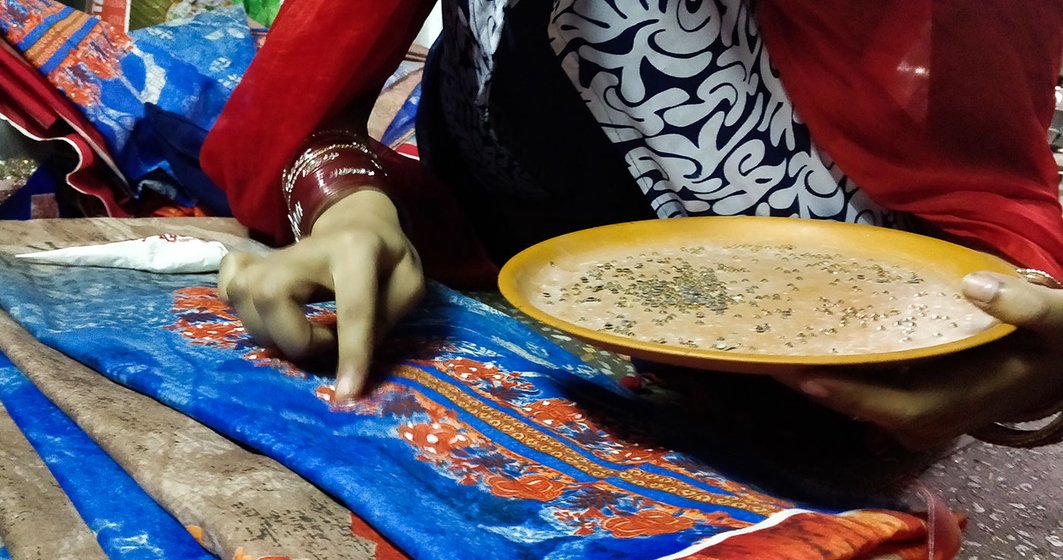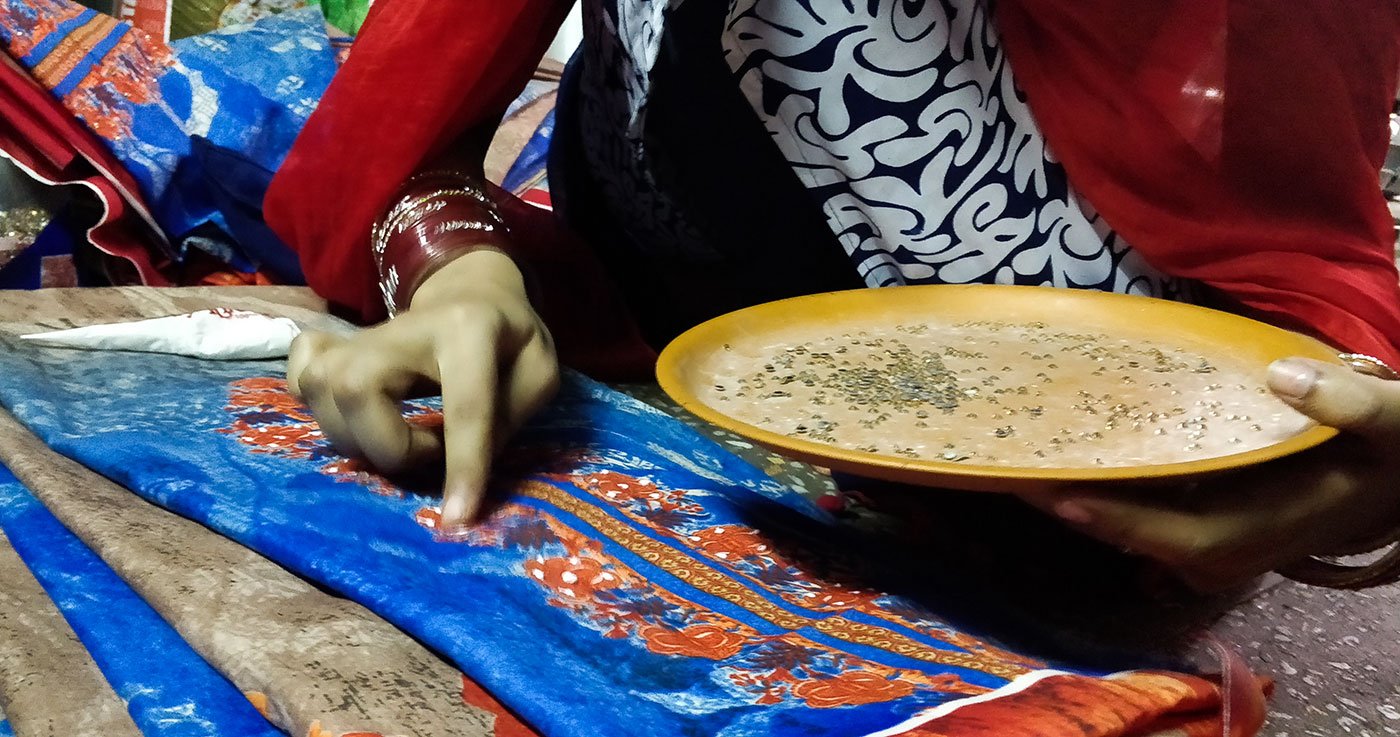 PHOTO • Reetika Revathy Subramanian
A February 2019 University of Berkeley, California, study titled Tainted Garments: The Exploitation of Women and Girls in India's Home-based Garment Sector states that nearly 95.5 per cent home workers in the Indian garment industry were female. The report, led by modern slavery researcher Siddharth Kara, further notes that none of these workers received any sort of medical care when injured at work, belonged to a trade union or had a written work agreement.
The work of the women in Surat's textile industry who operate from their homes – which becomes their worksite – is not identified as formal employment. This means they are not under the purview of any labour laws, such as the Factories Act, 1948, that safeguard the rights of industry-employed workers.
"The home-based work agreement is only a civil relationship [not a employer-employee relationship], wherein labour laws are not applicable. "Moreover, work is sub-contracted, there's no real compliance verification mechanism," says GL Patel, Assistant Commissioner of Labour, Surat region.
"Insurance and compensation benefits can only be provided to those workers who have sustained injuries inside the registered factory space," adds Siddheshwar Lombe, assistant director, Powerloom Service Centre (set up by the Union Ministry of Textiles), Surat, "Even though it is known that the women workers are a part of the industry, it is very difficult to document their work hours, conditions and injuries since they work inside their households for flexible time periods."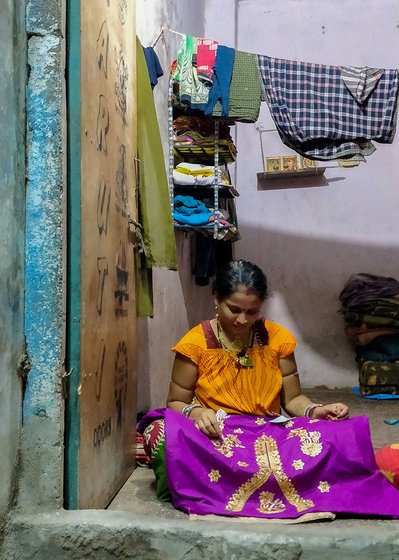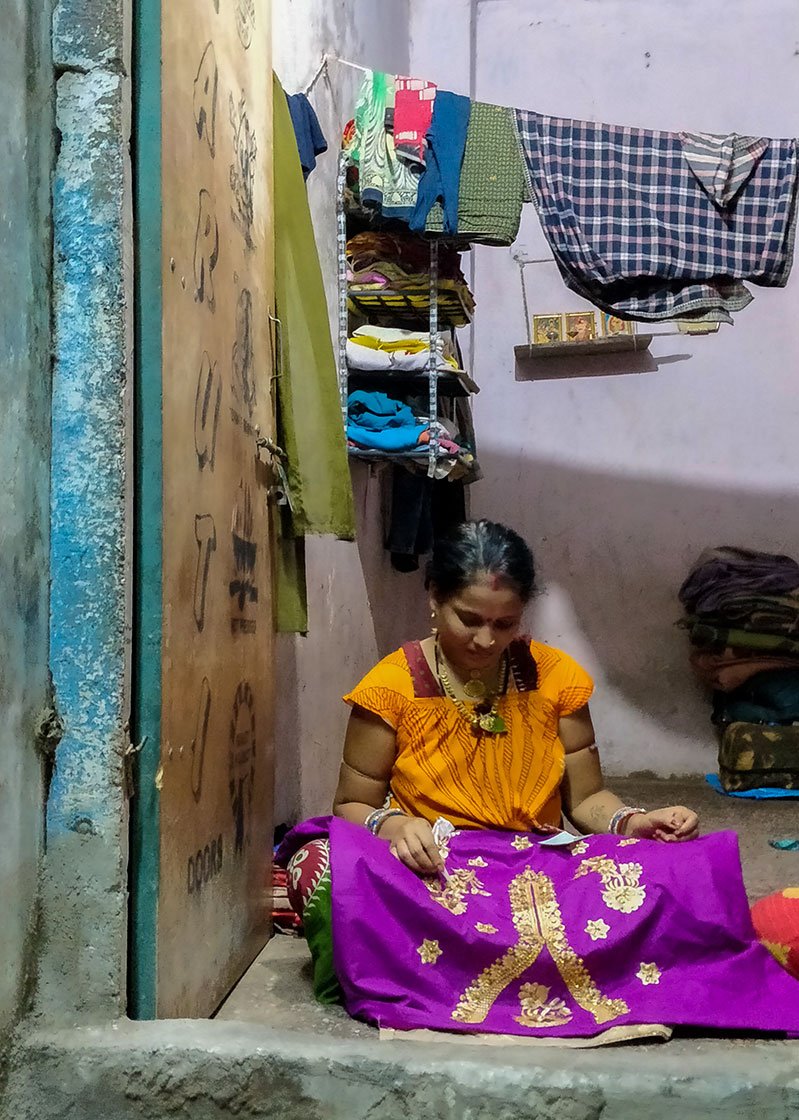 PHOTO • Reetika Revathy Subramanian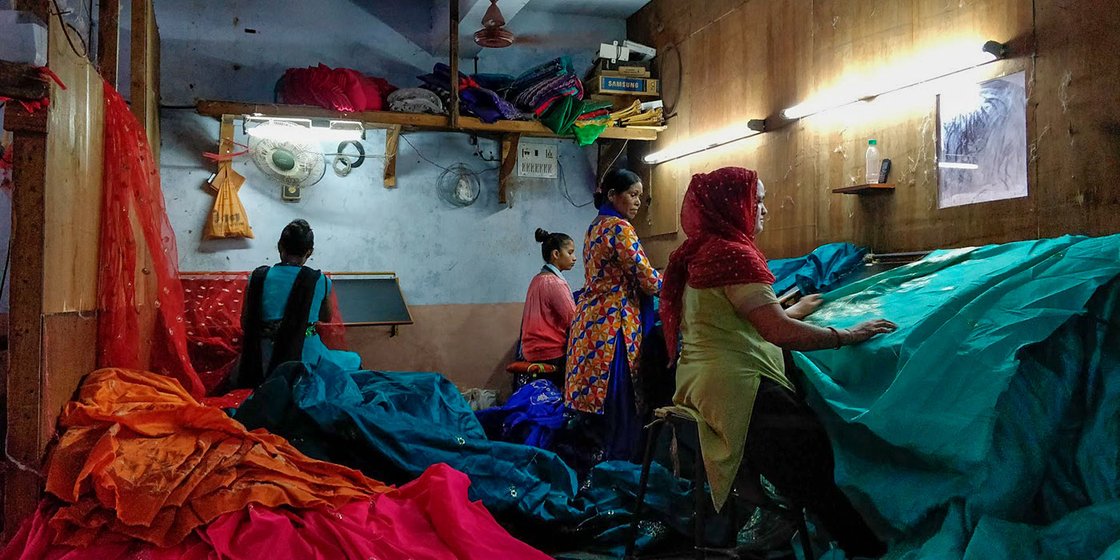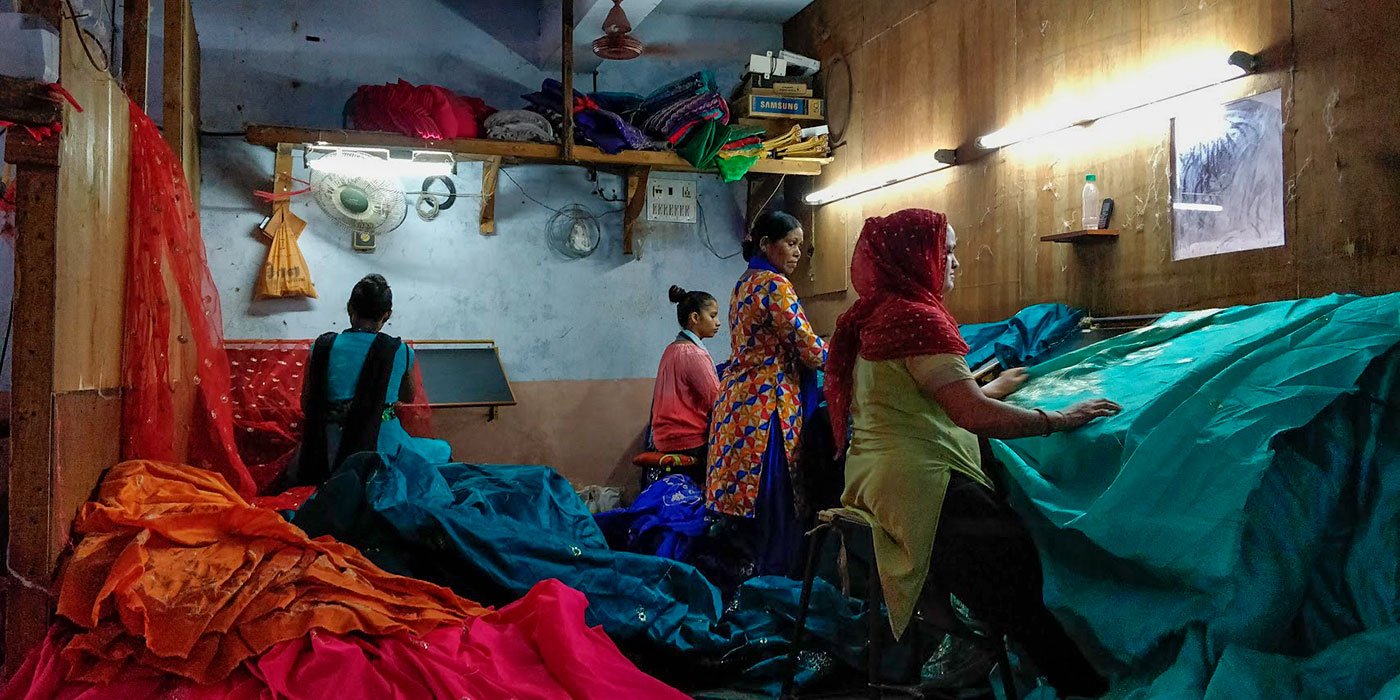 PHOTO • Reetika Revathy Subramanian
In the absence of any institutional safeguards and social support mechanisms, 30-year-old Ranjita Pradhan, a migrant from Bhogoda village in Buguda block, Ganjam, has earned the title of the only "woman Odia agent" in Vishram Nagar. "It was very difficult to work with male contractors, who would not pay us in time. They would even cut our wages without any reason," says Pradhan, who started as a home-based worker 13 years ago.
In 2014, Pradhan directly approached the owner of a garment factory on Ved Road and promised him "good quality work" if he could directly contract the work to her. Ever since, she has sub-contracted diamond-sticking work from three garment factory owners to nearly 40 women in the neighbourhood. As per their unwritten work contract, Pradhan delivers one kilogram of sequins and fabric glue to the women workers every fortnight. The dress materials reach them every morning. Each home worker ends up sticking up to 2,000 sequins per day, earning an average of Rs. 200 every day (one rupee for every 10 sequins).
"They trust me because they know that even I am one of them," says Pradhan. "The work requires the women to bend their backs and work for hours together to fill up the intricate patterns. They end up with back pain and eye strain. And yet, if we complain, even our husbands tell us that it is just 'time-pass' and not real work."
It is 7 p.m. and Pradhan is waiting for her husband Bhagwan to return from the powerloom. She has repacked the bundles with her day's work. It's been the same every day for the last 13 years. "We came to Surat thinking that we would return to Ganjam to build a house for our family there someday," she says. "But we haven't been able to save and barely manage to run our everyday here."