Bhamabai is sitting in her shop, repairing a chappal , the iron cobbler's anvil before her on the floor. Using a rectangular block of wood as support, she holds down the open slipper at the edge with her big toe. She then pushes in the needle and, looping the thread, pulls it out. With six iterations, the broken strap is fixed – earning her five rupees.
Meet Bhamabai Mastood, a leather worker, commonly called a cobbler, living in near penury. Decades ago, she and her husband were landless labourers in Osmanabad district of the Marathwada region. When the great drought of 1972 ravaged Maharashtra, decimated agricultural work, and dried up their livelihoods, both came to Pune.
They took up any work that came their way, on roads or in building construction. A day's labour brought two to five rupees during those times in Pune. "I gave all that I earned to my husband. He would drink and beat me up," Bhamabai, now around 70, says. The husband eventually abandoned her, and now lives with his other wife and children near Pune. "For me, he is as good as dead. It has been 35 years since he left." Bhamabai would have had two children herself had she not lost them at birth. "There is no one with me, I have no support," she says.

After her husband left, Bhamabai set up a small shanty shop for footwear repair, a skill she had learned from her father. The shop is in a small lane off Pune's Karve Road, adjoining a housing colony. "It was demolished by municipal workers. So I rebuilt it. They broke it down again."

In despair, Bhamabai asked the residents of the colony for help. "I told them I had nowhere else to go. Nothing else to do." They stepped in, spoke to the municipal authorities, and she continues working there.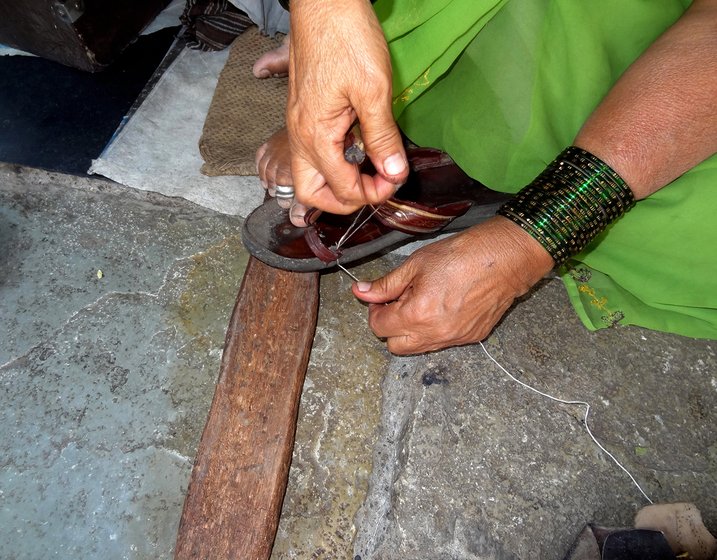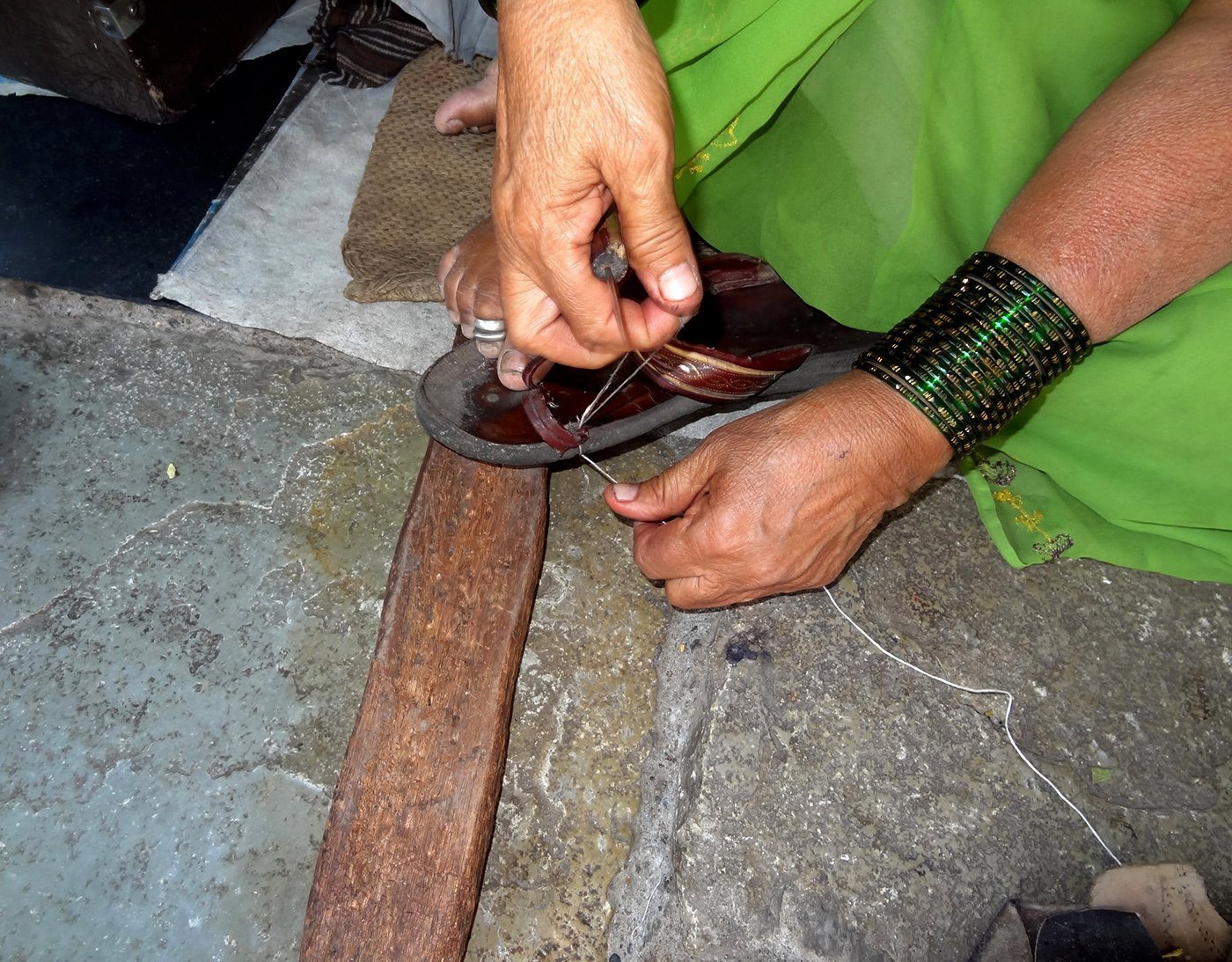 PHOTO • Namita Waikar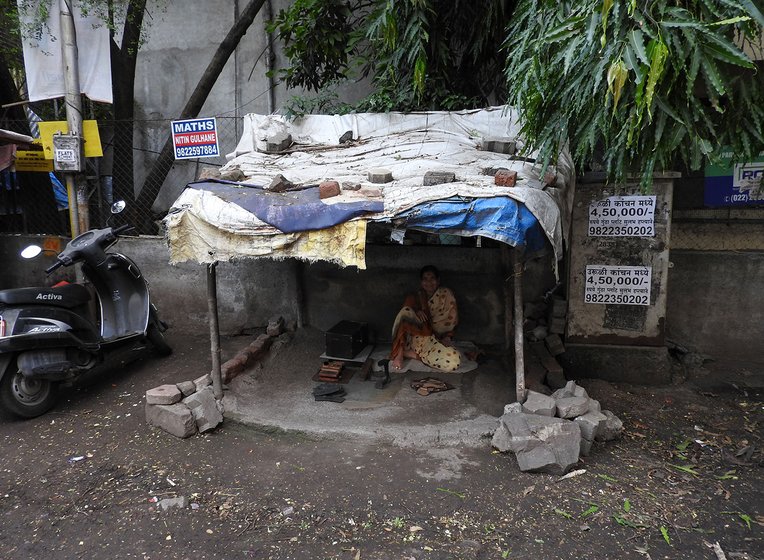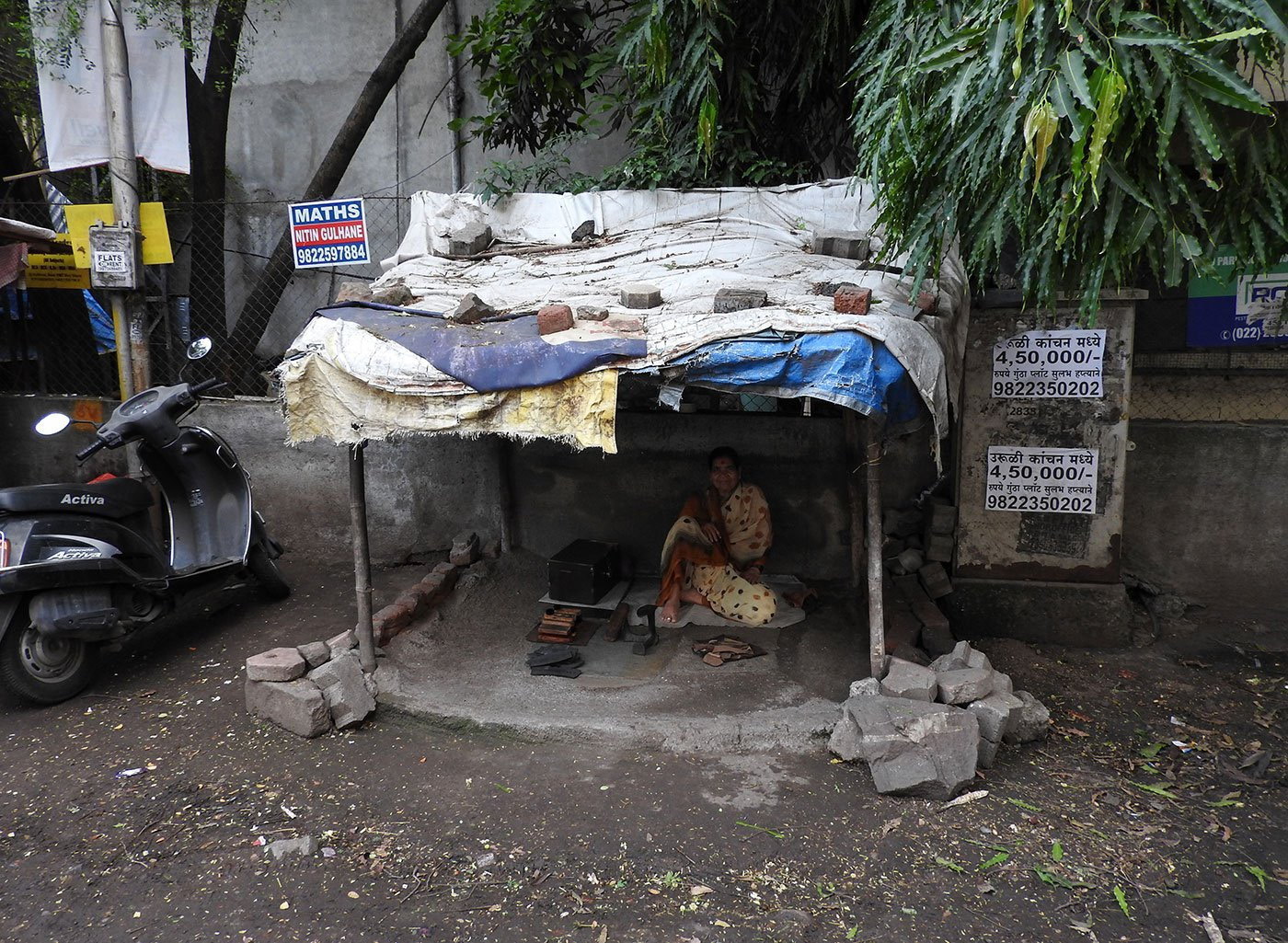 PHOTO • Namita Waikar
Life is very difficult, she says. "If I get a customer I make five or ten rupees. If nobody comes, I just sit here till the evening. Then I go home. That is my life now. Some days I make thirty rupees, sometimes fifty. Often, I make nothing."
Can she make a new shoe? "No, no. I don't know how to do that. I only repair what is broken. I can polish shoes, and hammer in a heel and sole."

Two other leather workers, both men, have shops some yards away from Bhamabai's. Their rates are higher, and they claim to make Rs. 200-400 every day, sometimes more.

Bhamabai opens her brown toolbox. On the inside of the lid, she has stuck pictures of goddesses. The top tray is partitioned into four sections and holds threads and nails. Beneath it are the leather craft tools. She lays them out.

"You've taken photos of my tools. But did you take a picture of my goddesses?" she asks. It seems they are the only ones she can call her own.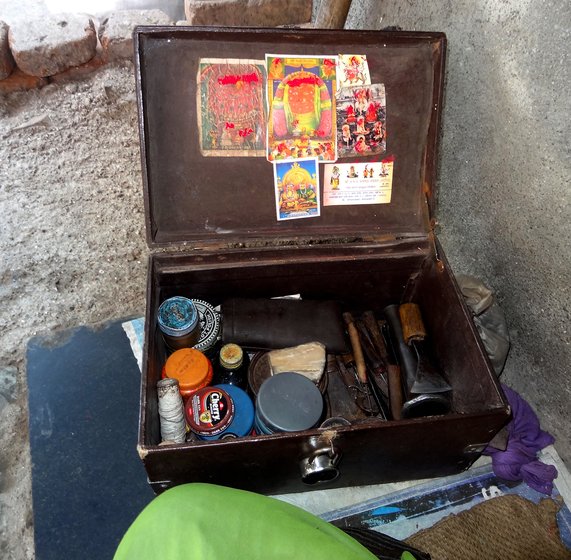 PHOTO • Namita Waikar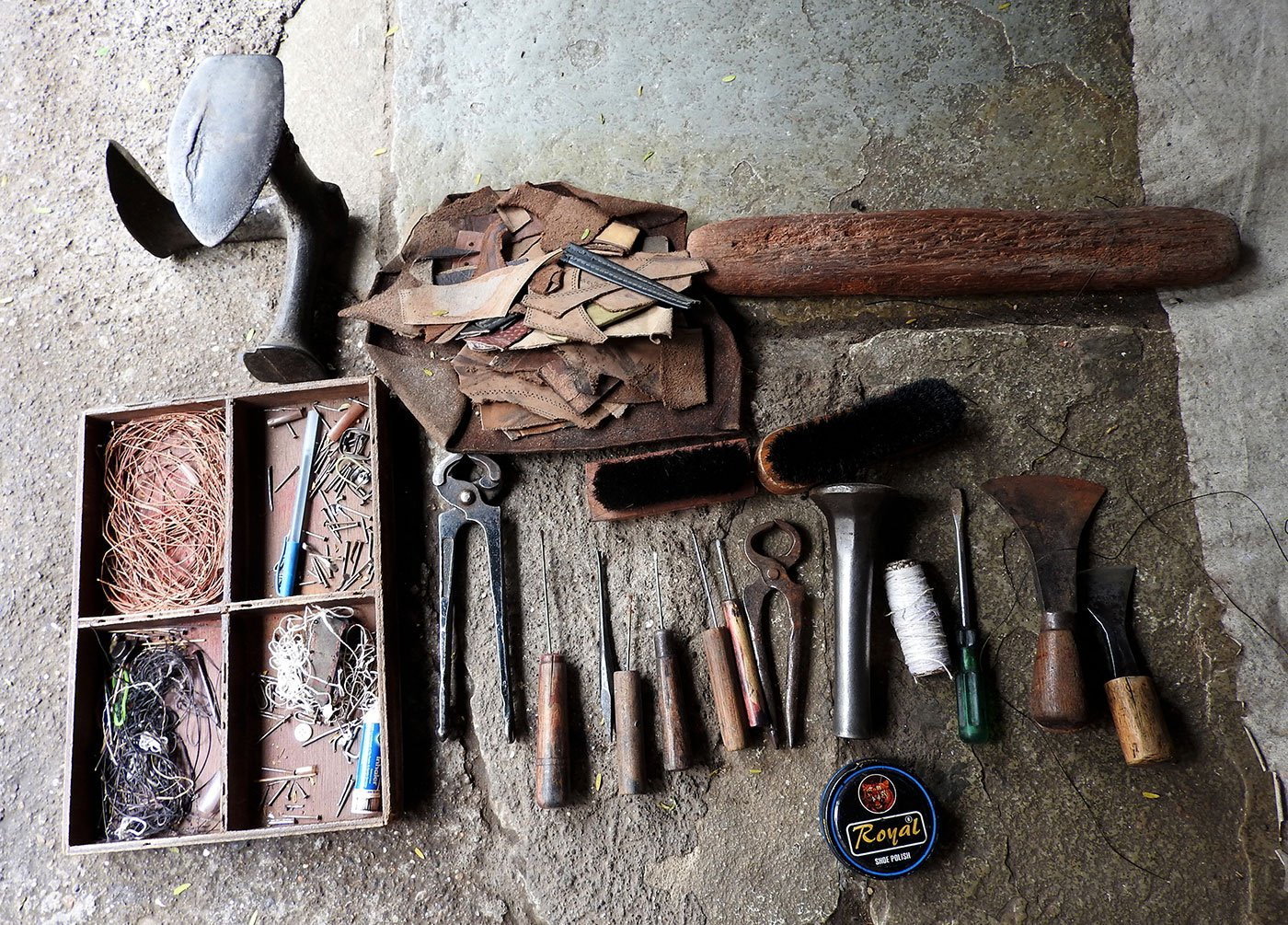 At the end of her work day, everything goes back into the toolbox, including a steel tumbler she uses to drink water. The anvil, the piece of wood, other small items like a packet of chips, and a tiny cloth bundle with some money, all go into a tightly-knotted gunny sack. The box and the sack are kept in a locked metal closet outside a fast food restaurant across the road. "God helps me in these small ways, they let me keep my things there," she says.
Bhamabai lives in Shastri Nagar, about five kilometres from her tiny shop. "I walk every day, morning and evening, an hour each time. I stop many times on the way, and sit somewhere along the road to rest my aching knees and back. One day I took an autorickshaw. It cost me nearly 40 rupees. A day's earning was gone." Sometimes one of the delivery boys from the fast food restaurant might give her a lift on his bike for part of the way.
Her home is barely bigger than the shop, an eight-by-eight feet room. It is pitch dark inside at 7.15 p.m. with only a little light from an oil lamp." Just like the lamp we had in my home in Kanagara village," she says. There is no electricity. Her connection was cut as she could not pay the dues.
An iron bed without a mattress is the only furniture; it doubles up as a stand for drying washed utensils. A winnow hangs on one wall. The cooking platform has some utensils and tins. "I have a stove, which I can use as long as one litre of kerosene lasts. Then I wait till the next month to buy it on my ration card."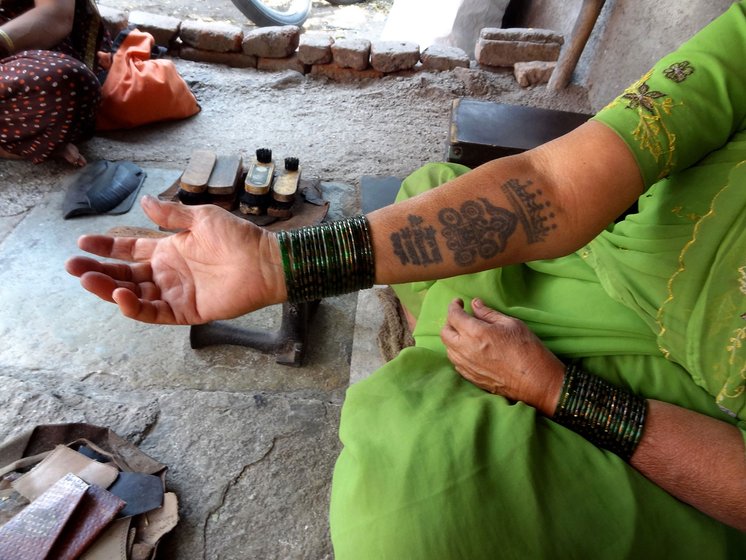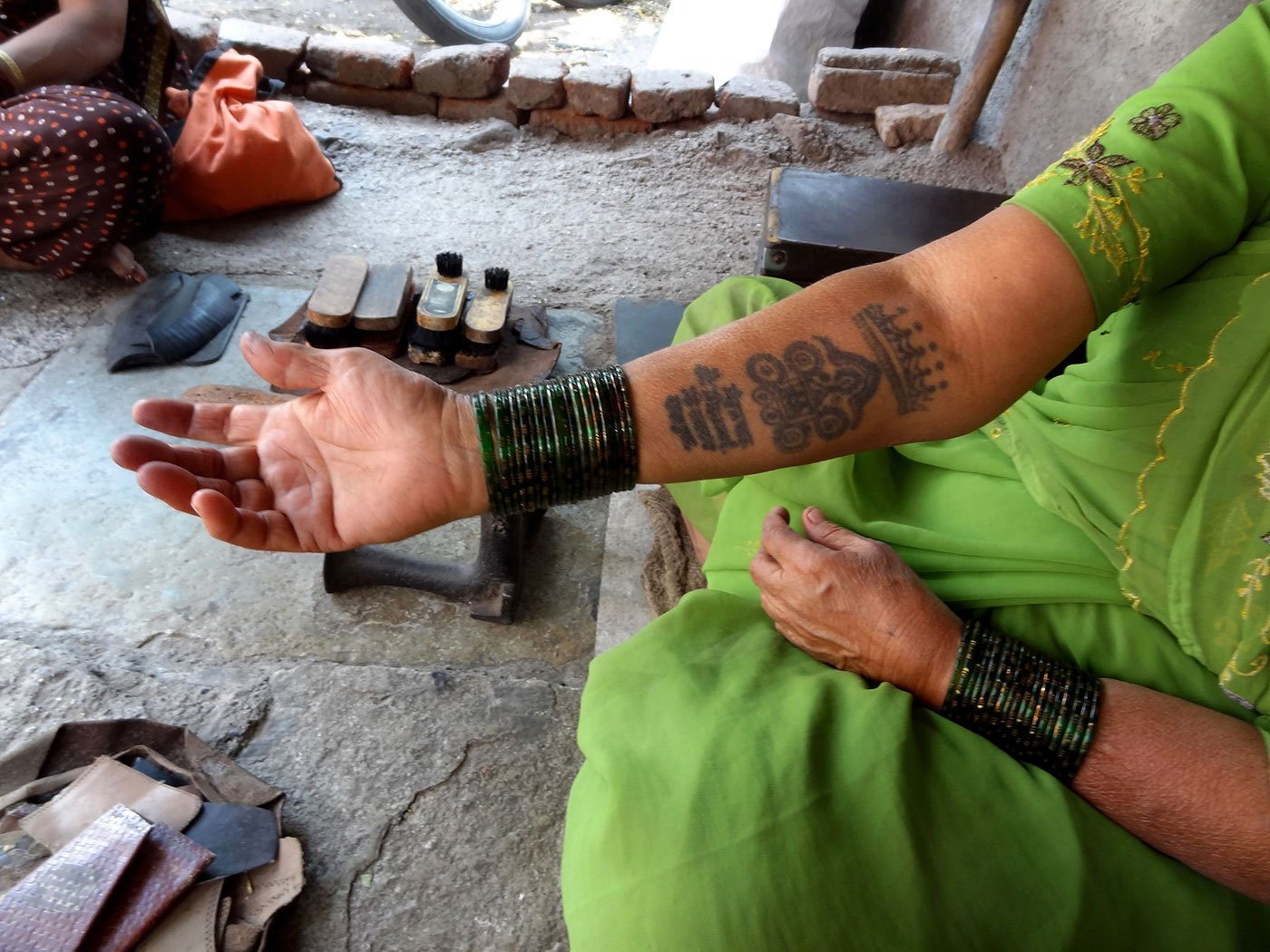 PHOTO • Namita Waikar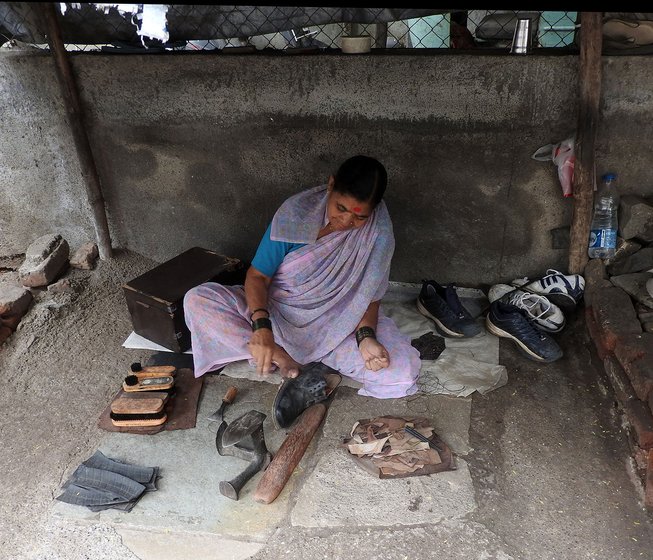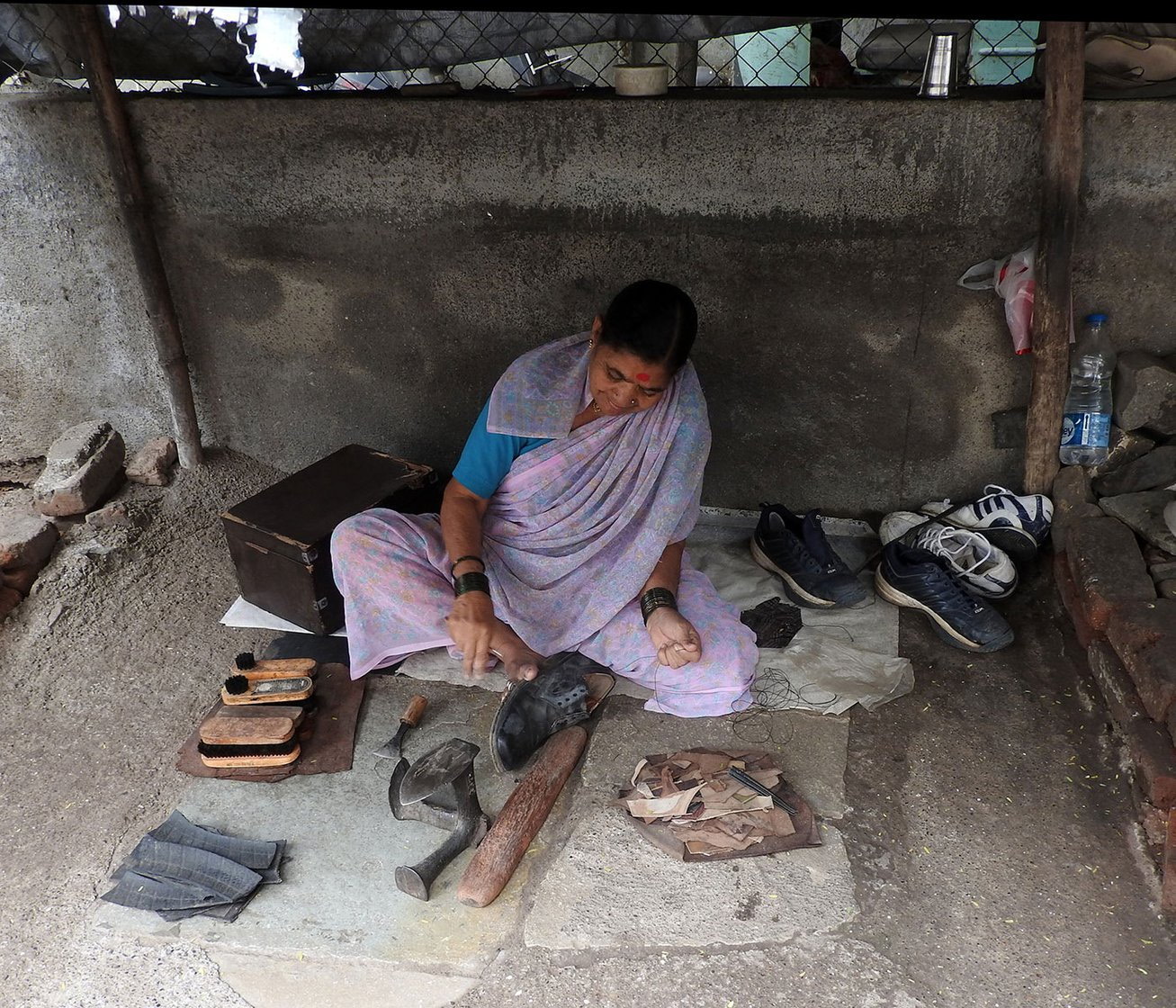 PHOTO • Namita Waikar
Bhamabai has a large tattoo on her forearm of small figures of deities and the names of her husband, father, brother, mother, sister, and her surname. All permanently etched in blue.
Though exhausted from years of labour she is pragmatic and independent. She has two brothers in the city, one sister in the village and another in Mumbai. All her siblings have families. Relatives from her village sometimes drop by her shop when they are in Pune.
"But I have never gone to visit any of them," she says. "I don't share my plight with anyone. I am telling you everything because you have asked me. In this world, each one has to fend for themselves."

While we are sitting in her shop, a woman looks in and hands over a small plastic bag. Bhamabai smiles: "I have a few friends, women who are domestic workers. Sometimes they share the leftovers they get at work with me."

A customer leaves his black leather shoes and two pairs of branded sports footgear for repair. One by one, she stitches them into shape, and polishes the black leather. For just Rs.16 a pair, Bhamabai infuses new life into those worn-out, once-expensive shoes. By repairing them, she has saved the customer from spending a few thousand rupees on a new pair of that grade. But if she knows that, she doesn't show it. All she is doing is mending broken soles.