Joban Lal summons the people of Kandbari village while walking alongside the kuhl that needs repairs. He shouts out to families to join him. "Carry your spades and shovels and meet me behind the post office," he says on a warm morning. But it is difficult for him to assemble even 20 workers. "Till around 30 years ago, particularly around the rabi and kharif sowing seasons, when the kohli called, bands of 60-80 men would gather to work," he recalls. Kuhls are usually two metres wide and two metres deep, and can stretch from 100 metres to even a kilometre.
Joban Lal, 55 years old, is the kohli of Kandbari, a village of around 400 people in Palampur tehsil of Kangra district (the village is listed as Kamlehr in the Census). He inherited this work from his father, though his grandfather was not a kohli . "Someone probably decided to leave this work, it is not a prestigious role any more," he says. "And my father must have been chosen by the villagers."
The kohli traditionally was the authority of the kuhl , deeply knowledgeable about managing this local water system. He performed sacrifices and prayers for the kuhl devi (a female deity, though the kohli is traditionally always a male). In the past, many in Himachal Pradesh believed that their water canals were protected by a devi. Even in times of drought, if they took good care of the canals, the goddess would reciprocate with a bountiful supply. To prevent floods, the kohli would also perform a prayer to a Sufi saint (the villagers cannot recall the name), which speaks perhaps of the syncretism in Kangra valley.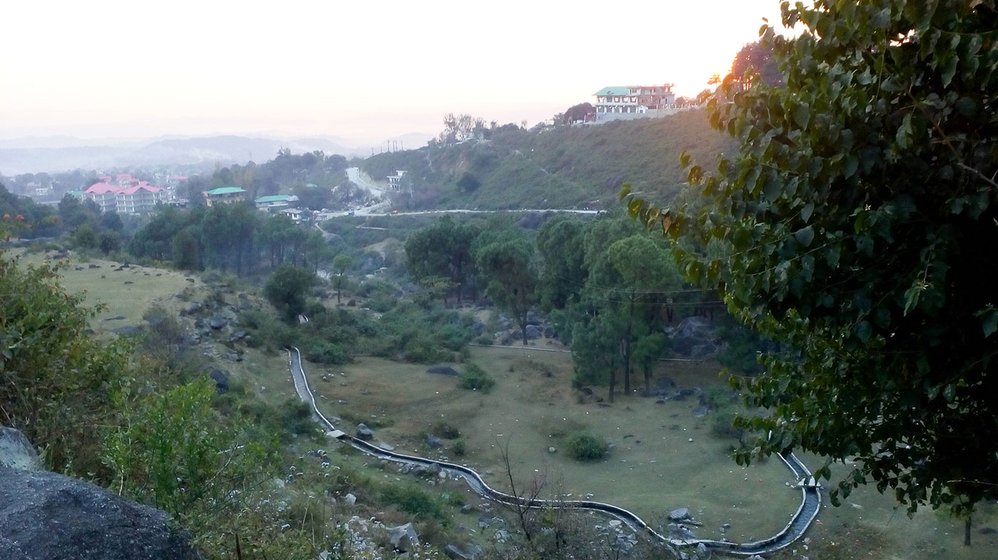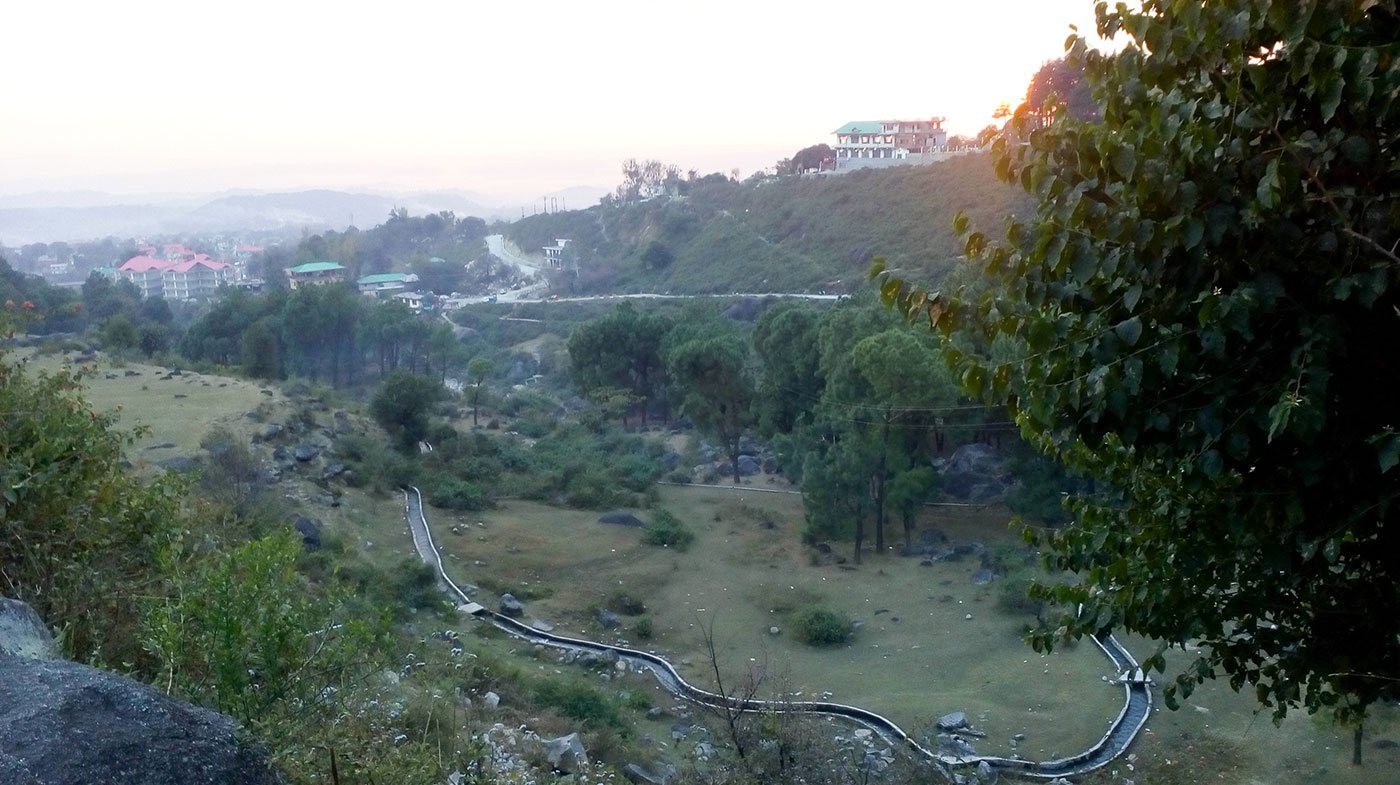 PHOTO • Aditi Pinto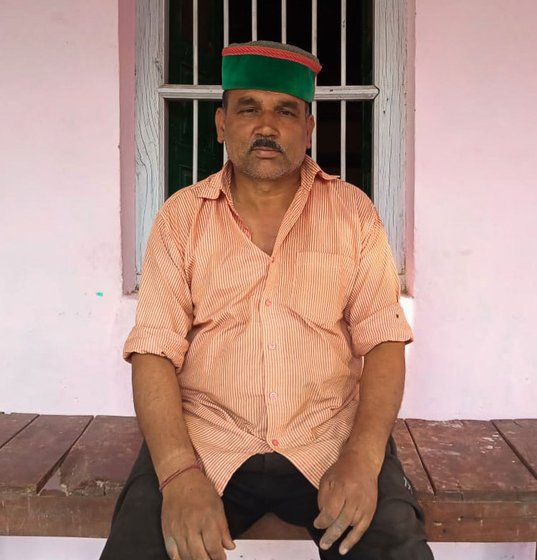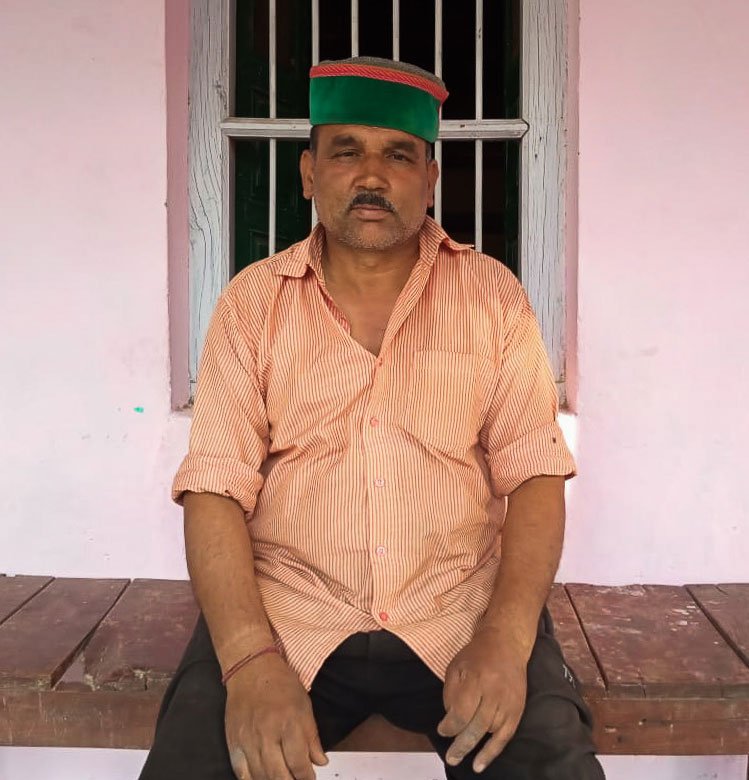 PHOTO • Aditi Pinto
In this mountainous state, water flowing down from glaciers is diverted towards villages and fields in a complex web of human-made irrigation canals – called kuhls in the Pahari language. An aerial view of the villages shows intricately carved-out terraces for agriculture and an equally serpentine network of kuhls.
Besides farms, many other activities depend on the kuhls . In many Himachal villages, a water mill – located in a small hut – is built along a kuhl . A wheel that picks up energy from flowing water is used to rotate a grinding stone above. "Flour ground in the gharaat tastes sweet and not burnt like flour in the electric mill," say the villagers. Om Prakash, the 45-year-old gharaati , or mill operator, of Kandbari, agrees.
In the past, even oil mills in Kangra were operated by the force of water. Now only a few flour mills remain. Om Prakash is one of the three remaining gharaatis in his village. In the higher-up villages, in Saperu panchayat , he says, there are more, but few are interested in this work anymore. "These days, more people prefer to do non-agricultural work or jobs that are not labour-intensive."
Om Prakash has served as a gharaati for 23 years, stepping into his father's shoes, and learning the trade from his elders. He spends most of his time in the gharaat , attending to the nearly 60 families who visit him most month after the harvests – carrying corn, wheat and rice for grinding. Most of them give a modest portion of the grain to the gharaati , a few pay a small amount in cash.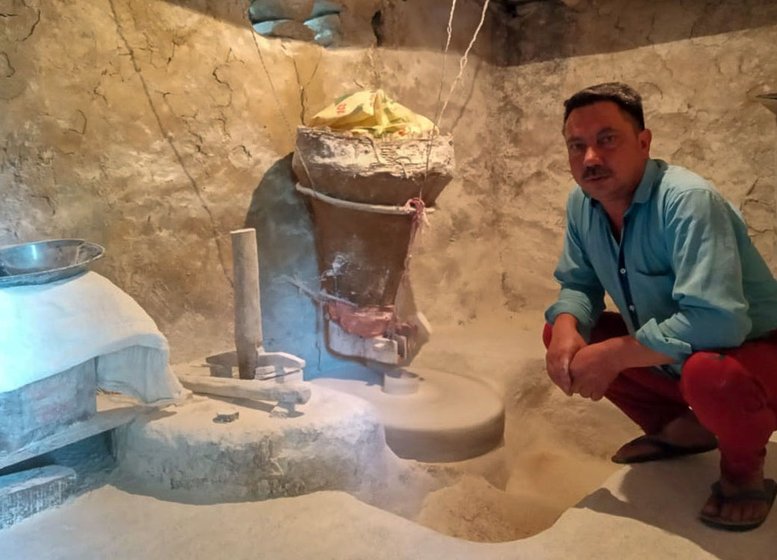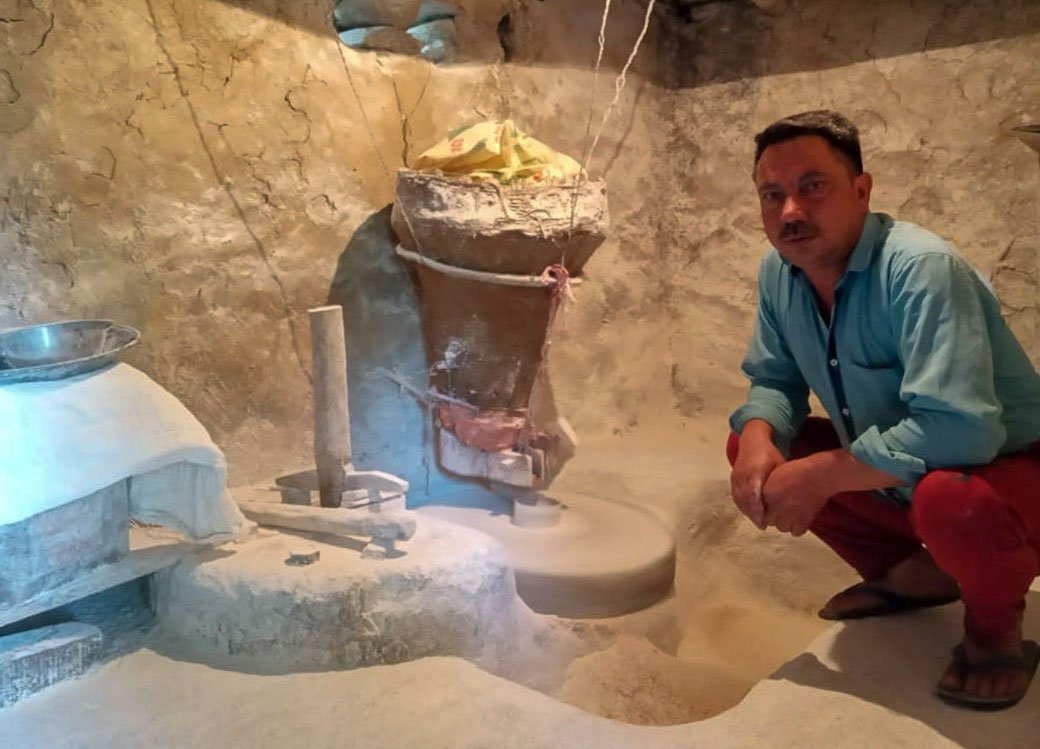 PHOTO • Aditi Pinto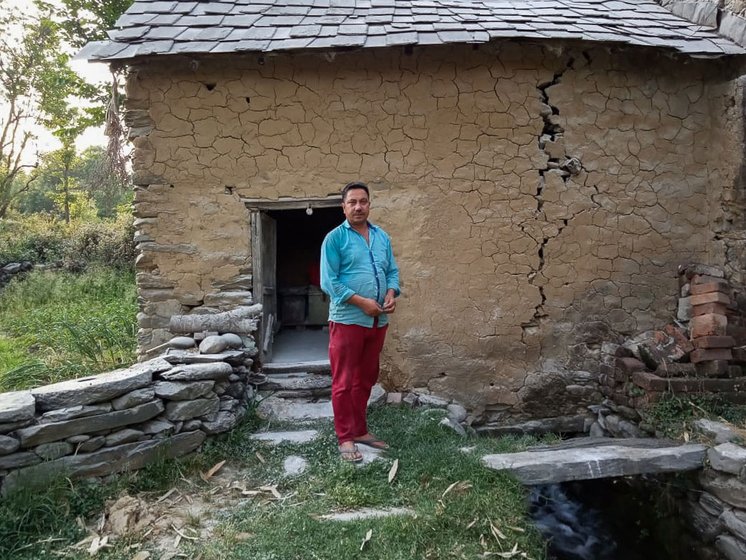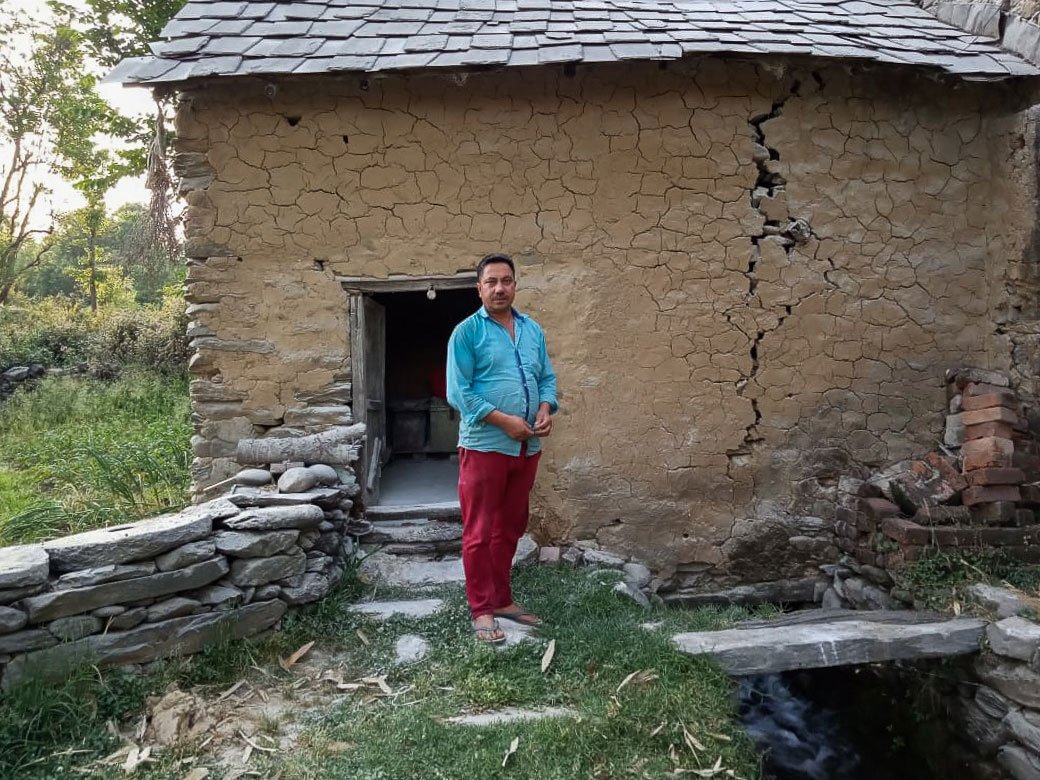 PHOTO • Aditi Pinto
Operating the gharaat is ceaseless work, and Om Prakash has to make sure the mill is never empty while it is moving. "If it runs empty, the stones might get damaged. We have to change the wheel every five to six years [the stone wheel is made by the gharaati 's family]. And we need to always work the kuhl such that water flows in good quantities down towards the gharaat ."
Over time though, with flour available in shops, fewer and fewer people will be grinding their own grains, says a worried Om Prakash. "And we see people throwing a lot of plastic into the kuhls . If we do not attend to our kuhls now, the future generations will not see them…"
The British documented and wrote about the customs associated with the kuhls, in a 700-page treatise with maps and drawing, titled, in Persian, Riwaj i Abpashi ( Irrigation Customs ). It was first written in 1874, and revised in 1915. This document reduced kuhl management to a scientific account instead of a rich and old oral system of knowledge. But it also preserved information about the great amount of work that went into the water canal system.
For many generations, until around the 1970s, kuhls were completely community-managed. The irrigation system's traditional caretakers passed on this job within their family. By the 1990s, more men began leaving the villages seeking non-farm employment and more women began working on the kuhls – this was in part the result of MGNREGS (from the National Rural Employment Guarantee Act of 2005), which offers wages for such work in the villages. And over time, the state has, in its wisdom, started cementing some of the kuhls .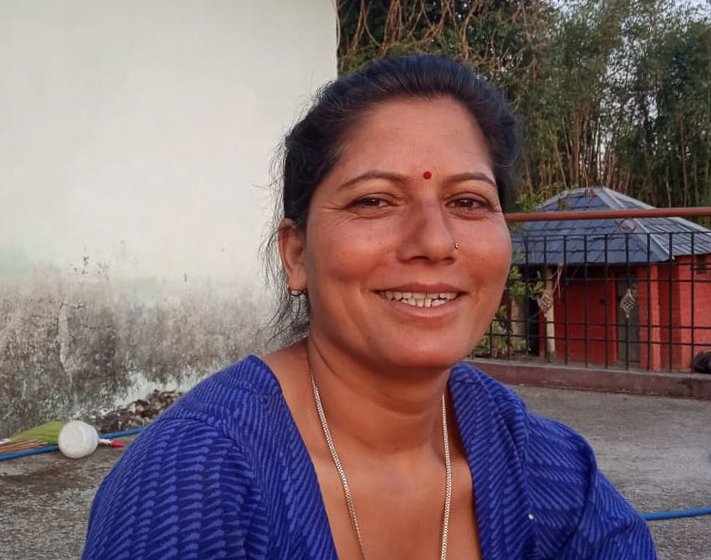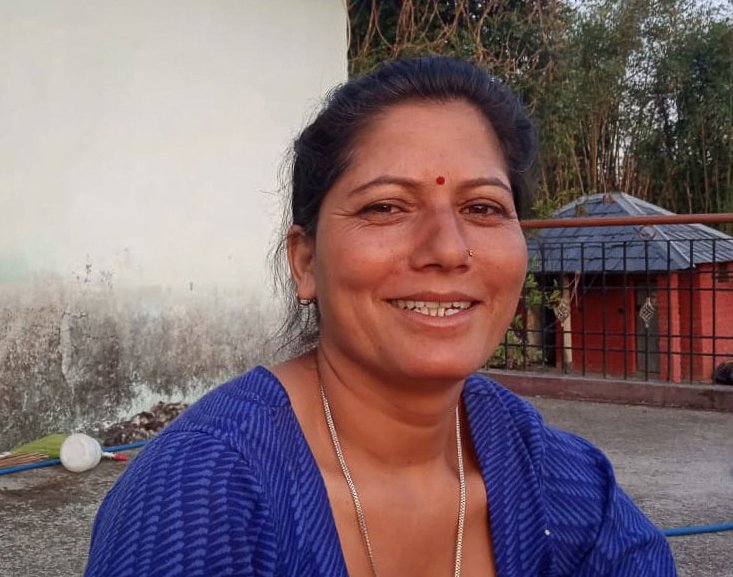 PHOTO • Aditi Pinto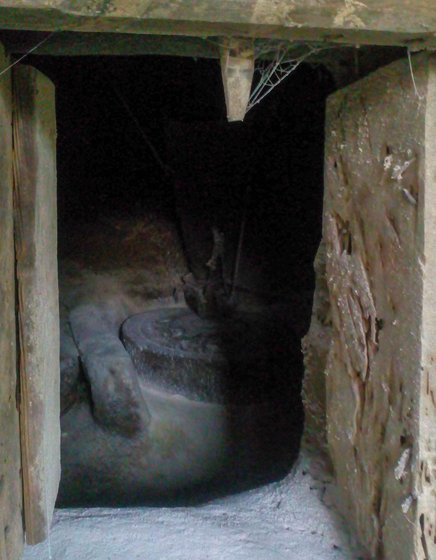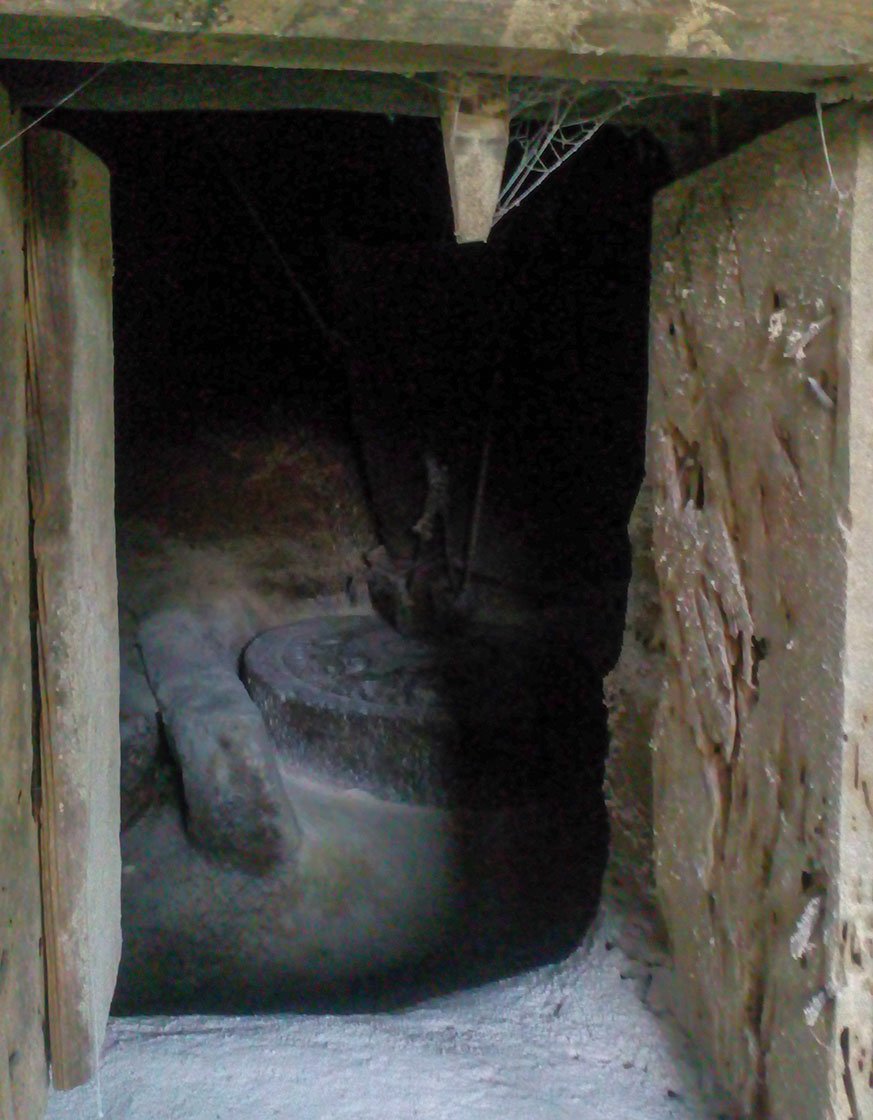 PHOTO • Aditi Pinto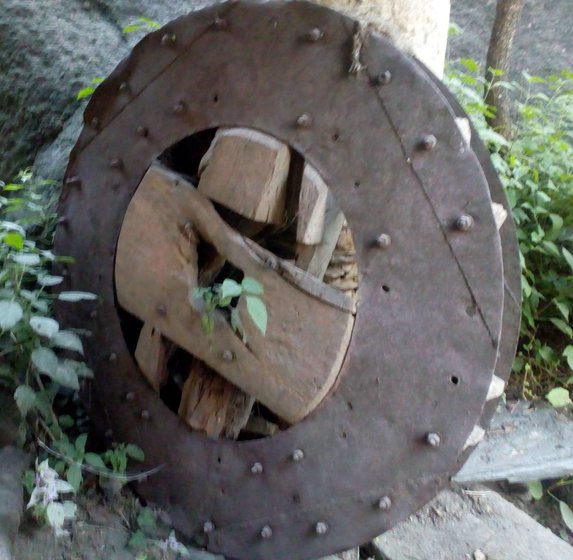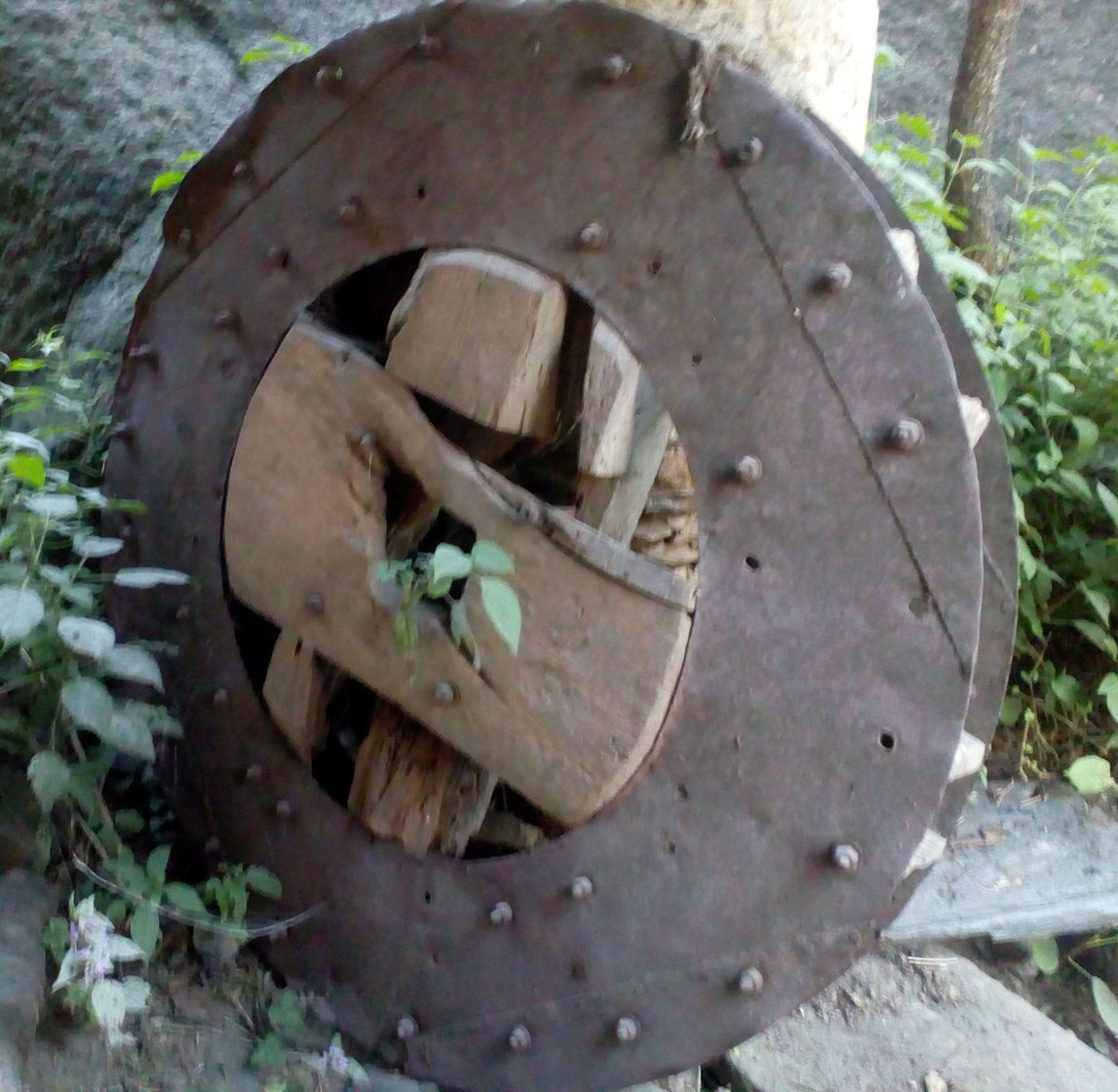 PHOTO • Aditi Pinto
"The mud kuhls were better, they were easier to divert. The cement kuhls give a feeling of permanence, but we all know that in few years the cement will wash away," says Indira Devi, 45, of Saperu, a village of around 350 people in Palampur tehsil . She work on MGNREGS sites and, like others in her village, knows that cementing the kuhls is not a good idea. But, she adds, "We receive our daily wages for this process, and therefore we participate…"
In many villages now, instead of the kohli , there is an elected kuhl committee , which remains autonomous. But in other villages, the Department of Irrigation and Public Health now controls the water canals.
The Himachal Pradesh State Water Policy of 2013, plans to "progressively move away from flood irrigation or open channel irrigation to micro irrigation and piped supply." It speaks of metered drinking water supply to every house, and water ATMs in as many public places as possible.
Will these state-mandated schemes further destroy the community-managed kuhl system, and will the sounds of open flowing water in Himachal eventually be replaced by a plastic pipe system? Joban Lal is optimistic: "Himachal is blessed with enough surface water in the kuhls and the role of the kohli will always remain important."