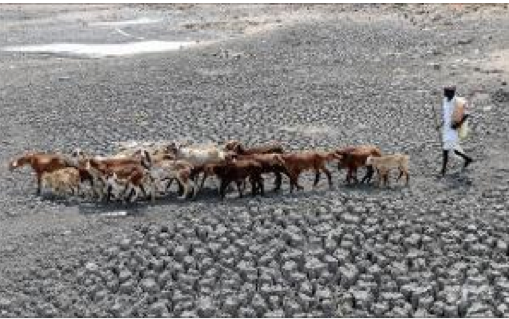 PHOTO • Priyanka Kakodkar
BEED: A single bag of jowar was all that her two sons left Hansabai Kole when they migrated to work in sugarcane fields 200km away, last October. Soon, almost the entire village of Yevalewadi left to look for jobs as cane cutters, leaving only the elderly and young children behind.
Once the food ran out, the 72-year-old became a farm hand. She spends several hours a day scouting for work in the parched fields of drought-hit Marathwada's Patoda taluka. "On a day when I find work, it means bending over for eight to nine hours to help harvest jowar," she says. She makes Rs 100 a day, barely enough to help scrape together her meals of bhakri and salt. Hansabai's greatest fear is of falling ill, since her only companions are even older than her.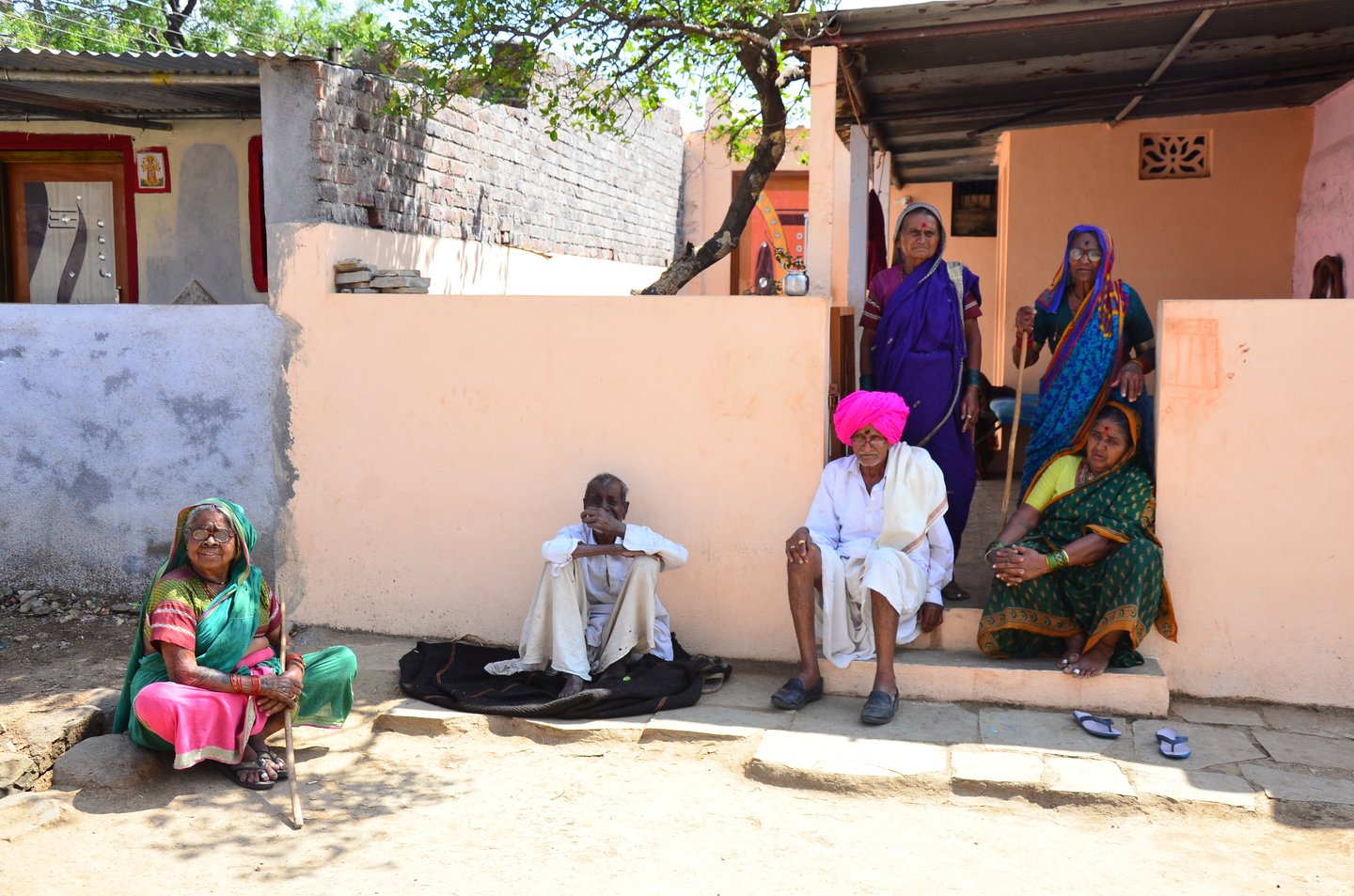 PHOTO • Priyanka Kakodkar
"Last week, I started feeling faint, so I hoisted myself onto the ST bus to see the doctor. My husband is too old to accompany me," she says.
Yevalewadi has become a ghost-town, each ancient wooden door sealed with a lock. The animal sheds are bare and the village square is deserted. In the village of 900, barely 200 remain.
Marathwada is known for the seasonal migration of cane cutters, who head to sugar factories in Western Maharashtra and Karnataka from October to April each year. Roughly 10 lakh small farmers migrate each year after sowing their crop, with Beed being the largest hub.
But this year, unions say, the drought has pushed migration up by 30%, so 13 lakh sugarcane cutters have migrated. "In our estimation, there are at least 3lakh more migrants this year," says Keshvrao Andhale of the Sugarcane Cutters and Transporters Union.
Large farmers join migrants
PHOTO • Priyanka Kakodkar
The drought this year is so widespread that farmers with large holdings of up to 20 acres have also joined migrants of Georai taluka, where several debt-ridden farmers have committed suicide. "Two of my brothers had to work as cane cutters for the first time this year," says Bharat Shendge, whose family owns 20 acres.
In Yevalewadi, where farmers have lost two crops in the drought, more than one family member has migrated. "Last year, only one son worked as a sugarcane cutter. This year, both my sons have gone," says Bhausaheb Yevale. The family has a Rs 70,000 bank loan.
Compensation delayed
Although the state government claims it has distributed nearly Rs 4,000 crore as relief to farmers who lost their crop, many here say they have not received the money. The state's decision to send it directly to bank accounts is a major obstacle for those who have no access to banks. State agriculture minister Eknath Khadse claims, "By now 90% of the farmers have received the money. Those without accounts can open them under our Jan Dhan scheme."
Cut in MNREGA work?
Villages across this belt complain of the lack of work under the rural job security scheme MNREGA, which could have otherwise have helped stem migration. Beed district has 8 lakh registered workers but at the moment, only 9,291 are employed.
"This season, we have not been able to get any MNREGA work in the village," says Ganesh Sawant, the
sarpanch of Ranjani village in Georai.
However, officials say MNREGA works have not reduced. "Sugarcane cutting is a traditional occupation. It pays more than MNREGA work and people are able to get a hefty advance, so they prefer it," says agriculture minister Khadse.
Cane cutters have access to advance payments between Rs 30,000-60,000 at the beginning of the season, which helps many settle pending debts. The work fetches roughly Rs 300-400 per day for a husband and wife team, much higher than MNREGA wages.
However, union leader Andhale says once cane workers return to their villages in April and May, jobs on MNREGA will be their only lifeline. "It's important for more jobs to be generated by then," he says.
Report 6: The original version of this story appeared in The Times of India on 24 March 2015
More in this series:
Report 1: Nearly 80000 homeless elders go hungry
Report 2: Drought hits 90 lakhs farmers in Maharashtra
Report 3: Kharif crops hit by drought pulses take a maha pounding
Report 4: 40% rise in farmer suicides in Maharashtra
Report 5: Bitter Harvest - Where villagers dig for hours to fill a pot
Report 7: The man with 48 borewells in drought-hit Marathwada
Report 8: Maharashtra's drought-hit farmers without bank accounts denied aid
Report 9: Maharashtra govt says mulling farmer insurance as opposition cites TOI's suicide reports
Report 10: Study: Agri-corporates, not farmers, hog loans
Report 11: Direct loans below Rs 25,000 to farmers plunge to 4.3% from 23%
Report 12: Only 12% potential of Maharashtra's 70,000 small dams used
Report 13: Unseasonal rain: 601 farmer suicides in Maharashra in just 3 months
Report 14: 'Only 3 Maharashtra farmers ended life due to unseasonal rain'
Report 15: State government's logic for its low farmer suicide count: Only 3 blamed rains
Report 16: Beef banned, but no state-run cow shelters in sight