"It is difficult to paint our bodies. We have to stay awake all night [to do it]," says Ayush Nayak who is applying oil paints on his body for the first time. "My body feels like it's burning. So, we have to dry the paint as soon as possible," says the 17-year-old.
Ayush is one of many young boys and girls in coastal Karnataka who paint their bodies in brightly coloured stripes in preparation for pili vesha (also known as huli vesha ), a folk dance performed during the festivals of Dussehra and Janmashtami. During the performance they growl and dance wearing tiger masks as loud drums reverberate around them.
Pili refers to a tiger and vesha is make-up in Tulu, a language spoken on the coast of Karnataka. "You don't need to learn anything from anyone. This is in our soul," says Virendra Shettigar who has been performing pili vesha for the last 22 years. "The sounds of the drums and the energy around will make you dance to the beats," he adds. The 30-year-old works as a distributor at Amazon and encourages young people from his village to perform.
The dancers paint themselves all over in yellow and brown stripes of acrylic paint to resemble tigers, leopards and panthers. Earlier charcoal, mud, roots and fungi were the sources of the vibrant body paint on the tiger dancers.
Over the years, the traditional steps in this dance routine have become acrobatic with more emphasis on stunts such as forward and reverse flips, breaking coconuts with one's head, fire breathing and more. And the choreography is so physically demanding that older folks have left it to the young to carry on this traditional dance.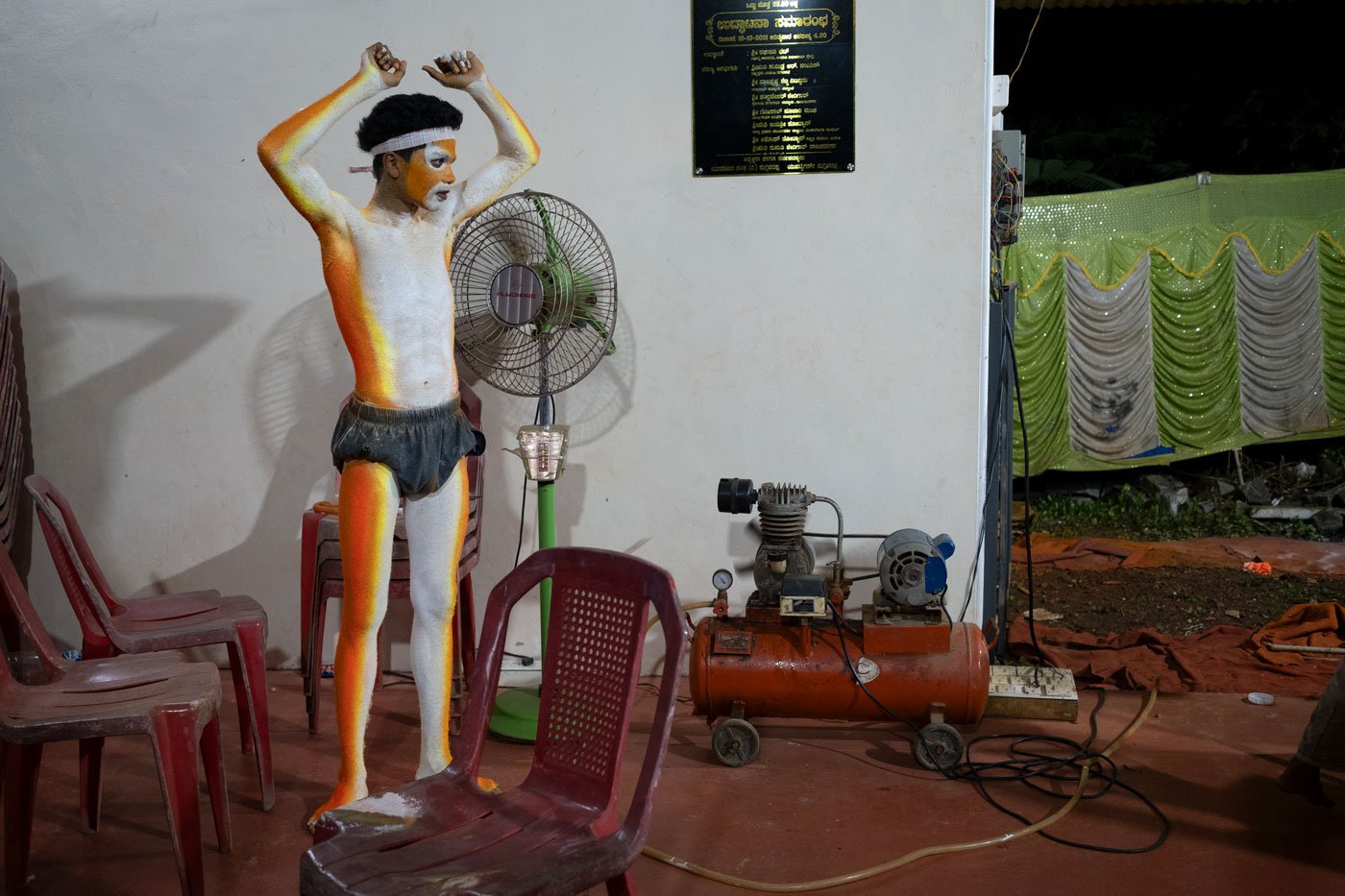 PHOTO • Nithesh Mattu
Preparation for this traditional dance begins a day before the performance. The painting of bodies and faces requires hours of labour, and is kept on for a couple of days until the festivities are over. "At first, this feels difficult. But after hearing the sounds of the drums, you feel like dancing to the beats," says Ayush who is completing his Class 12 studies.
Set to the resonating beats of the tase (drum), people painted as pili , dance to show their reverence as well as entertain people. While the boys paint their bodies to keep the tiger resemblance intact, the girls only get their faces painted and put on a tiger costume made of cotton. The participation of girls in pili vesha has increased only in recent times.
Performing groups were earlier awarded rice and paddy – crops that are commonly grown in coastal Karnataka – for their show. Today money has replaced foodgrains. Each performer can earn about Rs. 2,500 for two days. The dancer who performs stunts earns an extra Rs. 6,000 for both days of the celebration. "After seeing so many people dance, you automatically feel like performing pili vesha ," adds Ayush.
Shows are usually organised by committees of housing colonies. Ayush and his teammates are from the Yuva Tigers Manchi group who fund pili vesha celebrations throughout the year in Manipal, Udupi. Over two lakh rupees is required to organise the performances, and it goes to pay for painters and dancers. The expenses of travel, meals, paint supplies and costumes are also met by these funds.
Although public entertainment is a priority for the dancers, the performance adheres to a number of norms to preserve the discipline of this supposedly centuries-old tradition. At the end of the day, "our bodies hurt a lot, but we do it to entertain people and keep this tradition alive," says Ayush.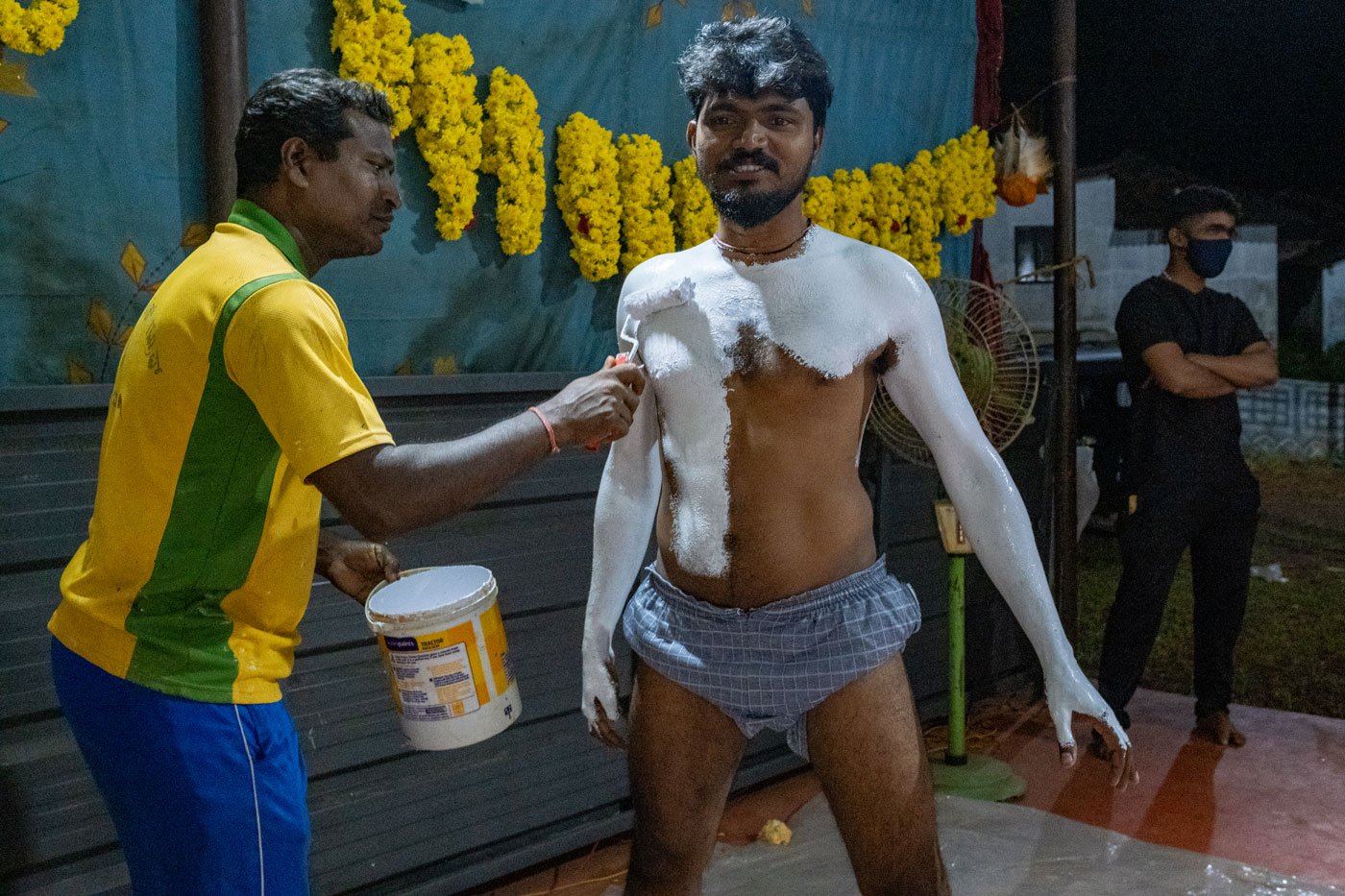 PHOTO • Nithesh Mattu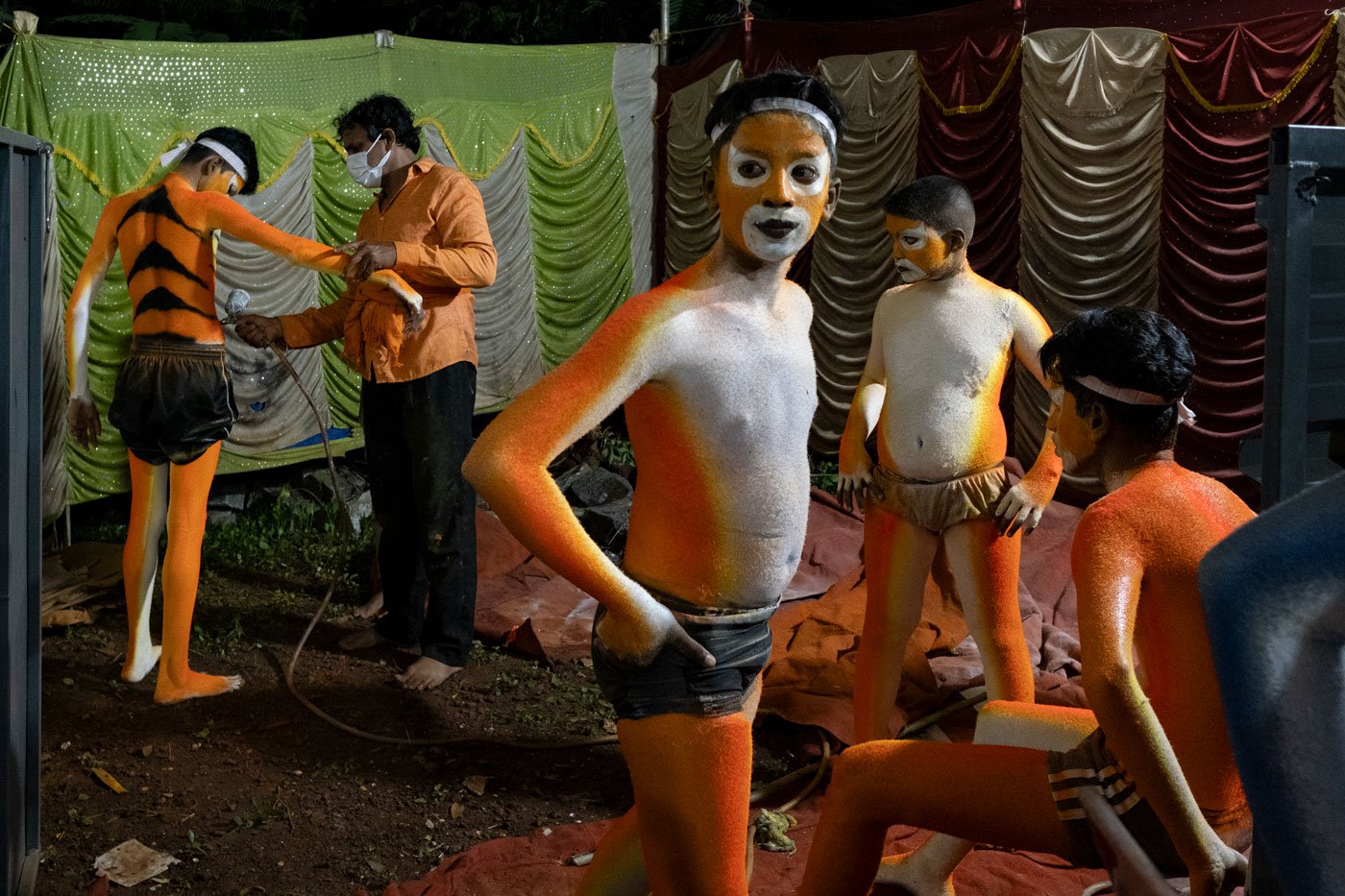 PHOTO • Nithesh Mattu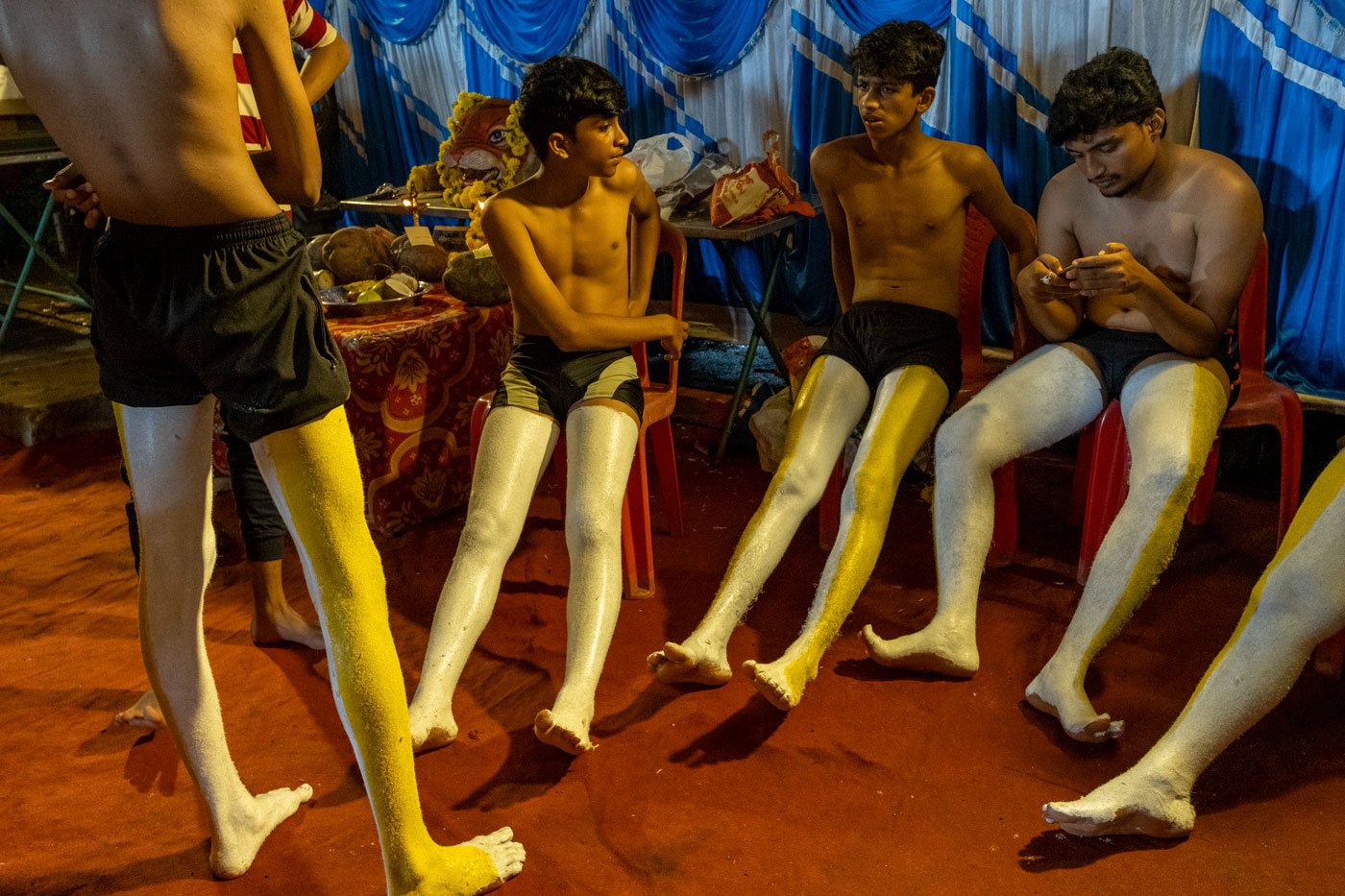 PHOTO • Nithesh Mattu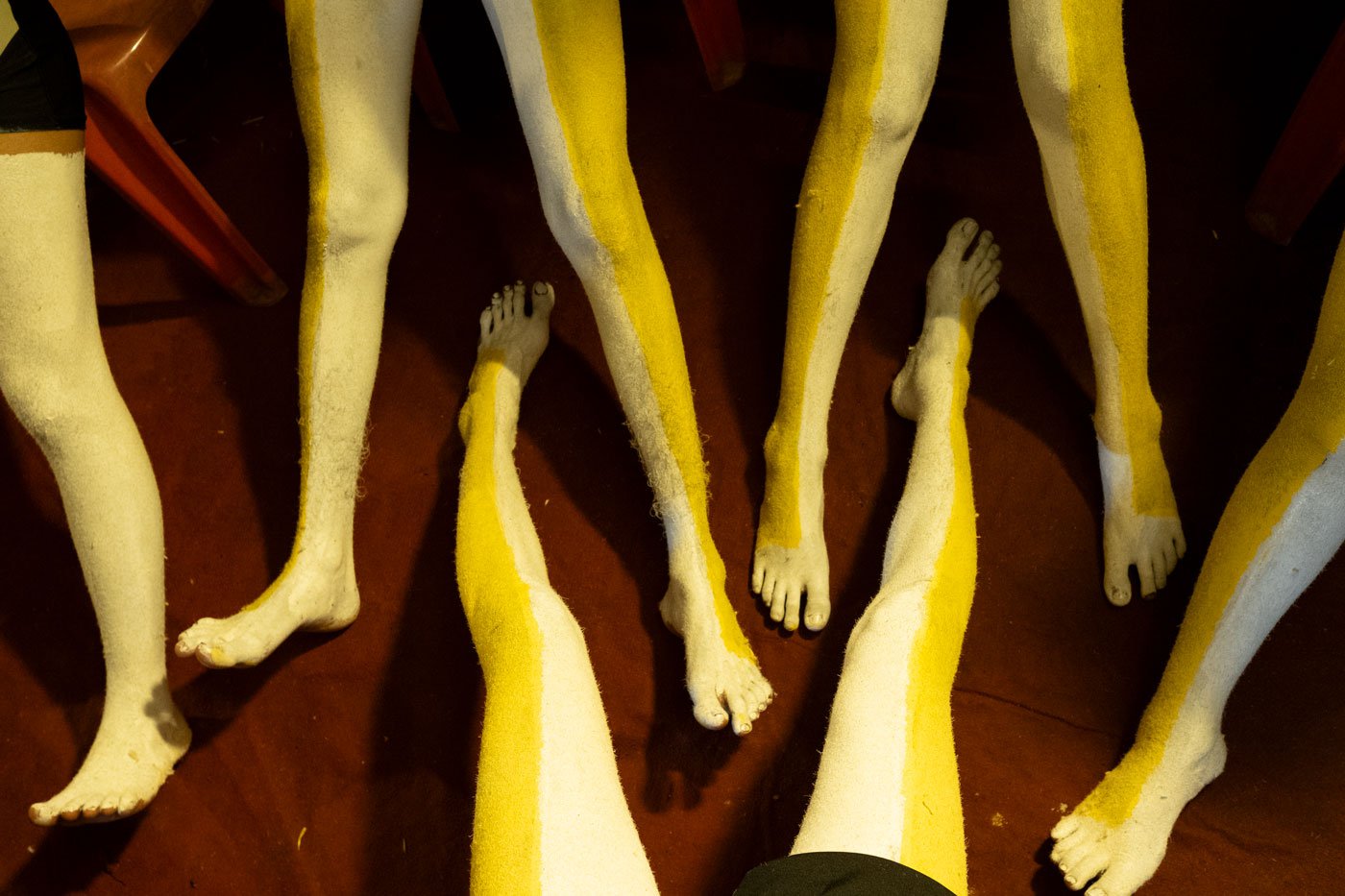 PHOTO • Nithesh Mattu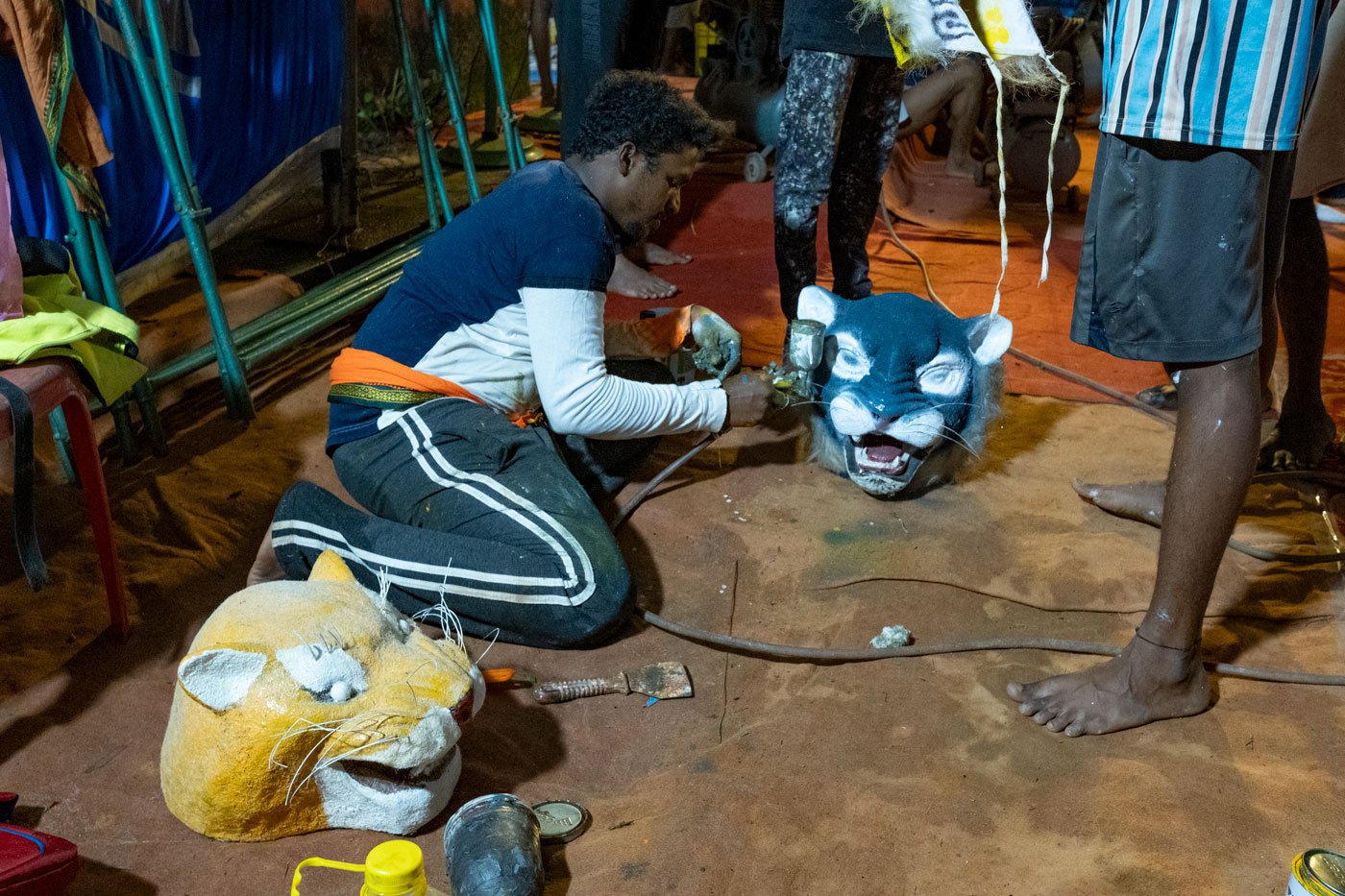 PHOTO • Nithesh Mattu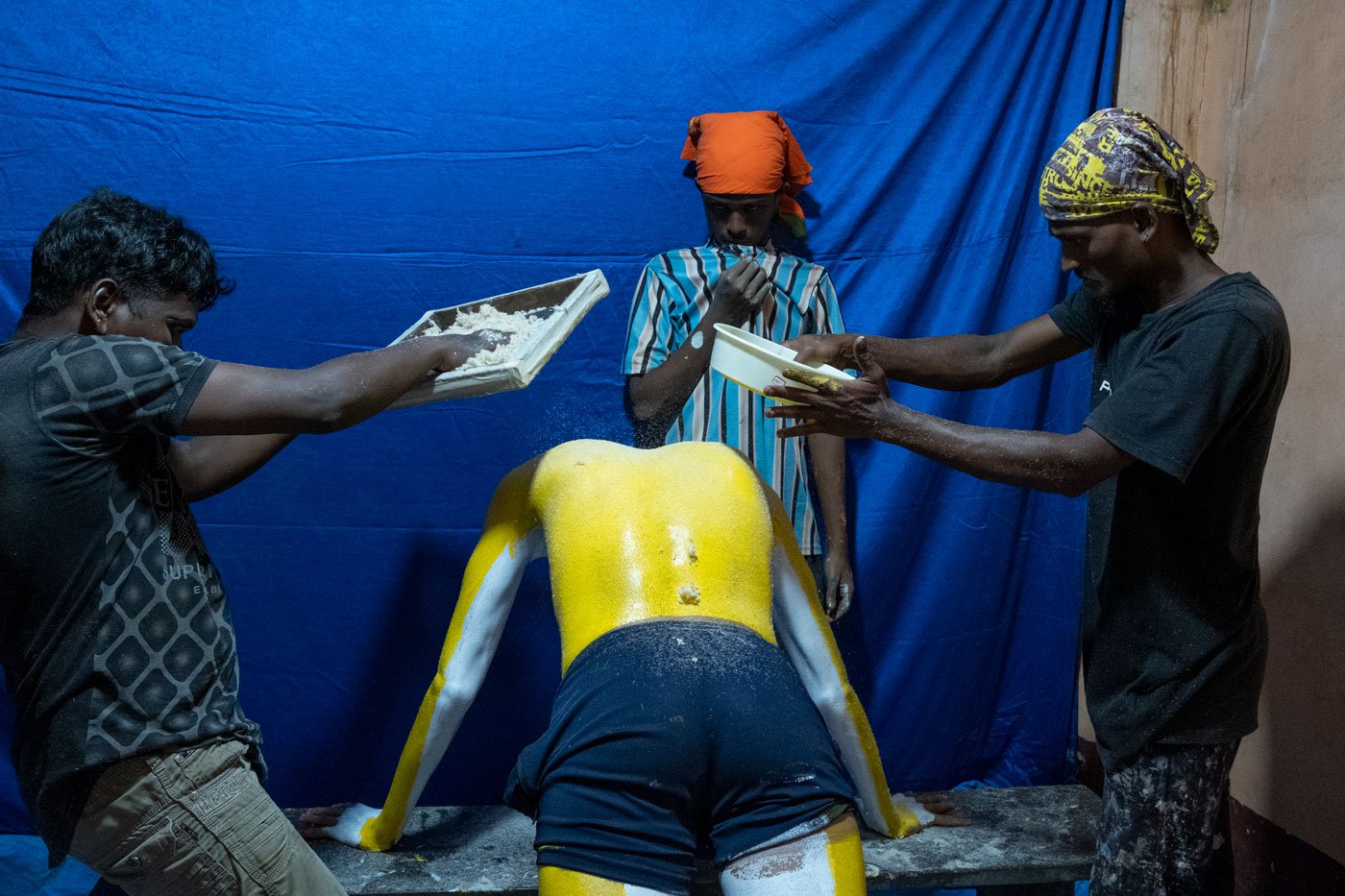 PHOTO • Nithesh Mattu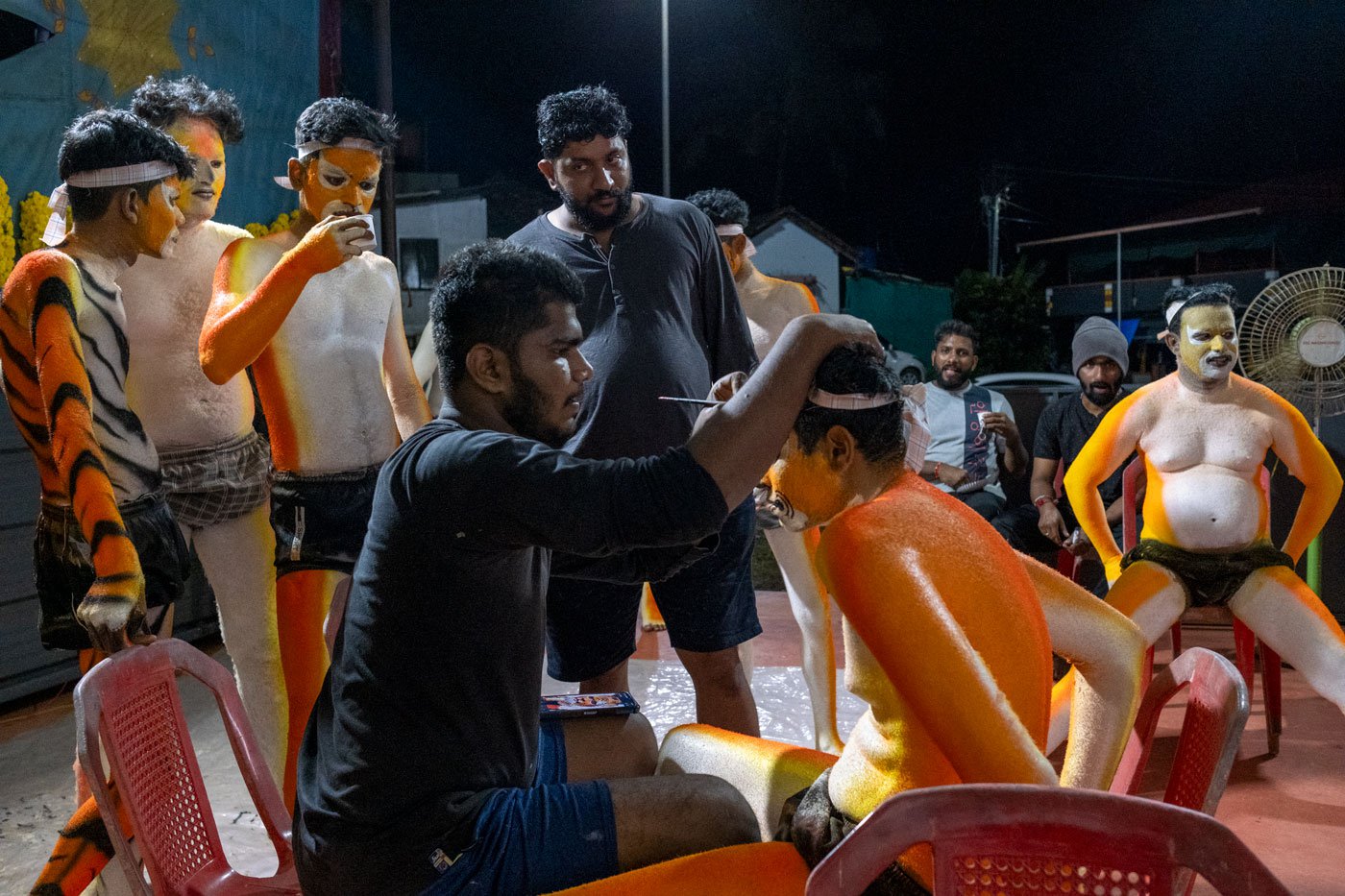 PHOTO • Nithesh Mattu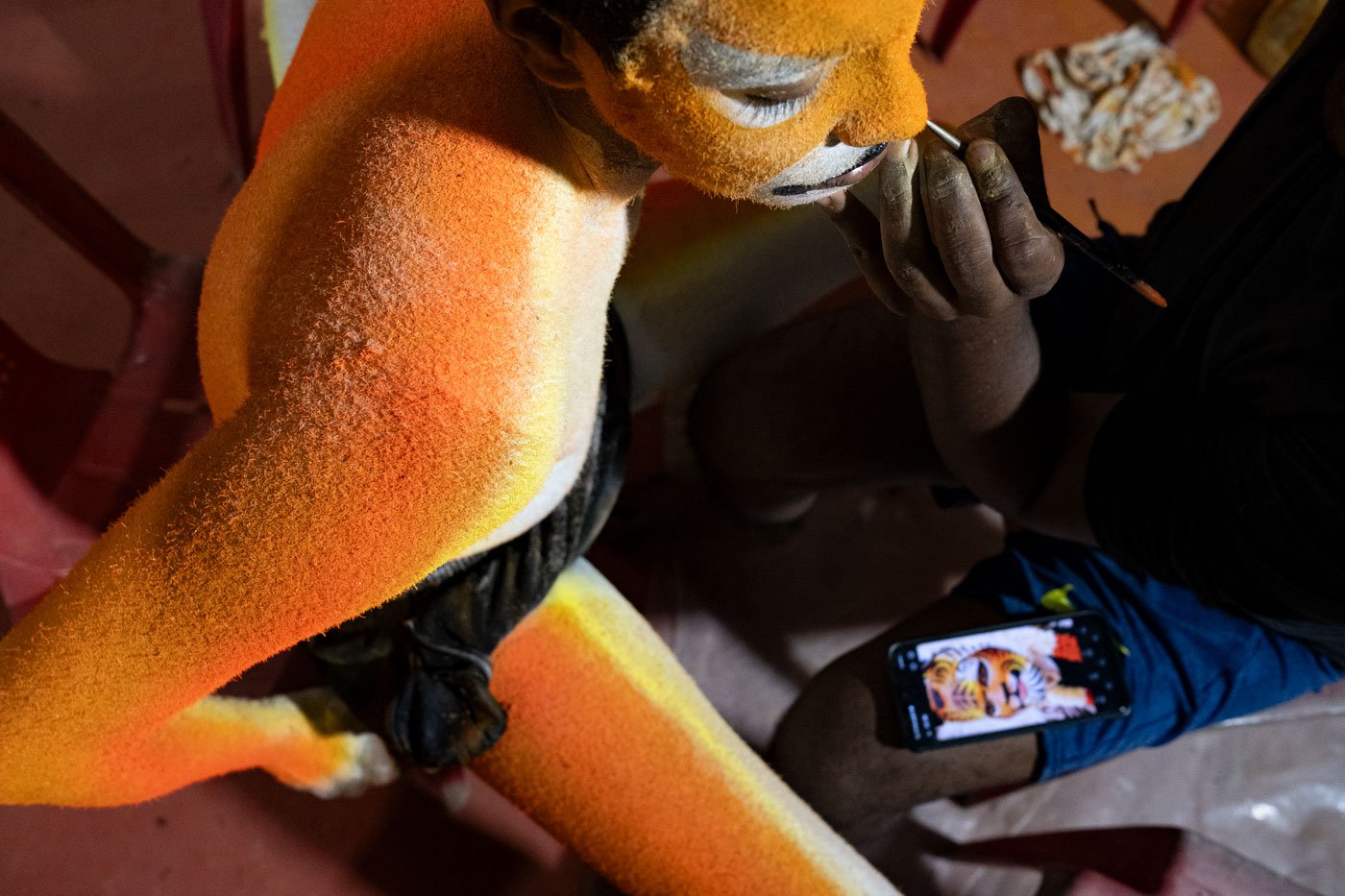 PHOTO • Nithesh Mattu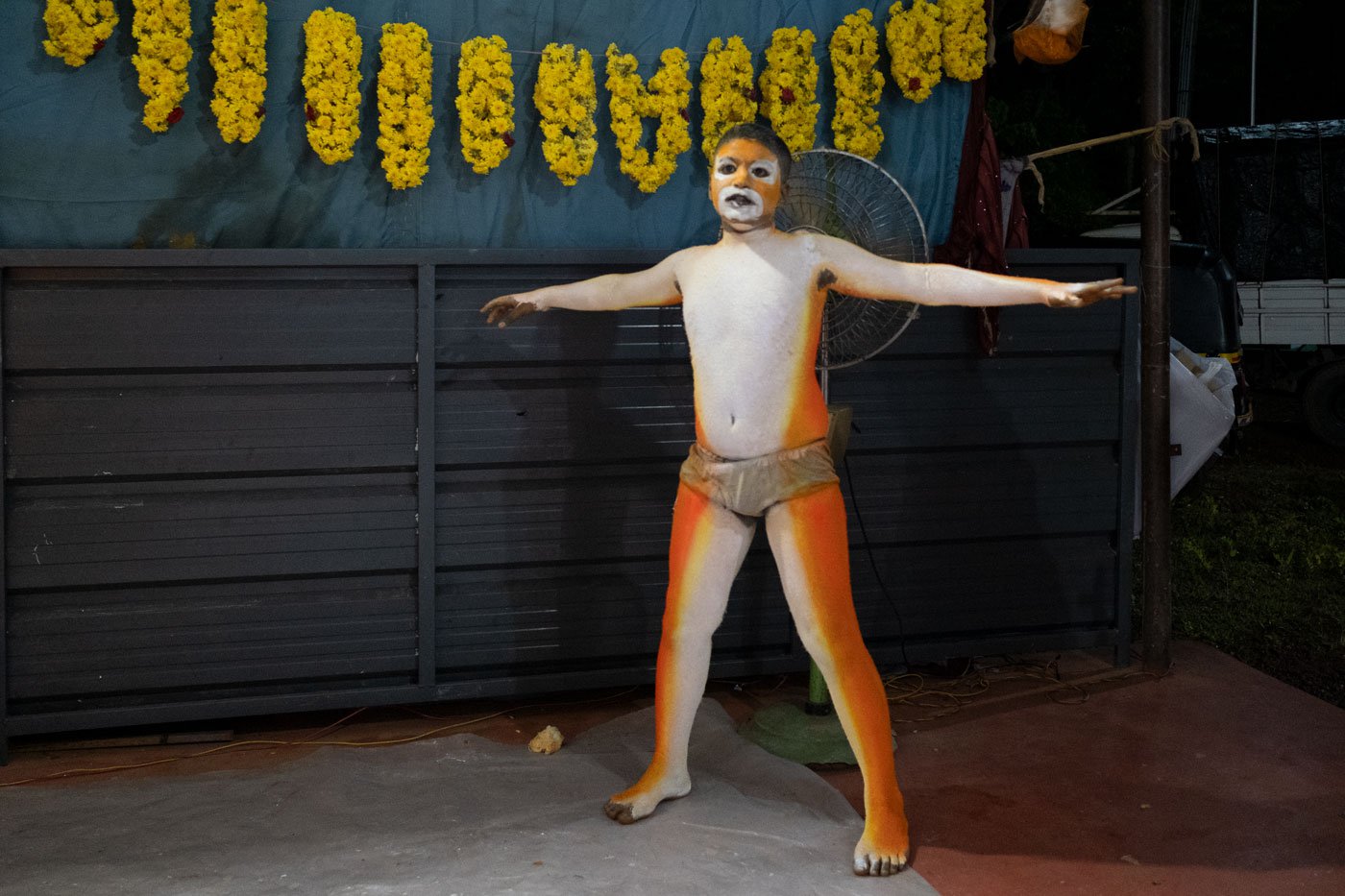 PHOTO • Nithesh Mattu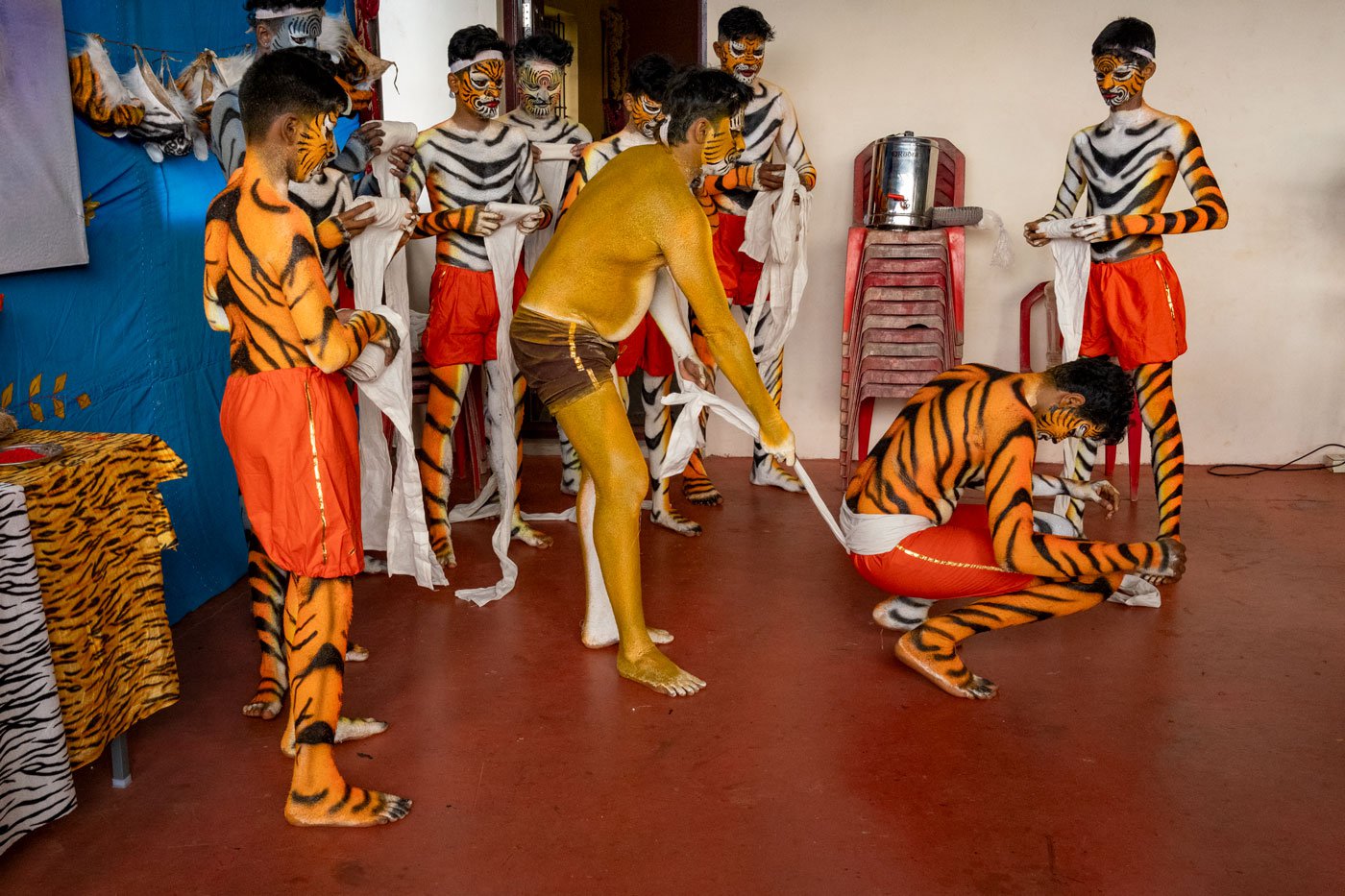 PHOTO • Nithesh Mattu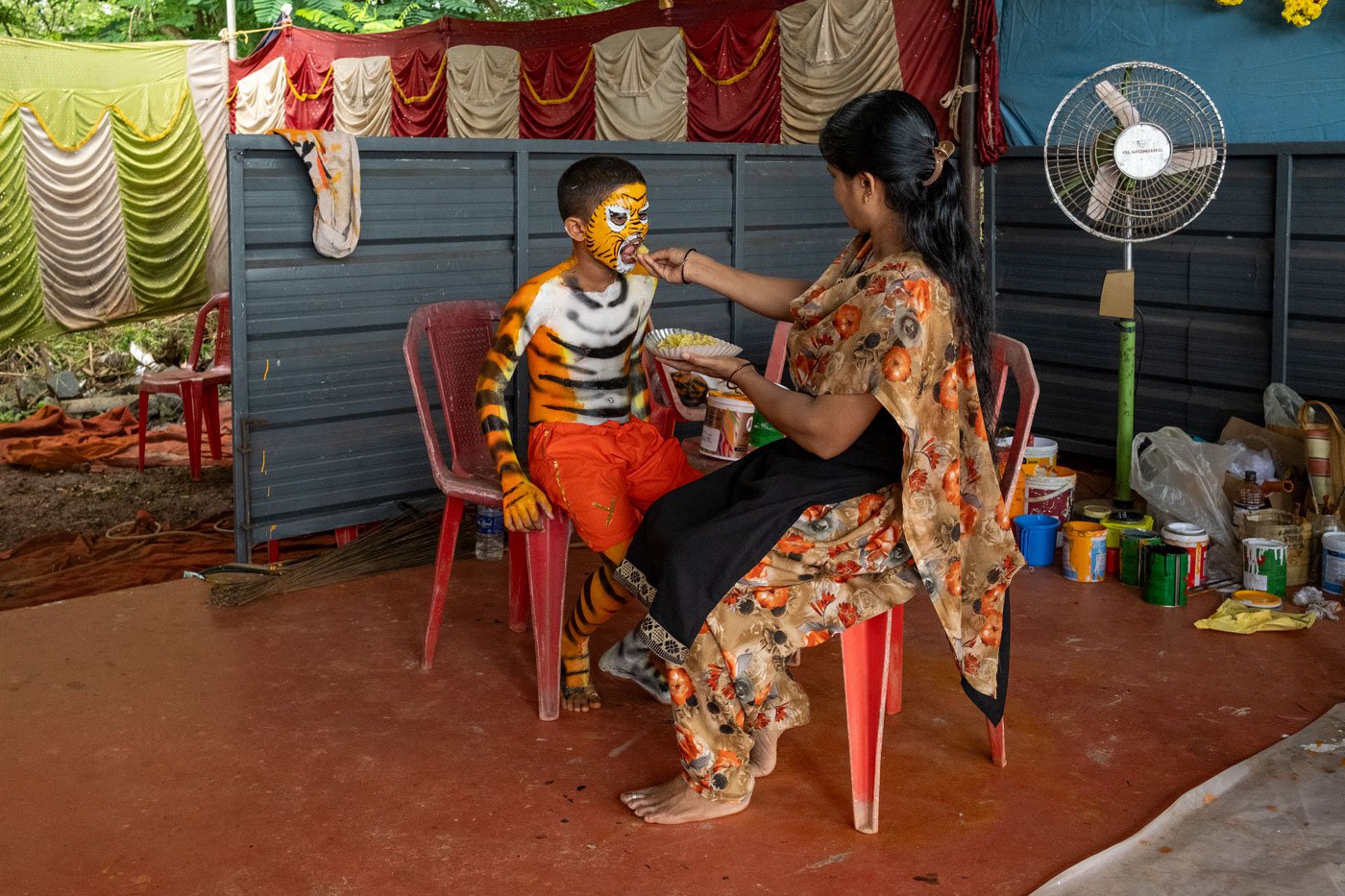 PHOTO • Nithesh Mattu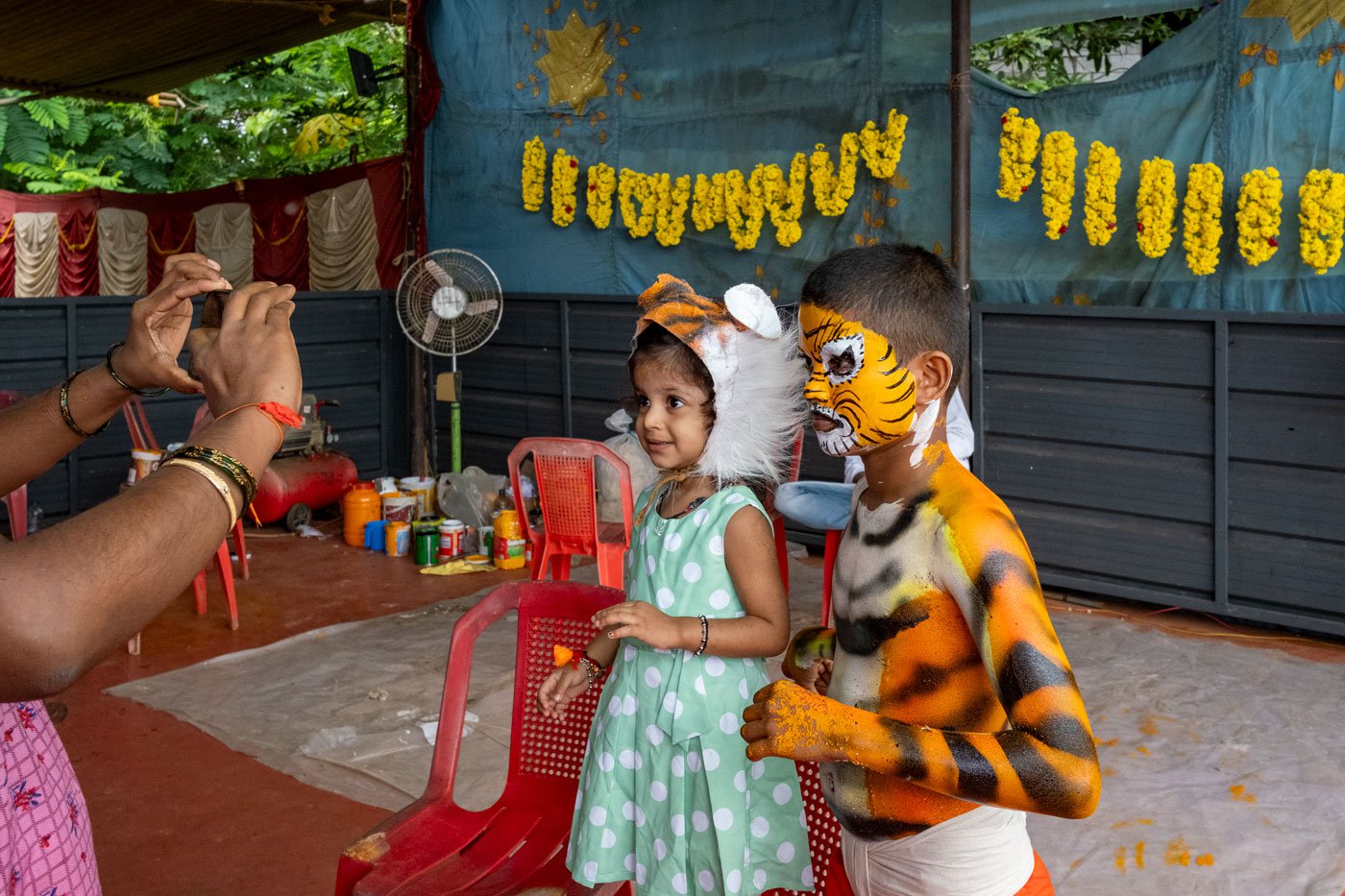 PHOTO • Nithesh Mattu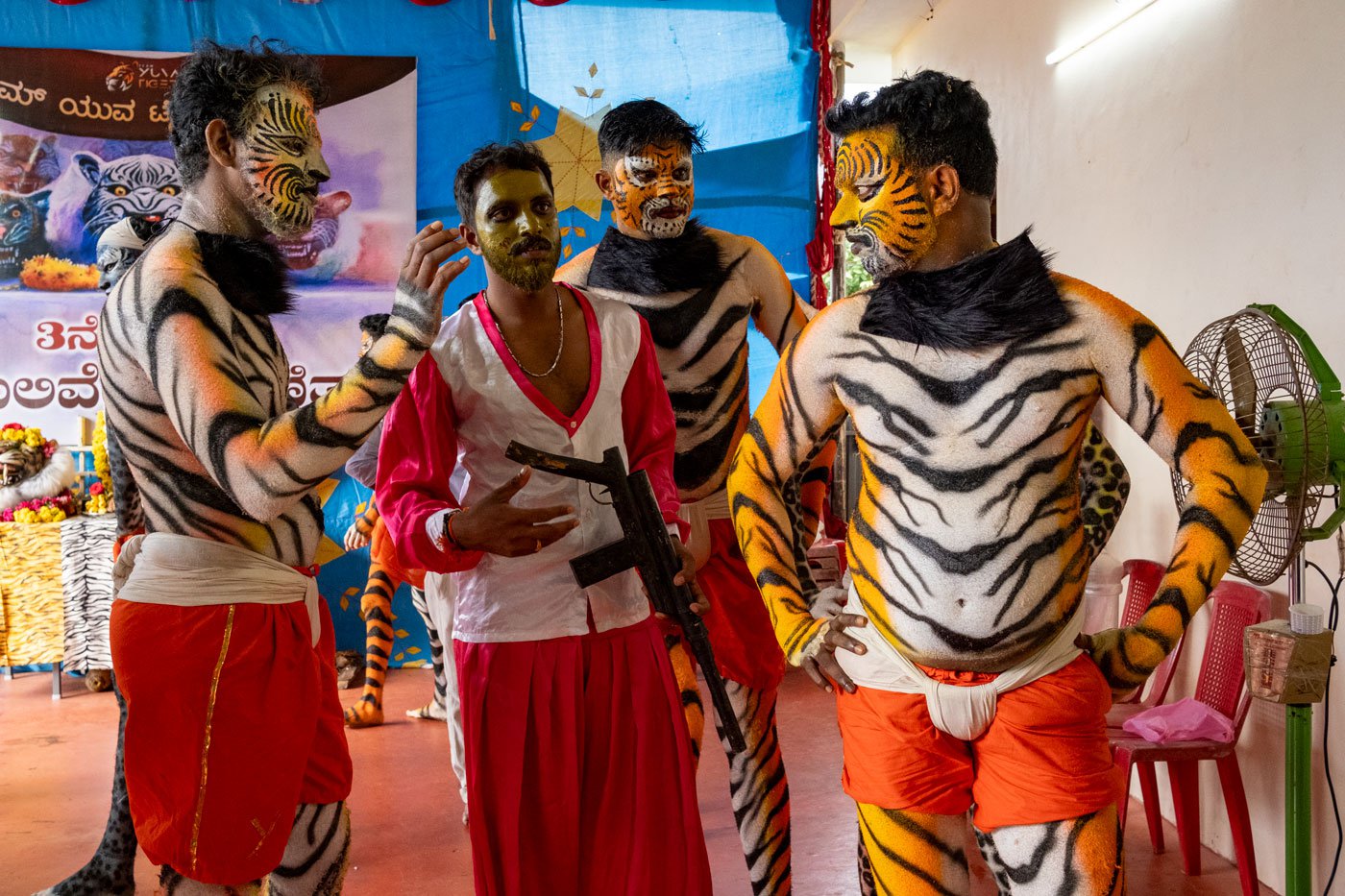 PHOTO • Nithesh Mattu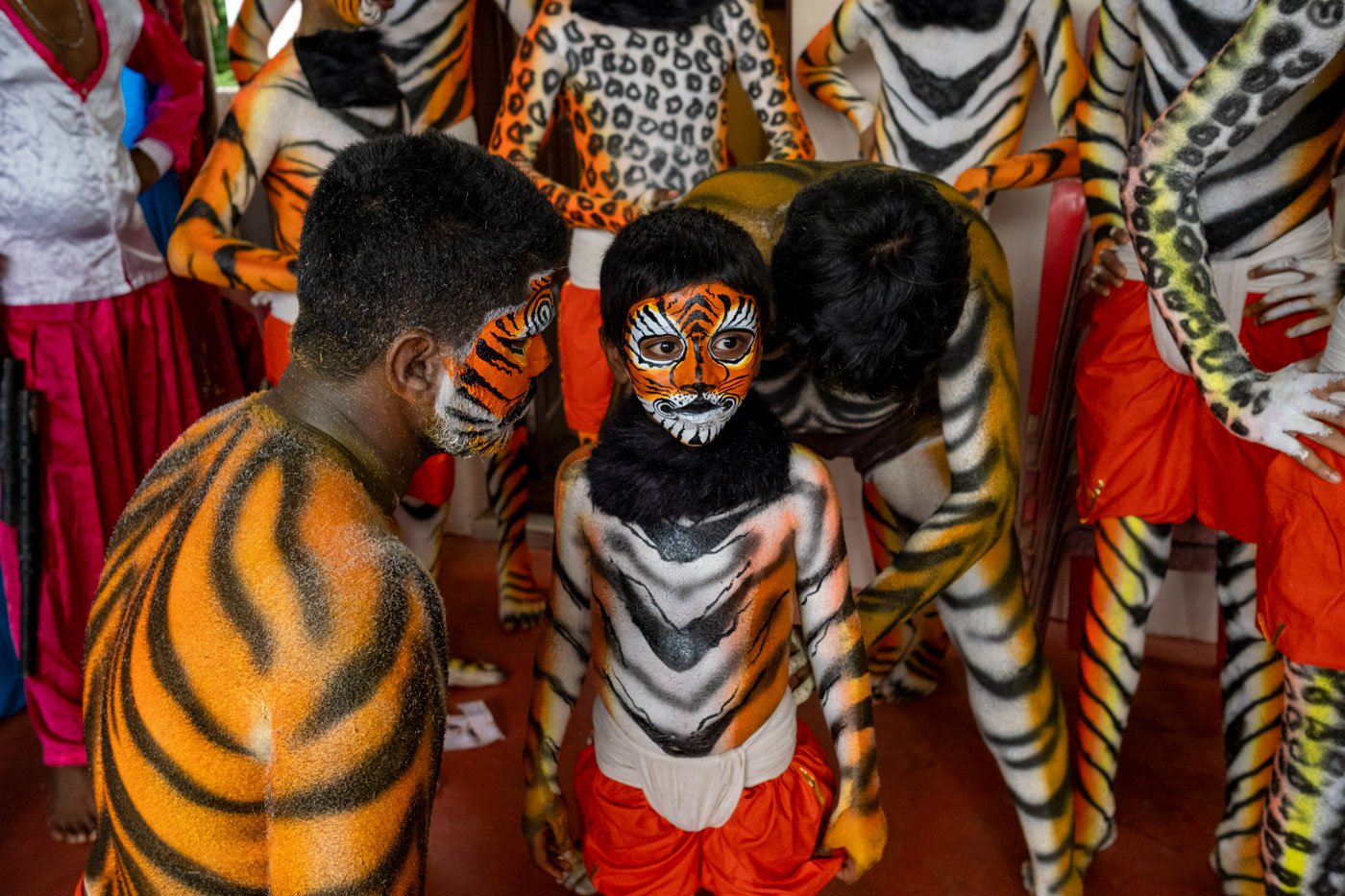 PHOTO • Nithesh Mattu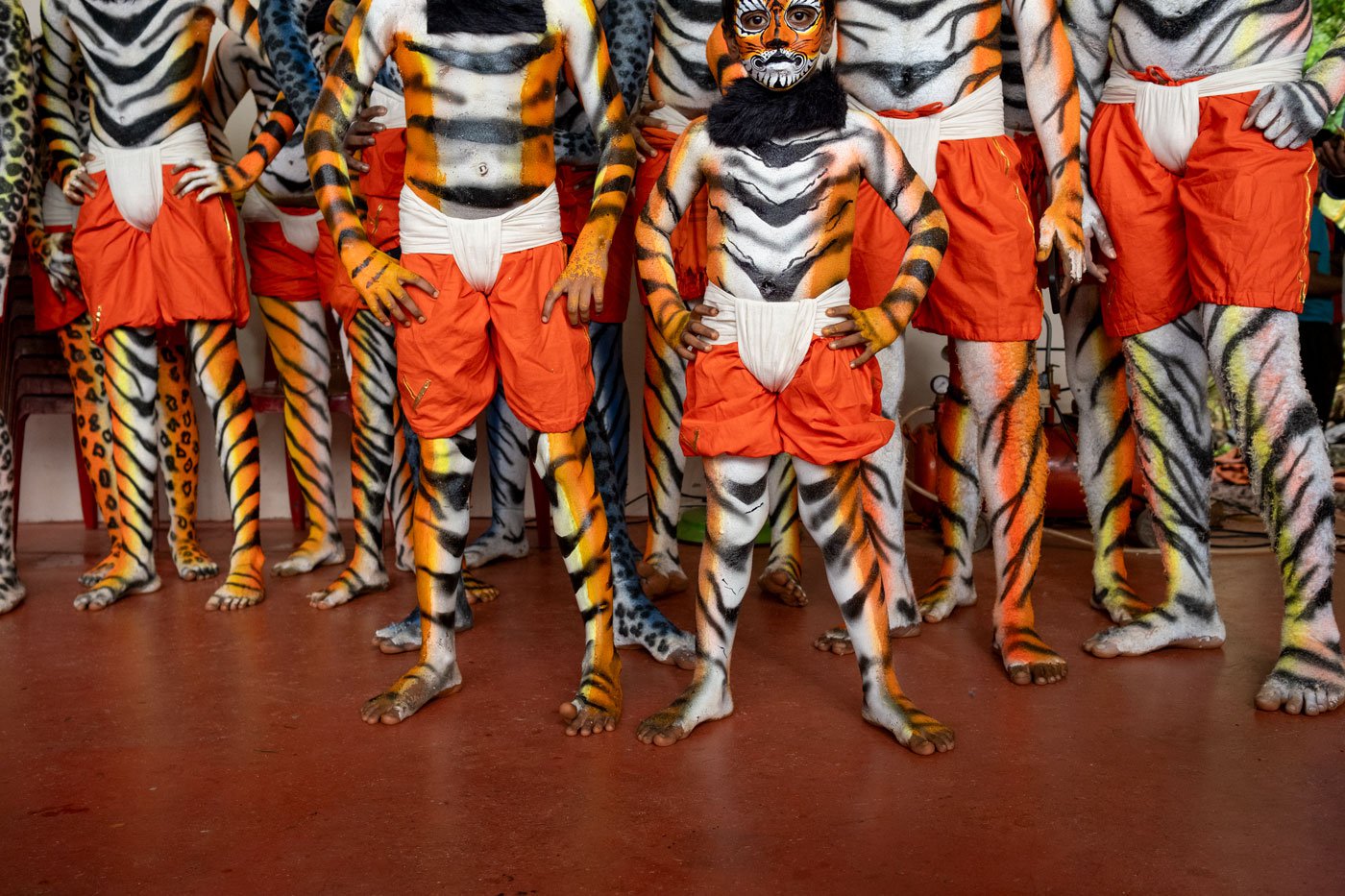 PHOTO • Nithesh Mattu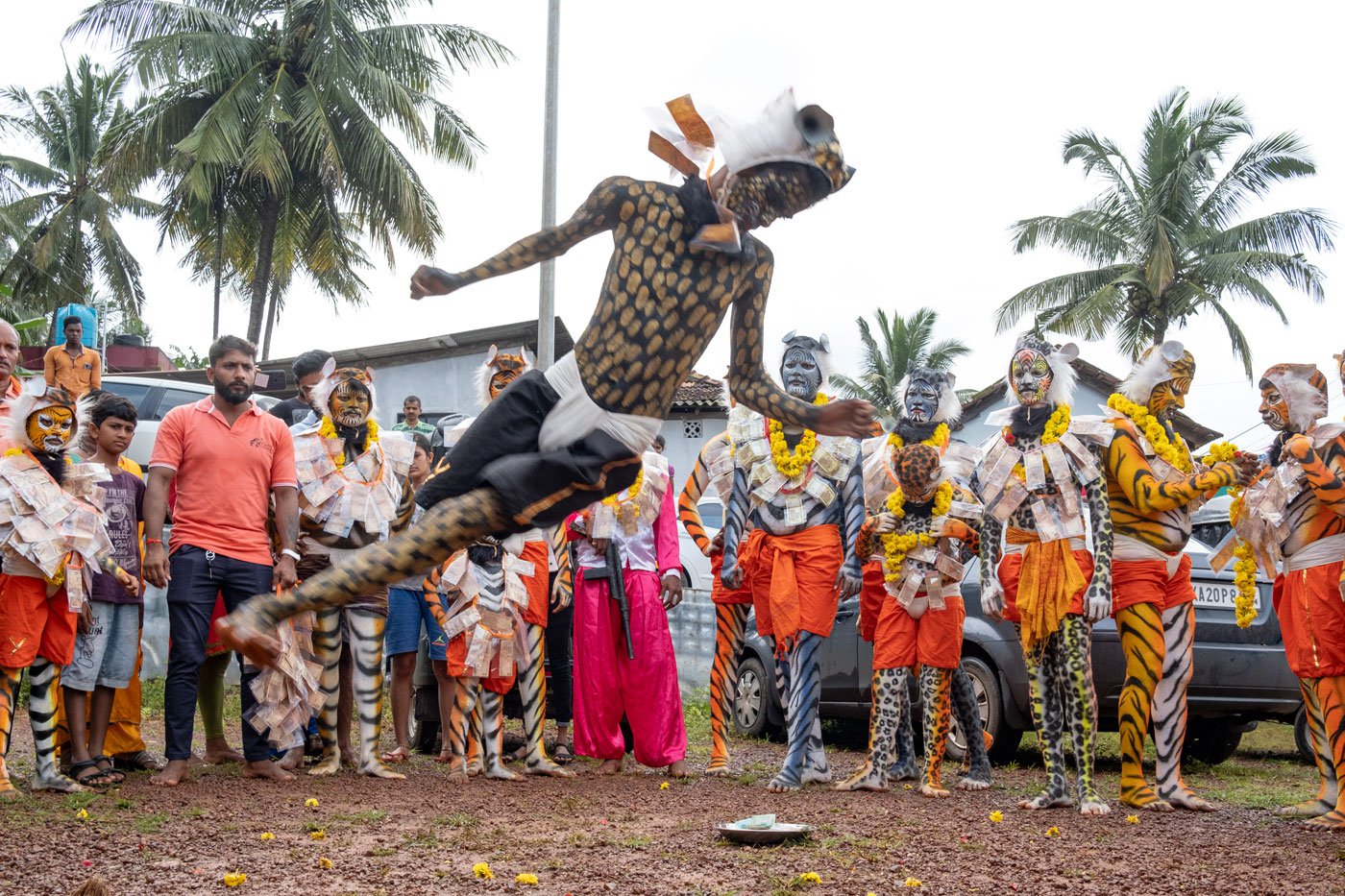 PHOTO • Nithesh Mattu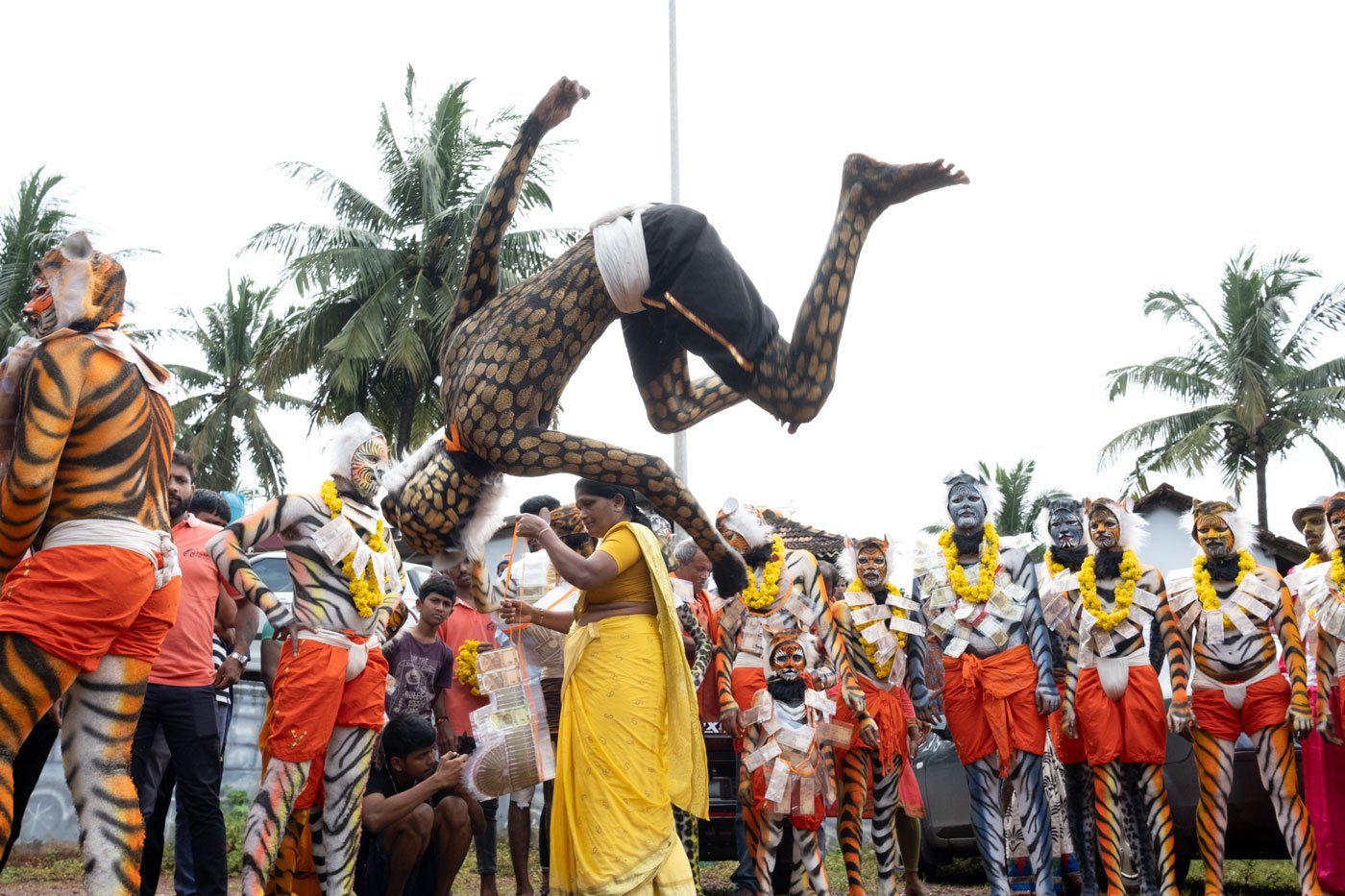 PHOTO • Nithesh Mattu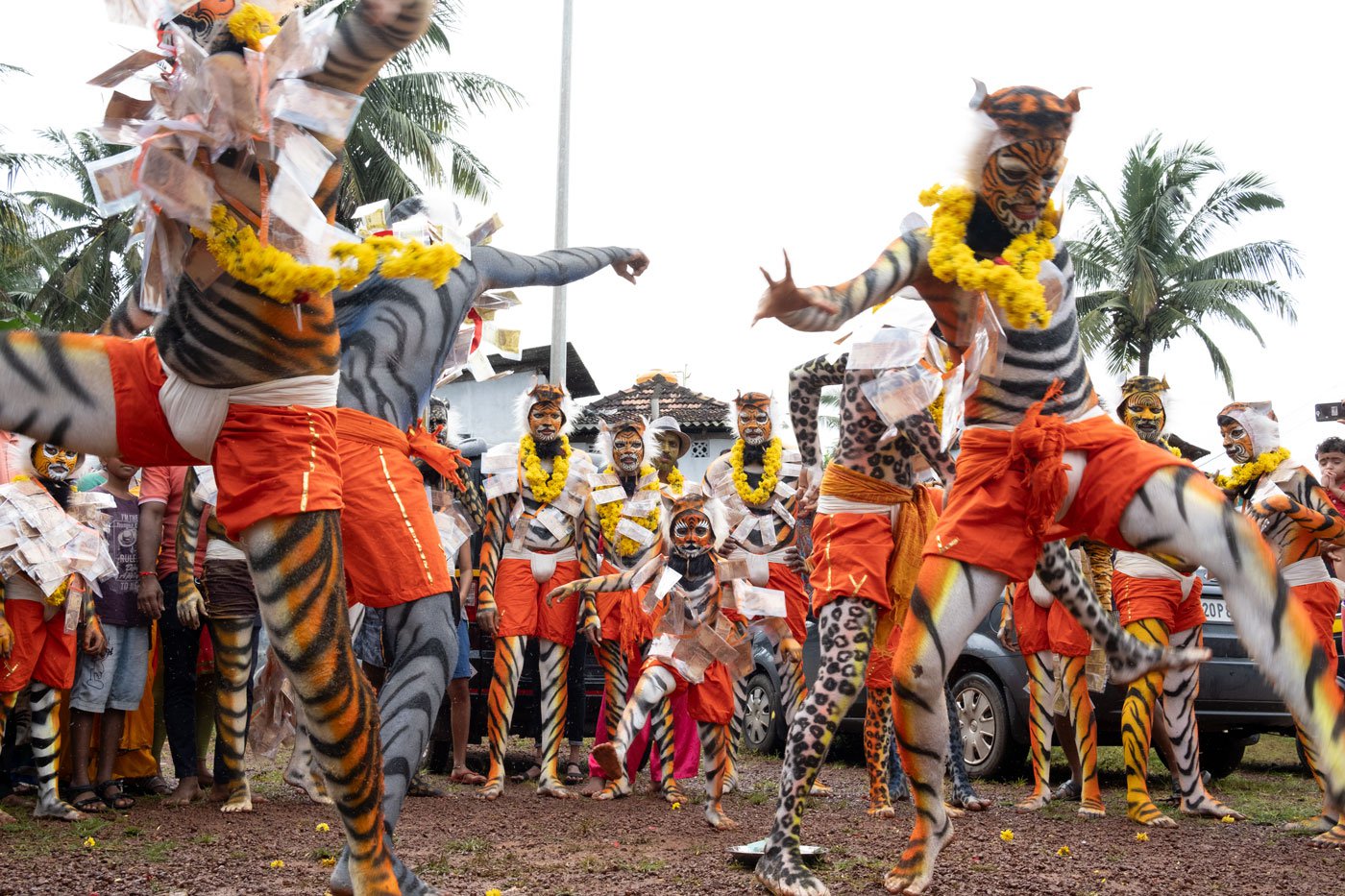 PHOTO • Nithesh Mattu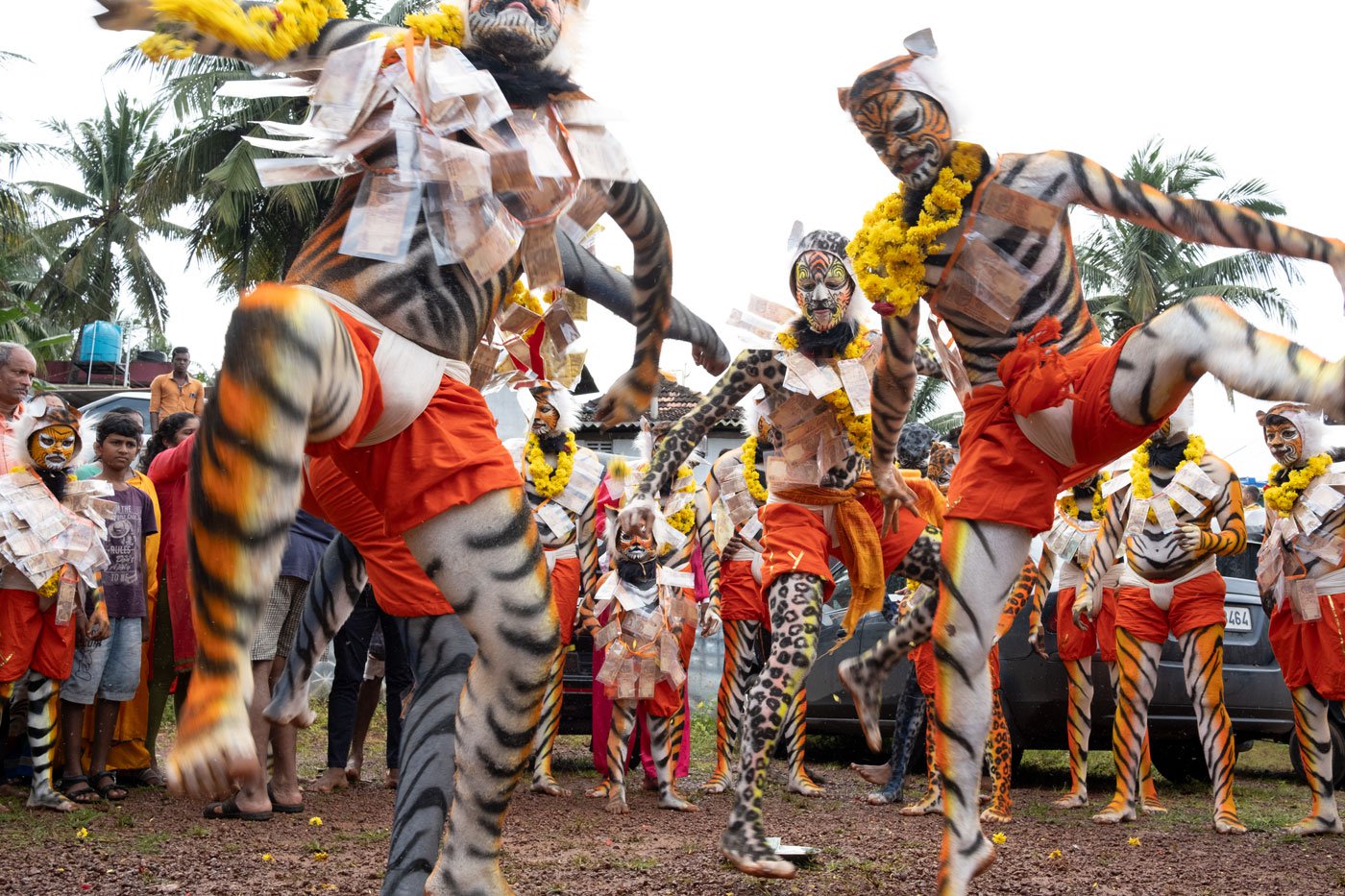 PHOTO • Nithesh Mattu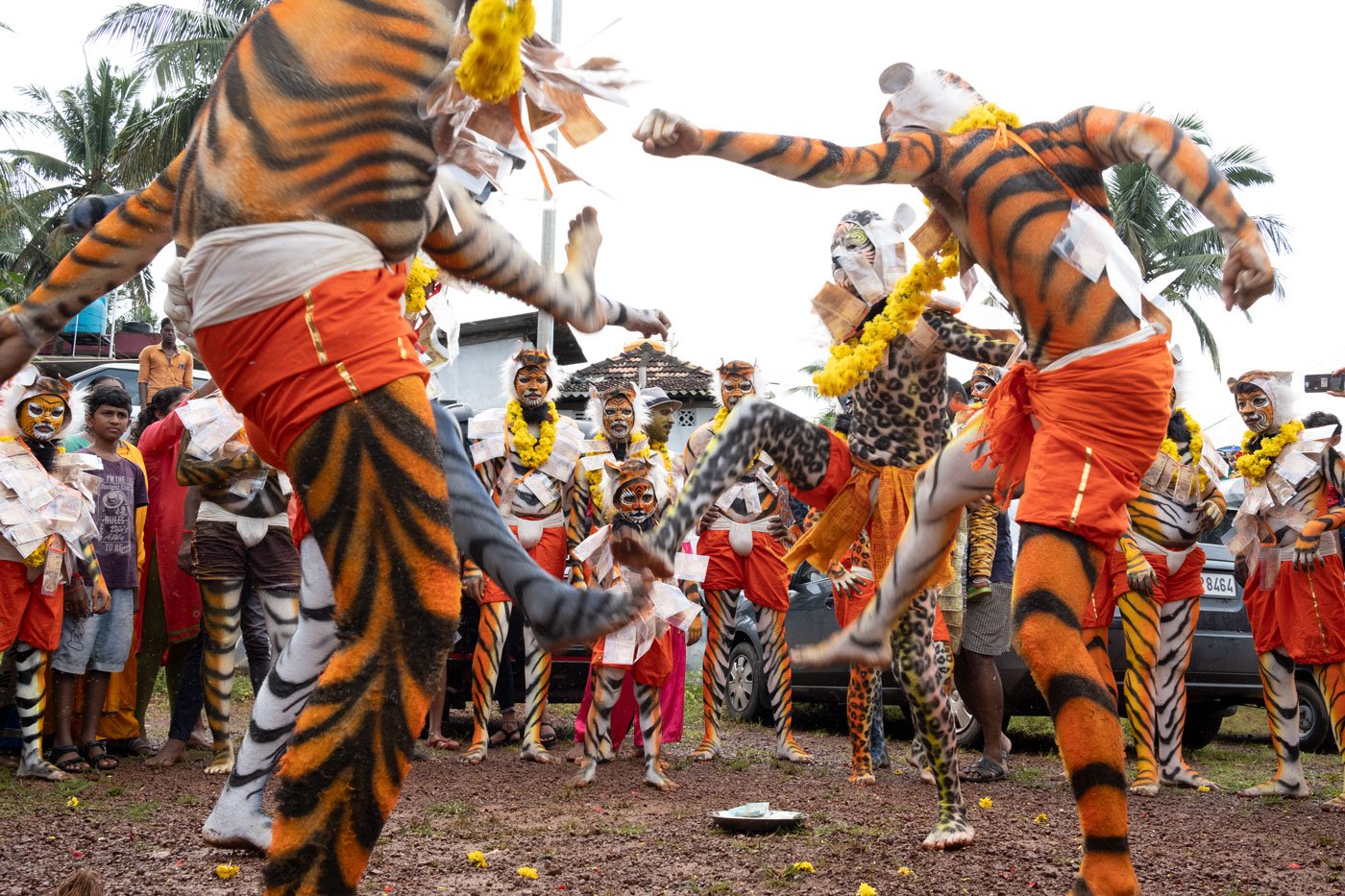 PHOTO • Nithesh Mattu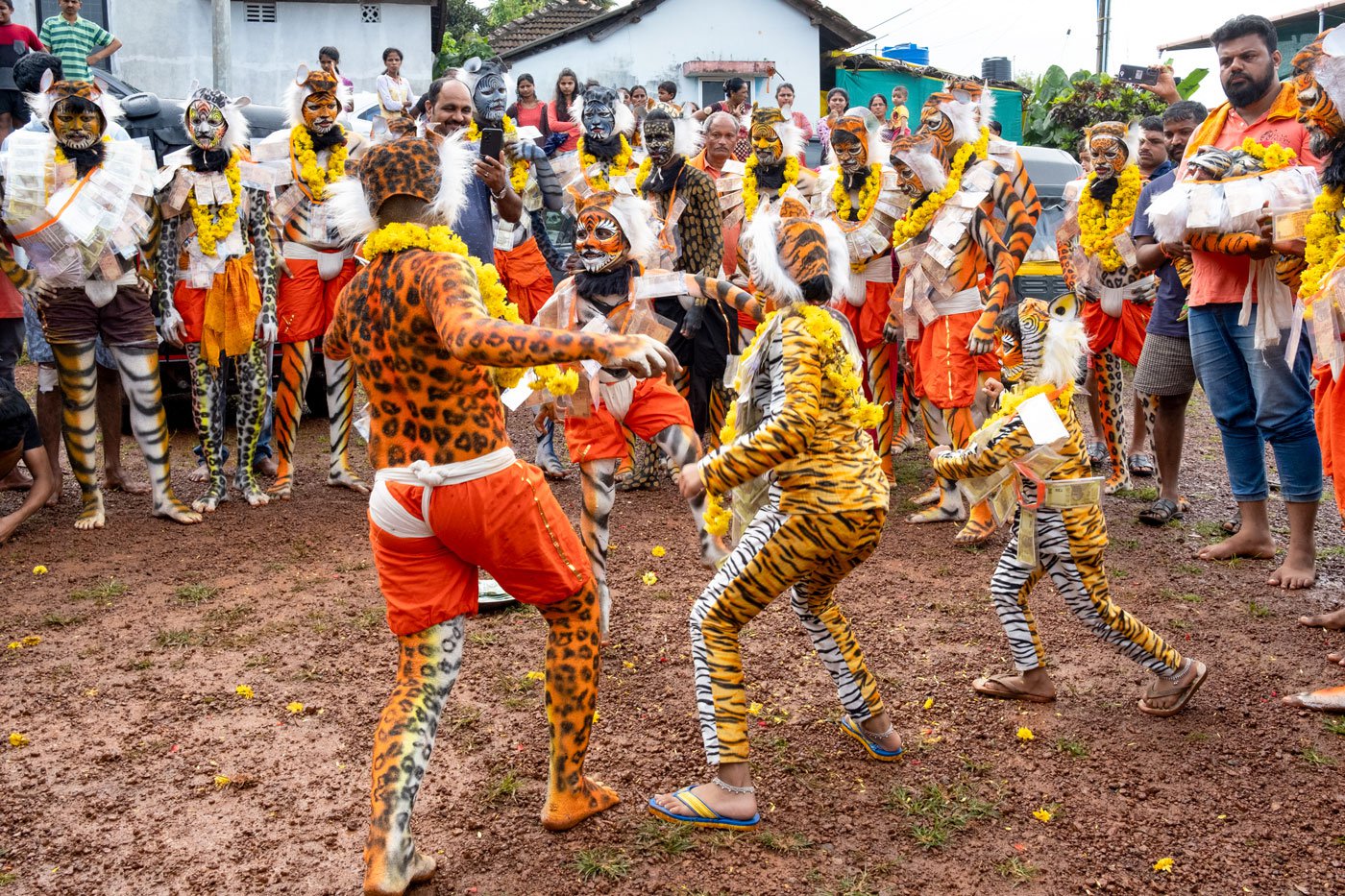 PHOTO • Nithesh Mattu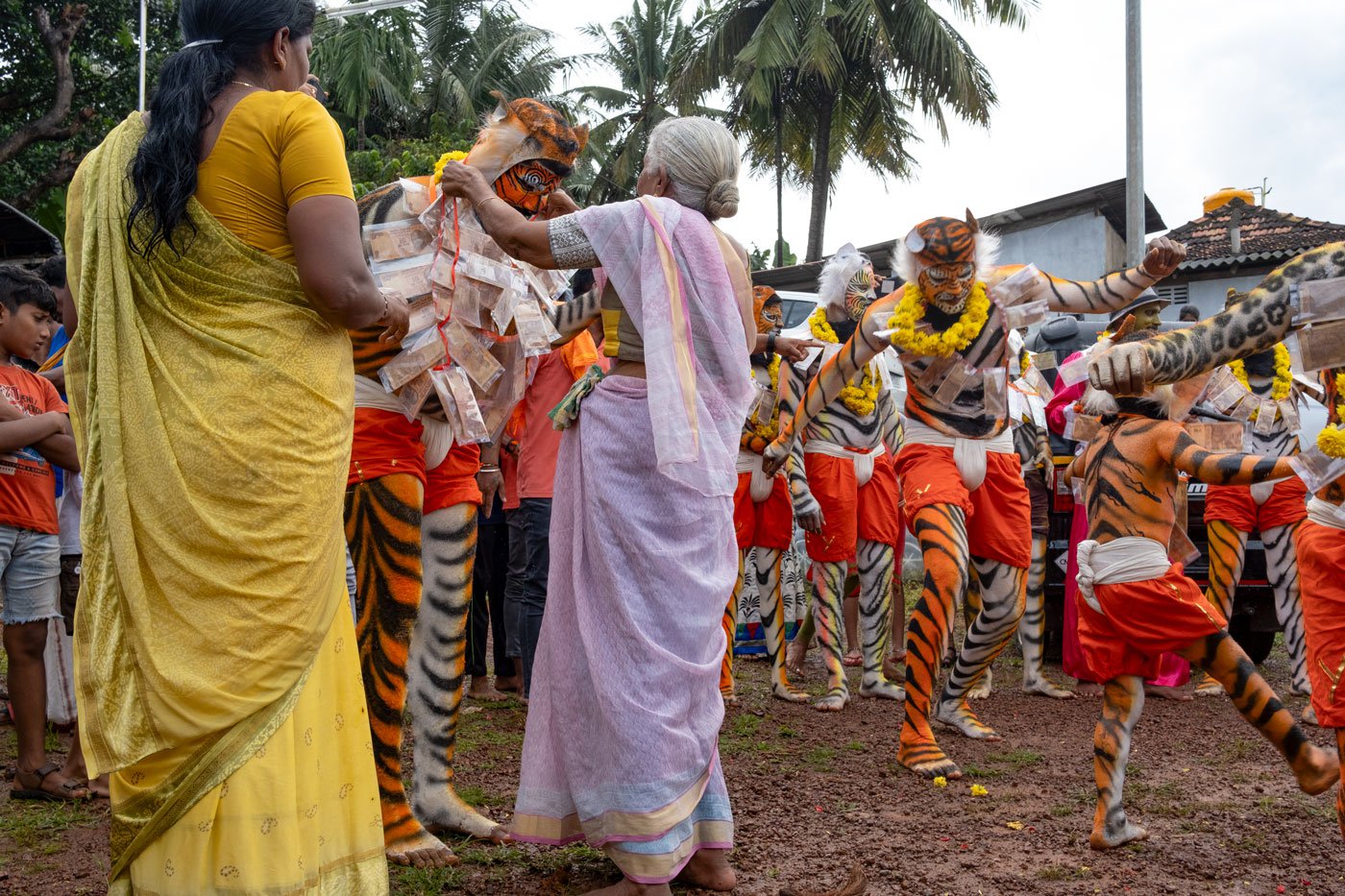 PHOTO • Nithesh Mattu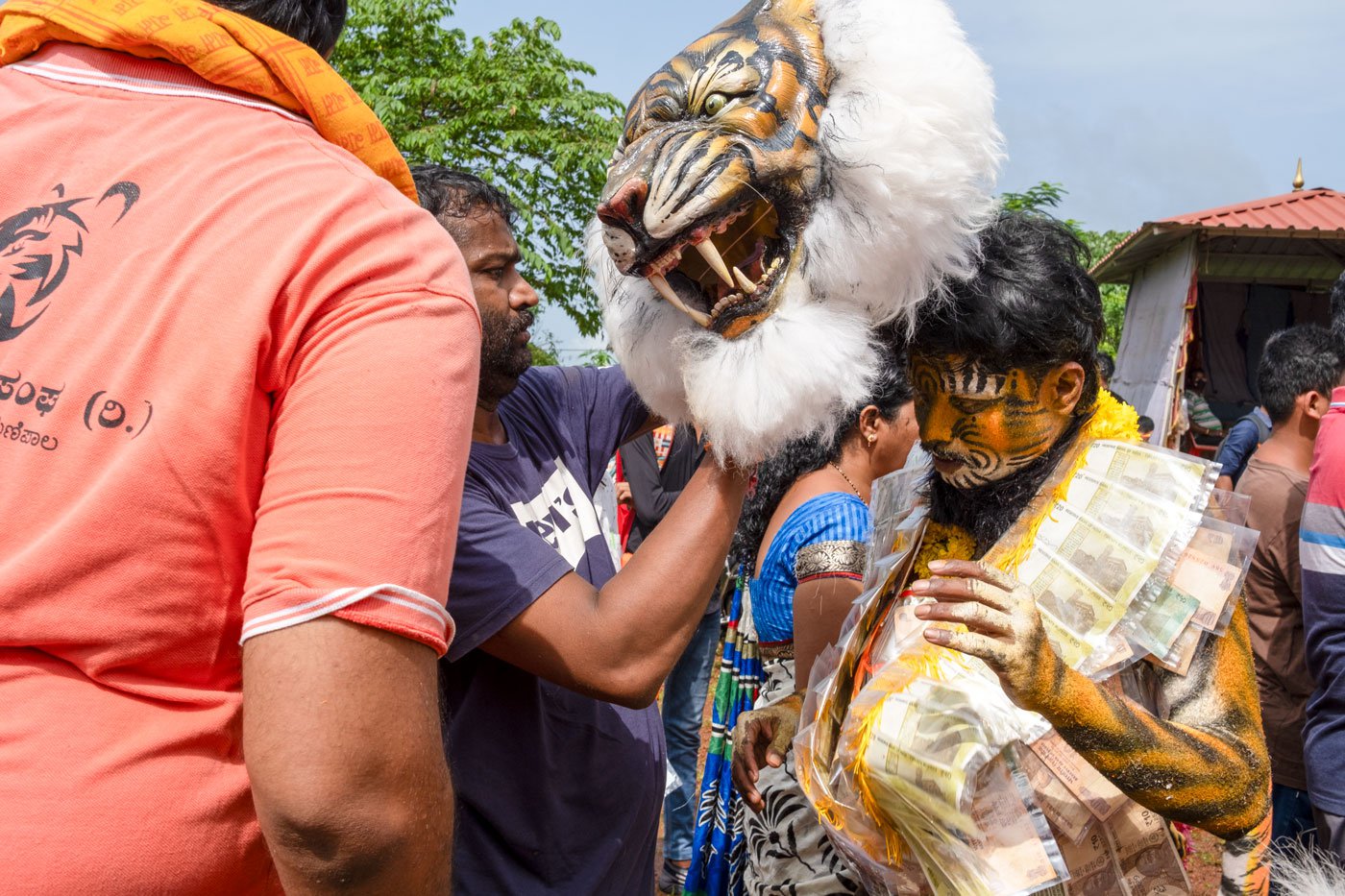 PHOTO • Nithesh Mattu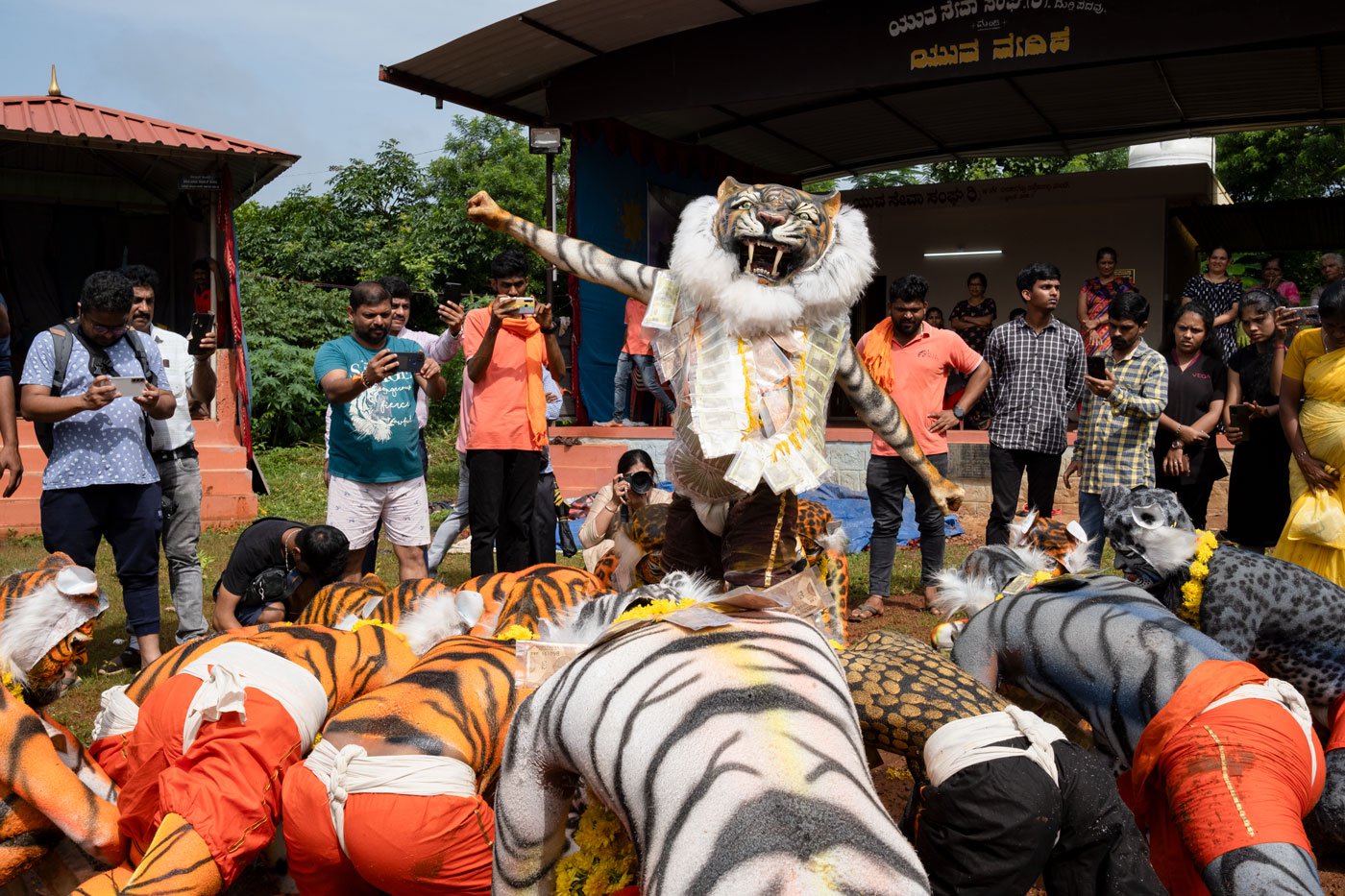 PHOTO • Nithesh Mattu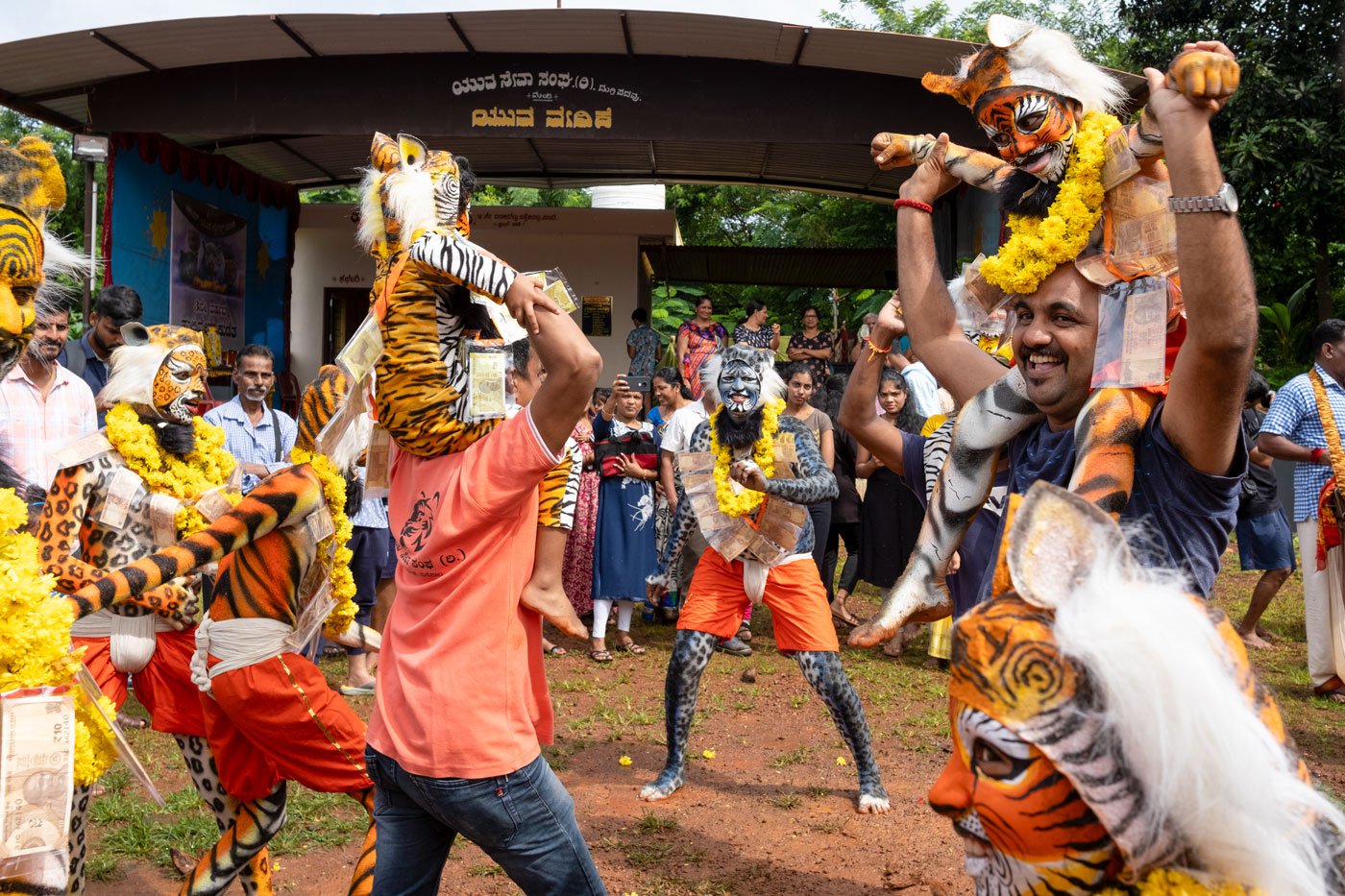 PHOTO • Nithesh Mattu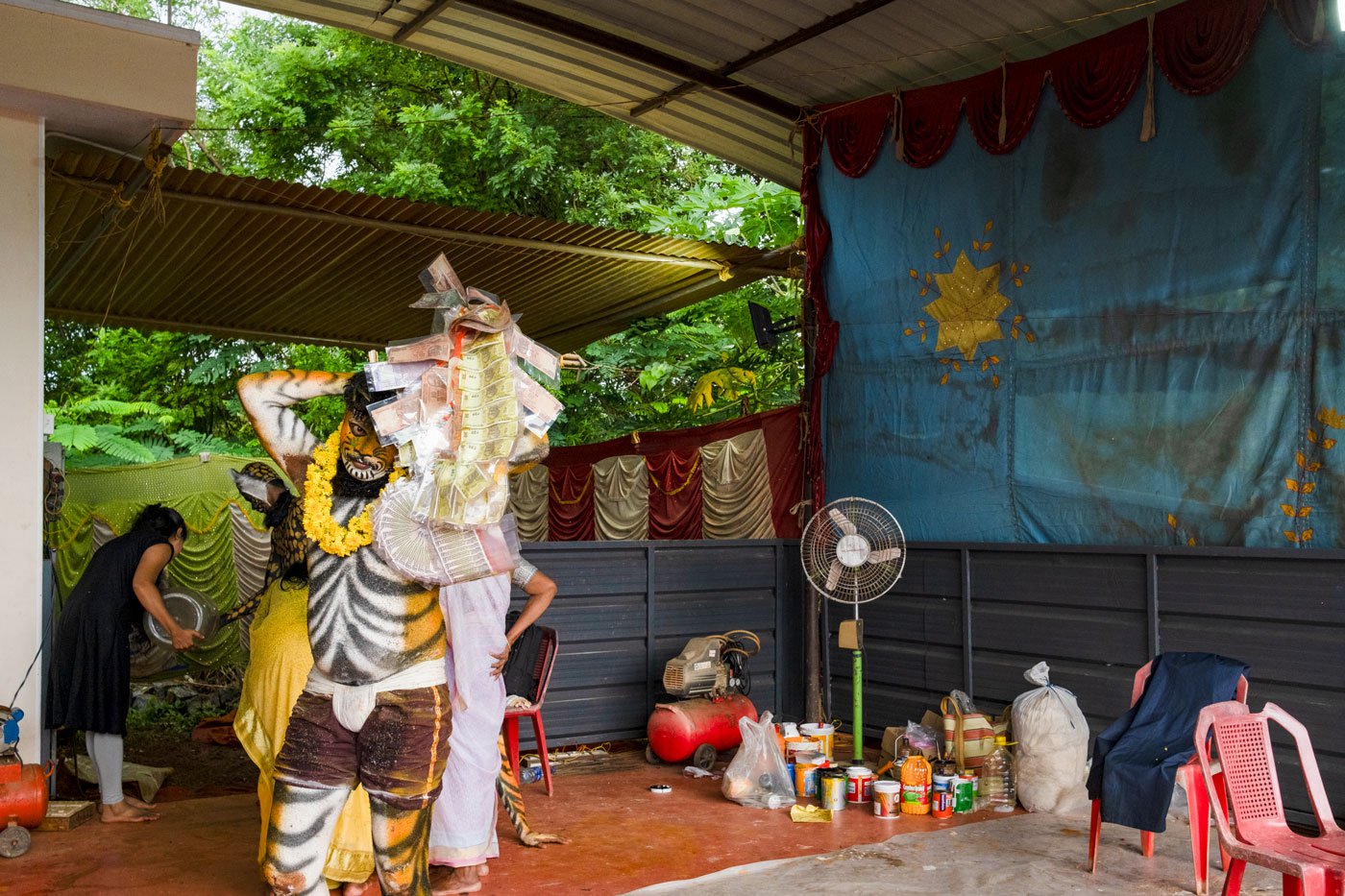 PHOTO • Nithesh Mattu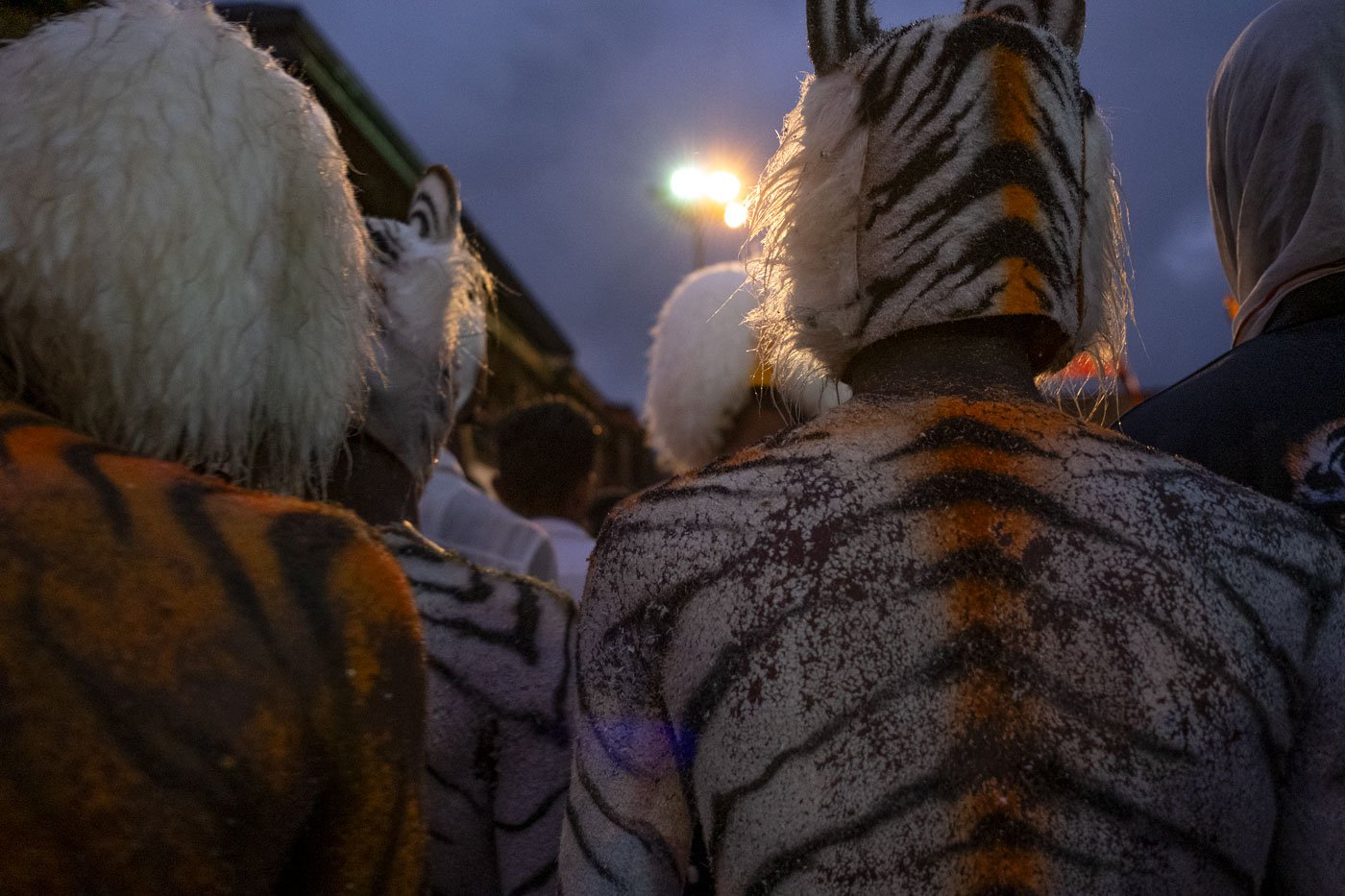 PHOTO • Nithesh Mattu