Soma Kadali says his family keeps calling to check on him. "I will be fine," the 85-year-old reassures them.
A farmer from Waranghushi village in Akole (also spelt Akola) taluka, he has joined the three-day protest walk (April 26-28) by farmers from Akole to Loni in Ahmadnagar (also spelt Ahmednagar) district of Maharashtra. "I have spent my whole life on farms," he says explaining his need to be here, despite his age.
Burdened by a debt of Rs. 2.5 lakhs he says, "I never thought I would be clueless about it [farming] after doing it for 70 years." Kadali is a member of the Mahadev Koli Adivasi community and owns five acres of land in his village. He says he has never seen the weather get as unpredictable as it has become today.
"I have joint pain. My knees hurt when I walk. And I don't feel like waking up in the morning. But I will walk nonetheless," he adds.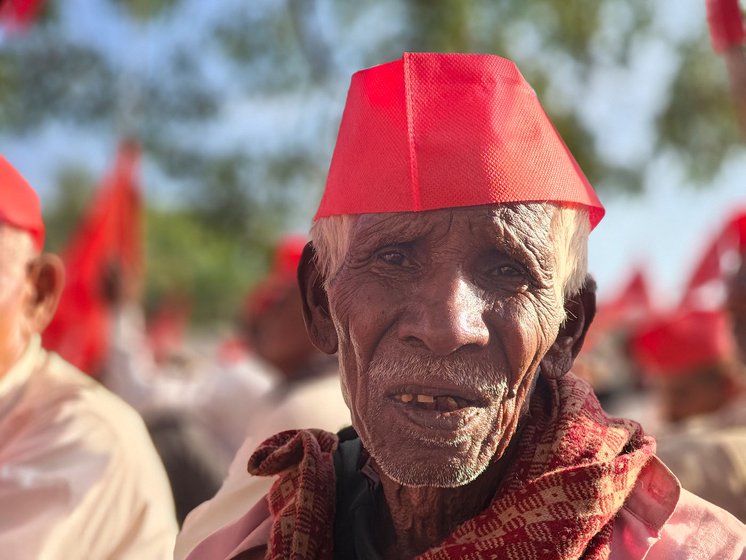 PHOTO • Parth M.N.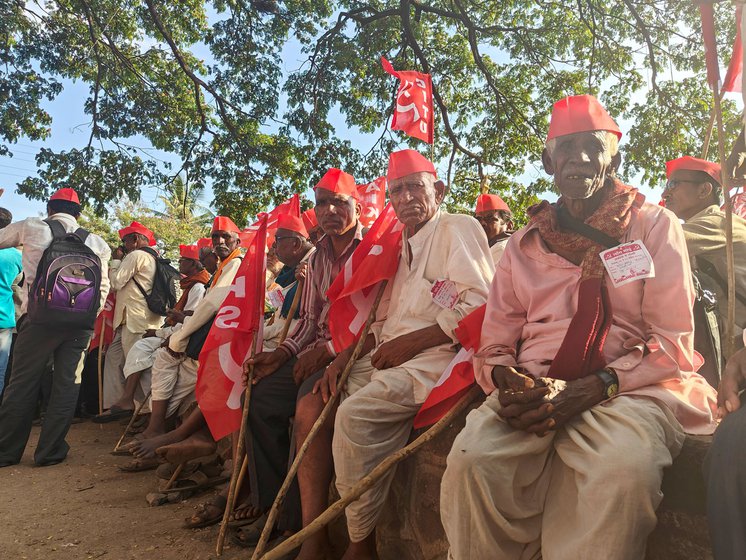 PHOTO • Parth M.N.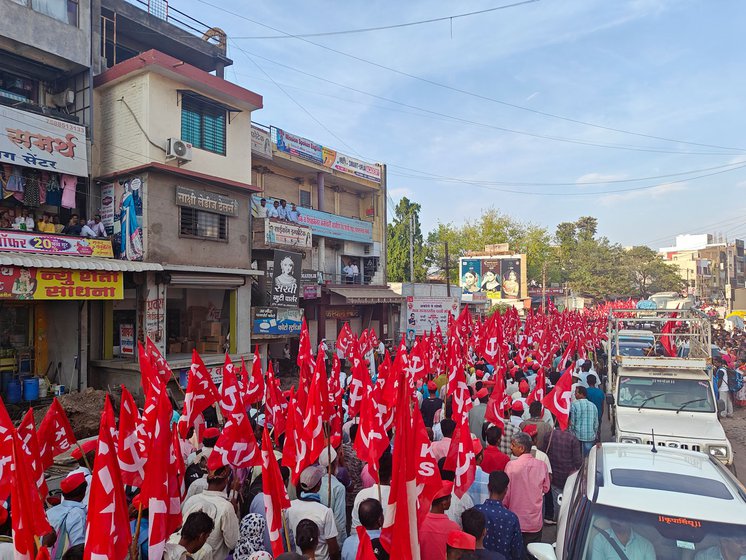 PHOTO • Parth M.N.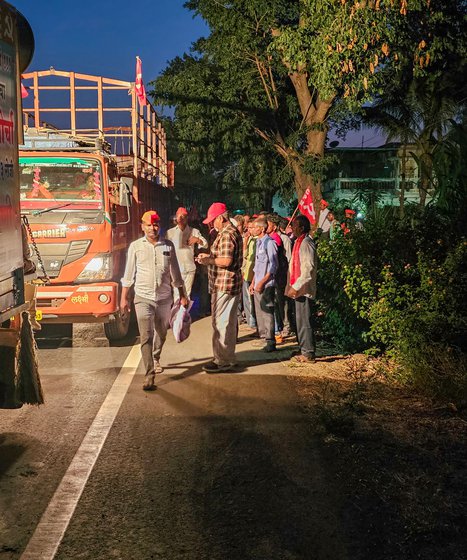 PHOTO • P. Sainath
Kadali is among the estimated 8,000 farmers who gathered on April 26, 2023 to begin a three-day protest march, starting from Akole. Truck and bus loads carrying more farmers kept arriving as the rally proceeded towards Sangamner. The All India Kisan Sabha (AIKS) estimates that by the time the procession reached there by late evening of the same day, it had swelled to 15,000 people.
The march was flagged off after a massive public meeting held at Akole at 4 p.m., presided over by AIKS President, Dr. Ashok Dhawale and other office bearers. Veteran journalist P. Sainath, who will be joining the farmers for all three days in solidarity, was the first speaker. Other speakers included eminent economist Dr. R. Ramkumar and All India Democratic Women's Association (AIDWA) General Secretary, Mariam Dhawale.
"We are fed up with the promises," says Ajit Navale, General Secretary of AIKS  which has organised most of these protests. "We need execution."
The march will conclude on April 28 in Loni at the residence of Radhakrishna Vikhe Patil, the revenue minister of Maharashtra. The palpable desperation and anger among farmers is clearly visible  in the fact that several senior citizens have decided to join in spite of the exhausting heat with temperature nearing 39 degrees Celsius.
'We are fed up with the promises,' says Ajit Navale, General Secretary of All India Kisan Sabha which has organised most of these protests. 'We need execution'
The sight of thousands of farmers intently marching towards the revenue minister's house has set off alarm bells for the state government. Three ministers in the present government – revenue, tribal affairs and labour – are expected to arrive at the venue to negotiate the demands.
But many like Bharti Manga will not be easily placated. "This is for our rights. This is for our grandchildren," says the farmer in her seventies who has travelled 200 kilometres from her village Ibadhpada in Palghar district to participate in the farmers' march.
Manga's family belong to the Warli community and have been cultivating a two-acre patch for generations. But the land is classified as forestland and they have no rights to it. "Before I die, I want to see my family as the owner of the land," she says.
She is unsure about the number of rotis she has packed for three days. "I wrapped them up in a hurry," she explains. All she knows is that the farmers are marching for their rights again and she is one of them.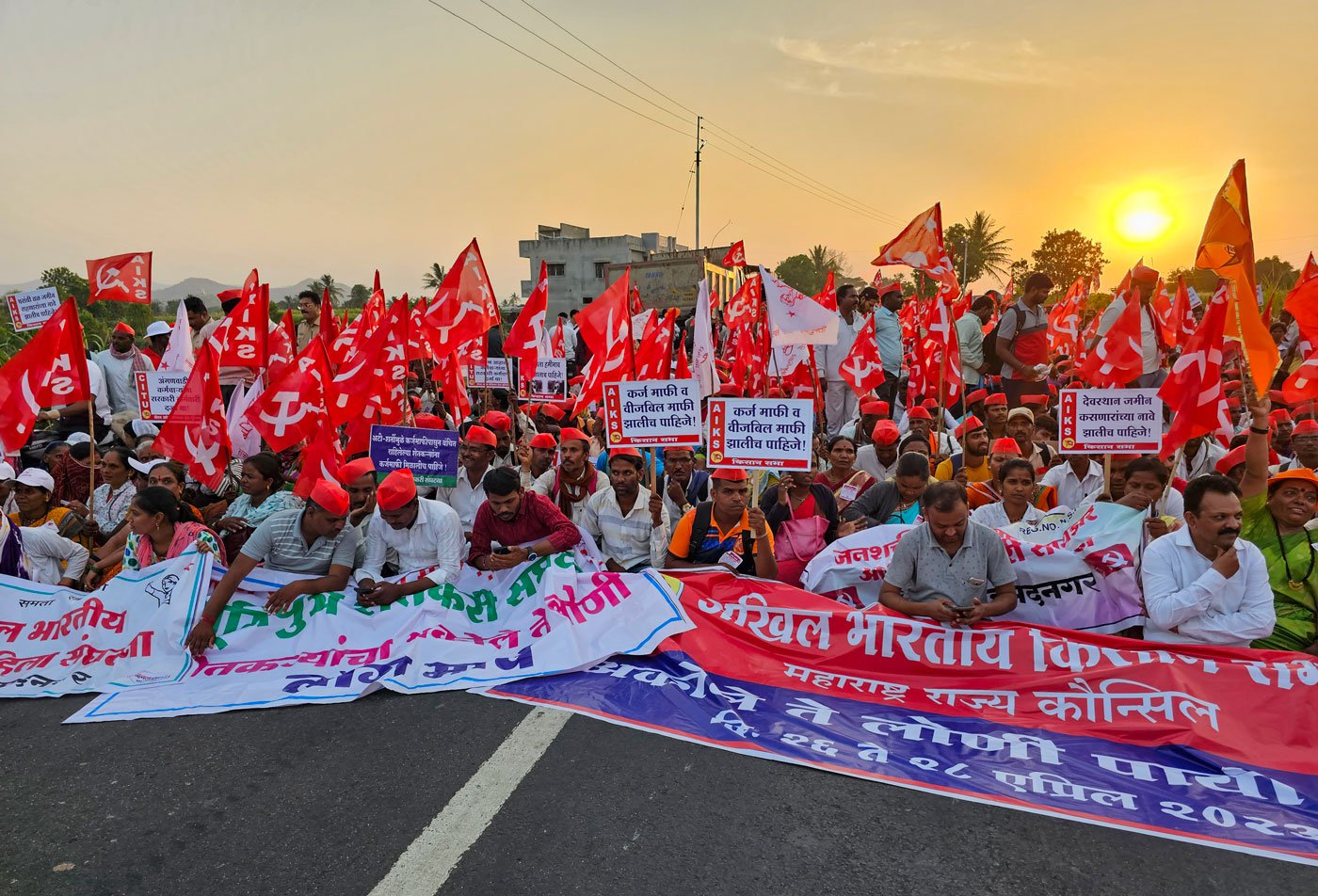 PHOTO • P. Sainath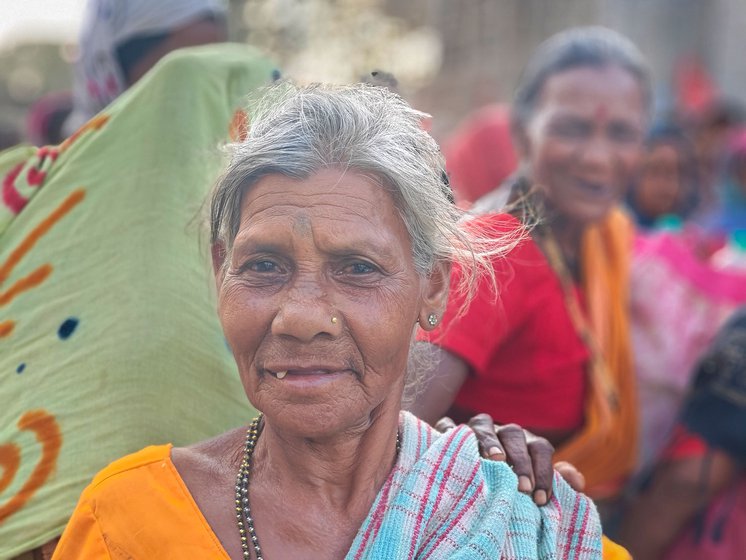 PHOTO • Parth M.N.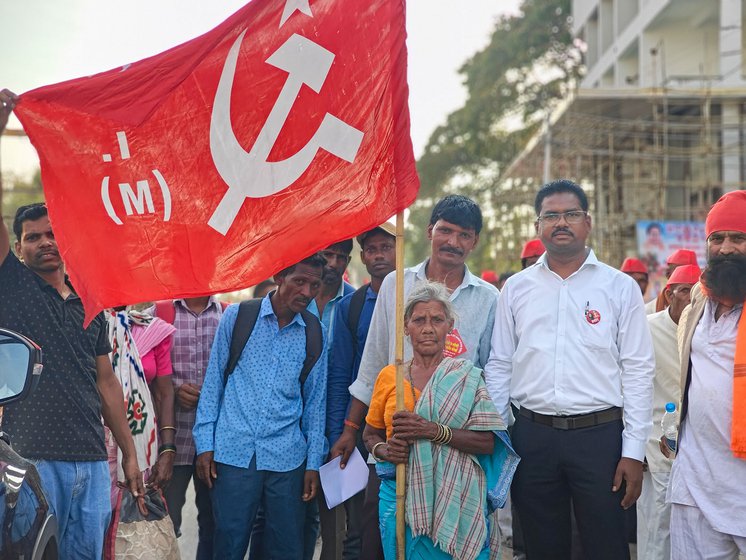 PHOTO • Parth M.N.
The demands of thousands of farmers gathered here are not new. Since the 2018 Kisan Long March, when farmers – mostly Adivasis – marched 180 kilometres from Nashik to Mumbai, farmers have been in a on-going struggle with the state. (Read: The march goes on… )
Farmers want the government to waive crop loans that have piled up due to the deadly combination of rising input costs, falling crop prices and climate change; farmers are unable to break even after the cropping season. They are demanding compensation for the crop loss due to excessive rains over the past two monsoon seasons. The state government had declared it would do so but never got around to act on it.
In tribal districts of Maharashtra, Adivasi farmers have been demanding better implementation of the landmark Forest Rights Act (FRA), 2006, for years.
The farm activists also want the government to intervene and cover the losses of dairy farmers that had to sell milk at Rs. 17 per litre after the outbreak of covid-19.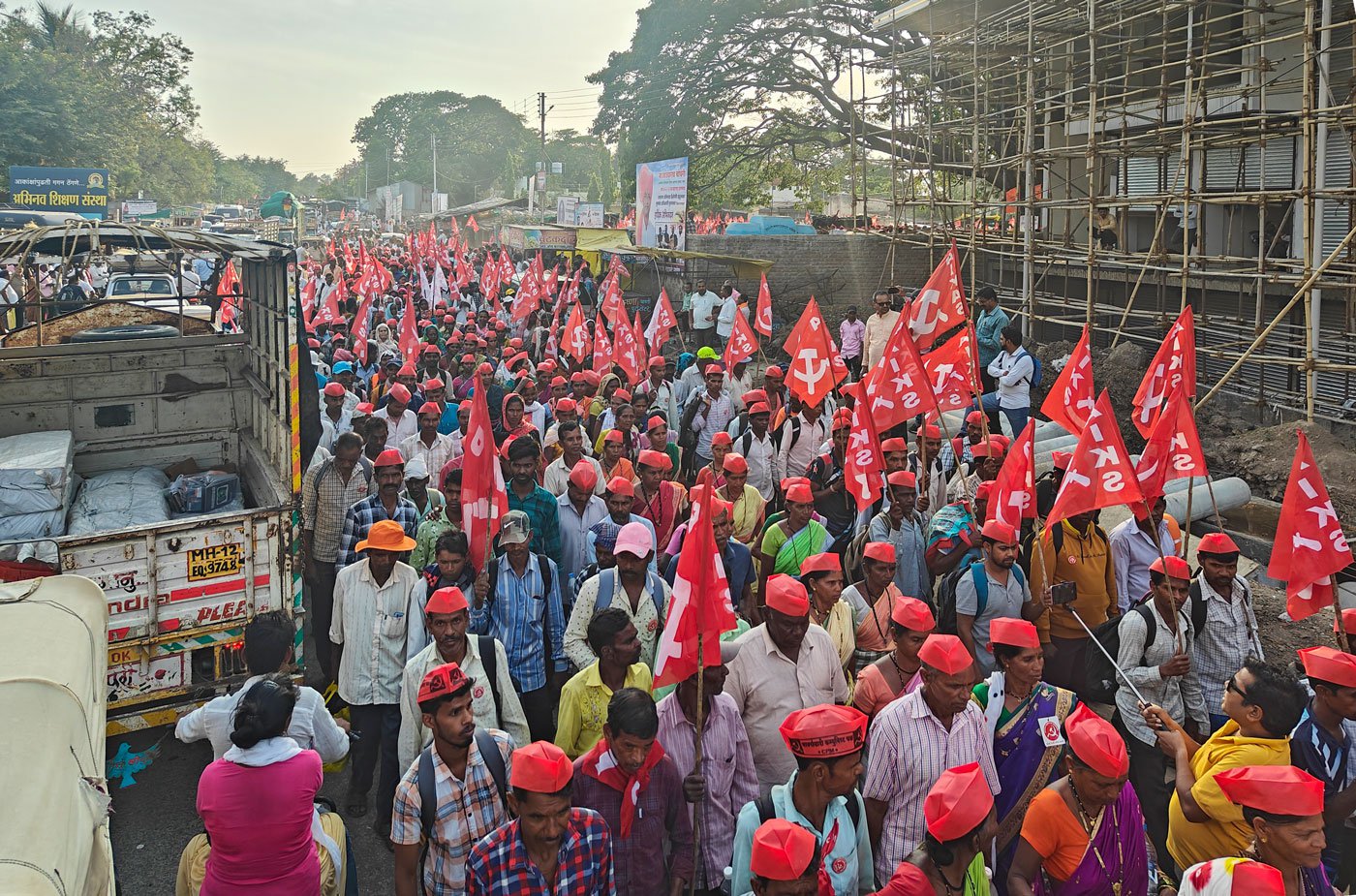 PHOTO • Parth M.N.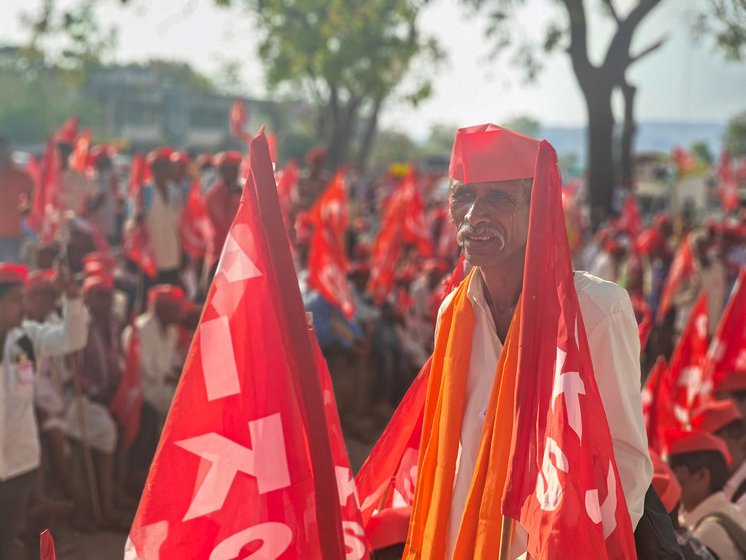 PHOTO • Parth M.N.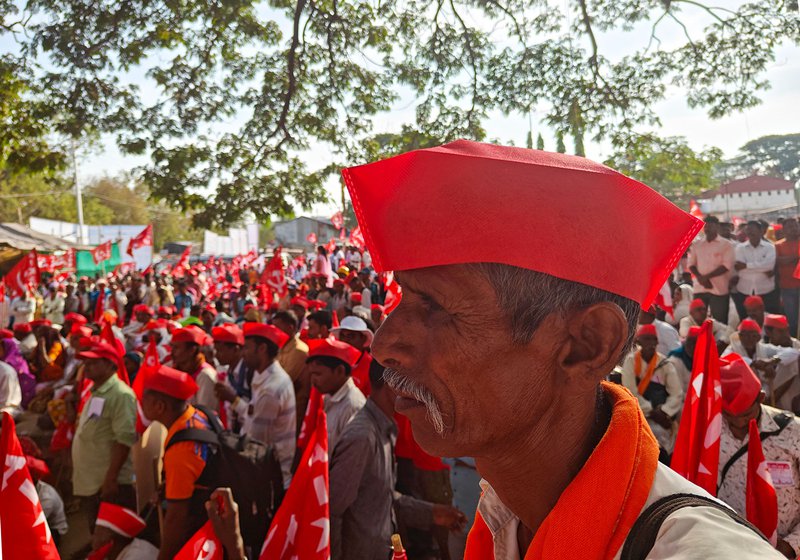 PHOTO • Parth M.N.
Once a farmer in Shelvhire village of Akole taluka, Gulchand Jangle and his wife Kausabai had to sell their land. In their seventies, the couple pick up agricultural daily wage labour work when they can and have pushed their son out of farming. "He works as a labourer in Pune," Jangle tells PARI, "I told him to get out of farming. There is no future in it."
After Jangle sold his land, he and Kausabai rear buffaloes and sell the milk. "It has been difficult to sustain ever since covid-19 broke out," he says.
Determined to come for the march he says, "I have renounced my daily wages for three days to participate in the protest march. After walking for three days in this heat at my age, I won't be able to work immediately. Assume that my five days of wages are gone."
But like the thousands of others he wants his voice to be heard. "When you see thousands of farmers marching shoulder to shoulder, it makes you feel better about yourself. It gives you a certain reassurance and hope. We rarely experience that."
Postscript:

On the second day of the march, April 27, 2023, the Maharashtra government rushed three cabinet ministers, Revenue Minister Radhakrishna Vikhe Patil, Labour Minister Suresh Khade and Tribal Development Minister Vijaykumar Gavit, to meet with the farm leaders at Sangamner and discuss their demands at length.
Under major pressure to settle, and with the spectre of 15,000 mainly Adivasi farmers marching towards the Revenue Minister's residence in Loni, they conceded almost all the demands in three hours. That achieved, the All India Kisan Sabha (AIKS) and others called off the protest march a day after it had begun.