In two small rooms, a 'revolution' is underway. This annexe to a fairly large gated property is the mill control assembly unit, a Kudumbashree entity run by nine women. Teams of three and six occupy each of these rooms. They sit at their busy work stations heavy with cold tools, assembly parts and calibration charts. This is the Phoenix Activity Group, which assembles control and trip valves.

We remove our shoes at the entrance of the three-person operation. There is a lot happening for a space as small as this. While Girija Shashindran, the unit's president talks to us, Mini is hammering away at the skeleton of a control valve, attacking it with nuts and screws. On the other workshop table, Ajida calibrates a finished piece. Each of these tables is lined with over 50 red plastic trays organised in neat rows with all sorts of parts. A week of training and daily practice explains all the activity in this room. The women here work and talk like experts. But they aren't sure how and where their output is used, they were not told this during the training. Girija hands us a brochure with a picture of the valve in its final form attached to bigger machinery. "They probably haven't told us because they fear that we'll set up our own unit," the women joke.
The work demands attention to detail, dexterity, precision. On average, the three member unit assembles 10 control valves in a day between 9 a.m. and 5 p.m. They earn Rs. 150 a piece and a minimum of 50 must be assembled in a month – which they can easily do.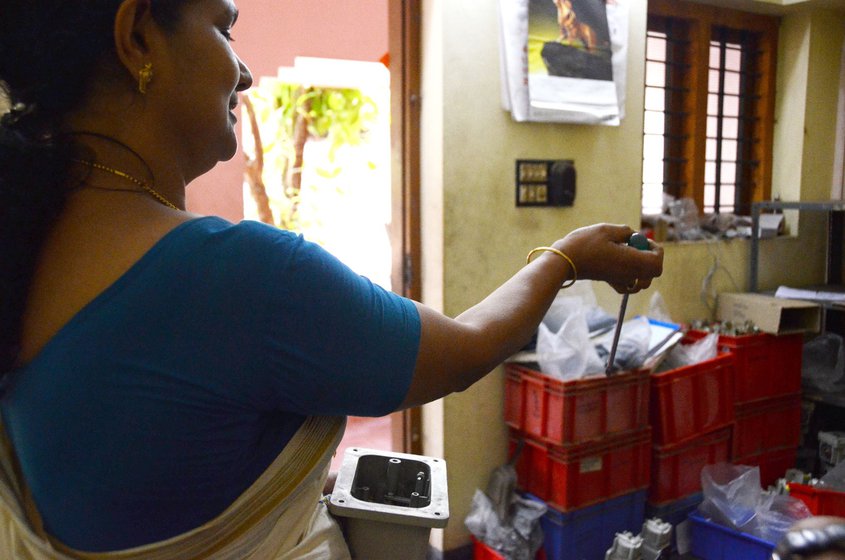 PHOTO • Asawari Sodhi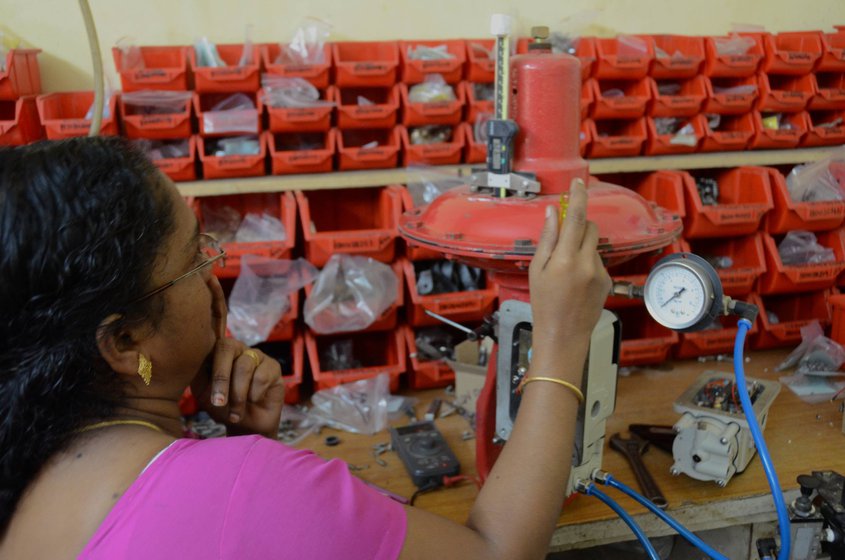 PHOTO • Asawari Sodhi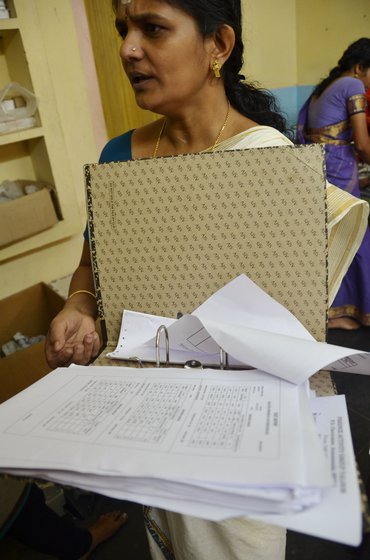 PHOTO • Asawari Sodhi
The Phoenix Activity Group is a rarity in Kudumbashree, and in general. Unlike other micro-enterprises or livelihood opportunities in Kudumbashree, Phoenix neither sources nor caters locally. The women here, wearing brown waistcoats as uniforms over their sarees, completely handle the tasks of assembling and calibrating these valves. They divide the tasks and rotate duties with the correct calibration chart kept handy.
They understand the significance of their work: not many companies entrust people late into life with the complexities of assembly work. Secondly, in a shrinking job market that demands prior work experience, none of the women in the group holds a college degree. Girija says that when the managing director of the company visited, he was surprised to see them, high school graduates, doing the work of 'Btech diploma holders'. They have been doing this a while and have been doing it well, and they detail some of the processes in quality assurance, hisses and clicks matched to calibration charts. In the past eight months they have had only eight parts returned to them. That's some quality control.

Goodwill on the company's part alone does not explain Phoenix. "Efficiency" also figures in its calculus, feels Girija. She discovered with some research that they didn't earn as much as  polytechnic graduates for the same work. This is the trade-off of the service that Phoenix Activity Group provides. Decent pay, regular supplies and regular work coexist, not always comfortably, with limited bargaining space. But these come with the subtle promise of 'empowerment', which might be a open into widening window of opportunity.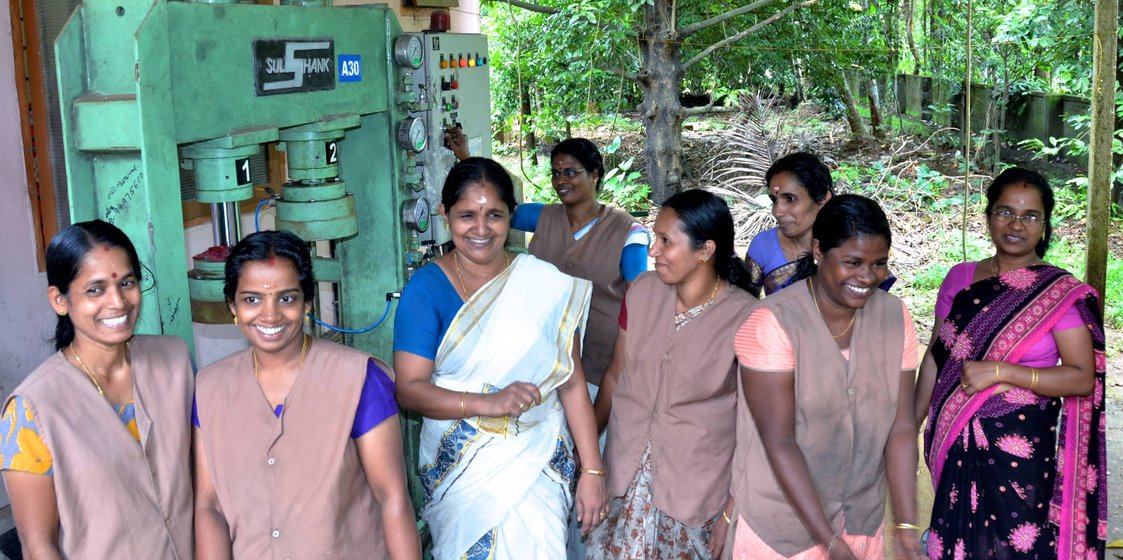 PHOTO • Asawari Sodhi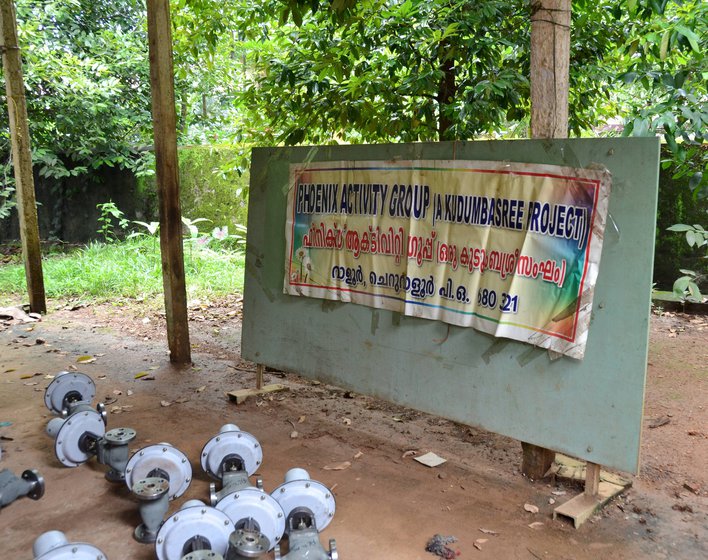 PHOTO • Asawari Sodhi
We assemble in the shed of the front yard for a photo, flanked by the group's well-travelled banner and gigantic green machinery that gurgles when Jayalakshmi feeds a valve into it. They joke amongst themselves while I quit waiting for them to look at the camera.
Besides, more immediate issues abound. They have had to move quite a bit, a problem that is unique to the work they do and the way they do it. Their needs as an industrial assembling unit are a little more specific than other micro-enterprises. During my visit, Phoenix was on the lookout for another space with a fast approaching move-out date. The owners had plans to house a more lucrative business. Indeed, the enterprise racks up a bill of over Rs. 5,000 in a month, Rs. 2,500 spent on electricity and Rs. 3,000 on rent. This is about 10 per cent of the entire unit's monthly earnings. There are other concerns, occupational hazards, as is clear when you watch Jayalakshmi and Sheeja Sajeevan lug in a valve for assembling. Unassembled, it weighs 60 kilos only to get heavier by the end of the process. This worries Vijaylakshmi, who waves in the general direction of her entire body, highlighting the generous scope for injury and the hassle of no insurance coverage.