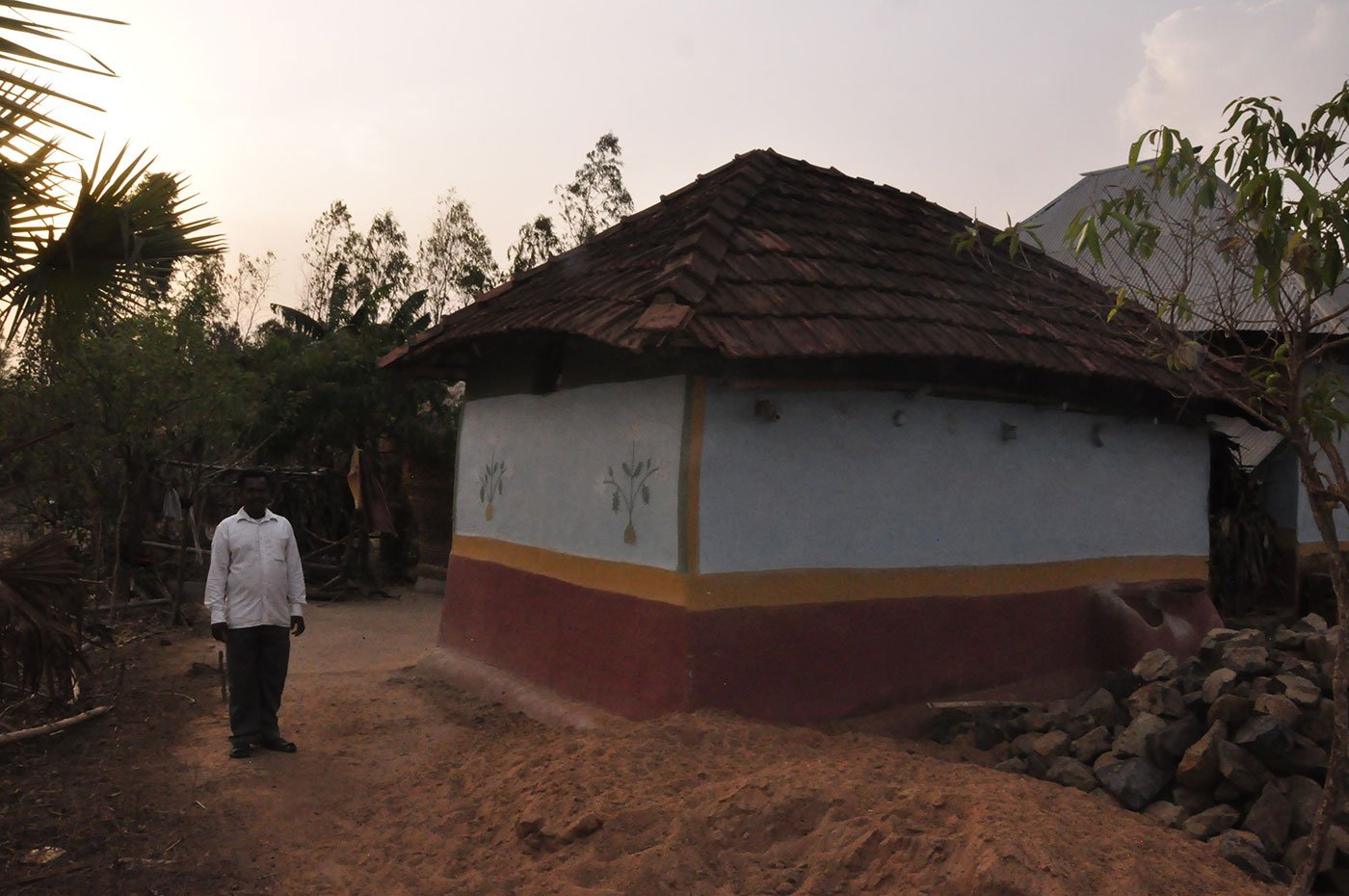 PHOTO • Madhusree Mukerjee
Bamli and Baburji Kisku, a Santal couple, live in Garia village, Birbhum, West Bengal, near the border with Jharkhand. A few years ago, Baburji played a leading role in an agitation that stopped the construction of stone quarries and crushers around the village and elsewhere. As a result, Garia's villagers can still grow rice and other crops in their fields.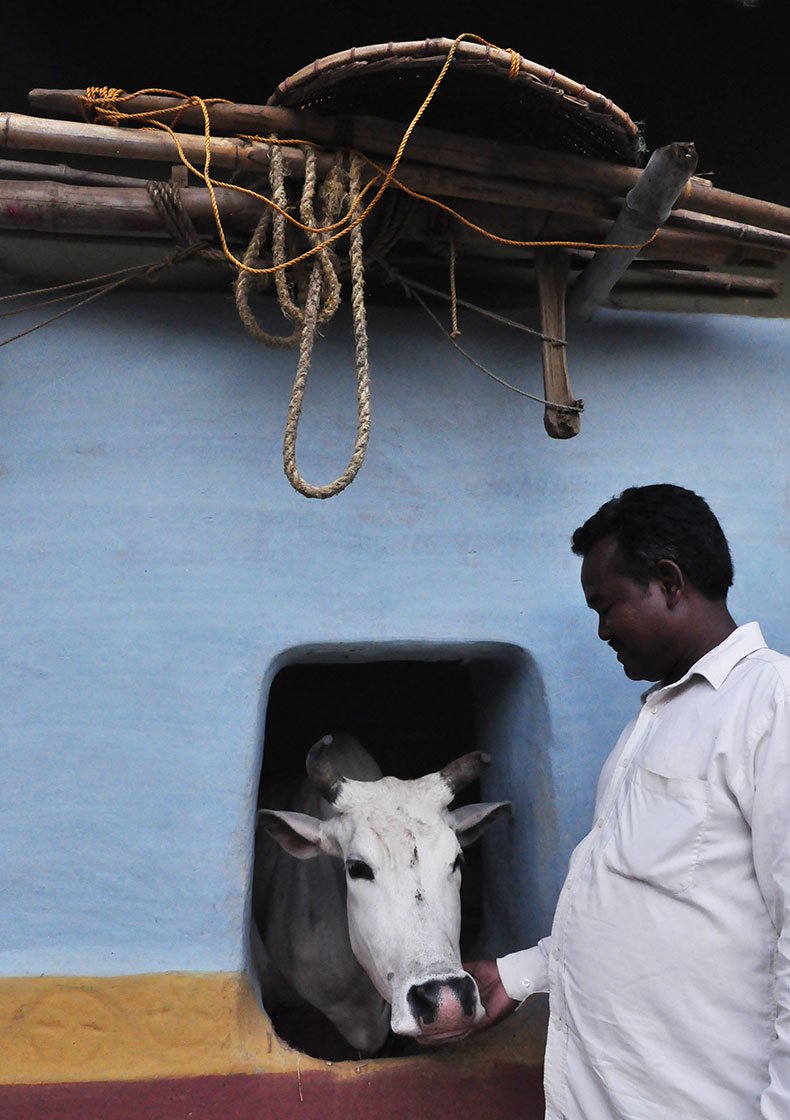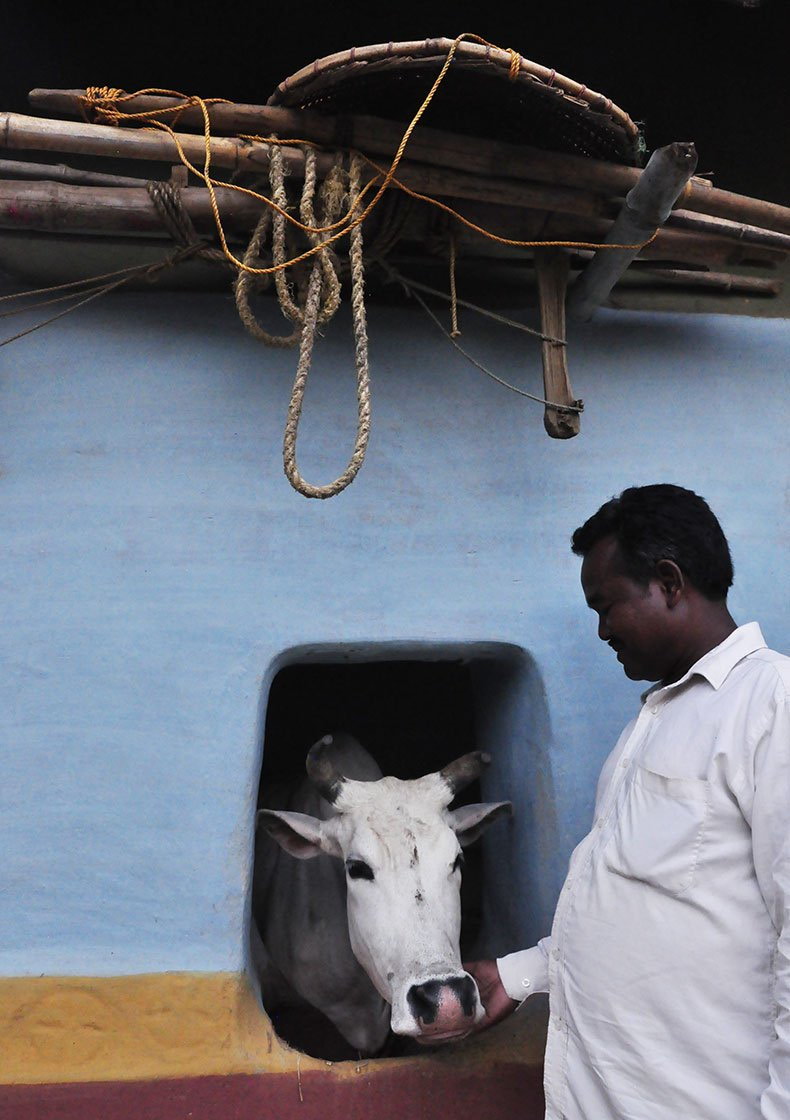 PHOTO • Madhusree Mukerjee
Baburji farms once a year, in the monsoon, using his bullocks to plough the land. He also teaches at a local primary school. In most of the region, agriculture is unviable because rock from quarry blasting has littered fields, while stone dust billowing from the crushers smothers all plants. Although Garia village is far from pristine, it is a haven of peace compared to the surrounding areas.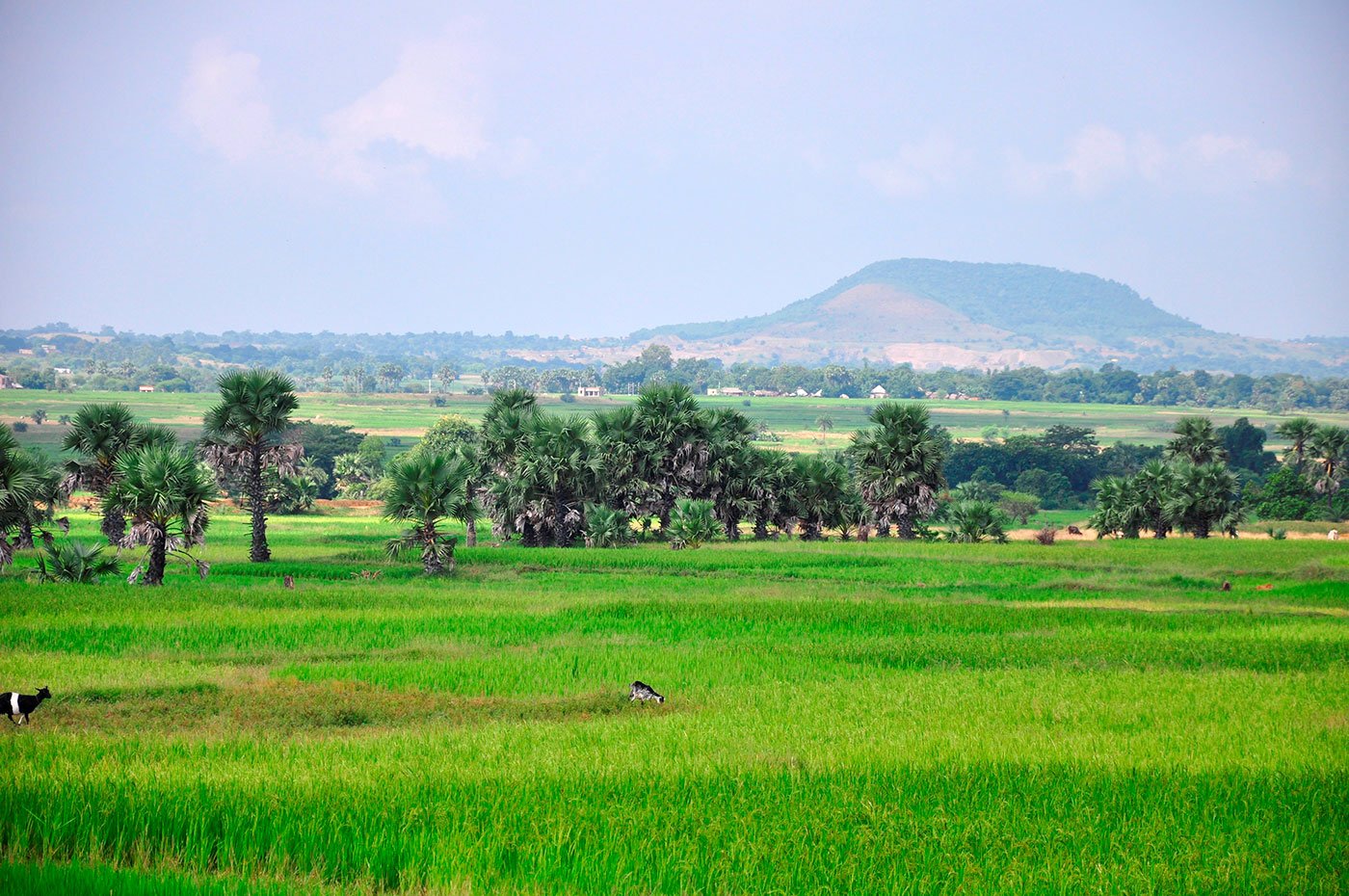 PHOTO • Madhusree Mukerjee
Bamli is from Jharkhand and maintains certain Santal traditions, such as painting the house every year in colours derived from different types of earth. She speaks little Bengali, so we can barely converse, but is happy to show off the clays from which she has derived these vibrant hues.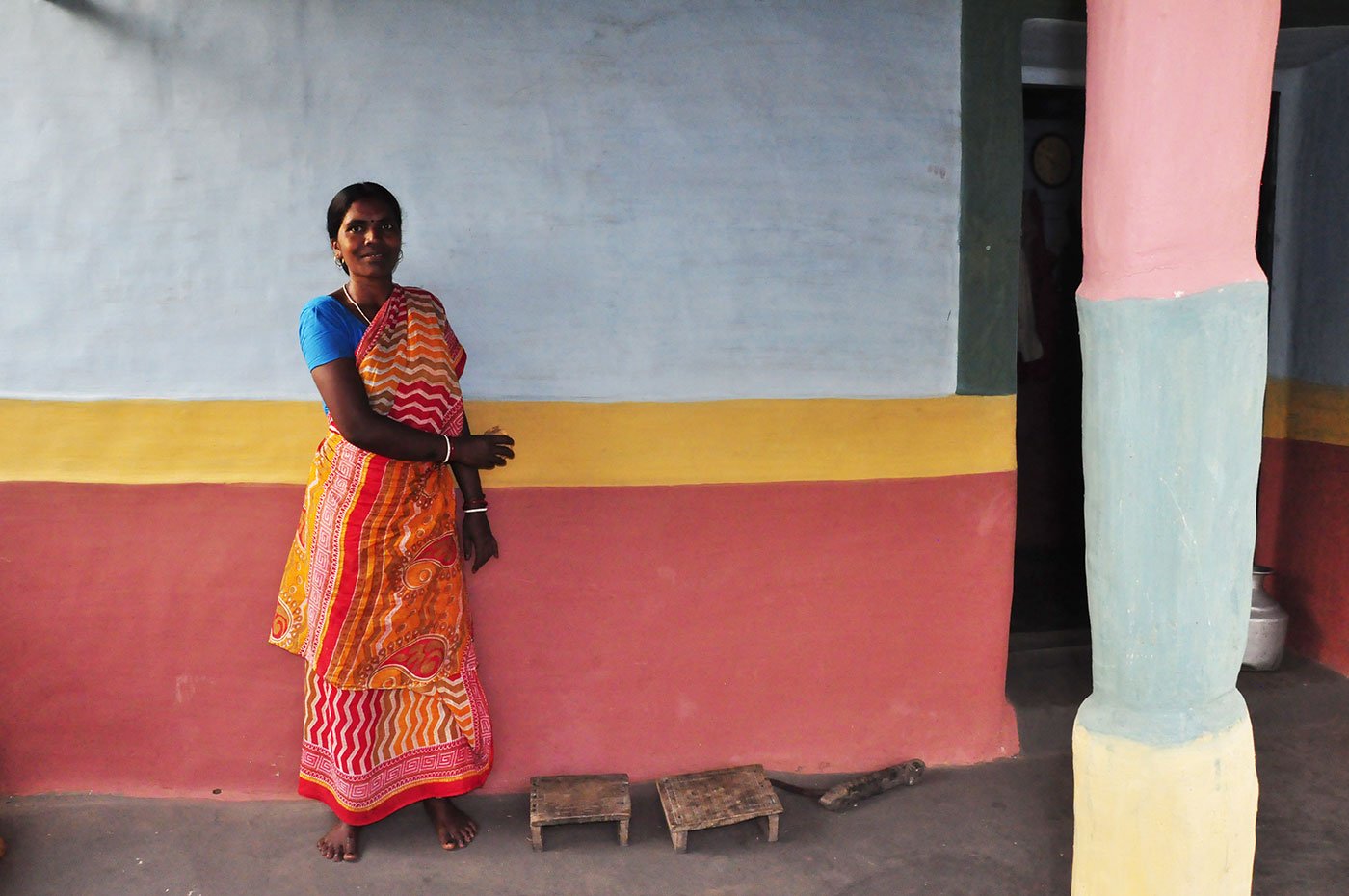 PHOTO • Madhusree Mukerjee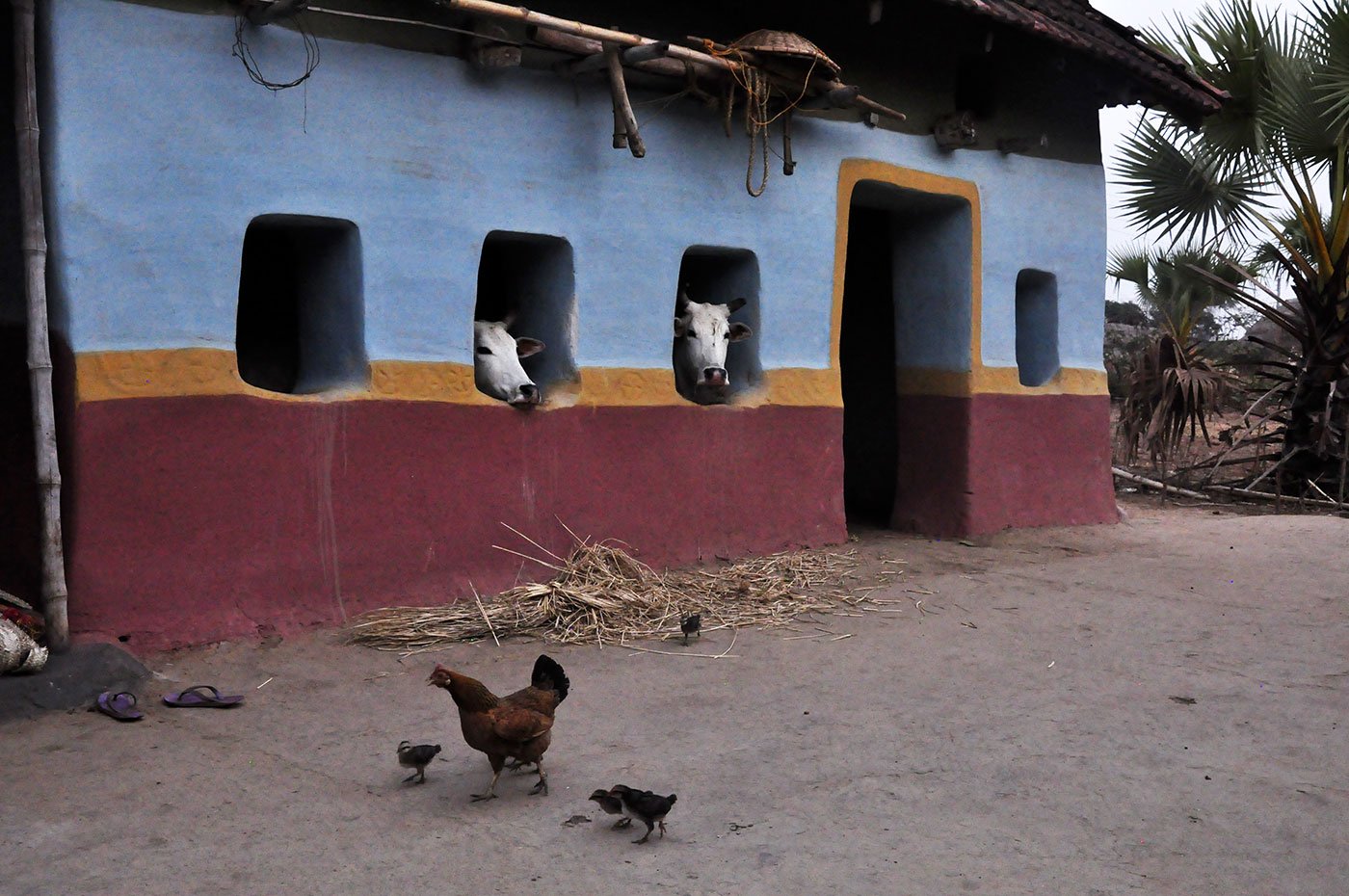 PHOTO • Madhusree Mukerjee
The couple have two young daughters, Sonali and Mitali. When his elder sister met with tragedy, becoming a widow, Baburji had adopted one of her daughters and brought her up. She is now 20 and still lives with the family. Baburji also takes care of his elder sister and her two other children, a boy and a girl.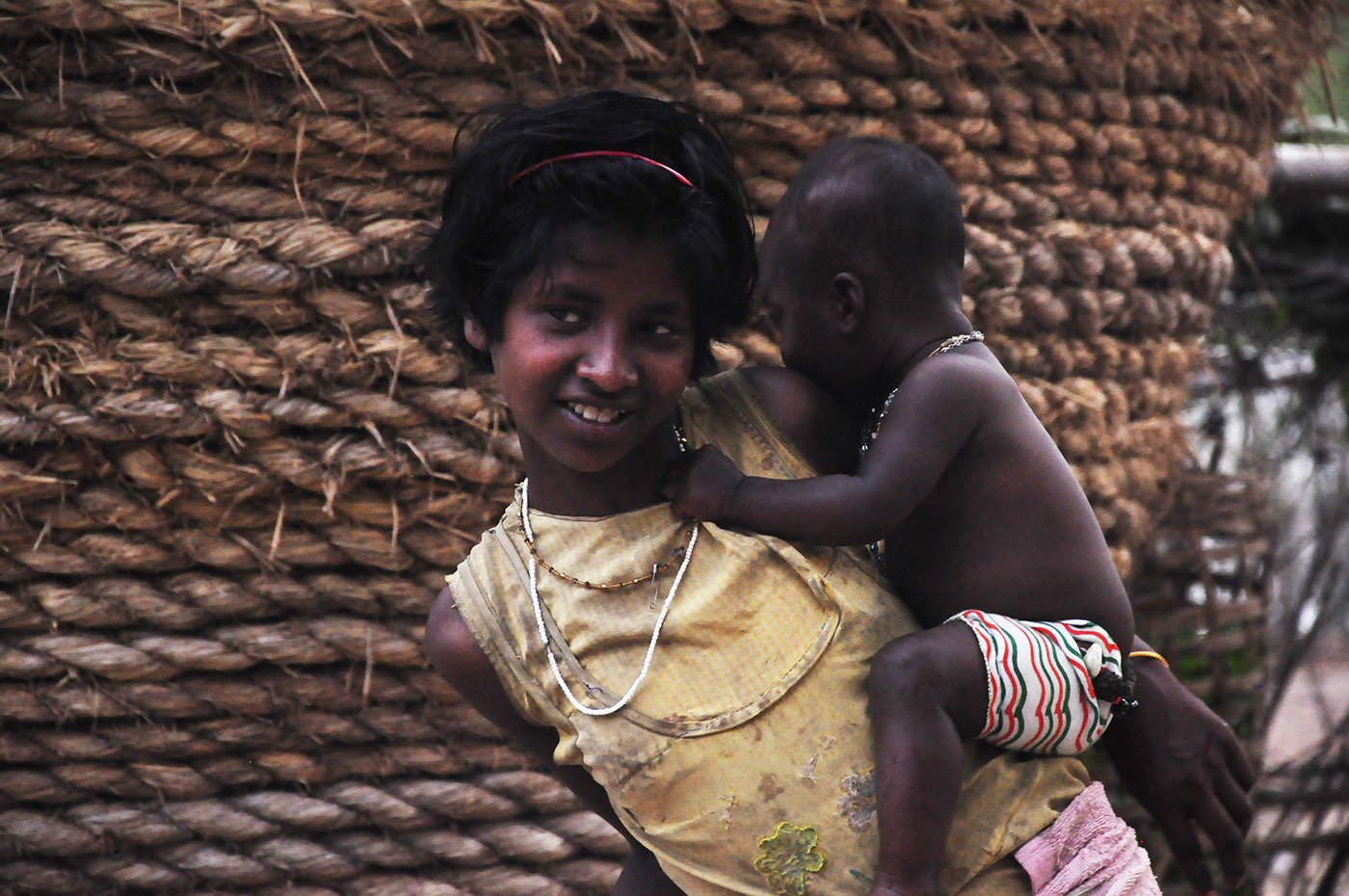 PHOTO • Madhusree Mukerjee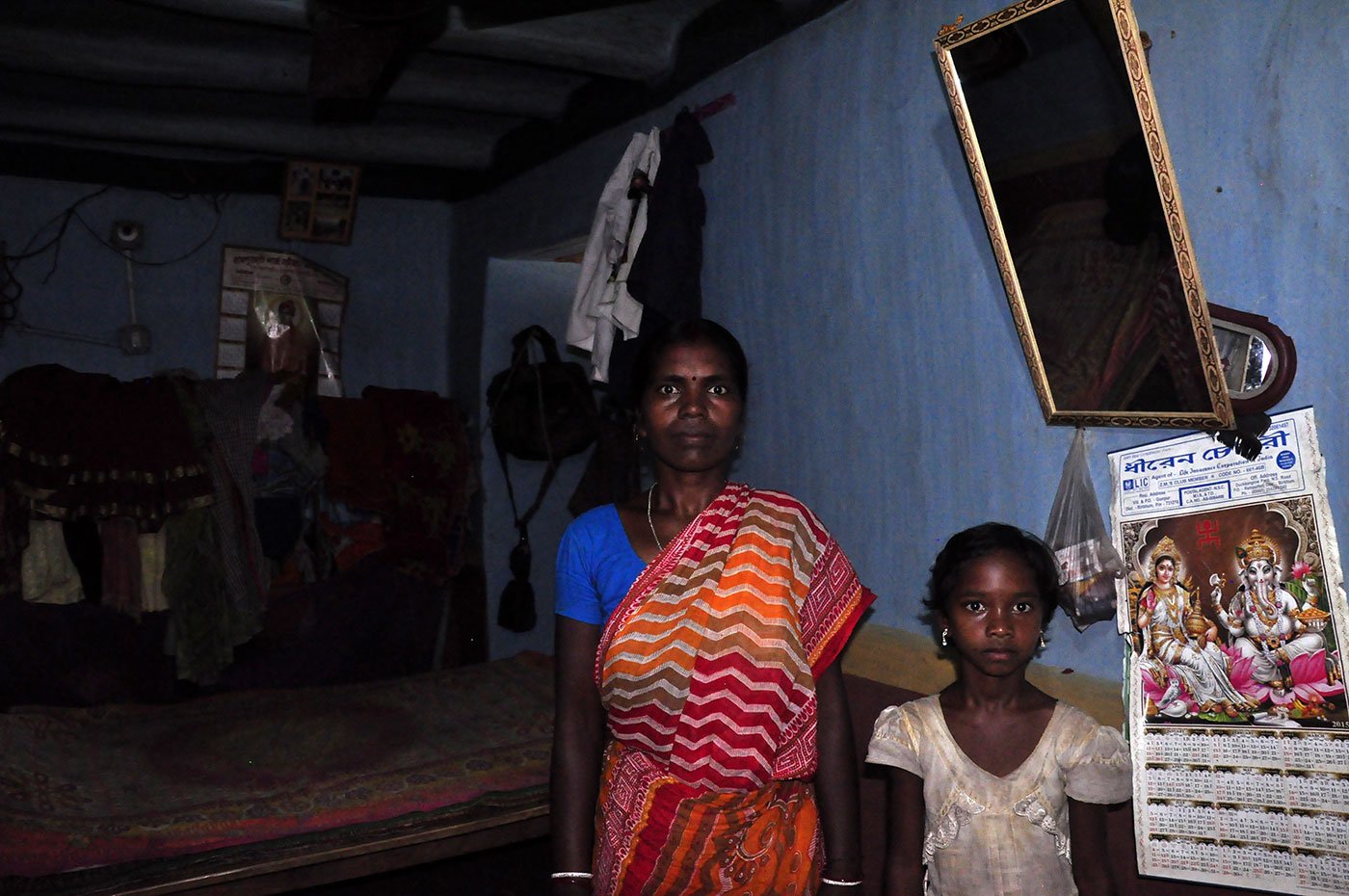 PHOTO • Madhusree Mukerjee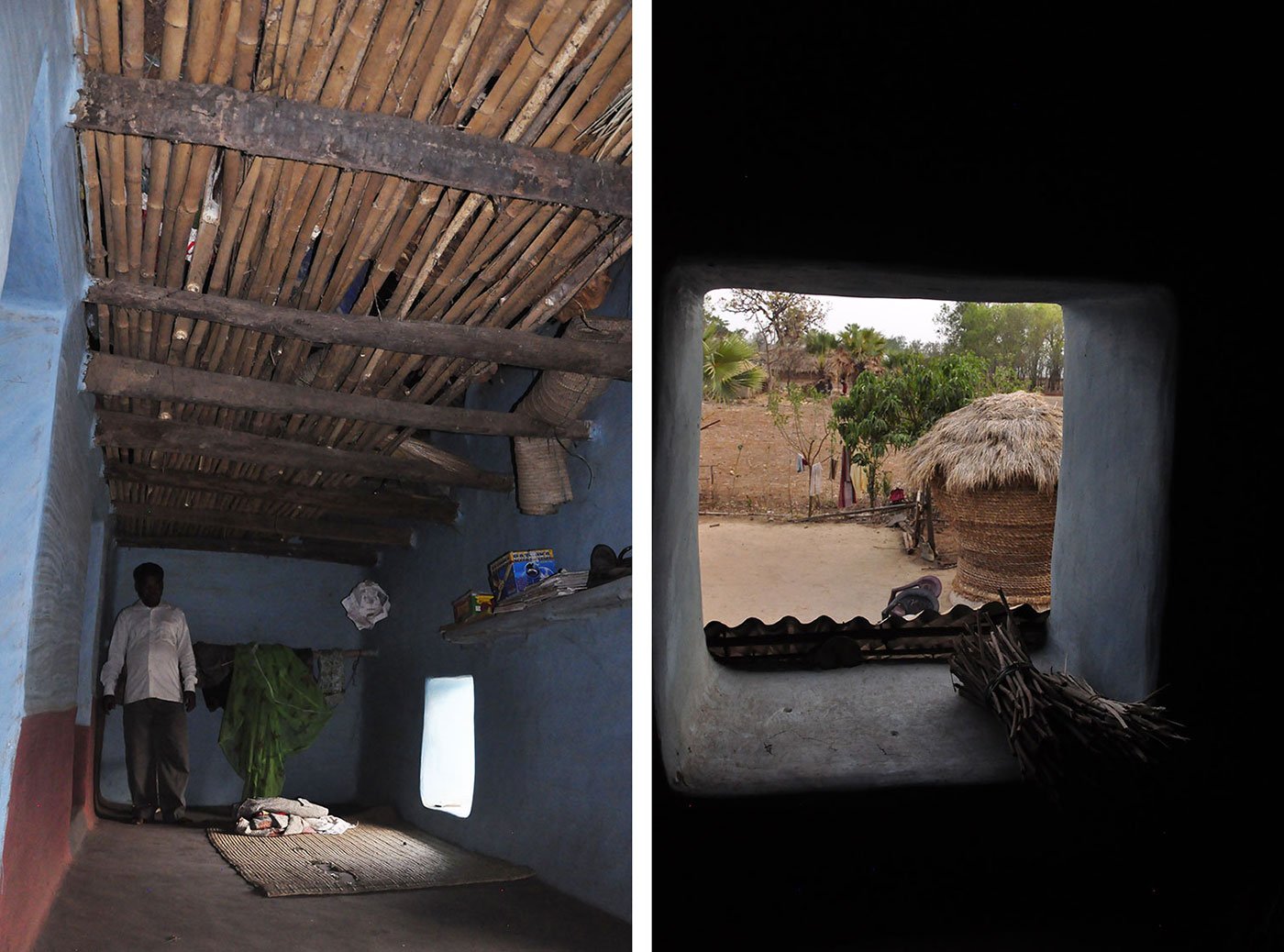 PHOTO • Madhusree Mukerjee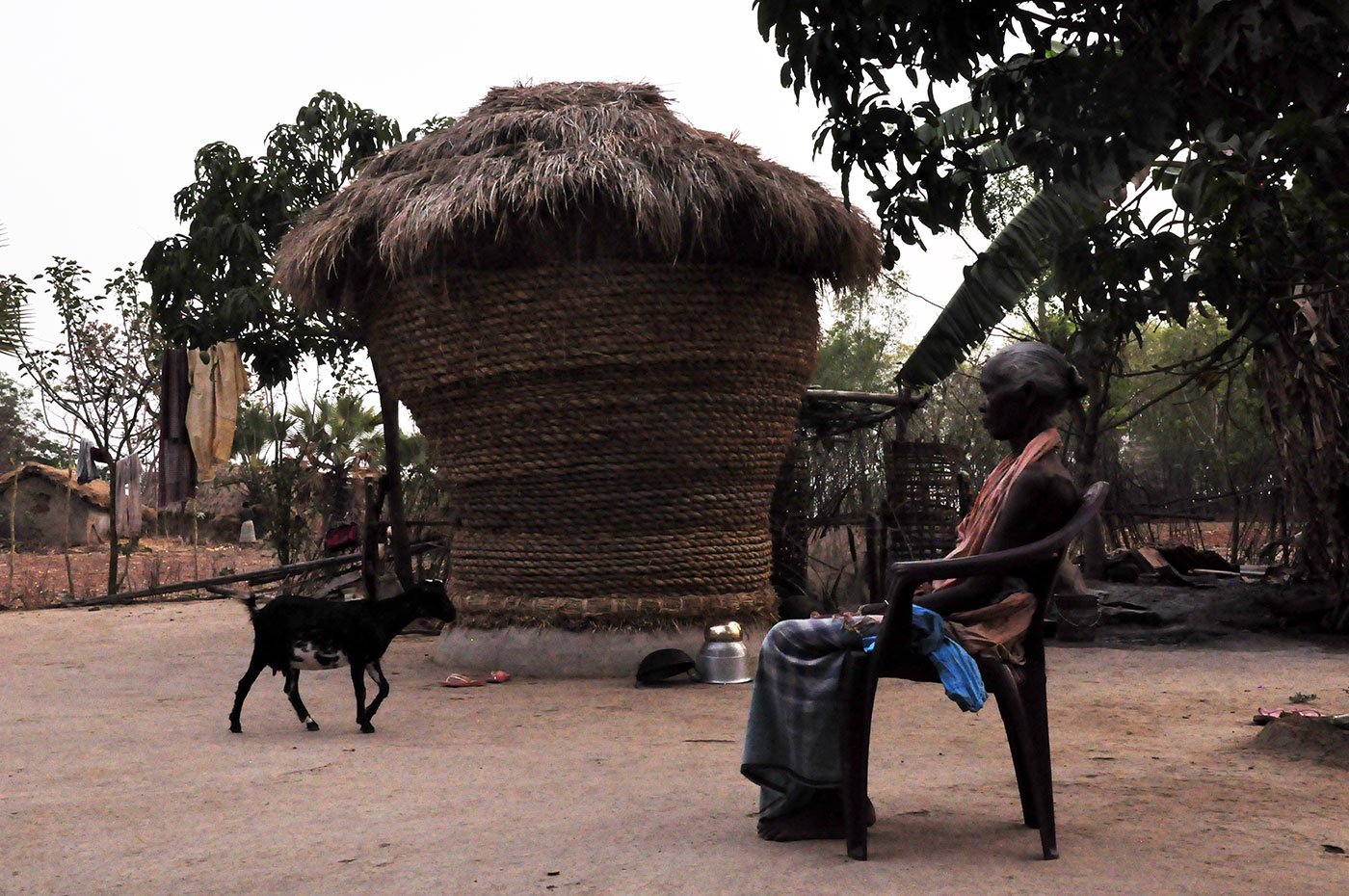 PHOTO • Madhusree Mukerjee
As Baburji translates, his mother shares with me her profound sorrow at having, in essence, lost her younger son. The agitation against stone quarries had collapsed when quarry owners bought off many of its key leaders and their camp followers. To Baburji's shock, his younger brother seemed to be among them. Worse, the youth knew of a pre-planned attack in which Baburji was badly beaten for continuing to oppose the quarries, but had failed to warn his brother. Because she stood by Baburji, and against all that she held to be wrong, the younger son has now rejected his mother as well.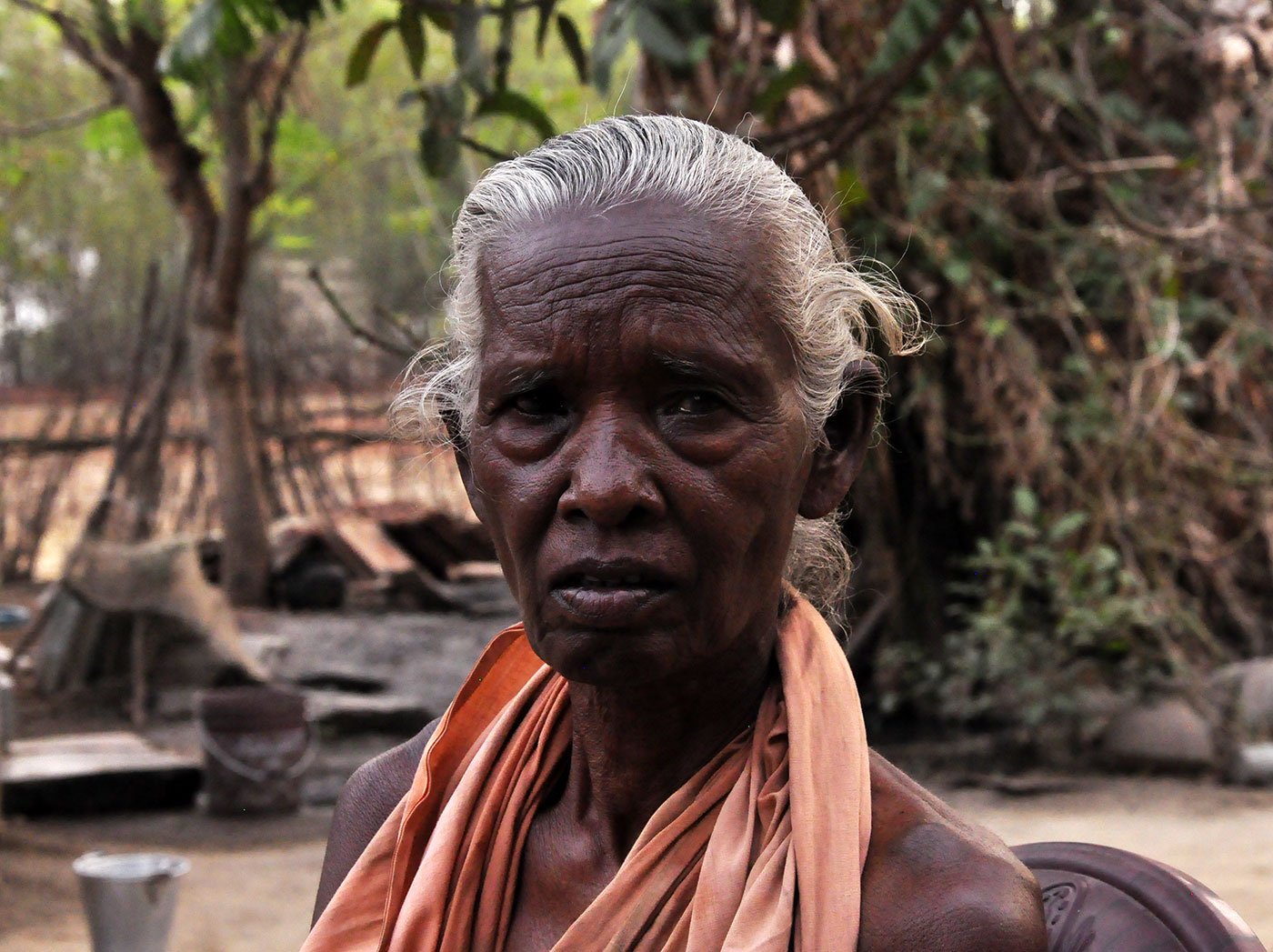 PHOTO • Madhusree Mukerjee
Baburji himself has been offered many lakhs of rupees to abandon his hostility to the stone industry. But it is deeply rooted in childhood trauma, which no amount of money can erase. When he was only eight, he had started working at a stone crusher. The labourers had to collect rocks from where trucks had dumped them, carry them on baskets on their heads, and drop them onto conveyor belts that took the rocks to a central piston for crushing.
The dust billowing from the crushers was so gritty that he could barely open his eyes to see. "I didn't like working there, but we were so poor I was forced to," Baburji recalled. "We had such little land that I could only get some broken rice to eat. I was always hungry. With the little I brought home from the crusher, nine rupees a day, I could at least get some vegetables or rice." A truck would pick up the labourers at 7 a.m. and drop them back to Garia at 8 or 9 p.m.
After a few years, Baburji was fortunate to be admitted to an ashram school in a nearby town, where he paid his way by working as a servant: sweeping, mopping, washing dishes and doing all the odd jobs. While studying there, he learned that his 10-year-old cousin Gurgu had died in a crusher accident.
Gurgu had been putting rocks on a conveyor belt when the gamcha , or thin red towel he wore around his face to protect himself from the dust, got entangled in the gears. His father was working nearby and tried to save him, but was also pulled into the crusher and killed. "I went home, saw pieces of flesh laid out on a cloth," said Baburji. "That was all they could retrieve. The owners offered my aunt some money, told her she could buy land with it. She refused. She said, 'If I am to buy land, every time I see it I will think of my boy'."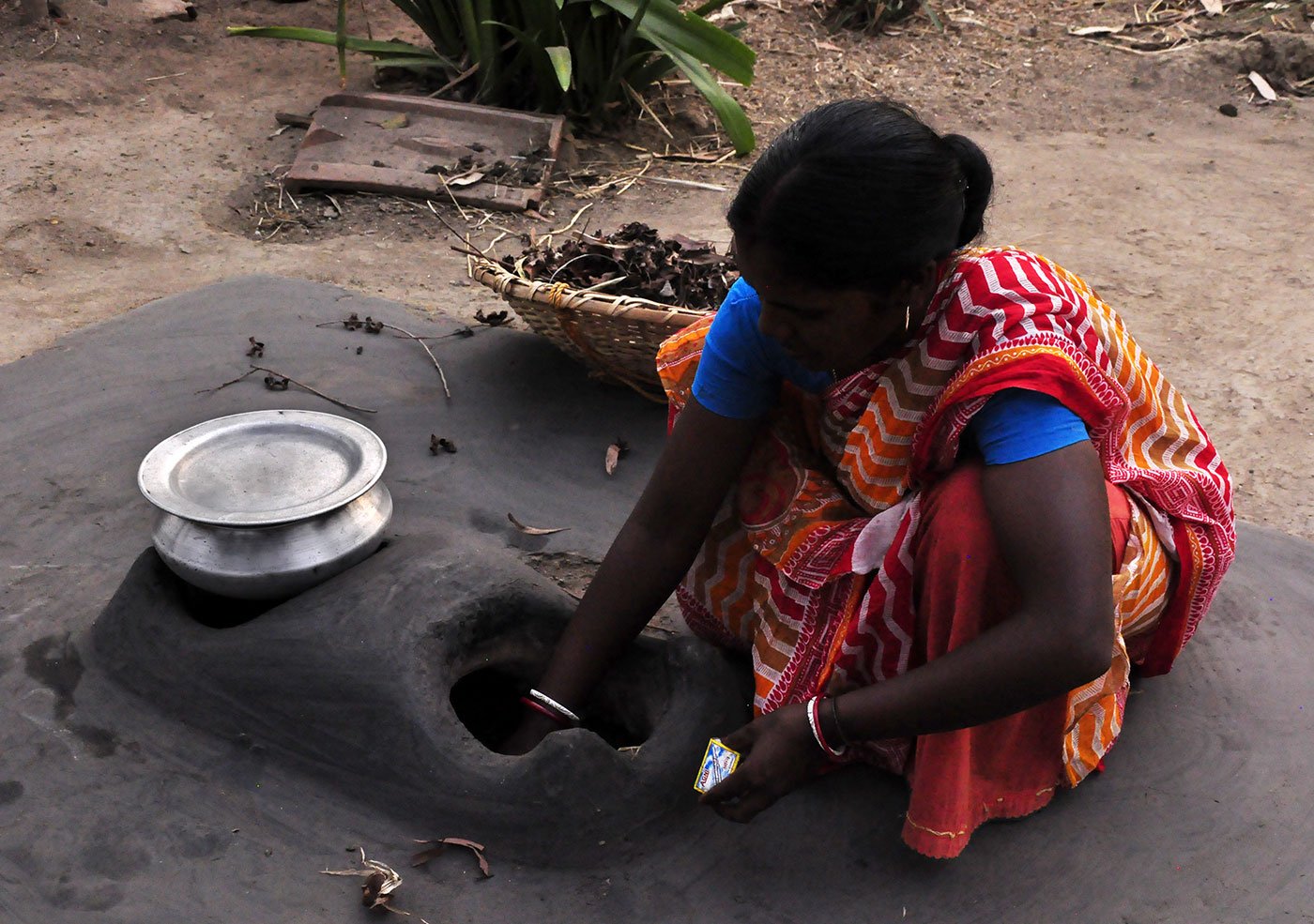 PHOTO • Madhusree Mukerjee
As we talk, Bamli lights her open-air stove, set into the porch, to make us some tea, and serves it with sugar but no milk. Santals don't drink milk, I've been told, because they believe that it rightfully belongs to the calf, which needs its mother's milk to grow up strong enough for the plough. Traditionally at least, Santals do eat beef – in particular at festival time, when a buffalo may be sacrificed to the deities – but that practice has declined in deference to the customs of their Hindu neighbours.
I ask Baburji whether, in balance, he feels the agitation against stone quarries was worth it. After all, it has torn him from his brother, whom he had adored. "Yes," Baburji responded without hesitation. "The village has benefited. What is good for the community is good for me."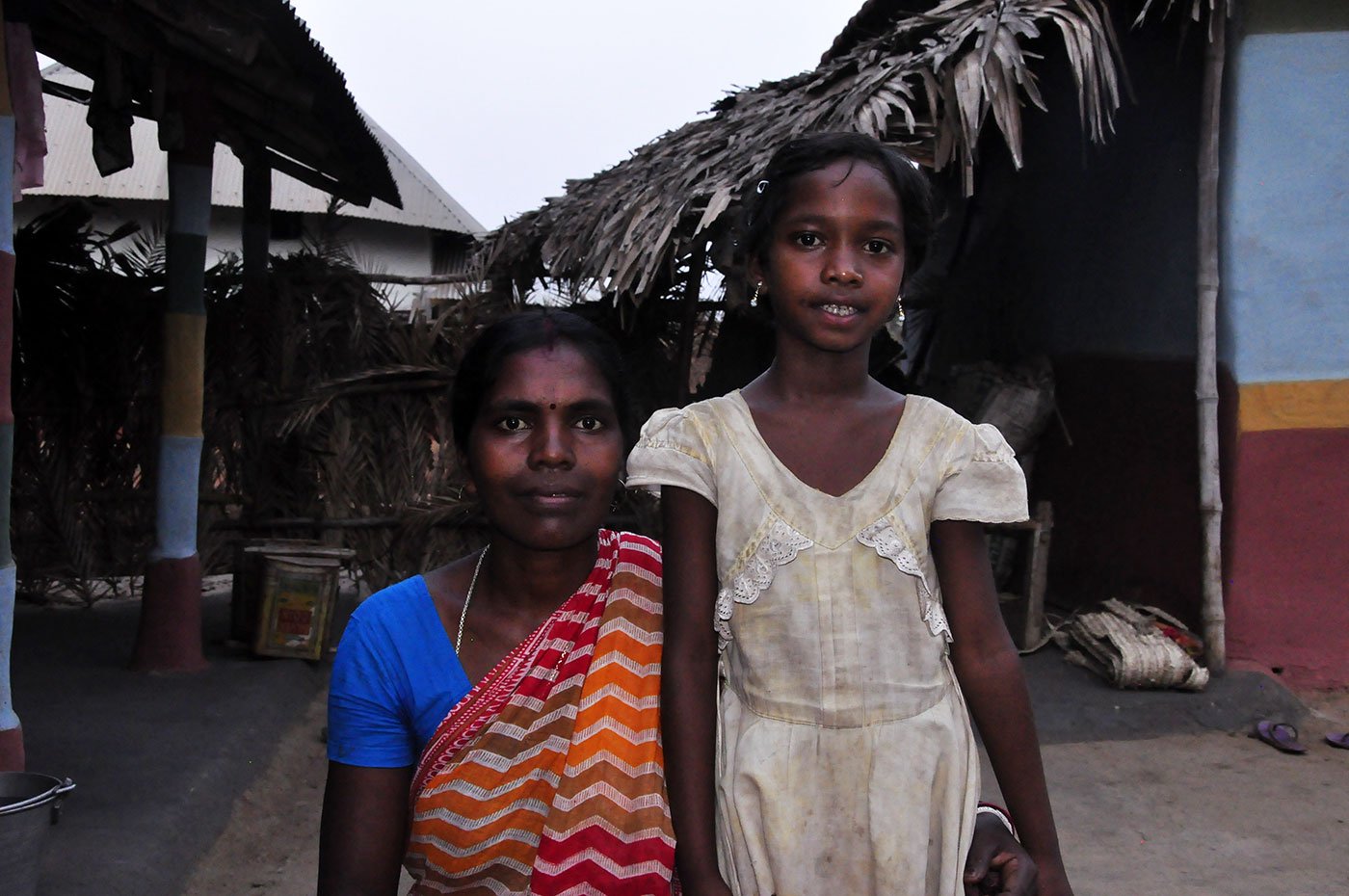 PHOTO • Madhusree Mukerjee
Still, living in an island of relative peace and prosperity is just not good enough. "My daughters are growing up and one day they'll marry and move to other villages. What if their new homes come under attack? How can I be at peace when everywhere else there's so much destruction and strife?"
Having thanked Bamli for the tea, I take my leave, but not before clicking a few more pictures of a very pampered bullock. For all its troubles, this home is bolstered by something it has in abundance: love.

PHOTO • Madhusree Mukerjee