M. Indra Kumar is from Mangala village, near Bandipur National Park in Chamarajanagar district of Karnataka. His family had land a long time ago, but does not own any now. Indra, 38, lives with his wife and two kids, who go to school in Gundlupet, 19 kilometres away, by bus.
Indra is the manager at  a wildlife souvenir shop in his village that supports the work of the Mariamma Charitable Trust. He also assists the Trust by documenting wild animal attacks on livestock. The Trust's work includes financial compensation to villagers living around the reserve when they lose their cattle to predators like tigers, leopards and wild dogs.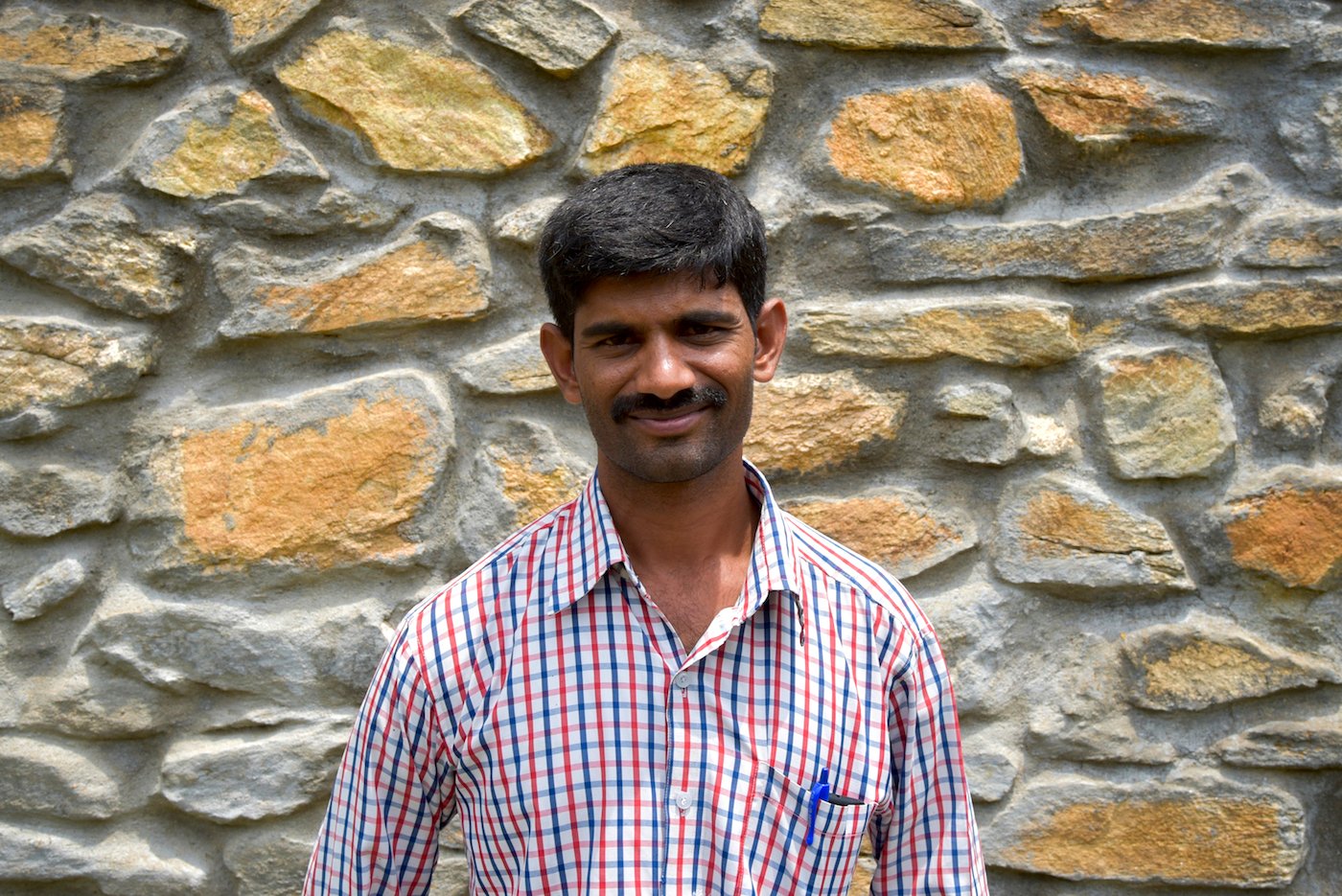 His photo essay is part of a larger collaborative photography project about living with wildlife, and the fifth in a series of six on PARI.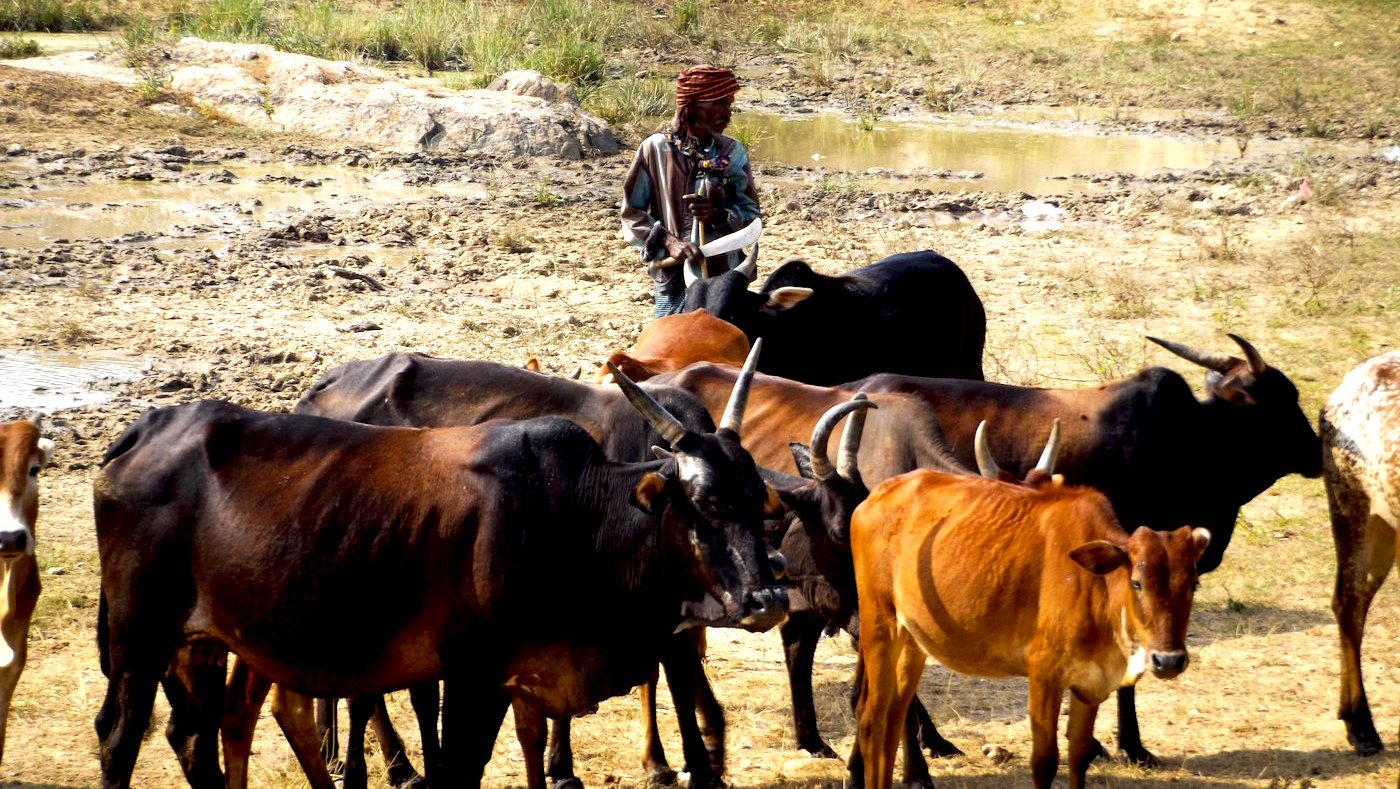 PHOTO • M. Indra Kumar
Cattle herder: "The cattle herder is bringing his cows to the lake near the forest to drink water. They do it before and after grazing. There won't be water in the forest, so they come here. Many people take their cattle to the forest for grazing. That is where the leopard and tiger attack."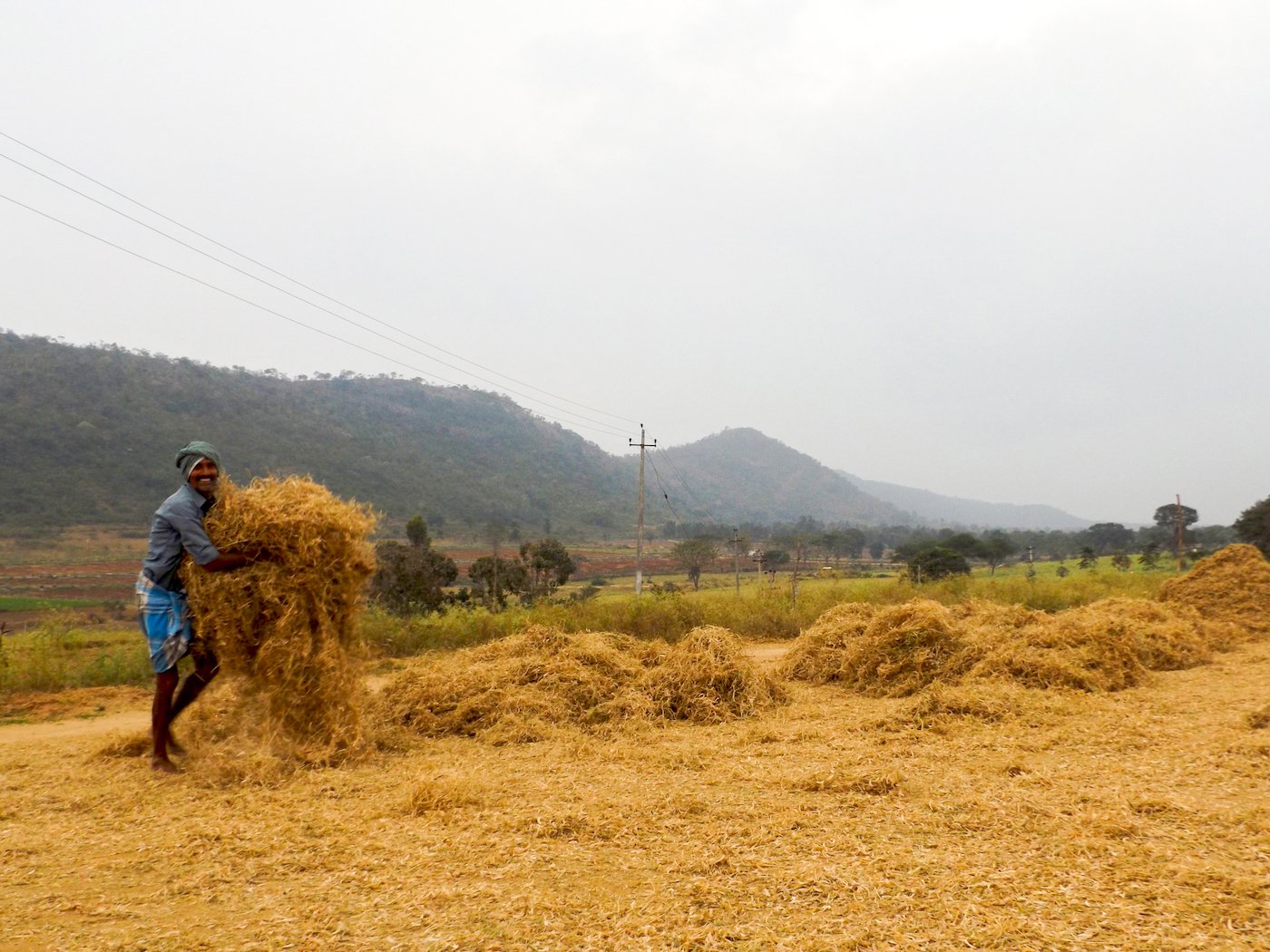 PHOTO • M. Indra Kumar
Harvesting: "This man was working in his field. In the background, you can see the fallow land just at the slope of the mountain – this is where his cow was killed a short while later. He called me and told me that his cow had been killed, it was around 12 noon. This was one such incident, but there are many such attacks. It can happen right in front of the herders. I took this picture and then his cow was killed."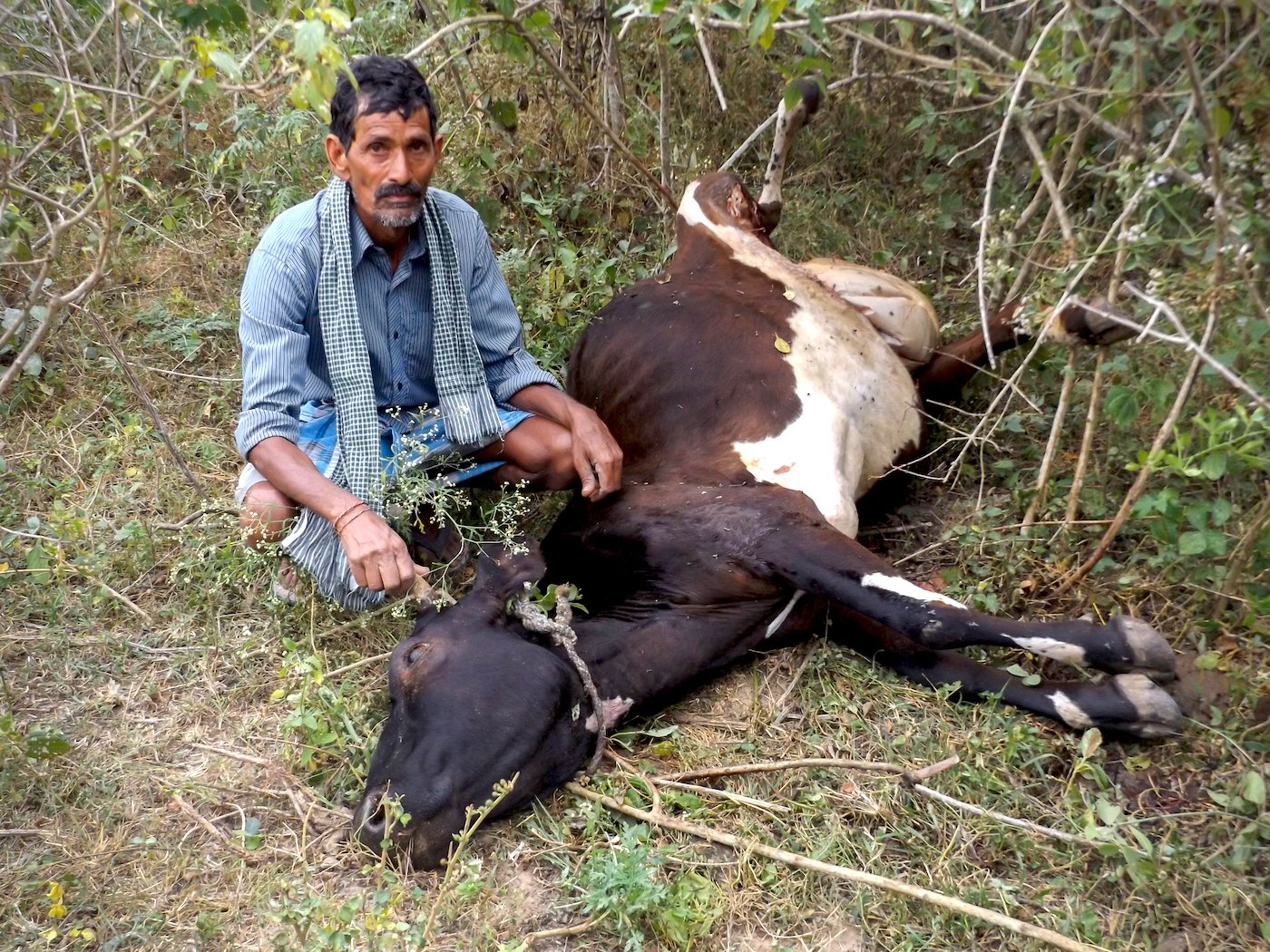 PHOTO • M. Indra Kumar
Leopard attack: "This is the hybrid cow that was attacked by a leopard. The man led the cows to graze in the fallow land while he was working in his field close by [previous image]. Then he saw all the cows running out of fear. By the time he reached the spot, his cow had been killed."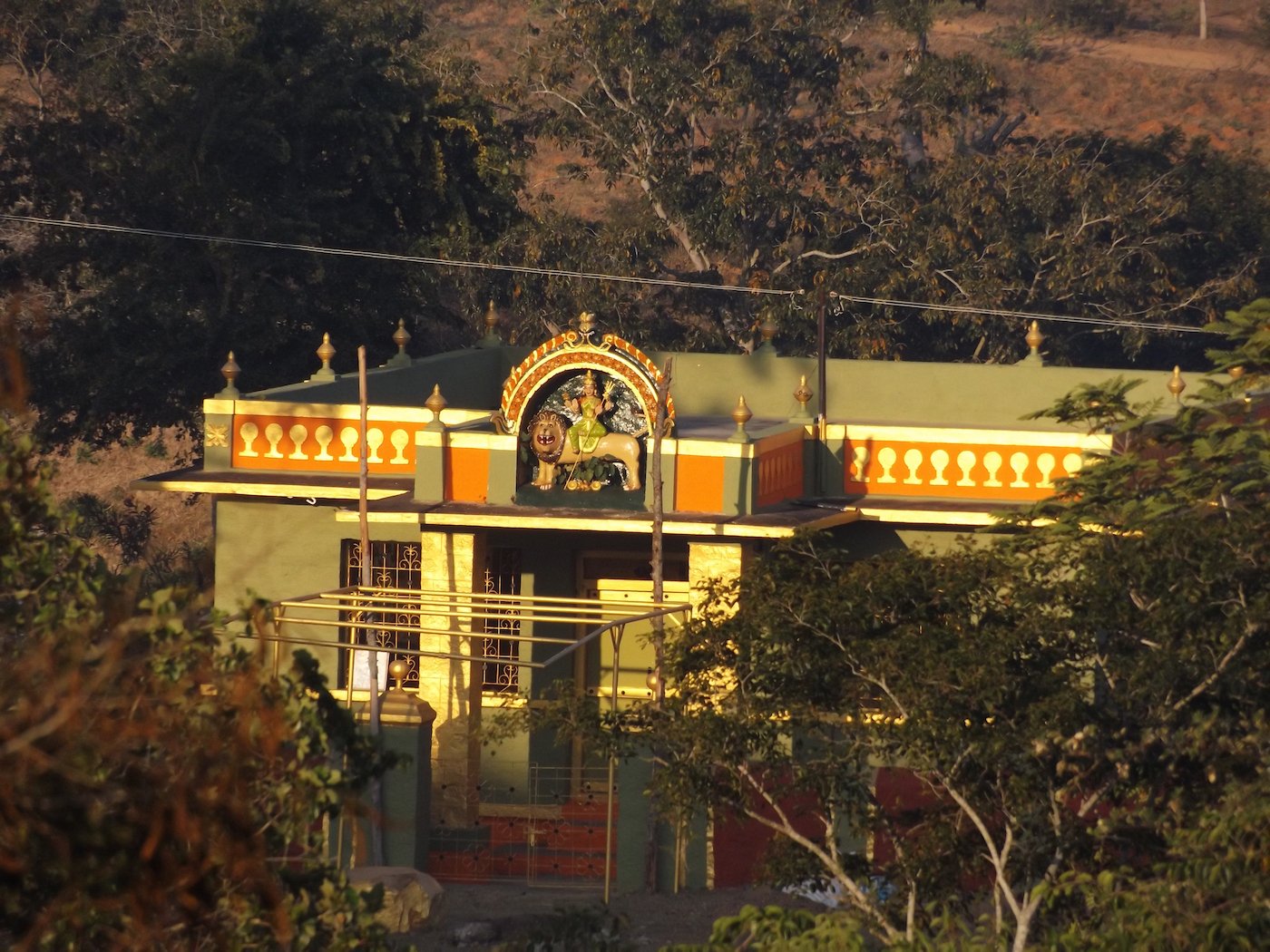 PHOTO • M. Indra Kumar
Mariamma temple: "This is the main temple for the 15 villages around here. She is Mariamma, the deity of our village. Every five years, we have a huge fair in this temple for her, the fair happened this year. Sometimes she is depicted riding a tiger, sometimes a lion."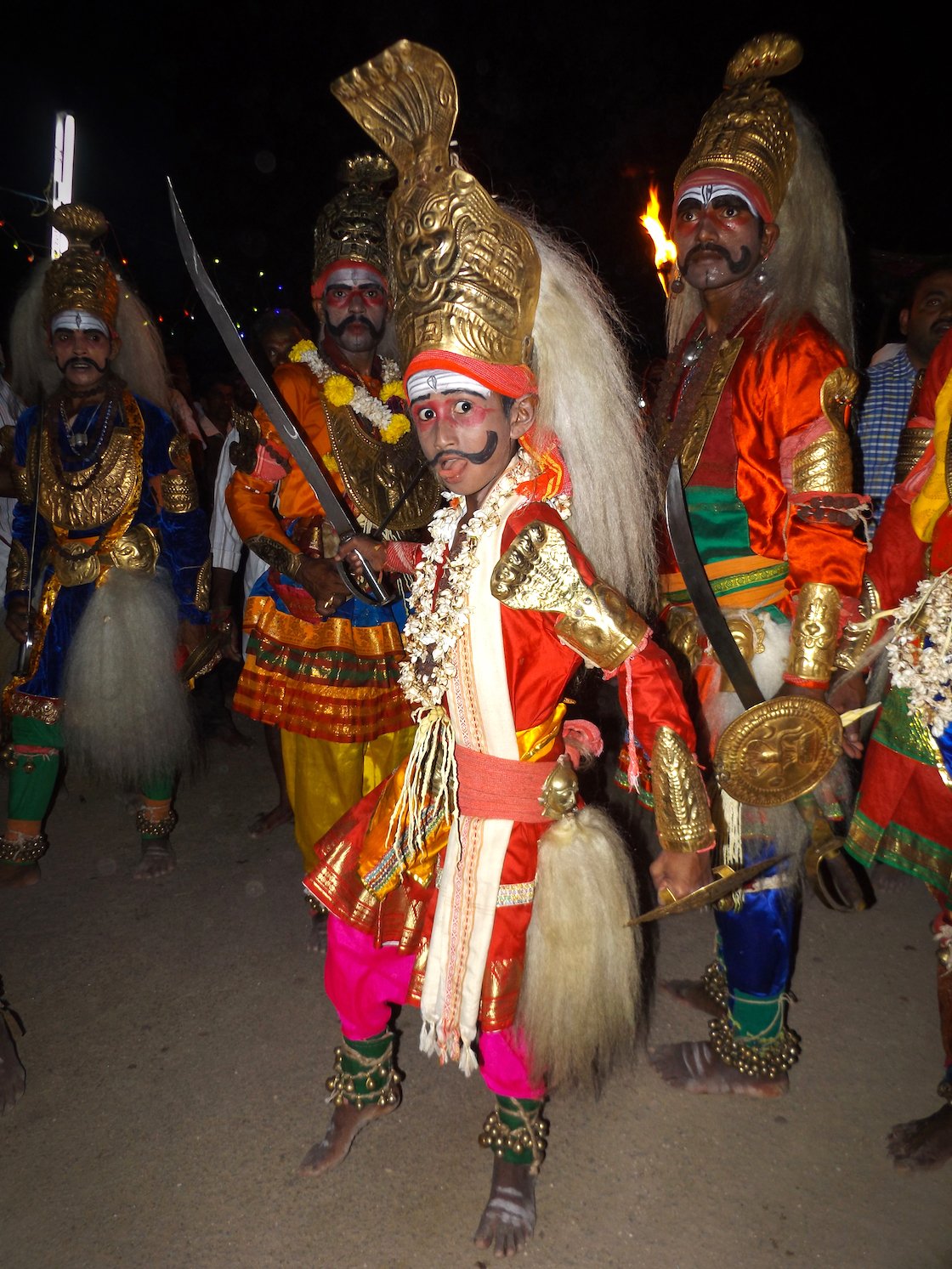 PHOTO • M. Indra Kumar
Veerabhadra Kunita : "This is Veerabhadra Kunita [a popular folk art and dance form]. They also perform the Kalasa ritual during happy occasions like weddings or housewarming ceremonies. It is considered auspicious to have them invited to perform. It is believed that they can ward off the evil spirits. They were invited to perform during our fair for Mariamma this year."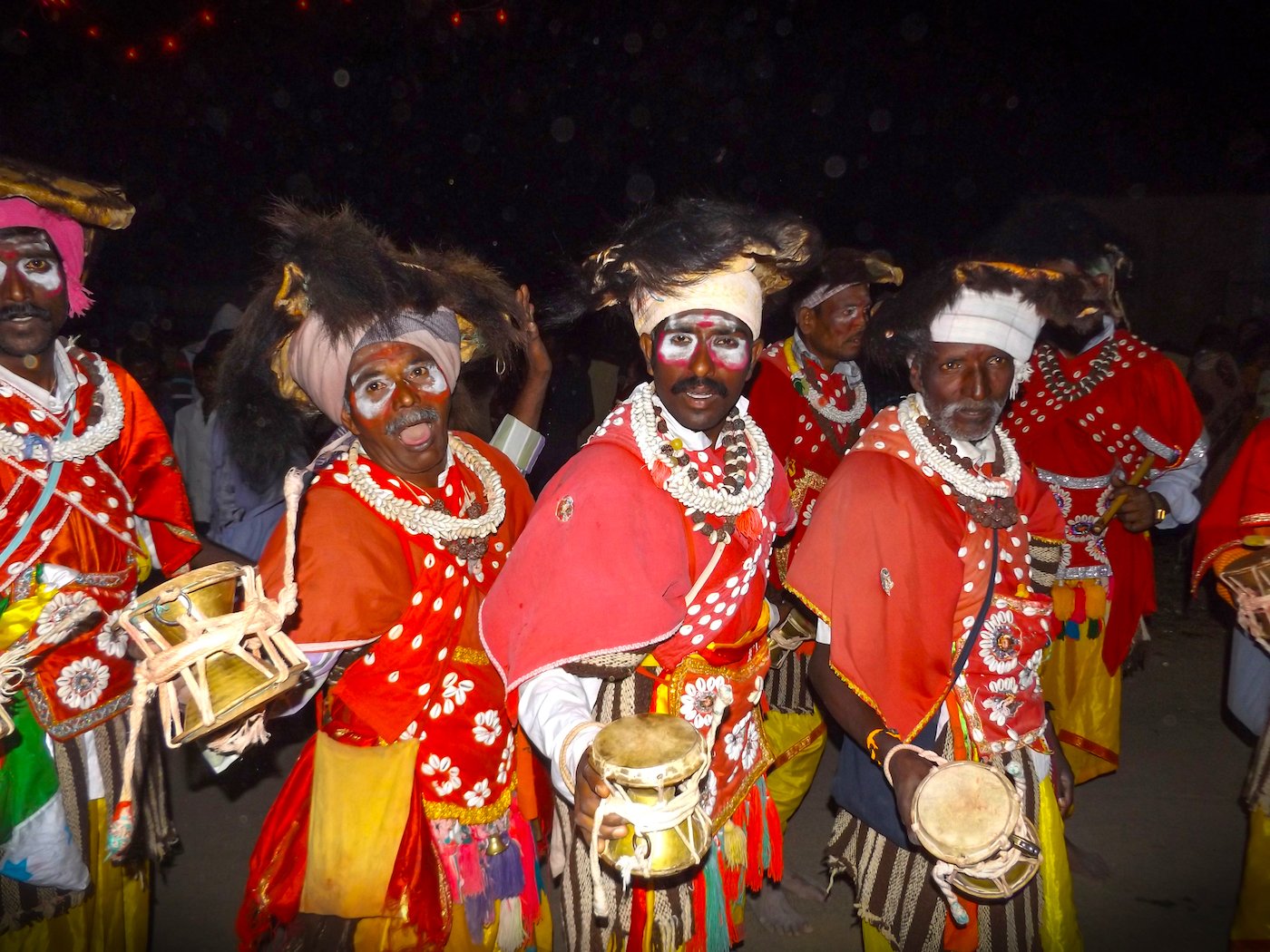 PHOTO • M. Indra Kumar
Drummers with sloth bear skins: "They belong to the Kuruba Gowda community. They too are invited to perform during the fair. They are wearing sloth bear faces on top of their heads."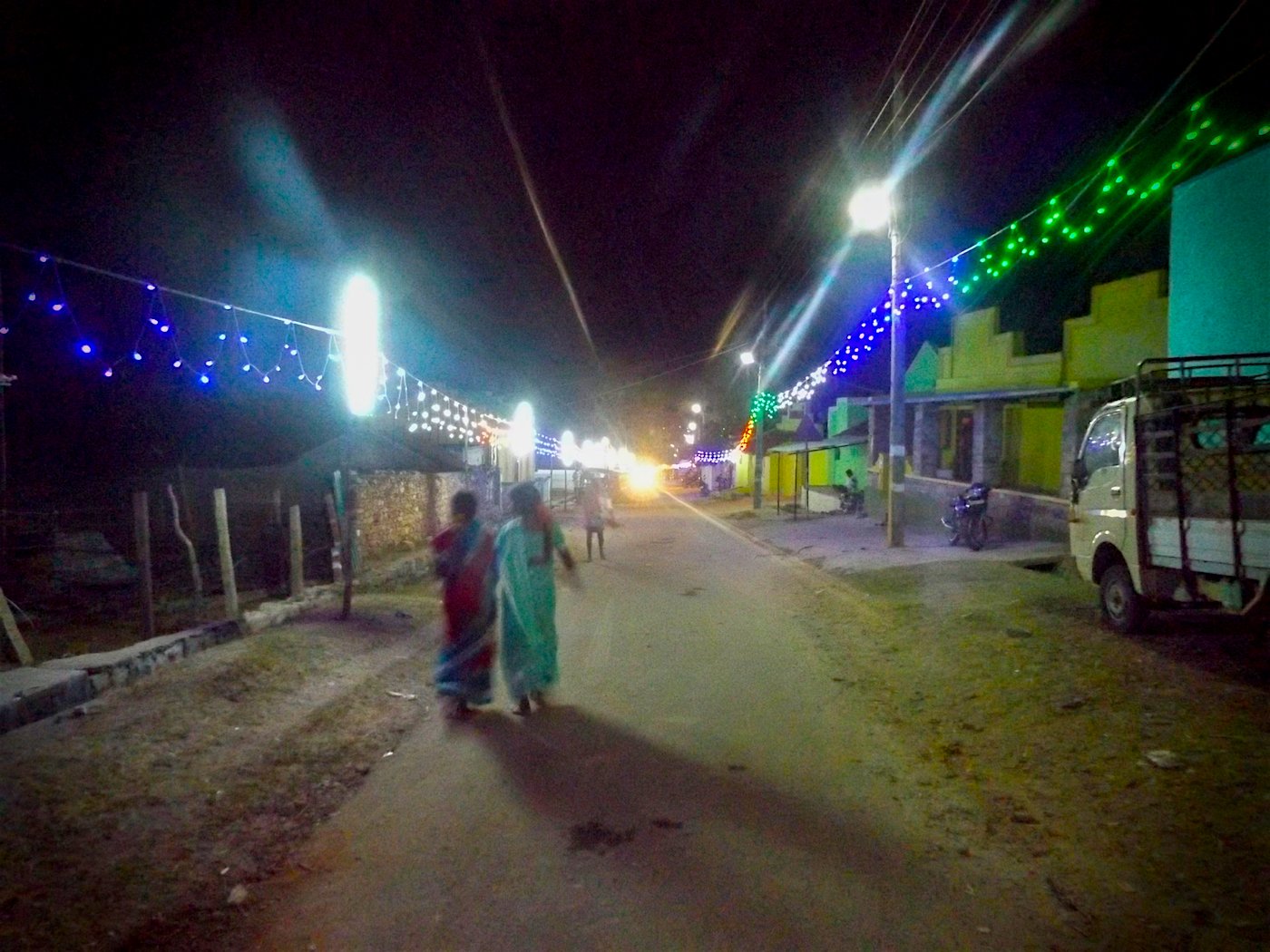 PHOTO • M. Indra Kumar
Streetlights: "This is my village's main street with lights during the fair."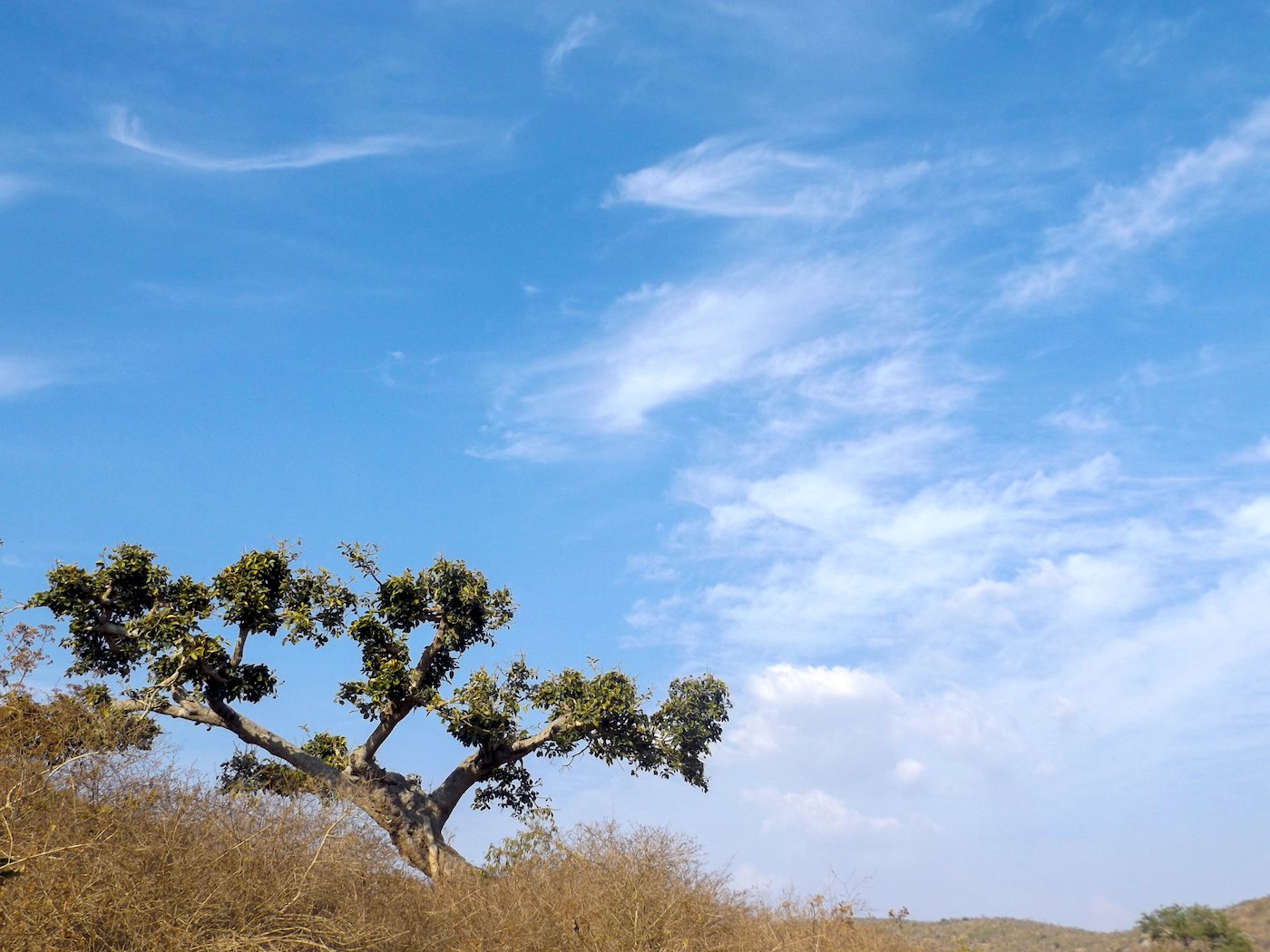 PHOTO • M. Indra Kumar
Sky: "I clicked this when I went for a walk. I liked this tree and the sky, so I took this photo. A leopard was spotted near this tree last week."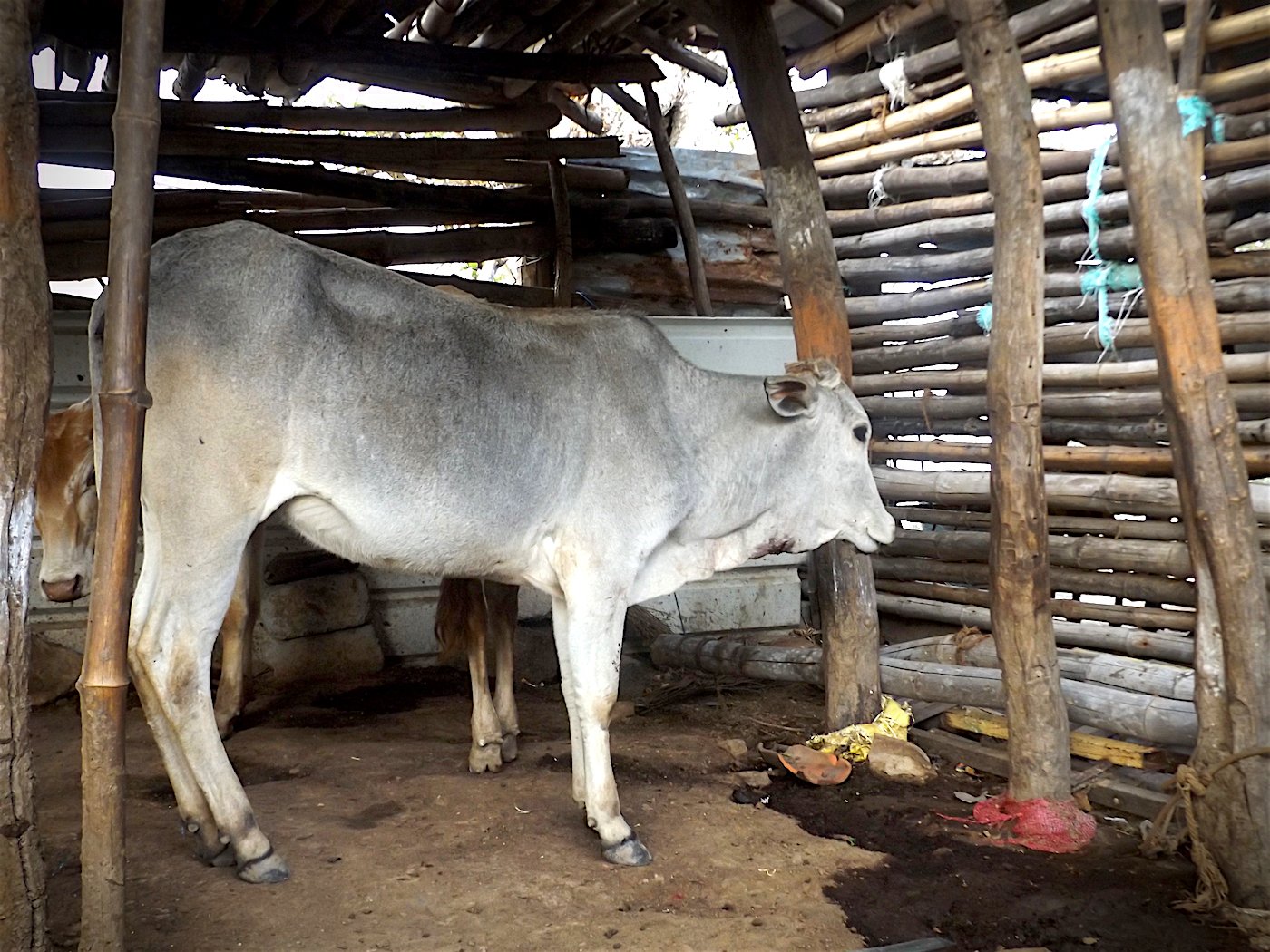 PHOTO • M. Indra Kumar
Cow in the shed: "A leopard attacked this cow. Its neck is injured. A cowherd saw this and chased the leopard away. Then this cow was taken back home and tied in the cowshed. It is now doing well. Usually, a tiger kill is very different from a leopard's. A leopard's kill is messy compared to a tiger's."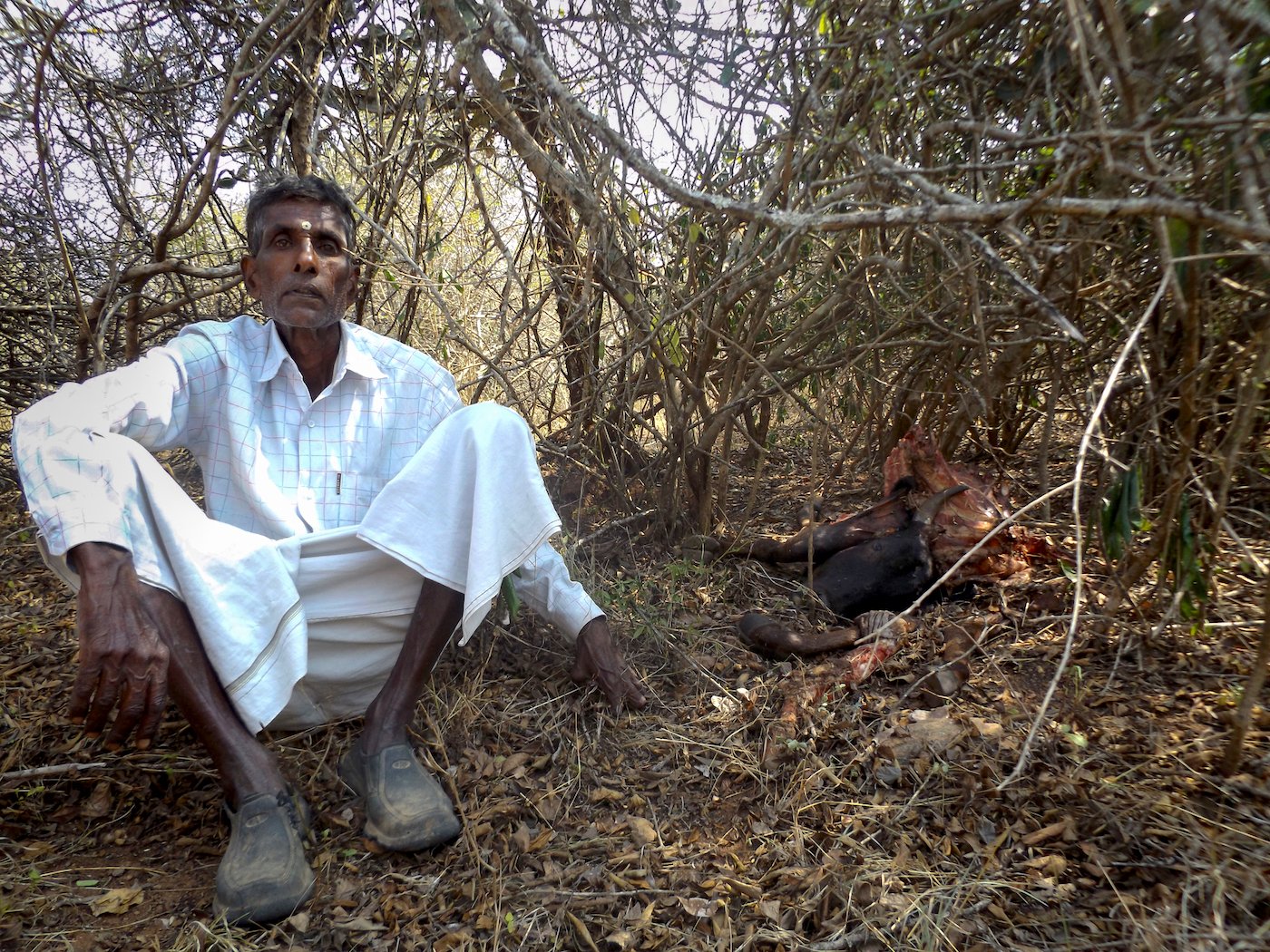 PHOTO • M. Indra Kumar
Tiger attack: "This scrub cow was eaten by a tiger. When a tiger kills, it drags the kill to a distance and then eats. It starts eating the backside of the animal. It first eats the milk sack and then the hind legs. It eats very neatly. It removes the tail. I don't know why. Every tiger kill has this feature. Only tigers kill big cows like this and they can drag away the kill. We can see the pug marks to tell the difference [between the two predators], and know whether it was  a tiger or a leopard. The man is from Yelachatti. He has around 10-12 cows. The forest department is supposed to give 10,000 rupees as compensation, but no one has got more than 3,000 rupees from them. He hasn't got the compensation yet from the forest department, but he got 5,000 rupees from our charitable trust."
This work was facilitated by Jared Margulies, in coordination with the Mariamma Charitable Trust, located in Mangala village, Karnataka. It was made possible with the support of a 2015-2016 Fulbright Nehru Student Research Grant, a Graduate Student Association Research Grant from the University of Maryland, Baltimore County, in-kind support from the Mariamma Charitable Trust, and above all, the participation, enthusiasm and efforts of the photographers themselves. B.R. Rajeev's help in the translation of the text was invaluable, too. All copyrights for the photo are held by the photographers alone in accordance with PARI's Creative Commons policies. Any questions about their use or reproduction should be directed to PARI.
Related stories:
When Jayamma spotted the leopard
'We have hills and forests and we live here'
Home with the harvest in Bandipur
Close encounters with the Prince of Bandipur
'This calf went missing after I took this photo'