The stillness of the train at Andheri is in stark contrast to the loud noises of commuters rushing in, grabbing whatever they can lay their hands on – a door handle, an arm. All around people are jostling, stumbling, and scrambling for an empty seat; requesting, arguing, and even pushing others who are already sitting.
Riding the wave of commuters is 31-year-old Kishan Jogi and his 10-year-old daughter Bharti, wearing an ocean-blue Rajasthani skirt and blouse. The 7 o'clock Mumbai local train on the western suburb line is the fifth train the father-daughter duo have hopped onto this evening.
No sooner has the train gathered speed and the commuters settle down than melodies from Kishan's sarangi fill the air.
"Teri aankhe bhool bhulaiyaa…Baatei hai bhool bhulaiyaa..."
His right hand swiftly moves the bow on the instrument with three strings stretched across a narrow fingerboard setting off a warm and rich hum. The other end of the instrument, a small sound chamber, rests between his chest and left arm. His playing makes the popular song from a 2022 Bollywood film Bhool Bhulaiya more haunting.
A few commuters sitting in the coach turn away from the mundane to listen to the lovely tunes for a while. Some others take out their phones to record him. Some smile, faintly. But many go back on their phones and put in their earplugs, only to be nudged by little Bharti requesting money as she goes around the compartment.
'[My] father left the sarangi in our hands. I never even thought of going to school. I just kept playing'
"People used to see me and give me space to play," says Kishan with a little sadness. He remembers how different things were about 10-15 years ago. "The value was much more. But now they look at their phones and put earphones on to entertain themselves. There is hardly any interest left in my music." He pauses for a moment before starting to play another melody.
"I can play folk music, bhajans, Rajasthani, Gujarati, and Hindi songs. Ask for any [song], it will take me four or five days to listen to it and register it in my head before I play it on my sarangi. I practice a lot to get every note right," he says, fixing the sarangi's tempo for his next one.
On the other side, a few men and women are digging into their wallets for the smallest coin or a big note to part with as Bharti draws near. She is circling around as quickly as the wheels of the train, making sure that she has not missed a single passenger before the next stop.

Kishan's earnings vary from day to day – sometimes Rs. 400 rupees, and sometimes it could go up to even Rs. 1,000 . And this after hopping from train to train for more than six hours, starting from 5 p.m. in the evening, when he boards the first train – a western line Mumbai local from Nallasopara near home. He has no fixed routes, but moves back and forth between Churchgate and Virar, changing trains depending on the possibilities of finding a good crowd and some space for him to play.
"In the morning people run for their job, all the trains are packed, who will listen to me?" Kishan says, explaining his choice of evening trains. "When they travel back [home] they are a little relaxed. Some push me away, but I ignore them. What option do I have?" This is the only skill that he knows or has inherited.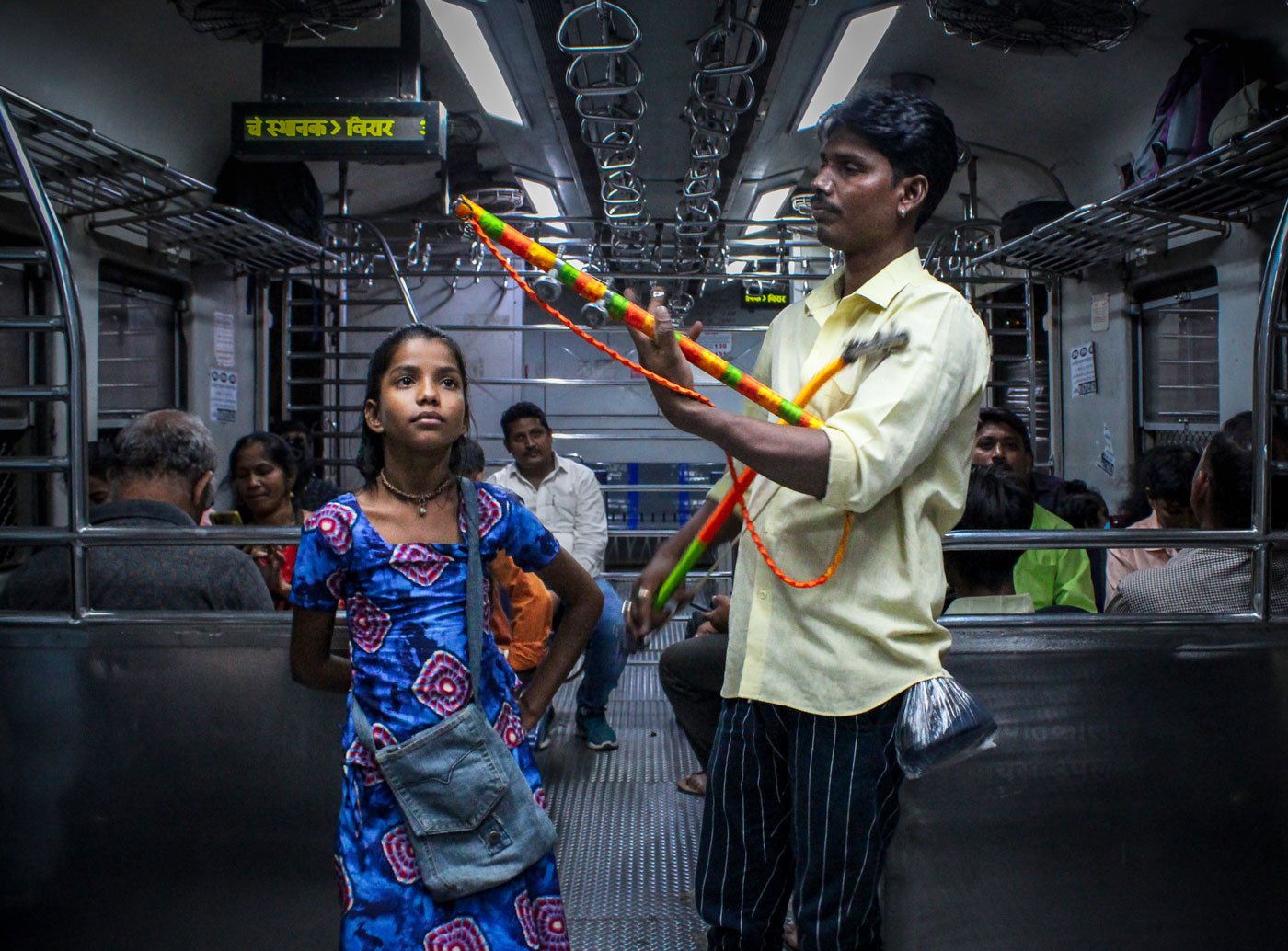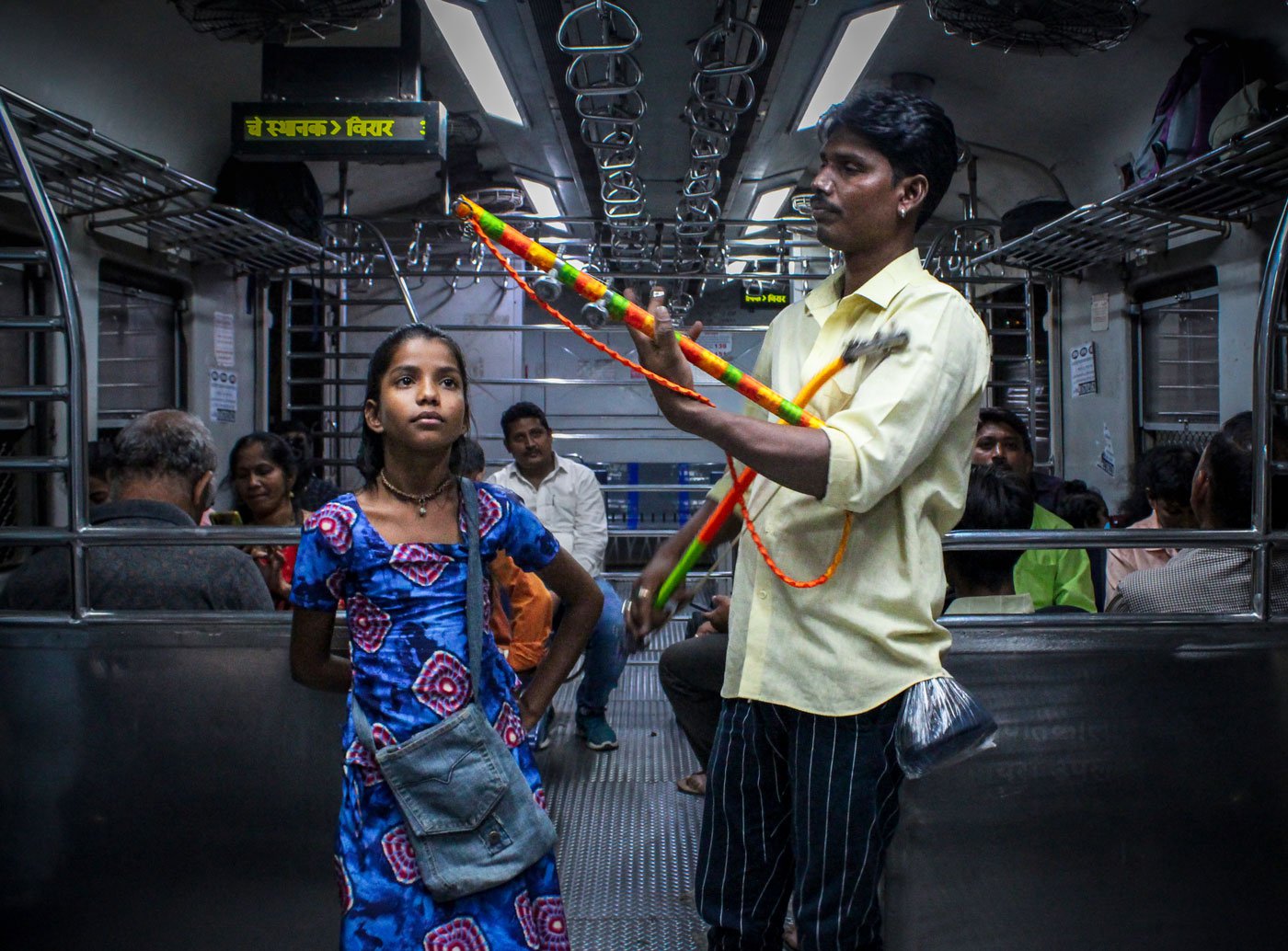 PHOTO • Aakanksha
His father, Mitaji Jogi, played the sarangi on local trains and roads in Mumbai when they first moved to this city from their home in Luniyapura village in Rajasthan. "I was just two [years old] when my parents came to Mumbai with my younger brother, Vijay," he recalls. Kishan would have been even younger than Bharti when he started following his father around.
Mitaji, from the Jogi community (listed as Other Backward Class in Rajasthan) saw himself as a performer. His family in the village played ravanhattha – an ancient, bowed string instrument used in folk music – to earn a living. Listen to: Saving Ravan in Udaipur
"If there was ever a cultural gathering, or any religious function, my baap [father] and other players were called to play," says Kishan. "But it was rare. Also, the donation money was distributed among all the players."
The slim earnings forced Mitaji and his wife Jamna Devi to work as agricultural labourers for low wages. "It was the gareebi [poverty] in our village that pulled us to Mumbai. There was no other dhanda mazdoori [alternative business, labour work] in the village." he adds.
In Mumbai, Mitaji failed to find a job and continued moving around playing his
ravanhattha
first and later the
sarangi
. "The
ravanhattha
has many more strings and low
sur
," Kishan explains with the flair of an experienced artist. "But the
sarangi
has a sharper tone, and the strings are fewer. My father started playing the
sarangi
because people liked it. It offers far more variety in music."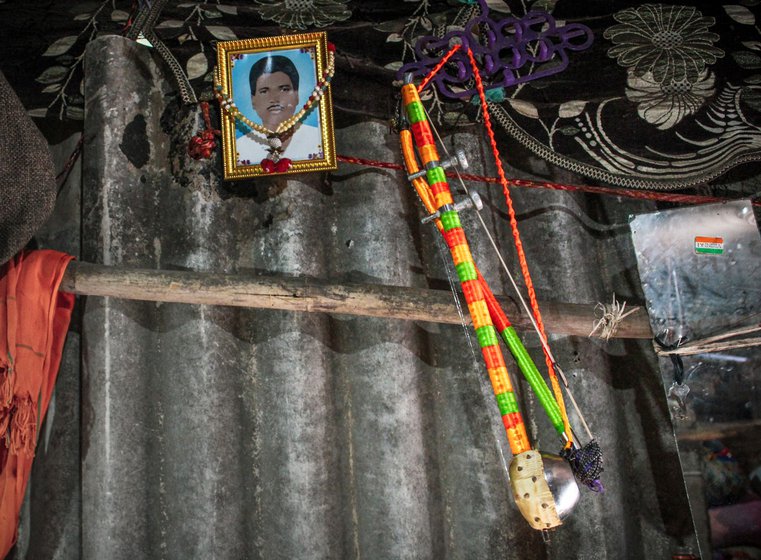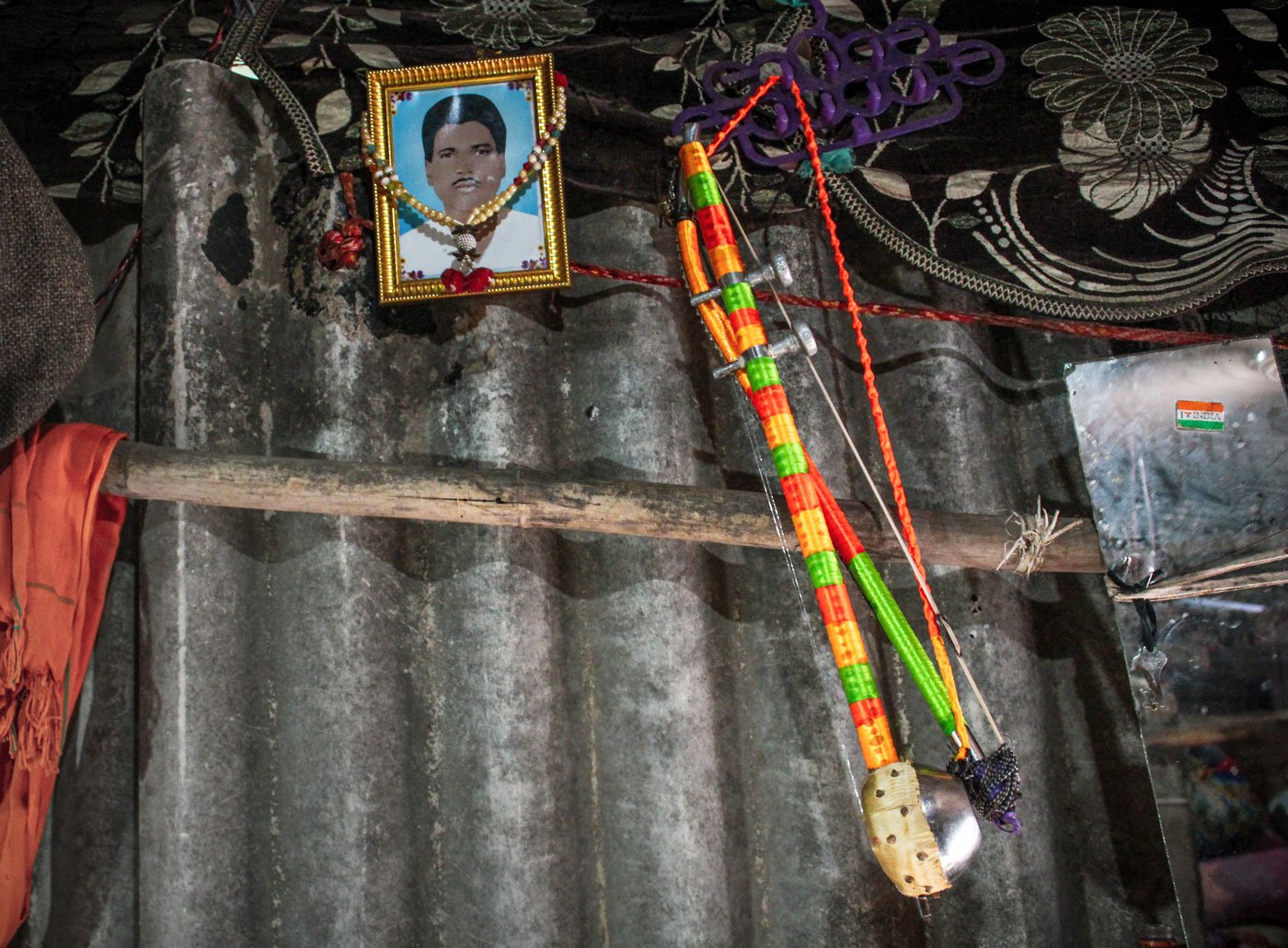 PHOTO • Aakanksha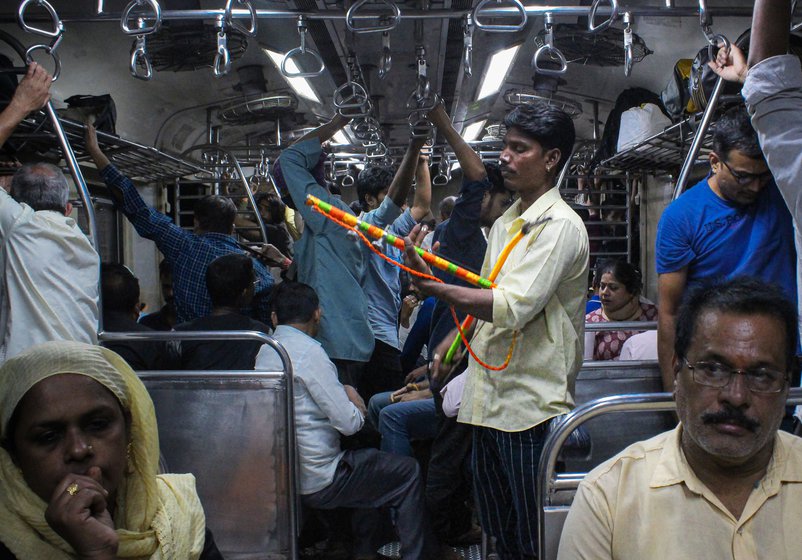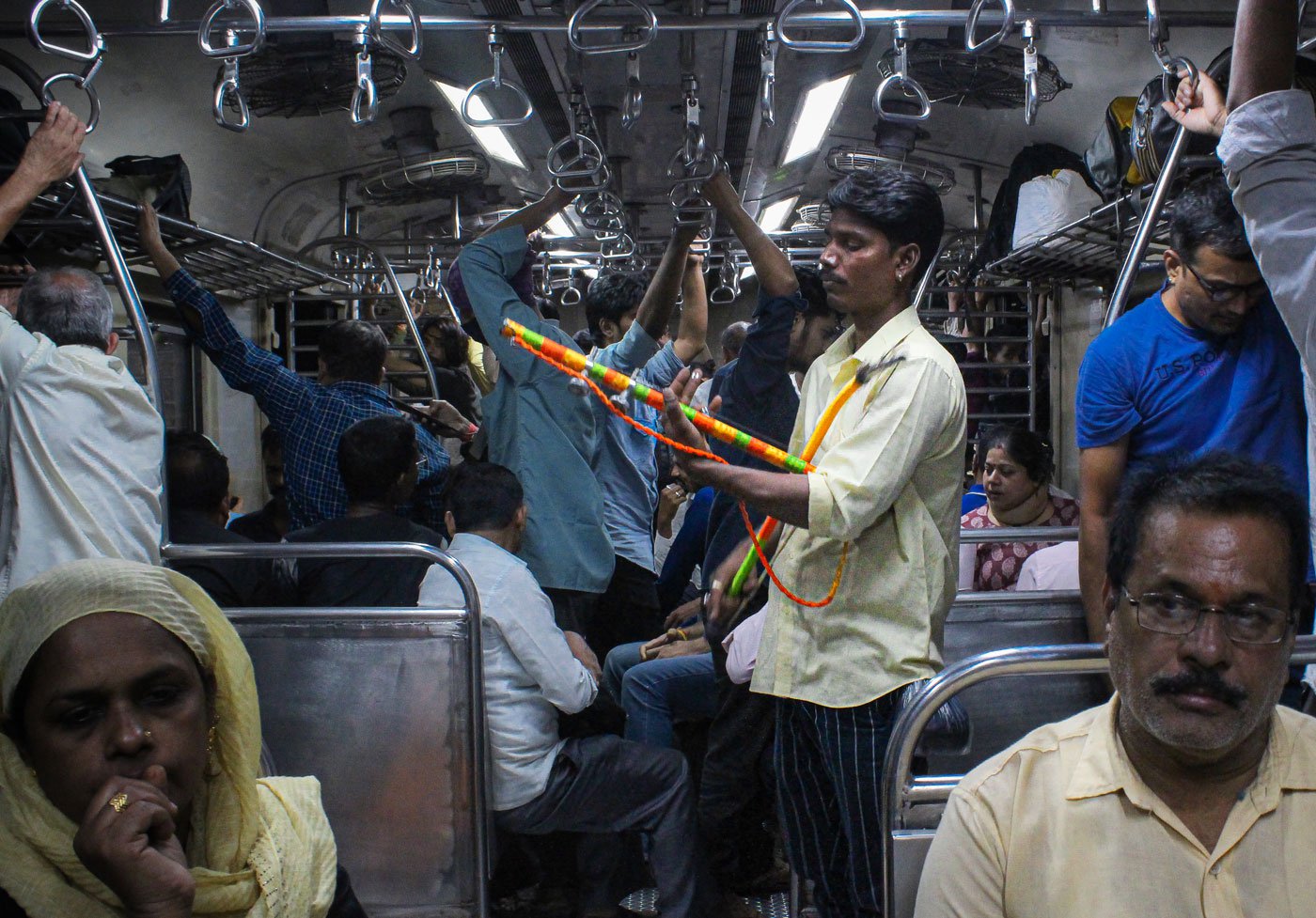 PHOTO • Aakanksha
Kishan's mother, Jamna Devi, kept moving from place to place with her husband and their two children. "When we came here, the pavement was our home," he recalls. "We slept wherever we got a place." By the time he turned eight years old, he had two more brothers, Suraj and Gopi. "I don't even want to remember that time," Kishan declares, visibly uncomfortable.
The memories that he wants to hold on to are those of his father's music. He had taught Kishan and his brothers to play on a wooden sarangi that he himself made. "Streets and trains were his stage. He used to play anywhere, and nobody would stop him. He drew huge crowds wherever he played," says Kishan excitedly, opening his arms wide to help us imagine the size of the crowds.
The streets have not been as kind to his son. Not after the humiliating experience with a policeman at the Juhu-Chowpatty beach, where he was fined Rs. 1,000 for playing for tourists. When he couldn't pay the fine, he was locked up for an hour or two. "I didn't even know what wrong I had done," says Kishan who started playing on trains after that incident. But his music, he says, can never match his father's.
" Baap played it much better and with much more love than I ever did," Kishan says. Mitaji would even sing as he played, unlike Kishan who shies away from singing. "I and my brother play to survive." His father died, possibly of tuberculosis, when Kishan was 10 years old. "We didn't have enough to eat, let alone to go to hospitals."
Kishan had to earn a living from a young age. "Where was the time to think of anything else?
Baap ne sarangi thama di
,
kabhi school ka bhi nahi socha bas bajate gaya
[Father left the
sarangi
in our hands. I never even thought of going to school. I just kept playing]," he says.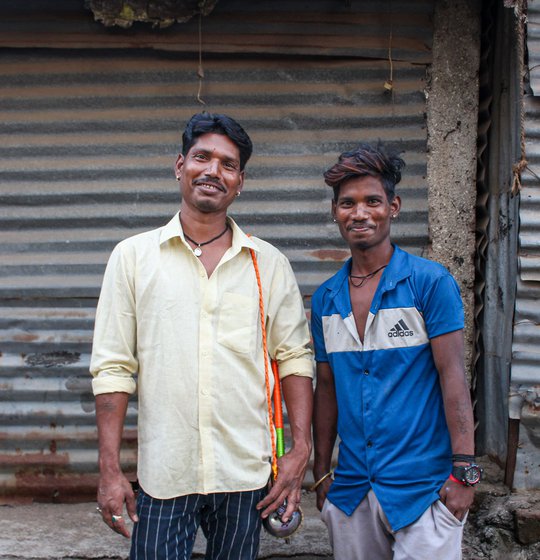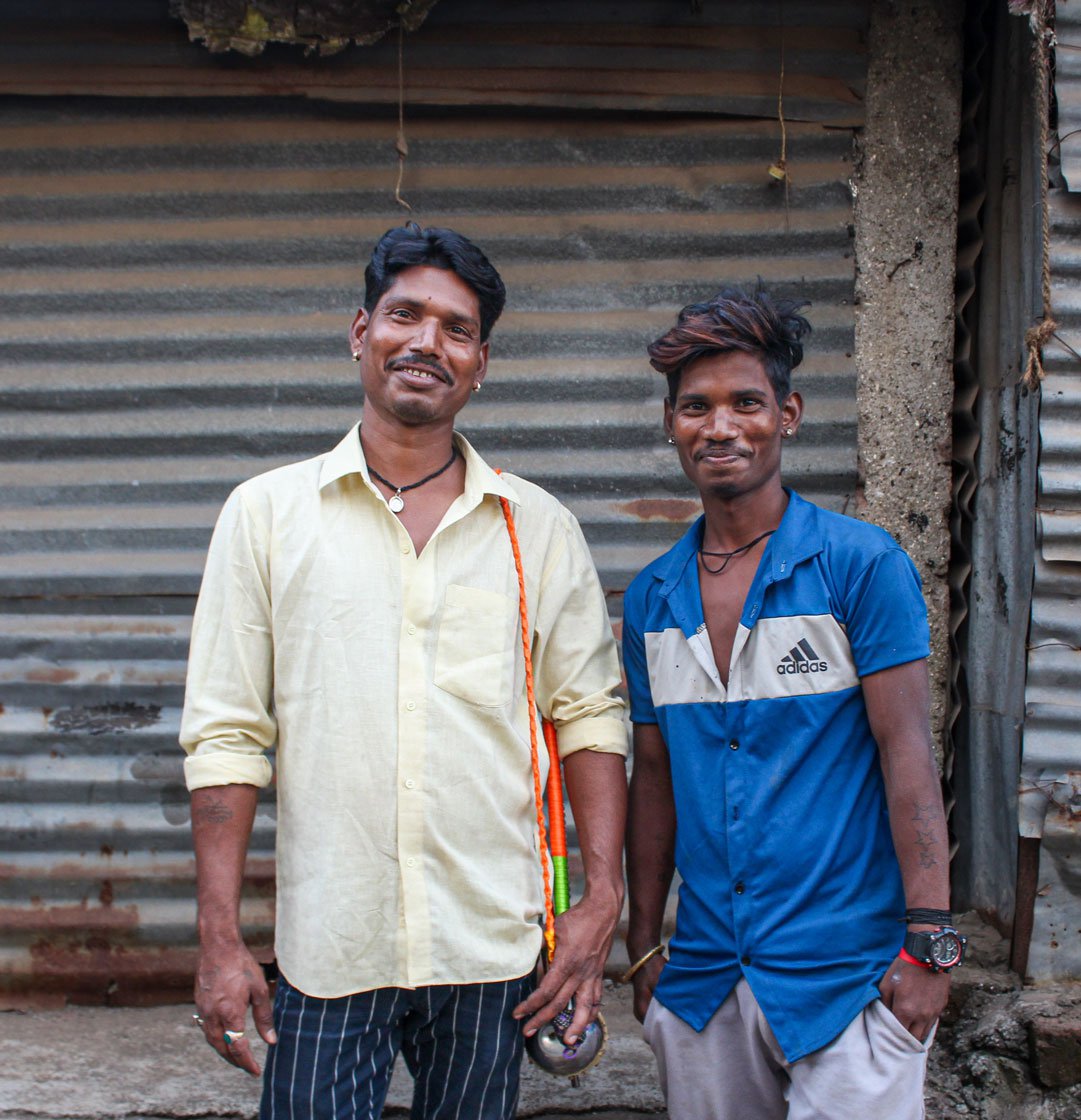 PHOTO • Aakanksha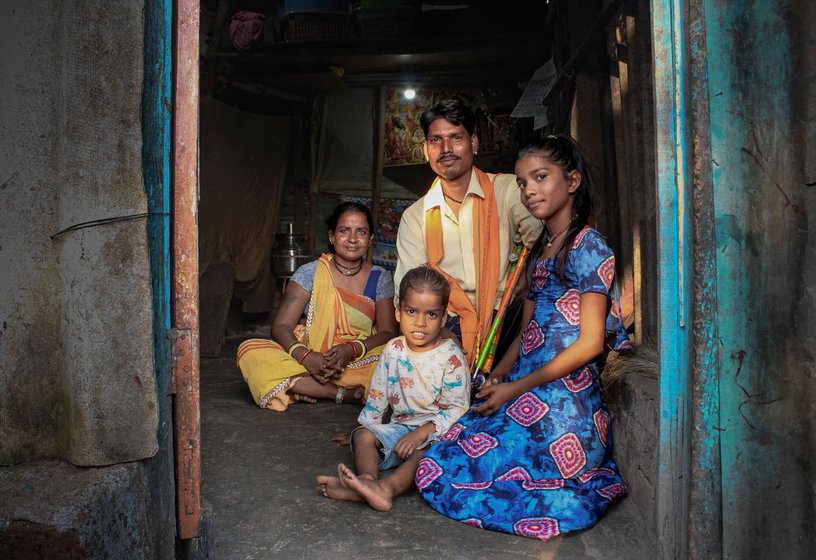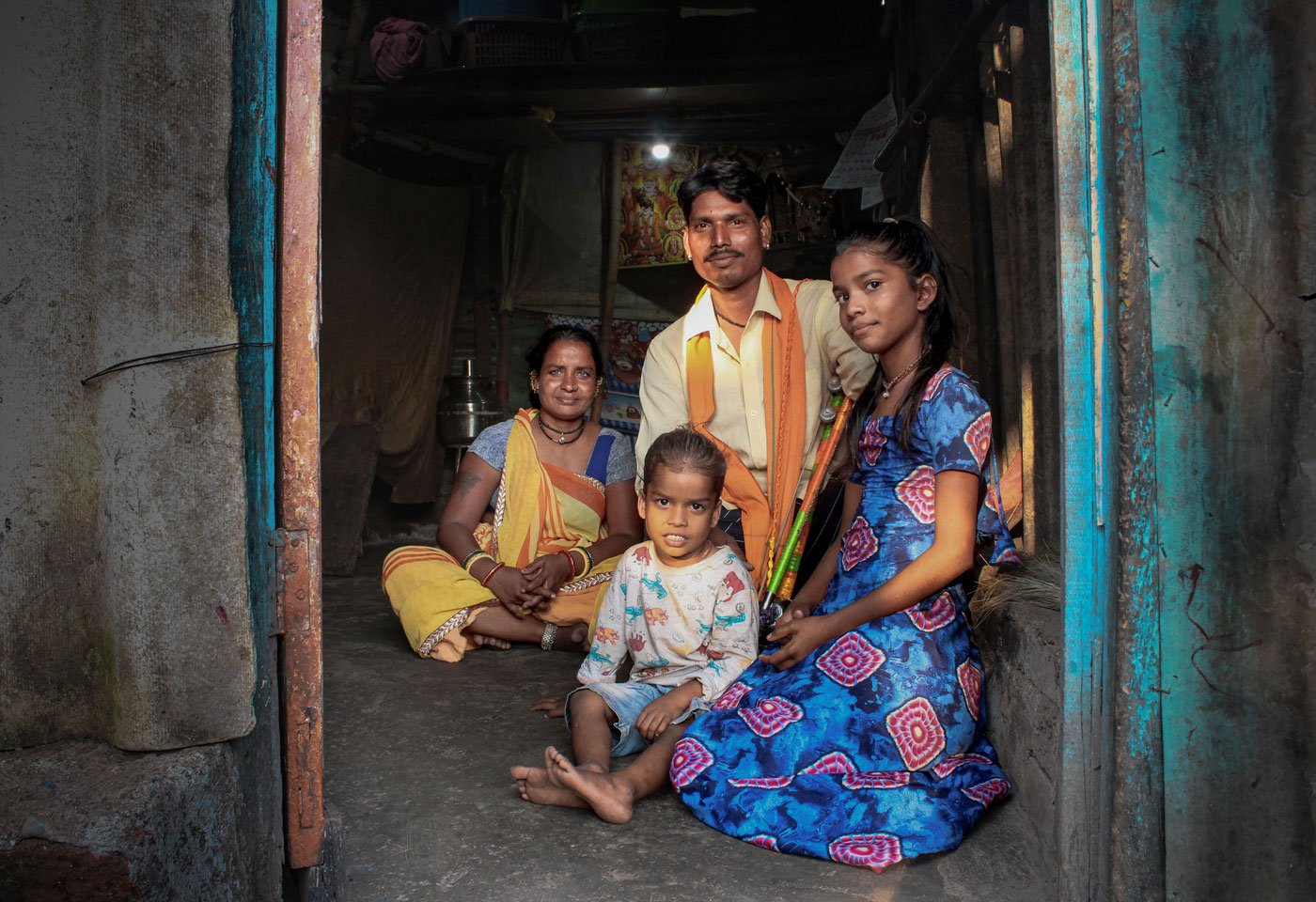 PHOTO • Aakanksha
After the death of his father, the two younger brothers, Vijay and Gopi went back to Rajasthan with their mother. And Suraj went to Nashik. "They don't like Mumbai's hustle and bustle, neither do they like to play the sarangi ," says Kishan. "Suraj did and he still plays, but the other two do some odd jobs to survive."
"I don't know why I am living in Mumbai but somehow I have made my small world here," says Kishan. A part of his world is a precarious shed with mud flooring that he rents in Nallasopara west, a northern suburb in Mumbai. This 10 x 10 space is protected by asbestos sheets for walls and a tin roof.
Rekha, his first love, now wife for last 15 years and the mother of their two children Bharti and Yuvraj, 3, welcomes us in. The little room houses the family of four, a kitchen, a small television set and their clothes. His sarangi , the 'treasured' piece as he calls it, hangs on the wall near a concrete pillar.
Ask Rekha about her favourite song and Kishan chimes in quickly with, " Har dhun uske naam [There is not a tune that is not meant for her] ."
"I like what he plays but we can no longer depend on it," says Rekha. "I want him to find a regular job. Earlier it was just the two of us but now we have these two children."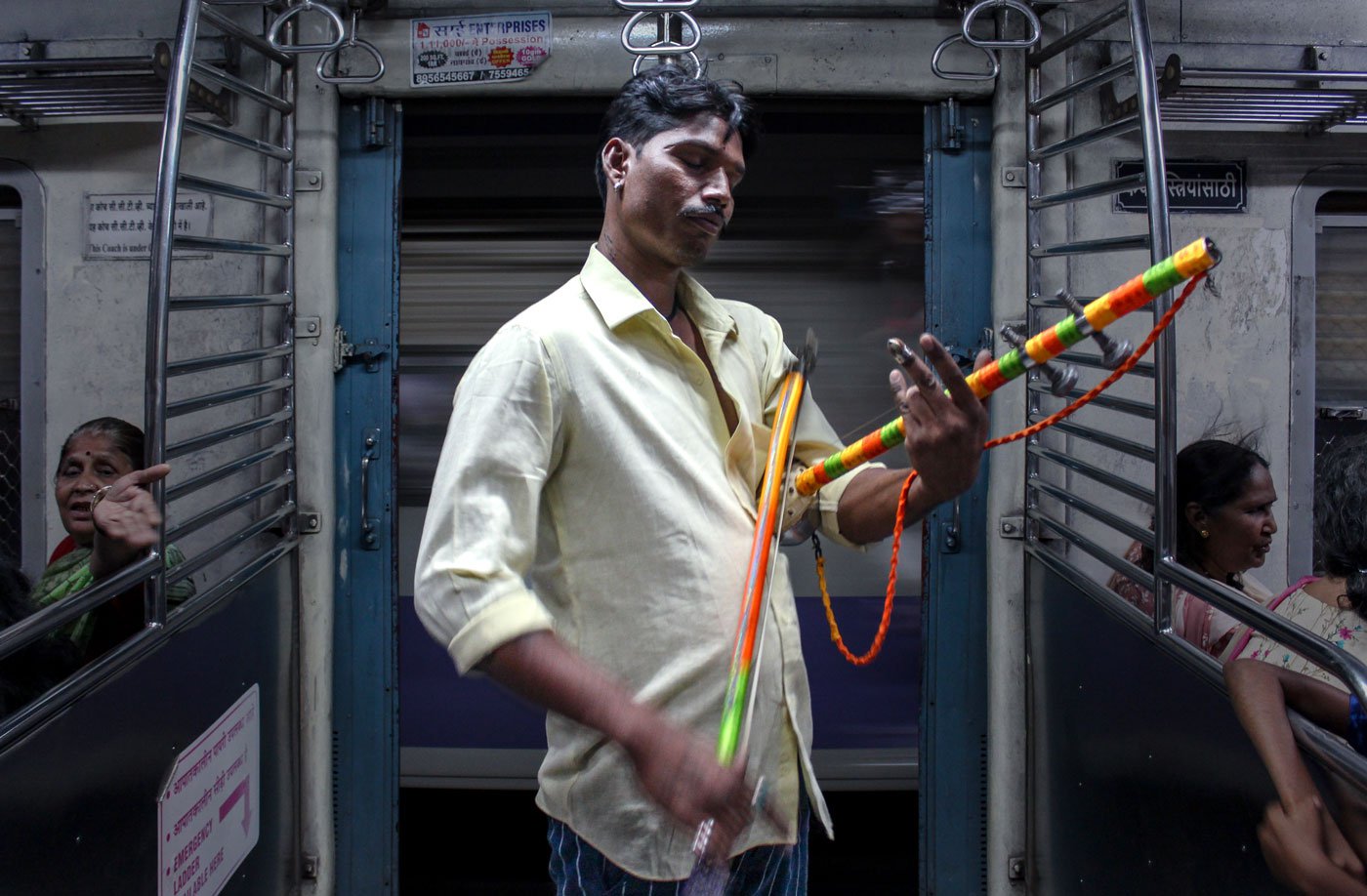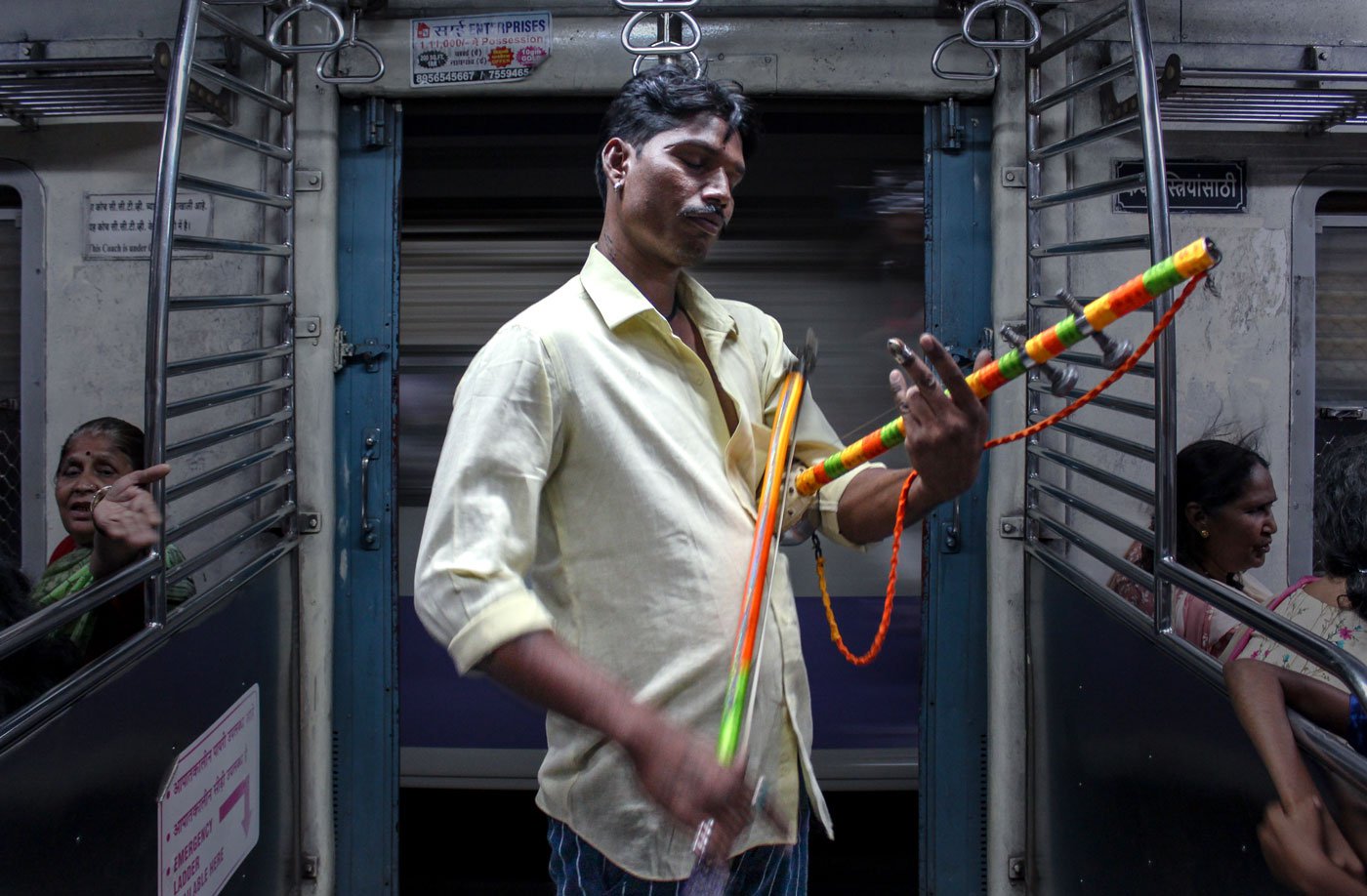 PHOTO • Aakanksha
Bharti, who accompanies Kishan on the trains is in Class five in Zilla Parishad government school, just a little distance from where they stay in Nelimore. She goes with her father as soon as her school is over. "I like whatever my father plays, but I don't like accompanying him every day," she says. "I want to play and dance with my friends."
"She must have been five when I started taking her along," Kishan says, "What to do? I don't like to take her along either, but I need someone around to collect the money while I play or else how would we earn?"
Kishan keeps looking for other jobs in the city, but with no educational qualifications he has not had any luck. When people on the train ask for his number, he hopes it is because they will call him to perform at a big event. He has had a few stints at playing background score for advertisements. He has been to studios around Mumbai, in Film city, Parel, and Versova. But they all have turned out to be a one-time opportunities, occasionally fetching him anywhere between Rs. 2,000 to Rs. 4,000.
It is four years since he had such luck.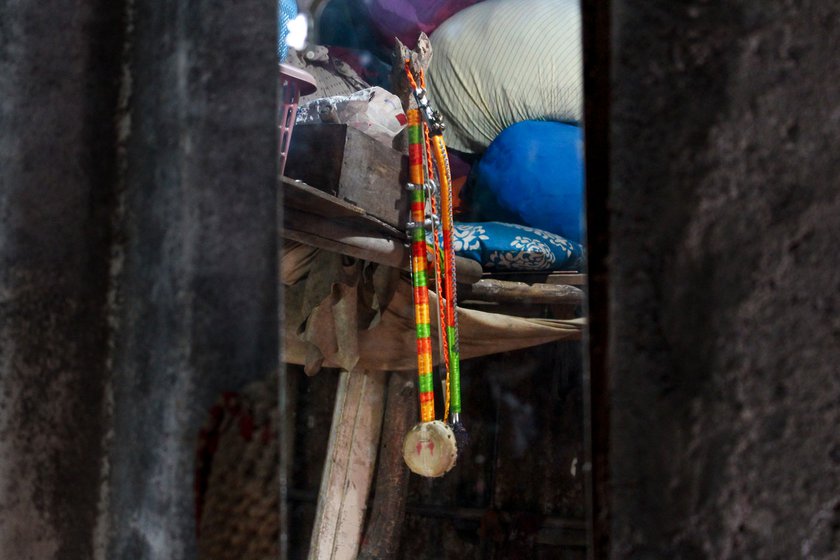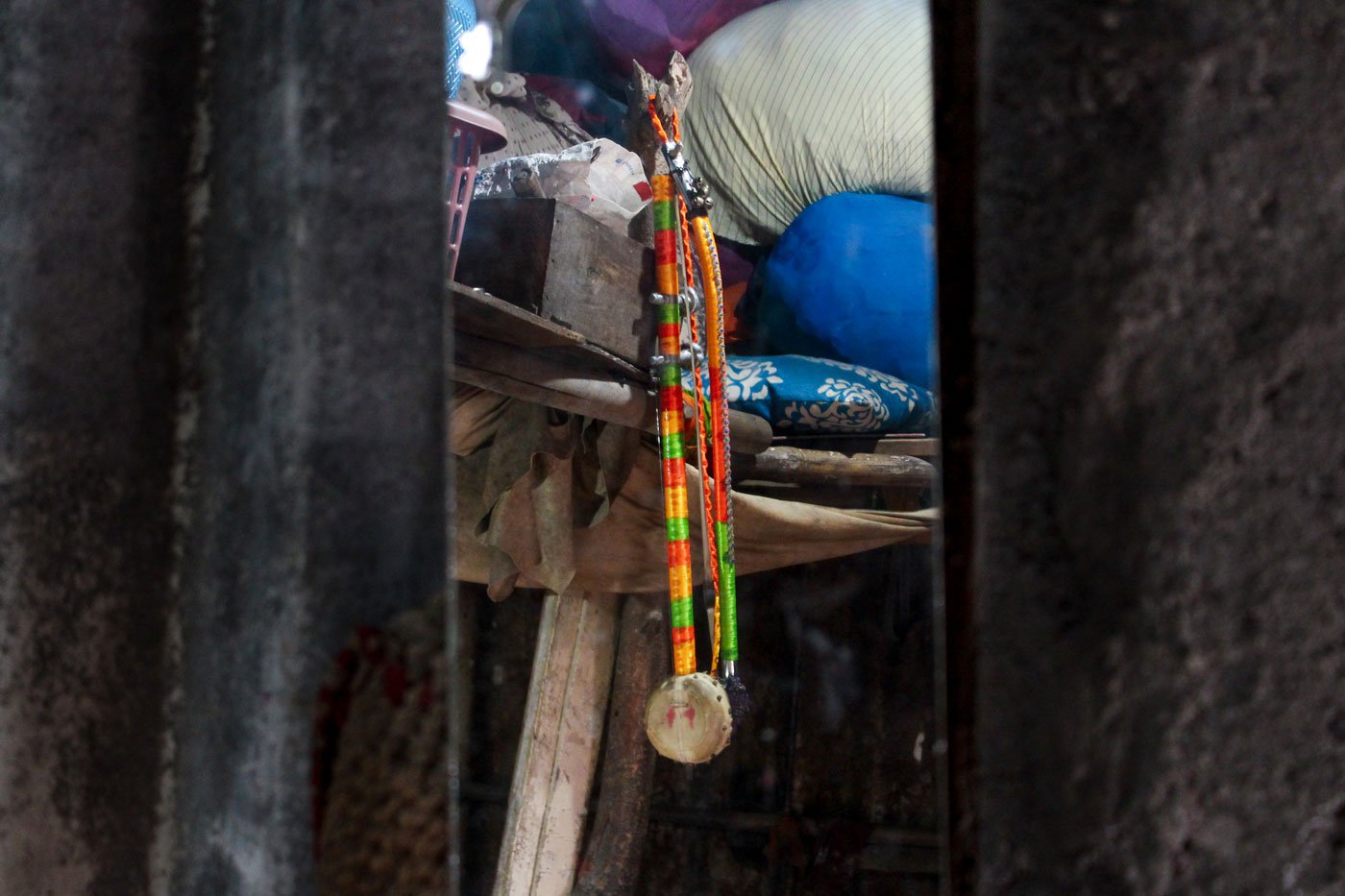 PHOTO • Aakanksha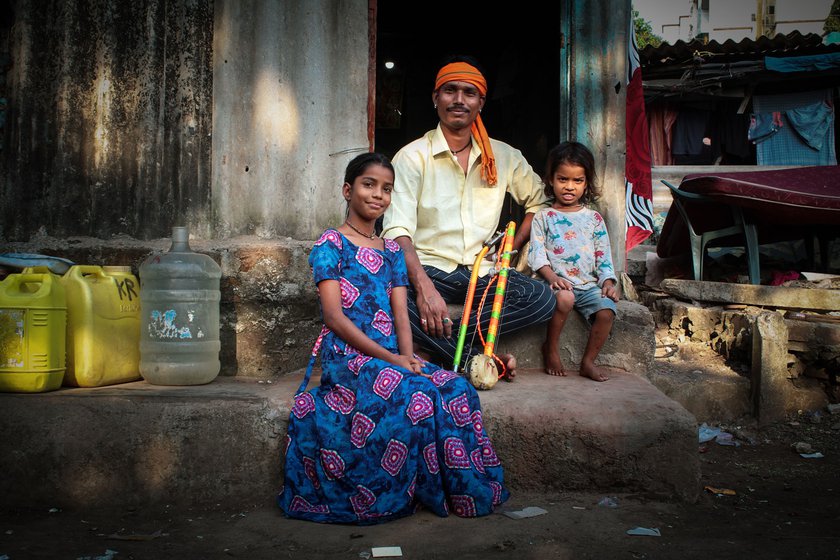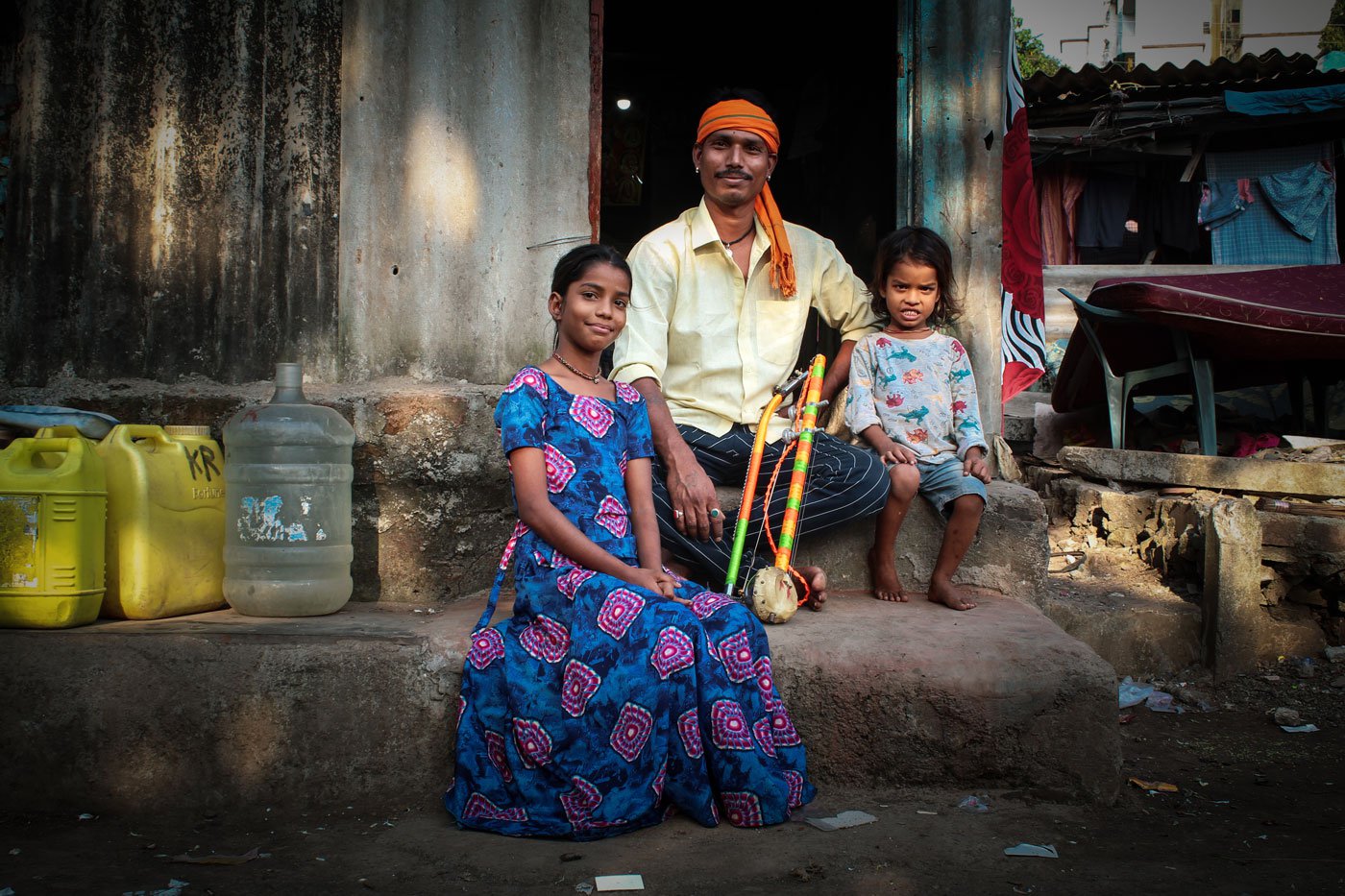 PHOTO • Aakanksha
A decade ago, Rs. 300 to Rs. 400 a day was enough to live but not anymore. The monthly rent for his house is Rs. 4,000, and then there is ration, water, electricity – adding up to almost Rs. 10,000 a month; his daughter's school asks for Rs .400 every six months.
Both husband and wife work as chindiwalle – collecting old clothes from houses and selling it to third party during the day. But the income is neither fixed nor regular. When work comes in they can earn anything between Rs. 100 to 500 a day.
"I can play even in my sleep. This is all that I know," says Kishan. "But there are no earnings from sarangi ."
" Ye mere baap se mili nishani hai aur mujhe bhi lagata hai mein kalakar hoon… par kalakari se paet nahi bharta na [This is my father's gift and I too feel I am an artist. But art does not feed an empty stomach, does it]?"