Phulabai Bhong sings about Ashadhi Ekadashi and the fast observed by Lord Vitthal's devotees on the auspicious day. It is believed that the practice releases one's soul from the cycle of life and death

On Ashadhi Ekadashi – which falls on July 20 this year – deeply devout Hindus fast the whole day, allowing themselves only some sips of water. But in Maharashtra, those who can't stay hungry for long eat what is now comically called "Marathi fast food" – simple yet delicious dishes like the humble sabudana khichadi, cooked with ingredients "allowed" to be consumed while fasting, such as tapioca, potatoes and peanuts.

In this instalment of Grindmill Songs Project (GSP), Phulabai Bhong, from Nimgaon Ketki village in Pune's Indapur taluka , sings five ovi about the fast on Ashadhi Ekadashi. The day-long fast is held on the eleventh day of the Hindu lunar month of Ashadh. Devotees believe that fasting on this day will bring them liberation and release their soul from the cycle of birth, life and death.
The singer says that Lord Vitthal also fasts on this day. She tells us that Goddess Rukmini puts up ladders along the tall waghati creeper that bears the Govind phal , a small green fruit known for its medicinal use. The fruit is cooked and eaten the day after Ekadashi to break the fast.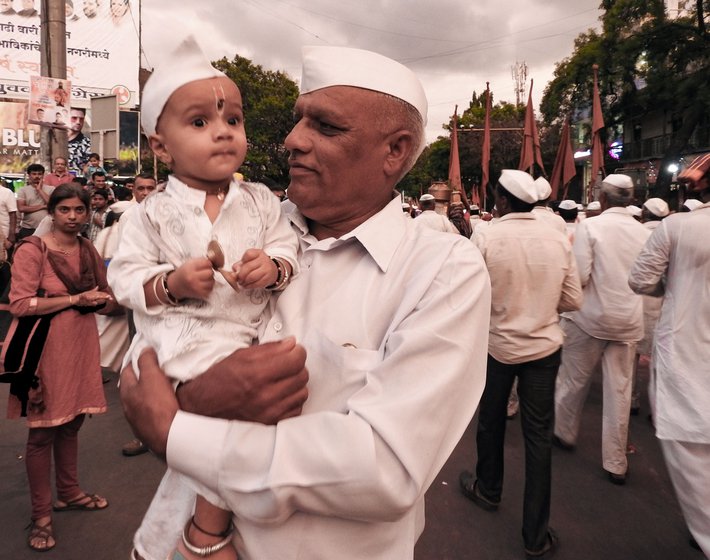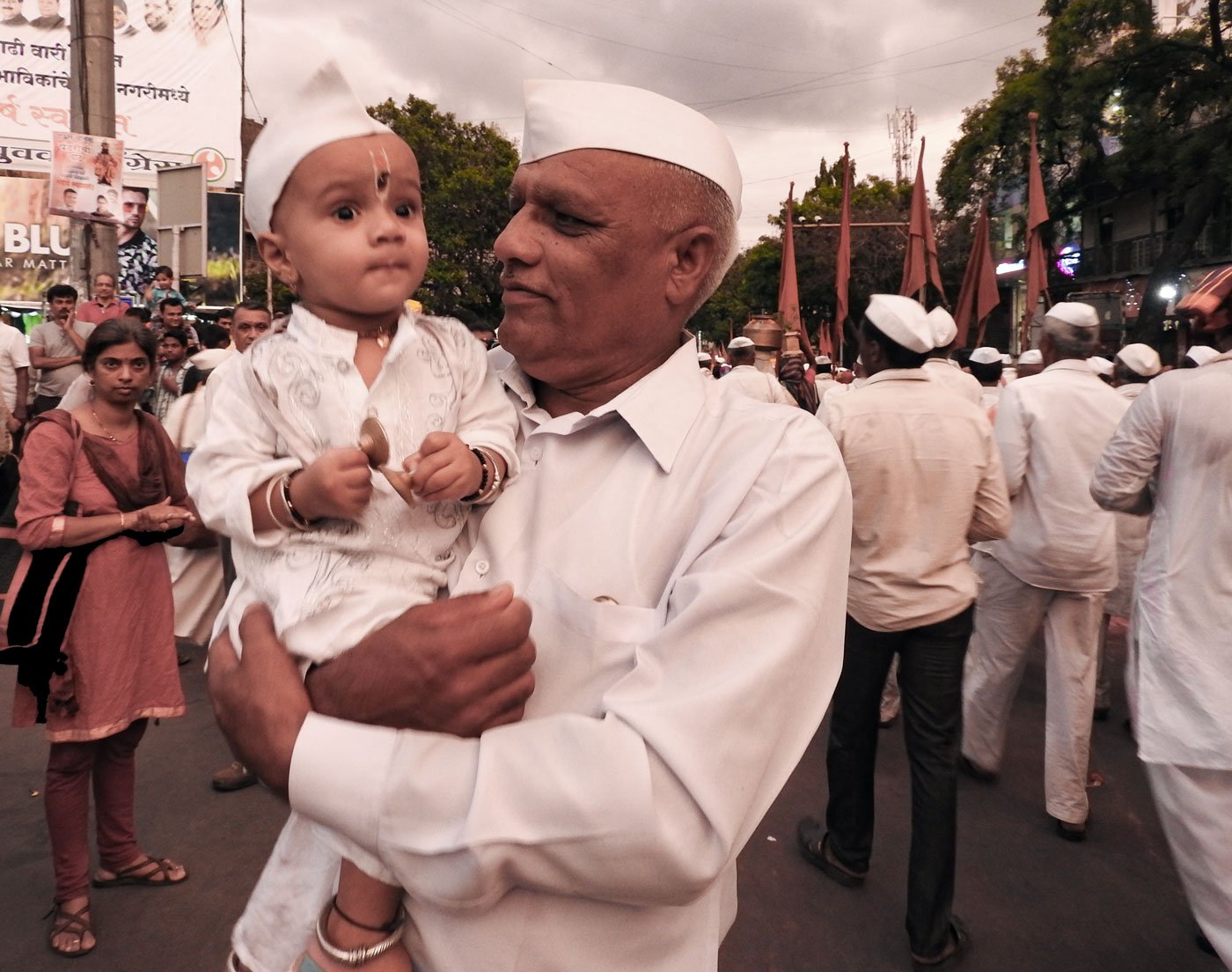 PHOTO • Namita Waikar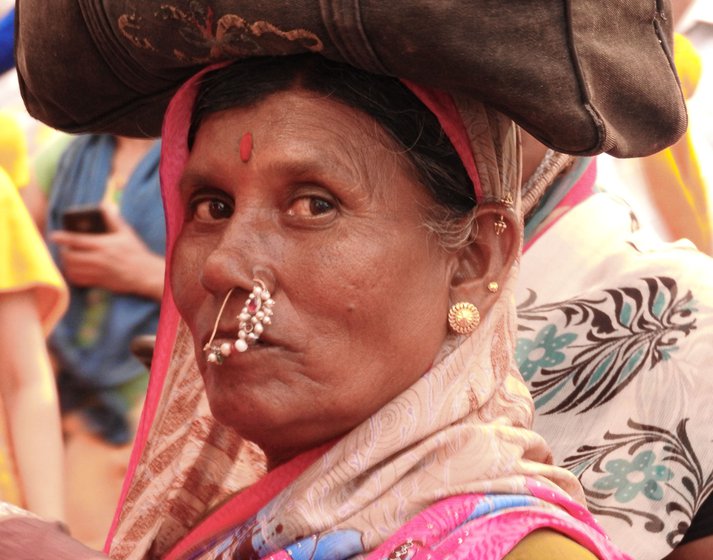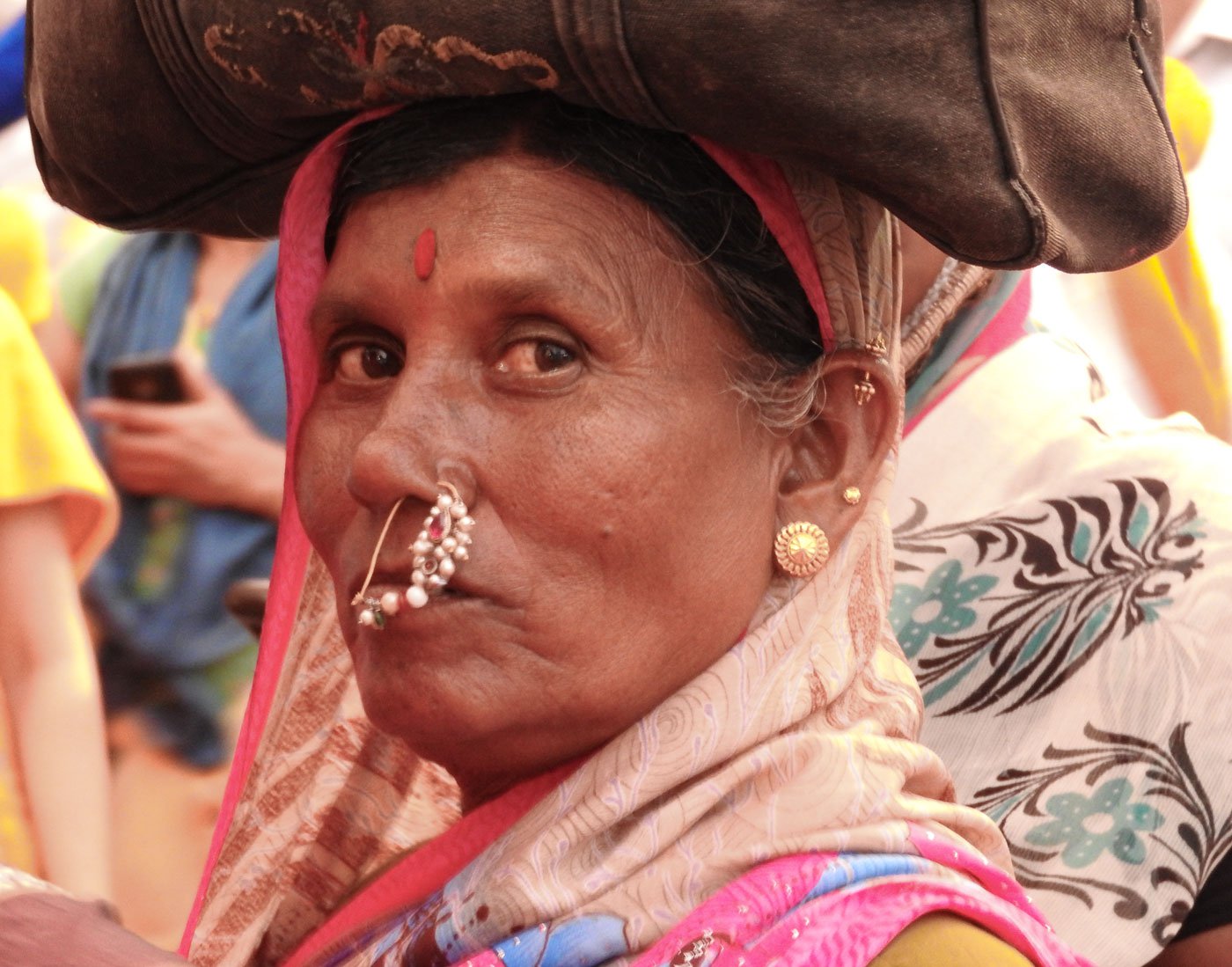 PHOTO • Namita Waikar
It is a tradition followed by the warkaris , Lord Vitthal's devotees, many of whom are farmers and rural workers. Their pilgrimage, or wari , is a journey on foot to the Vithoba temple in Pandharpur town, in Maharashtra's Solapur district. The journey culminates on Ashadhi Ekadashi.
For the first time in its long history of about 800 years, the tradition of wari was broken in 2020 because of the Covid-19 pandemic. This year too it could not be held in July due to the restrictions on travel.

Among the GSP stories on PARI , we have published songs about the wari in The pilgrims' progress ; the warkaris' devotion to Lord Vitthal in The devotion and the discord ; and about the devotion of the poet-saints Dnyaneshwar and Tukaram in The enduring pull of people's poets . In Walking to Pandharpur, carrying love the performer sings about taking all members of the family on the journey to Lord Vitthal's abode.
The ovi sung by Phulabai here celebrate the Ashadi Ekadashi fast. A verse poetically imagines Dashami, the tenth day of the lunar month, saying to Ekadashi, the eleventh day, "you are so nice" – because on this day everyone expresses their devotion to Vitthal. Explaining the importance of Ashadi Ekadashi to her son, the singer says that god will ask her at heaven's door: "How many Ekadashi [fasts] have you observed to merit liberation?"
आखाडी एकादस माझ्या विठ्ठल लालायला
अगं रुखमिण लावी शिड्या वाघाटीच्या या येलायला
एकादशी पसुयानी दशमी बाई तू सरईस
अगं केळीच्या पानावरी सखा सोडितो बारईस
अगं एकादशेबाई तुझं नाव या कलावती
किती सांगू रे बंधु तुला दर महिन्याला येती
अगं स्वरगाच्या दारी देव करितो पुसापुशी
अगं जिवाला सोडवणं, एकादशी तू केल्या किती
अगं स्वरगाच्या दारी देव पुशितो आडवून
किती सांगू रे बाळा तुला दिल्या जिवाला सोडवणं

ākhāḍī ēkādasa mājhyā viṭhṭhala lālāyalā
āga rukhamīṇa lāvī śīḍyā vāghāṭīcyā yēlāyalā
ēkādaśī pasuyī daśamī bāī tu sāraīsa
aga kēḷīcyā pānāvarī sakhā sōḍītō bāraīsa
āga ga ēkādaśēbāī tujha nāva yā kalāvatī
kitī rē sāṅgū bandhu tulā dara mahinyālā yētī
āga svaragācyā dārī dēva karītō pusāpuśī
āga jivālā sōḍavaṇa ēkādaśī tu kēlyā kitī
aga svargagācyā dārī dēva puśīto āḍavūnī
kitī sāṅgū rē bāḷā tulā dilyā jivālā sōḍavaṇa

My dear Vitthal is fasting on Ashadhi Ekadashi
Rukmini places the ladder near the waghate creeper
Dashami says to Ekadashi, "you are so nice"
My friend [Vitthal] has his meal on a banana leaf and breaks his fast
Ekadashi, O woman, your name is Kalavati
How many times can I tell you, brother, she comes every month
At the entrance of heaven, god enquires
How many Ekadashi have you observed to merit liberation?
At the entrance of the heaven, god stops me and asks
How much can I tell you, son, I need your support [for the fast]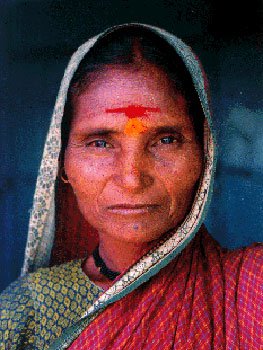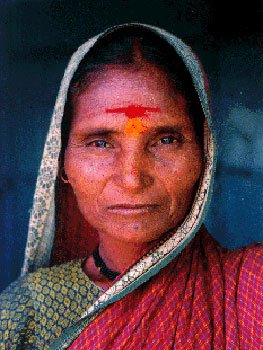 PHOTO • Hema Rairkar
Performer/Singer: Phulabai Bhong
Village: Nimgaon Ketki

Taluka: Indapur

District: Pune

Caste: Phulmali (gardener)

Date: The songs and the singer's photograph were recorded on December 12, 1995
Poster: Urja

Read about the original Grindmill Songs Project founded by Hema Rairkar and Guy Poitevin