As soon as I board the Raipur-Dhamtari narrow gauge train at Telibandha station in Raipur at 6 p.m., someone offers me a place to sit. I accept and strike up a conversation – since I am on this journey  to talk to people who travel on this packed train every day. My co-passenger, Krishna Kumar Tarak, lives in Nawagaon (Thuha) village, from where he cycles for 12 kilometres to reach Kurud, one of the stations on this line.
Early in the morning, he and other labourers living in the villages along the route take this train to Raipur, the capital city of Chhattisgarh, looking for daily-wage work, and return home late in the evening. This and another train cover the roughly 66 kilometres to Dhamtari town in close to three hours, three times a day.
Though two crops are harvested annually in parts of Dhamtari district, creating a demand for farm labour, in my conversations during this journey the labourers tell me that the farm wages are often low – around Rs. 100 a day, while wages in Raipur range from Rs. 200 to Rs. 250. And payments for MGNREGA or other panchayat jobs in the villages usually come after months. Work in the city brings them immediate cash payment. That is why many prefer to commute by train for up to six hours to work in Raipur.
I ask Krishna Kumar, who is in his mid-40s, where he's coming from. "I went to Raipur for work and am now returning home. I left my bicycle at the paan stall [at Kurud]. It will be almost 10 p.m. by the time I reach home." The paan stall doubles up as a bicycle stand and charges a daily rent of Rs. 5 from each of the 50-100 cycles parked there every day.
How much land do you own and how was the crop this season? "Five acres," he says. "The rabi crop is still in the fields [at the time we met]. We sold some of the kharif rice yield and kept some for my family's consumption." Their irrigated land produces two crops, and during farming season the entire family works together. "We have to spend  25,000-30,000 rupees on fertilisers, compost and other items. There are 45 members in our family – five brothers, all married and with children. My wife Vimla and I have five children."
I press on: How much did you study? "I studied up to the third standard. My parents didn't let me [study more], they asked me to work instead. Our financial situation was not good. My father had three wives. The first wife had two boys and two girls – I am one of them."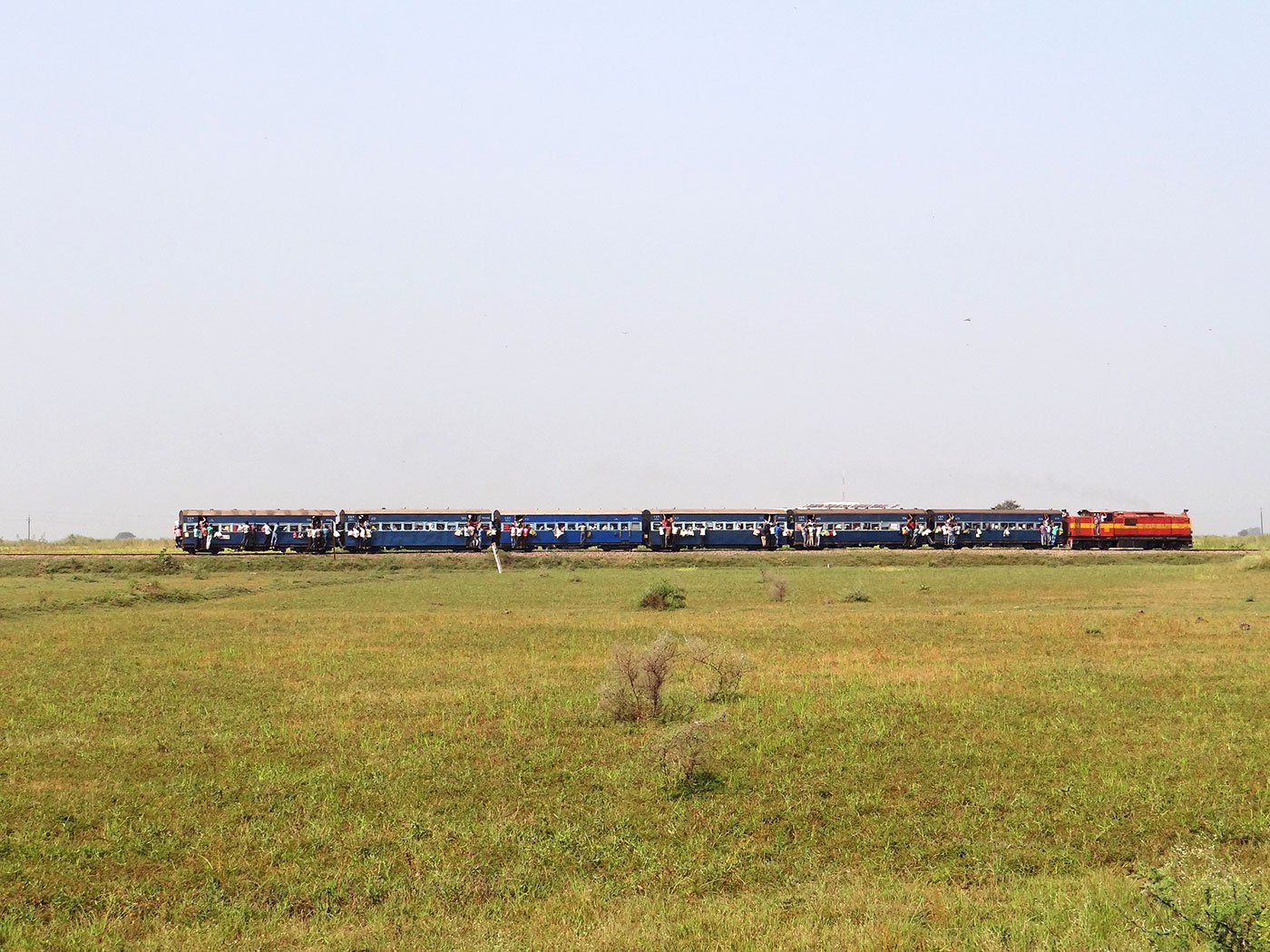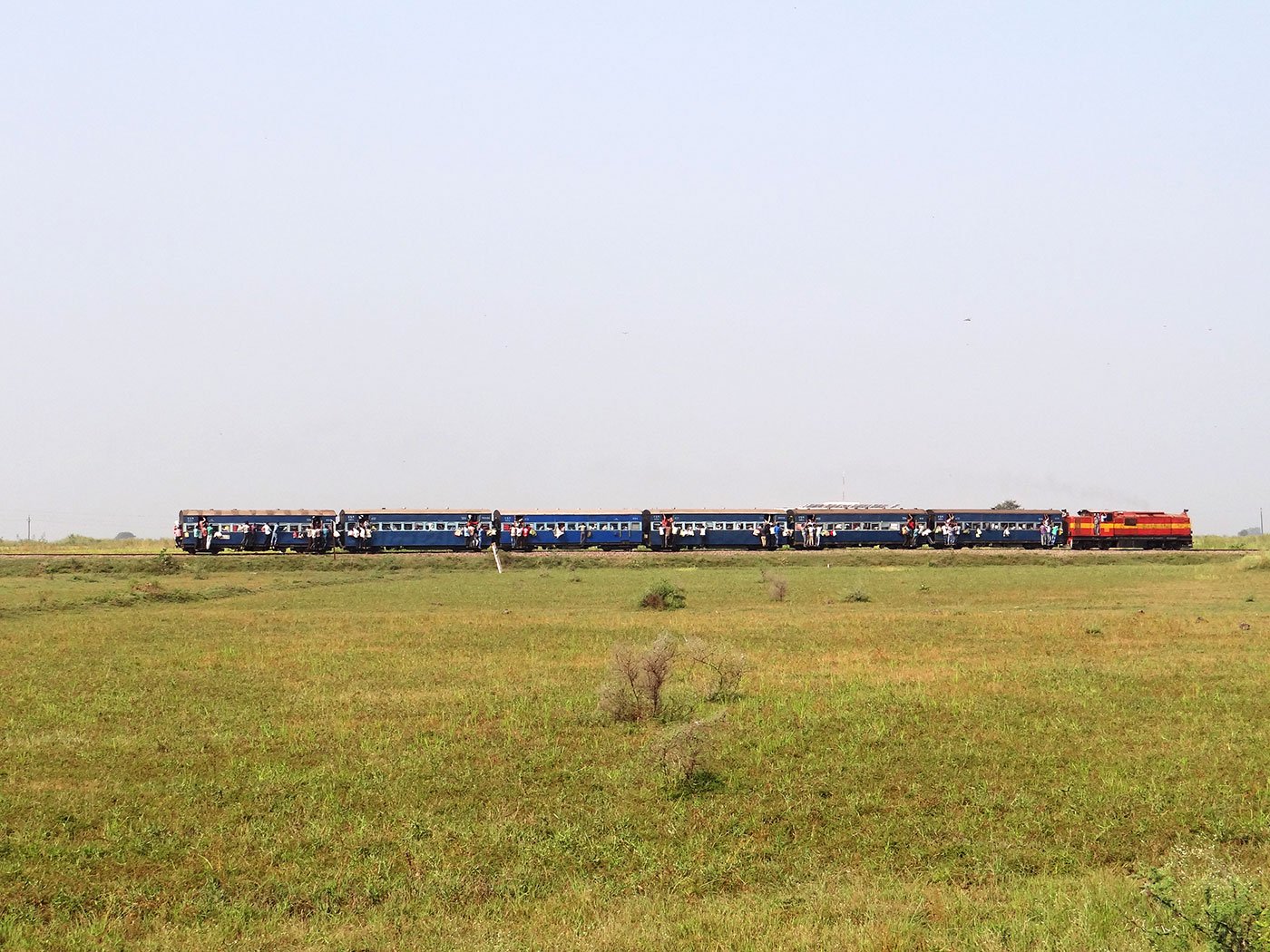 PHOTO • Purusottam Thakur
Krishna Kumar belongs to the Dhimar caste, an OBC, whose traditional occupation was fishing. His large family lives together in a thatched-roof house. On their composite BPL (below poverty line) ration card they get a total of 35 kilos of rice for Rs. 35 once a month, which lasts no more than five days. Their ration card entitles each family (in their five-unit joint family) to a subsidised two litres of kerosene, one kilo of sugar and 200 grams of lentils, as well as two kilos of salt.

"We brothers get along well. I have brought them up since they were little. My mother died a year before Rajiv Gandhi's death. Both the stepmothers died too after my father passed away. My siblings were young and I assumed responsibility for the family.  I could not afford to educate them.  I got used to hardship since I was a child. There was no time to be happy and relaxed."
How much does he earn per day? "Rs. 250. We queue up at Telibandha, where contractors find us. Sometimes, there is no work. Sometimes, we get delayed and don't reach Raipur [on time]… we leave home at 6 a.m. and the train leaves at 7:15 a.m." Why don't they take the bus? "It is more expensive. A train ticket to Telibandha costs Rs. 15 [this varies, depending on the boarding station] while the bus charges Rs. 50. So if we miss the train, we just go back home."
Why don't your brothers do this work with you? "I don't want to bring them along. If they visit Raipur, they will get exposed to vices such as drinking, drugs or alcohol. As you can see, some men are intoxicated and gambling here [on the train]. My brothers work in the village or commute to Kurud to make 100 rupees per day."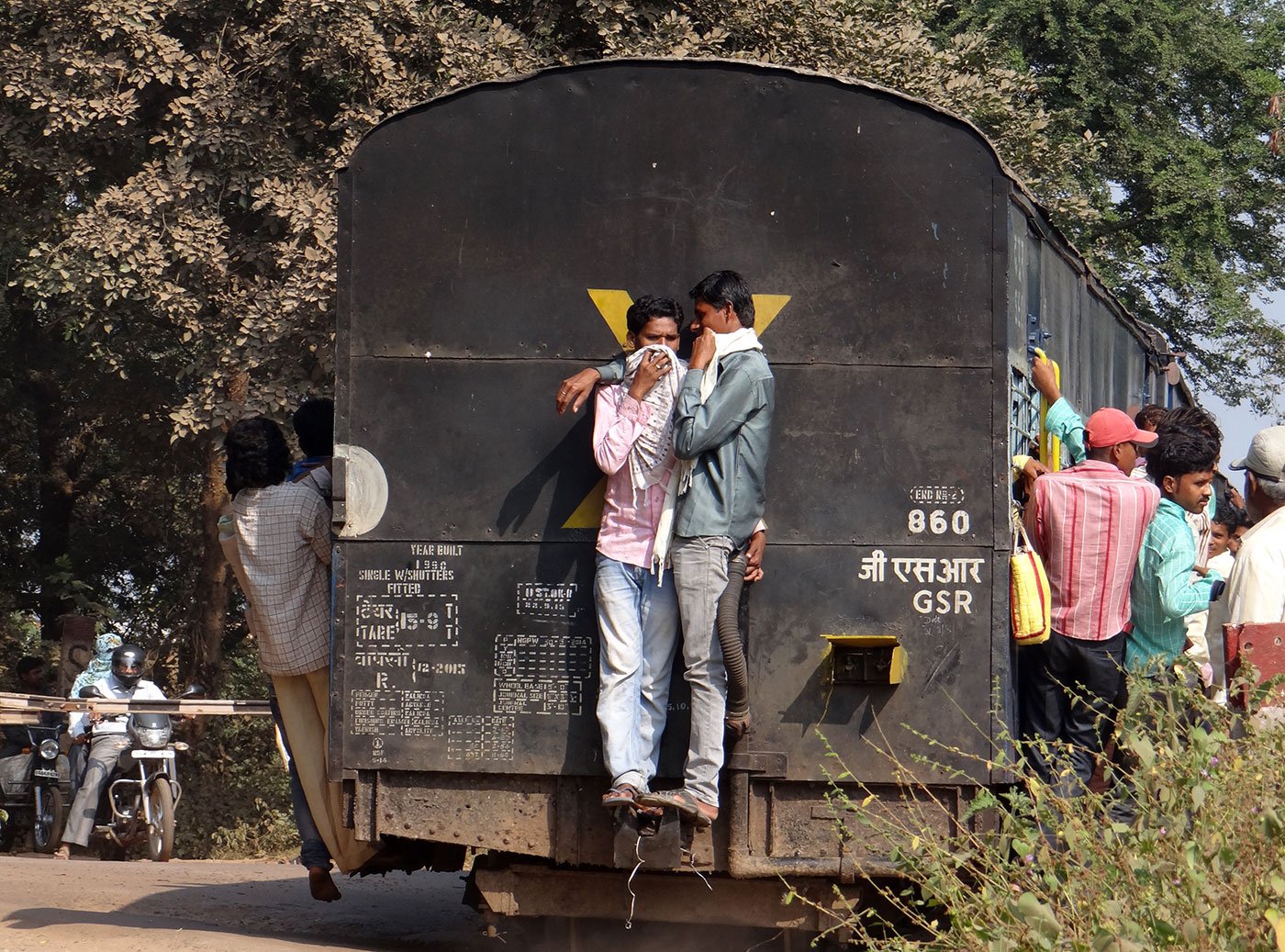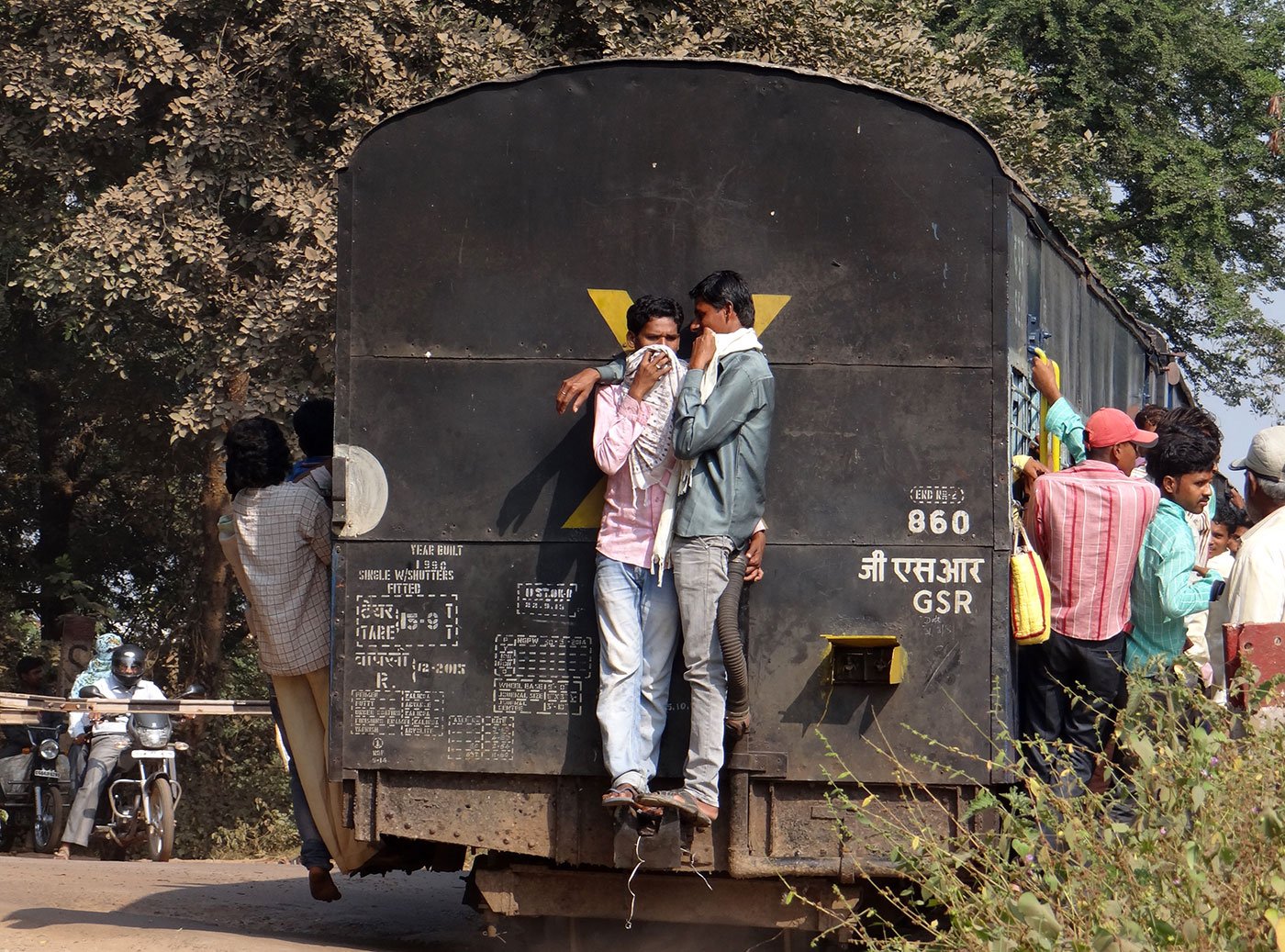 PHOTO • Purusottam Thakur
Of his five children, Krishna Kumar's eldest daughter Kusum is in Class 12 and his youngest son Khileshwar is in Class 6, with the other children in between. He is especially proud of Kusum's diligence, but says, "They all have big dreams – to become a teacher, a nurse, a policeman, a lawyer. I worry. I am a poor man. I tell them that I won't be able to educate them enough. The kids say they don't care and will continue their education somehow."
While chatting with Krishna Kumar, I notice Pradeep Sahu, around 18 years old, holding a mobile phone and listening to our conversation. He's wearing a t-shirt and jeans, and sitting on the lone seat close to the door.
Pradeep lives in Atang village, around eight kilometres from Kurud, the block headquarters. I ask him where he's coming from. He says, "I went to Raipur for work. I have been going there for four days. I appeared for the Class 12 exam this year. This is my first time working outside home."
He adds, "My father works as a porter in Kurud mandi. But he is sick and there is no other earning member in the family [right now]." Because of his father's fever, Pradeep's mother has not been able to go to work either. She makes Rs. 100 as a daily wage labourer. So the family's financial situation has become even more precarious.
"My father and brother got upset when I told them that I want to work too," Pradeep says. "I somehow convinced them that I will work only till father gets well again. Today, my brother Pankaj has started to go to work as well. He is in his first year of college and has some free days between his exams. He found work as a clerk in the mandi, where he has to deliver bags of produce and keep accounts. I got a job as a clerk too, but they were paying me only Rs. 3,000. So I asked the villagers who commute to Raipur every day to take me along. I get Rs. 250 per day there."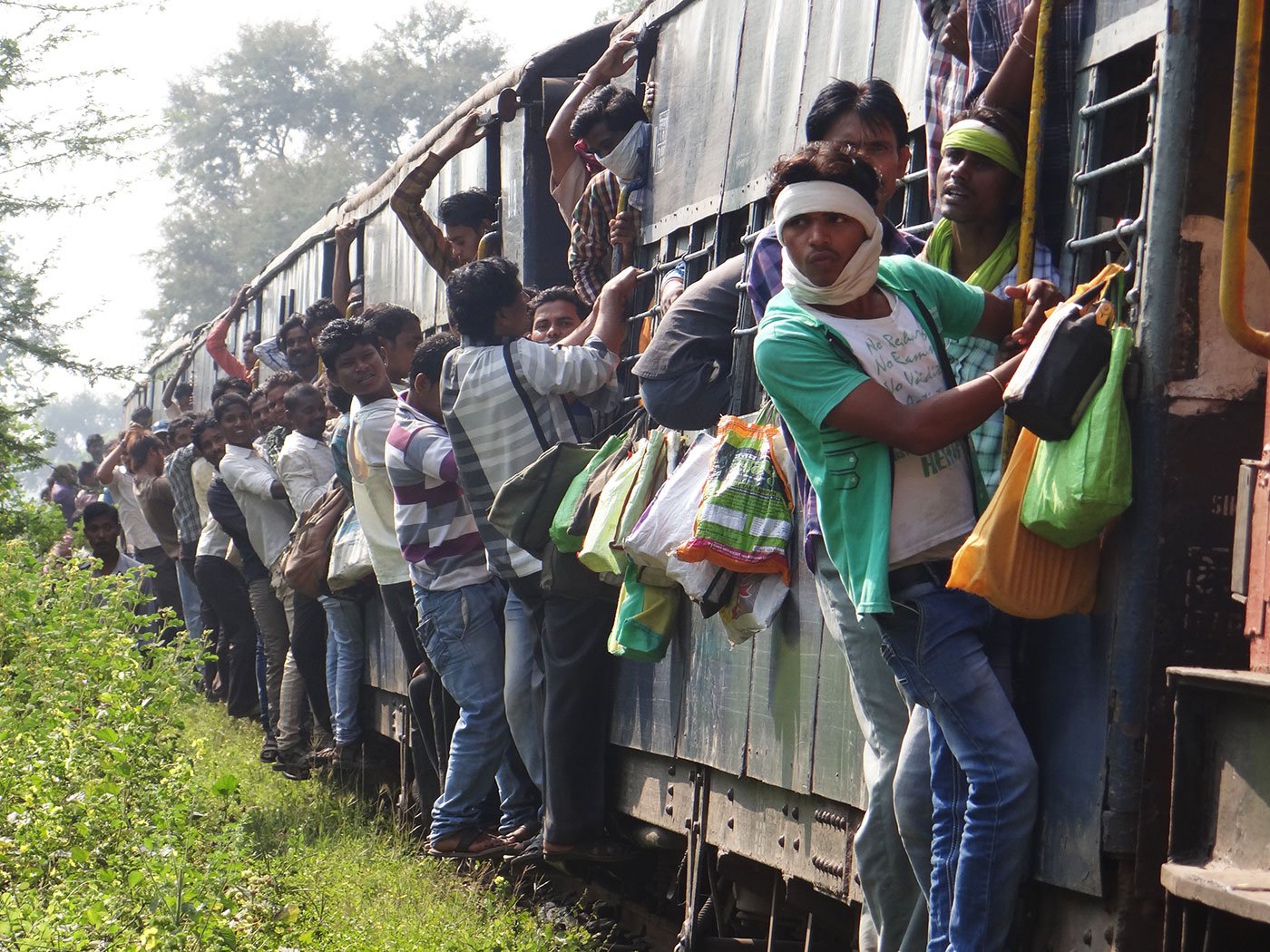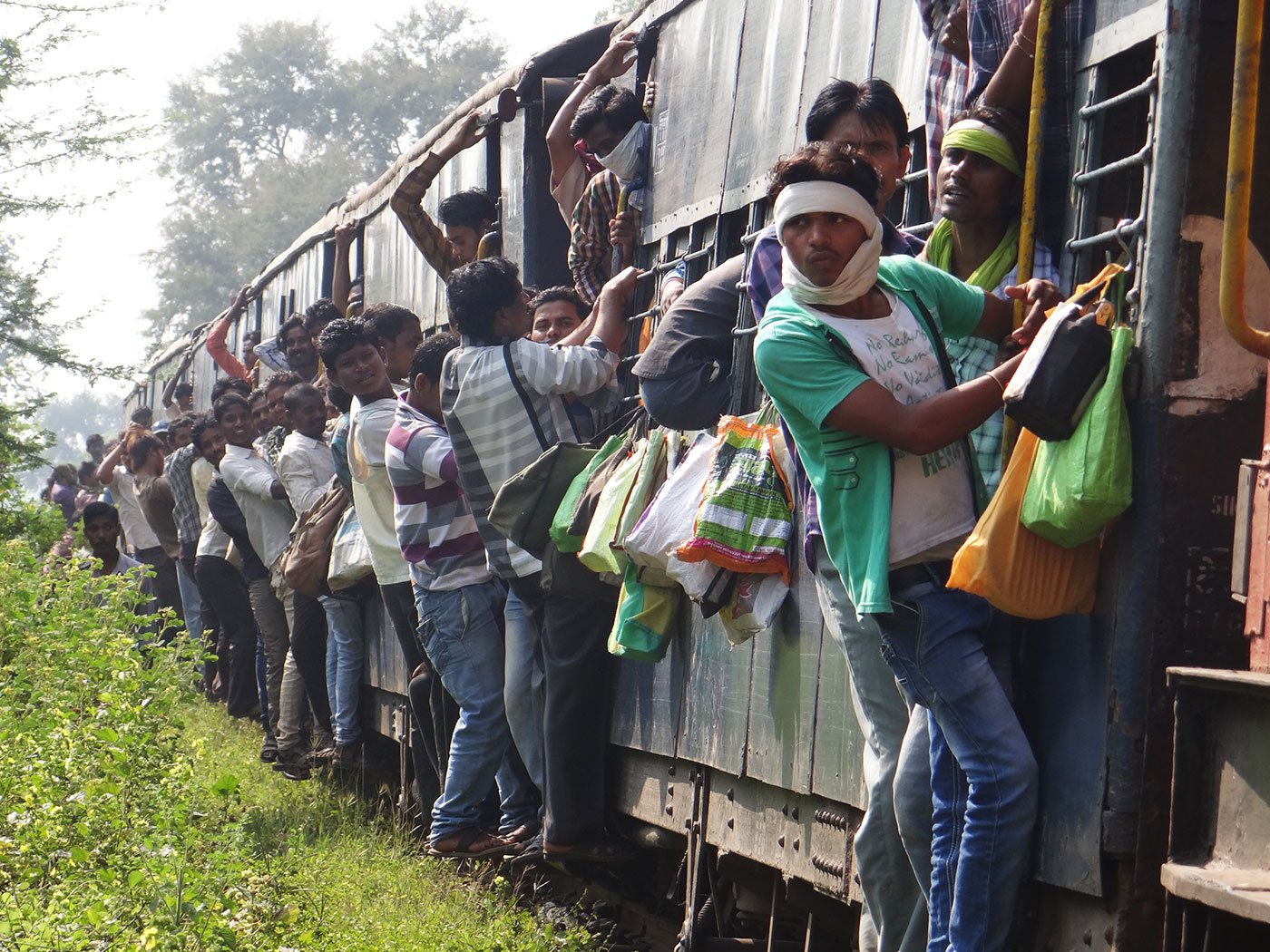 PHOTO • Purusottam Thakur
What is it like, working in Raipur? "No problems, but the student life is the best. On the very first day, I had to work in a stinking sewer. I didn't like it one bit. The other labourers are nice, but it's difficult to commute daily. Today is Sunday and so the train is not as crowded, but usually there is no space in the bogie and people hang outside the doors."
How will he use the money he has earned? Pradeep says that he will first buy a saree for his mother. Then he will consider buying a mobile just for himself and some clothes too. The mobile he is now using, he says, "belongs to my father who gave this to me so that I can contact them during the commute. Sometimes, when I get overnight work, I can inform them that I will not be coming back home tonight." Will you get an internet plan on your mobile, I ask. "Yes, now it is necessary to have the internet. We can access or download anything, from songs to the news."
It's nearly 9 p.m. and the train is approaching Kurud station. I notice that a woman, around 40 years old, is travelling by herself and looking outside. I ask her for how long she's been taking this train. "It's been 18 years," she says. "I commute every day to Abhanpur [nearly 30 kilometres from Raipur] where I sell vegetables."
What did you earn today? "I sold some sour vegetables for Rs. 250 and got Rs. 100 [profit] today. Today was not a good day for business. Mostly, I earn Rs. 250-300."
She asks me to not publish her name. "I am not educated, but my relatives are and have salaried jobs. If my name appears somewhere, it could be read by them anywhere in India. It is a matter of my honour."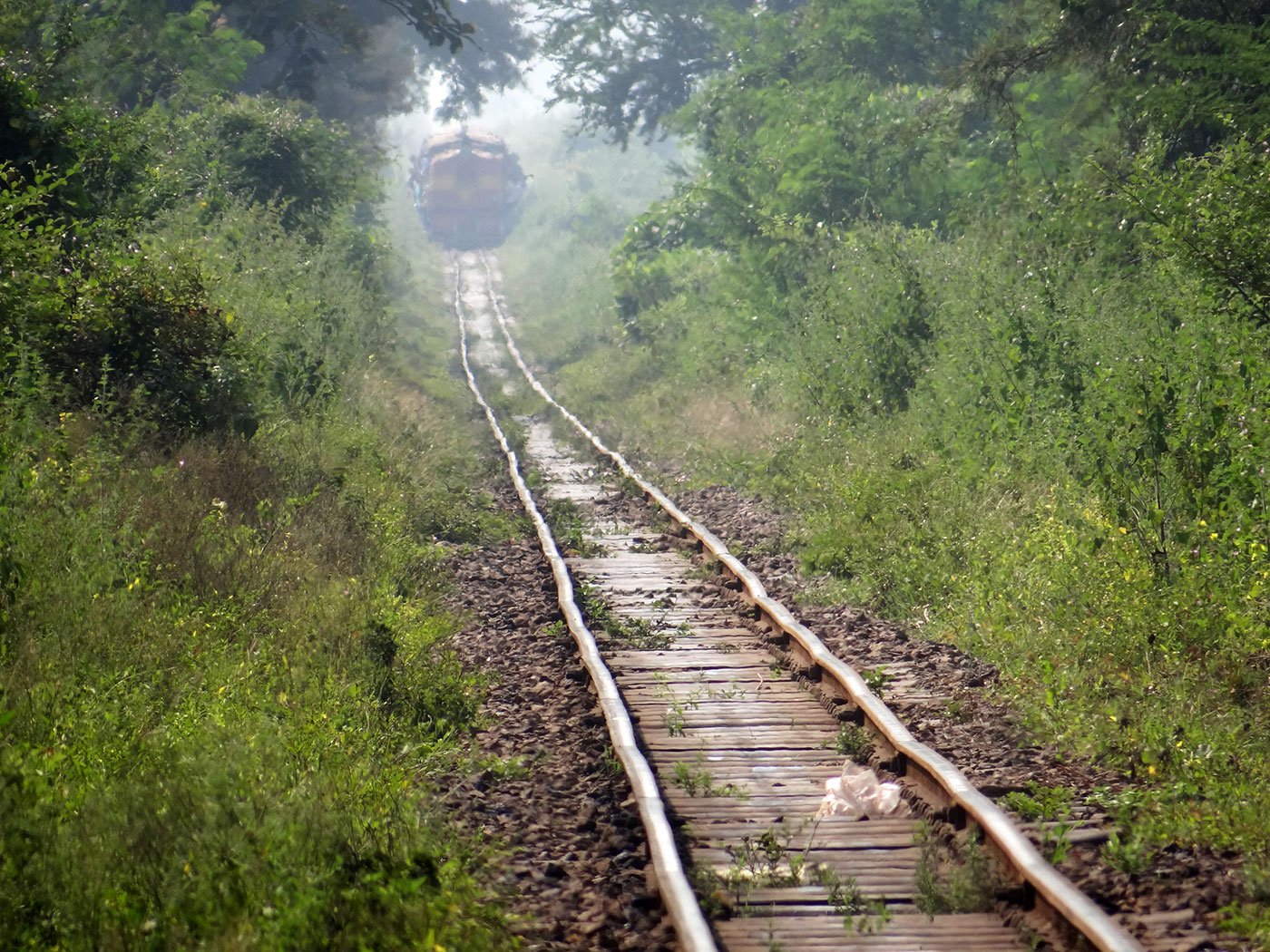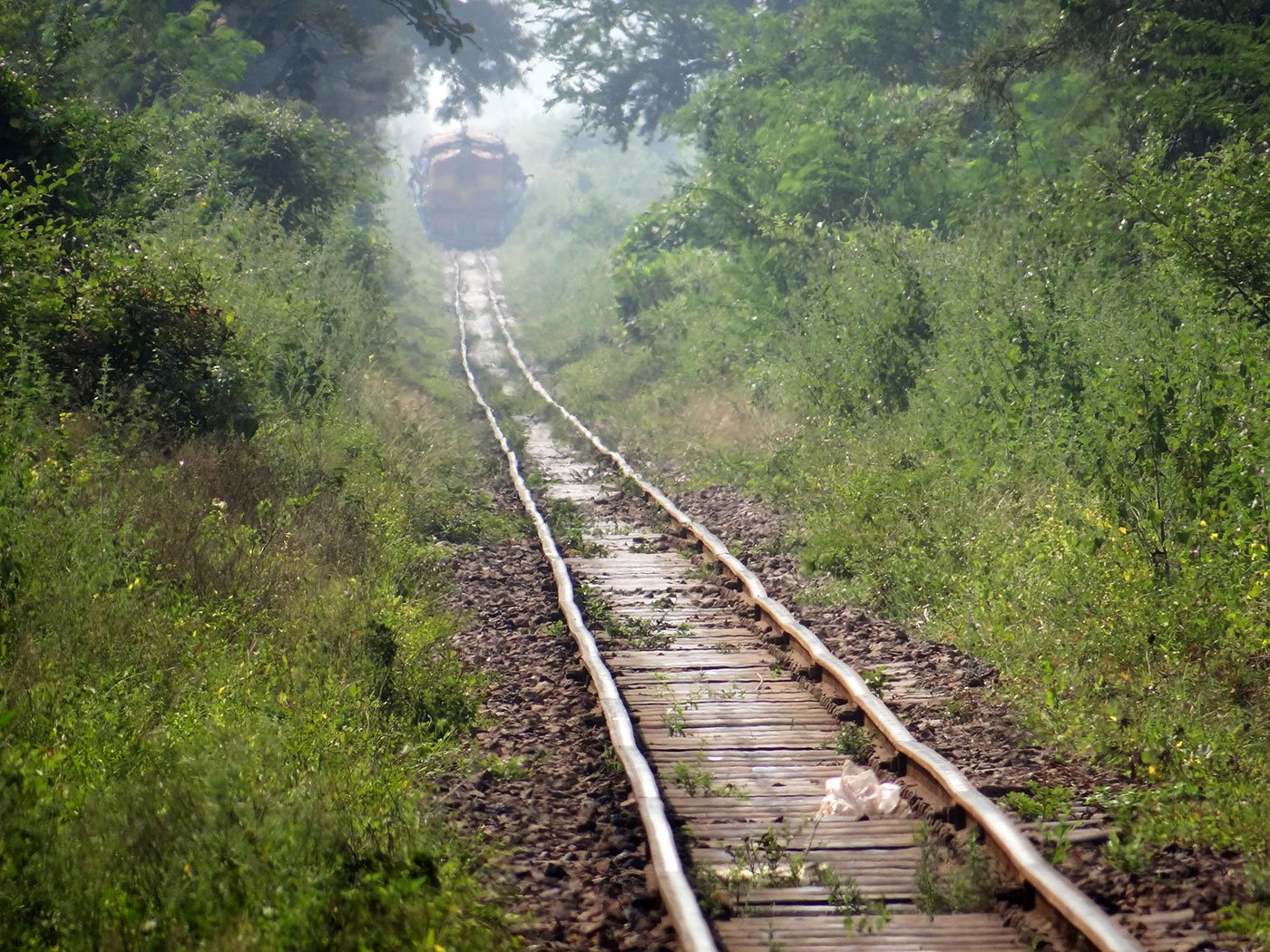 PHOTO • Purusottam Thakur
I assure her that I won't. She continues, "I know how to sell vegetables. Not everyone can do this. For example, you have a job. Can it be done by these labourers?" I shake my head.
Did she attend school? "Not at all. We didn't have enough to eat. My parents worked as daily wage labourers, while I watched over my little siblings. I had never even seen a hundred rupee note!"
Kusum's older son is married and travels to work on the same train. But, she says, "Nowadays, there is farm work in the village, so he is working there. My younger son recently spent Rs. 200-300 a month for six months to get some training on computers. Now he works at the same centre and earns Rs. 3,000-3,500 a month. He does not give me any money, but gives Rs. 1,000 to his sister, who is in the fourth year of a commerce course." Then, she adds, "But I do know how to sign my name. I learnt it from the person who helps me deposit my money into a bank account."
Around two kilometres before Kurud, she points to a house with electric lights and tells me that's her home. When the train begins to slow down, she gets off, holding  her bag of vegetables.
Postscript: In April 2018, the government shortened this train route to 52 kilometres, and took over part of the railways tracks at Raipur for a proposed expressway. The train's last station is now Kendri, not Telibandha. The labourers have been severely affected.
Translated from the original in Hindi by Ruchi Varshneya.