"Oh, are you from Kolkata?" he looks up at me and asks, his eyes glistening. "I have also been to Kolkata and Howrah. So many times. Always in search of work. Sometimes I was lucky, sometimes I wasn't. Eventually, I landed up here."
'Here' is 10,000 feet above sea level in Ladakh. And Raju Murmu, almost 2,500 kilometres away from his home in Jharkhand, draws warmth from memories of a familiar bustling city as the temperature outside his tent in this remote Himalayan desert drops sharply when evening falls. With no electricity, darkness will soon engulf the tents of Raju and his fellow migrant labourers.

Raju, 31, comes regularly to Ladakh from Babupur village in Jharkhand's Dumka district – as do many other labourers – to build some of the highest roads in the country. "It's my fourth year. I came last year too. What to do? There are no jobs in my village," he says. Raju and some nine others from his state live in little tents a couple of kilometres away from their road construction site. They are building a pass between Khardung La (near Khardong village) at 17,582 feet above sea level and the Nubra Valley at 10,000 feet.

The remote and isolated region of Ladakh, historically crucial to cross border exchanges of trade, religion and culture, is fast becoming a hub for migrants from Jharkhand, Chhattisgarh, Bihar, Madhya Pradesh and other parts of the country. The new administrative status of Ladakh has made it possible for private builders to make inroads into the region. The administration of the Union Territory, along with the Border Roads Organisation, has also accelerated infrastructure projects in areas of commercial and military importance. This has meant an increased flow of migrant workers into Ladakh.

You can see them by the roadside, at times along with their families, in canvas tents no more than 11 x 8.5 feet. These improvised camps keep shifting ahead as the roadwork progresses. Each crowded tent, full of bags, belongings and utensils, functions as home for close to 10 people, who sleep on bare rugs on the cold ground. They live without electricity, battling harsh winters, and often work in sub-zero temperatures without proper safety gear. The unforgiving climate, the inordinate cost involved in infrastructure projects, and a lack of quality mechanical equipment means the workers build and rebuild roads while lifting and carrying heavy loads manually. All this unfolds in a high-altitude terrain where the oxygen level is low, and payment for the gruelling work is inadequate to sustain a family.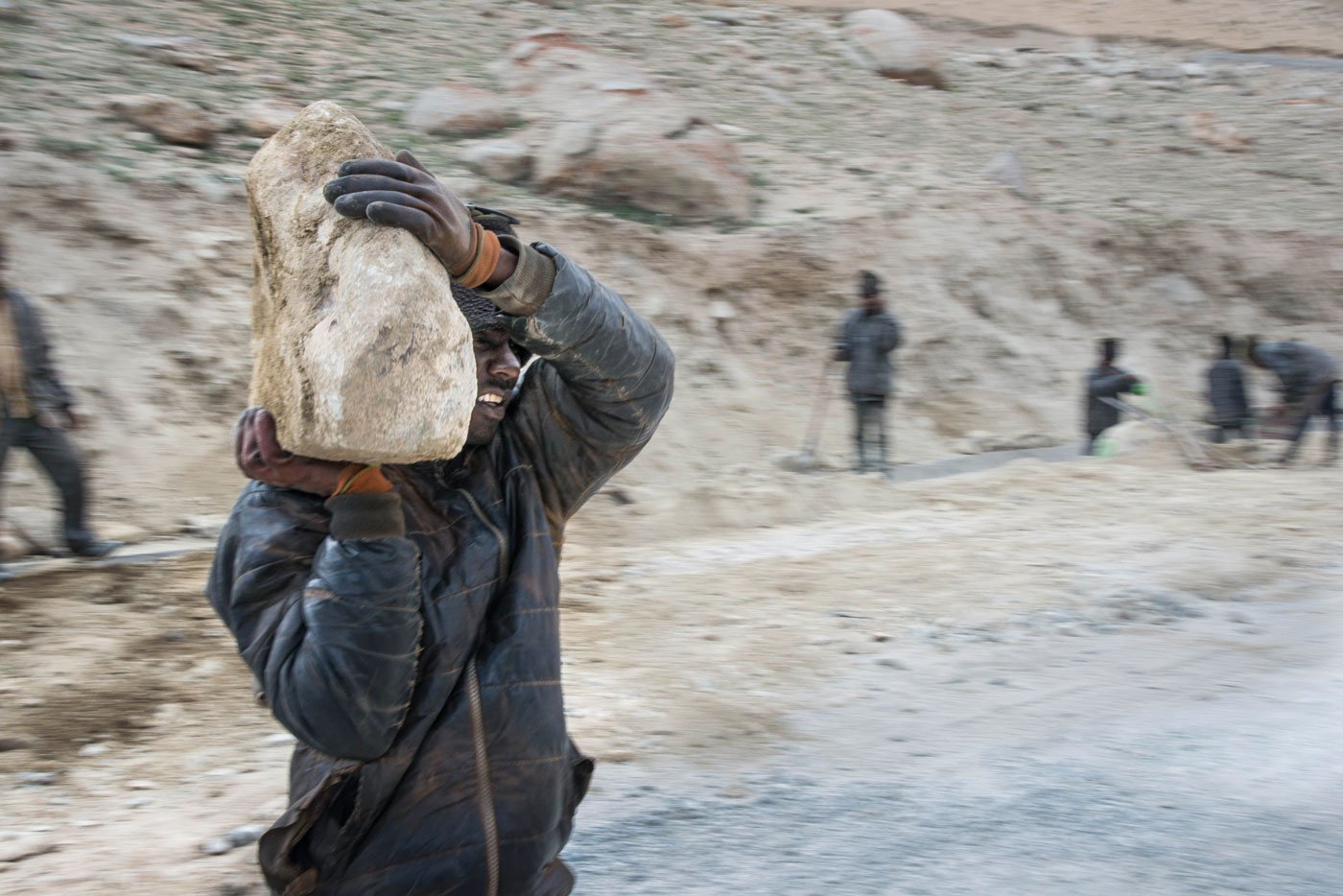 PHOTO • Ritayan Mukherjee
"I can save barely 22,000 to 25,000 rupees over a period of 5 to 6 months by the time I go back. That is nothing for a family of six," says Ameen Murmu, who in his mid-40s and has come here from Dumka. Workers like him earn between Rs. 450 and Rs. 700 a day, depending on the nature of the tasks assigned to them. Speaking to us at his camp in North Pullu in Khardung La, this father of two boys aged 14 and 10, is upset that their education has come to a standstill with the pandemic. He had no money to buy them a smartphone when schools went online. "In my area, the majority of the families can't afford one. My elder son has stopped studying. If I save some extra amount, I will buy a smartphone for the younger one. But who will bear the internet charges every month?" he asks.
In the camp next to Ameen's is a group of workers playing cards as I walk in. "Sir, please join us. It's Sunday – a holiday," says 32-year-old Hamid Ansari, who too is from Jharkhand. This is an amiable and chatty group. One of them speaks up: "Being from Kolkata, you must know how badly Jharkhand has suffered because of Covid. So many deaths and innumerable lost jobs. Last year we barely managed, living hand to mouth. So this year [2021] we arrived here without wasting time."

"I have been coming to Ladakh since the early 1990s as a construction worker. But last year was the scariest," says Ghani Mia, another member of this Jharkhandi group, in his 50s, who came here during the first phase of unlocking in June 2020. "Upon arrival, we were sent to quarantine centres. After 15 days there, we were able to join work. But those two weeks were terrifying, mentally."

On the way back to Leh town, I meet another young group from Jharkhand. "We came here to cook, to support the workers," they say. "We don't even know how much our daily payment actually is. But it's better to work here than lead an idle life there [in the village]." For each one of them, with stories to tell about their families battling the realities of the pandemic at home, there is one relief – they all have received their first dose of the Covid-19 vaccination ( See: In Ladakh: a shot in the arm at 11,000 feet ) .
.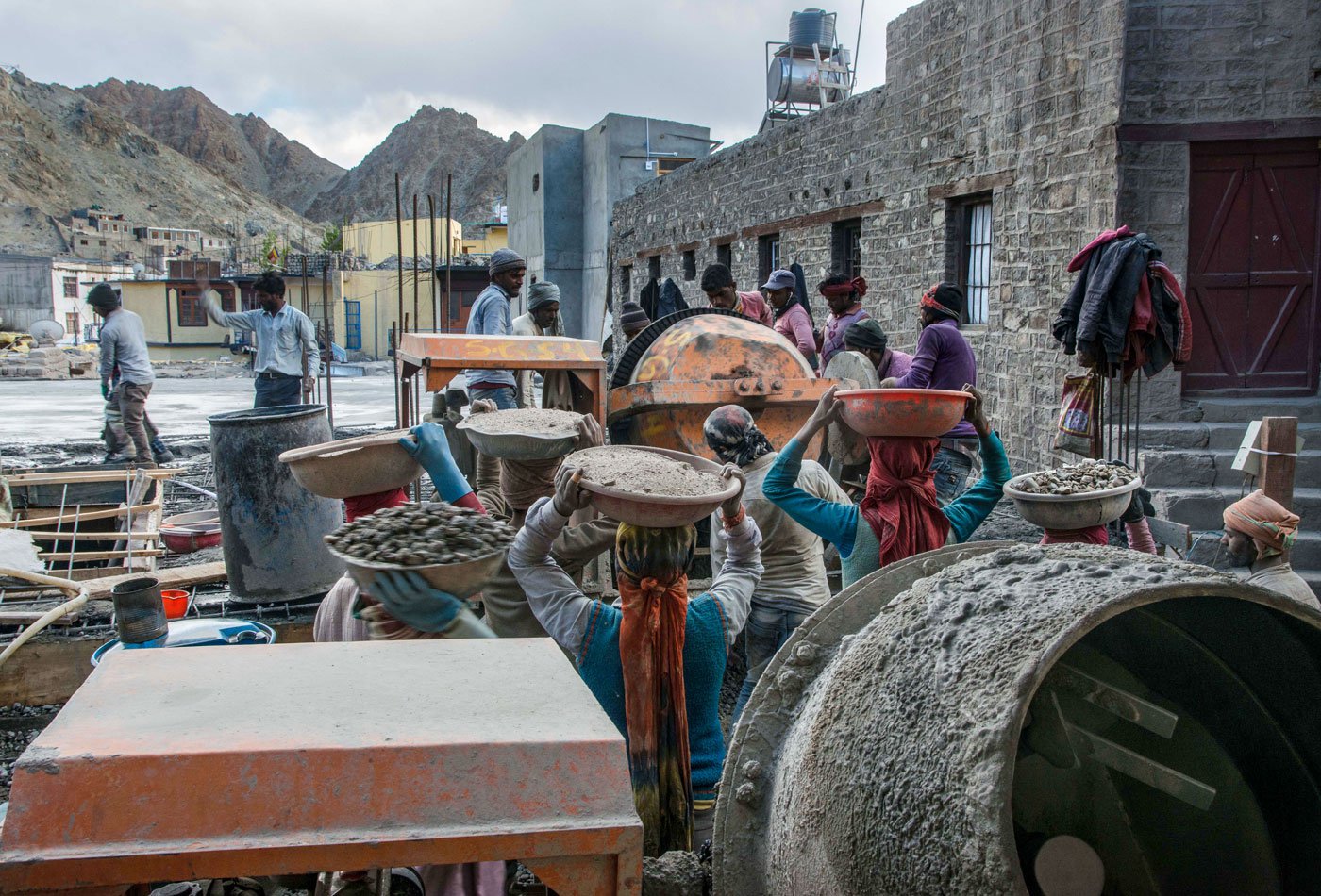 PHOTO • Ritayan Mukherjee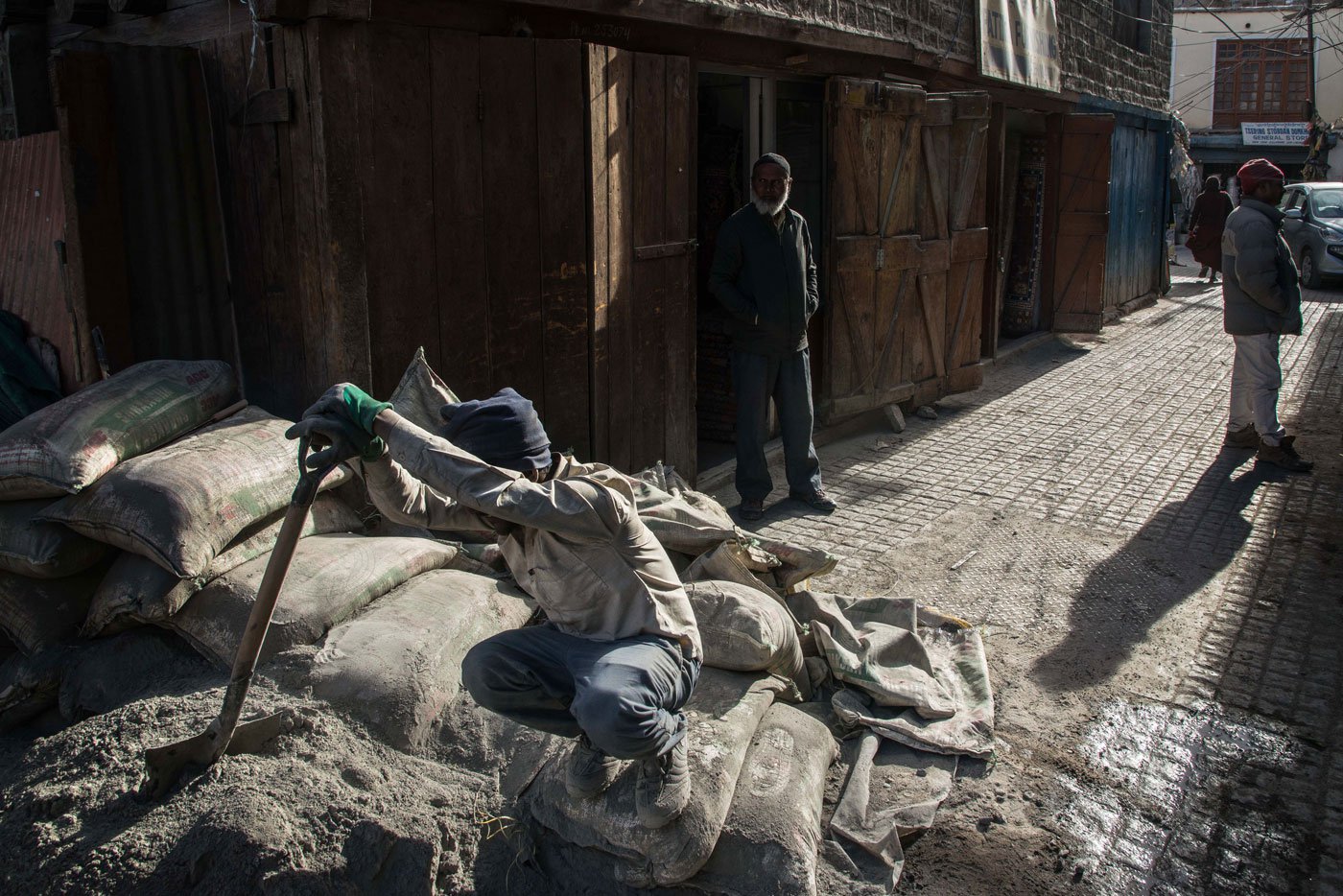 PHOTO • Ritayan Mukherjee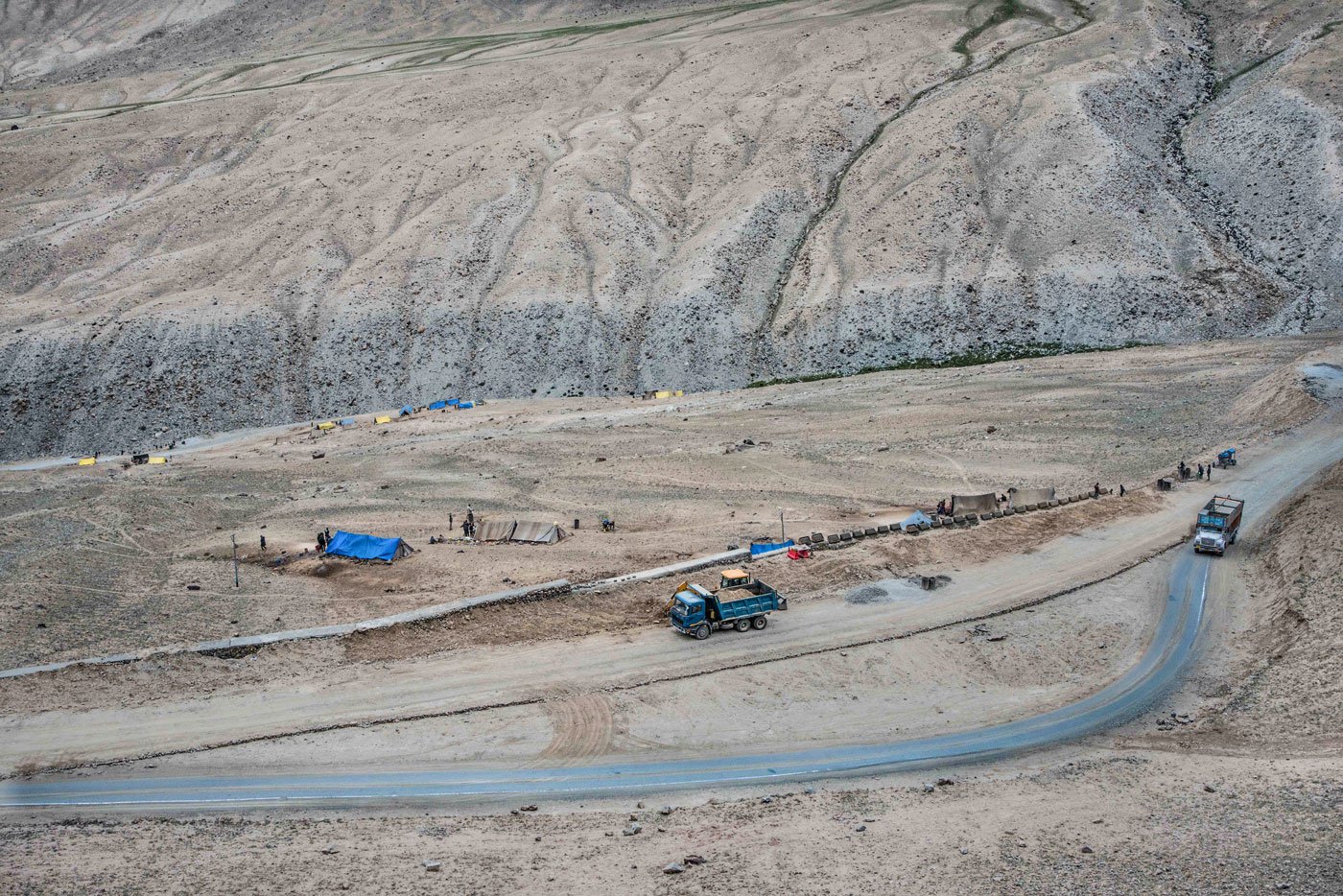 PHOTO • Ritayan Mukherjee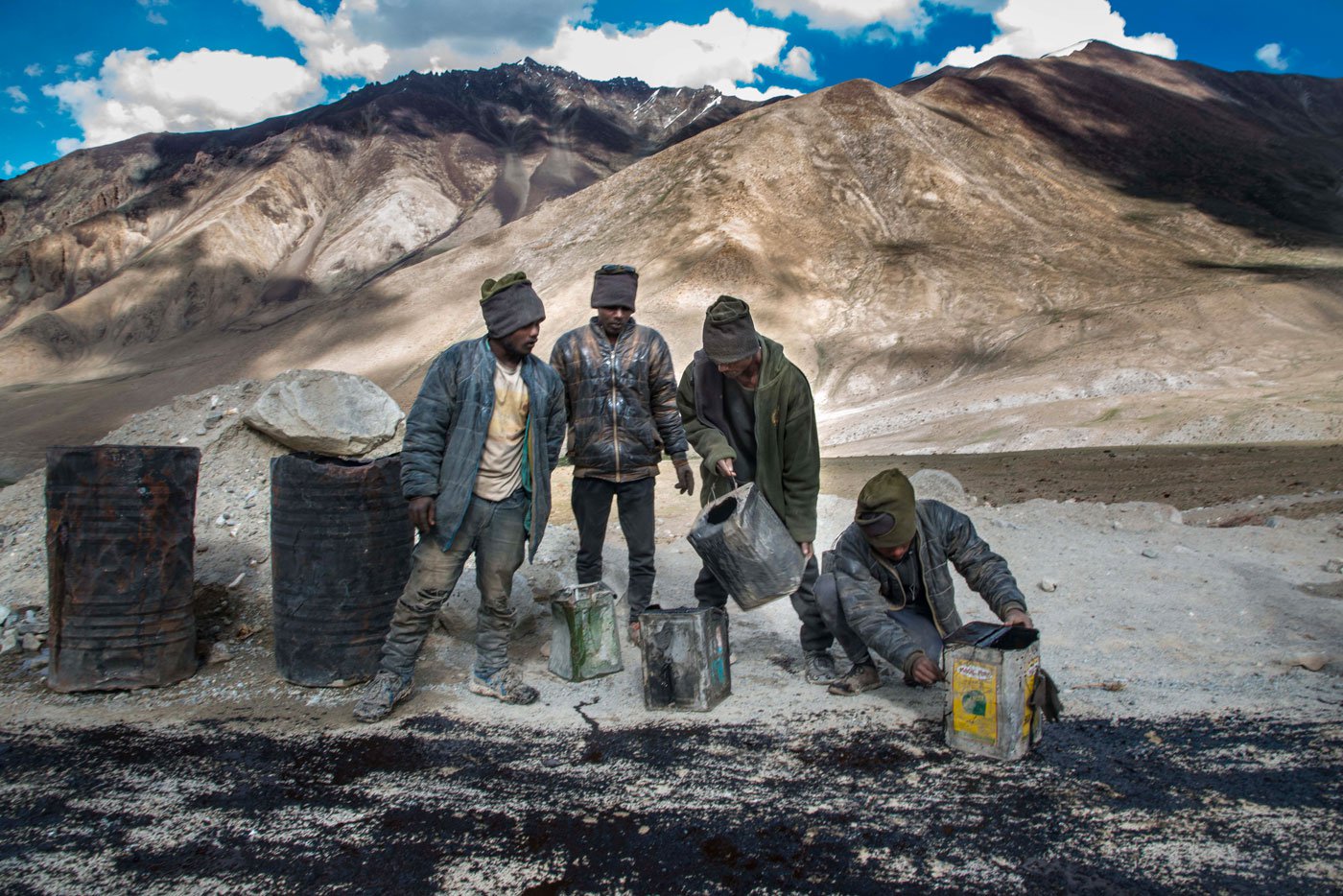 PHOTO • Ritayan Mukherjee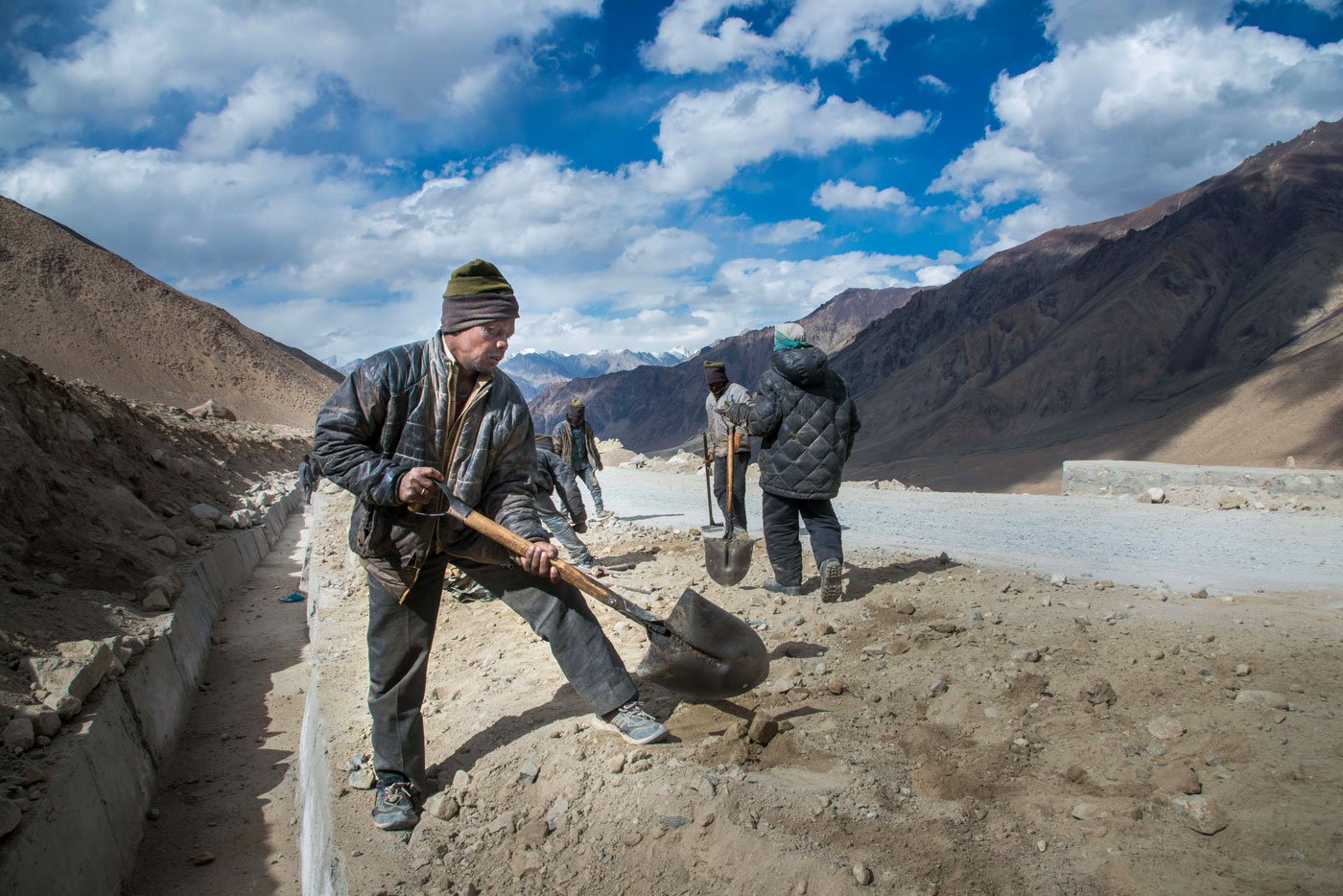 PHOTO • Ritayan Mukherjee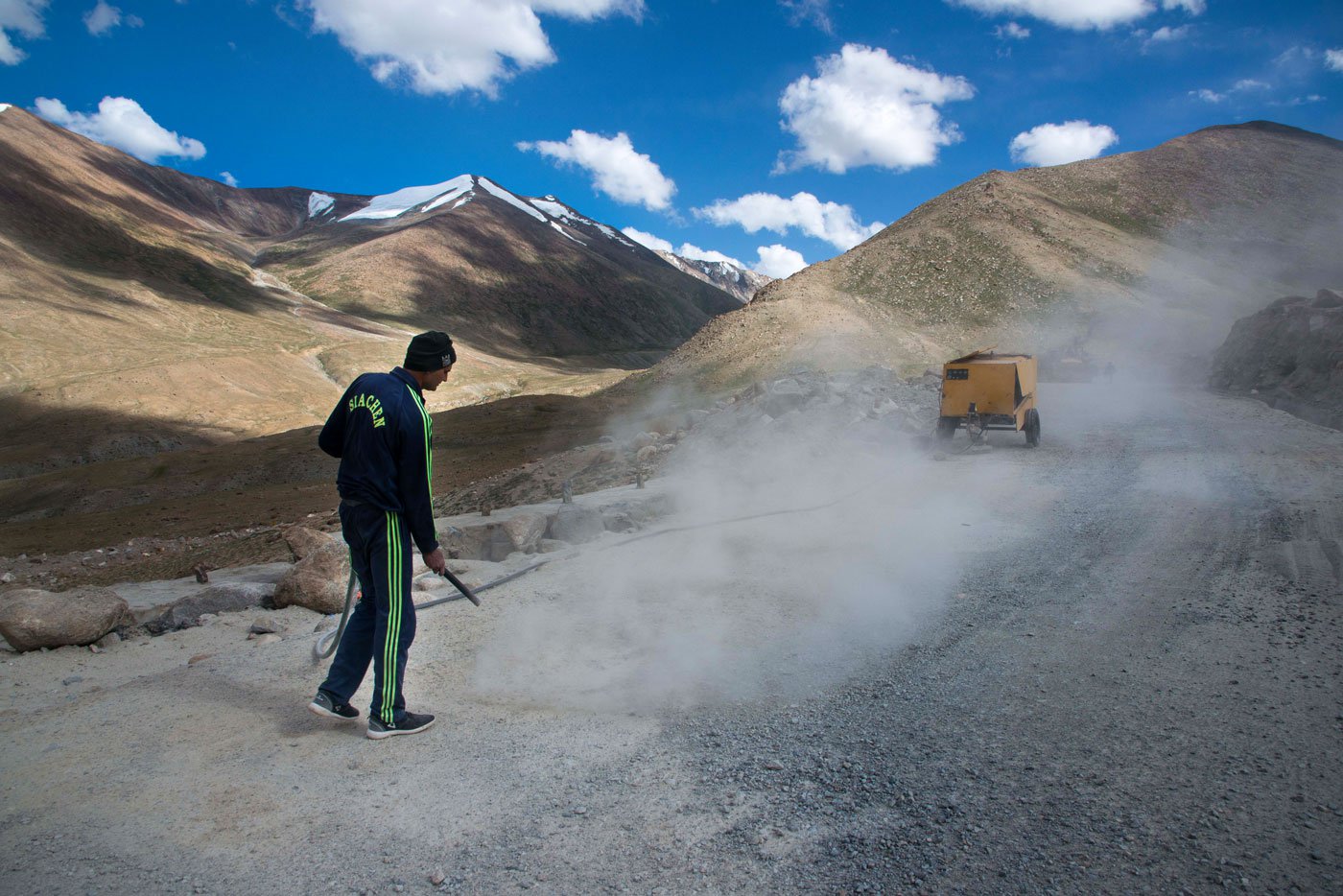 PHOTO • Ritayan Mukherjee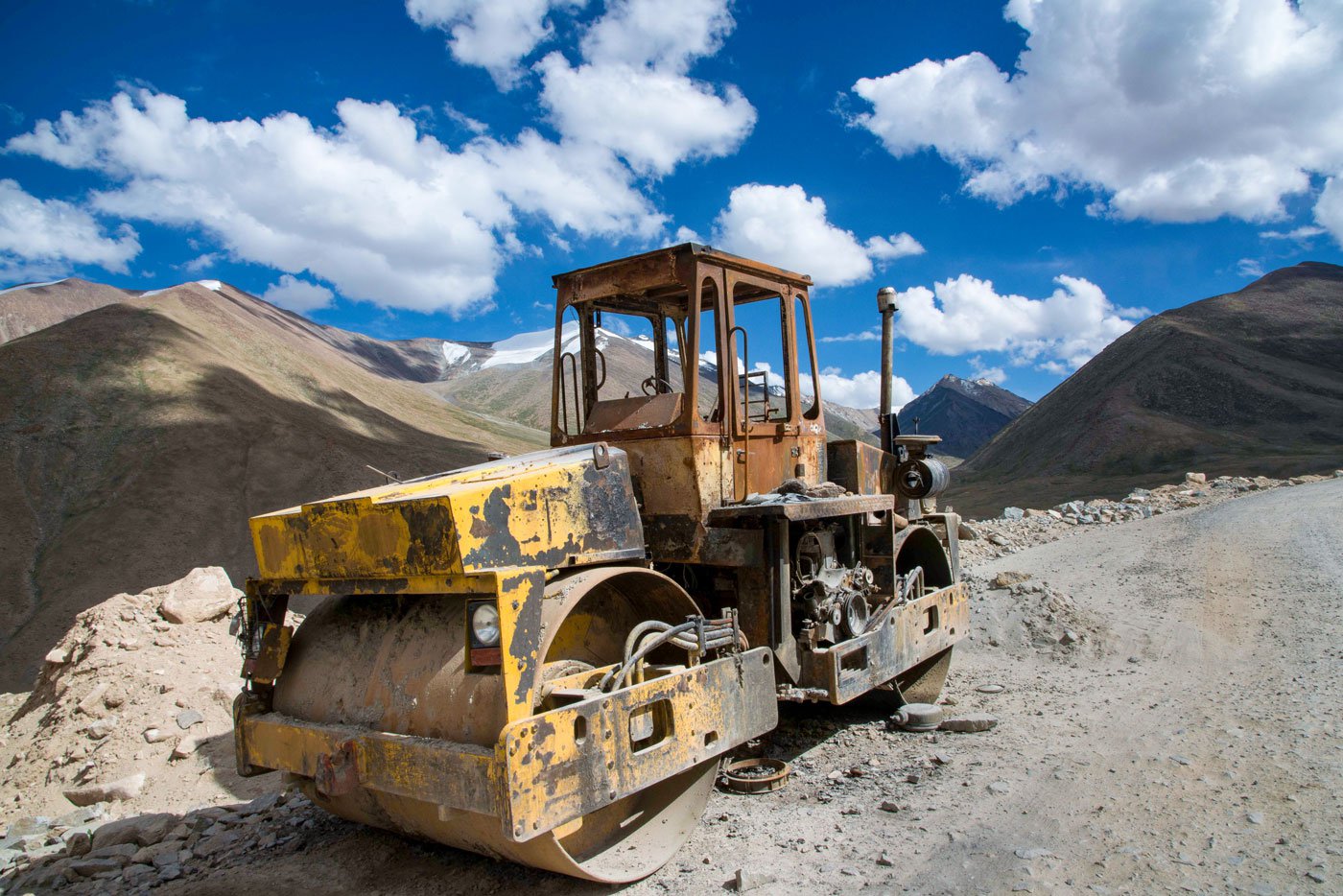 PHOTO • Ritayan Mukherjee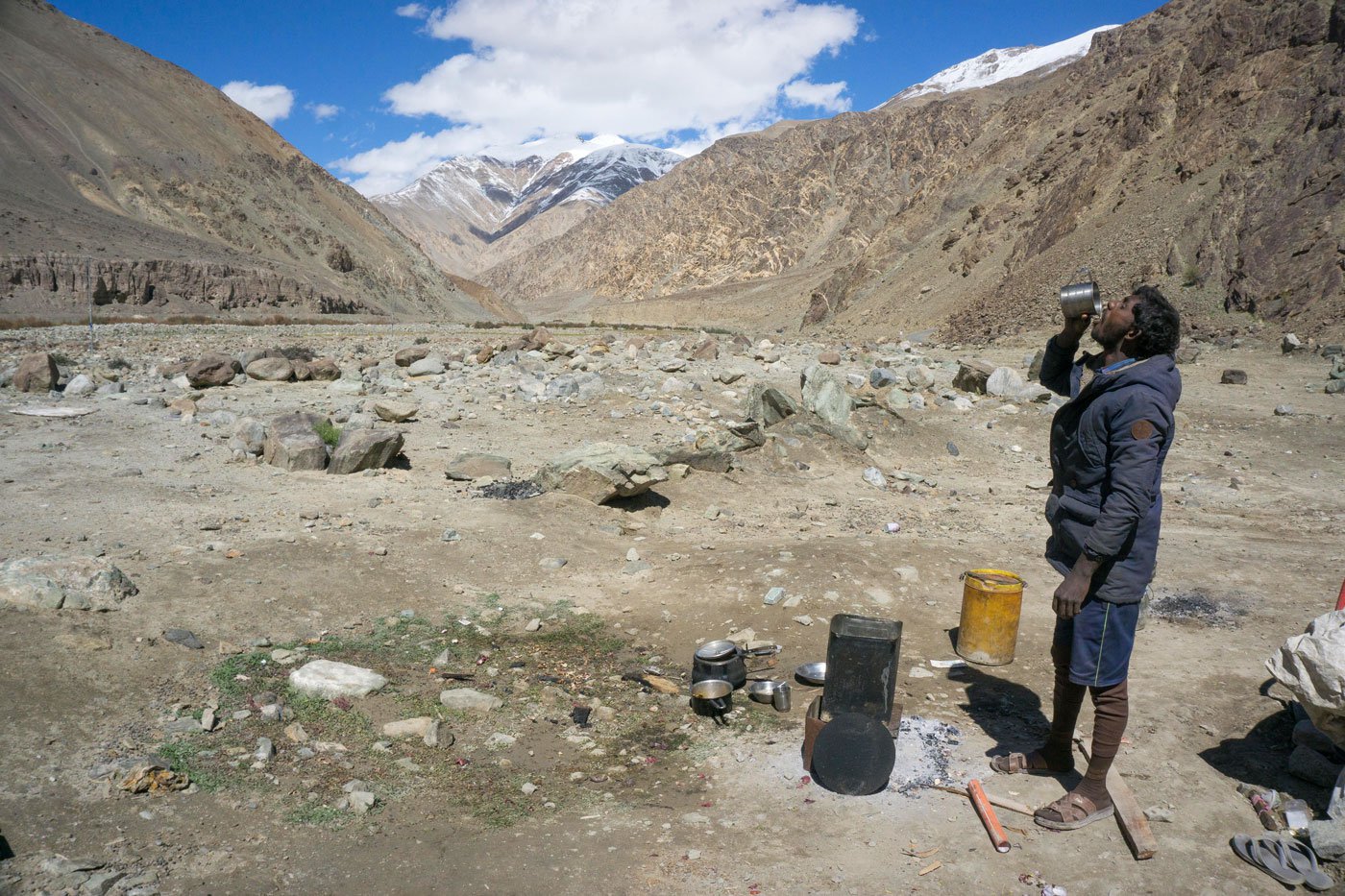 PHOTO • Ritayan Mukherjee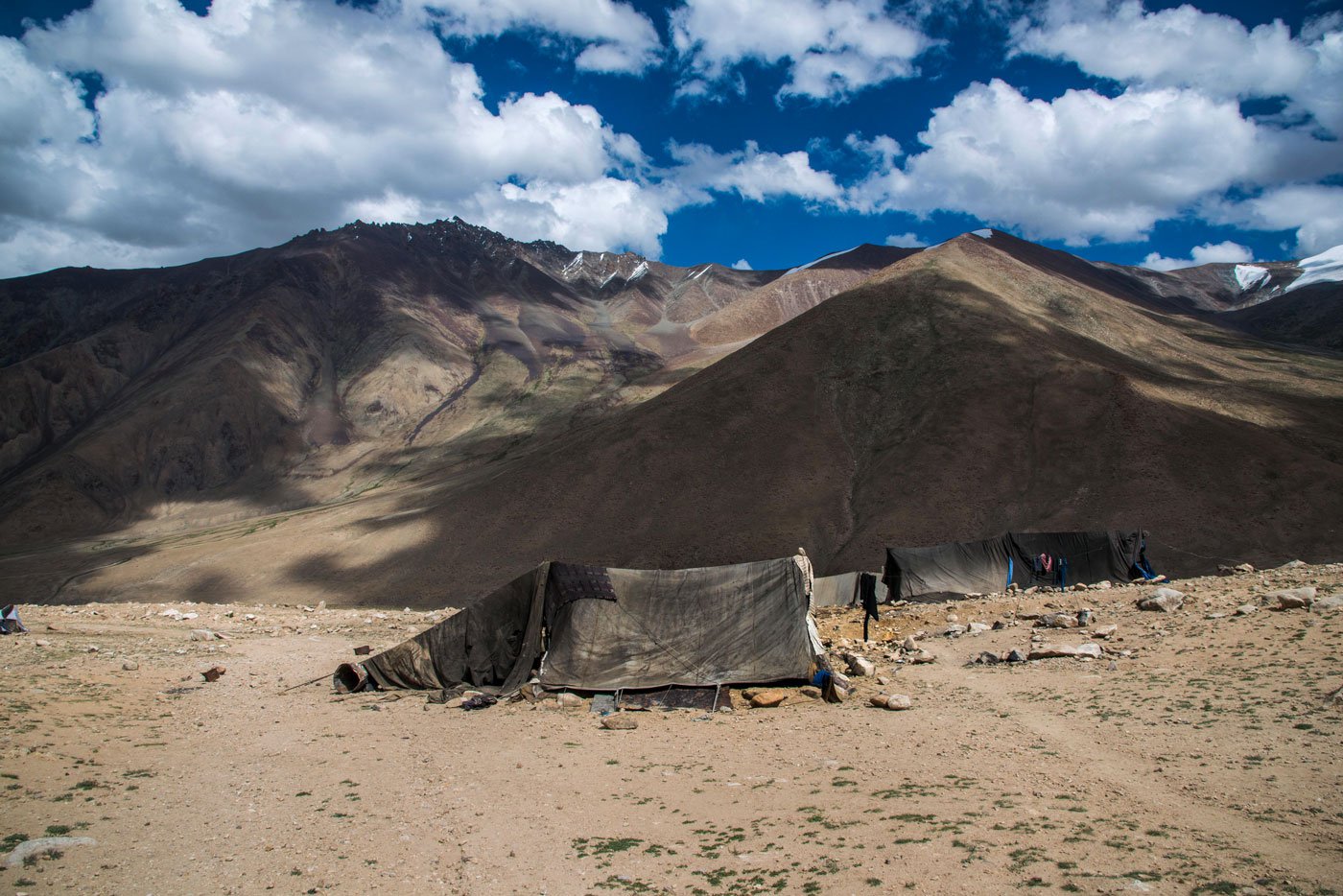 PHOTO • Ritayan Mukherjee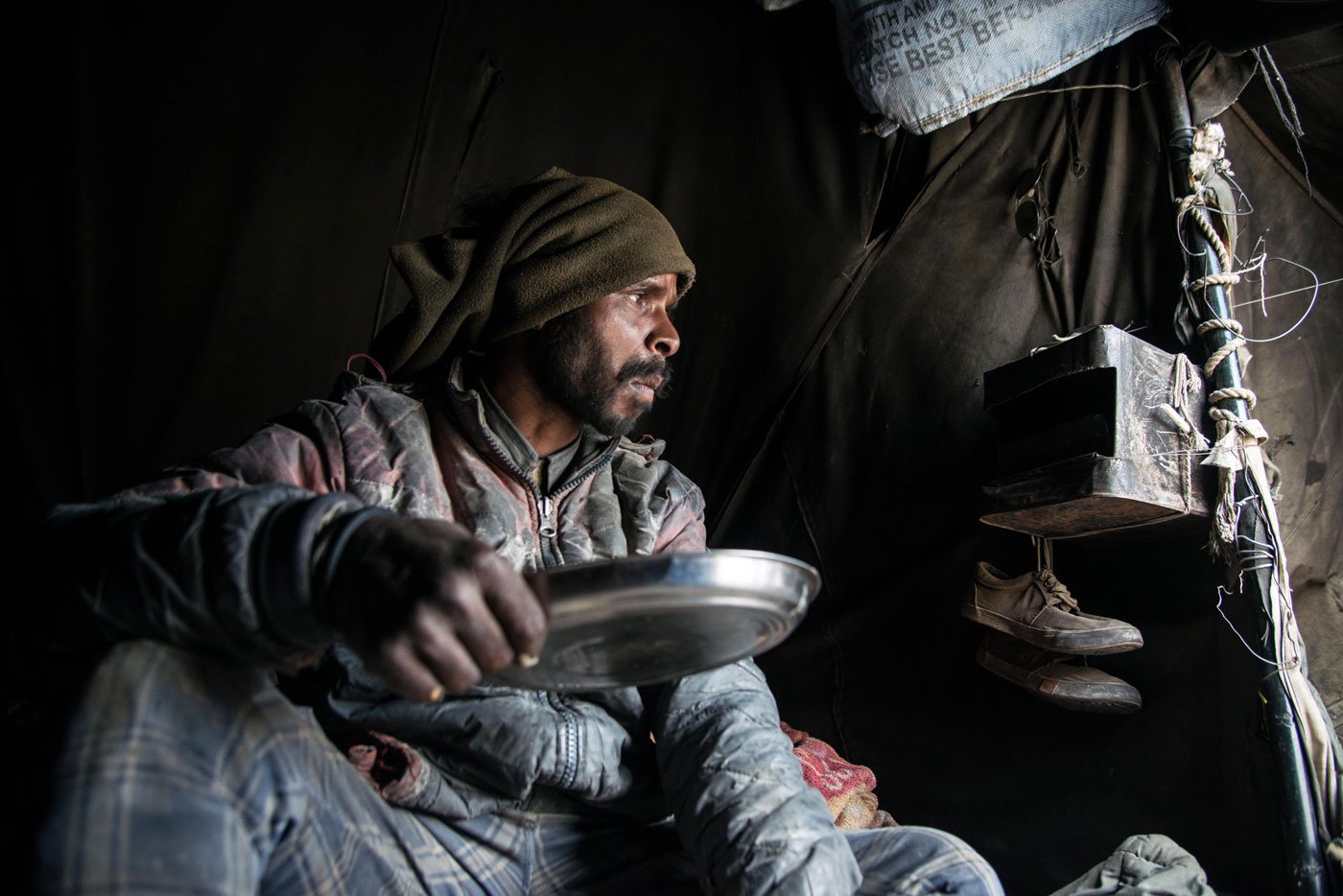 PHOTO • Ritayan Mukherjee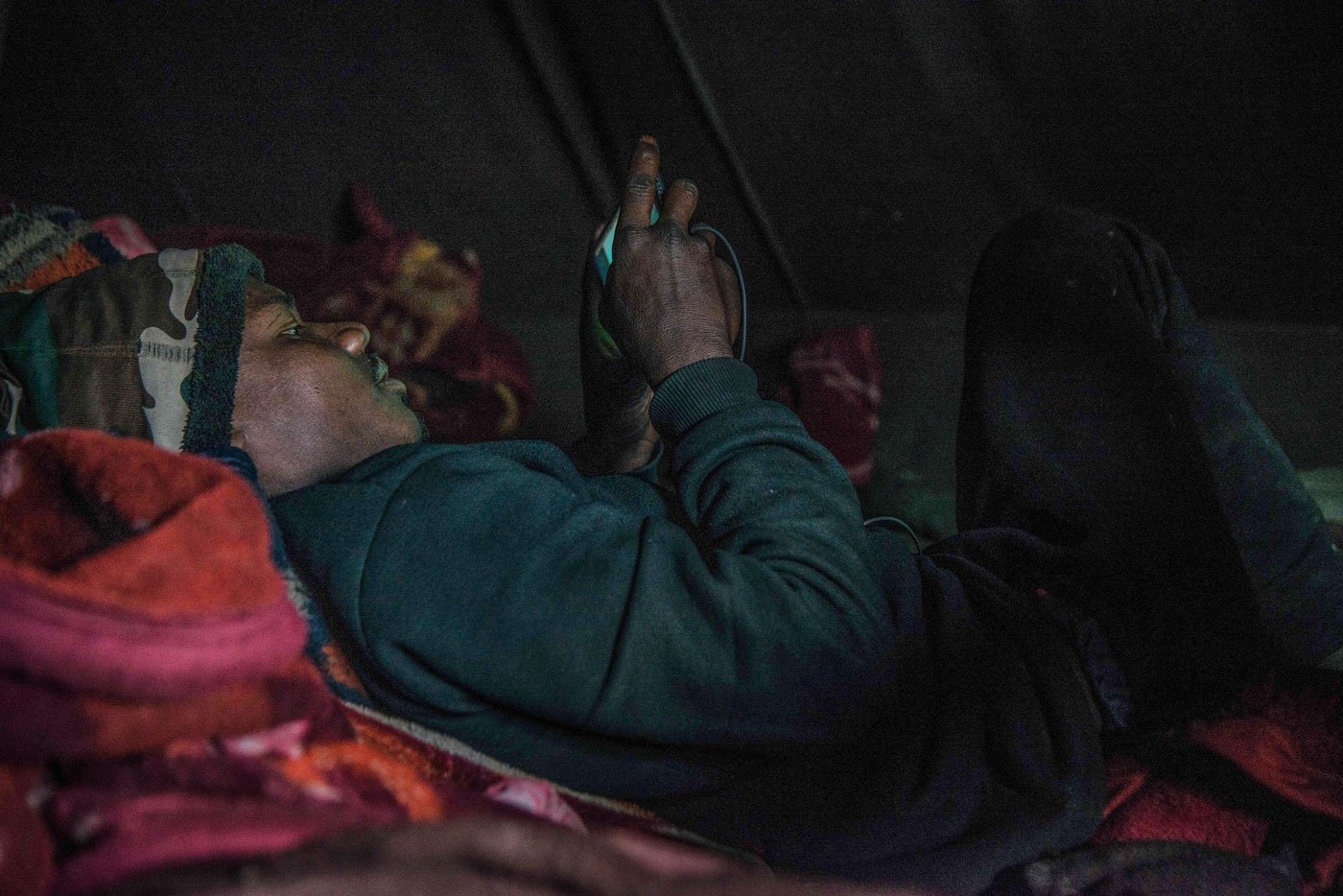 PHOTO • Ritayan Mukherjee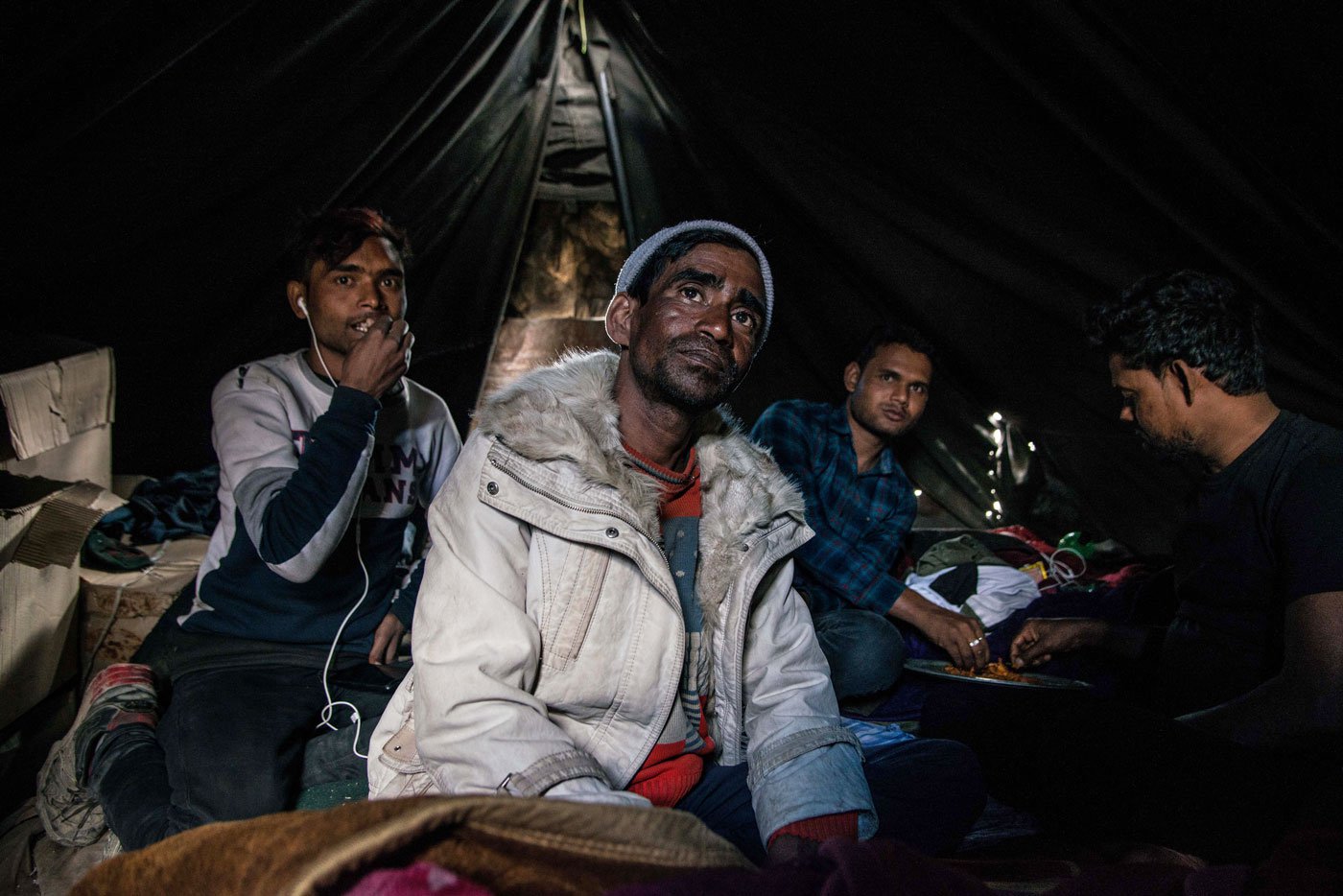 PHOTO • Ritayan Mukherjee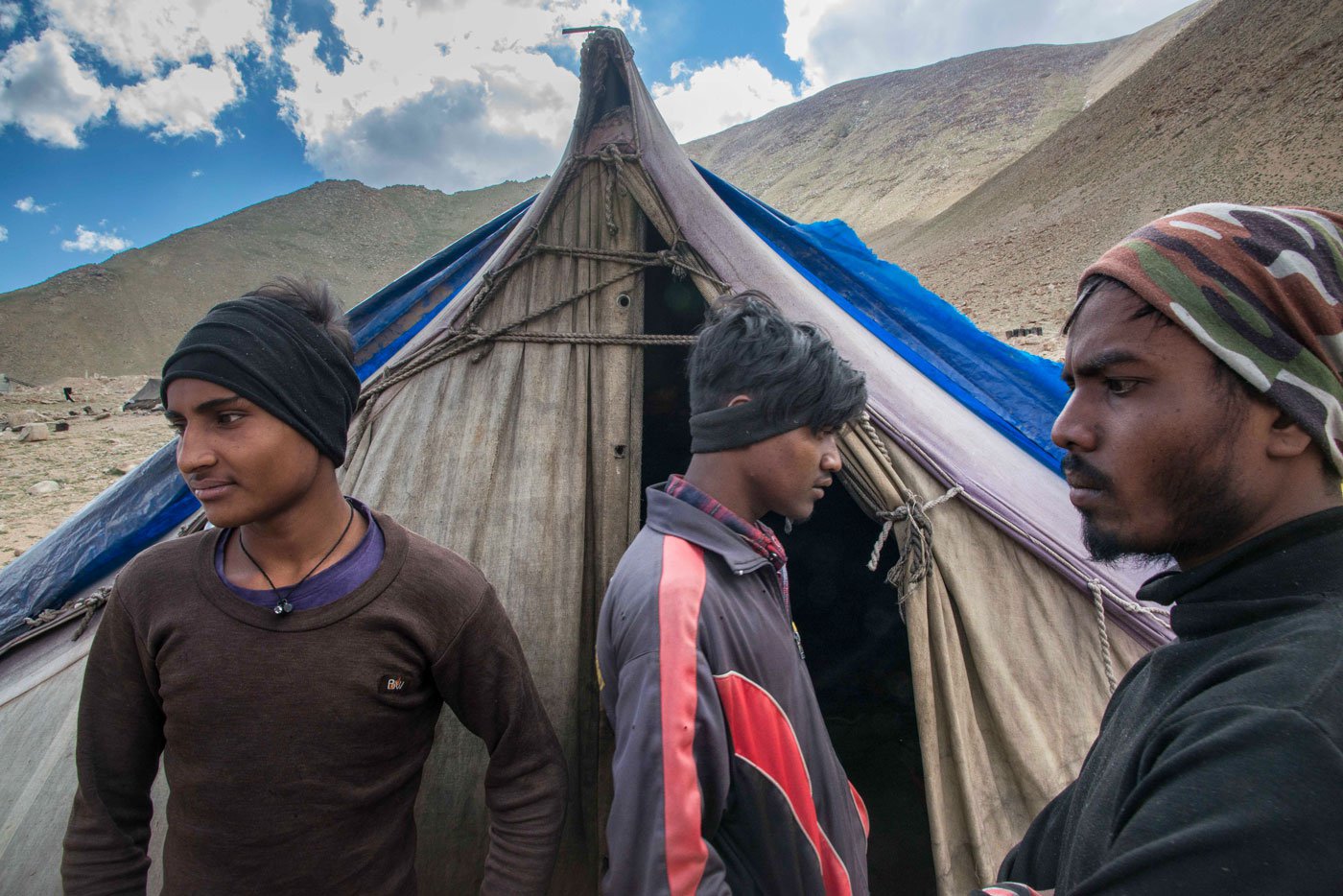 PHOTO • Ritayan Mukherjee
PHOTO • Ritayan Mukherjee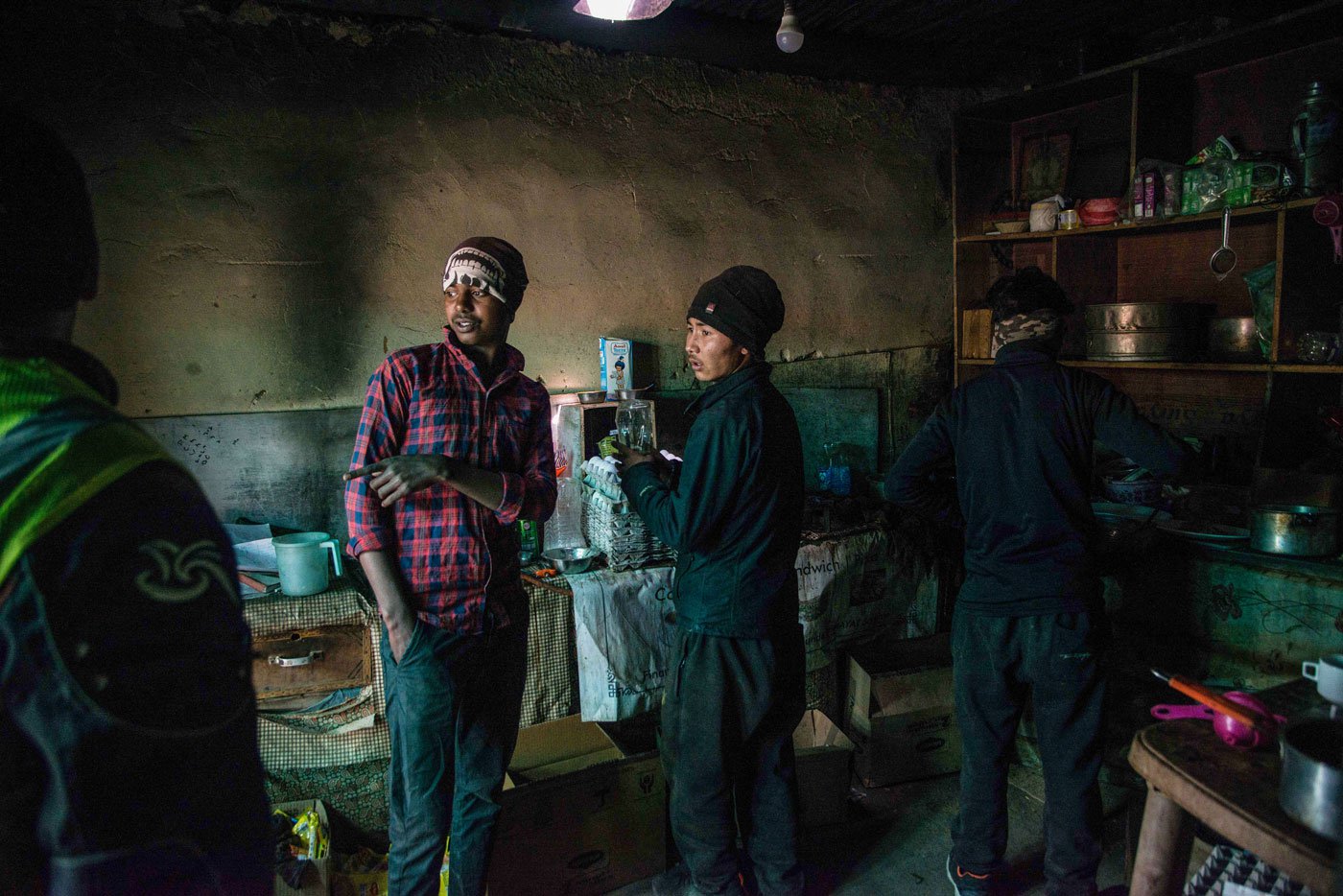 PHOTO • Ritayan Mukherjee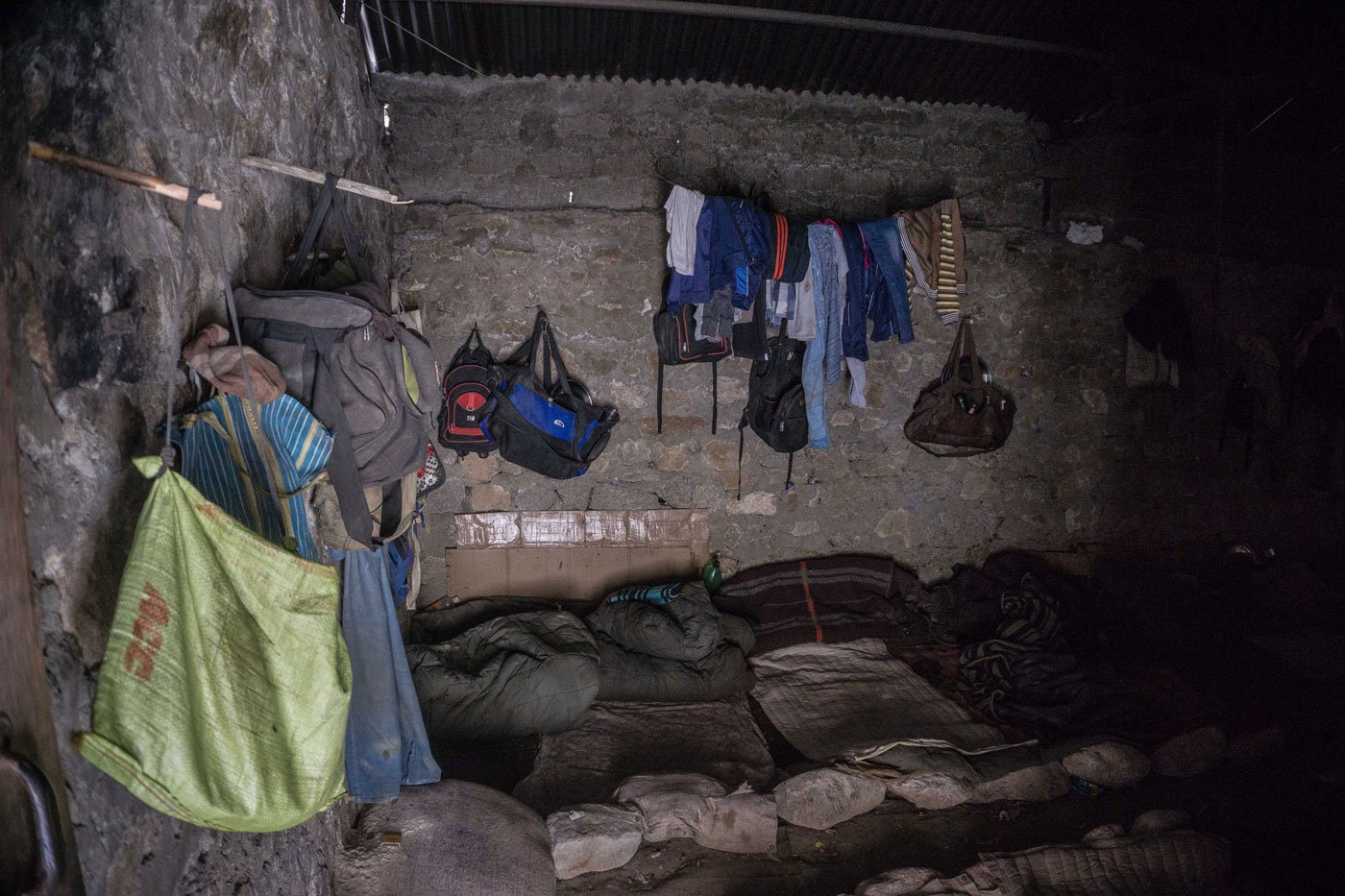 PHOTO • Ritayan Mukherjee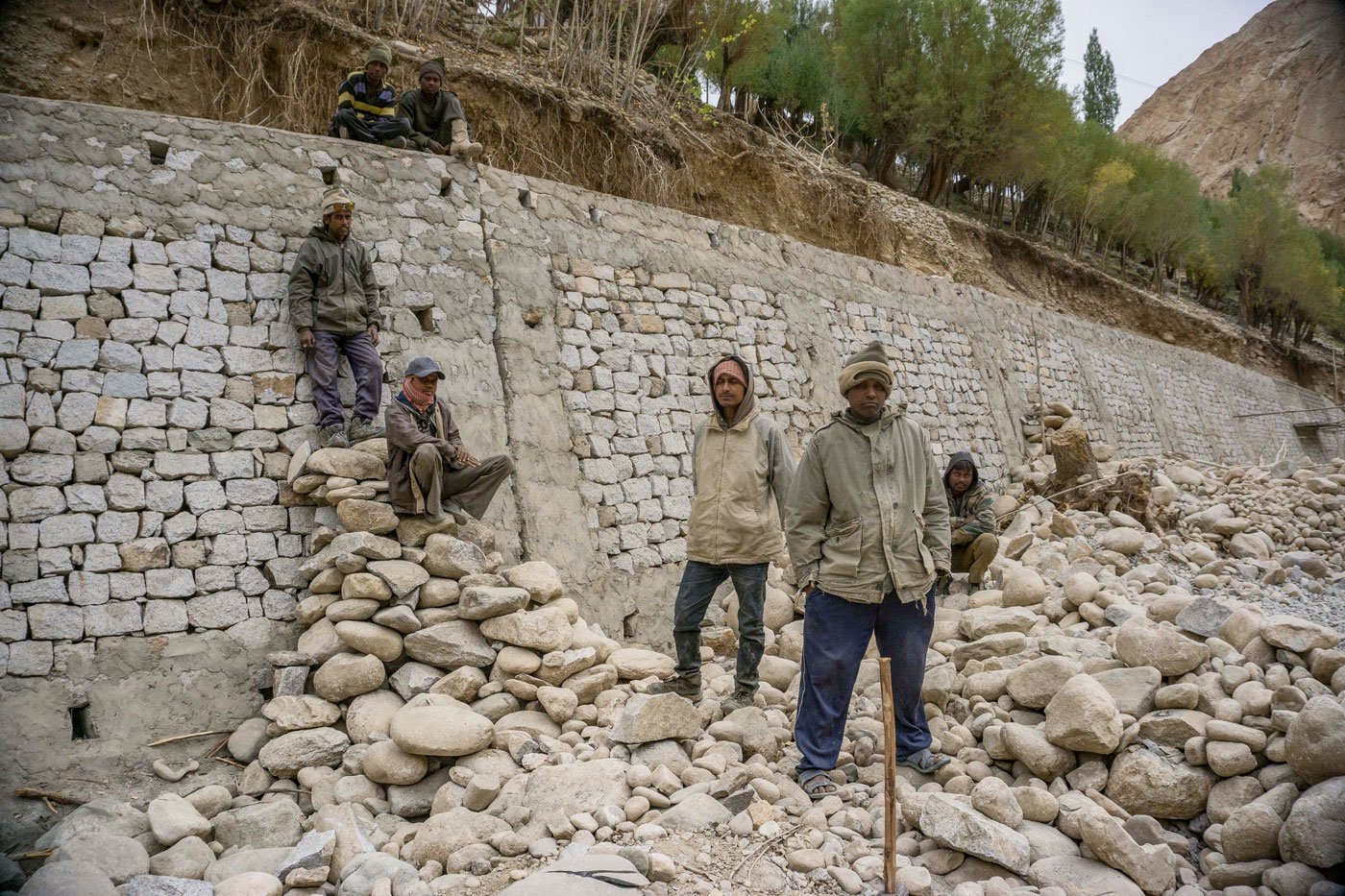 PHOTO • Ritayan Mukherjee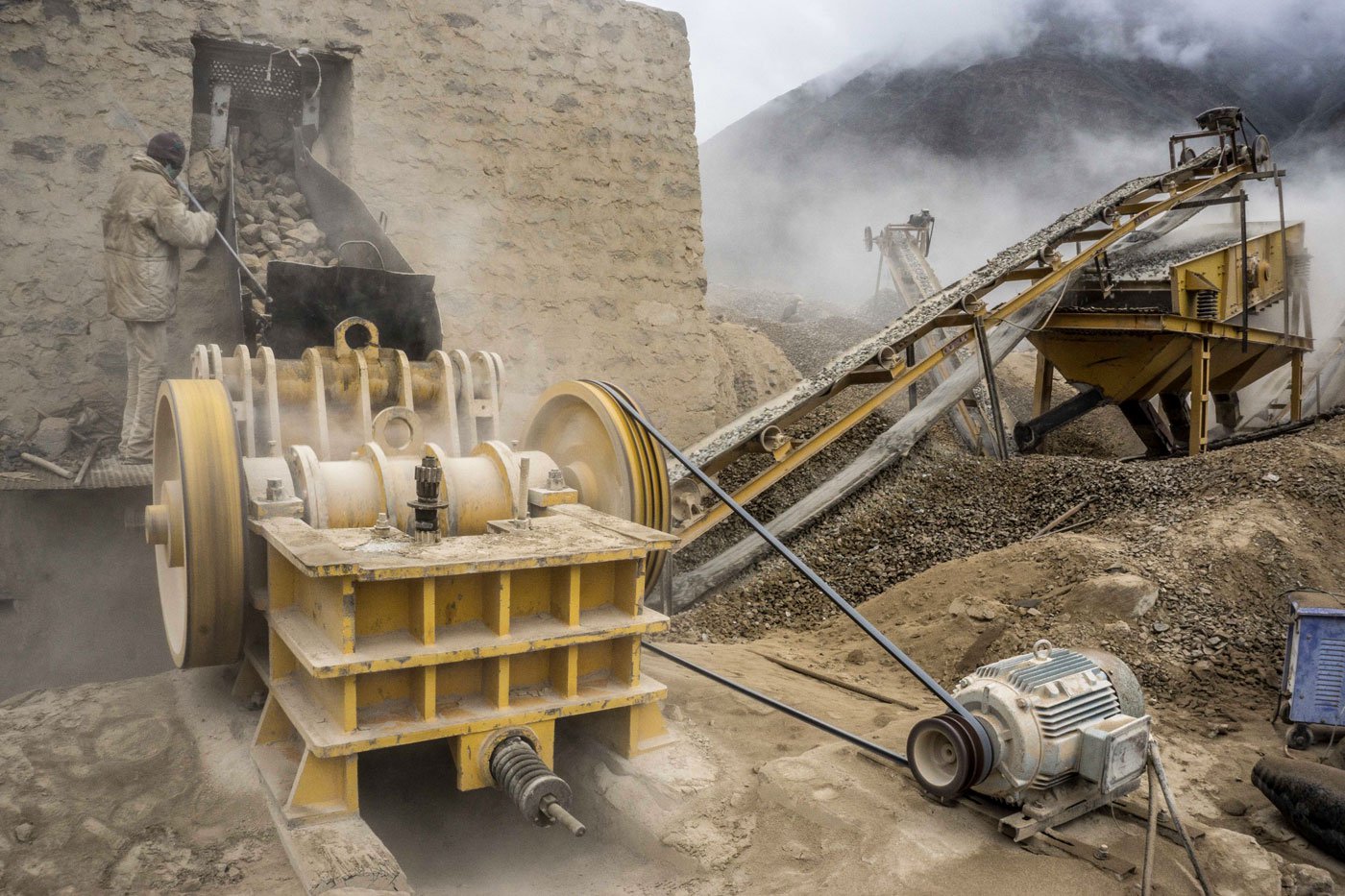 PHOTO • Ritayan Mukherjee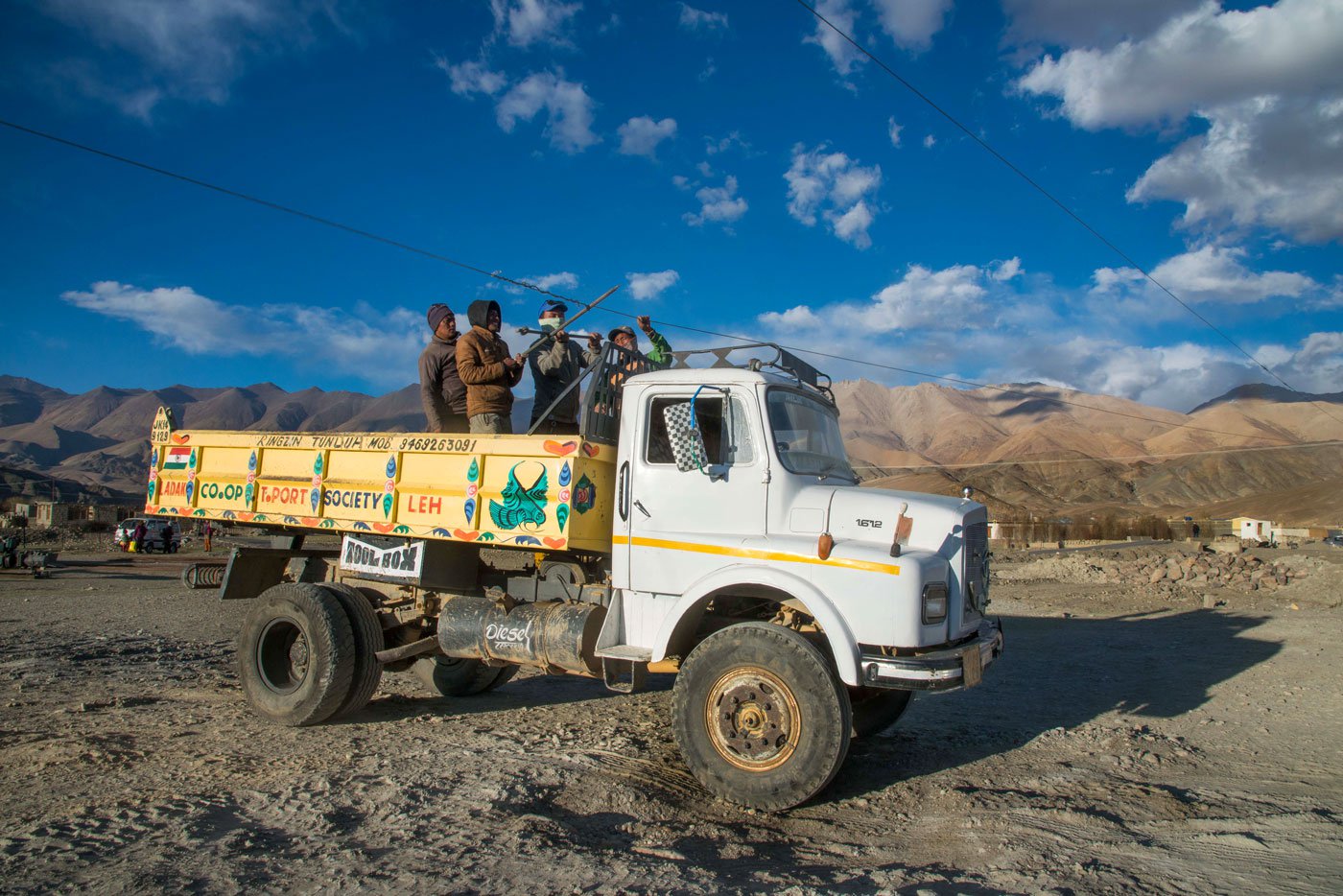 PHOTO • Ritayan Mukherjee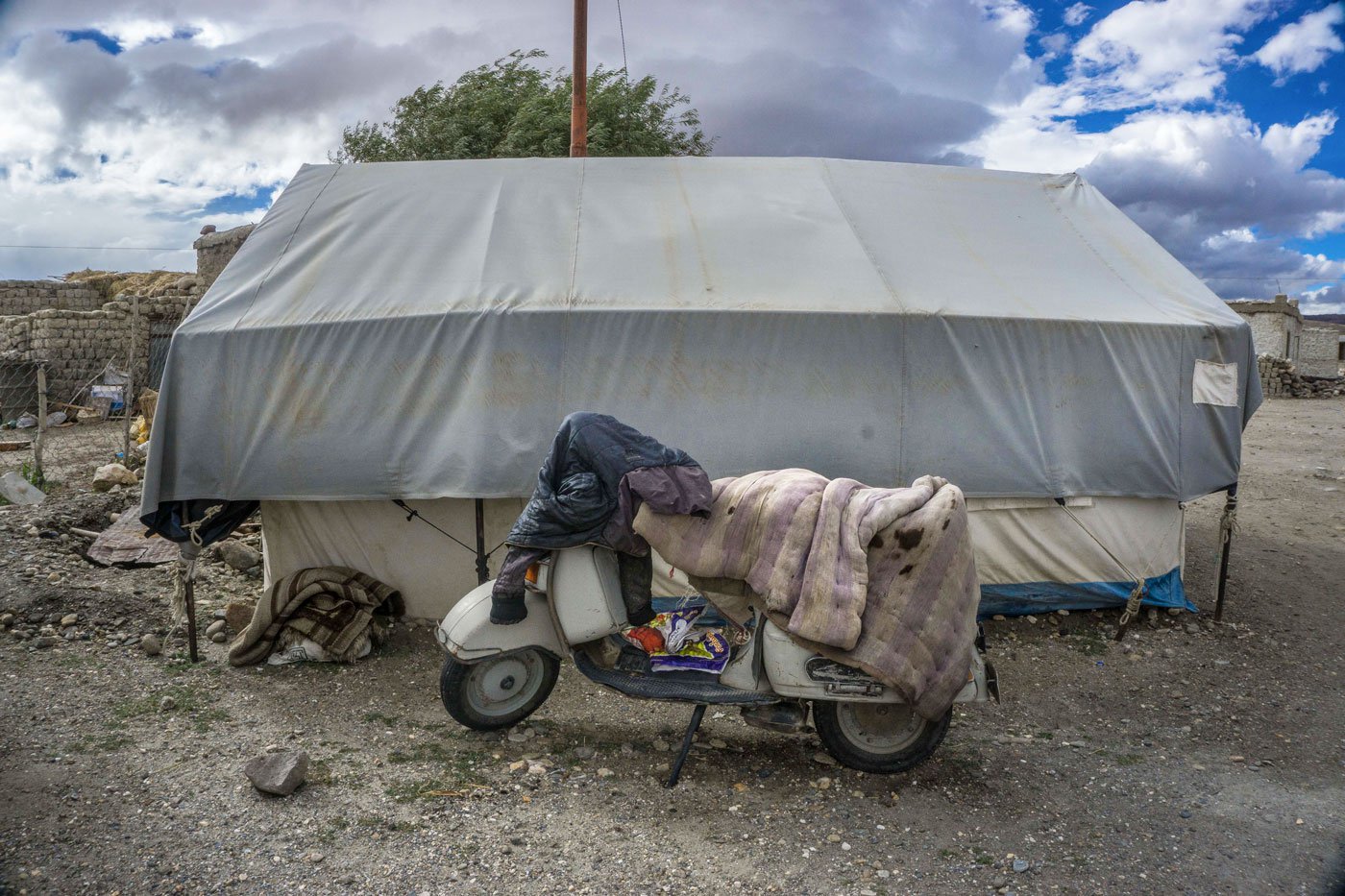 PHOTO • Ritayan Mukherjee