It's around 10 a.m. on a Thursday in September 2017. Lalti Devi Paswan and Shoba Bharti are waiting on a plastic bench outside the district magistrate's office in Robertsganj town of Sonbhadra district in Uttar Pradesh. The women are calm. They have done this many times.
Lalti Devi and her husband Shyamlal have over 20 criminal cases registered against them. She has come to tell the DM that some people in the village are spreading rumours about her – to undermine her credibility and the work of her union – calling her a dayan , a witch, making her life even more difficult. "It is important to see the DM. They have to hear our voices and see us so that we can use the kanoon [law] to change things," Lalti, who is in her 60s, says.
"I am waiting for justice," says Shoba, who is in her 50s. "I have come to file my application for compensation. The local government has to give this support [to women who have been raped], but the DM hasn't moved my file forward." Shoba and her husband have also been accused by the Forest Department of illegally cutting down trees, and their names are included in other group cases, often for acts they say they had no part in.
Both women, who are from Dalit communities, patiently wait for an hour to go into DM Pramod Upadhyay's office. With them are Roma Malik, general secretary of the All India Union of Forest Working People (AIUFWP), and others from the union's office in Robertsganj. Malik has been working in Sonbhadra district for 18 years. "There are several cases of police brutality that we want to discuss with the administration," she says.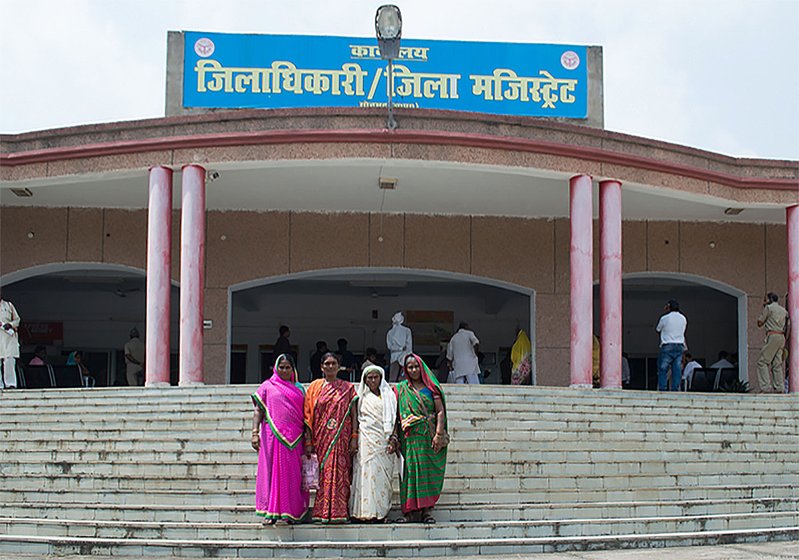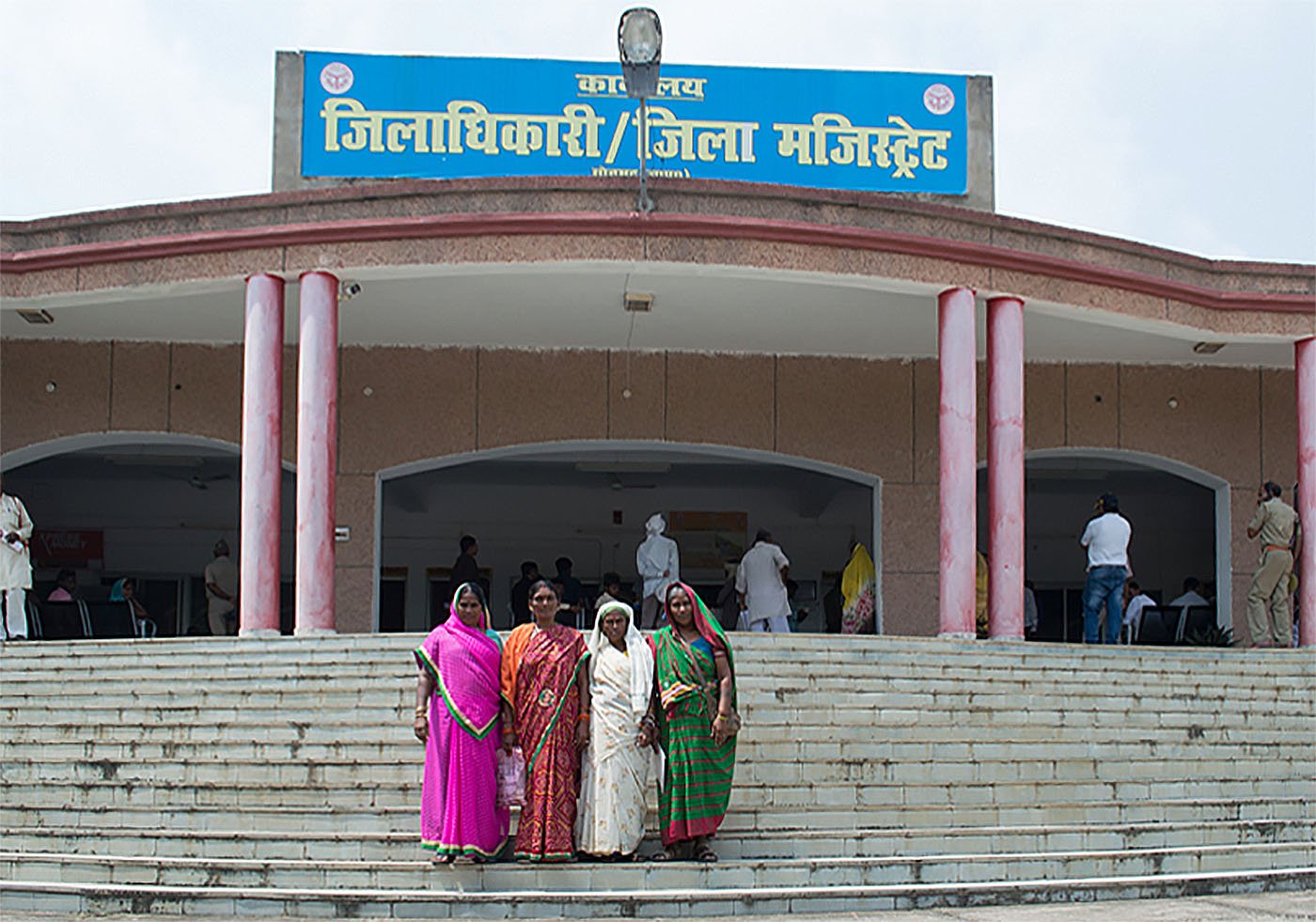 PHOTO • Sweta Daga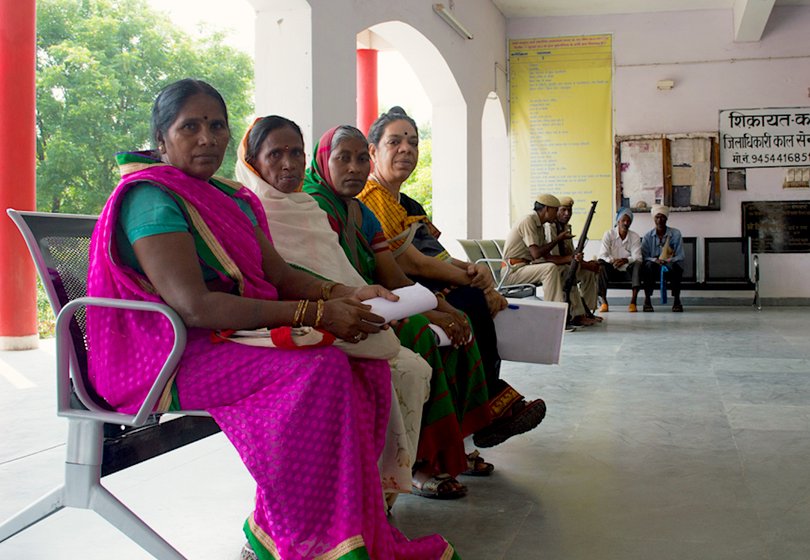 PHOTO • Sweta Daga
The AIUFWP (originally the National Forum of Forest People and Forest Workers, formed in 1996) was set up in 2013. It has roughly 150,000 members  in around 15 states, including Uttarakhand, Bihar, Jharkhand and Madhya Pradesh. In Uttar Pradesh, the union works in 18 districts with about 10,000 members. Around 60 per cent of its leaders are women and their main demand is the implementation of the Forest Rights Act (FRA) by recognising the authority of gram sabhas (village councils) and giving self-governing options to forest communities.

Along with other union members, Lalti and Shoba too have been fighting for land rights under the FRA for years. For this, they have on occasion been jailed. Enacted in 2006, the FRA recognises decades of 'historic injustice' against forest dwelling communities. Among other measures, the law is aimed at decriminalising 'encroachment' and traditional livelihood activities of forest communities, like gathering firewood, fruits or flowers.
Along with other union members, Lalti and Shoba too have been fighting for land rights under the Forest Rights Act for years. For this, they have on occasion been jailed. Enacted in 2006, the FRA recognises decades of 'historic injustice' against forest dwelling communities

After a while, the women waiting outside the DM's office are asked to enter. Once inside, Upadhyay asks, "Are you people staying there illegally?" He only addresses Roma Malik, does not give any assurances, and dismisses them in five minutes. "The DM is responsible for all the law and order in Sonbhadra," Roma says later. "If an atrocity is taking place you have to address it somewhere… Even with the Forest Rights Act in place, the authorities don't want to implement it."

Sonbhadra, UP's second largest district, is known for its thermal power plants and limestone mining. It is also one of the most polluted parts of the state, notes a 2012 report titled Mercury Pollution in Sonbhadra District of Uttar Pradesh and its Health Impacts by the Delhi-based Centre for Science and Environment. The report notes that mercury levels in some water bodies here are unsuitable for human consumption or agricultural use – but that is another story.

Lalti's story
Lalti Devi joined the union in 2004, after attending a meeting in Robertsganj about forest issues. In her village, Ramgarh, her family had opposed landowners who wanted their land, so when they heard about the union from a nephew, they were interested. Three years later, she and Shyamlal led a movement to reclaim land in Harra-Biraula village –  around 150 Dalit and Adivasi families took over 135 acres of forest land, converting it into farmland.
"Our grandparents were able to go into the jungle at any time," Shyamlal explains. "For us, it became an offence." They took two years to plan the reclamation – studying land maps, organising people, clearing the land and planting trees.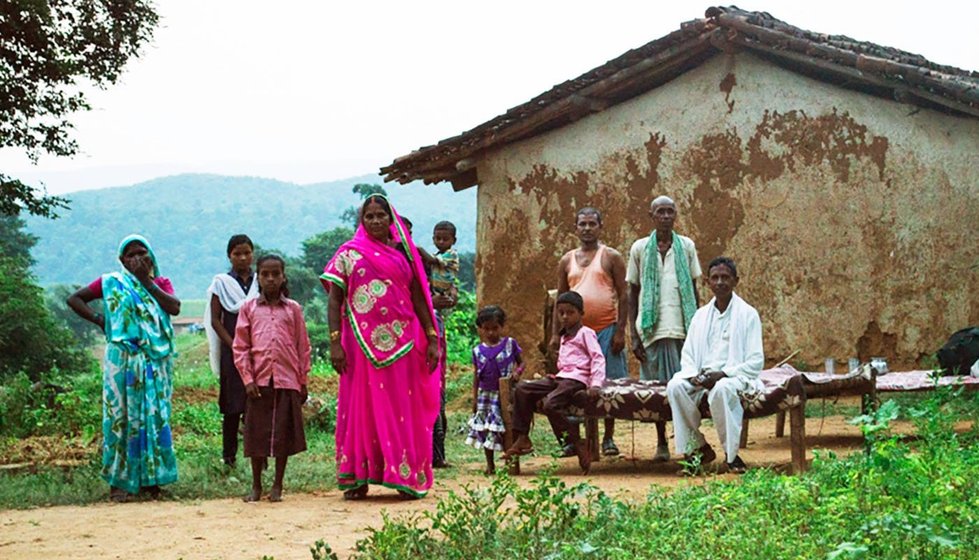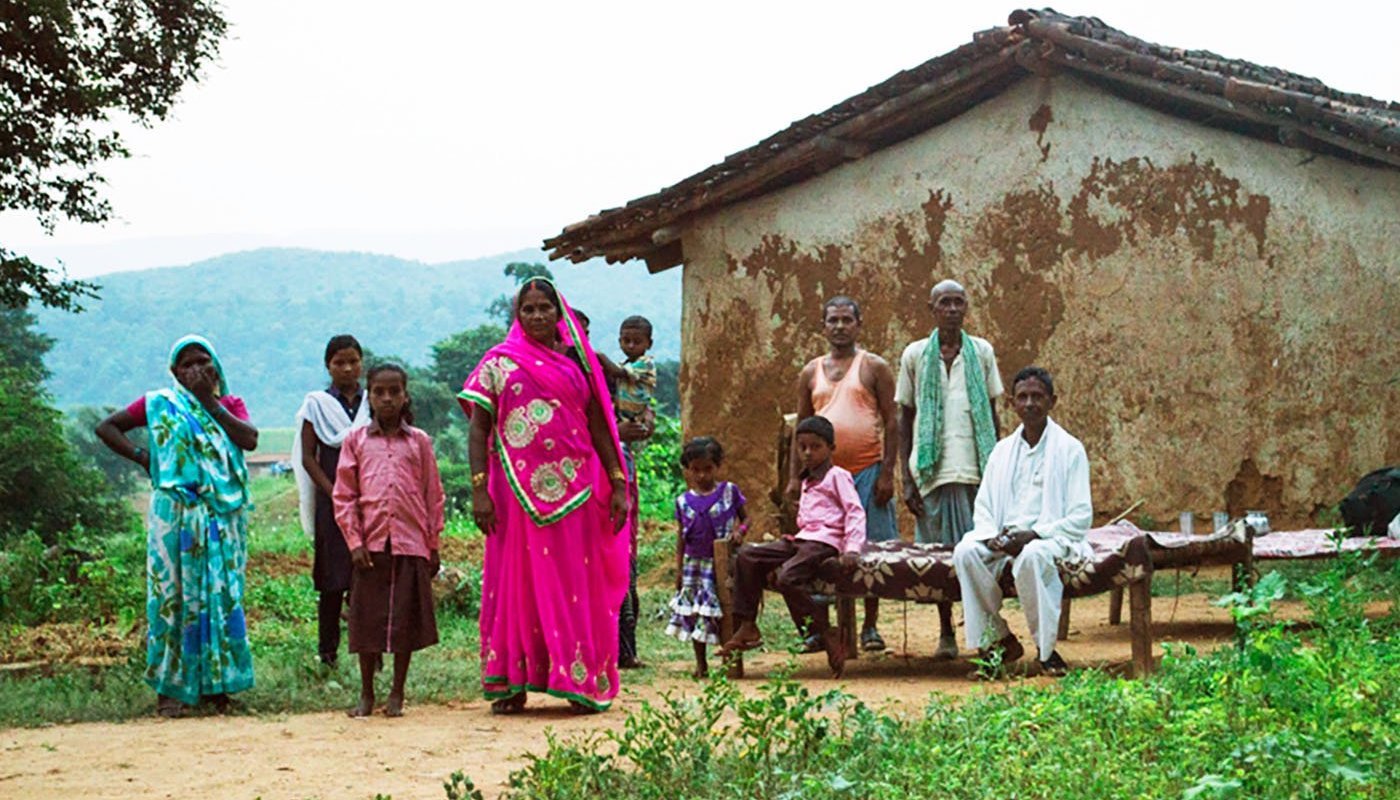 PHOTO • Sweta Daga
Lalti recalls those days: "We woke up every day at 5 a.m. so that the wardens could count us, then we would sweep and swab. Then bathe and eat roti and dal or a vegetable, then they would lock us back in." She pauses. "I missed my kids. I would cry, but we would meet them every Sunday in jail. We had to stay strong – we are working against such a big system." Lalti and Shyamlal's five children are now grown up; they farm and do daily-wage jobs.

In 2010, Lalti Devi and Shymlal were stopped by the police from Obra town (around 50 kilometres from their village), when they were on their way back from a rally to demand land reforms. "The police knew us. They tried to force us to go the station, but we refused. Then our hands were tied behind our backs. They pulled my hair, we were beaten badly – it was so scary," she says.

"They arrested us, and took us to Mirzapur jail in the police car. I was so wounded I remained sick in jail. I wasn't able to move – to eat or bathe myself. There was no change in the jail – the same food, the same treatment, but this time I had no spirit to fight. I survived because another woman treated me like a patient and took care of me."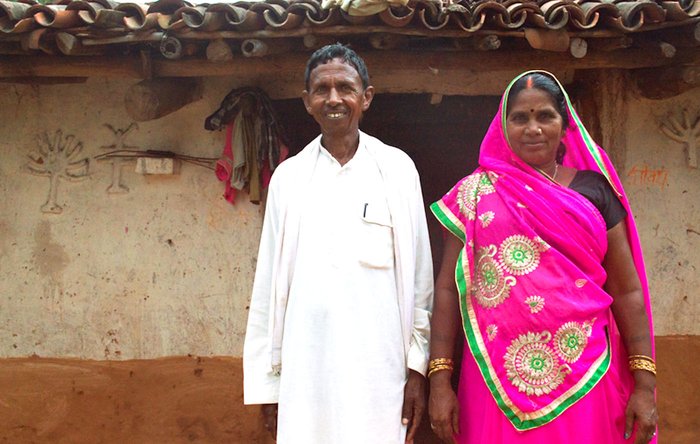 PHOTO • Sweta Daga
Lalti and Shyamlal led a movement to reclaim land in Harra-Biraula village – 'Our grandparents were able to go into the jungle at any time', Shyamlal explains. 'For us, it became an offence'

Lalti has been released each time by the court in Robertsganj, and continues to struggle with the cases against her, helped by Vinod Pathak, a lawyer for the union. The cases include criminal trespass and rioting. "We spend a lot of time going to see our lawyer, appearing in court, going to meetings, trying to see the DM. We have so many false cases against us, sometimes it seems that all we do is paperwork. All our money and energy has gone into this. We have no time to have a normal life, earn money – or just live," she says. Lalti's and Shyamlal's sons help them financially and Lalti gets a small sum for her union work.
All this does not deter her. "I do get tired sometimes. I want to know when we can be at peace, but we are doing this for our children. We are not afraid of jail. Take us. It is better than taking our land."
Shoba's story
Women are often at the forefront of land rights movements, but they are usually not acknowledged. A 2016 report by The Hindu Centre for Politics and Public Policy describes how women leading such movements in vulnerable communities are most at risk of violence and imprisonment – especially those who become voices in the struggle, like Lalti and Shoba.
Shoba and her husband Ram Garib Bharti have struggled for the same four bighas of land (around one acre) for 20 years in Badi village of Chopan block in Robertsganj taluka , about two hours by bus from Lalti's village. Chopan is rich in minerals like limestone, marble and iron ore.

Working as stone crushers in and around Badi, years ago, they slowly began to clear a small piece of land. This angered the traditional land-owning communities. When asked why they didn't just give up the land and move, Shoba replies, "But to go where? It is the same everywhere." .
In 2006, a man from a land-owning community, Shoba says, asked her to come to his shop. There he hit her and sexually assaulted her. "It is worse than dying," she says quietly, remembering the assault. "My husband wanted to kill him, but I wanted justice. I had to have surgery on my uterus."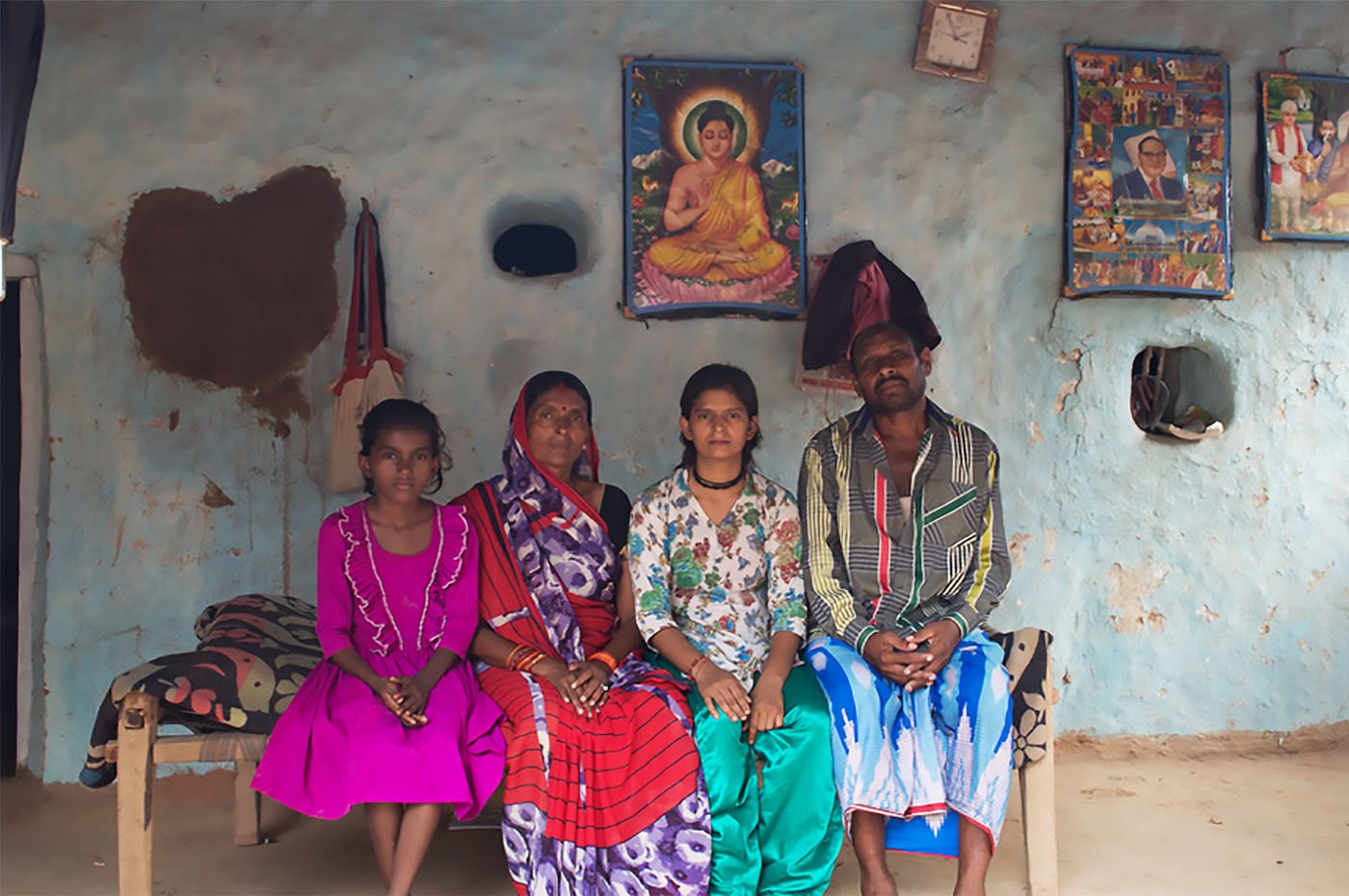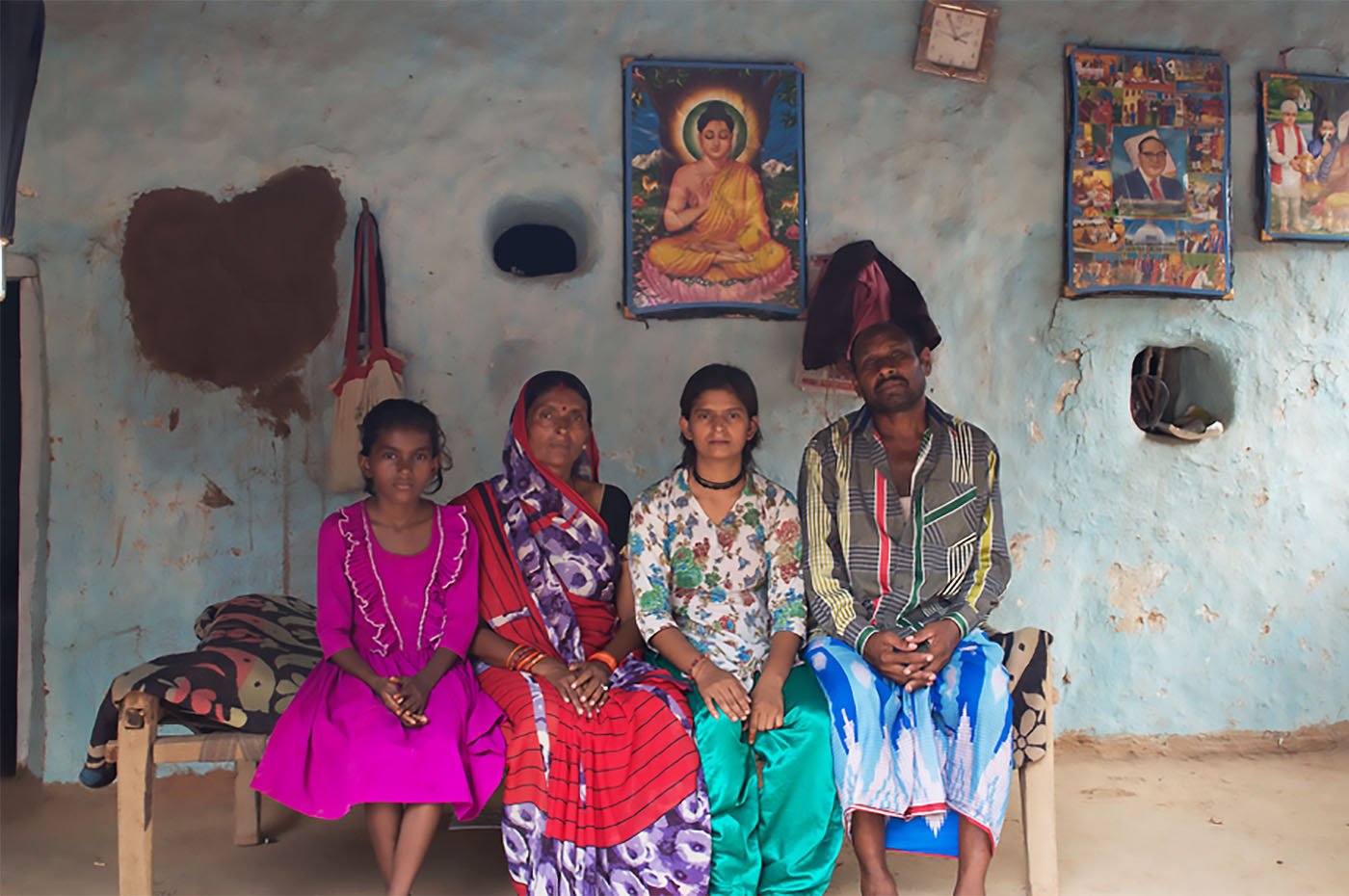 PHOTO • Sweta Daga
Immediately after the incident, Shoba went to the Chopan police station, two kilometres away. But the police did not register a case. It took her nearly two years to file a police report. "I went from pillar to post, I went to Allahabad, to different ministries, to Delhi. Finally I met a lawyer, Vinod Pathak, who took the case, and through him I met Roma di ."
"We are hoping that there is a trial now," says Pathak. "Sometimes if there is a delay in filing paperwork there can be a doubt in the mind of the judge. But this accused did go to jail [for around 20 days, before being granted bail]. We want him in permanently."
Shoba joined the union in 2010, and began meeting other landless women, speaking about ration cards, about police brutality. They held regular meetings, working together and looking through land maps and court records. After a while, they decided on – 150 bighas of farmland (around 38 acres), and altogether 500 bighas (124 acres), including the jungle, not far from Badi. They called it Durga Tola. "It's because we worship Durgamata. And so that all the women remember to have the strength of Durga in them!" Shoba says.

"It took us two years to organise ourselves, but the women came together. We stayed together. We cleaned the jungle, bought trees, planted them and slowly built homes. Now we farm there."
"Durga Tola and Harra-Biraula are not isolated events," says Roma. "We have worked in Sonbhadra district for almost 20 years on forest and land issues, trying to unite communities. People started reclaiming land and that's how the movement grew. People weren't getting enough to eat by working on farms. We are still fighting with the forest department and the police."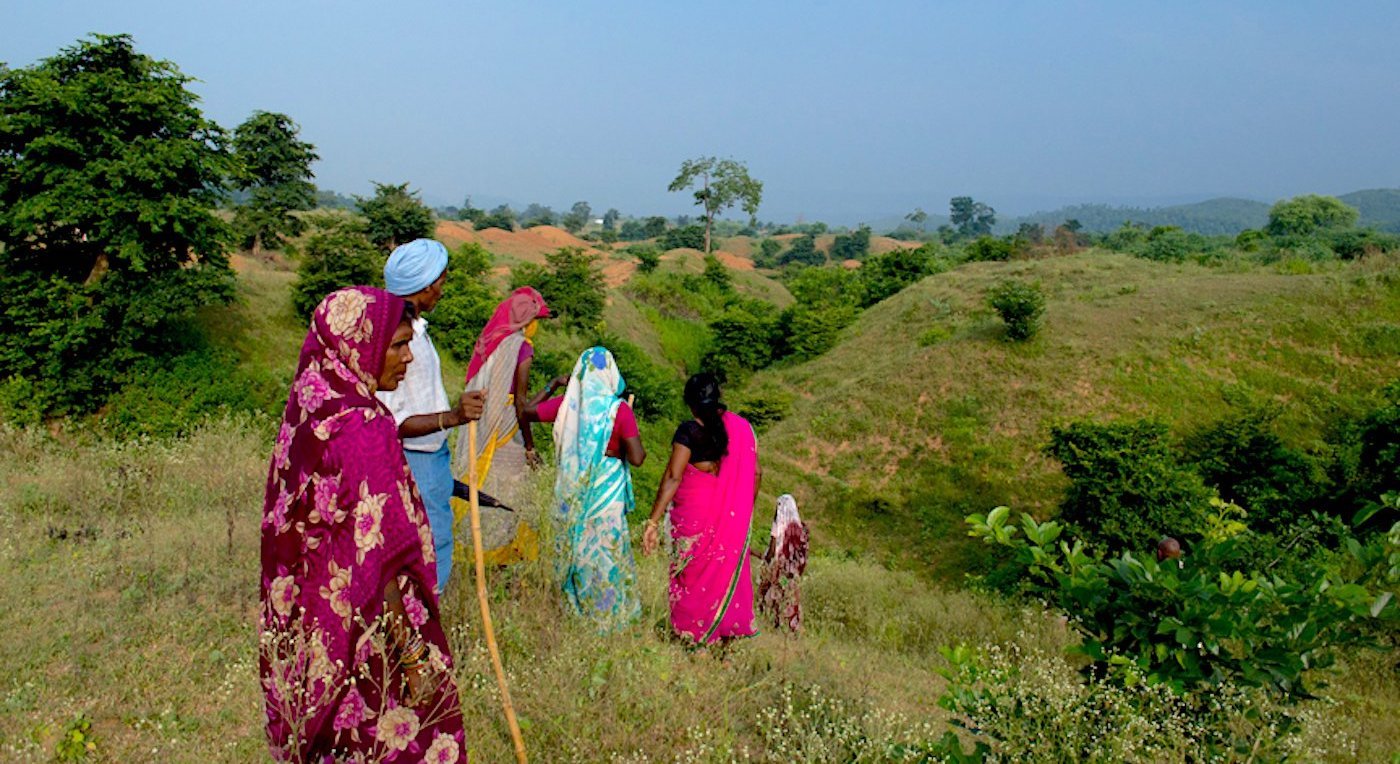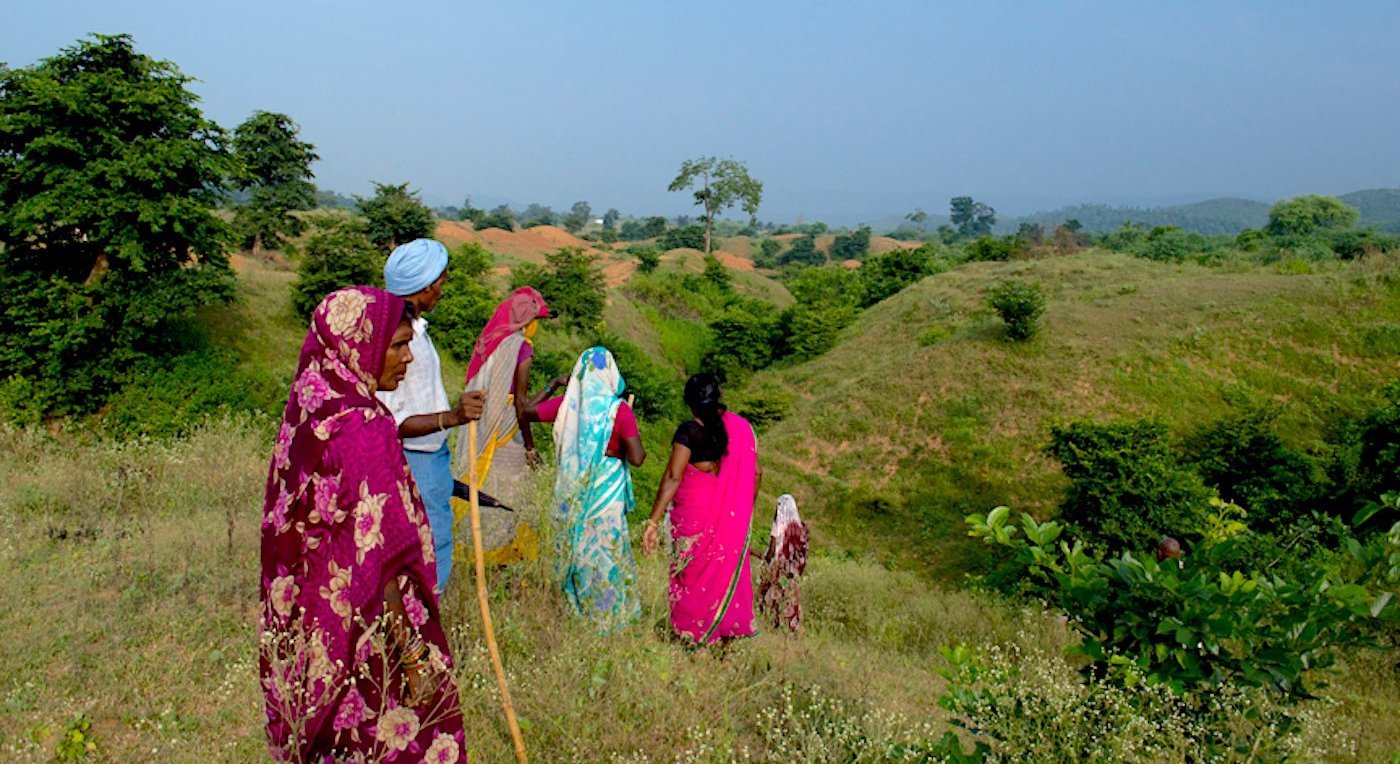 PHOTO • Sweta Daga
On February 6, 2015, after the success of Durga Tola, Shoba's home was attacked. At around 11 in the morning, dozens of people tried to break down her door, eventually allegedly setting the house on fire. Inside, were Shoba, her three daughters, and 18 other women. When they ran out, all the women were arrested by cops already present there, and taken by bus to the district prison in Mirzapur, 110 kilometres away. "We weren't told where we were going," Shoba says.

The Mirzapur prison has only one barrack for 30 women, but when Shoba reached there, it housed around 100 women. According to a 2017 Amnesty International India report, Justice Under Trial , there are almost 63,000 undertrials in 62 jails across Uttar Pradesh – and an occupancy rate of 168 per cent. All waiting for even a preliminary hearing in court.
"They took our phones. They took our money [whatever little we were carrying]," Shoba says. "We had to sleep next to the bathroom. It was cold, the blankets were torn. Our plates were made from gobar [cow dung].  For two days we let it go, then we started a protest. We fasted for two days until our demands – better sleeping space, blankets, better food – were met."
The women were released on February 20, 2015, after the union staged a protest at the DM's office in Sonbhadra, around 80 kilometres from the jail.
"Injustice was done to us," Shoba says. "We went for our rights. We didn't steal, we didn't do anything wrong, so I don't feel bad about going to jail."
Their fight continues. On March 23, 2018, Shoba and Lalti, along with around 2,500 people from 20 villages in Sonbhadra, marched to the DM's office to claim Community Resource Rights (under the FRA). They had put together documents like gram sabha resolutions, a map made by the community of the forest, river, and hills traditionally accessed by them, and a list of rights as per a 'Working Plan' of the Forest Department. They are waiting for a response.
This article was done as part of the National Foundation of India Media Awards Programme; the author was a recipient of the fellowship in 2017.