Syed Ghani Khan almost collapsed that day. He felt uneasy while tending to the crops on his field. The fumes from the pesticides he was spraying began to make him dizzy. "That's when I thought: What am I doing? If I can feel this way then surely I'm poisoning the people who eat the paddy, after I spray such pesticides on it. I should stop this," he says.
Since that turning point two decades ago, in 1998, Ghani stopped using any chemical pesticides or fertilisers. And he started cultivating only desi paddy. "I used to accompany my father and other elders of the family on their visits to the fields. Among the many crops they cultivated, desi paddy was relatively low," he recalls.
Less than 10 people in Mandya cultivate desi varieties through organic farming, estimates the 42-year-old farmer from Kirugavalu village in Karnataka's Mandya district, where paddy is grown on 79,961 hectares.  "Indigenous paddy lost its importance because of how long it took to grow, and even after the wait, the yield was [sometimes] low. You would see more weeds than the actual crop," he adds.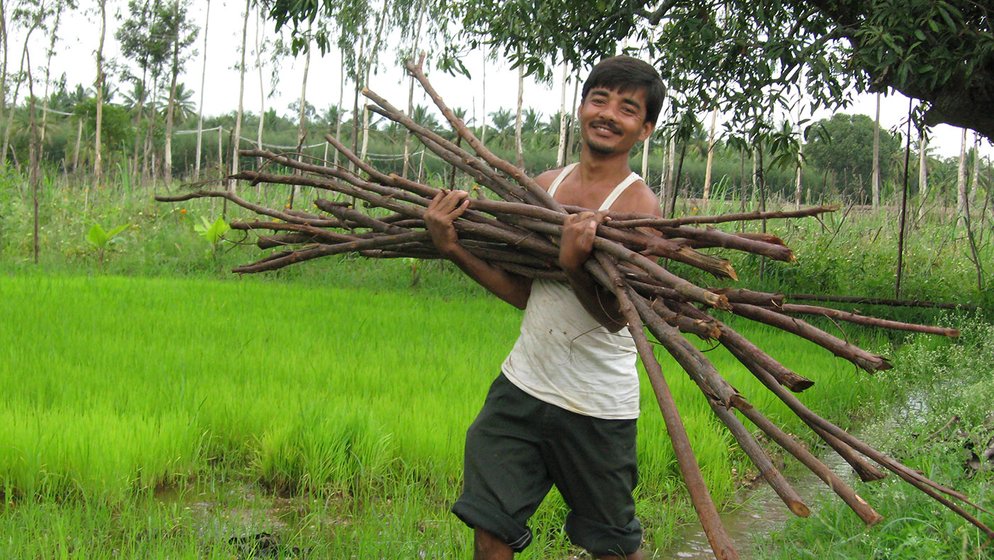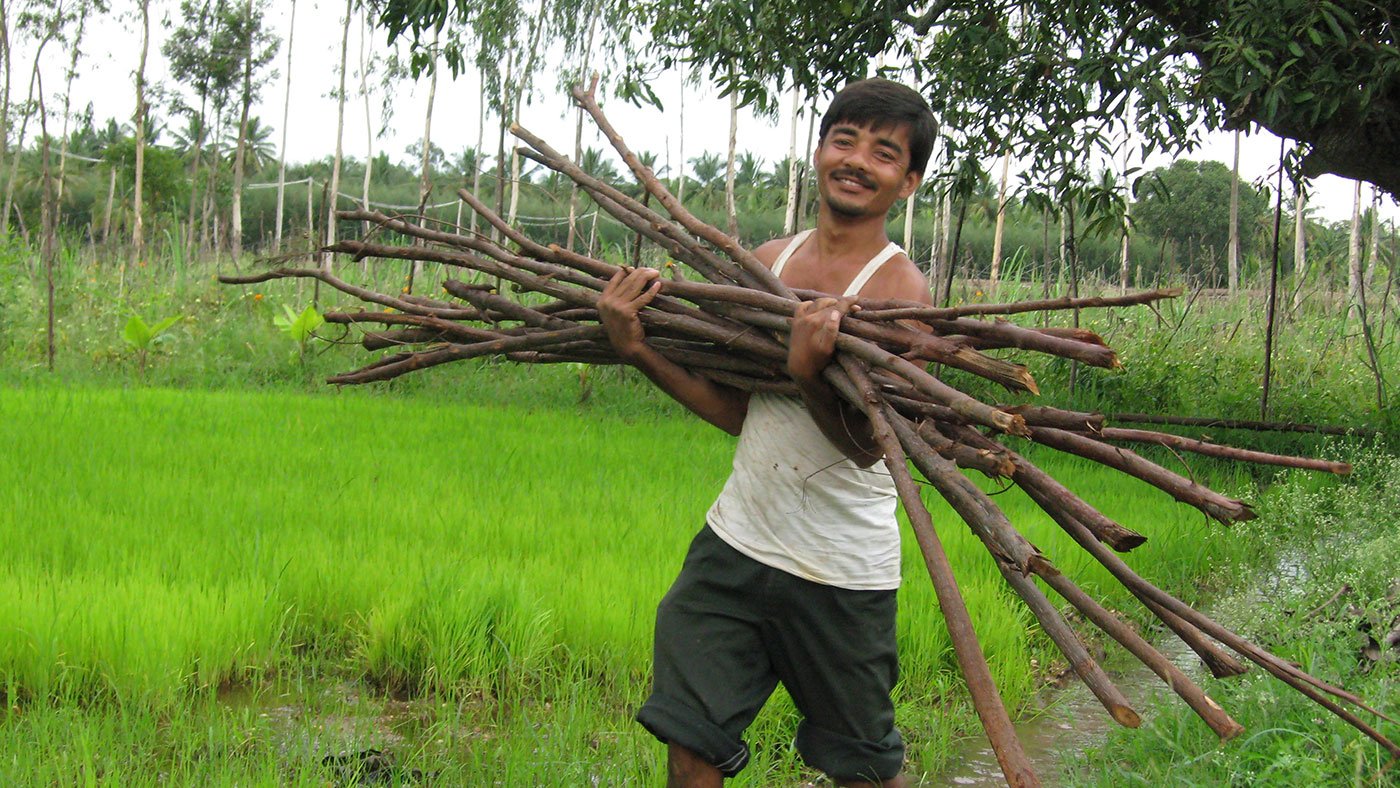 PHOTO • Manjula Masthikatte
Many farmers were persuaded that hybrid varieties would bring consistently higher yields in shorter durations. Sometimes that did happen – for a while. It often also meant, say proponents of desi varieties, a much higher use of chemical fertilisers, pesticides and water. Even as the yields tapered off, the costs kept going up and the side effects on health and farm finances began to show.
Noticing the slow disappearance of indigenous paddy, Ghani began collecting and preserving different desi varieties in 1996, when he collected 40 types of seeds. His enthusiasm to collect such seeds grew over time, and now he has more than 700 indigenous paddy varieties from all over India. To procure the multitude of seeds, Ghani engages in a sort of barter system with farmers from various states, including Chhattisgarh, Kerala, Maharashtra, Odisha, Punjab, Tamil Nadu and West Bengal.
In his house – Bada Bagh (Big Garden) – where he lives with his wife, three children, and his brother's family – his passion is evident as soon as you enter the door. Along the walls are neatly stacked rows of numerous paddy seeds in glass jars, as well as paddy flowers (ears of corn). Next to these are details about each variety, placed there as information for visitors – eager farmers, agriculture students from across the state, and others who come to Bada Bagh. It's like a walking tour of India's rich paddy diversity.
"My work is more focused on the preservation of different breeds rather than seeking a profit from its sales," says Ghani. He sells the seeds for a nominal amount to those willing to harvest them using organic methods.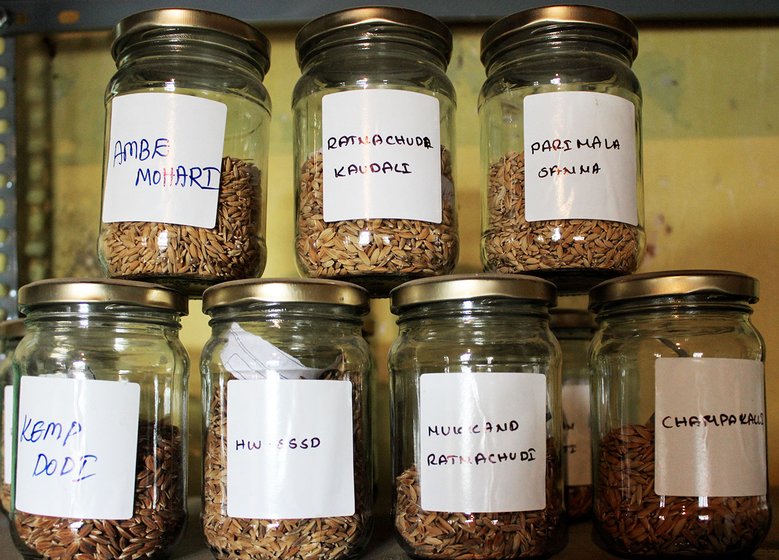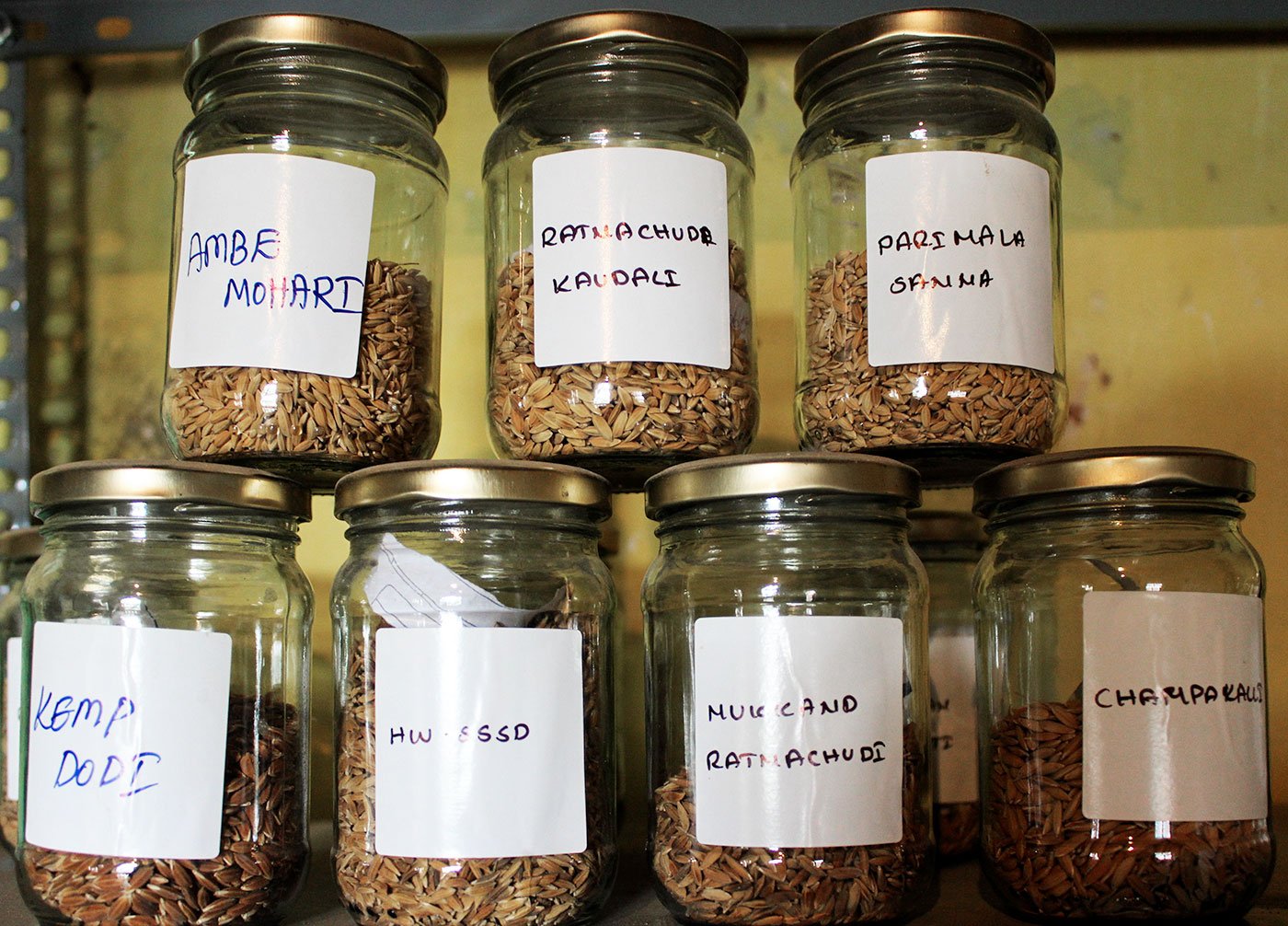 PHOTO • Manjula Masthikatte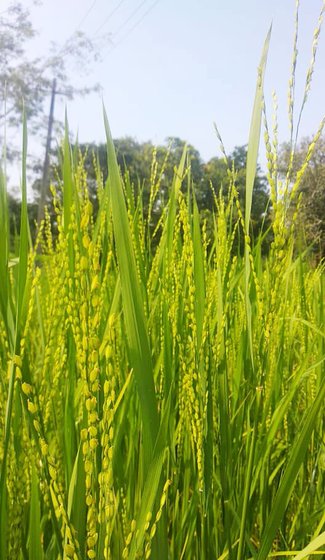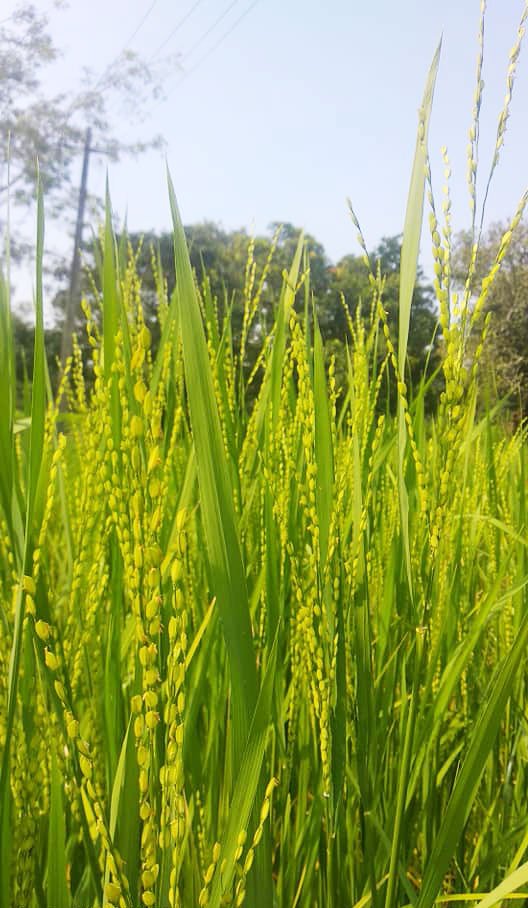 PHOTO • Manjula Masthikatte
Growing paddy on an acre costs between Rs. 8,000 and Rs. 10,000, he says. It's unlikely for a farmer to incur a loss on indigenous breeds even if the yield is lower than that of hybrid varieties. "Organically grown paddy fetches 20-40 per cent more in the market than varieties cultivated using chemical pesticides," he adds.
Indigenous paddy also has medicinal properties, Ghani says. For example, a variety called 'Navara' is useful for arthritis and joint pain, while 'Karigijivili Ambemohar' is used to increase breast milk in mothers. Another breed called 'Sannakki' helps cure diarrhoea in children and 'Mahadi' paddy is used (ingested) to treat fractures in cattle.
And in Tamil Nadu, Ghani says, there's a paddy variety called 'Mappillai Samba' that is given to a young groom to increase his strength. Traditionally, in some parts of the state, the groom must lift a boulder to prove his strength.  'This paddy apparently can give him the energy to perform this feat.
Some of these details – where the paddy is grown, differences in taste, their medicinal properties – are also listed on the walls below each sample of the grain in Ghani's house. " Desi varieties have their own characteristics and special qualities. They are different in size, shape and colour," he says.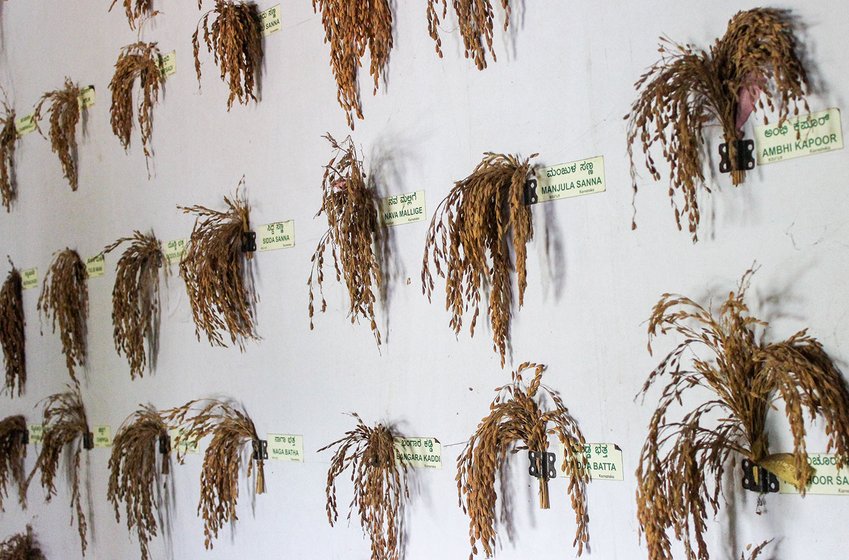 PHOTO • Manjula Masthikatte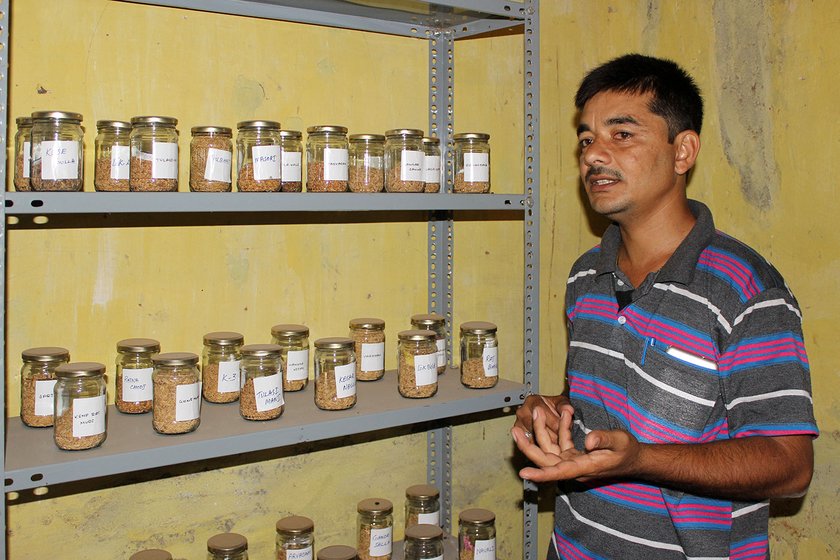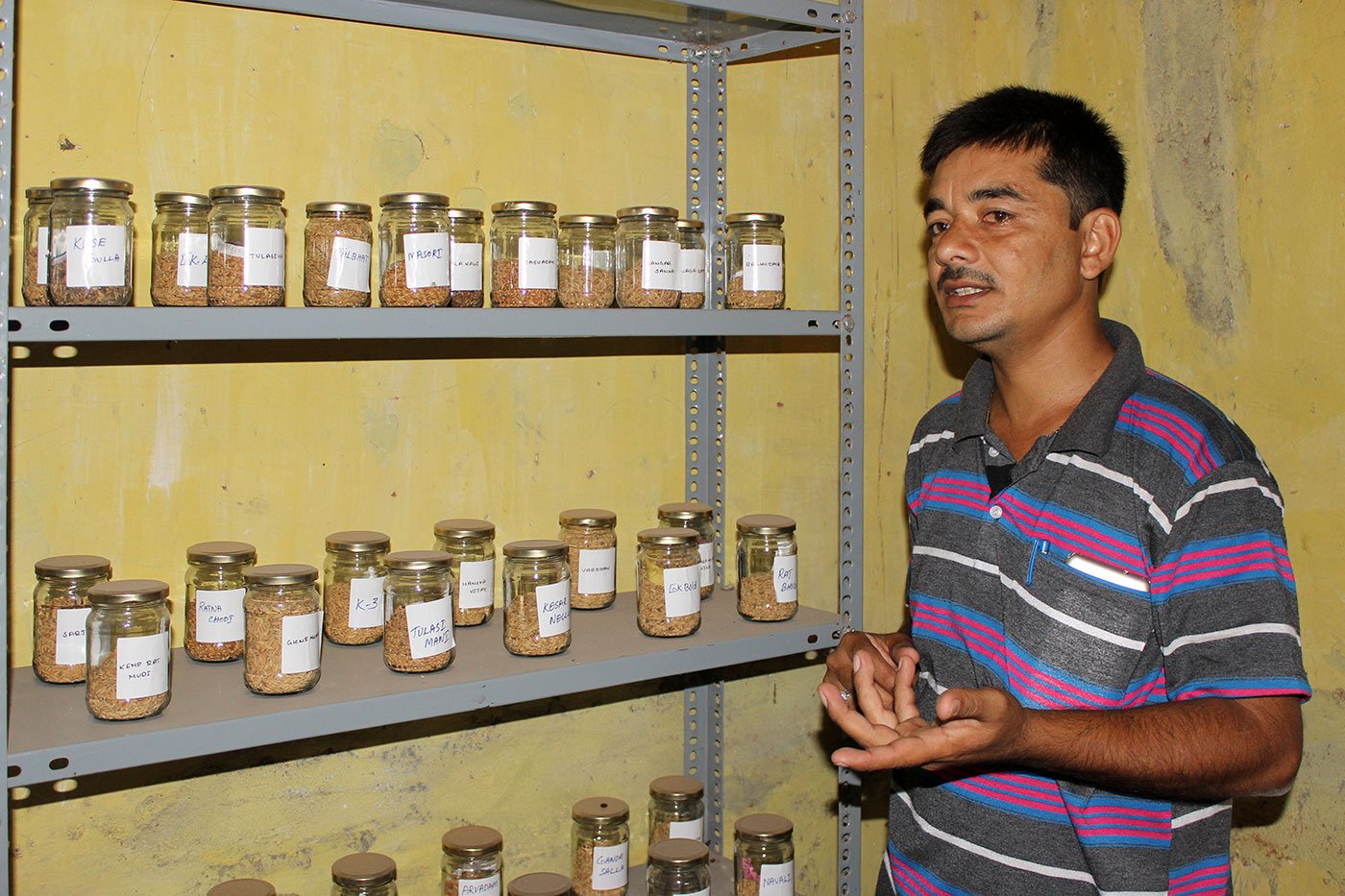 PHOTO • Manjula Masthikatte
Bada Bagh, which Ghani inherited from his father, is situated on 16 acres of farmland in Mandya. Here, the family grows paddy, mangoes and vegetables, and they rear livestock. Ghani's 36-year-old wife Syeda Firdose supports him in his efforts to preserve desi paddy. She also makes wall art, garlands and jewellery from agricultural waste, and sells it to visitors or in local shops at modest prices.
Besides being a seed preservation centre, their house is now also a classroom for informal demonstrations for students and visitors about the wonders of paddy.  Ghani's accumulated knowledge has locally earned him the reputation of being a 'farming scientist', and he has become a consultant in agricultural matters. This takes him to different cities and various schools, colleges, agriculture science centres and other institutes, where he speaks about natural farming and seed preservation.
Despite his efforts, Ghani has not received much help from the government, though he has received a few awards. In 2007, an organisation in Mandya gave him the 'Arasama Mensegowda Award' for innovation in agriculture. His other accolades include a government of Karnataka's 'Krishi Pandita Award' of 2008-09 (that gave him Rs. 25,000) and the 'Jeevavaividya Award' in 2010 (which came with Rs. 10,000).
"Indigenous varieties should be preserved and eventually must reach the people," he says. "We can start by identifying the different kind of paddy we have."