"There weren't many moneylenders when I was growing up, but now a lot of farmers are taking loans because today they need money for machines, pesticides and fertilisers," says Sukhlal Suliya, of Badgaon village.
"We used cow dung, which was good for the soil and didn't cost us any money. But then the government started advertising urea and pesticides by saying it will give you more crops. Now, 40 years later, these are still used by most farmers and they spend so much on fertilisers and pesticides, which are destroying the soil. And then they sell  in the markets for very little profit, through middlemen, who buy the produce for far less money than what they sell to customers. So farmers make very little money," he adds, with sadness.
We spoke to Sukhlalji, an 83-year old farmer, in his village in Anjad taluka of Madhya Pradesh, during our visit to the Adharshila Learning Centre in Sakad village of the state's Niwali taluka . He was visiting with his son Badri, who is a teacher there. We wanted to learn something about how childhoods have changed in the last half century and more. Sukhlalji spoke in Nimadi, the  language of his Bhilala community (a Scheduled Tribe), and Badri helped us translate.
"Growing up, I didn't have access to buffalo carts or cycles; I went everywhere on foot. I have carried 48 kilos for seven kilometres. Cycles were a luxury back then. In fact, a person approaching the village on a cycle was usually a government official, which frightened us!" Sukhlalji recalls, smiling.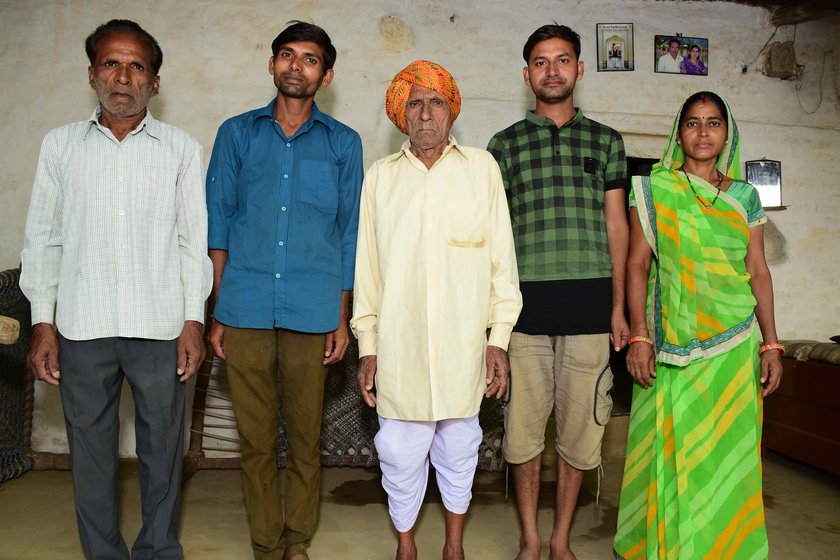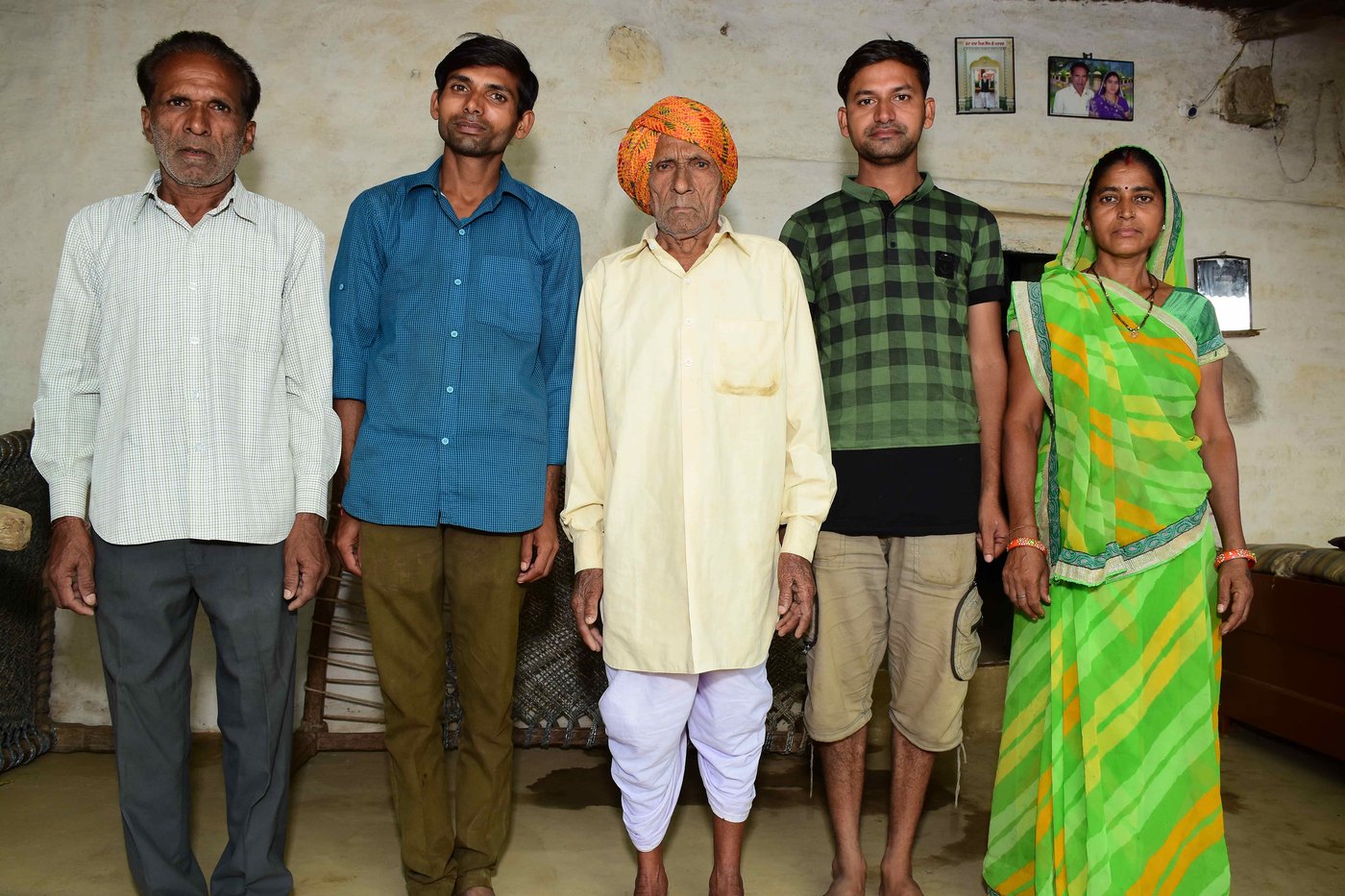 PHOTO • Ravindar Romde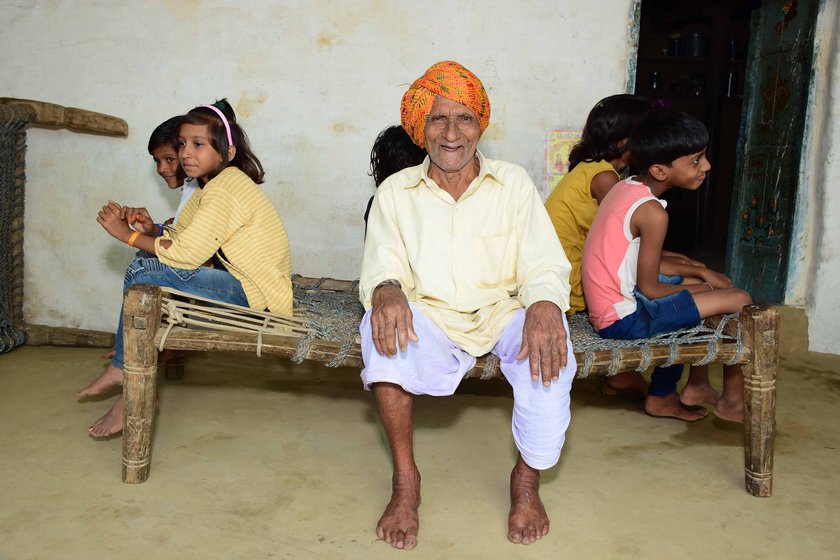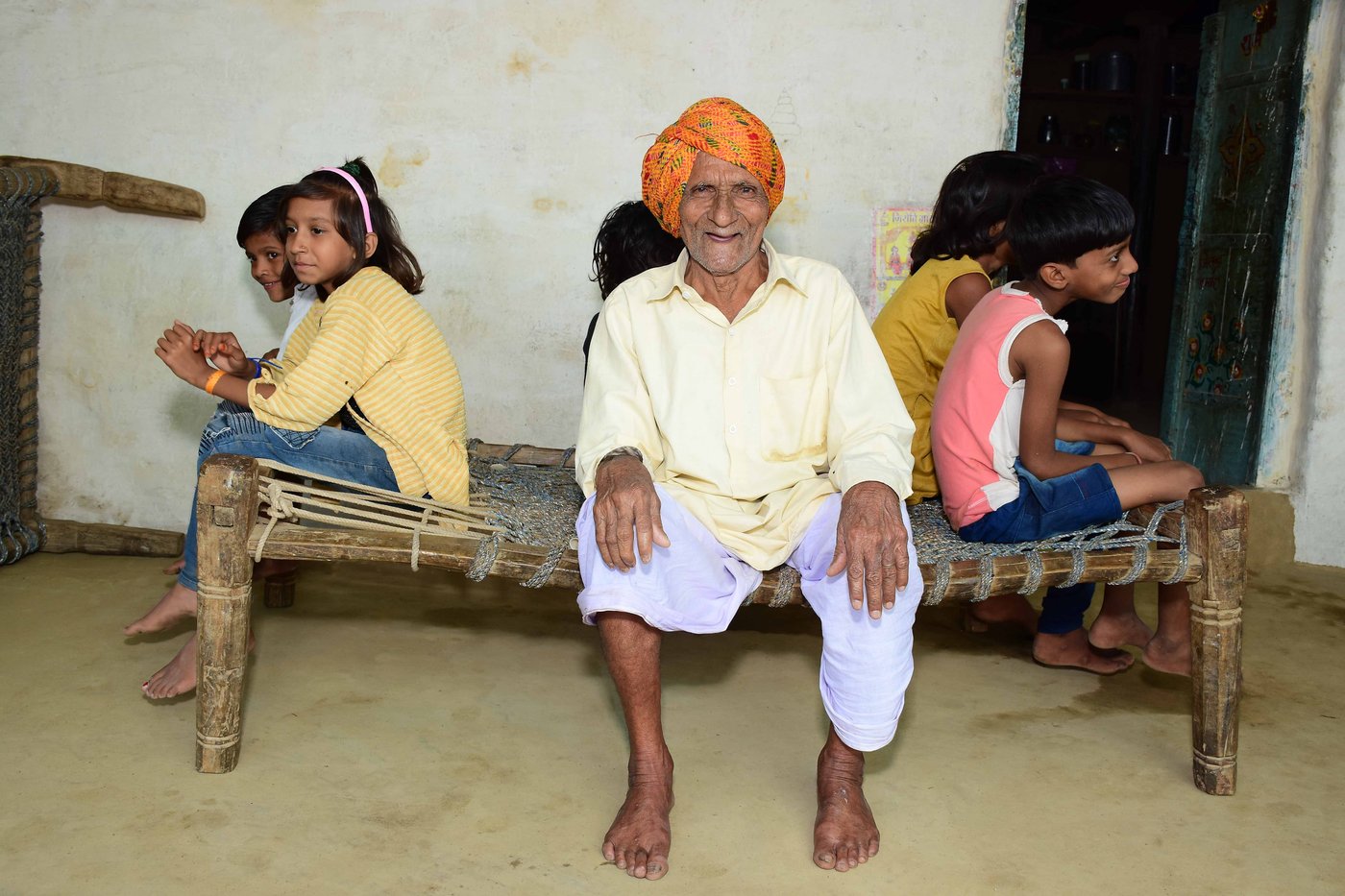 PHOTO • Ravindar Romde
As a young man, Sukhlalji cultivated his 14-acre farmland, and his life revolved around cropping cycles, cattle and the seasons. The family grew a variety of crops and grains, including tur dal, urad dal, bajra, navane, badali, sawariya, chana , black-eyed peas, soyabean, horse gram, flax seeds, cotton and cucumber. Families were self-sufficient, growing enough food for themselves, he says. "Our seeds and grains were native," he adds. Now, farmers in the area, including Sukhlalji's eldest son, Rajaram, mainly grow just corn and wheat.
Sukhlalji stopped farming  more than 30 years ago and now lives with Rajaram and occasionally with Badri. He has three sons, three daughters, and 17 grandchildren. Only Rajaram continues to farm.
Sukhlalji grew up in a joint family with five brothers – and 30 people living together. "At home, the women would grind 20 kilos of grain a day – jowar , wheat, corn or rice – for the whole family. We ate corn rotis and broken cooked rice [porridge] with buttermilk, made from the milk we got from our four  buffaloes."
"There were no machines then, everything was done by hand," he recalls. They made lumps of bucket-shaped jaggery from sugarcane and peanut oil was pressed by buffaloes turning a ghatti (stone grinder); a theli (oil merchant) would later remove the oil. The family made around 12 to 15 litres at a time.
"We also had traditional methods to separate the corn from the husk, dry the corn, fill it in a bag and then hit it against a rock. The knowledge of such methods has not been passed on and has been replaced by machines."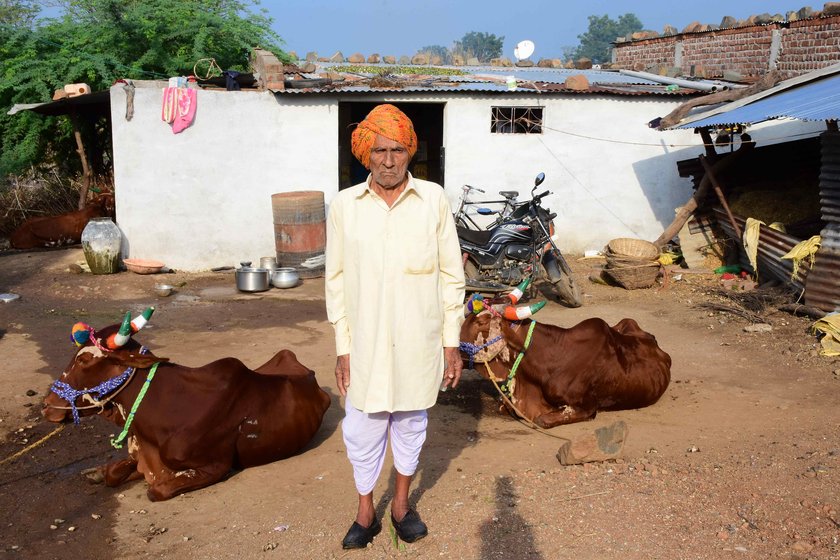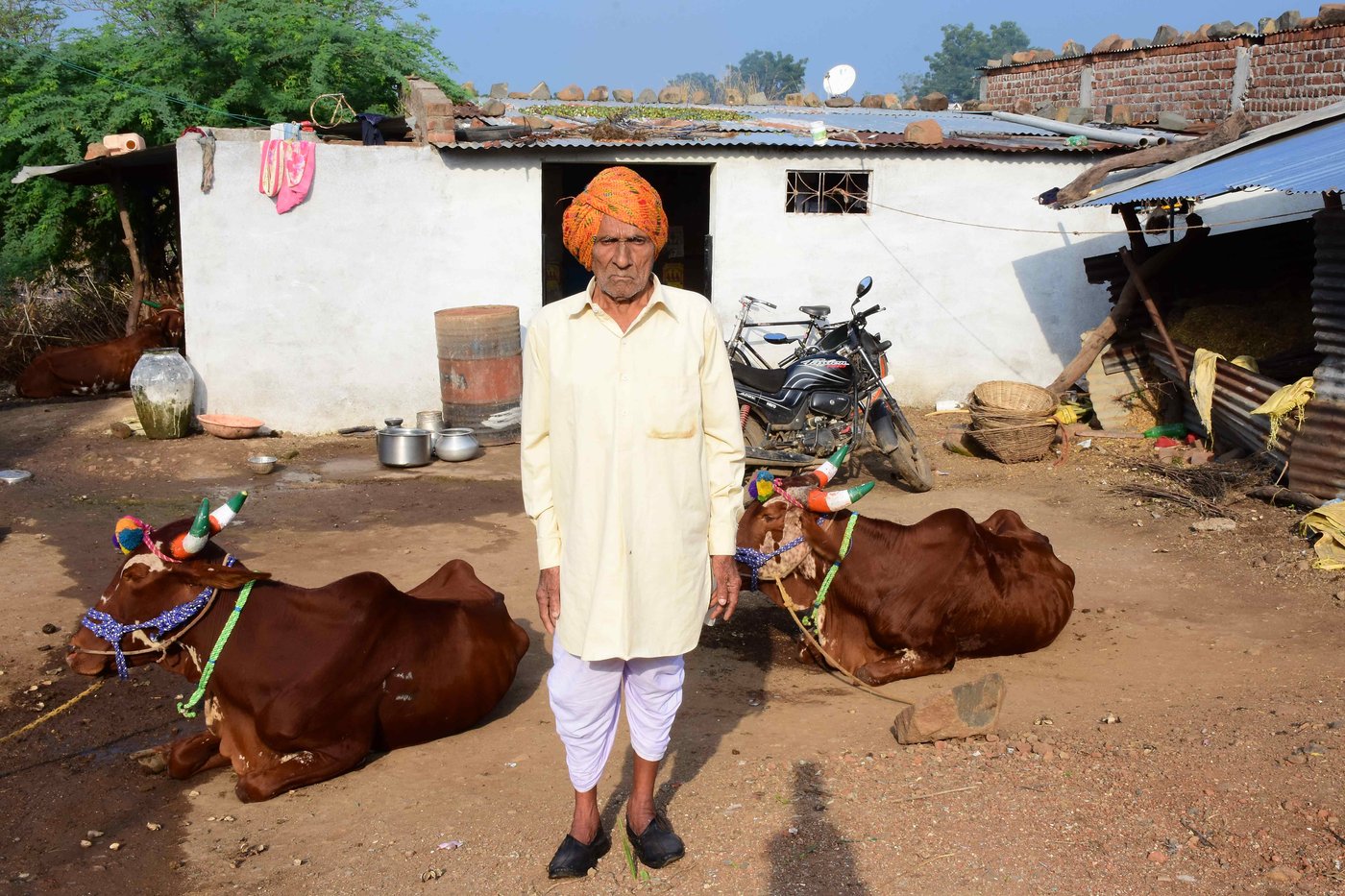 PHOTO • Ravindar Romde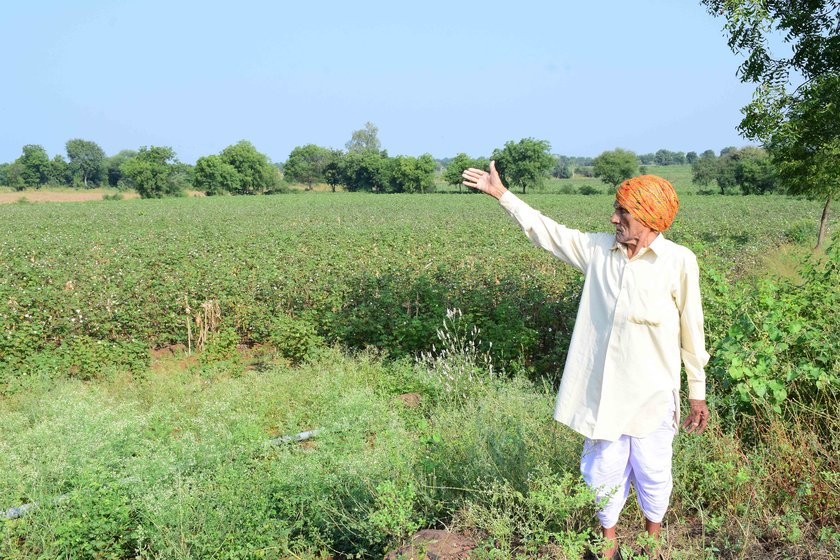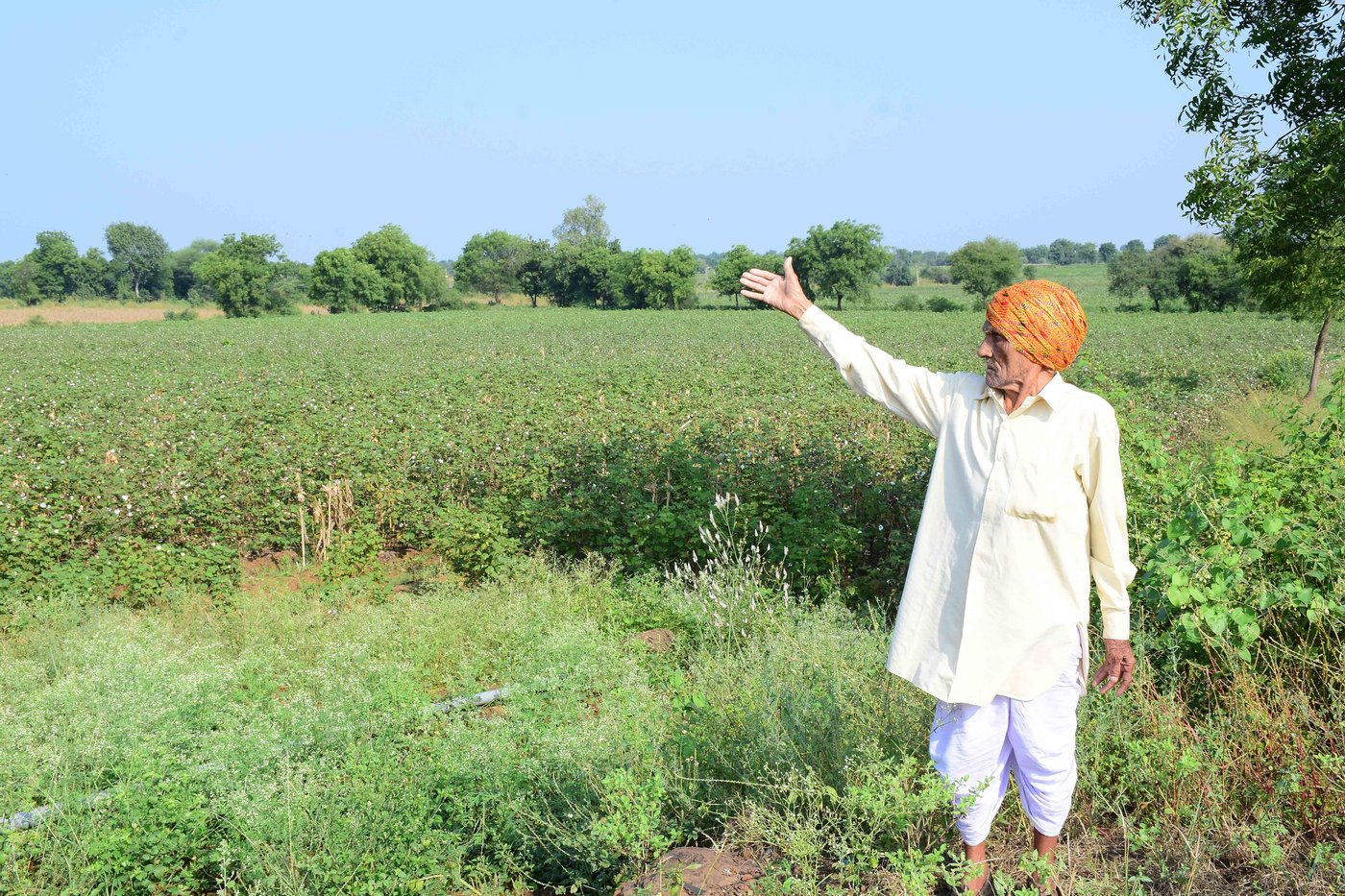 PHOTO • Ravindar Romde
Clothes were dictated by community or class, Sukhlalji recalls. "Government officials used thicker cotton with bright colours, which were more expensive. Other men wore simple white clothes, while women had a bright border or design on the white fabric. This dyeing was done by a community which specialises in that [work]."
Villagers would go for haat , or market, once a week where they would buy cloth, something they couldn't produce by themselves. "We would sell ghee and jaggery," Sukhlalji says.
"Now, when they [people from his village] move to the city [for work], they no longer want the things that parents can afford to give them, like handmade soaps, food and oil," he adds. "They seem to want only store-bought things. They don't take their elders' advice. Parents take heavy loans to pay for education, but [some of] the children use it to drink and take drugs; they lie to their parents and a lot of money goes into paying for medical care and hospitals."
Then, he adds sorrowfully, "Even if you tell the children to stay, will they stay? I like the village, but there is no life left here."
We would like to thank Badri, Jayashree and Amit (they prefer first names only), teachers at Adharshila, for generously giving their time, and our teacher, Kamala Mukundan, for helping us.
Inspired by PARI, two middle school students of the Centre for Learning, Bengaluru, documented their meeting with a farmer during a school excursion to Madhya Pradesh. PARI briefed them on different aspects of rural India and the process of documenting their research.