"It's been seven months and the doctor says I should consume fruits and milk. Now tell me, how can I get all that? If they allowed me to go to the river, I could also ride a boat and feed my children and myself," Sushma Devi (name changed) says as she waits for her turn at the hand-pump. She is seven months pregnant and a widow.
Ride a boat? Sushma Devi, 27, is from the Nishad community. The males of this caste group are mostly boatmen. There are 135 of them in her hamlet of Kewatra in Majhgawan block of Madhya Pradesh's Satna district. Her 40-year-old husband Vijay Kumar (name changed) was one of them, till he died in an accident five months ago. They were married for seven years. Sushma herself was never trained to row a boat, but is confident that she could, having been out on rides a few times with Vijay.
Under lockdown, though, not a single boat is plying on this stretch of the Mandakini river that divides this region of Chitrakoot between Madhya Pradesh and Uttar Pradesh.
It's an hour after sunset when we see the first streetlight leading into Kewatra. Sushma has arrived at the village hand-pump with her youngest child, to fetch water in a plastic bucket. That's where we meet her.
The Nishads earn a living by rowing boats on and across the Mandakini river. Chitrakoot is a famous pilgrimage centre, drawing lakhs of devotees around the Diwali season. The Nishad boats in Ramghat on the Mandakini – about a kilometre from Kewatra – ferry pilgrims to holy spots like Bharat Ghat and Goenka Ghat.
That's when the Nishads make the most money they do in the year. Up to Rs. 600 a day – which is 2-3 times their daily take outside that season.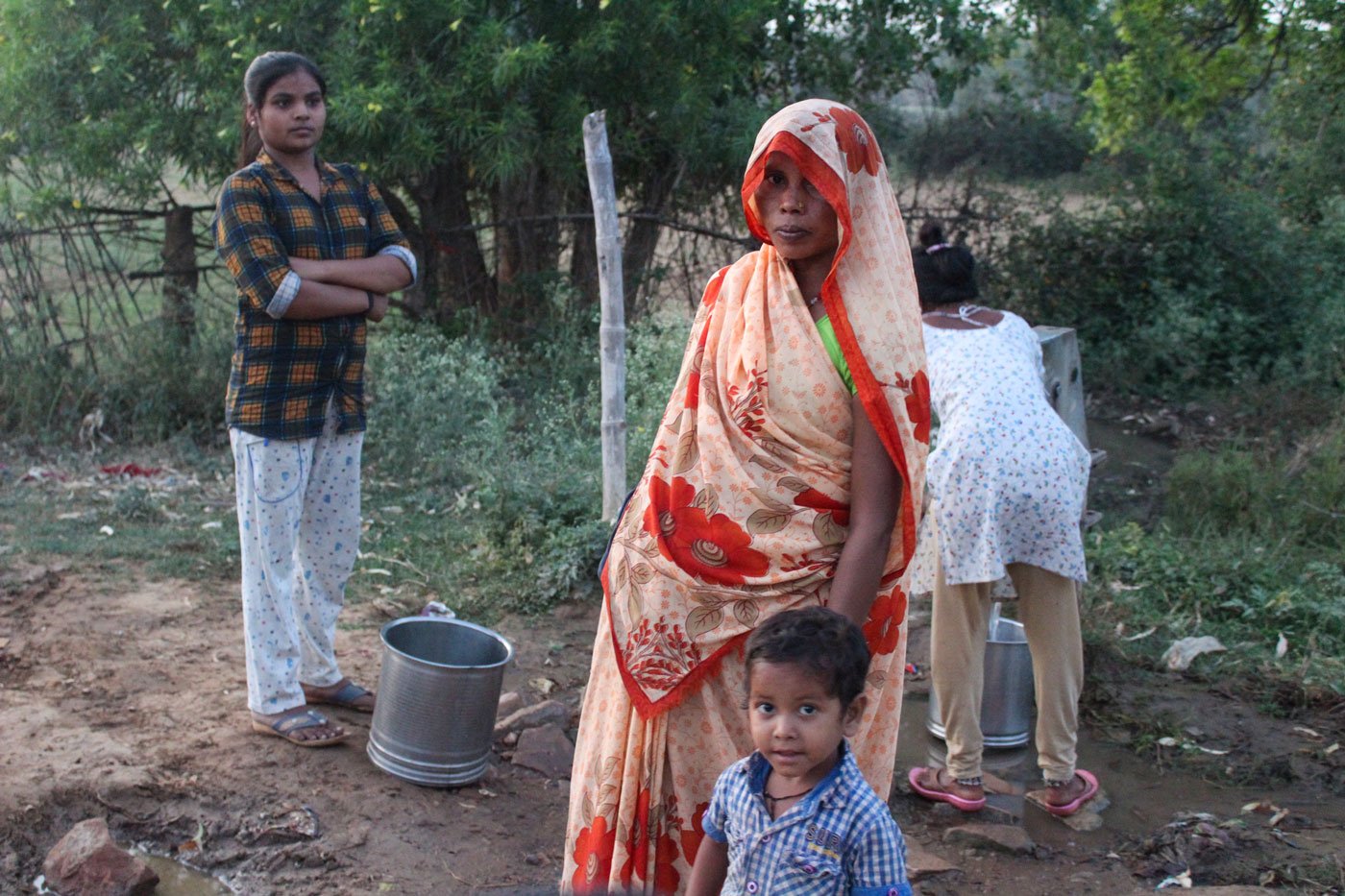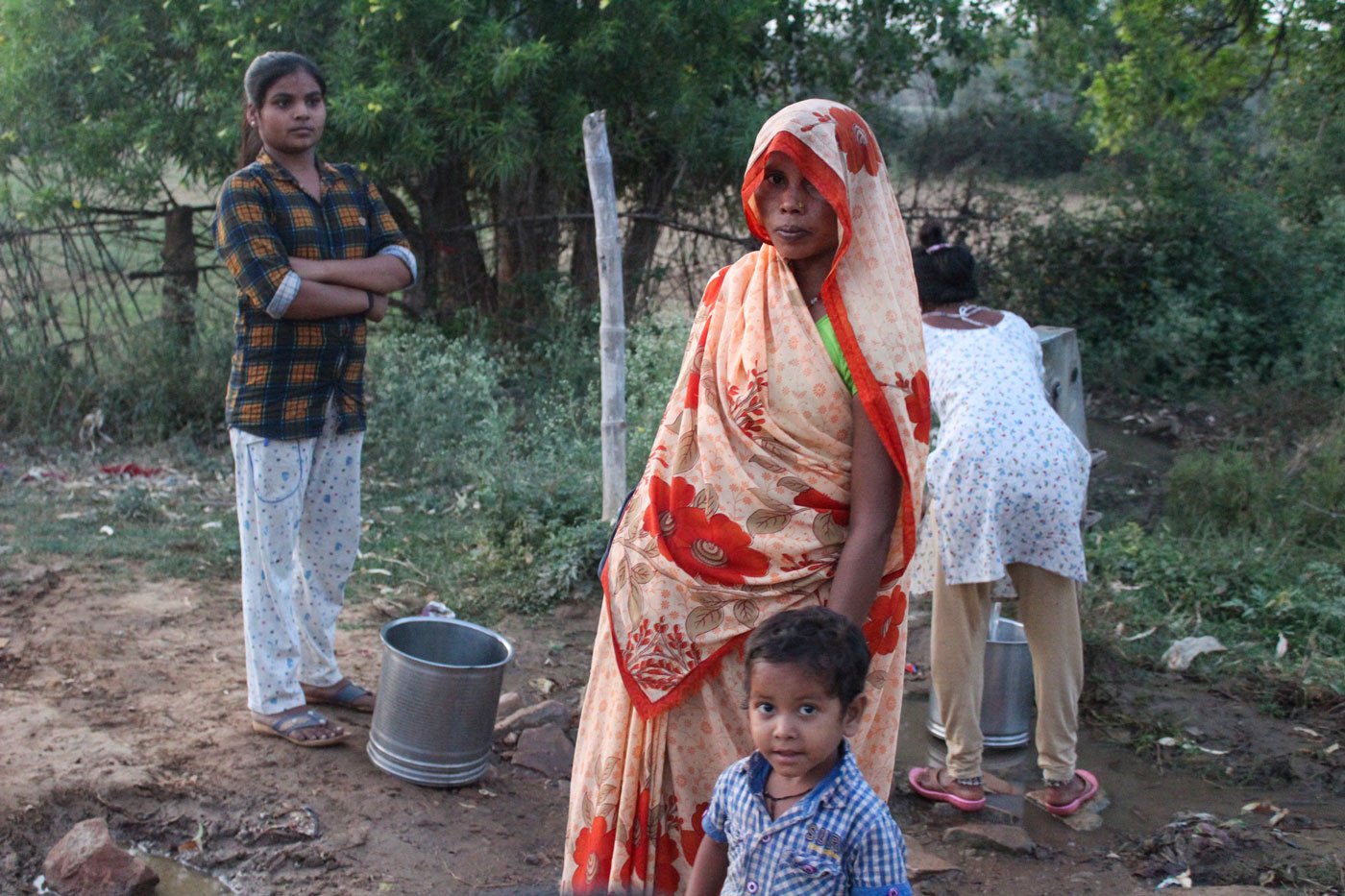 PHOTO • Jigyasa Mishra
But now, boat rides have stopped under the lockdown. Vijay is no more. And his elder brother Vineet Kumar (name changed) – the sole earning member of the family – can't take out his rowboat either. (Sushma lives with her three sons, her mother-in-law, her husband's brother and his wife).
"I have only sons. We always wanted a daughter, so I am expecting one now. Let's see," says Sushma, a wide smile spreading across her face.
She has been feeling unwell these past 2-3 weeks. And visited the doctor in Nayagaon a little over a kilometre away – on foot and during the lockdown.  That's when she was diagnosed with a low haemoglobin level – which she calls "shortage of blood."
According to the National Family Health Survey-4, 53 per cent of all women in Madhya Pradesh are anaemic. And nearly 54 per cent of rural women – over 72 per cent of all women in MP – are anaemic. For urban women, that figure is 49 per cent.
"Pregnancy causes haemo-dilution due to which haemoglobin too goes down," says Dr Ramakanth Chaurhia, senior gynaecologist in the government hospital, Chitrakoot. "Improper diet is one of the major causes of maternal deaths."
Sushma's two-and-a-half year old son holds a finger on her left hand firmly while she uses her right hand to hold the bucket. Every now and then, she rests the bucket on the ground to ensure her saree pallu doesn't leave her head uncovered.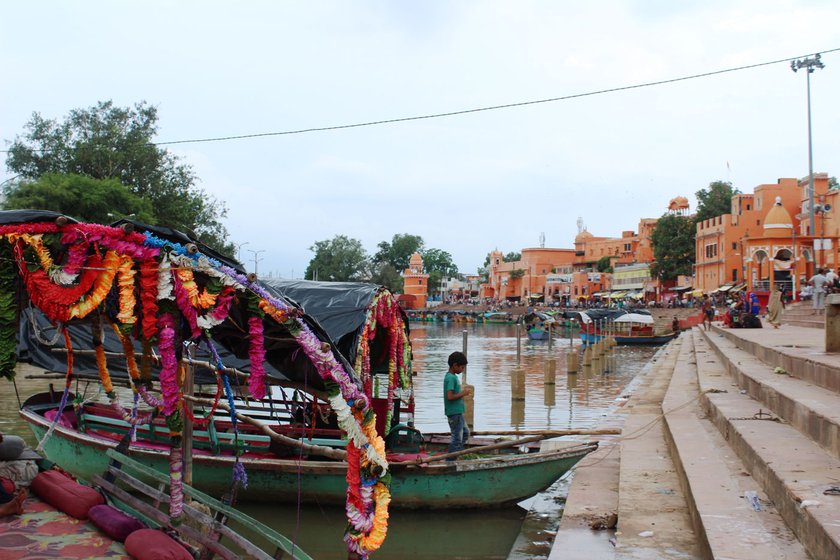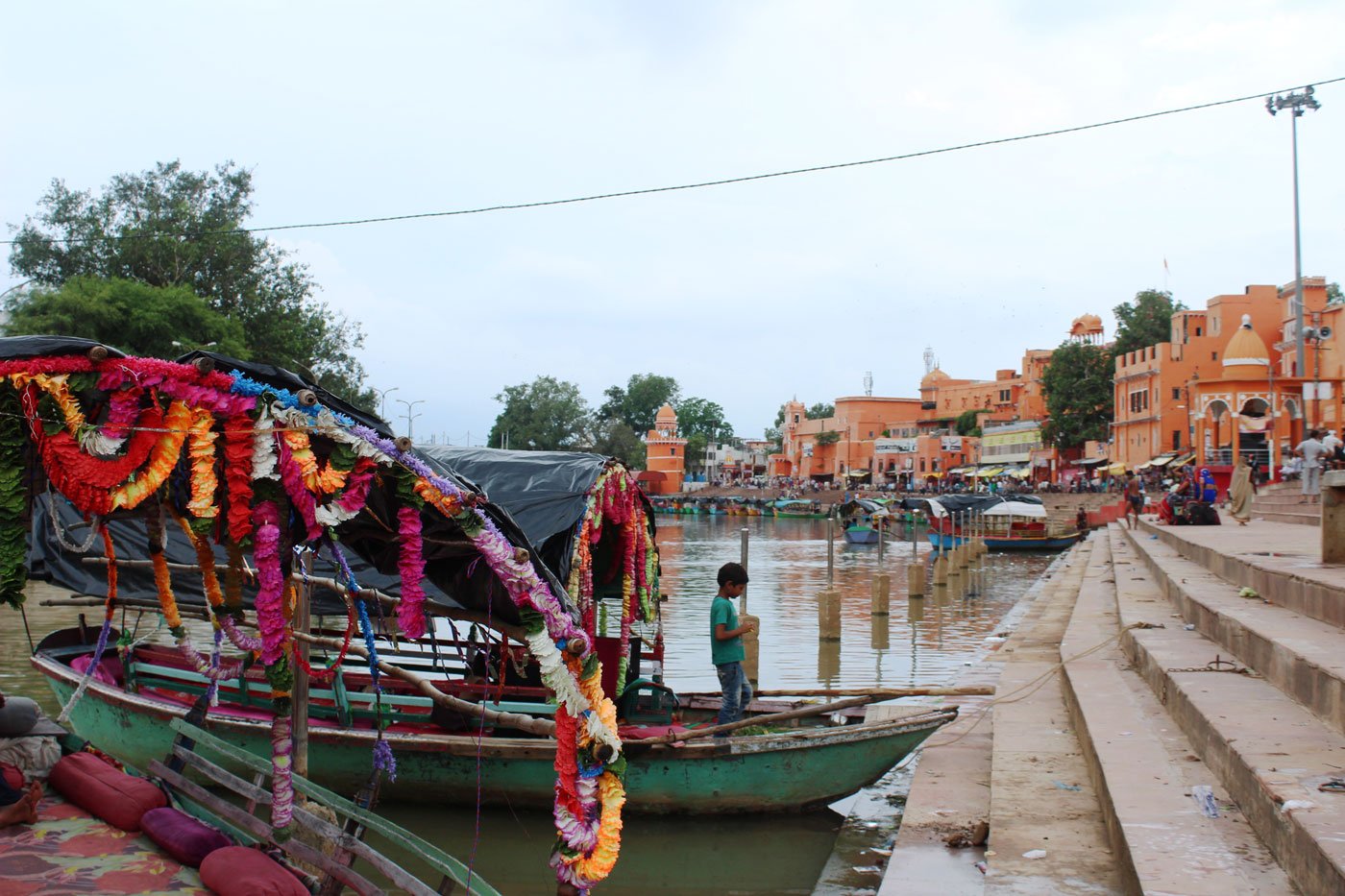 PHOTO • Jigyasa Mishra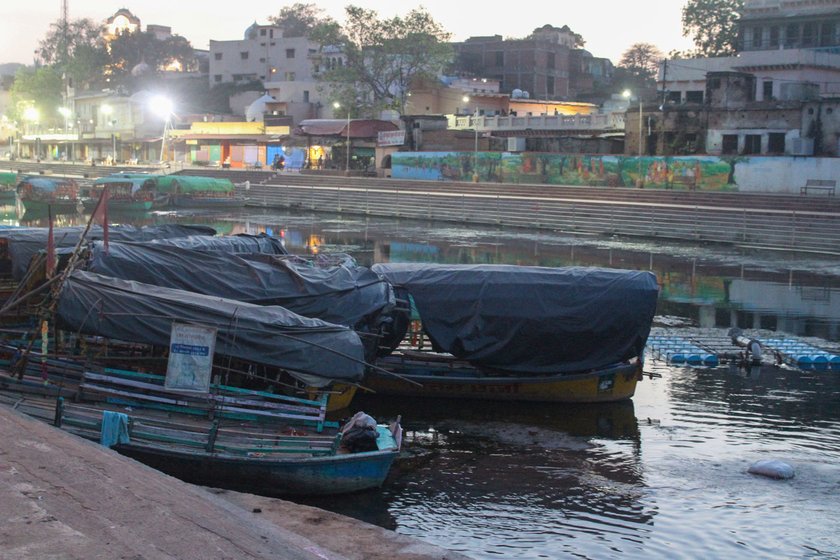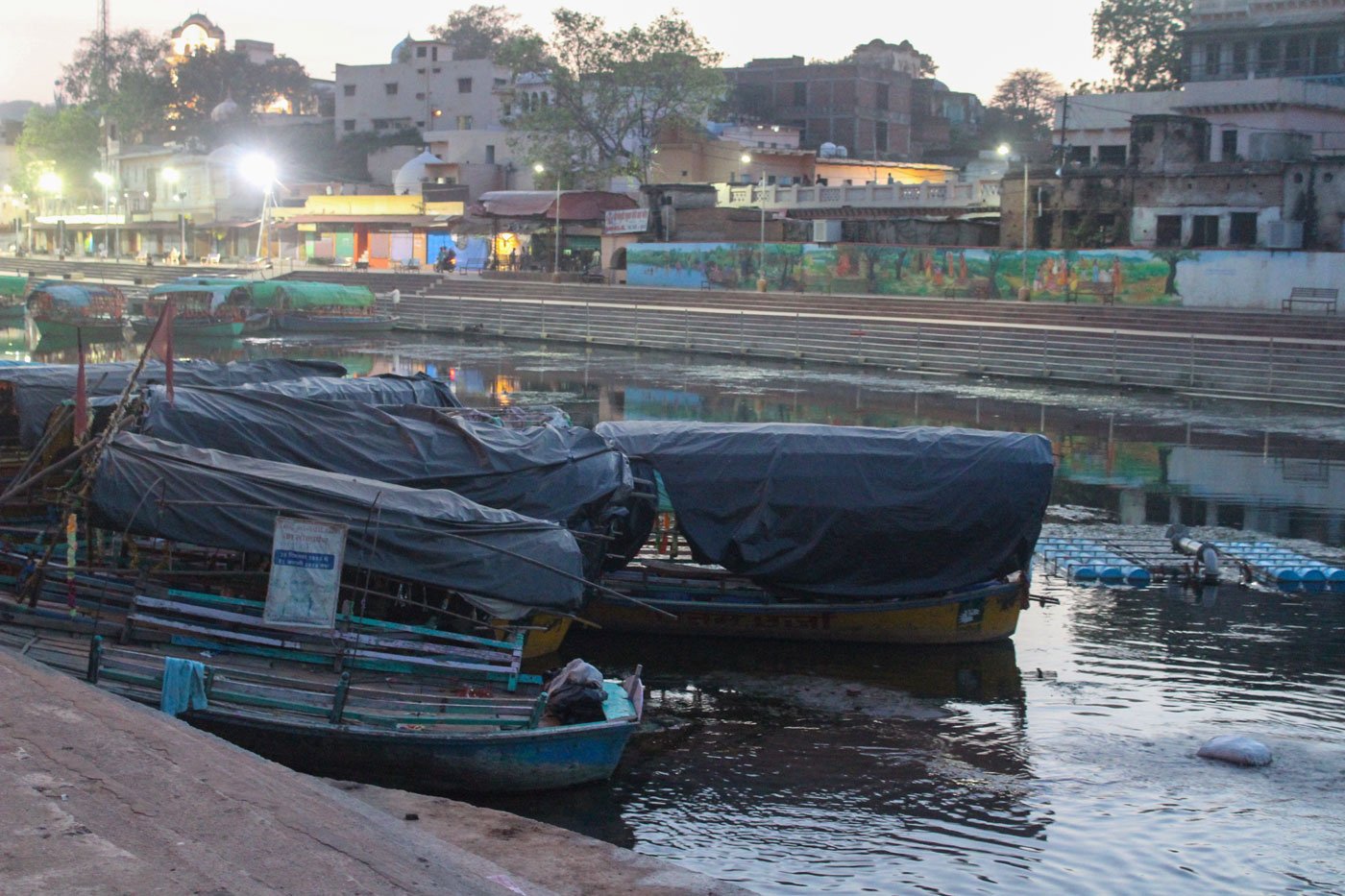 PHOTO • Jigyasa Mishra
"After my husband left us," says Sushma, "he [her brother in law] is the only earning member for all seven of us. But now even he can't work. For us it was rowing the boat throughout the day – and food in the night. Before the lockdown, he would make Rs. 300-400 per day. Sometimes just Rs. 200. My husband also earned the same. Then there were two earning members. Today, it's none."
Like roughly half the 60-odd families in Kewatra, Sushma's family owns no ration card. "What milk and what fruit!" she mocks. " Here getting a meal twice a day is a challenge when you have no ration cards." Why don't they have one? The men could answer that question better, she says.
Sushma's two older boys attend the government primary school here. One is in Class 3 and the other in Class 1. "They are at home now. They have been asking for samosas since yesterday. I even yelled at them in frustration. Today, my neighbour made some for her own children and gave a few to mine too," Sushma tells us, as she lifts her bucket, which she has filled only halfway, from the hand-pump. "I avoid lifting more weight than this, during this period," she explains. Her home is 200 metres away from the pump and these days, often, her sister-in-law carries the water.
Close to the hand-pump, a couple of men are standing with their toddlers, not far from the village temple. Among them is 27-year-old Chunnu Nishad. "I have been applying for the card and they have been telling me that I need to go to Majhgawan [the block headquarters]," he says. "They say I might even be required to go to Satna [around 85 kilometres away] to get it made. But even after applying three times, I could not get it. Had I known earlier about this situation coming up, I would have gone anywhere and everywhere to get it. At least then I would not have to seek a loan from my relatives in the city."
Chunnu lives with his mother, wife, a year-old daughter and his brother's family. He has rowed a boat for the past 11 years. The family is landless and under the lockdown, like the 134 other boatmen here, are earning nothing.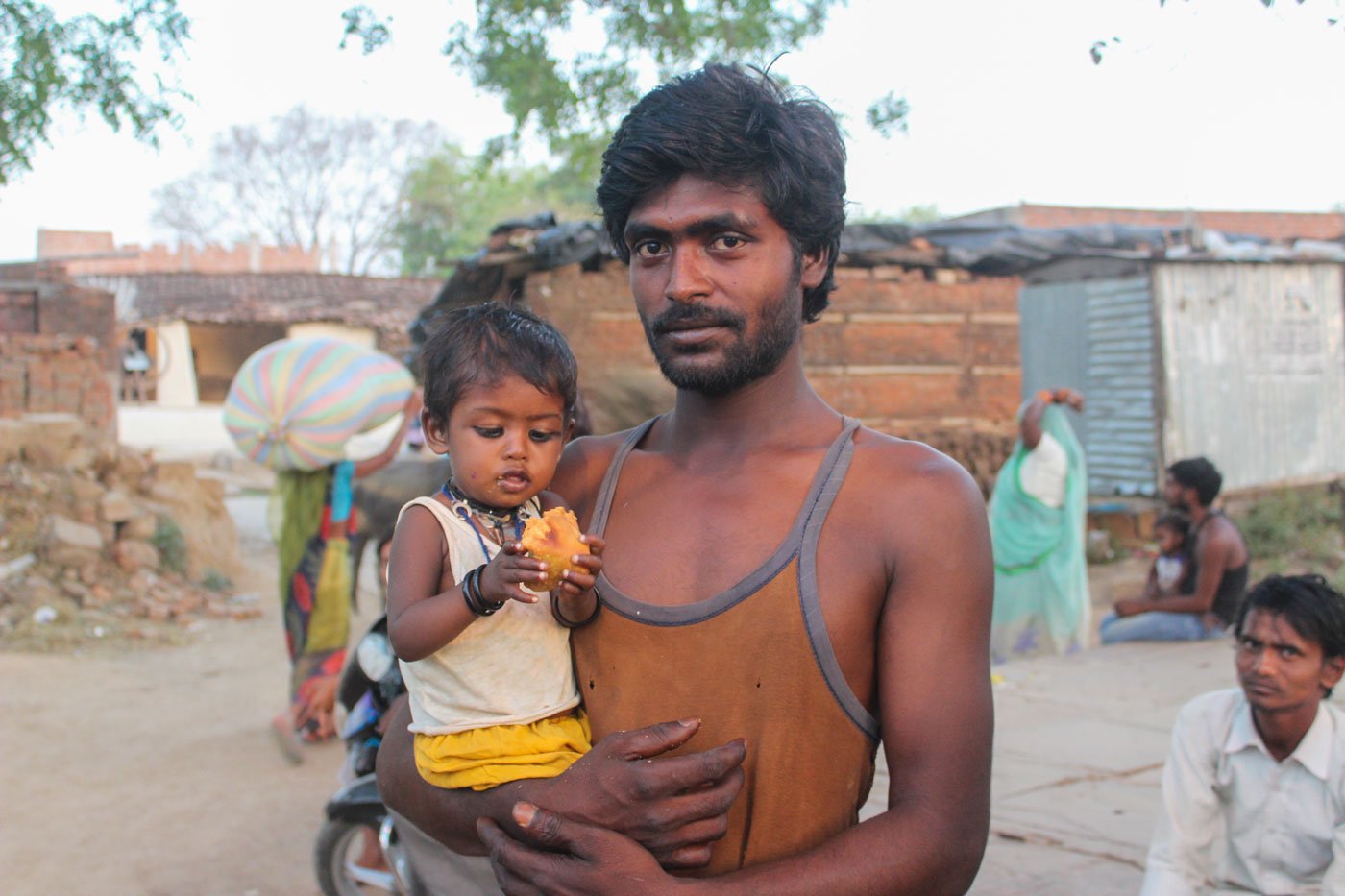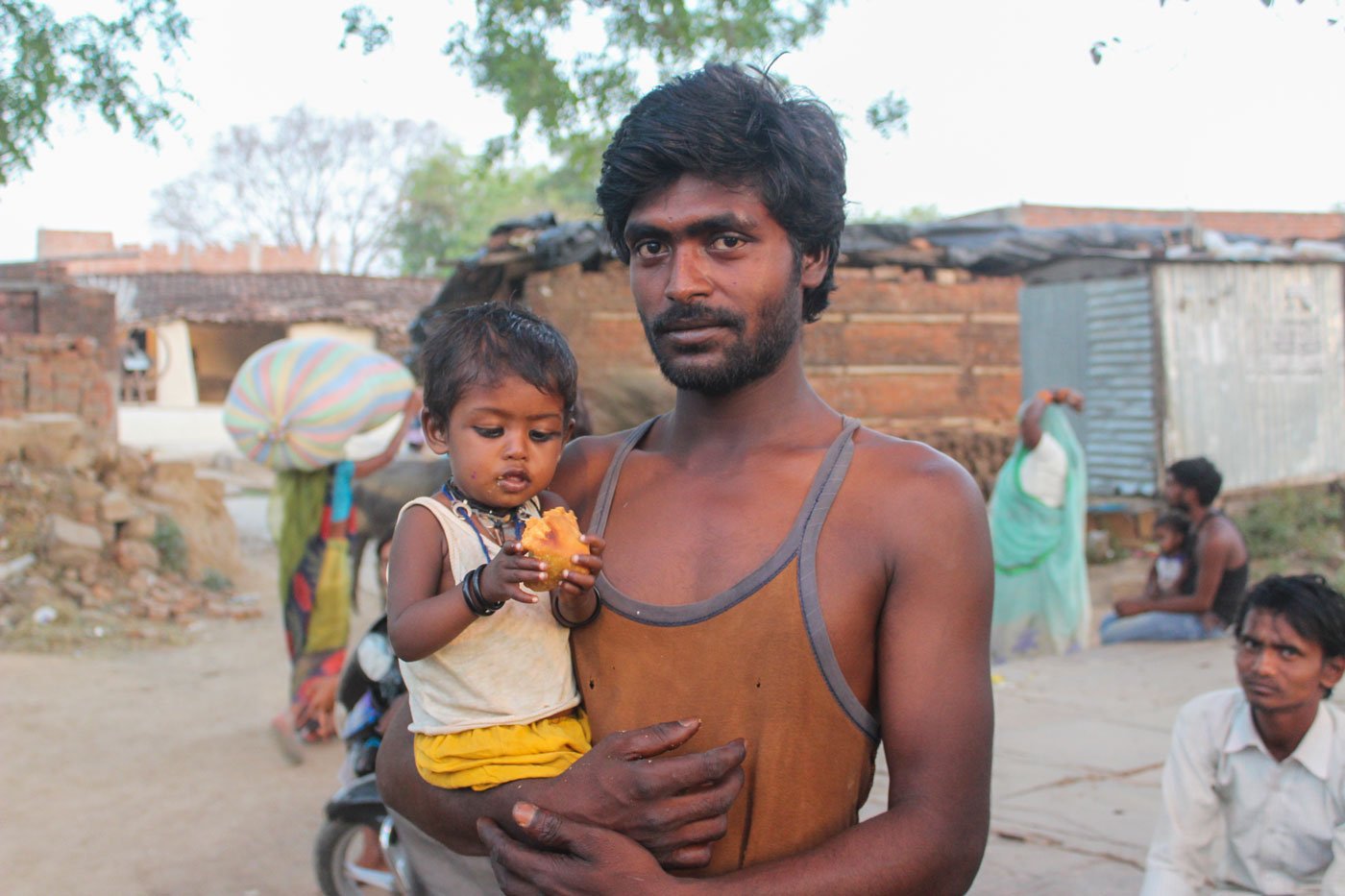 PHOTO • Jigyasa Mishra
Not having ration cards even after applying thrice is hard enough. But, says Chunnu, "We have heard that they'll give us the leftover rations on a different rate once they are done distributing it to all card holders." However, even among the few ration card holders here, some have not got the quota they are entitled to.
After the lockdown was extended, MP Chief Minister Shivraj Singh Chauhan had enlarged access to food by doing away with the requirement for the mandatory ration card or any other ID document. Madhya Pradesh announced free rations to 3.2 million people from the state government quota. The ration includes four kilograms of wheat and one kilo of rice per head.
Following this, Satna district announced free rations to its residents without any paperwork requirements. There are 216 such families – a total of around 1,097 residents – local media report, without ration cards in the Nagar Palika Parishad (municipal limits of Chitrakoot). But it appears the distributors did not take Sushma's hamlet Kewatra (also spelt Keotra) into account.
A recent study by the International Food Policy Research Institute (IFPRI) on how India's food safety net is responding, says, "COVID-19 exposes a harsh reality: An inadequate and uneven safety net may leave many from these economically vulnerable groups without access to food and other services."
Sushma recalls how she used to visit the ghat with her husband. "Those were the happy days. We would go to Ramghat almost every Sunday and he would take me for a short boat ride. He would not take any customer on that trip," she says, with pride. "I have not been to the ghat after his death. I don't feel like going anymore. Everyone is locked down. Even the boats must be missing their men," she sighs.