Tapan Mondal's is called 'Anna' by many because, some say, of a resemblance to the movie star Rajnikanth (who too is popularly referred to by that term for 'elder brother').  But it's for idols of another kind that Mondal is more well-known in Vadodara – he is perhaps the only murtikar in town sculpting 5 to 9 feet tall deities with clay instead of the more commonly-used plaster of paris.
And he fuses idol-making techniques from West Bengal when moulding Ganpati and other deities. " The clay idols are imprints of Kumartuli which I have brought here – 2,000 kilometres  from Bengal," he says.
Tapan's workshop – one of around 30 in the city – called Shri Ram Krishna Pratimalay, is in the Panchvati area of central Vadodara. Here, an inclined asbestos roof shelters aisles stacked with moulds, colours, clay and implements. In peak season an extended plastic roof supported on bamboos comes up on the other side of the road, where the taller Ganpati idols are carved.
The workshop remains busy throughout the year – sculpting Ganpati, Durga, Vishwakarma, Saraswati and other deities, depending on the season and demand.  Every year, Tapan and his co-workers make around 10 Ganpati idols of 5-9 feet, depending on the number of advance orders – each costs Rs. 20,000 to Rs. 1 lakh, he says. They also make 20-30 three-feet tall idols and 40-50 smaller sized Ganpatis – their prices ranging from Rs. 2,000 to Rs. 10,000.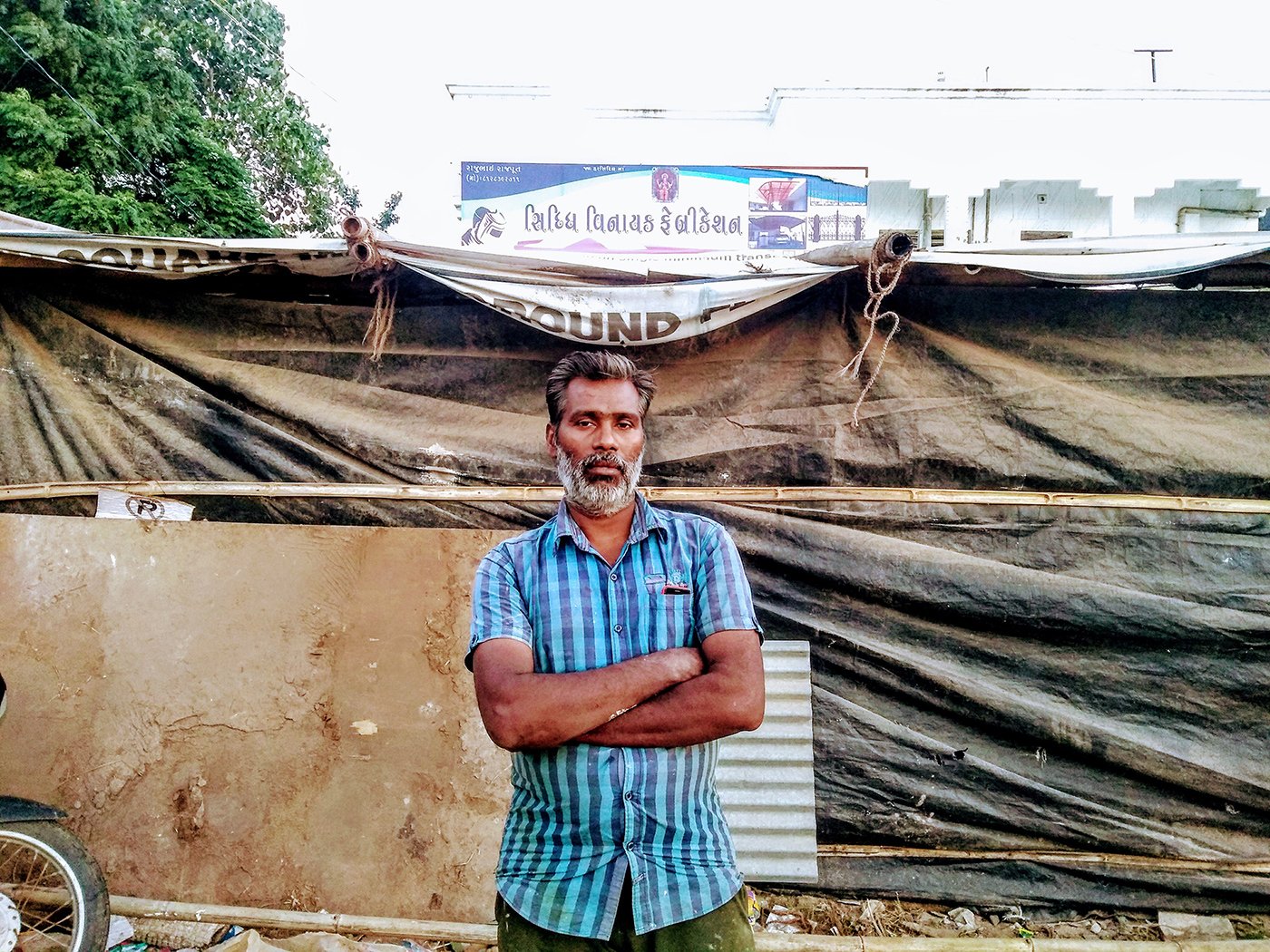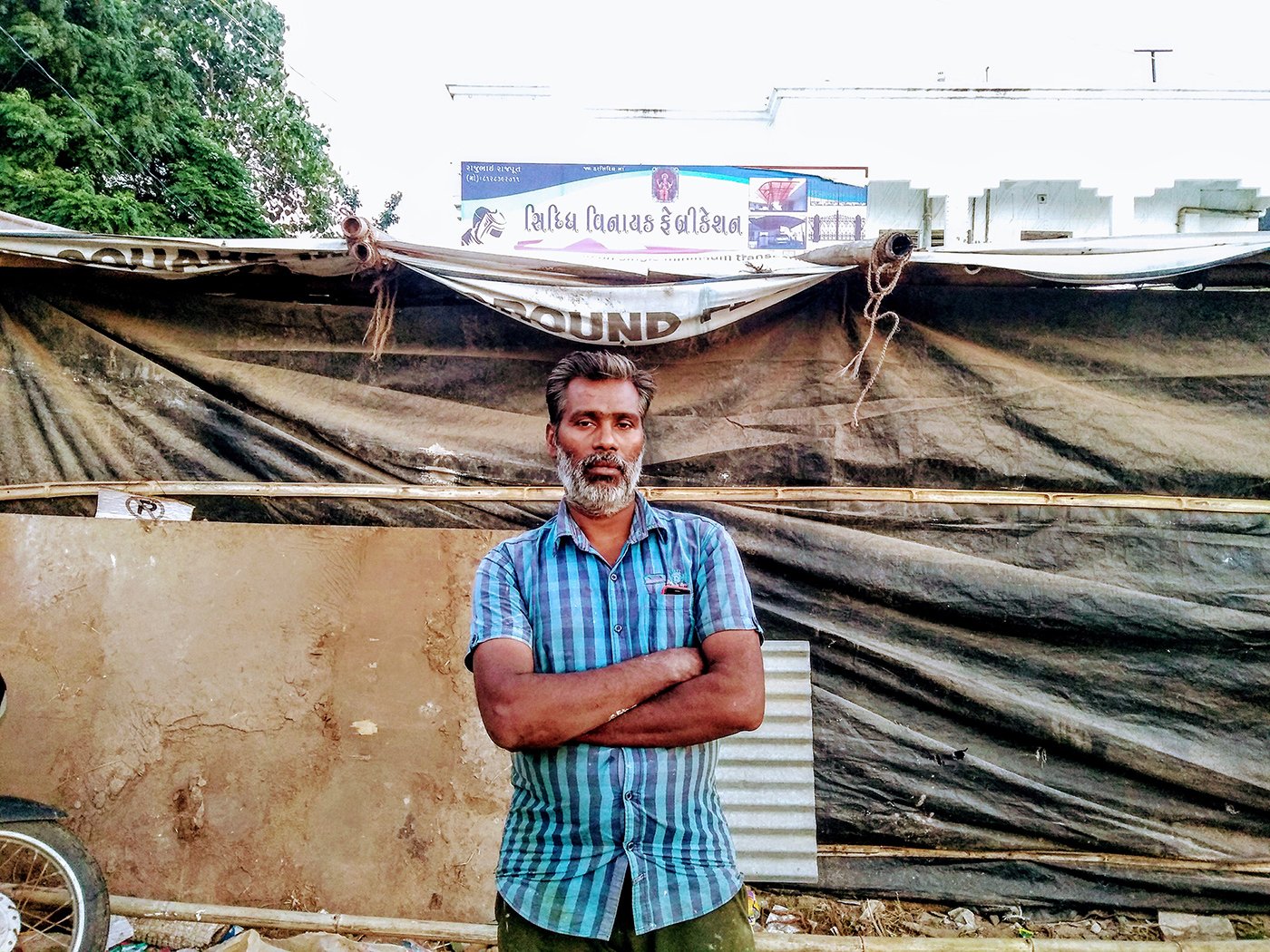 PHOTO • Aditya Tripathi
Tapan, now 46, started learning the art of making idols from his father Adhir Mondal when he was a young boy. The family then lived in Gauripur village of Uluberia tehsil in West Bengal, around 48 kilometres from Kumartuli, an old potters' colony in Kolkata. "In 1984, a family friend brought pitaji and me here [to work as helpers in idol-making workshops]. We kept coming for a month each year," Tapan recalls. They would come during off-season in West Bengal, and return in time for the Durga Puja idol orders.
In 1992, after his father returned home, Tapan stayed on to work at a construction site in Vadodara for a few months. "I didn't like lifting heavy objects but what else could I do in the days other than Durga Puja? It was a question of the stomach…" One day, he says, "a Gujarati saheb saw me drawing sketches of gods in the workers' quarters [at the site]. He asked me if I could draw Ganesha." And then took him to an idol maker in Mandvi in central Vadodara. The murtikar hired young Tapan at his workshop, where 10-12 other artisans worked. "At that time I was getting Rs. 25 per day [at the construction site], so I asked him for Rs. 35 per day and he agreed. What else did I need? I was getting to pursue my interest [making idols] along with an income."
PHOTO • Aditya Tripathi
The idol maker, Govind Ajmeri, asked Tapan if he could sculpt Goddess Kali. Tapan made an idol, though it was of plaster. Impressed by his skill,  Ajmeri retained him on contract based on executing orders – which meant a better income . "I remained there till 1996. Meanwhile I got to know several yuvak mandals [youth associations] which organised community Ganpati festivals. One mandal approached me with an offer. They provided me with the clay, grass, bamboo and colours. I made an idol for them in space they provided at Dandia Bazar in Mandvi," says Tapan. "In 1996, Vadodara's tallest idol – eight feet – was made by me for a mandal in Pauva Vala Galli. I was paid 1,000 rupees."
Till the year 2000, Tapan continued to struggle for work and an income. "As word spread that I was using clay, some local artists spread rumours that [tall] clay idols break easily," Tapan says. But Bangla idols, he adds, are resilient – dried paddy stems are used as the base structure fastened with coir ropes. The combination of straw bundles and clay kneaded and moulded over them prevents cracking. "We in Bengal make Durgo murti the same way and I was not trying something new," he says.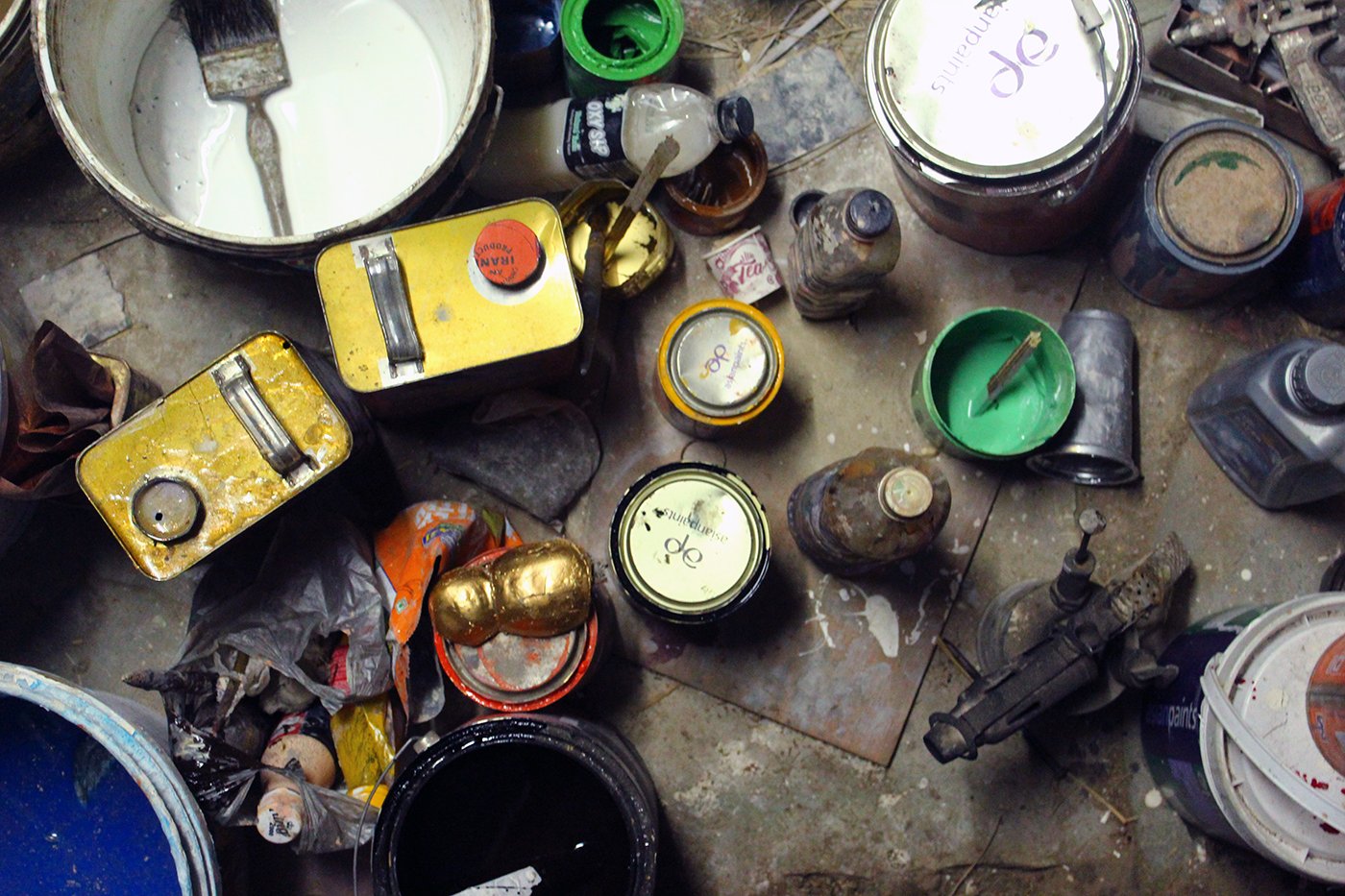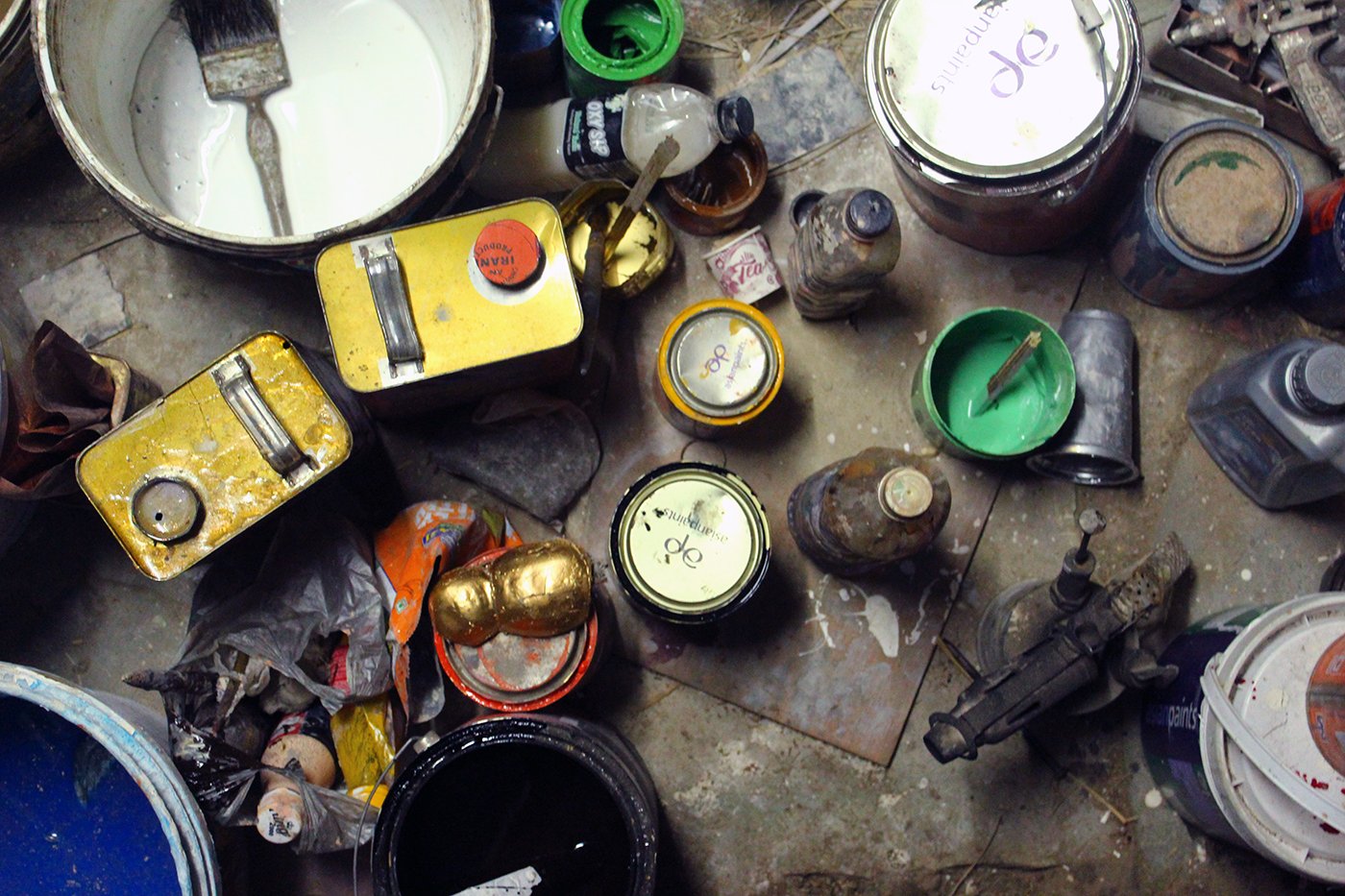 PHOTO • Aditya Tripathi
Tapan slowly got a team of helpers together and, in 2002, they made a clay idol of 9 feet for a yuvak mandal , along with several other smaller idols for other buyers. Gradually, the customers started growing, just as concerns about the water pollution caused by immersing PoP idols were growing. Tapan says he and his co-workers only use clay from the banks of the river Ganga in Kolkata. "Just after Diwali each year, I go to Howrah and transport the soil here on trucks. Sometimes, we get soil from Bhavnagar [in Gujarat] when we run out. But Ganga mitti has the finest granules and gives the smoothest touch to the idols. It is also considered sacred."
Tapan's work is now a fusion of Bangla sculpture with the idol-making forms of western India. Unlike the Bangla tradition, the eyes of the Ganpati idols are kept small. The colours he uses are acrylic and water based, unlike the natural colours used by several idol-makers in West Bengal. The deities sculpted at Tapan's workshop are often adorned with jewellery resembling that from the Peshwa period of Maratha rule.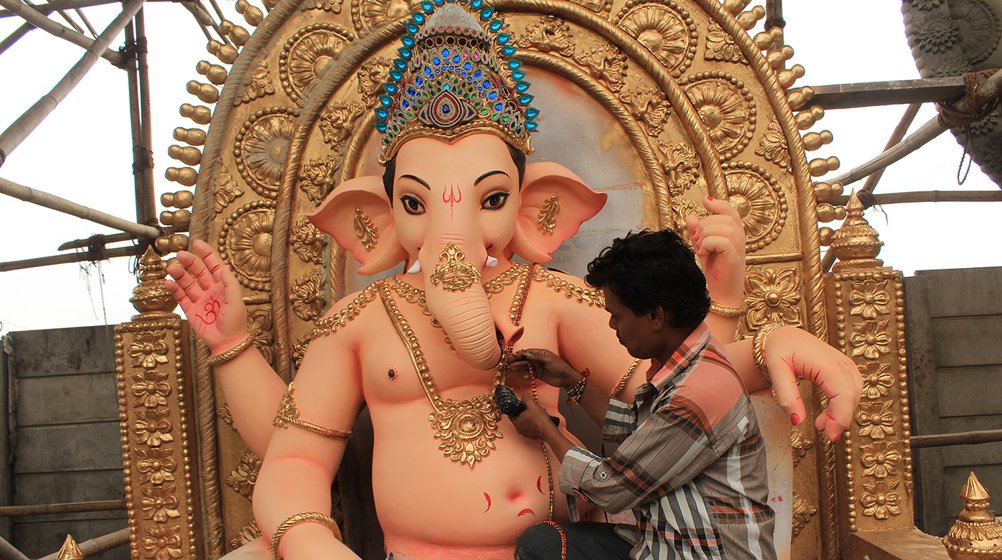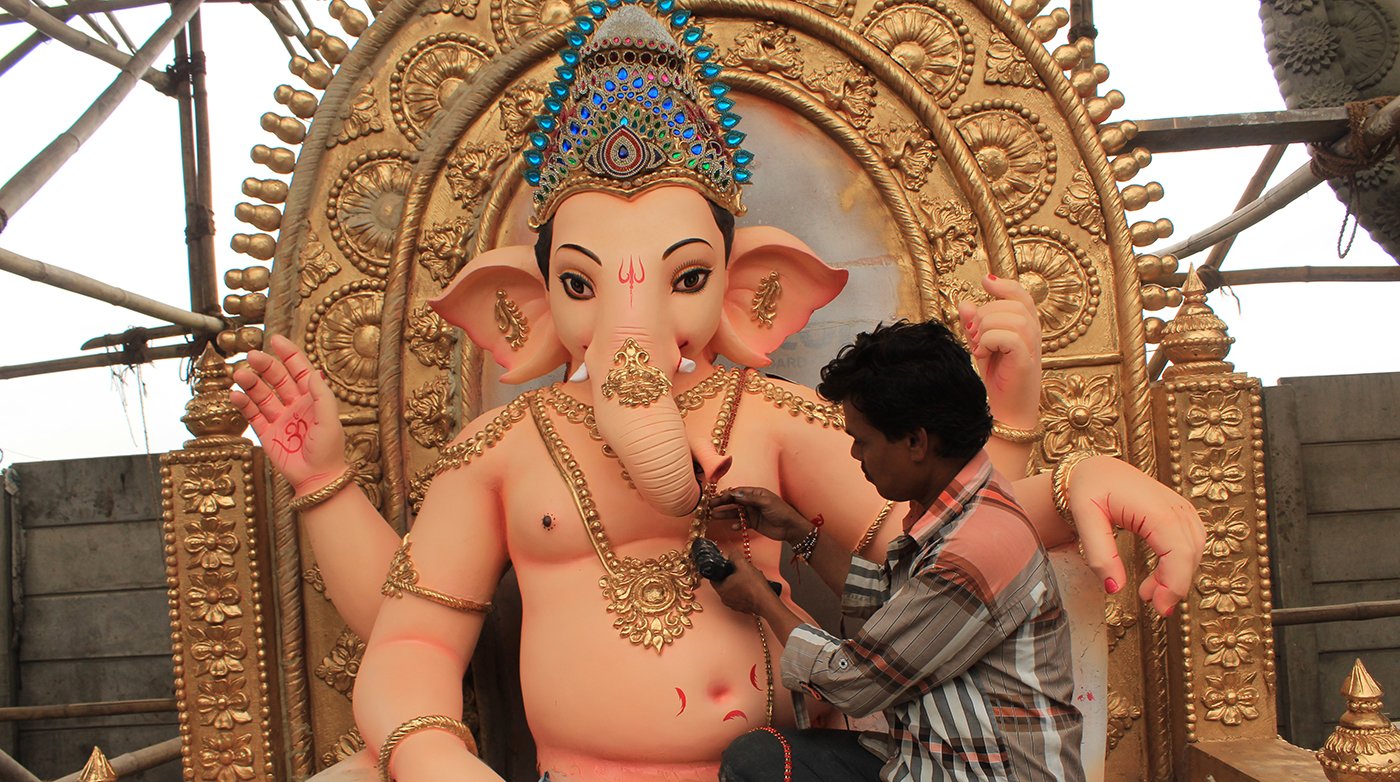 PHOTO • Aditya Tripathi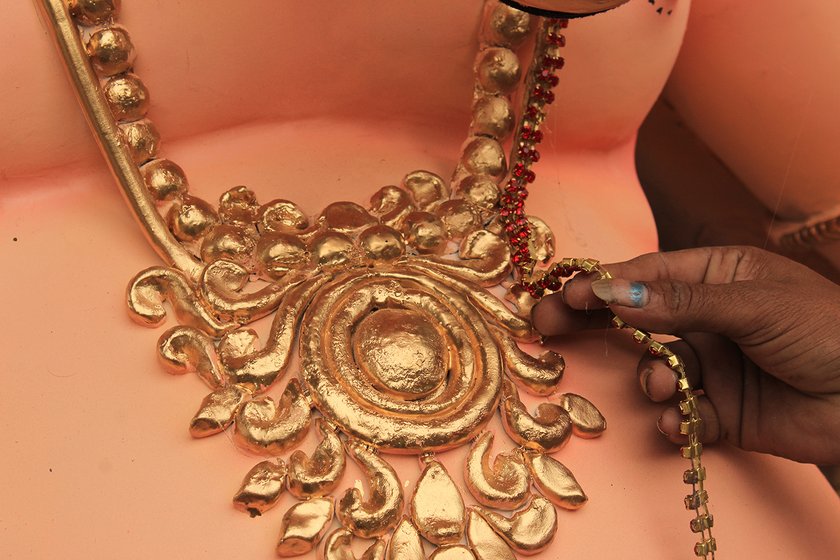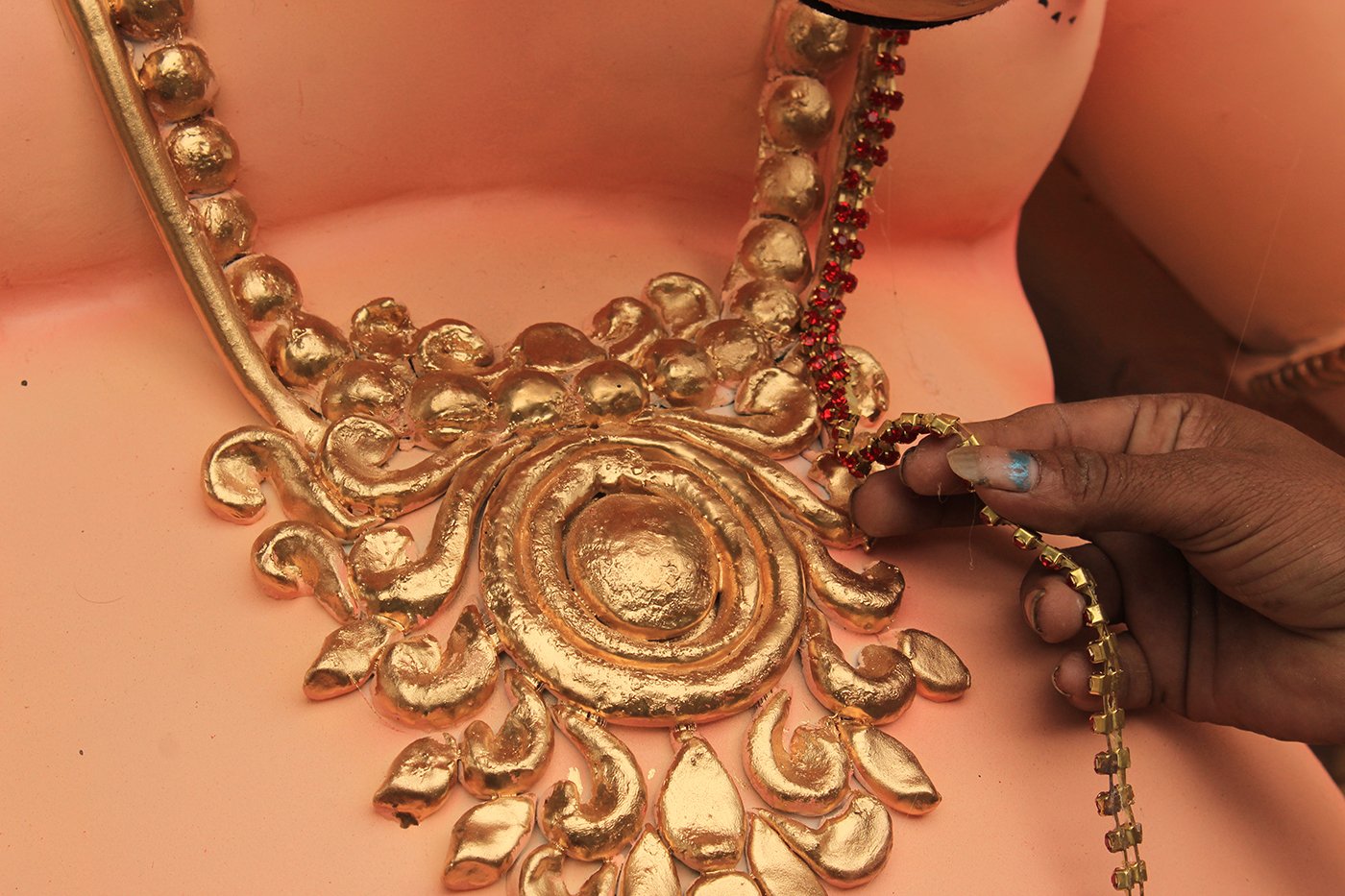 PHOTO • Aditya Tripathi
Tapan's brother Swapan, 38, who came to Vadodara in 2002, much after his father and brother, coordinates the workshop. "I left school in our village after the 8th standard because I was interested in this. To practice art, no one needs a degree," he says. Around 15 artisans from their tehsil , Uluberia, work with the Mondal brothers in peak season. They earn Rs. 9,000 each per month, as well as meals for two months before the Ganpati festival – after which they return home to work as agricultural labourers, house painters, marginal farmers, or on other jobs.
Some have learnt the nuances of idol-making from Tapan, some brought along their own skills. Among them are Manoranjan Karamkar, in his 60s, and his nephew Shyamal Karmakar, in his 40s, both from Kulgachia village, who have a sculpting workshop in their village. They were planning to return the day after Ganesh Chaturthi on September 13 when I met them. "We come here for two months before the Ganesha festival as that is off-season for us in Bengal," Manoranjan says. "We earn better this way. Who can remain dependent on crops?"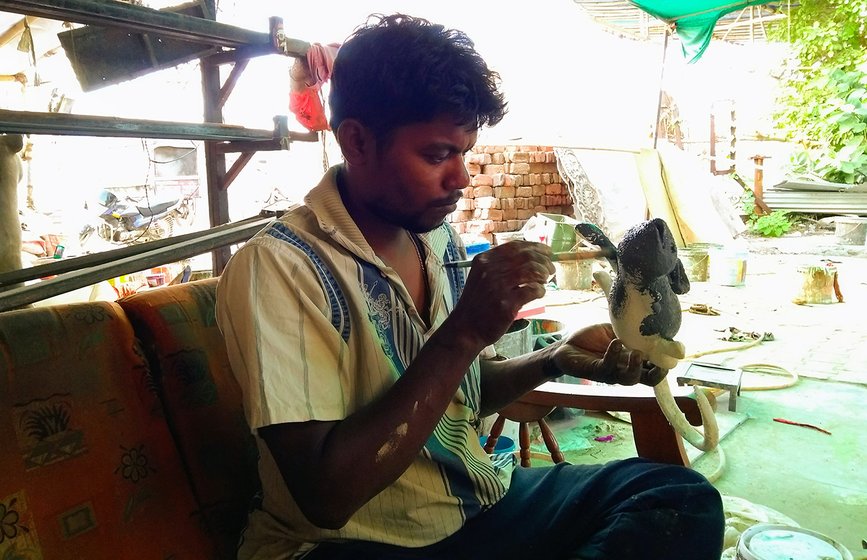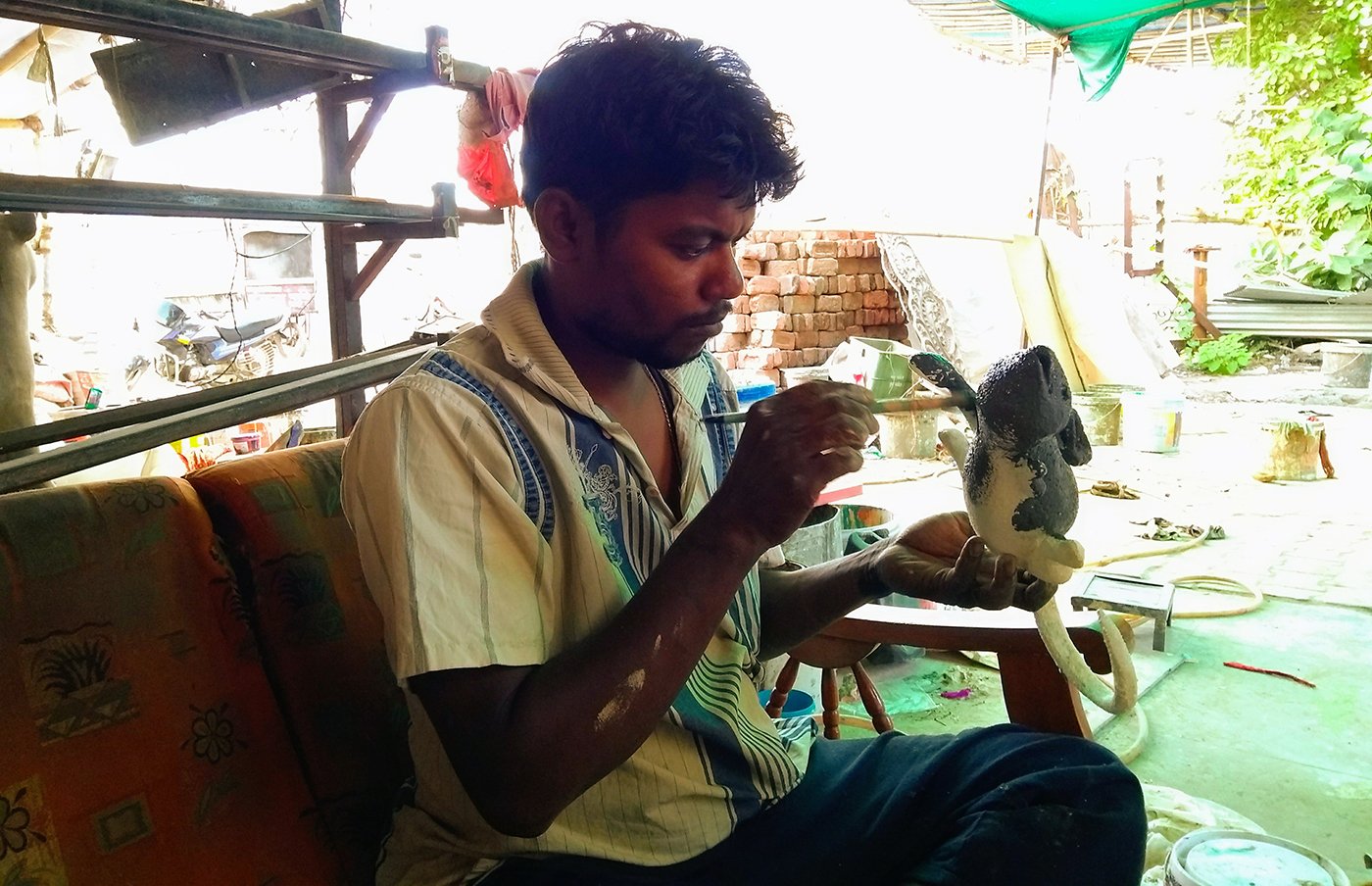 PHOTO • Aditya Tripathi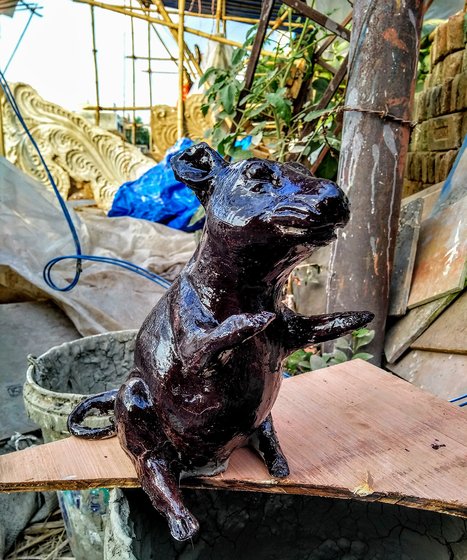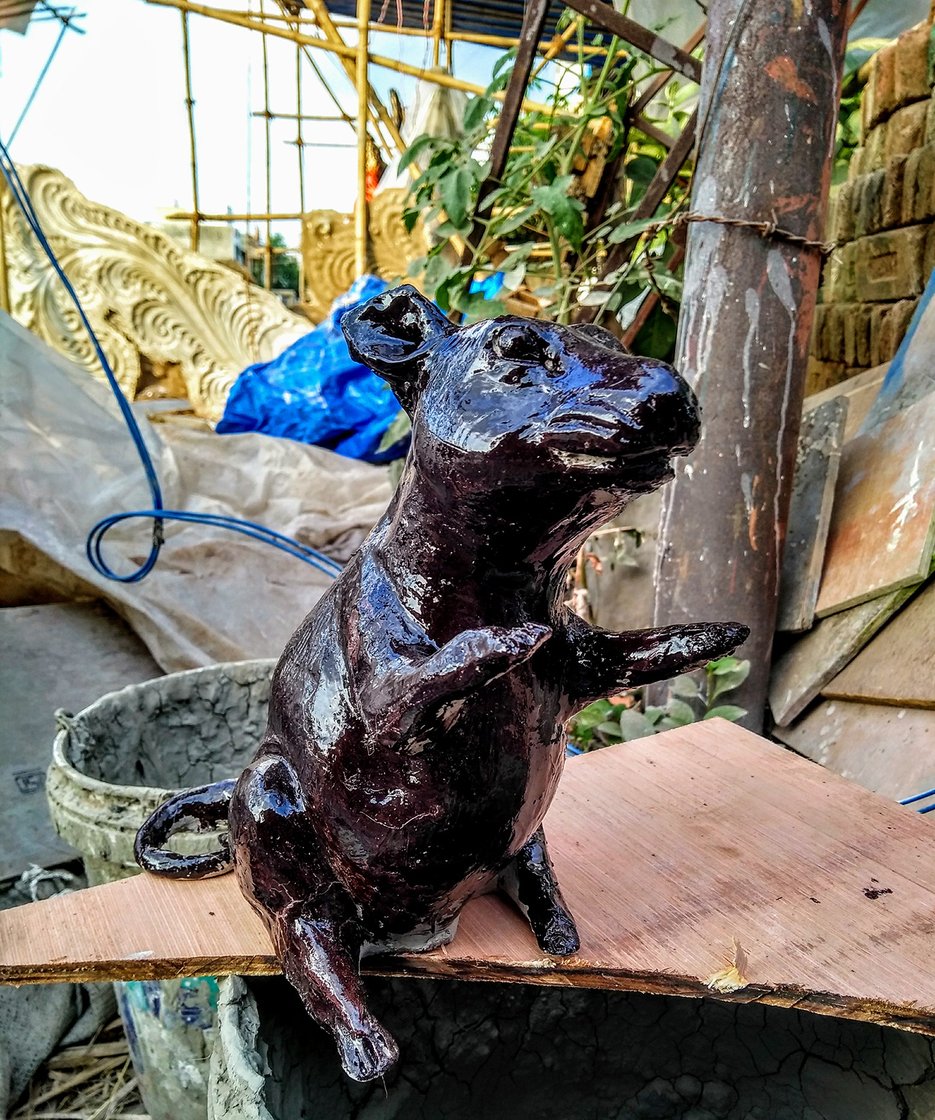 PHOTO • Aditya Tripathi
Ganesh Das, 35, from Kamala Chak village, who focuses on designing clay petals and adornments says, "I was doing kashidakari [fine needlework] at home. When I heard about work in this field of art, I came here in 2015. I learnt from Tapandada."
A group of workers at the Mondals' workshop, also from Kamala Chak, is from the Ruidas community, a Scheduled Caste. Raviram Ruidas, in his 50s, is a daily wage labourer in his village whenever he does find work; he supports a family of five. "I earn better here," he says. Arun Ruidas, 40, is also a daily wage labourer in his village, or he goes to Delhi in off-seasons in search of work. He also plays the keyboard in wedding bands, though, he says, "Our traditional work is to play the dholak on auspicious occasion. But we can't earn that way all the time. In a small village like ours, how can we have marriages often… and the bands of other villages don't have a place for outsiders."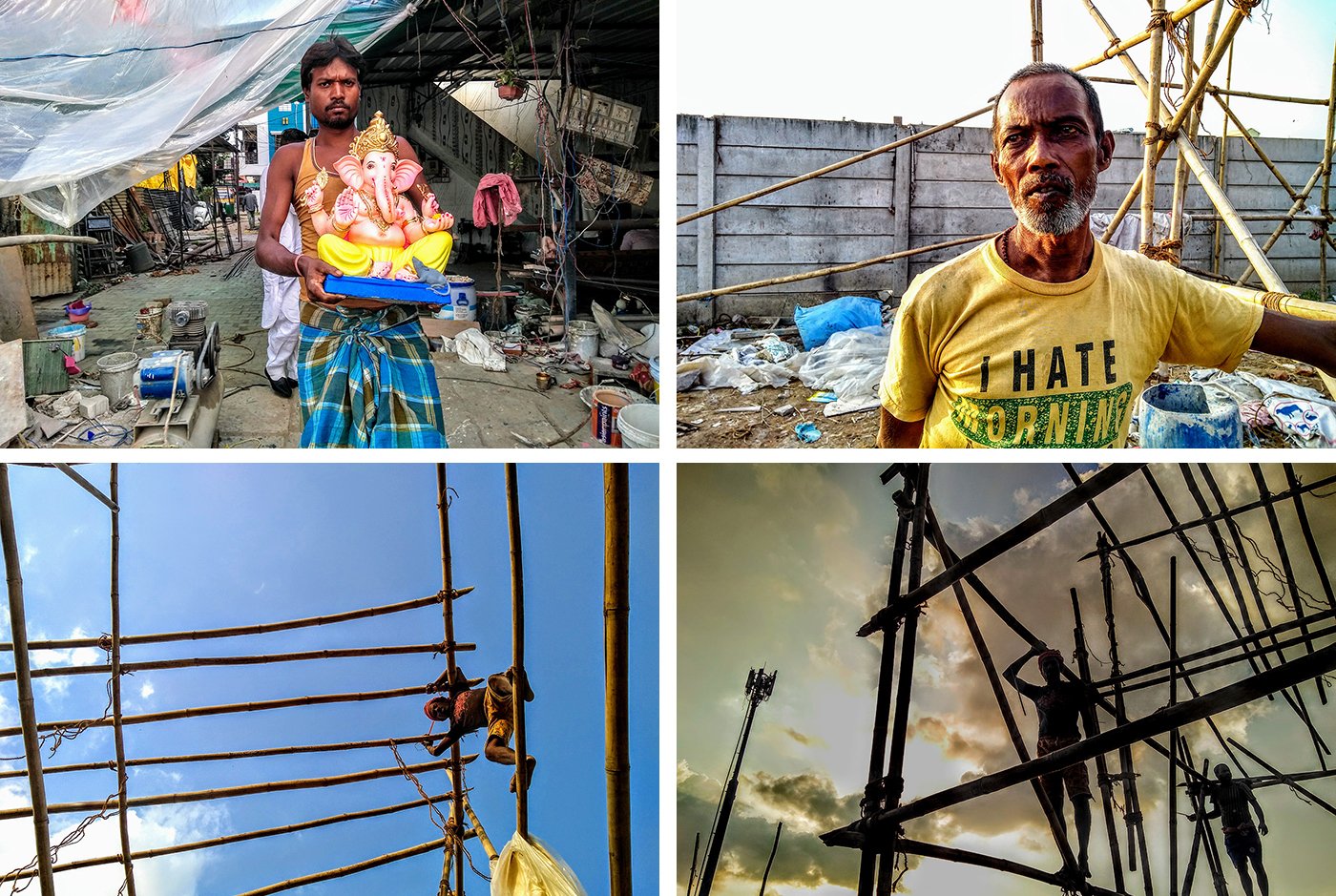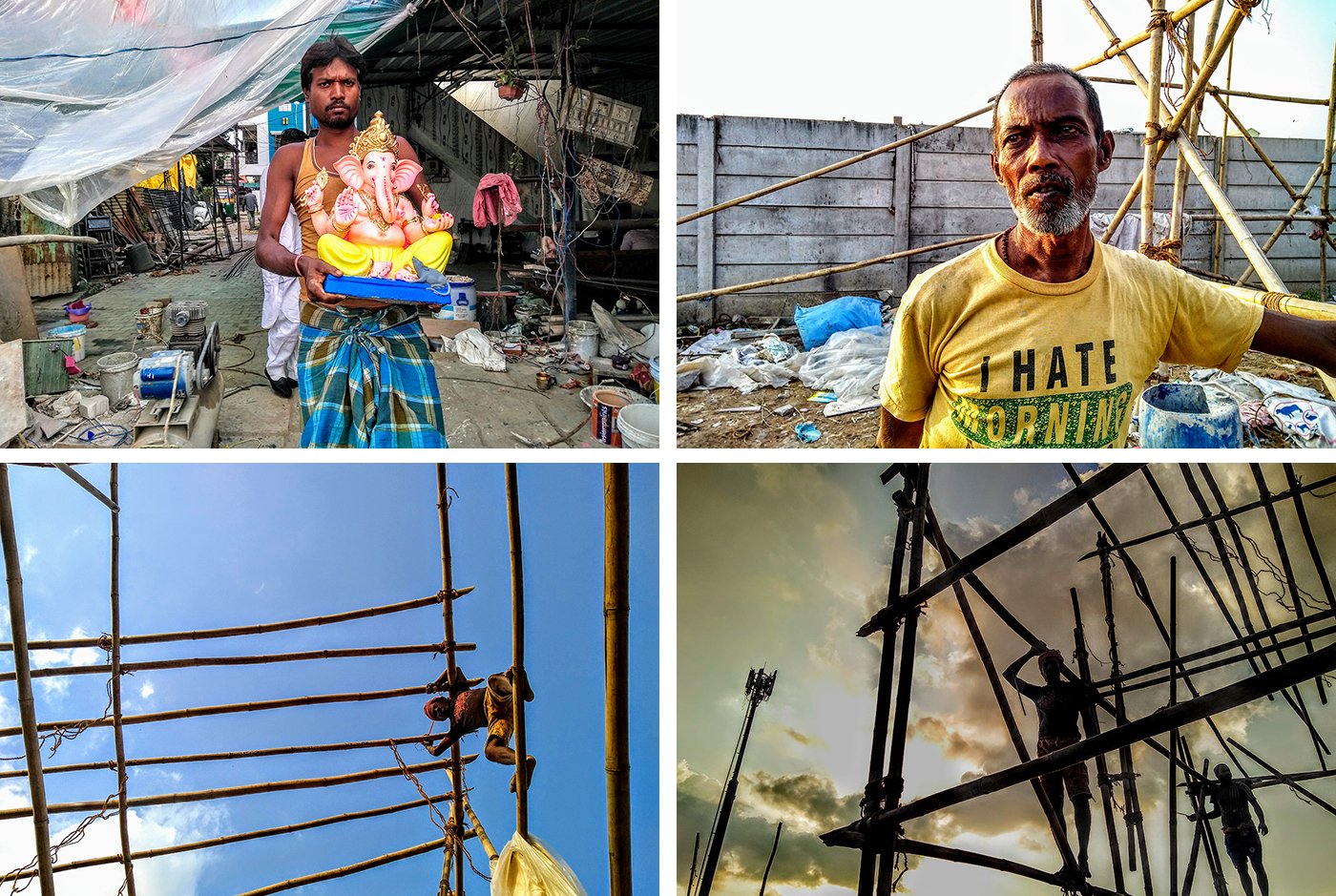 PHOTO • Aditya Tripathi
Nabo Ruidas, who is on the scaffolding unhinging the bamboos of the roadside pandal after all the large idols have been sold, ferries the colours for the artisans, moves idols, kneads the clay. He says, "We in the Ruidas community play various musical instruments. I play the bansuriya [flute]. But instead of playing bansuriya , I am hanging on to baan s [bamboos]."
For the Mondals, their days of struggle are over, and the family is now well-off. Tapan and his wife Mamoni and their three daughters have settled in Vadodara, along with his brother Swapan and his family. Tapan's eldest daughter Tanima, 17, studies in Class 12 and wants to be a surgeon; Anima studies in Class 6; and the youngest daughter is in kindergarten. Tapan wonders if they will carry forward his work.  "This is a tough art," he says, standing before his workshop. "Someone has to keep it alive."
After all, as Chintan Gandhi, from a youth mandal that has been purchasing idols here since 2015 tells us, "Now Anna's idols have become a brand."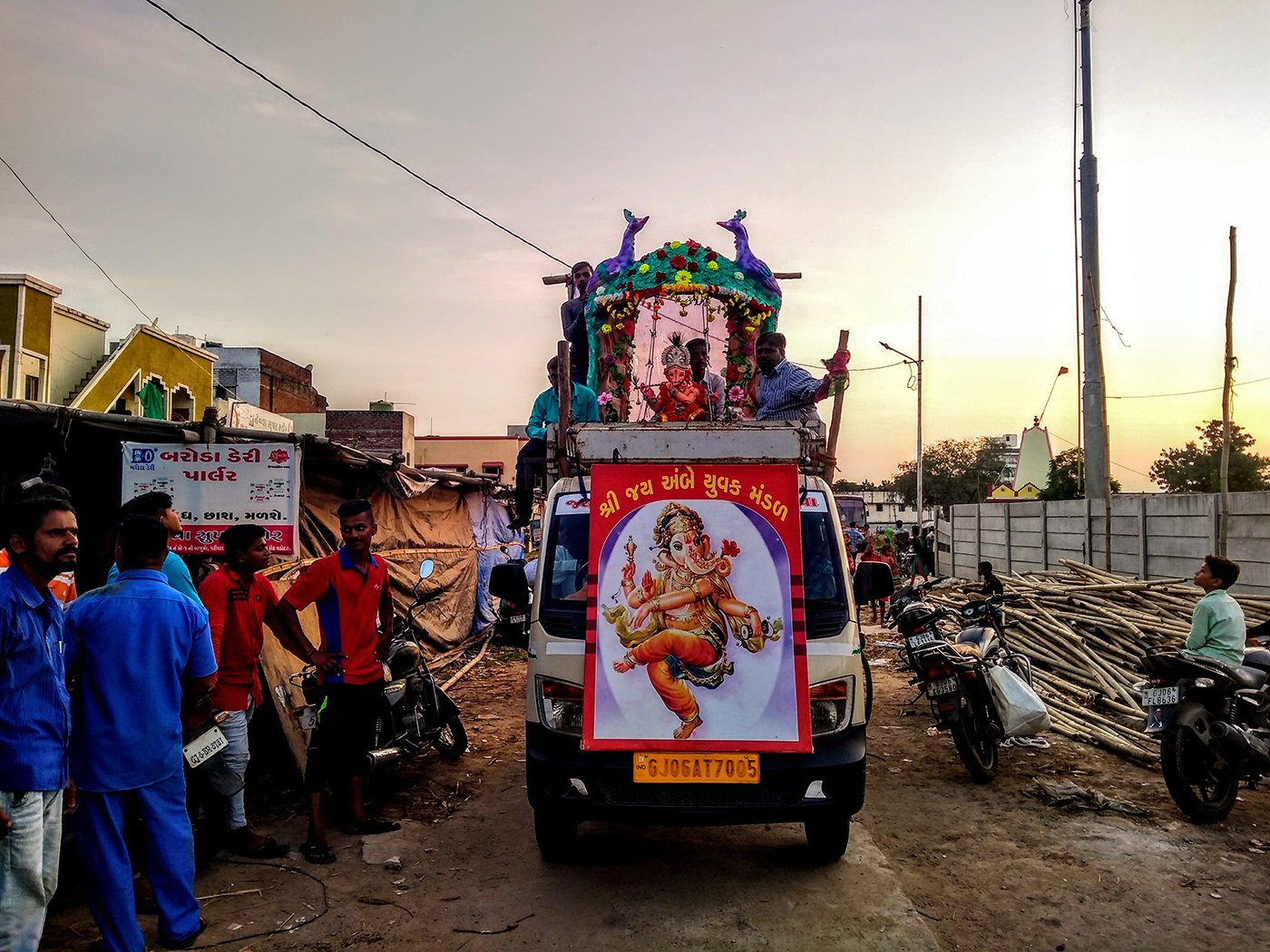 PHOTO • Aditya Tripathi
Aditya Tripathi is a photographer based in Vadodara, Gujarat. He contributes to Getty Images and Shutterstock, and serves as a Local Guide Photographer to Google Maps. He is studying BSc Physics at the Maharaja Sayajirao University of Baroda.