"This [Supreme Court] ruling will only increase the crime rate against us!"
Listen to Saroja Swami. She reflects the anger of all those gathered at the Dalit and Adivasi protest on April 2 in Mumbai – and the anger of millions nationwide.
"We still live in times where a Dalit boy is killed for riding a horse," says Swami, 58, a political activist, while walking with the protestors from Kotwal Udyan in Dadar towards Chaitya Bhoomi near Shivaji Park, both in central Mumbai.
The protestors were appalled by the Supreme Court ruling of March 20 that dilutes some provisions of the Scheduled Castes and Scheduled Tribes (Prevention of Atrocities) Act, 1989. The apex court's ruling means that hereon, public servants accused of discriminating against Dalits or Adivasis can only be prosecuted after prior approval from their appointing authority.
Further, a Deputy Superintendent of Police would have to conduct a prior inquiry into the charges to determine whether they are genuine or frivolous. The Union government has filed a review petition to contest the ruling.  The court has agreed to an immediate hearing on the matter.
NCRB data show that cases of atrocities against SC and ST communities increased by around 5 per cent in 2016 over 2015. Conviction rates remained at a low 2-3 per cent
"In times like these, how is it justified to come up with such a ruling?" asks Swami. "Women are raped because they are Dalits, we are denied jobs because of our caste. Let alone the day-to-day discrimination like not being able to use the common well in the village."
The dissent against the Supreme Court's ruling also comes against a backdrop of rising atrocities against Dalits and Adivasis. According to the National Crime Records Bureau (NCRB), crimes/ atrocities against the Scheduled Castes rose from 38,670 in 2015 to 40,801 in 2016 (5.5 per cent). Those against Scheduled Tribes saw a similar 4.7 per cent rise.
The pathetic 2-3 per cent conviction rate in atrocity cases sharpens a genuine, seething feeling of injustice amongst Dalits and Adivasis.
In October 2016, the prime minister felt compelled to say that he "hung his head in shame" over "incidents targeting our Dalit brothers even today." Yet, those incidents steadily rose under his government.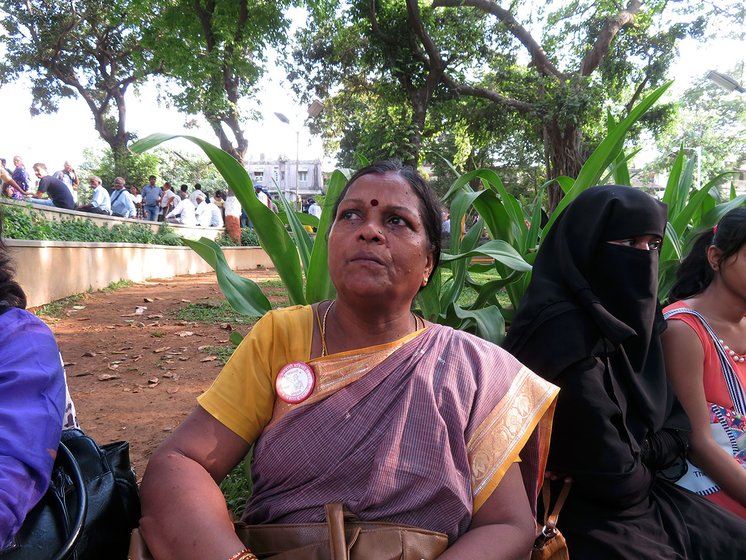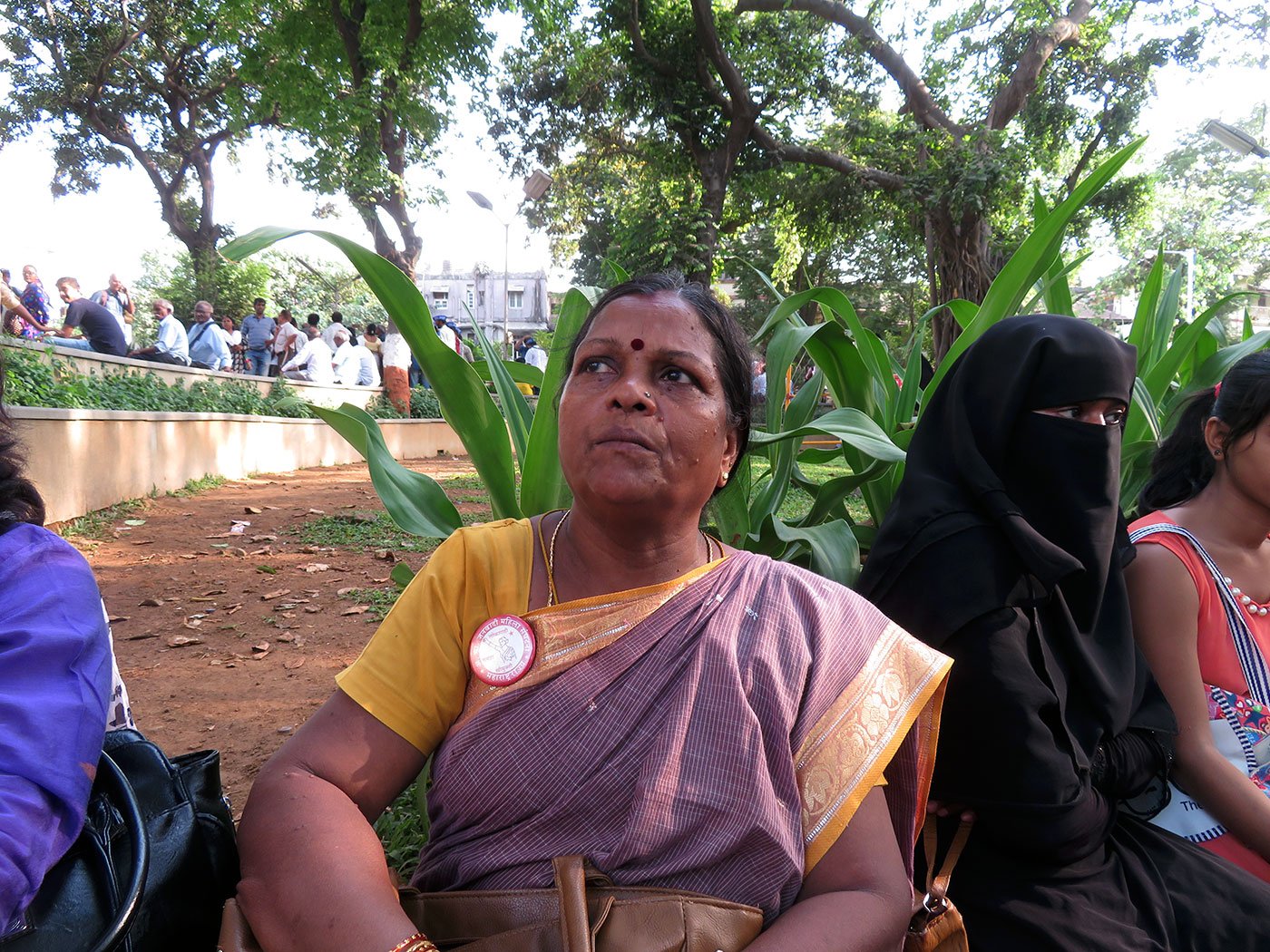 PHOTO • Siddharth Adelkar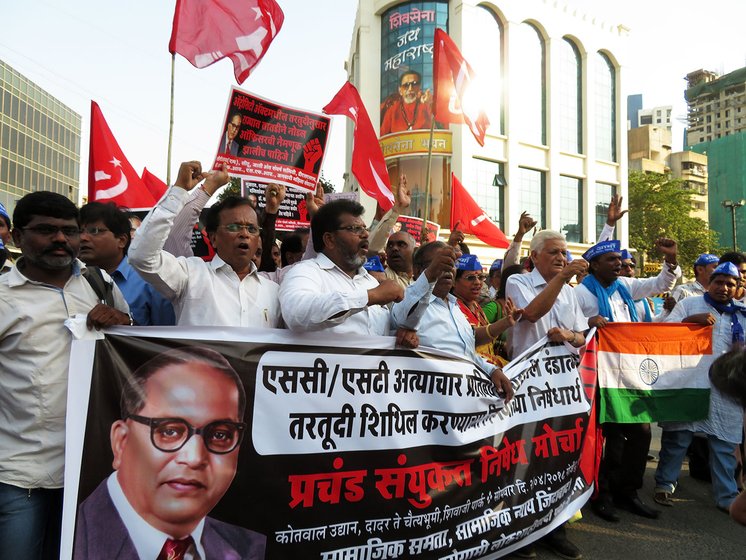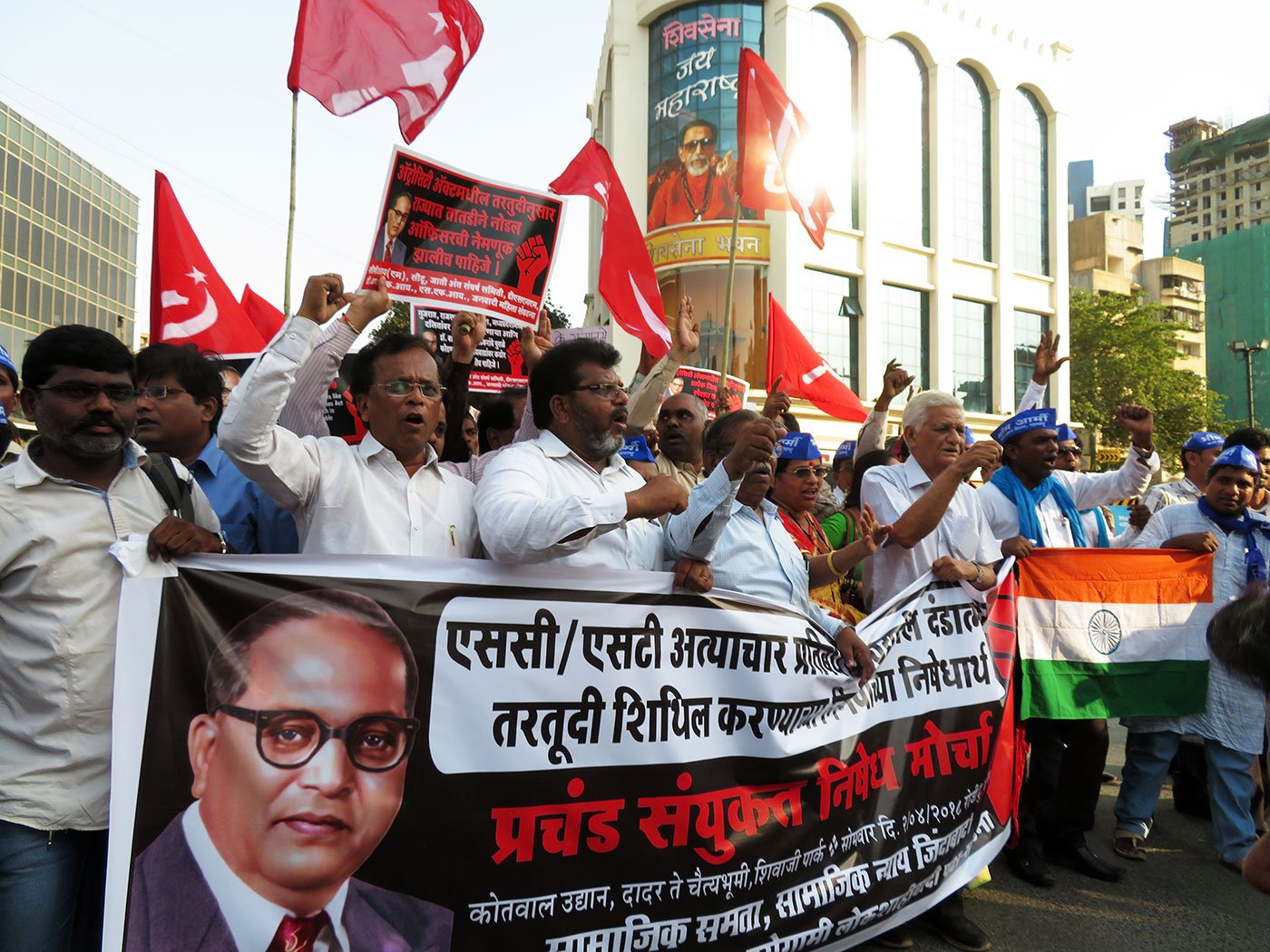 PHOTO • Siddharth Adelkar
Saroja, who lives in Bhandup in suburban Mumbai – 21 kilometres from Dadar – says the condition of Dalits has worsened under the Modi sarkar . "What was Rohith Vemula's fault?" she asks. "Why did the Una agitation happen? Dalits are also human beings."
The Rohith Vemula case erupted in January 2016 when a bright young Dalit Ph.D scholar took his own life after the central University of Hyderabad stopped his fellowship. This was followed by severe action against Dalit and Left-wing activists protesting his death on the campus.
Like Saroja, 16-year old Manisha Wankhede, a commerce student from Bhandup, is angry too. For her, the Constitution given to the nation by Dr. Babasaheb Ambedkar is under threat. "If we had been abiding by the Constitution, Sambhaji Bhide [who gained notoriety with the Koregaon Bhima violence] would be behind bars," she says. "The Modi sarkar is emboldening such elements. They indulge in token appreciation for Ambedkar, while disrespecting the Constitution he wrote. The Constitution is not falling short, but the government that is supposed to uphold it is."
She has a point. Attacks on Dalits have worsened these past three years. In July 2016, nationwide protests were triggered by the barbaric flogging of four Dalit youths in Una town of  Gir Somnath district in Gujarat. Their alleged 'crime': the skinning of dead cattle.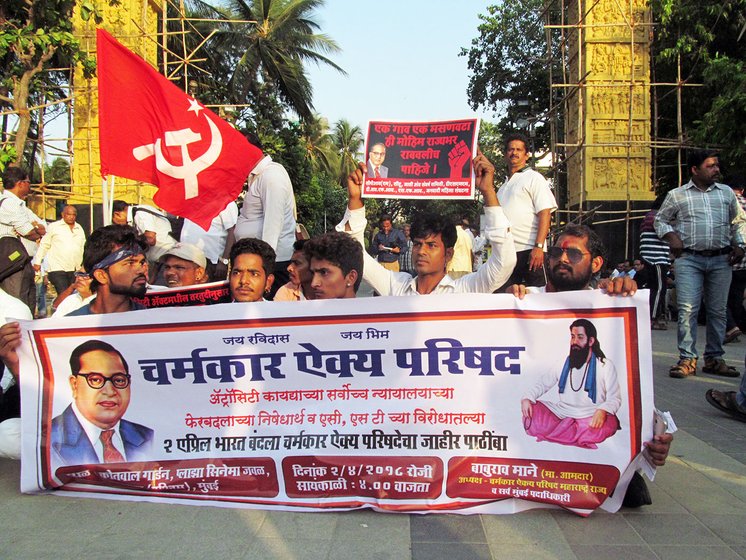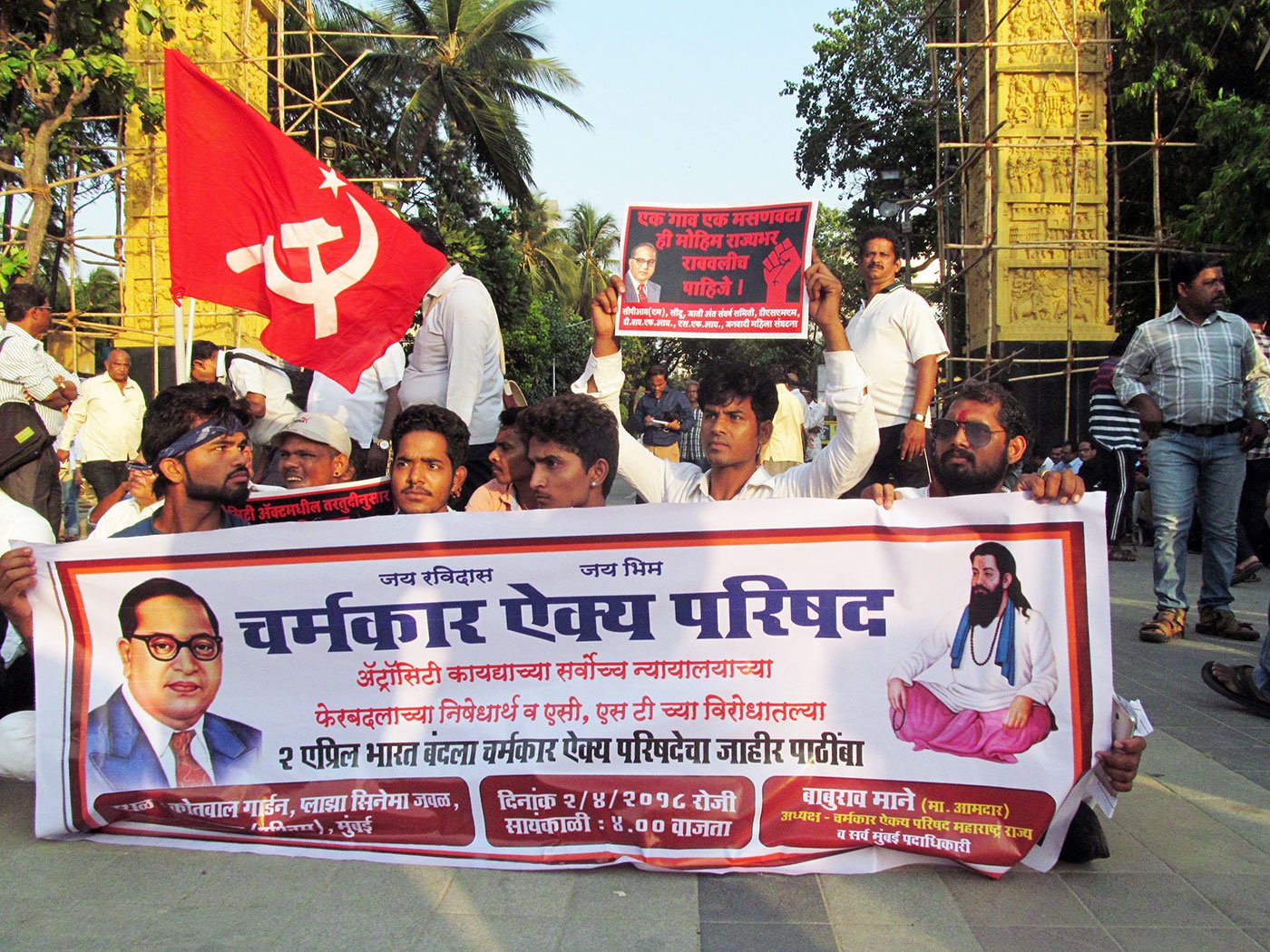 PHOTO • Himanshu Chutia Saikia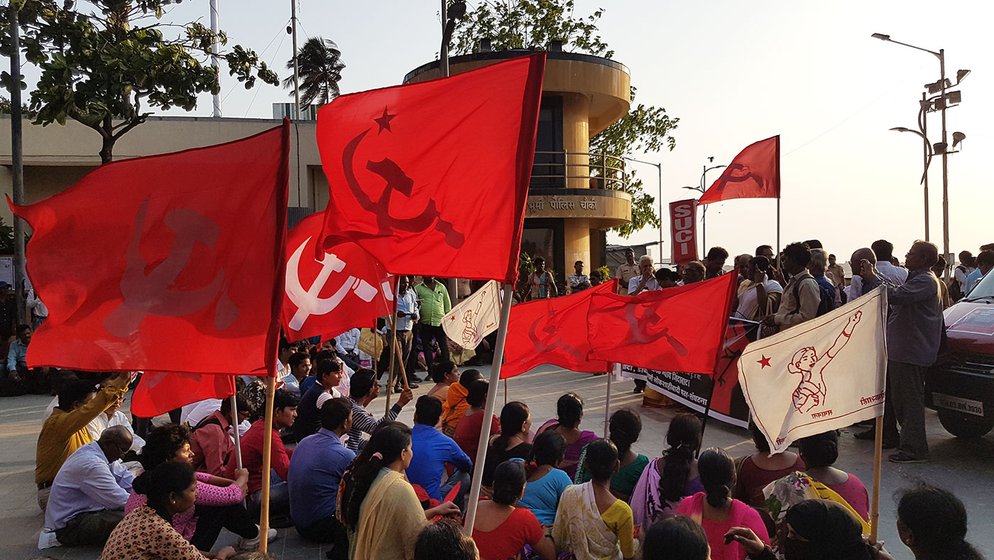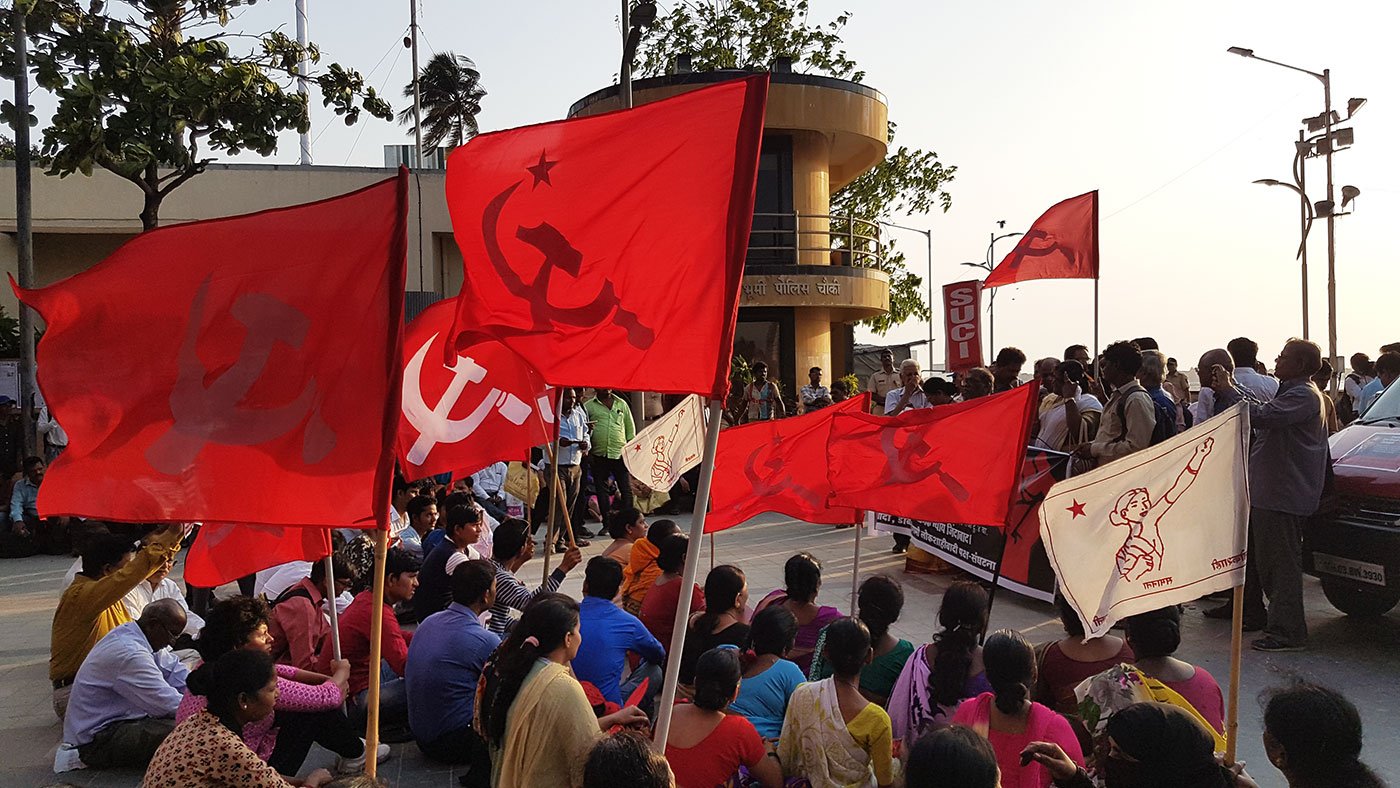 PHOTO • Samyukta Shastri
And it's barely three months since dominant caste groups unleashed violence against Dalits going to and from Koregaon Bhima in Maharashtra's Pune district. Dalits gather there in large numbers every year to commemorate the defeat of the upper caste Peshwa-led Maratha army by Mahar soldiers in the British army in 1818.
All these incidents of violence and injustice hung heavy on the minds of the protest marchers in Mumbai. Upon reaching Chaitya Bhoomi, the leaders sang songs, raised slogans and delivered speeches. Among those present were well-known activist Ulka Mahajan, retired Inspector General of Police Sudhakar Suradkar, and others.
Suradkar says that the Atrocity Act needs to be understood by all sections of  society. "Including the police. That is why the enforcement of an act is not satisfactory. In a system, everybody has his or her task cut out."
The Mumbai march did not see a deluge of crowds pouring on to the streets. However, more intense demonstrations were held in the northern states of India. Seven people were killed on the day of these protests in clashes across the country: five in Madhya Pradesh, one in Uttar Pradesh and one in Rajasthan. Reports of violent clashes came in from Gujarat and Punjab as well. Some 1,700 anti-riot police personnel were deployed to various areas. The protests were greatest in states ranking among the highest in atrocities against Dalits and Adivasis.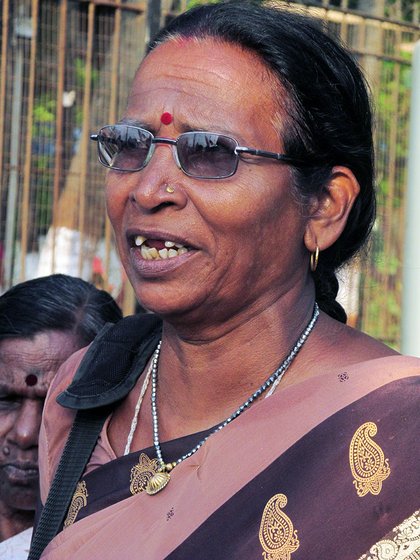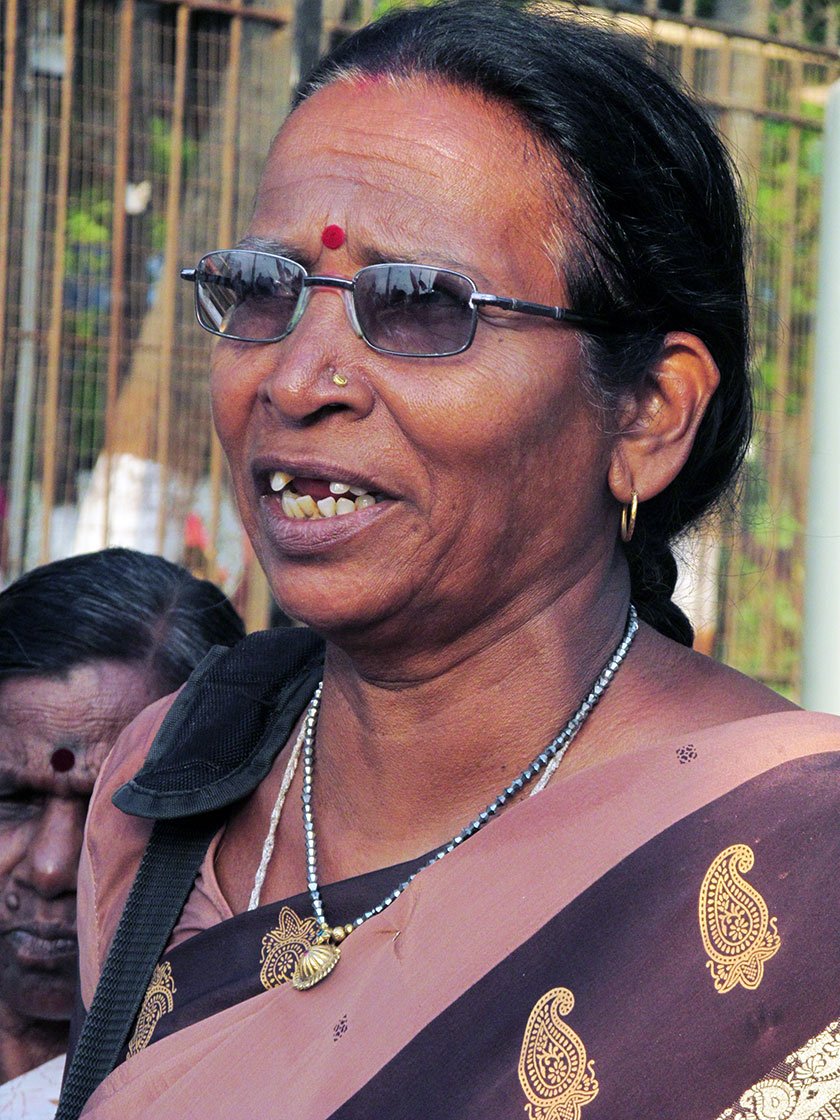 PHOTO • Himanshu Chutia Saikia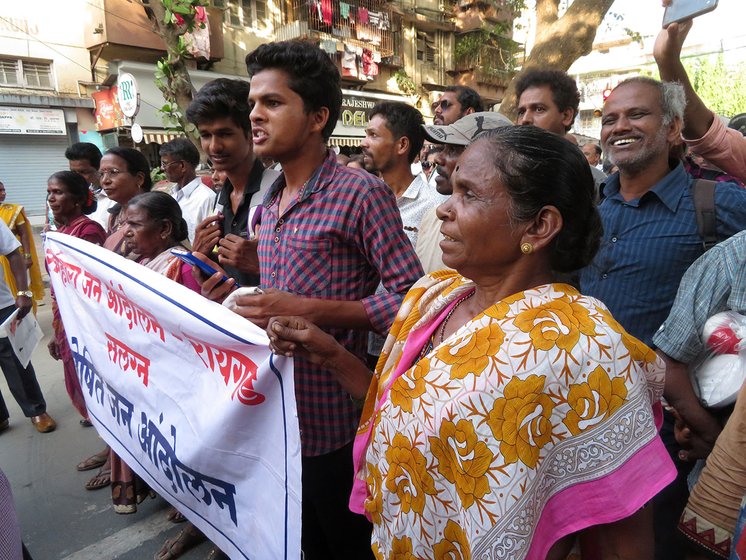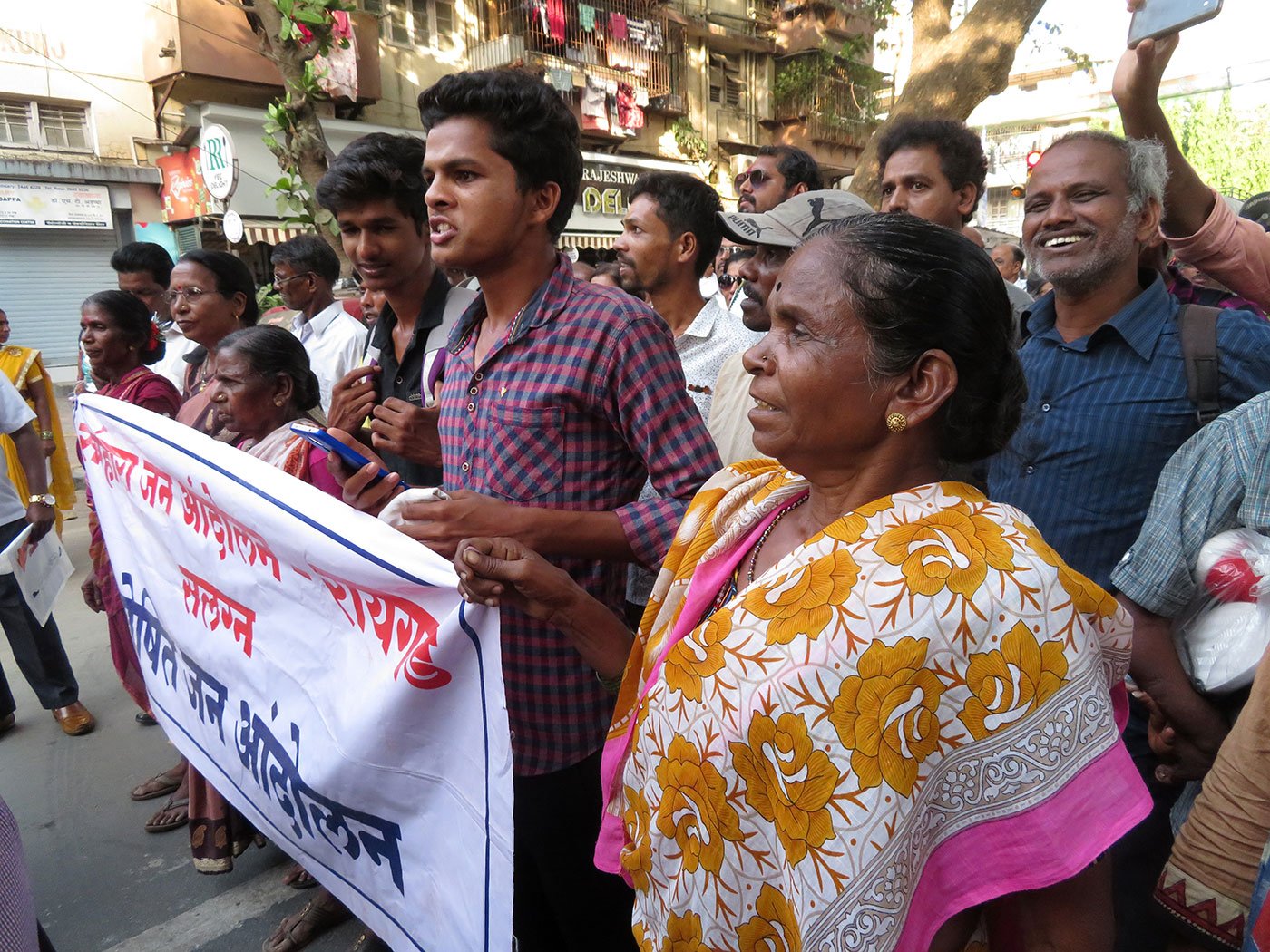 PHOTO • Siddharth Adelkar
In Dadar, Chanda Tiwari, a land disputes' activist, and her small band of friends, all Adivasis, have made it all the way from Roha in Raigad, 130 kilometres away. "We spent our own money, prepared our own food, and carried our own water," she says, as slogans of "Jo Hitler ki chaal chalega , woh Hitler ki maut marega " reverberated. "We will take the train back later tonight and head home. Even though there aren't large crowds, it is important to participate and send a message. We are in it together with our Dalit brothers and sisters."
Referring to the Forest Rights Act, 2006 , she adds, "The laws that benefit us are not implemented well." The Act makes it possible for Adivasis to own the land they have been tilling for decades. "And when the laws that benefit us are implemented, they are diluted."

Almost every participant among the 200-odd present is in a group or is with someone. Except Sunil Jadhav. The 47-year old, who lives in Navi Mumbai – 40 kilometres from Dadar – read about the protest march in the newspapers  and decided to join. "I work as a watchman in Sion," he says. "I am on night duty. I will go to work directly after the protest march." Sunil might not comprehend the nuances of the Supreme Court ruling, or how it motivated the march. What he does know, he says with a regretful smile, is that "Dalits are not in a good place. I just thought, these are my people, and I should go."