"Two plus two – how much? Prateek, do you remember how you used to do additions?"
Prateek Raut's teacher, Mohan Talekar, points at the numbers written on a slate and asks the 14-year-old if he recognises them. The latter keeps gazing at the slate; there is no sign of recognition on his face.
It's June 15, 2022, and we are at Prateek's school, Dnyanprabodhan Matimand Niwasi Vidyalaya, in Karmala taluka of Maharashtra's Solapur district, where he is back after a gap of two years. Two very long years.
"Prateek can't recall the numbers. Before the pandemic, he could do additions and write the entire Marathi and English alphabet," says his teacher. "We need to teach him everything from the beginning now."
In October 2020, when this reporter visited Prateek at his home in Rashin village, in Ahmadnagar district, Prateek, then 13 years old, was still able to write some of the letters of the alphabet. By December 2020, however, he stopped writing.
Prateek started attending school in 2018. Over the next two years, with consistent practice, he learned to read and write numbers and words. In March 2020, just as he was on the verge of moving to advanced reading and writing, Covid-19 struck. He was one of 25 students with intellectual disabilities – all boys aged 6 to 18 – who were sent back to their families as their residential school stayed shut for two years.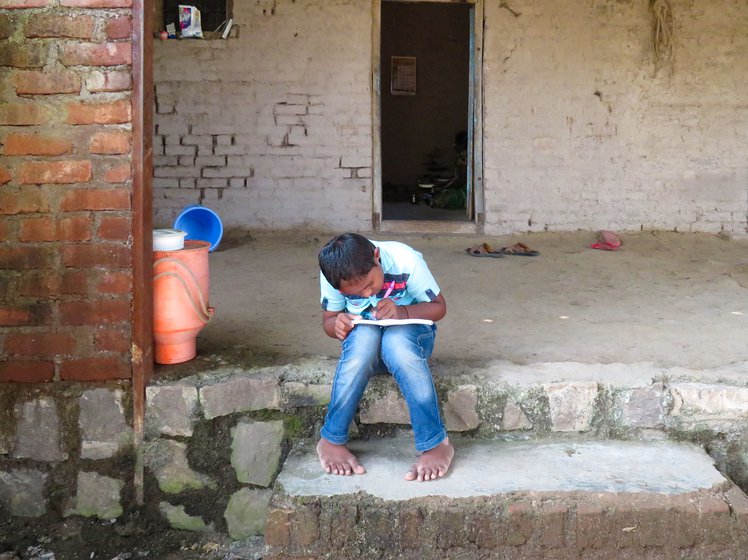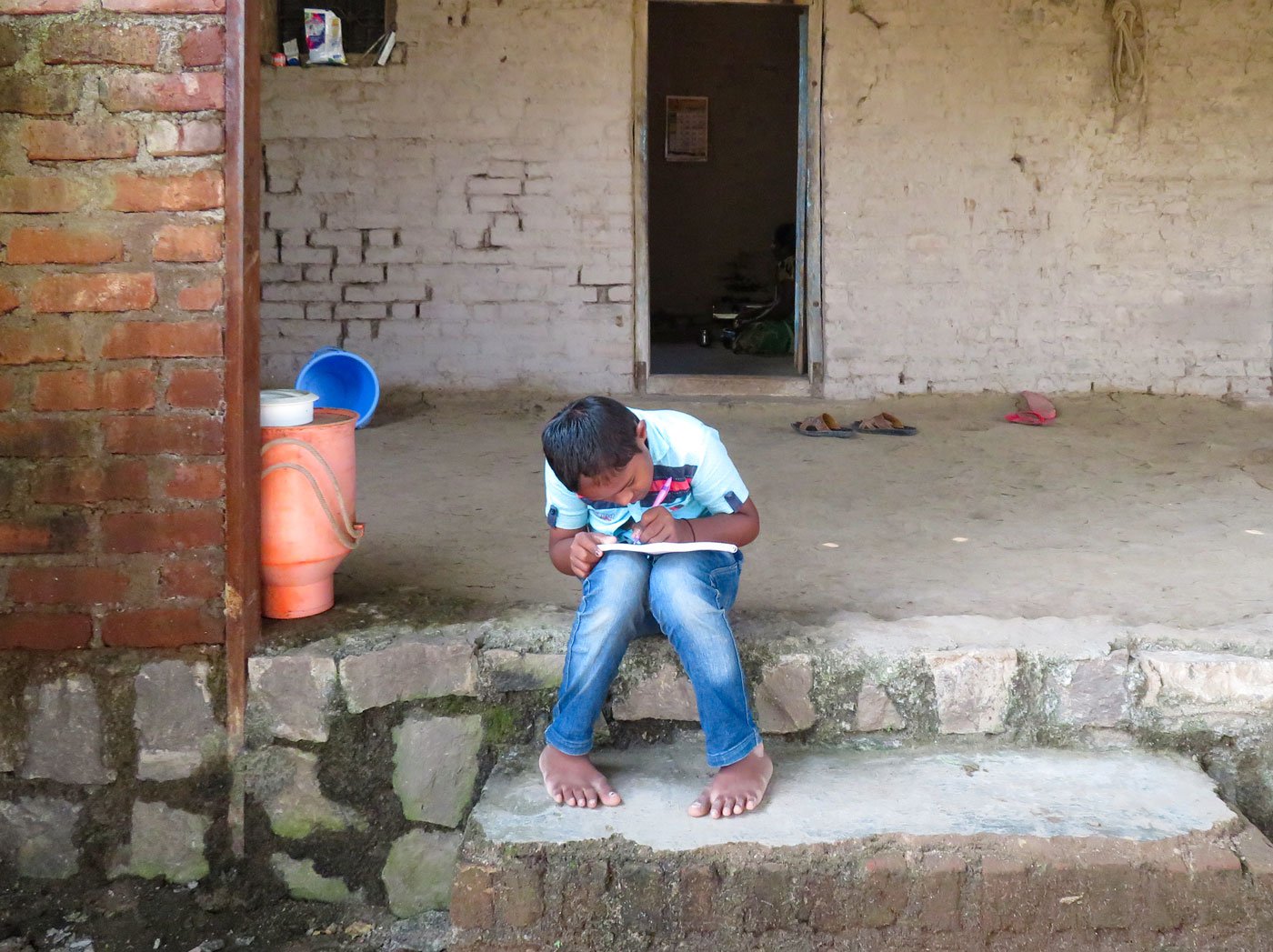 PHOTO • Jyoti Shinoli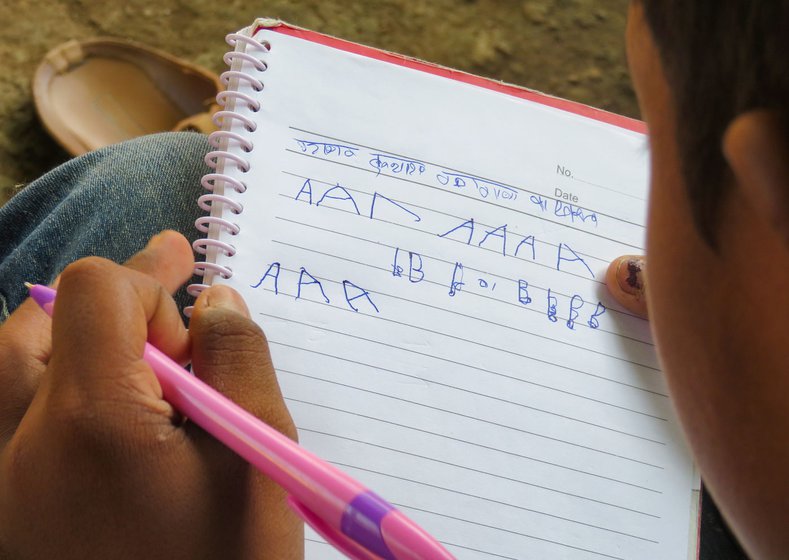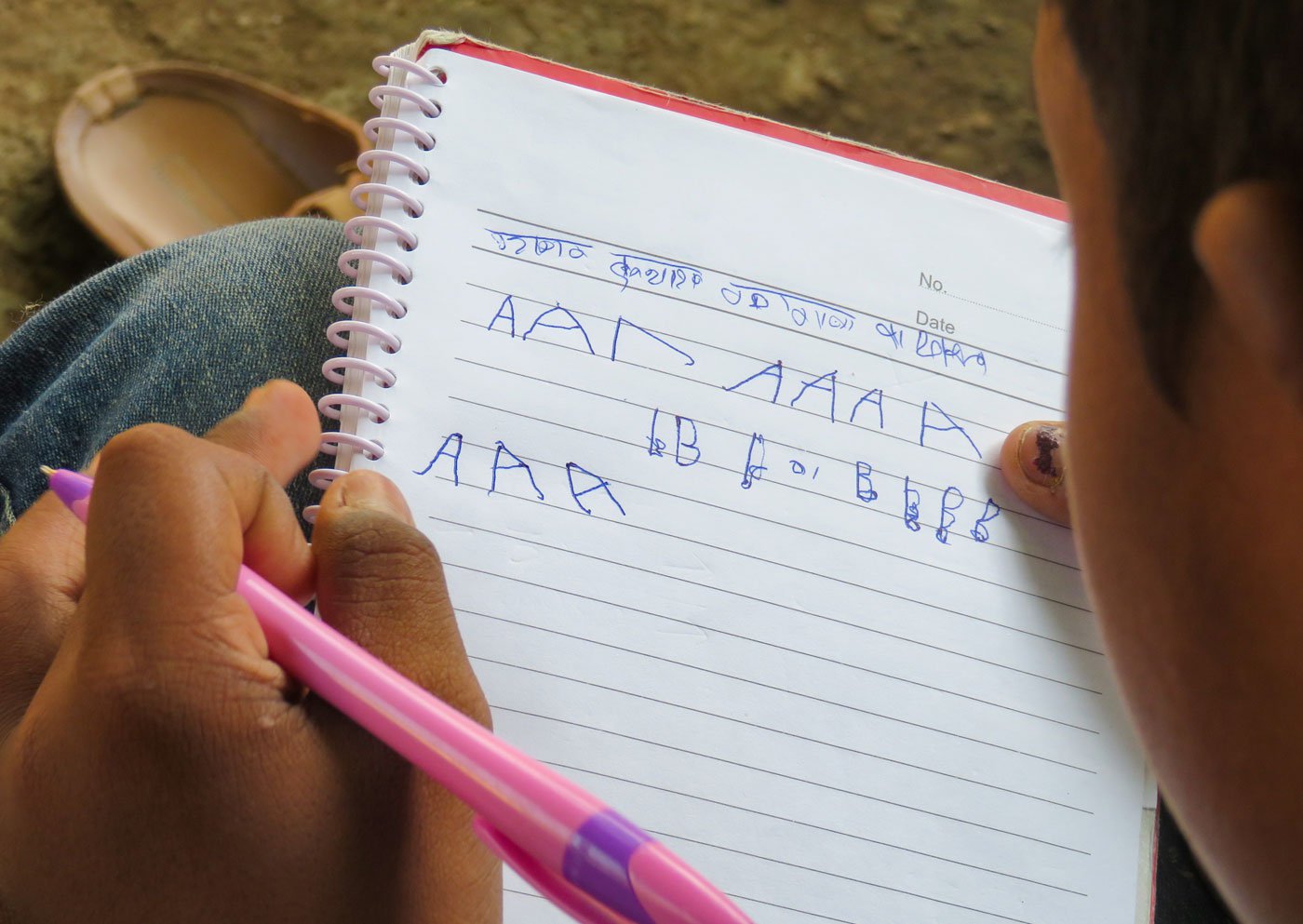 PHOTO • Jyoti Shinoli
"The progress of these students has been slowed down by at least two stages. Now, each child has developed a different challenge," says Rohit Bagade, programme coordinator at the school. The school, run by the Shramik Mahila Mandal, a Thane-based NGO, offers free education and boarding to its students.
As Prateek's school and several others closed down in the wake of the pandemic, they received directives from the Maharashtra government on ensuring that their students' education did not suffer. A June 10, 2020 letter from the Commissionerate for Persons with Disabilities to the Department of Social Justice and Special Assistance, said: "Action should be taken to provide special education to the children through their parents by using the educational materials available on the website of National Institute for the Empowerment of Persons with Intellectual Disabilities, Kharghar, Navi Mumbai, district Thane, as well as by supplying these educational materials to the parents as required."
While online education has been a challenge for most schoolgoing children, it poses greater obstacles for children with intellectual disability. Only 185,086 of the nearly 400,000 intellectually disabled children in the 5-19 age group in rural India (of India's over 500,000 intellectually disabled kids) are attending any educational institution (Census 2011).
As instructed, Prateek's school, Dnyanprabodhan Vidyalaya, sent teaching material to his parents: charts with alphabets, numbers and objects; exercises related to poems and songs; and other learning aids. The staff followed this up with phone conversations with his parents to guide them on using the learning material.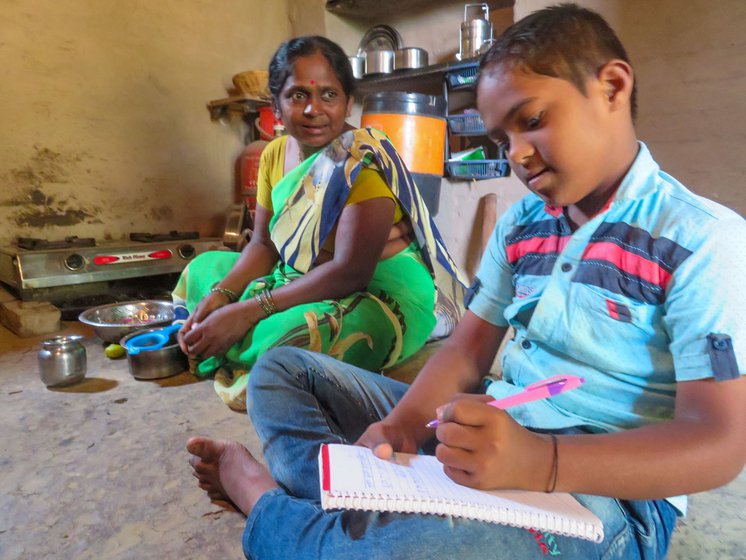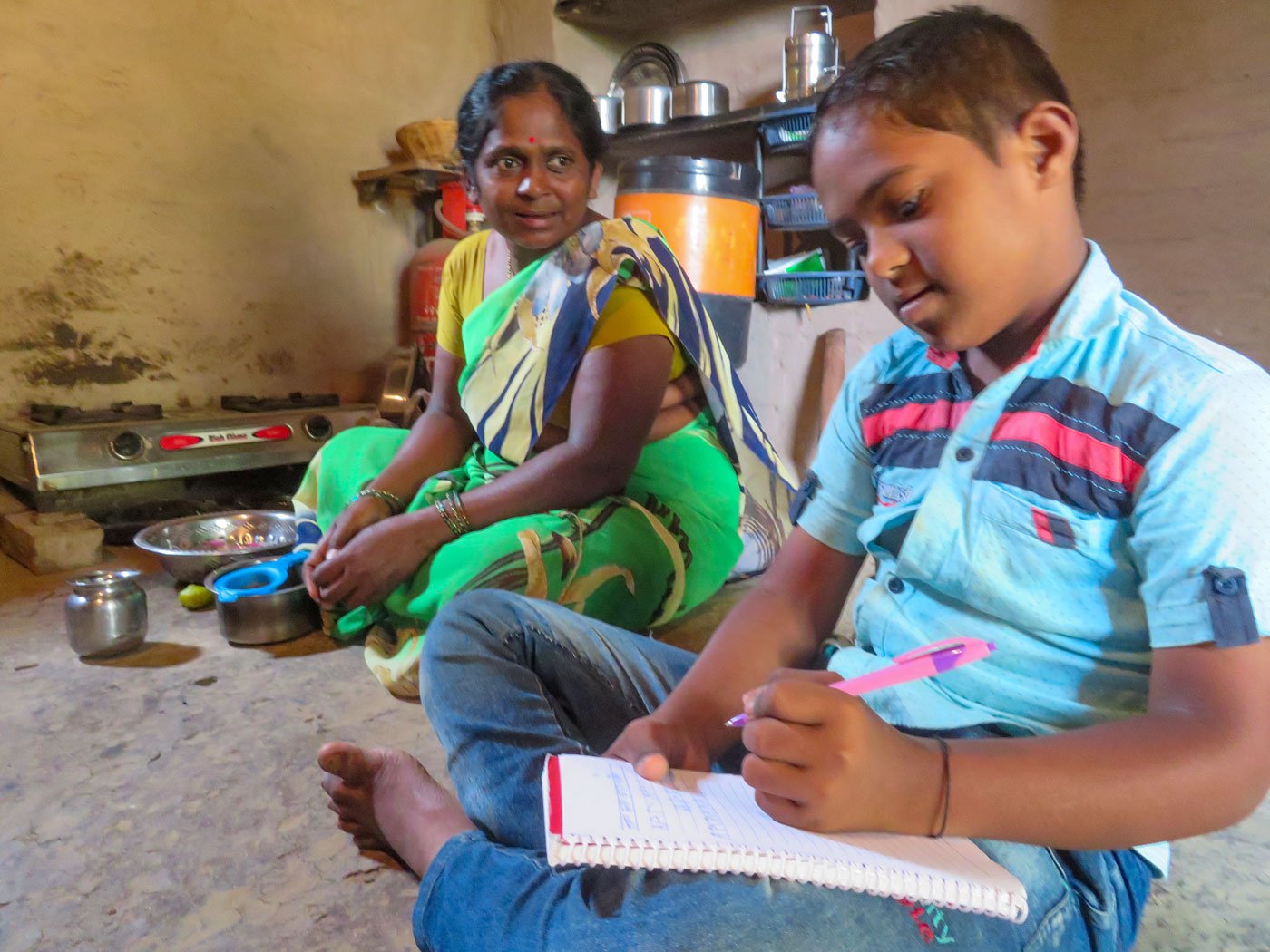 PHOTO • Jyoti Shinoli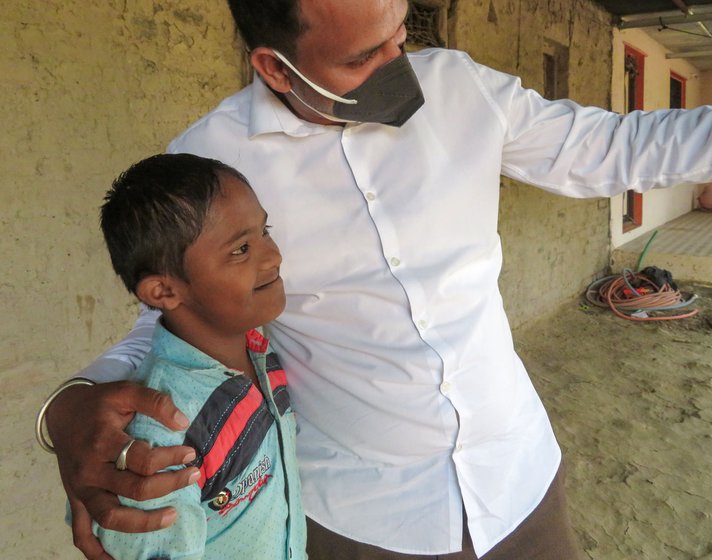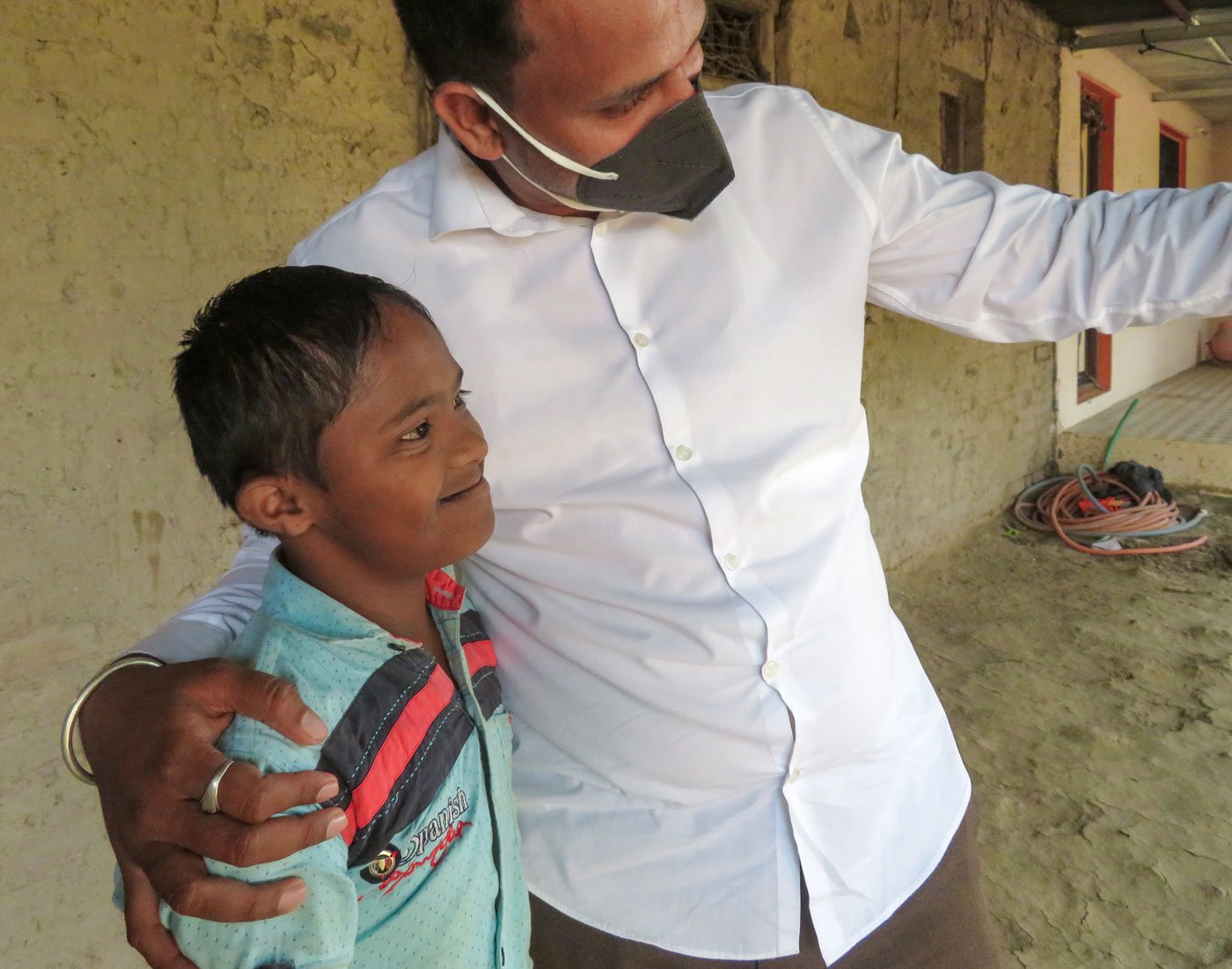 PHOTO • Jyoti Shinoli
"Parents should sit with the kid [to help them with the learning material], but staying back home for a child affects their daily wage," Bagade points out. But the parents of all 25 students, including Prateek, are brick kiln workers, agricultural labourers or marginal farmers.
Prateek's parents, Sharada and Dattatray Raut, cultivate jowar and bajra during the kharif season (June to November) for their family's consumption. "From November to May, we work on others' farm for 20-25 days of the month," says Sharada. Their total monthly income does not exceed Rs. 6,000. Neither parent can afford to sit at home to help their son – this would mean a loss of wages in their already stretched finances.
"So, Prateek and others have no option but to sit idle," says Bagade. "Daily activities and games [at school] made them self-reliant and controlled their irritability and aggression. [But] it's difficult to conduct such activities online as the kids need personal attention."
At school, four teachers gave them attention from 10 a.m. to 4:30 p.m., Monday to Friday (and for fewer hours on Saturday), training them in speech therapy, physical exercise, self-care, paper craft, language skills, vocabulary, numeracy, art and other activities. The school shutdown took all that away from their lives.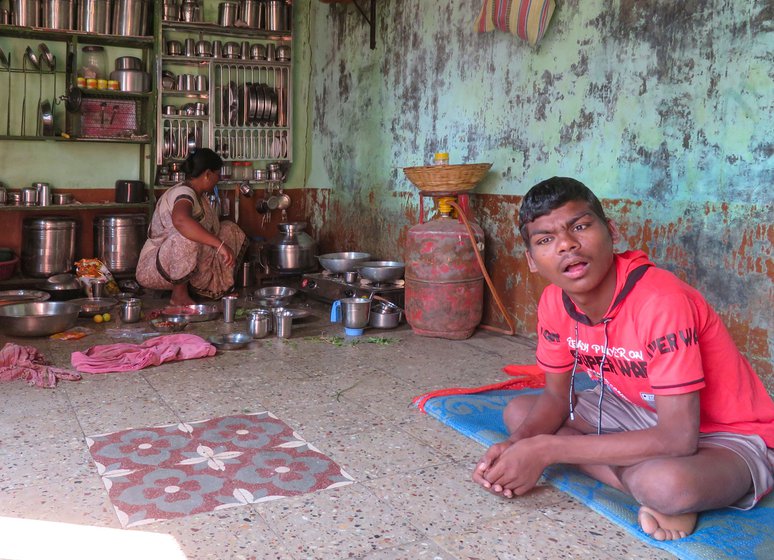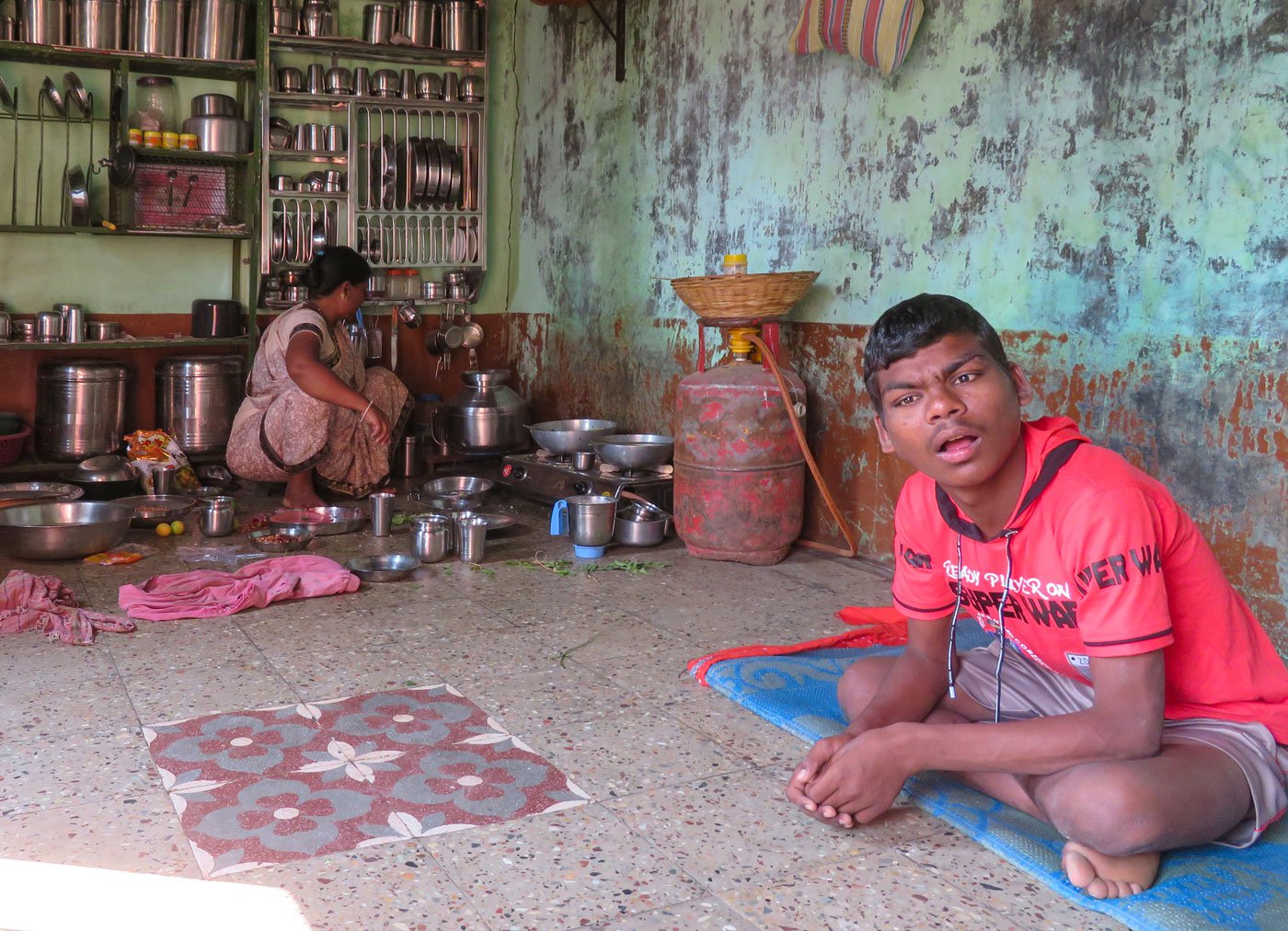 PHOTO • Jyoti Shinoli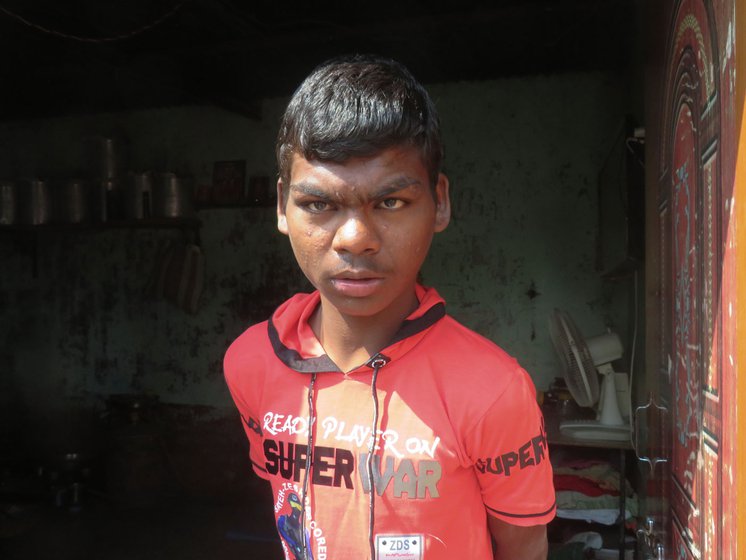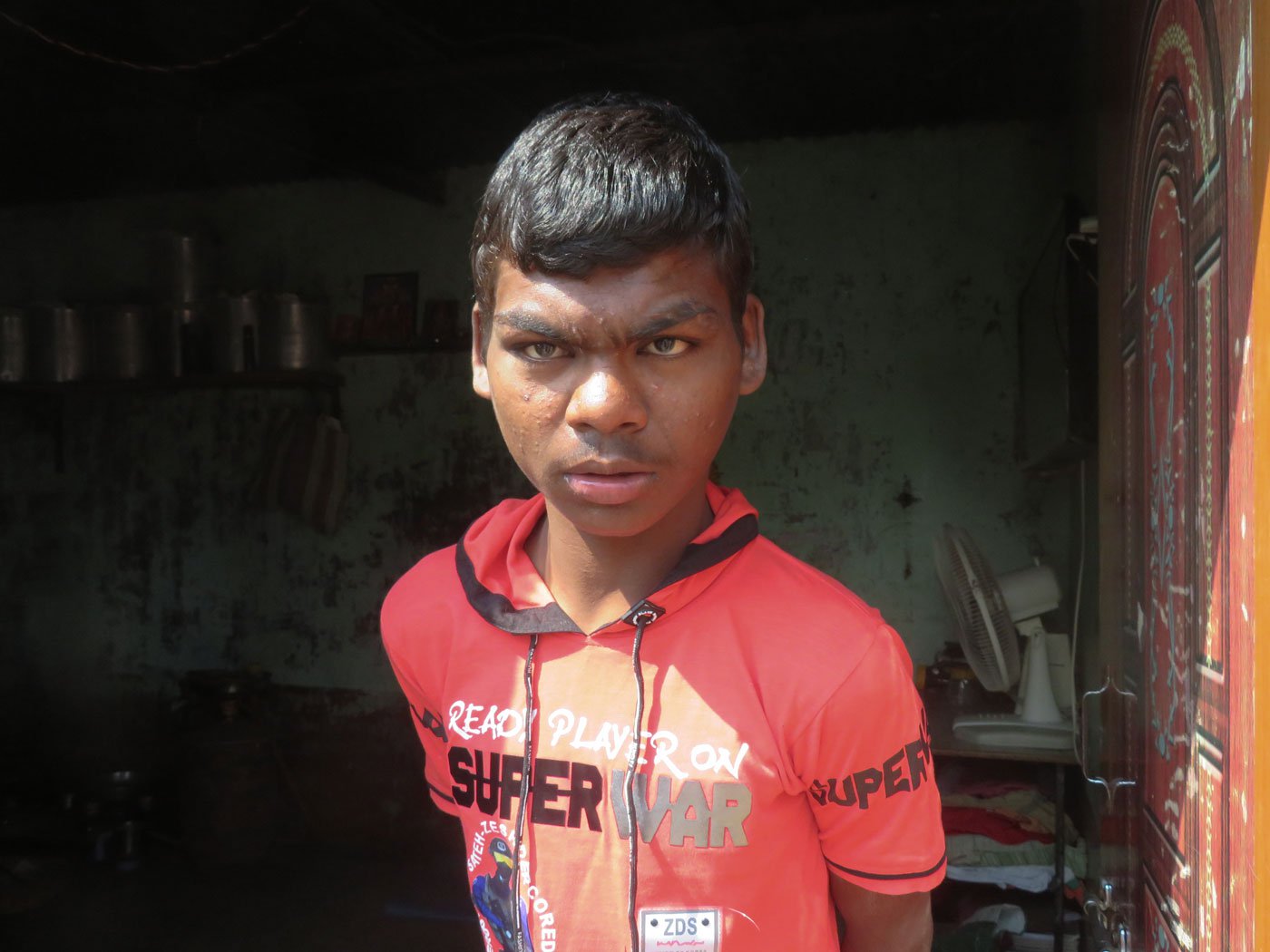 PHOTO • Jyoti Shinoli
Now back at school after a two-year break, the children are finding it difficult to readjust to the old routine. "We observe an overall decline in daily habits, communication and focus," says Bagade. "Some kids have become aggressive, impatient and violent because their routine has again changed suddenly. They are unable to understand the change."
Whereas Prateek still has some years to make up for some of the learning loss, it's the last year of school for 18-year-old Vaibhav Petkar. The Persons with Disabilities (Equal Opportunities, Protection of Rights and Full Participation) Act, 1995 says 'every child with a disability has access to free education in an appropriate environment till he attains the age of eighteen years.'
"After that, they usually stay at home as their families cannot afford vocational training institutes," says Bagade.
Diagnosed with 'severe mental retardment' at the age of nine, Vaibhav cannot speak and suffers from recurring epilepsy attacks that require regular medication. "Early intervention and special schooling at the age of 7-8 strengthen the child's development, his ability to acquire new skills, daily life functioning, and behaviour control," explains Dr. Mona Gajre, paediatric neurologist, developmental disorder specialist, and professor at the Lokmanya Tilak Municipal General Hospital in Sion in north-central Mumbai.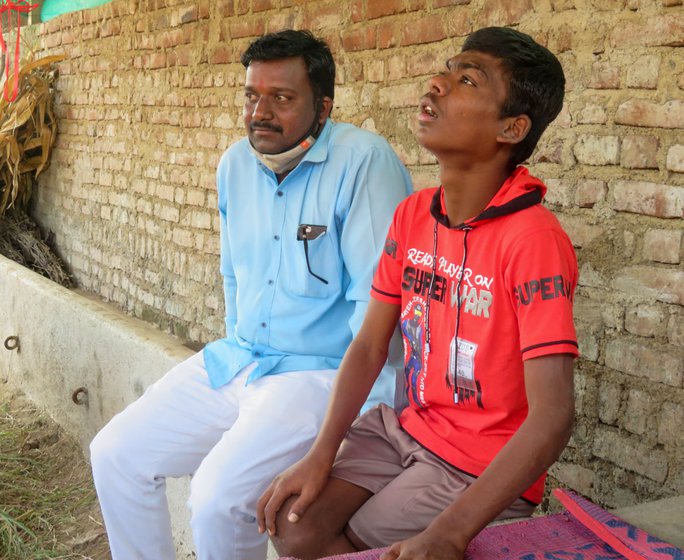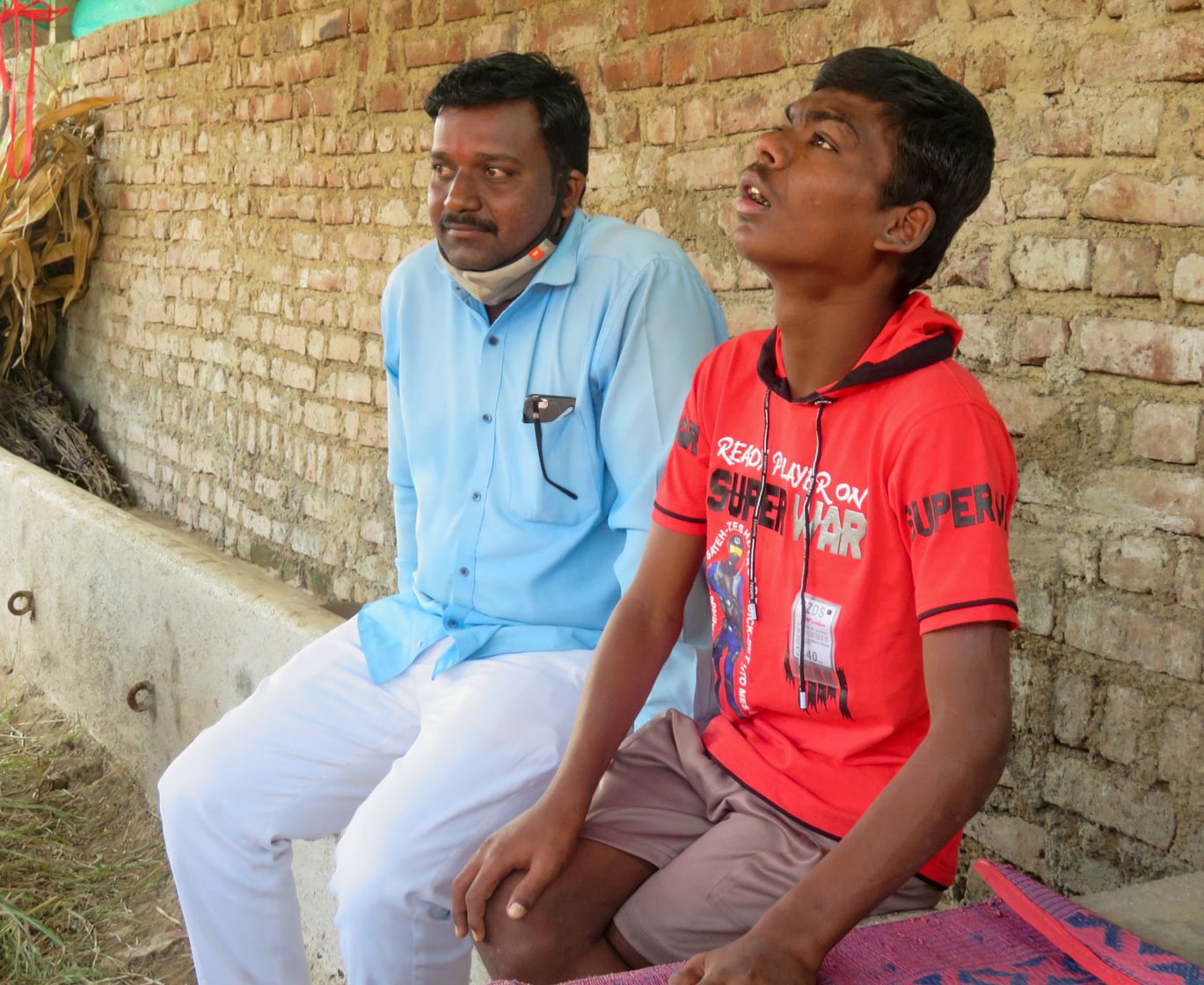 PHOTO • Jyoti Shinoli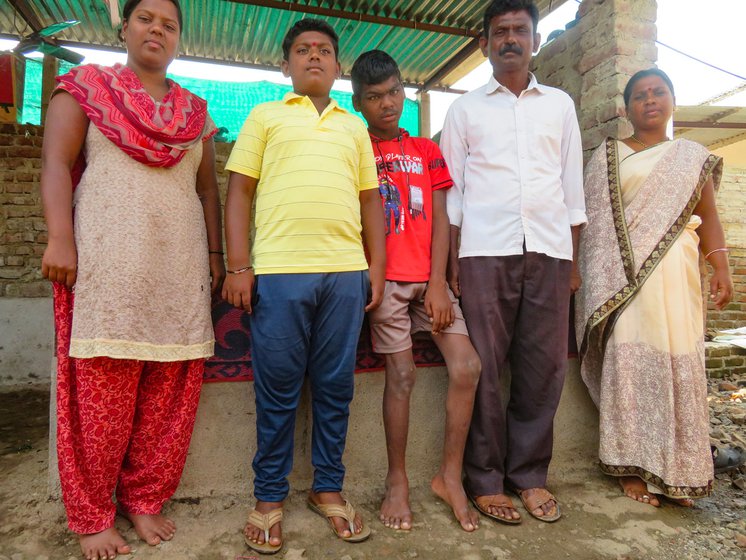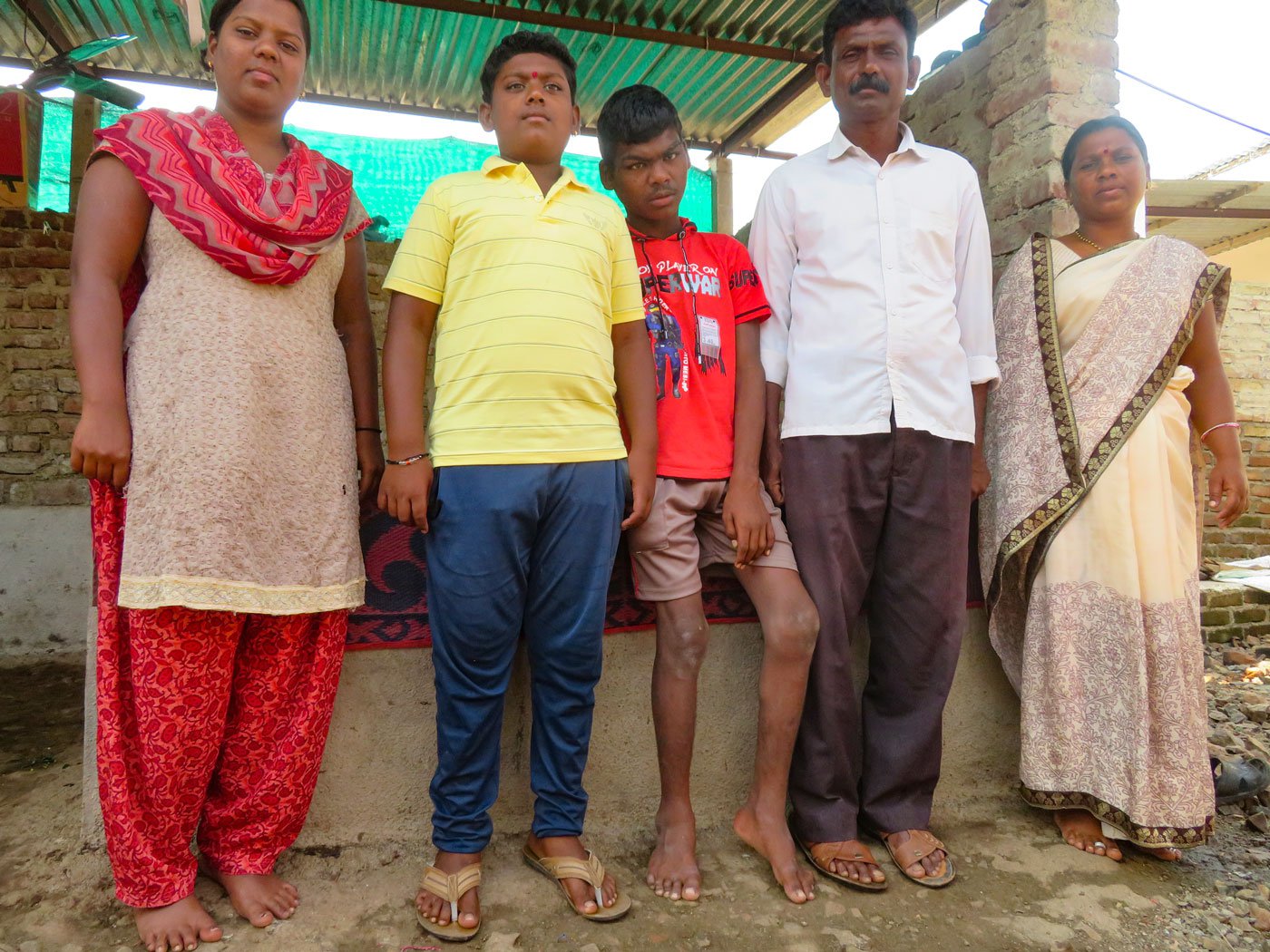 PHOTO • Jyoti Shinoli
Vaibhav started schooling only in 2017, at the age of 13. With close to three years of practice and training, he learnt self-care habits, better behaviour control, and some skills such as colouring. "With occupational therapy, he had improved a lot," says Bagade. "He used to paint. He used to be quite interactive. He would get ready before other kids," he recalls. When he was sent back home in March 2020, Vaibhav was not prone to aggressive behaviour either.
Vaibhav's parents, Shivaji and Sulakshana, work throughout the year on the two acres of land owned by his grandparents. They cultivate maize, jowar , and sometimes onions, in the kharif season. In the rabi season, from December to May, they work as farm labourers. That leaves no time to attend to Vaibhav, who sits alone in their one-room house in Koregaon, a village in Karjat taluka of Ahmadnagar district.
"With the school closed for two years, he has become aggressive, stubborn and sleepless. His restlessness seeing people around has grown again," says Bagade. "He is not able to recognise colours anymore." Two years of staying at home, playing with a dummy smartphone, has been quite a setback for Vaibhav.
Teachers at Dnyanprabodhan Matimand Niwasi Vidyalaya are reconciled to the fact that they may now have to start teaching everything all over again. "Now our priority is to make children comfortable with the school environment and routine," says Bagade.
Prateek and Vaibhav will have to relearn the skills and knowledge they had acquired before the pandemic. Since they were sent home immediately after the pandemic started, living with Covid-19 will be a vital part of their new learning.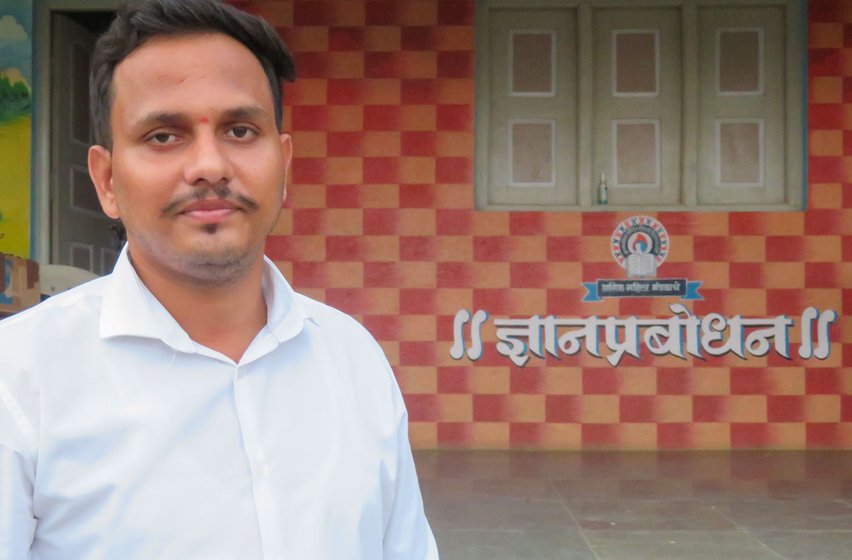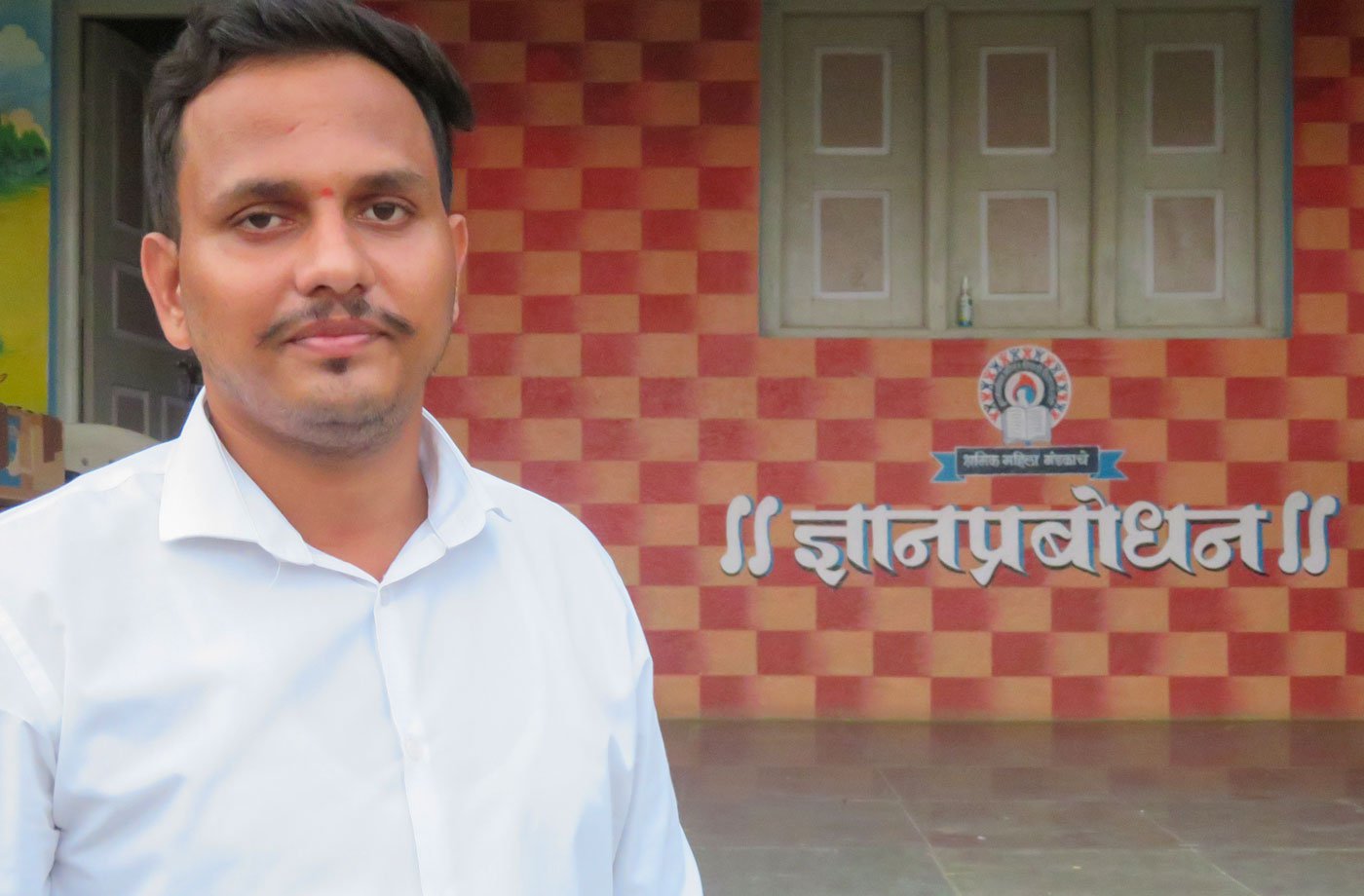 PHOTO • Jyoti Shinoli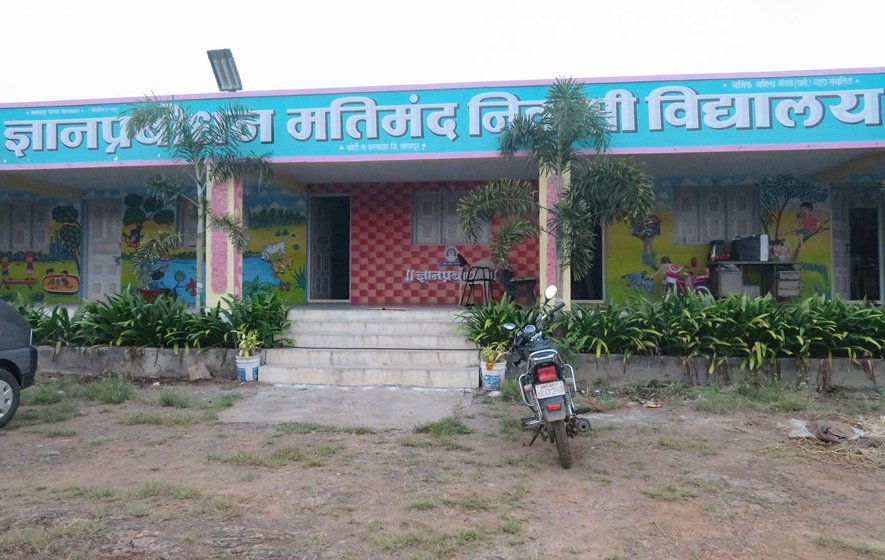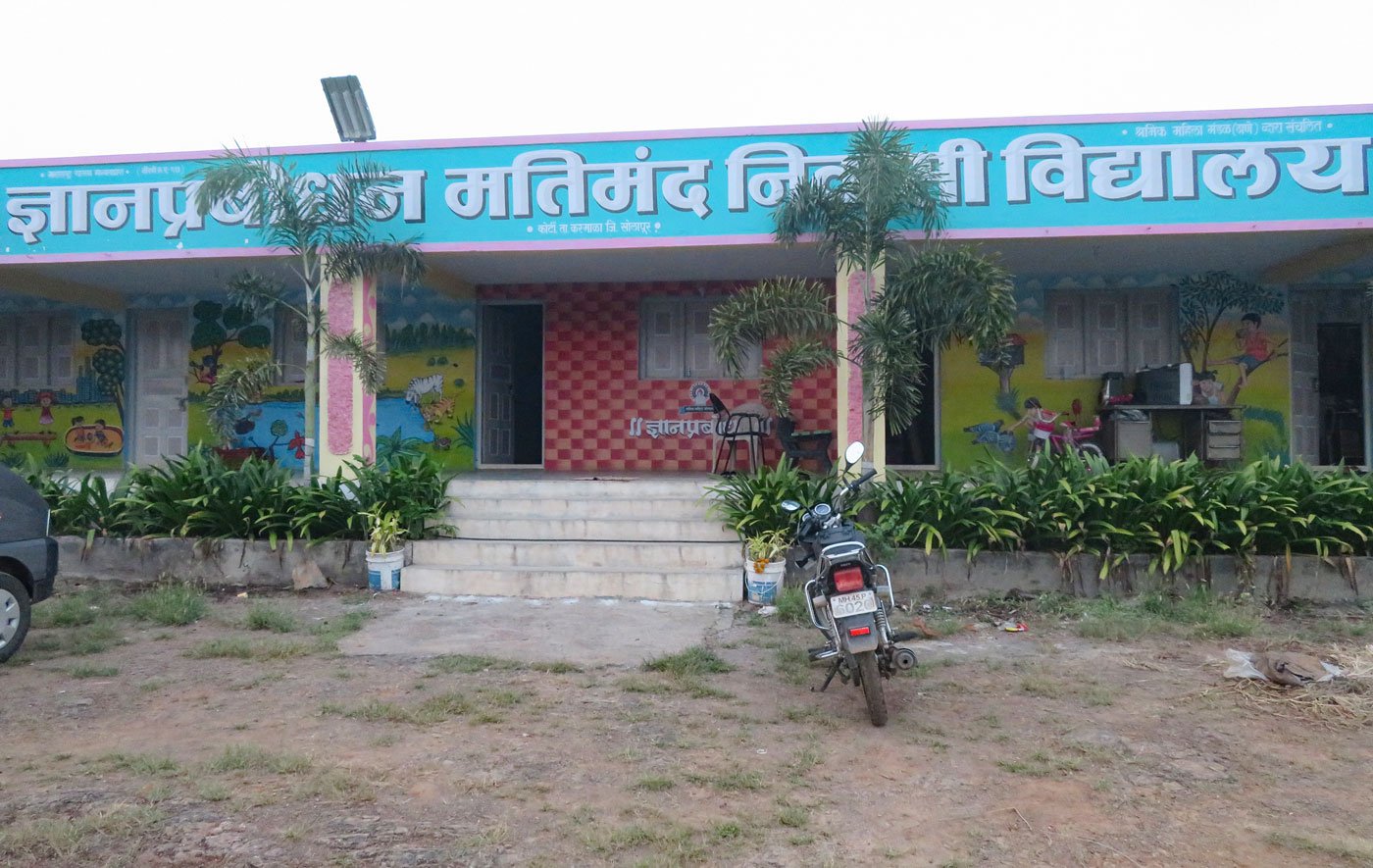 PHOTO • Jyoti Shinoli
On June 15, 2022, Maharashtra recorded 4,024 new coronavirus cases, a 36 per cent increase over the previous day, as per the state health department. With Covid cases rising in Maharashtra, it is important to ensure that measures are in place to protect the kids from the virus.
"Our entire staff is fully vaccinated. We have masks and PPE kits for our helpers and teachers because our kids already have health conditions," says Bagade. "Although masks will make communication difficult for kids because they understand better when they read facial expressions." Teaching children why they must wear a mask, what is the correct way to put it on, and why they must not touch it, will be a challenge, he adds.
"When it comes to teaching something new to intellectually disabled children, we demonstrate each action stepwise, very patiently, and repeatedly to help them memorise easier," explains Dr. Gajre.
Among the first things students at Dnyanprabodhan Matimand Niwasi Vidyalaya learnt upon returning to school was handwashing.
" Khayla…khayla…jevan … [To eat…to eat…food]," Vaibhav keeps repeating, asking for food. "For many of our kids, washing hands indicates it is mealtime," says Bagade. "So, we must make them understand the meaning of frequent handwashing [in times of Covid]."