It's a tiny, sorry-looking structure. It should have been a source of pride for the people of Katgun village in Satara district – and to them, it probably is. The local panchayat, however, doesn't seem to attach much importance to this little house.  Nor, apparently, does the government of Maharashtra.
This was the ancestral home of legendary social reformer Jyotiba Phule. His grandfather's house.  It lies in utter disrepair, with chunks of plaster falling off its roof.  We've seen better-looking houses come out of the appalling Pradhan Mantri Awas Yojana (prime minister's housing scheme for the rural poor). It does look like it was very badly re-built in that category, though.
It wouldn't take much to repair and  clean up the house, it's that small. And the resources to do that exist – as you can see from the panchayat's smart gymnasium right behind it. Bang opposite the dilapidated structure is the educational institution run in Phule's name with an open-air stage right near the road.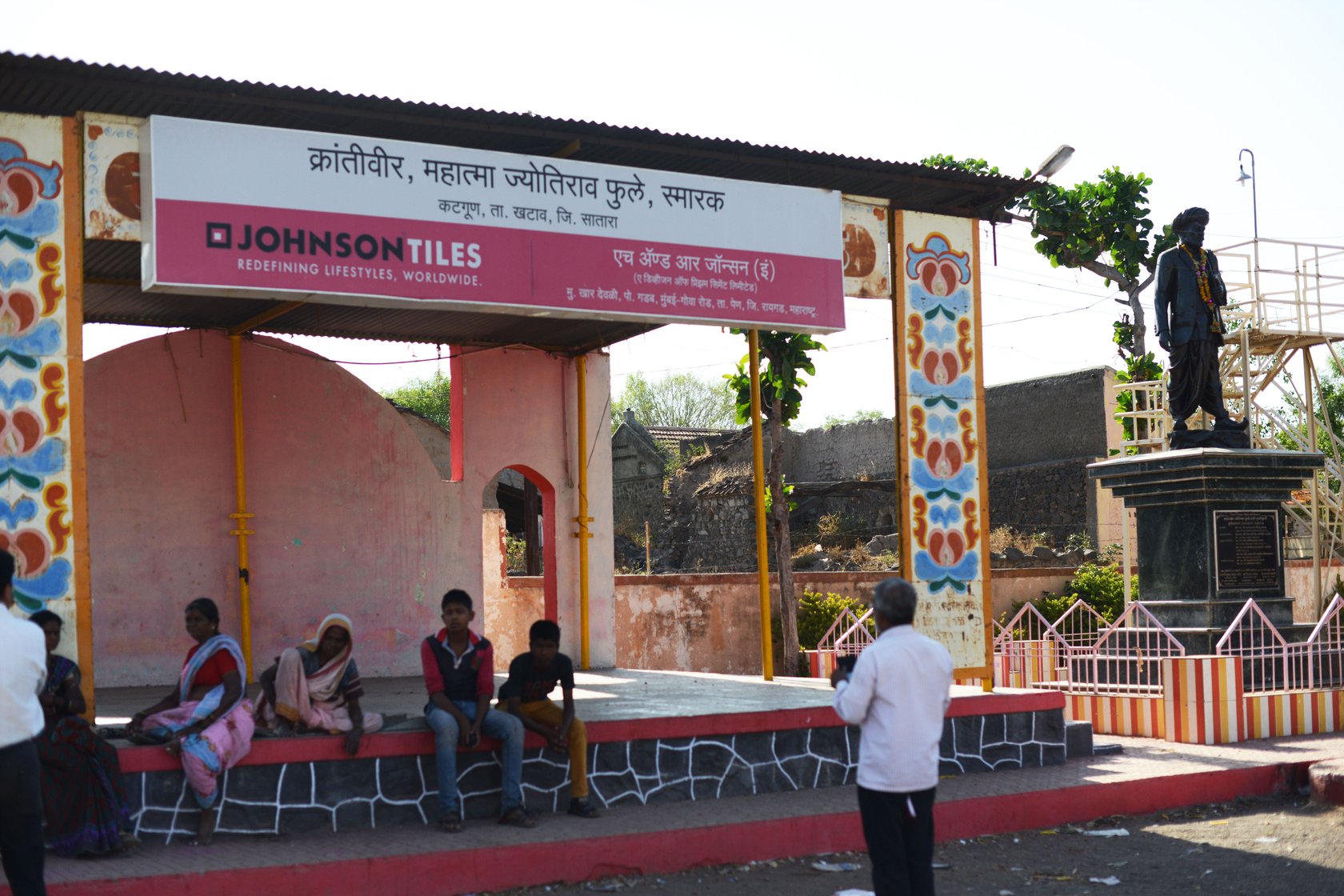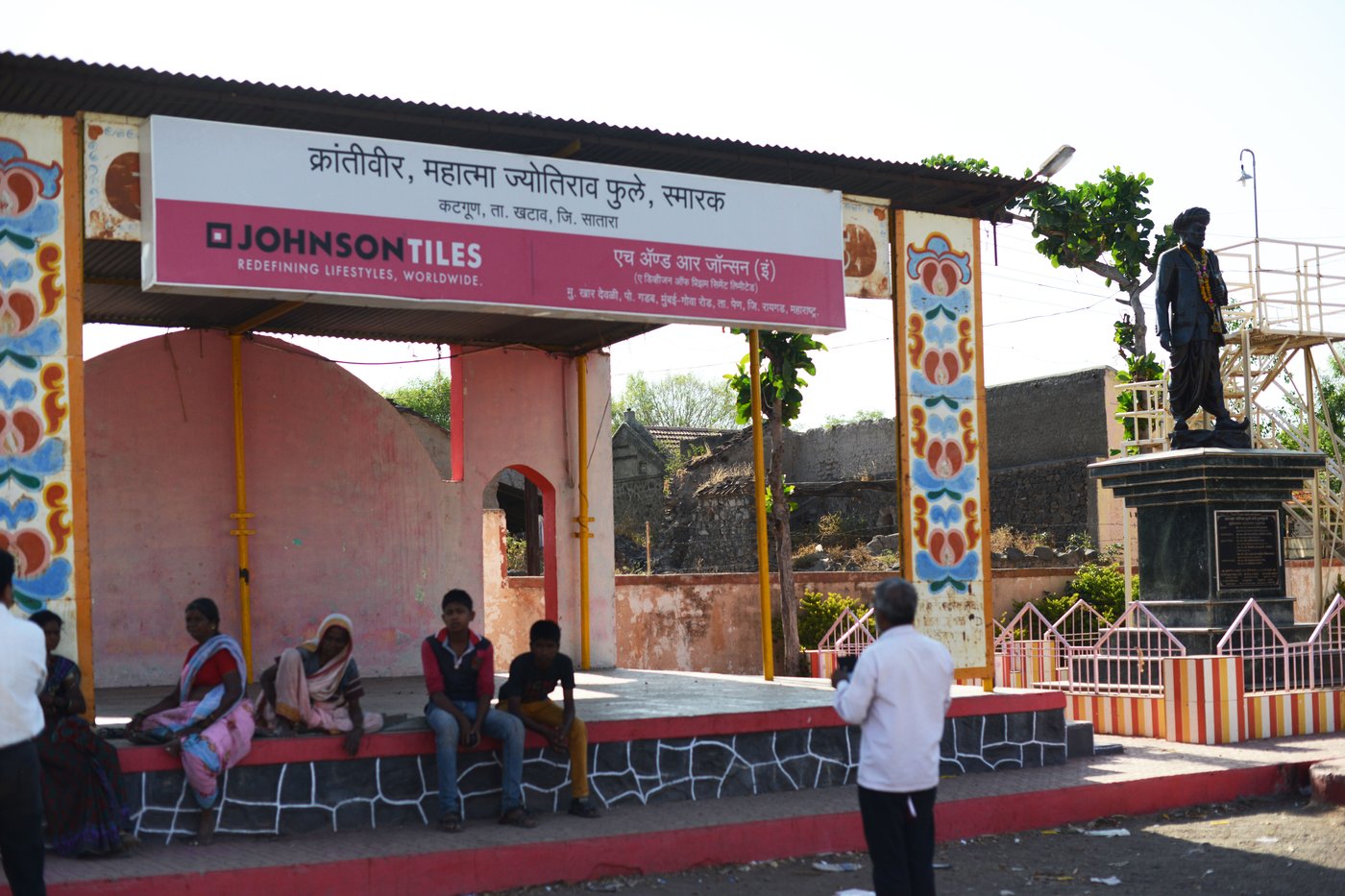 PHOTO • P. Sainath
At the top of the stage is a large board on which the sponsor's name, JOHNSON TILES, appears in capitals and in bigger and bolder text than the words Mahatma Jyotirao Phule. There's something quite perverse about that. Yet, it also speaks of a corporate era in which, were Phule alive, he'd be asked to submit a 'revenue model' for his social reform movement before seeking support. Phule's model was  based more on justice, human rights, education, fighting against caste oppression and for dignity. Unlike Johnson Tiles which modestly claims to be "redefining lifestyles worldwide." The statue of Phule in the complex has its back to his tiny ancestral home –  as if in protest at its condition and the village's severe water problems.
Katgun's 3,300 residents suffer serious water scarcity despite living just 20 kilometres from the Ner dam and lake. The village is part of Khatav, one of 13 tehsils across three districts that every year hold a dushkaal parishad (drought council) to discuss their special water-related problems. We visited Katgun while on a journey downstream from the source of the Krishna river in Old Mahabaleshwar.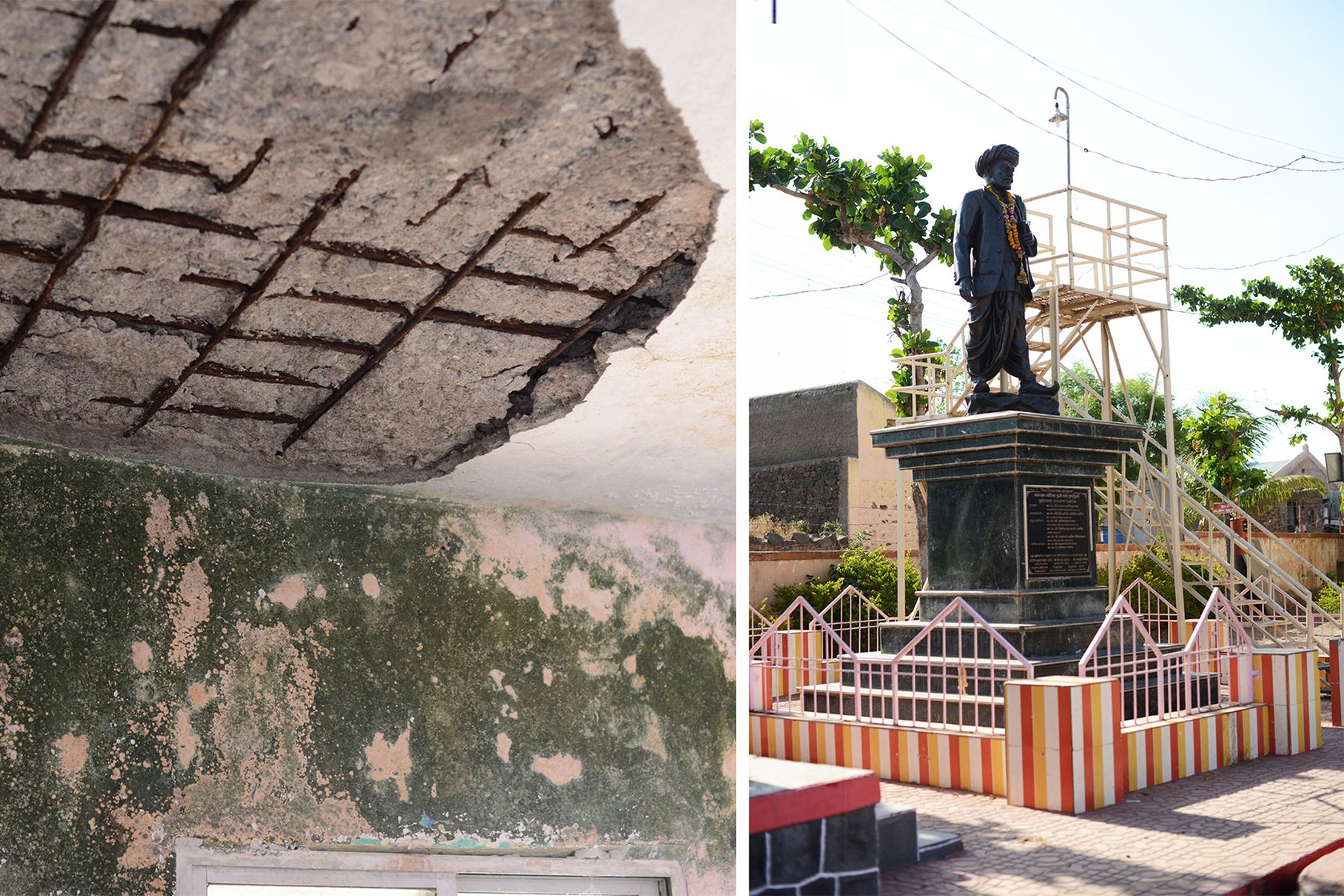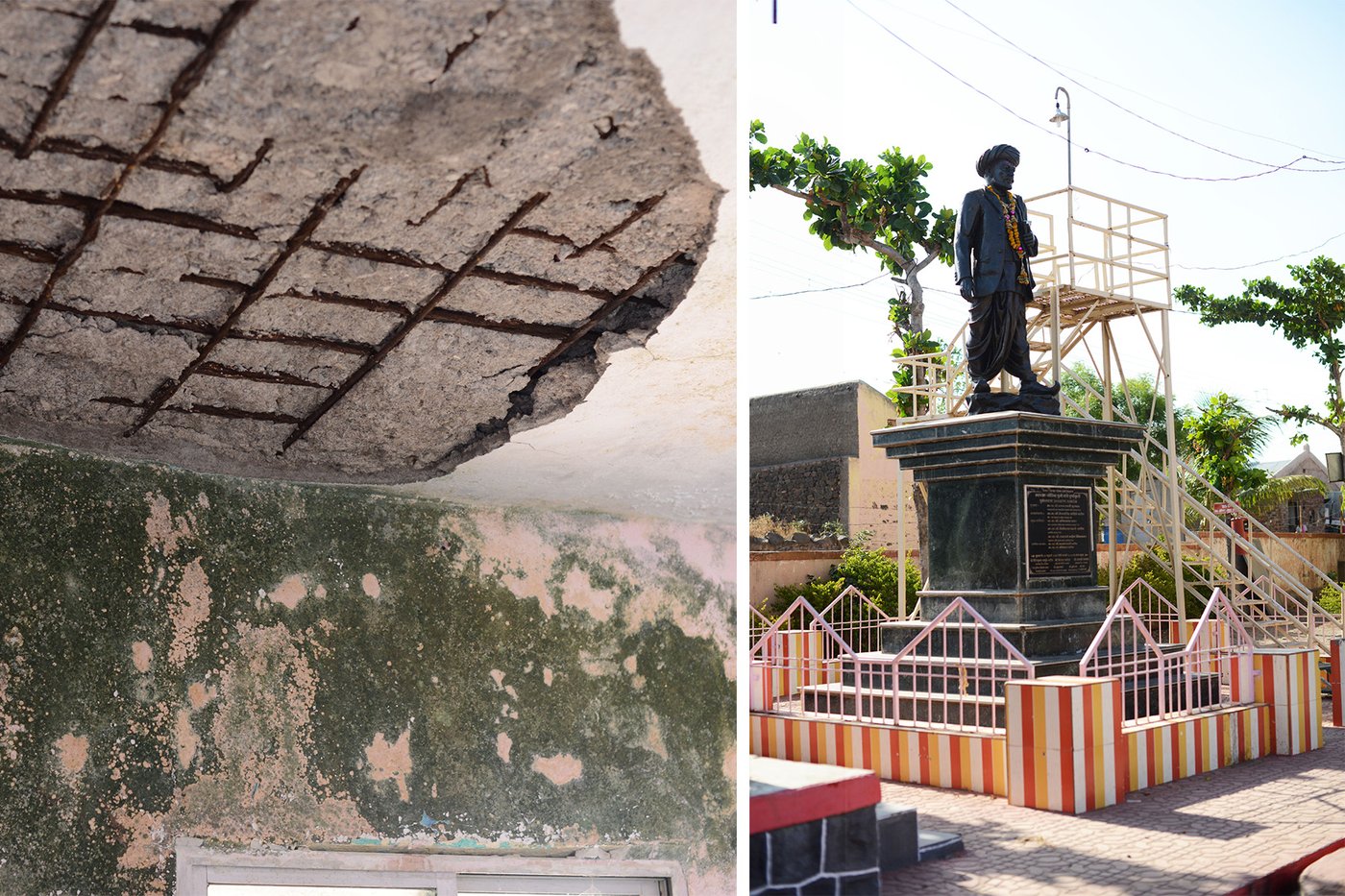 PHOTO • P. Sainath
It's not just Jyotiba's ancestral home that is in bad shape. Katgun's residents aren't doing too well either. Many have migrated from here to work in the cities, but some of them are returning.
"I got Rs. 15,000 a month," says Gautam Jawale, who worked as a driver for a famous filmmaker in Mumbai. "How does one from outside that city live there on that amount? On the one hand, I was driving BMWs and Mercedes Benz cars. On the other, I could not afford even the basics. So I returned."
Jawale is speaking to us in front of the decrepit structure – on its wall are painted the words 'Phule family house'.  This was Jyotiba's ancestral home. But was it his birthplace? That isn't clear. We know  that it was his grandfather's property. There is conflicting evidence from different sources about where he was born.  Some assert he was born right here in Katgun before his family fled to escape the wrath of oppressive officials. Others claim he was born in Khanwadi in Pune district. Still other published sources say he was born in Pune itself after his father shifted there.
We don't know for sure. What we do know is that the village of Katgun is presently not driven by Jyotiba Phule's thirst for knowledge, education and justice. Katgun today is driven by thirst, period.