"I try to put my children to sleep during the day and ensure they are inside the house. This way, I can keep them from seeing other children eating food," Devi Kanakaraj ( name changed ) told me when we spoke on April 14. That day, she had provisions left for only a couple of days. "I am unable to provide enough for them now. I have no one to seek help from," she said.
Like many women from the impoverished Arunthathiyar community, listed as a Scheduled Caste, in Edayapottalpatti, her hamlet in Tamil Nadu's Virudhunagar district, 28-year-old Devi works at a fireworks factory in the nearby Sivakasi town, about 25 kilometres away, for weekly wages. Until the Covid-19 lockdown was imposed on March 24, she was earning Rs. 250 a day for the extremely dangerous job of filling gunpowder into rocket tubes and paper shells.
In early April, Devi received 15 kilos of rice and one kilo of dal as lockdown relief  from the state government – but that had depleted fast. "We [her family] also received Rs. 1,000 from the government. We spent it on buying vegetables and groceries. The ration shop did not give us oil. I am rationing food, only two meals a day," she had told me.
At the beginning of May, Devi's family received 30 kilos of rice, 1 kilo of dal , a litre of oil and 2 kilos of sugar. After the two weeks, only some of the rice remained. "There is no money to buy vegetables and groceries," she said. "We are eating only rice and pickle now."
On May 18, the lockdown was eased in Virudhunagar because fewer Covid-19 cases were reported in the district. Devi went back to work that day, hoping to earn money to feed her daughters, aged 12, 10 and 8. Her husband, R. Kanakaraj ( name changed ), 30, who drives trucks for a living, spends a major part of his income on drinking.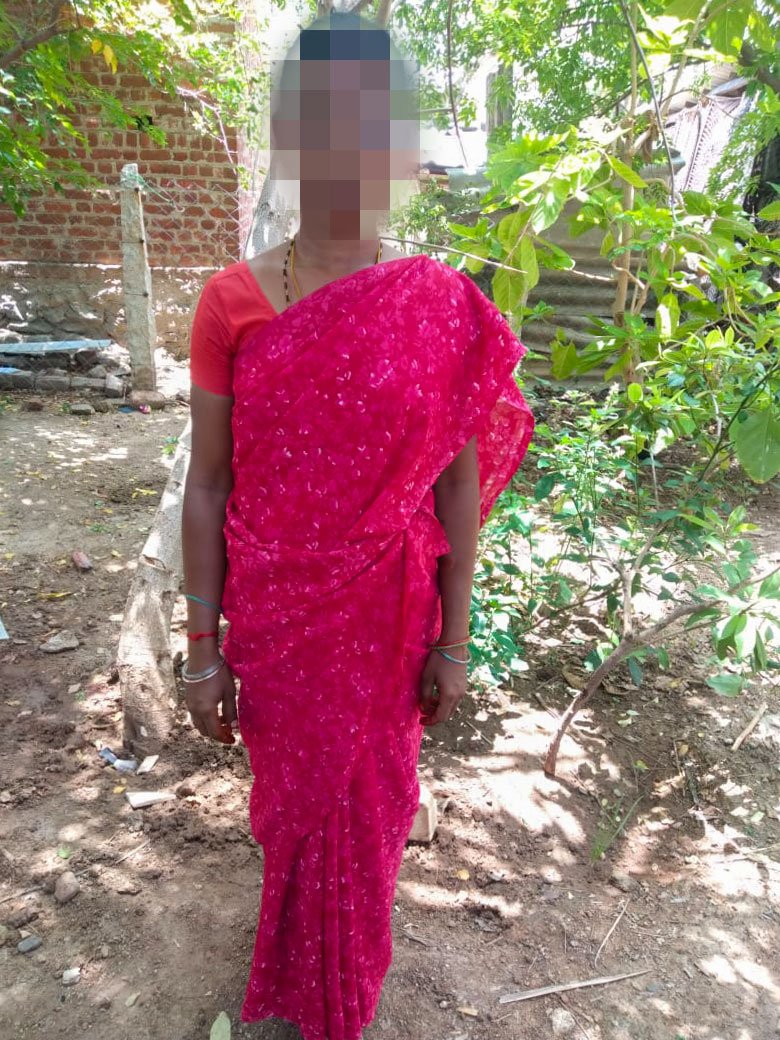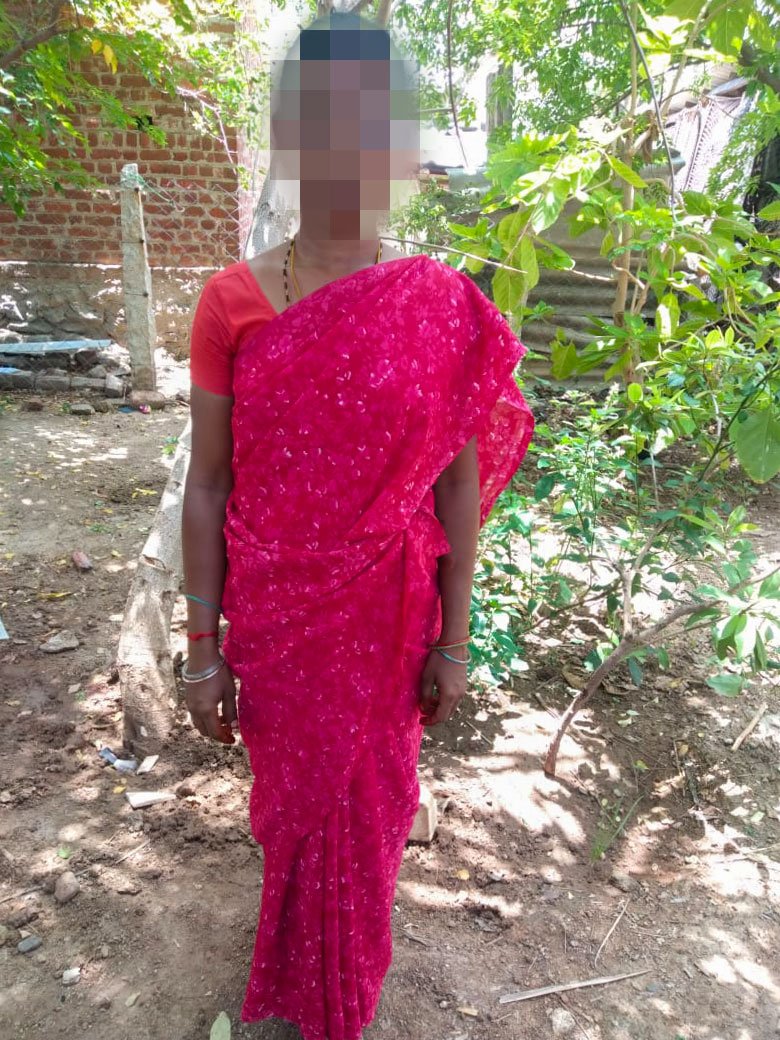 Devi has been working at the fireworks factory for over four years – one of about 900 large and small units located around Sivakasi municipality in Virudhunagar district. More than half of the 554 people living in Edayapottalpatti – part of Padikkasu vaithanpatti panchayat of Srivilliputhur taluk – work in these factories, which guarantee them around six months of work in a year.
"Every Saturday, I used to take home Rs. 700-800," Devi says. This was after deductions like contributions to her provident fund and employee state insurance, and the advance on wages given by the labour contractor. "The lockdown left me without any source of income to support my family," she adds. Devi had no income or any financial support from her factory from March 25 to May 18 – during the lockdown in Virudhunagar.
After the lockdown was eased, Sivakasi's smaller firecracker units resumed work in full strength, while factories with more than 50 workers – like the one where Devi works – started operating with 50 per cent of their workforce. In Devi's factory, each worker is allowed to work for only two days a week. So, Devi worked for four days from May 18. She received Rs. 500 as a two-day advance on her wages when she resumed work, and another Rs. 500 on May 30.

Before she started working at the fireworks factory, Devi used to work at a cotton spinning mill, where she earned Rs. 180 a day. The fireworks industry is among the  largest employers in the arid Virudhunagar district, where farming is practiced in just some parts. A few cotton mills are the only other major source of employment.

About 3 lakh workers are involved in manufacturing firecrackers in the Sivakasi factories, and at least 4-5 lakh people work in allied industries, says Muthukrishnan A., secretary of the Tamil Nadu Fireworks Industries Workers Protection Association. He runs a fireworks unit that employs 50 workers in Sivakasi.

More than half of the Arunthathiyar community works in these factories, a majority of them women. "It is the workers from this community who take up the most dangerous works in the fireworks factories," says Ponnuchamy M., state coordinator of the Tamil Nadu Labour Rights Federation (TNLRF), who lives in Edayapottalpatti. "They fill chemicals [gunpowder] into tubes, which has higher accident risk."
Before the lockdown, Devi worked at the factory for 3-5 days a week, from 8 a.m. to 5 p.m. "They send vehicles to the village at 7 a.m. to pick us up and then drop us home by 6 p.m.," she says. The factory shuts during the rains [June to August] or if an accident occurs at a nearby factory. "When I don't have this work, I go to the cotton fields and earn Rs. 150 a day," she says. Other than the fields, where Devi works for 2-3 days a week from January to March, she also takes up work under MGNREGA.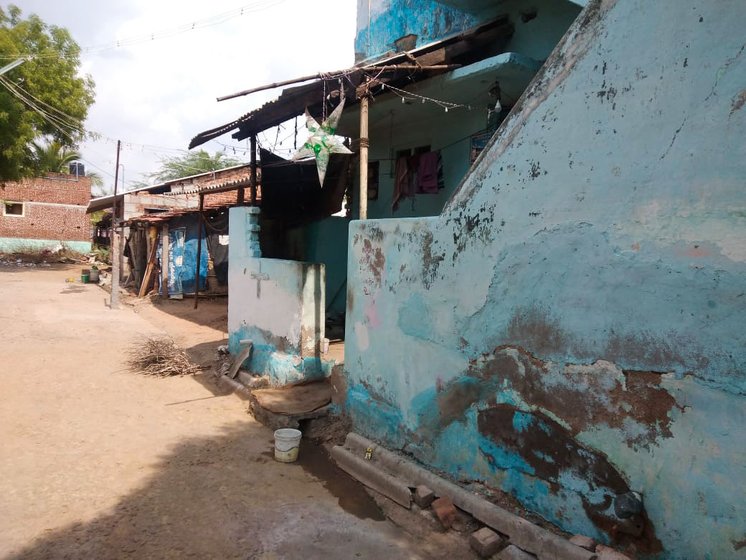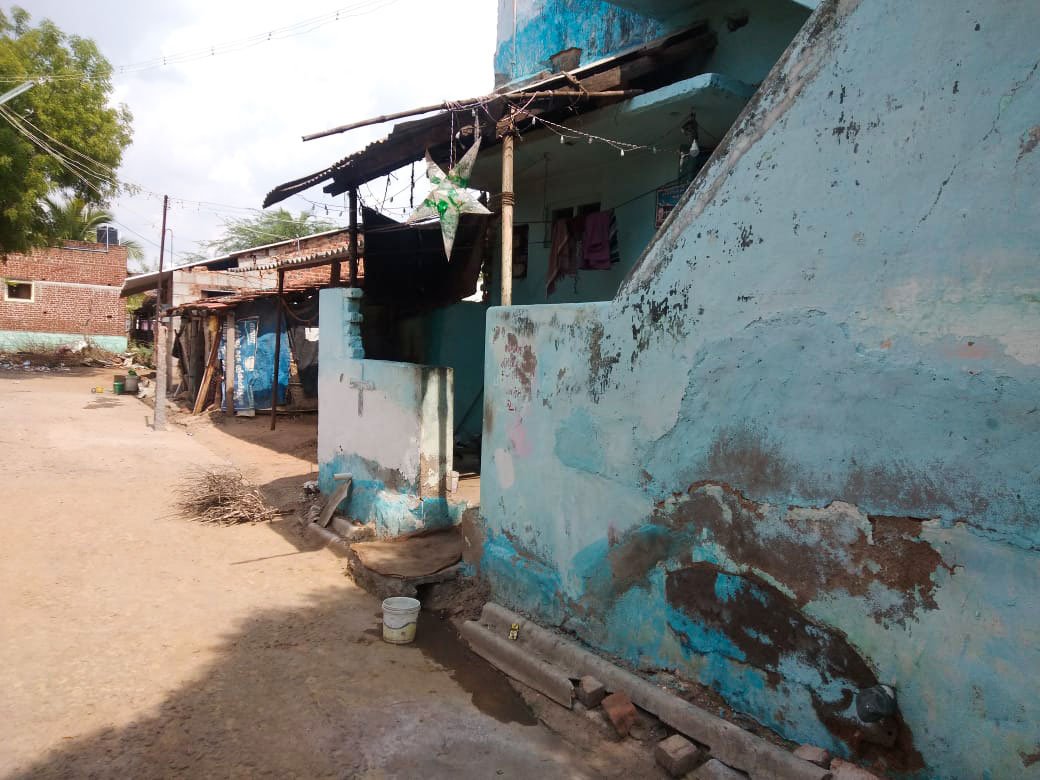 At the fireworks factories, Devi and the other workers get paid only for the number of days they work. They received an advance at the beginning of each month before the lockdown – Devi would get Rs. 10,000. A portion of the balance would be paid each week, for the number of days she worked. Although she did not borrow money from the factory during the lockdown, others who did will have to pay it off now.
"We pay only for the days they work," says Muthukrishnan. "My factory is now operating at full strength [since May 18]. I have started paying weekly wages. Women are paid Rs. 350 while men get Rs. 450 to Rs. 500," he says.
But Muthukrishnan is not sure if he can run his unit for long. "All our products have to be moved as soon as it is ready," he says. "We have to move the firecrackers at least once a week. Since transport is not fully operational because of lockdown in other parts of the state and country, the firecrackers are piling up. We can only continue for another two weeks. If the products are not transported, then the fireworks factories will have to be shut," he told me on May 25.

The factories were shut down for four months in 2019 for another reason – a Supreme Court verdict of October 2018 permitting manufacture of only low-polluting crackers.

Devi was hoping for better days this year, but by mid-April she had exceeded the credit given to her by local shops to buy groceries.
During the lockdown, there were no government-run community kitchens to feed Devi and her family. Organisations like TNLRF managed to distribute food supplies to a few workers. "We identified 44 families [in need], and distributed provisions," says Ponnuchamy.
The panchayats too did not receive special funds to tackle the crisis. In Padikkasu vaithanpatti, panchayat president A. Murugesan used the funds released by the state government every quarter – for water and sanitation, and maintenance of village infrastructure – to pay sanitation workers and provide them food. Murugesan says he has spent over Rs. 30,000 of his own money on distributing rations.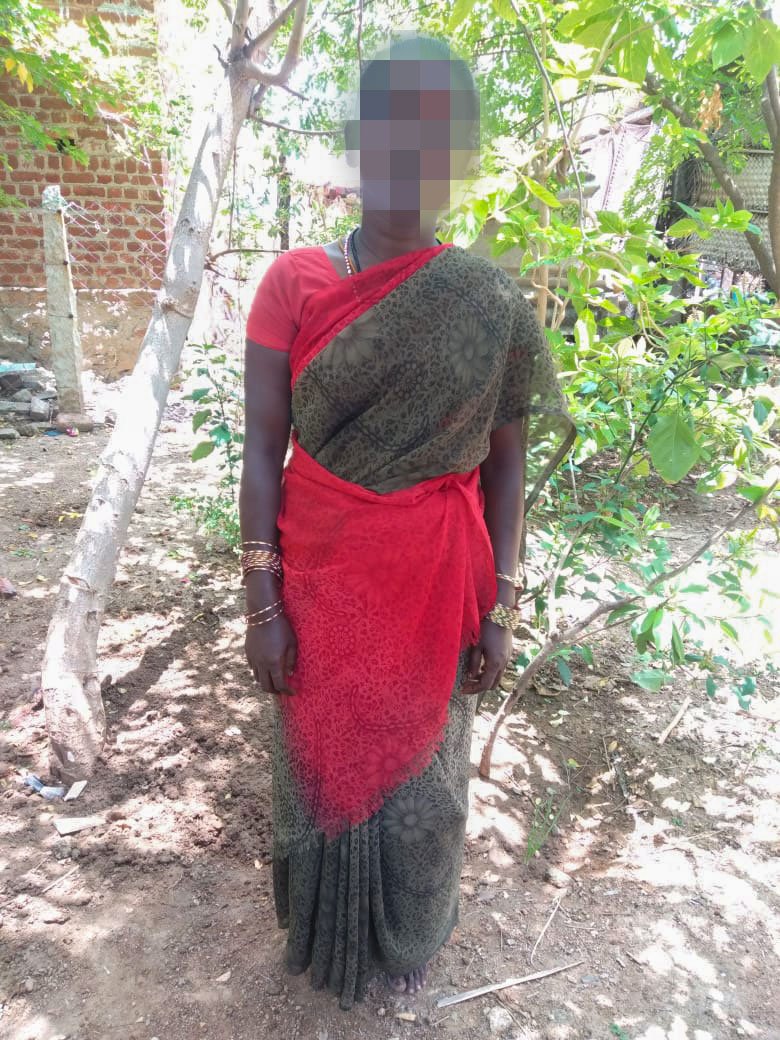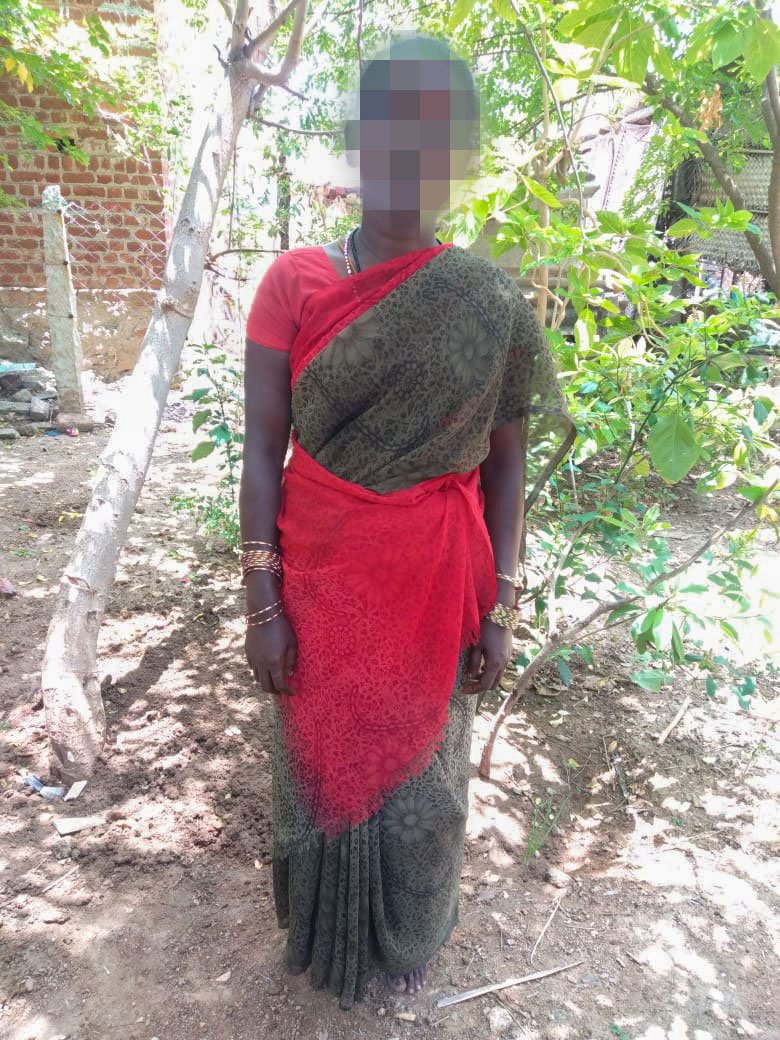 Many in the villages of Virudhnagar are struggling with another problem too – a spike in violence against women.
When the lockdown eased, the state government-owned liquor shops run by the Tamil Nadu State Marketing Corporation (TASMAC), opened too. "Since TASMAC shops were opened, the Tamil Nadu Labour Rights Federation has been receiving at least 10 complaints [every day] of domestic abuse from women across the district. We started a signature campaign on May 25, demanding closure of TASMAC," says Poonuchamy. More than 200 women from the district signed it within the first four days of the campaign.
Devi says that her husband, a heavy drinker, has been fighting with her every night since the liquor shops opened. "When he finds company to drink, he spends all his earnings on alcohol. Once he is home, he hits me. I can bear the physical abuse, but his words are so brutal that I want to kill myself," she says, distressed.
Devi was married soon after she turned 16. The abuse began a couple of years later, when her husband took to alcohol. "I have been putting up with this violence for my children," she says. "I want to give my girls a good education. Things settle down once the children grow old, people say." Her sisters are also married to alcoholic husbands. "They are struggling to live, too."
The burden of financial distress and family strife because of their alcoholic husbands has caused severe mental distress to many in Virudhnagar. "My husband could not find work [during the lockdown] and he had no money. He got angry at every conversation we would have," says Rani M. ( name changed ), who works as a sweeper on contract at the government school in Edayapottalpatti.

Rani's husband, who works at a repairs workshop and earns about Rs. 500 on the days he has work, spends most of his money on alcohol. "He keeps demanding money, and always finds fault in anything I do. He constantly beats me up. I put up with him for the sake of my three children," she says.
Rani was deprived of the cash and rations given by the government during the lockdown since she does not have a ration card. She has no work and no income until the school reopens.
Her neighbour, G. Kamachi, also lives in fear of her husband every night. He has been beating and verbally abusing her, demanding money to drink. When she refused, he sold their bicycle to buy a drink.
The women's problems are compounded by the frequent visits of moneylenders, asking for repayment of high-interest loans. Devi's debt runs to more than Rs. 2 lakh – most of it taken for house repairs. The wages of Rs. 500, which she received on May 30 will not be spent on food, she says. "This will go towards repayment of my loans."