Meeramanbhai Chawda became the head of his family at the age of 12. When his parents passed away, as the eldest son, he suddenly found himself in charge of supporting and raising his siblings – two brothers and two sisters. He did this by making and selling pots to local villagers and to merchants who took his wares to distant villages. He was the only potter in 10 villages.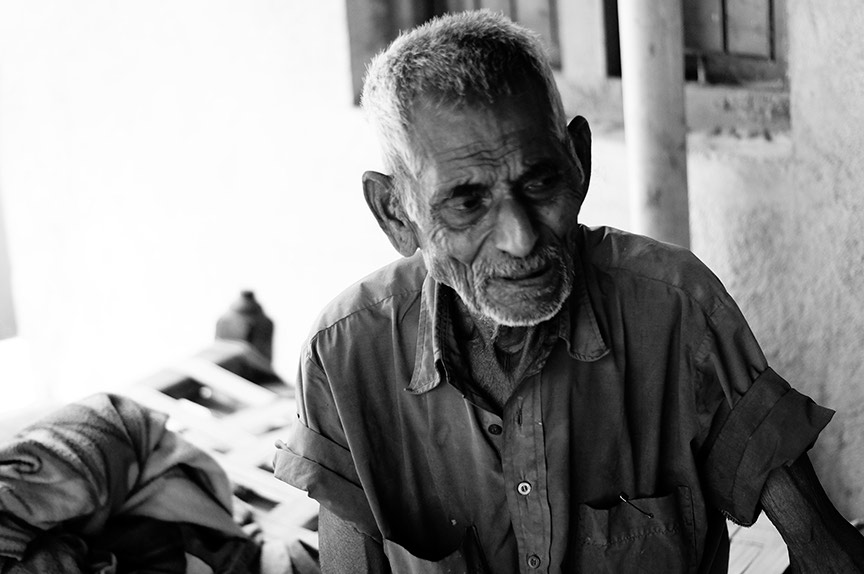 Meeramanbhai: recalling a dying art
Many decades later, Meeraman still sits near his revolving platform, shaping a clay vessel that will fetch him Rs. 100 for an hour's labour on a dying art. He works for four hours a day, and his income depends on the sale of the final product. On a good day, it can amount to Rs. 450 from a sale of four-five pots. But such days are rare.
"People would pay for the pots with [things like] grains, pulses, clothes, and shoes. Life was good," he says, remembering the old days. Since he was landless, this was how he procured most of his family's rations.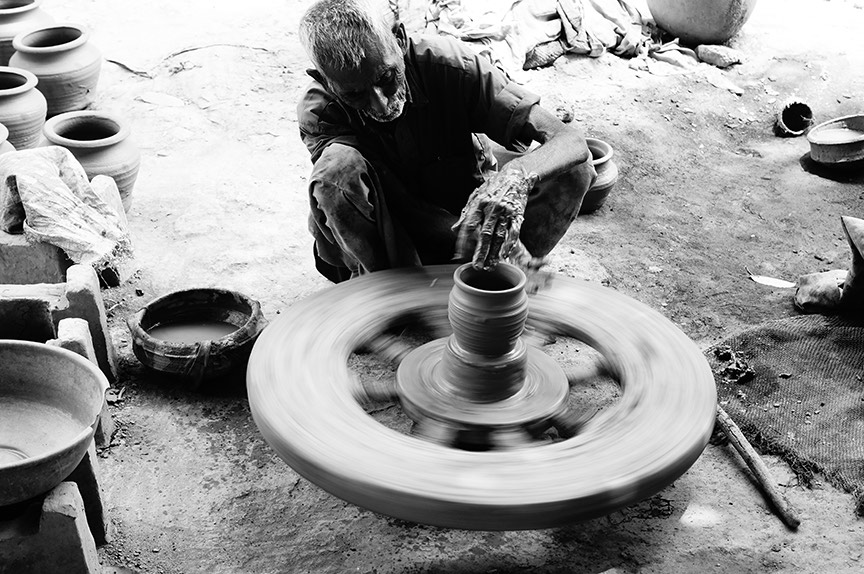 Spinning the wheel
Meeraman was born in Mekhadi, a village in Porbandar district of Gujarat. When he took over caring for his family, he moved with them to Chakhwa, a village in Junagadh district. Junagadh was a constituency under the nawabs. "I was also a great help in the kitchen. The nawaabs would trust me to cater for their ceremonies," he narrates with gusto.
He used to make pots for them. "Every time I was summoned by Nawab Jamal Bakhte Babi, I would walk 71 kilometres, starting early from here in the morning and reaching Junagadh in the evening. I could not afford the train fare of 12 annas as I was the sole bread earner of the family, with two sisters to get married off," he says.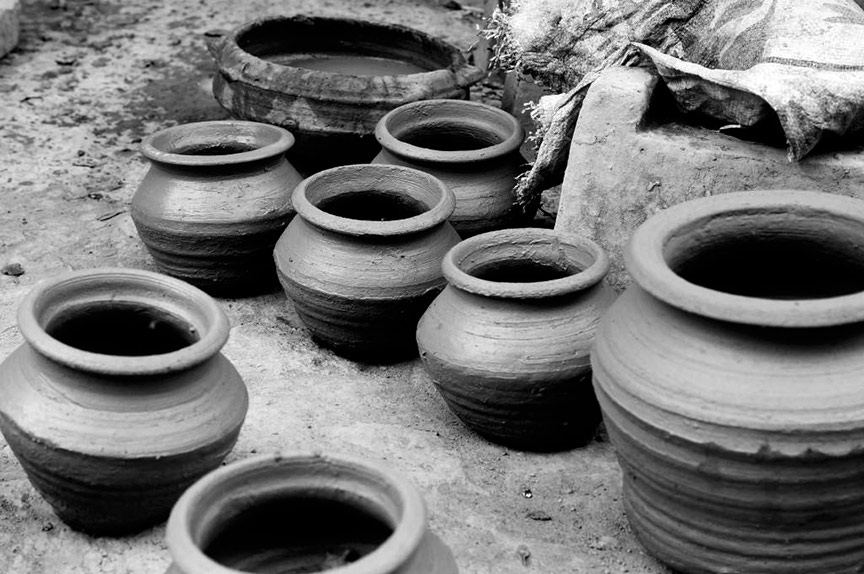 The pots are ready
Meeraman says he was 33 when India got independence in 1947. That would make him over a 100 years old now. How is he still making pots at this age, I ask him? "Everyone is born to do certain work. They are bound to do that work irrespective of circumstances, almost as if they were the only one doing it. I was engaged through my childhood, my youth and my days of responsibility in this art and creation. Why should I stop now? I lived with the art and I will die with the art," he says.
We walk to his small yard where he keeps a fascinating collection of tools and pottery implements.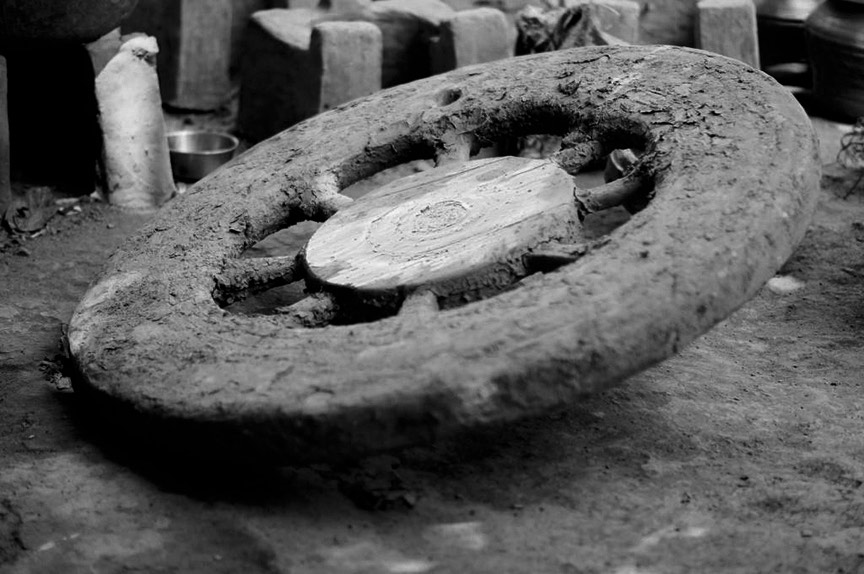 The 'chakkada' or wooden wheel
The wooden wheel, called chakkada, is used as a platform for the mud to be shaped into pots, flower vases, butter milk vessels, cooking vessels and other things.
The platform is mounted on a pointed iron stand referred to as khal in Gujarati.
The 'khal' or iron stand for the wheel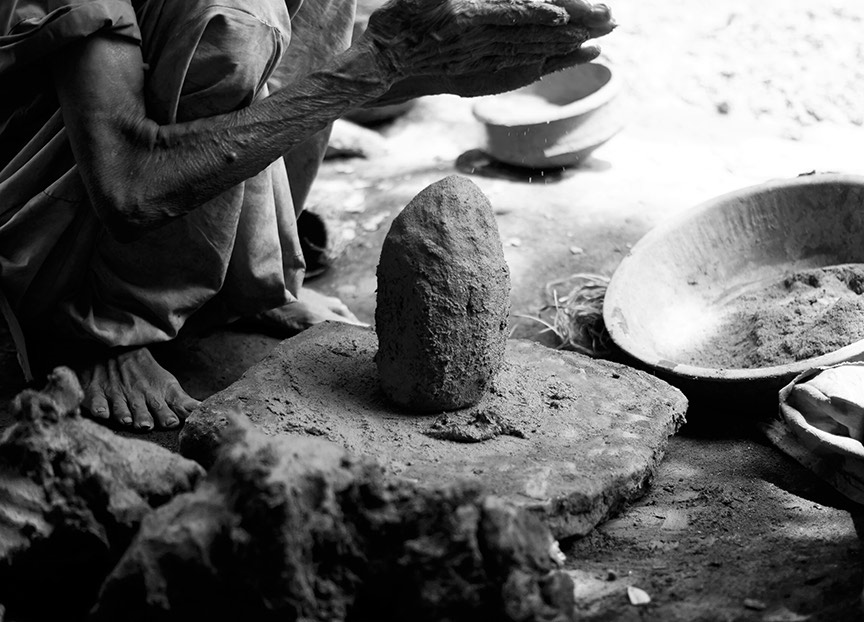 The clay is ready to be made into pots
A stick inserted into a hole on the platform helps to keep it turning. When the platform picks enough speed, work starts on the clay placed at the centre of the wheel.
Rotating the wheel
Lean, frail fingers push in to shape the formless mud into beautiful creations like this pot, locally known as gorri.
Meeraman smiles and points at me to try my hand at the potter's wheel.